This post may contain affiliate links. As an Amazon Associate I earn from qualifying purchases.
* * *
Even if you've cruised before, Norway is a whole different animal: the weather is finicky at best and there's a good chance you'll fly a low-cost airline to get to your starting and ending ports, where every pound of baggage costs you. That's why I've compiled the perfect Norway cruise packing list for you. It fits in a carry-on, yet has everything you need for a week onboard (or more, if you can wash things out in the sink or send it out for laundry).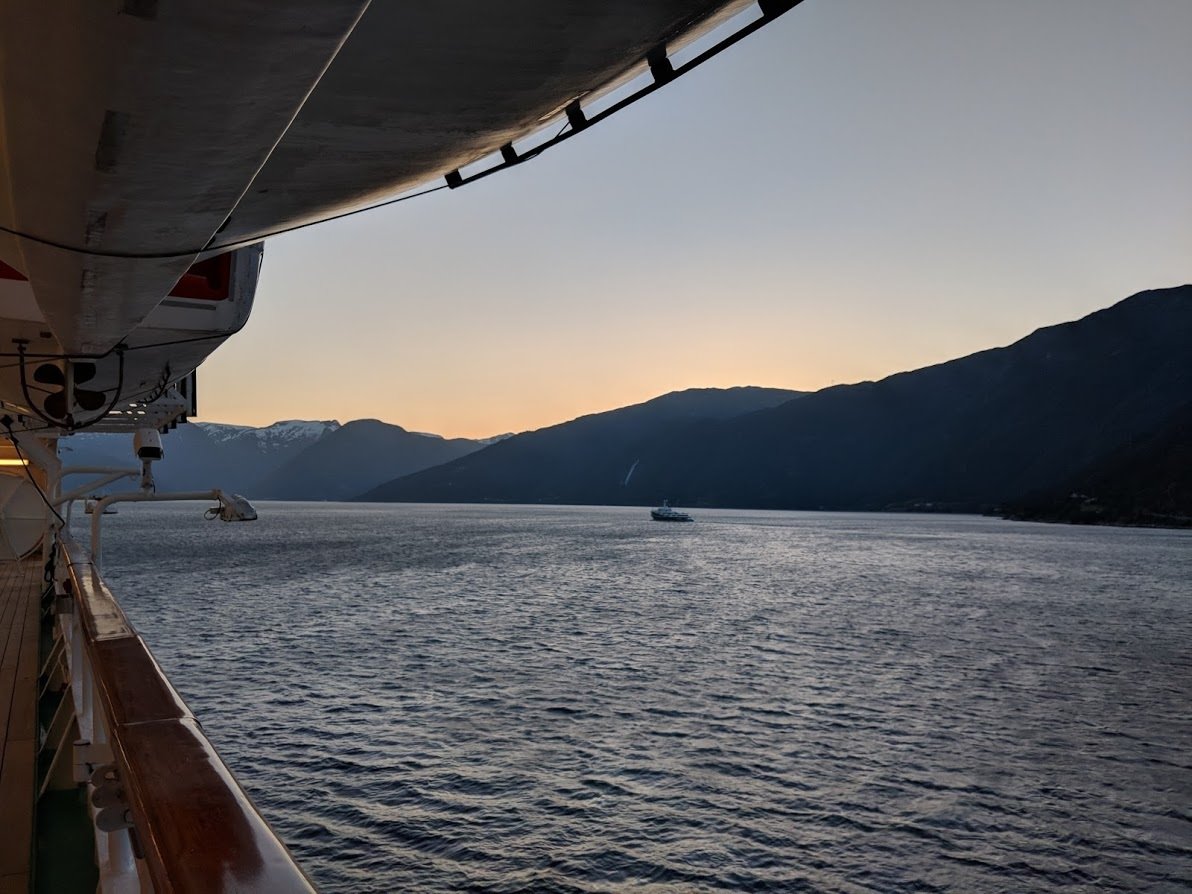 What to Wear in Norway
When the weather changes in an instant, you'll want to be prepared for everything from sun to rain or even snow — yup, I encountered snow in Norway on my June vacation although only because I roadtripped into the mountains!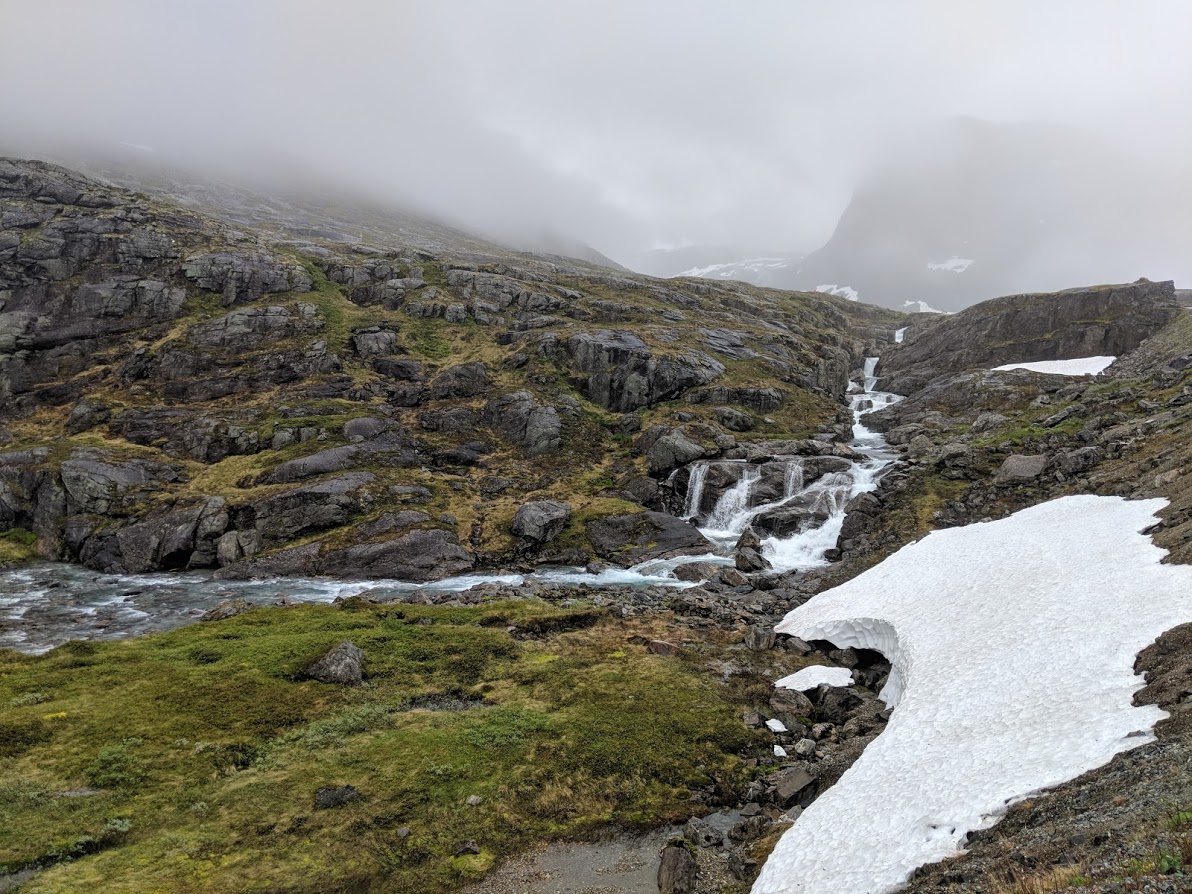 Thankfully, sporty wear is common all throughout Norway (with the exception of Oslo). You'll find function over fashion and as long as you're somewhat neat and put together, there's no issue wearing something casual.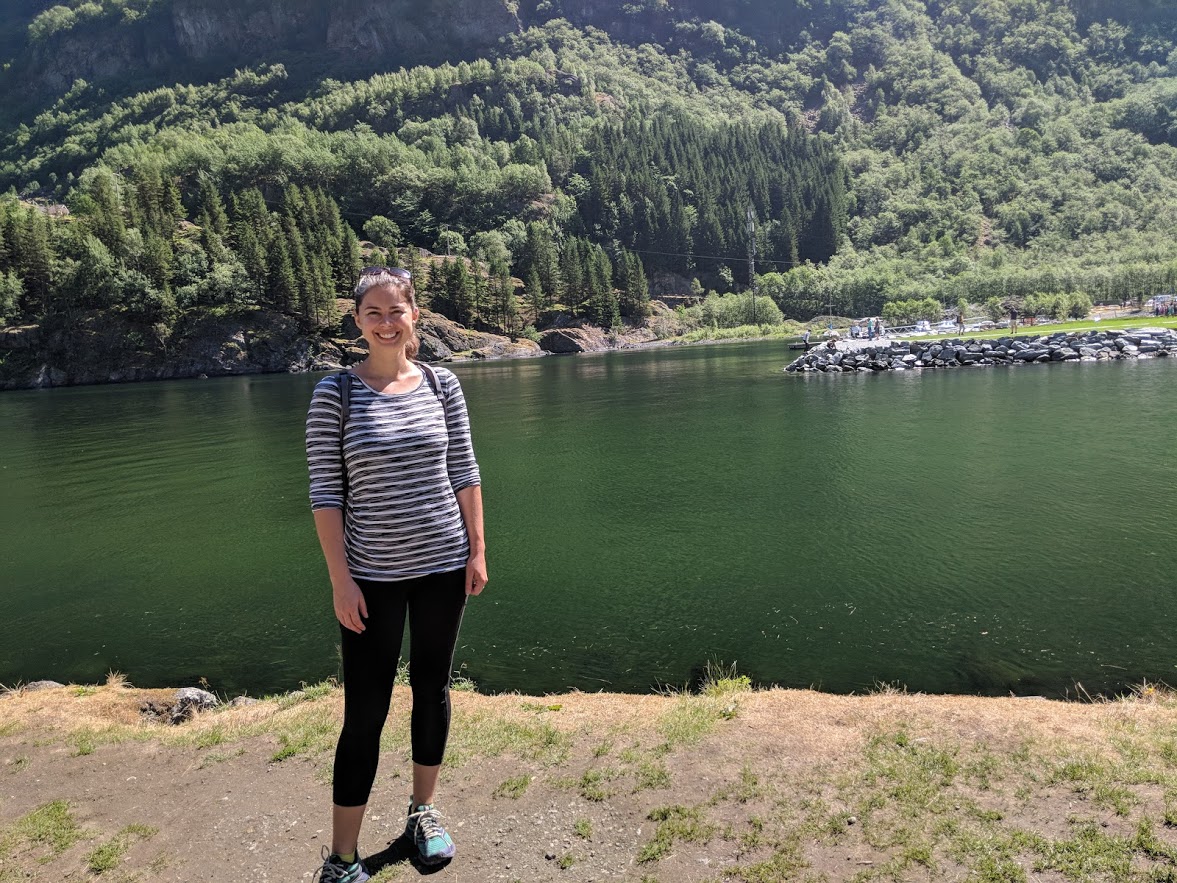 If you retain nothing else from this Norway packing list, just remember this one thing: choose clothing made out of synthetic material instead of cotton. It dries quicker for those sporadic rains, wicks moisture during hikes, and keeps you warmer for the temperatures at these higher latitudes.
The Perfect Norway Outfit
I start with a short-sleeve top, which is cool enough to stay comfortable in the midday sun or when you work up a sweat hiking, kayaking, or biking. I like Columbia Polo Shirts because the collar makes your outfit instantly look a little more put together, but you still get the performance of high-quality polyester. [SHOP WOMENS | SHOP MENS]
I layer that with a lightweight fleece jacket. It's cool in the morning, evening, and when you're on the water — or just on the cool days that come around every so often. Any brand will do, and if you don't already have one at home, the Amazon Basics brand is surprisingly decent considering its low price. [SHOP WOMENS | SHOP MENS]
On the bottom, I always recommend long pants rather than shorts, ideally something made out of nylon or another synthetic material. I'm obsessed with the Prana Pants I got last year — they move and stretch beautifully for hiking, but look nice enough that you can pull them off as real pants in restaurants or back onboard the cruise ship. [SHOP WOMENS "Halle" | SHOP MENS "Hendrixton"]
For all cool or damp destinations, I always recommend paying special attention to your feet.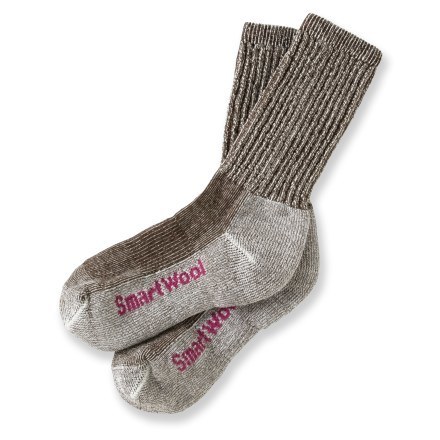 A one-time investment in the right socks will protect you from blisters and keep you comfortable if/when your feet get cold and wet. These days, I *only* travel with merino wool socks. My personal favorite is the Smartwool brand because it's not scratchy at all. Yes, it's expensive. Yes, it's worth it (plus it lasts forever, unlike cotton socks!). [SHOP SMARTWOOL]
Do you need a winter coat on a Norway cruise?

You'll notice I don't have a lot of cold weather gear on this list. That's because most Norway cruises are May – September, when the weather is mild and not super chilly. On some days, it's indisputably warm!

Warm and sunny on my Pulpit Rock hike

In Oslo, you can expect daytime temperatures of 60-75° Farenheit (15-24°C); further north in Alesund, it's more like 50-60°F (other typical ports like Bergen, Stavanger, Geiranger, and Flam are in-between). Mornings and evenings will be cooler, but it's still summer and not freezing!

That said, a hat and gloves are small and can easily fit in any suitcase for those "better safe than sorry" moments.

Three scenarios for when you might want some extra layers:

If you're from a warm climate and are not used to cool-ish days
If your Norwegian cruise takes you farther north to the Arctic Circle
If you're traveling in winter, early spring, or late fall

Want specific recommendations on base layers? Check out my winter packing tips (opens in new window to read afterward).
What to Wear Onboard Your Norway Cruise
Although dress codes vary by cruise line (check yours!), generally speaking, Norway cruises are so active and tiring that guests stay pretty casual onboard.
On deck, for watching scenery, you'll want to wear the same thing you'd wear outside in port. I found it could be a little breezy as the ship was sailing, especially on higher decks, so you'll definitely want a jacket or sweater (a hairband is also useful). The good news is you can always duck inside if you need to warm up or grab another layer.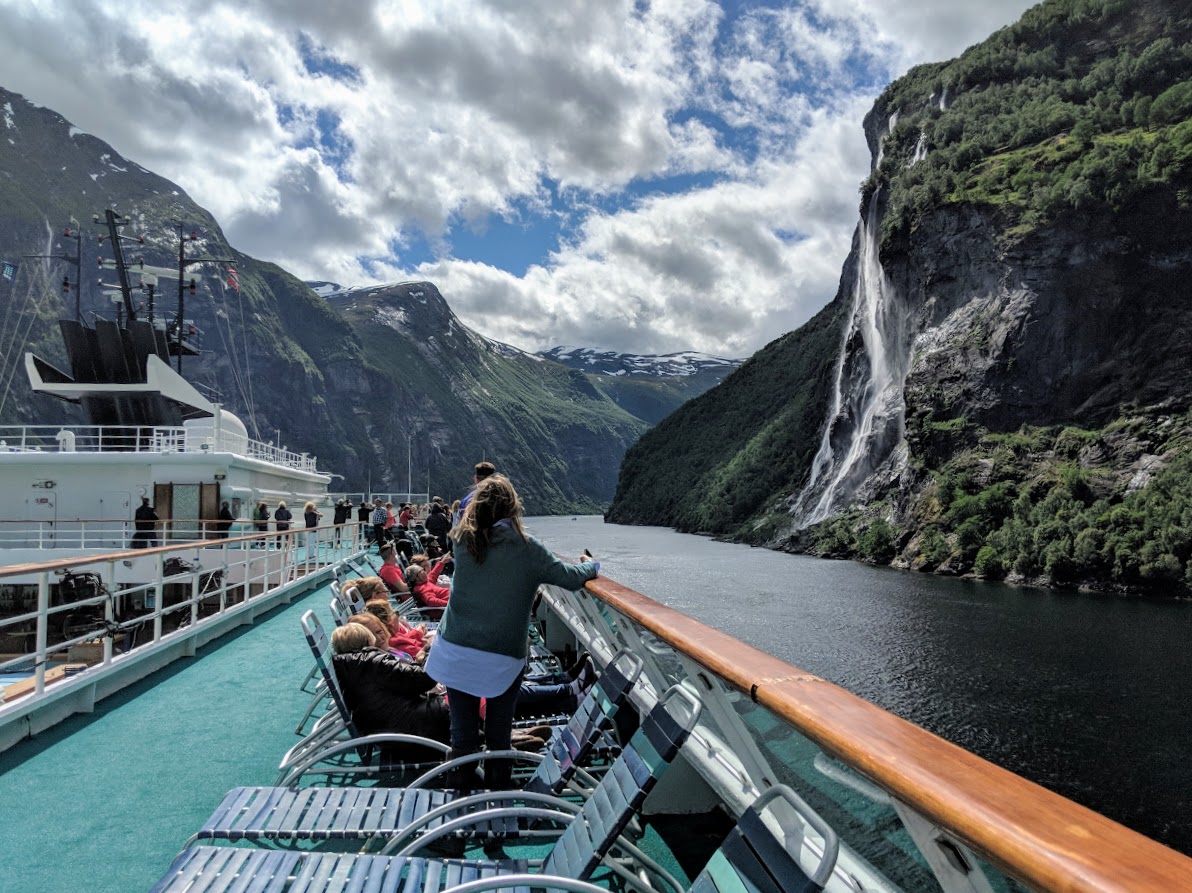 For informal nights at dinner, you can get by wearing your polo shirt and Prana pants, which saves you space packing. Pack a nice sweater to layer with it, since the air conditioning can be intense on some ships.
Hint: wear the next day's outfit at dinner so that it won't be sweaty from a day's worth of activities. Since you're only wearing it for a few hours, it should be fine to re-wear on your next day's adventures. Just hang it up after dinner to air out for the morning!
On formal nights, most guests don't glitz up the way they used to. Men, a dress shirt and slacks is adequate (a jacket and tie are optional on most ships). Ladies, I love Betabrand's reversible dresses so you can get two totally different outfits while only packing one wrinkle-free dress…get $15 off your order with my referral bonus.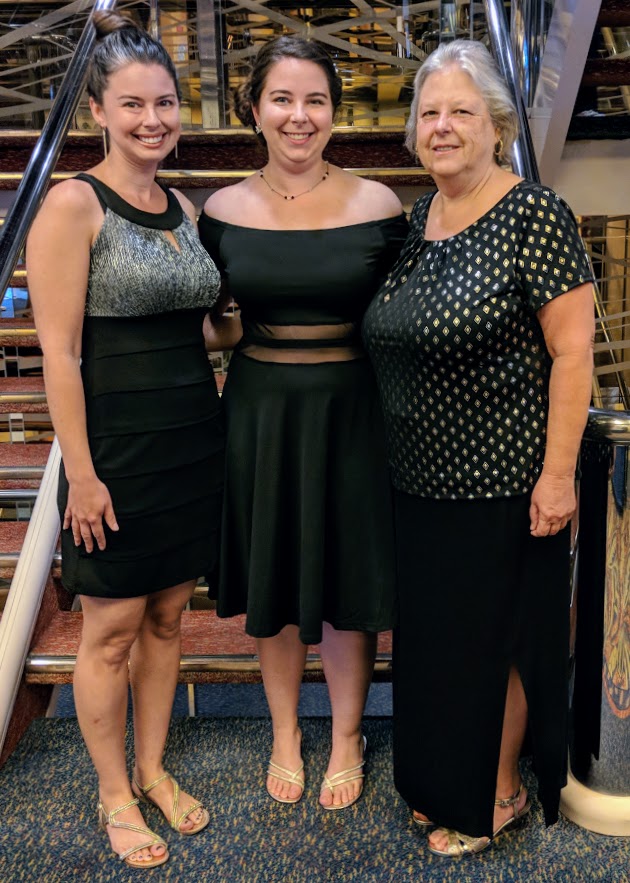 All the Clothing You'll Need for a Norway Cruise
7 Tops — ideally 5 short-sleeve, 1 tank, and 1 long-sleeve (change the tank to an extra long-sleeve in early or late season)
2 Sweaters — one casual fleece, one nicer sweater or cardigan for dinner
3 Pants — ideally 1 pair of my favorite Pranas, 1 pair of zip-offs for warm days, 1 pair of rainproof pants
1 Formal Outfit — yes, it's okay to wear the same thing twice!
1 Rainjacket — the very best one you have
1 Set of Base Layers (Long Underwear & Top) — most people can skip this
2 Pairs of Shoes — hiking shoes/sneakers for touring and a pair of nicer shoes for dinner onboard
7 Pairs of Underwear — and 2 or 3 bras for the ladies
7 Pairs of Socks
1 Bathing Suit — because the ship's hot tub feels really good after an active day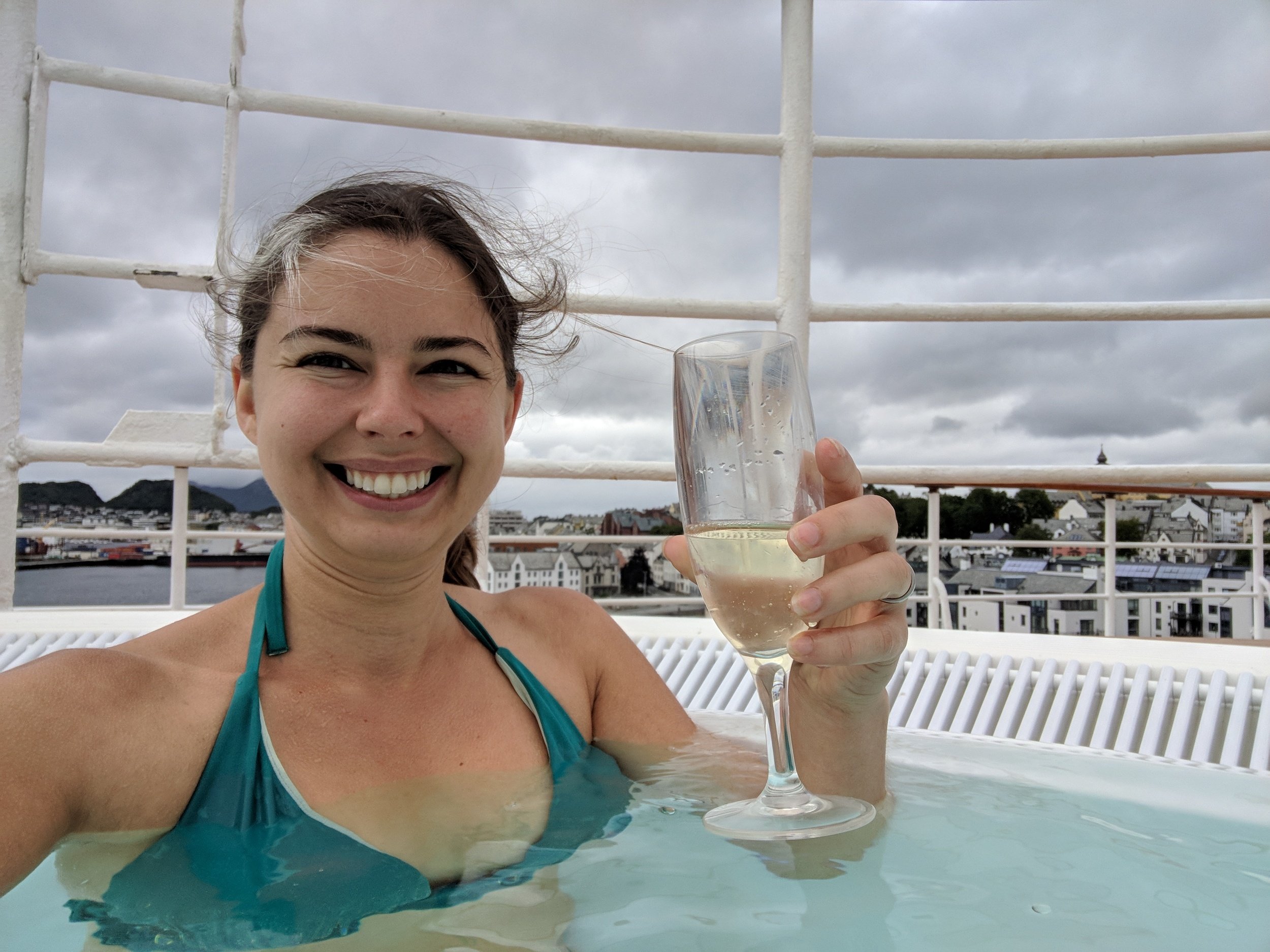 Some Other Things You'll Need on Your Norway Cruise Packing List
Sunglasses: The sun reflects off the fjords and other bodies of water, so these are a must-have!
The Perfect Day Bag: I swear by my Matador day bag — it holds just the right amount of stuff and when they say it's waterproof, they really mean it.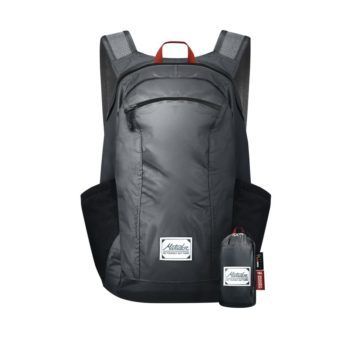 Reusable Water Bottle: Norwegian tap water is safe to drink, so do the environment a favor and skip bottled water (not to mention, you'll save on costs, which are sky-high in Norway!). I also was thankful for my reusable travel mug, to drink hot tea on deck during scenic sails.
Sleep Mask: Ever hear of the midnight sun? It makes it hard to sleep, so you'll want an eye mask to block out light unless you've booked an inside cabin.
International Adapter: Not sure what type of outlets are in your cruise cabin? No problem if you have a universal adapter (which can also be handy in your European hotel rooms). Choose one with built-in USB outlets to charge multiple items simultaneously.
Ginger Chews: Ironically, you probably won't get seasick on your ship — most of the fjords you're sailing through are relatively protected. However, if you're taking day trips on smaller boats or if you're roadtripping through twisty mountain roads, these ginger chews can help with nausea without making you drowsy like pills do.
Other Norway Tips
I've got tons of other resources to help fill in the blanks.
If you're not used to packing carry-on only, one of my secret weapons is using packing cubes. For one thing, they compress some air out which means you can fit more things in the same space. Additionally, packing cubes can keep your things organized — which is a big help in tiny cruise cabins.
Staying Comfortable on Overnight Flights
Get my complete list of essentials for in-flight comfort. Some of it overlaps with what you'll need in Norway (like an eye mask and water bottle) although some of it is just for the plane.
6 Norwegian Fjords Cruise Tips: How to Cruise to Norway the Right Way
Find out how to choose the perfect Norwegian cruise and how to make the most of your adventure!
Norway is Too Pretty for Words
Check out my favorite Norway photos and you'll notice a mix of rain, clouds, and sun.
Print My Norway Packing List for Easy Reference
Need a handy checklist? I've got you covered. Just print this Norway cruise packing list and start preparing for an incredible trip!