This post may contain affiliate links. As an Amazon Associate I earn from qualifying purchases.
* * *
Against my better judgement, I used my one and only day in Stavanger to do the Pulpit Rock hike. On paper, this was a silly decision. It takes a ferry and bus to get there, using up precious time, and it's notorious for being crowded. On top of that, it's less of a "trail" and more of a stair-climbing exercise.
But sometimes, you feel called to do something anyway, and that's precisely how I felt. I really wanted to hike Pulpit Rock and so I convinced my sister to go with me.
Spoiler alert: it was fabulous.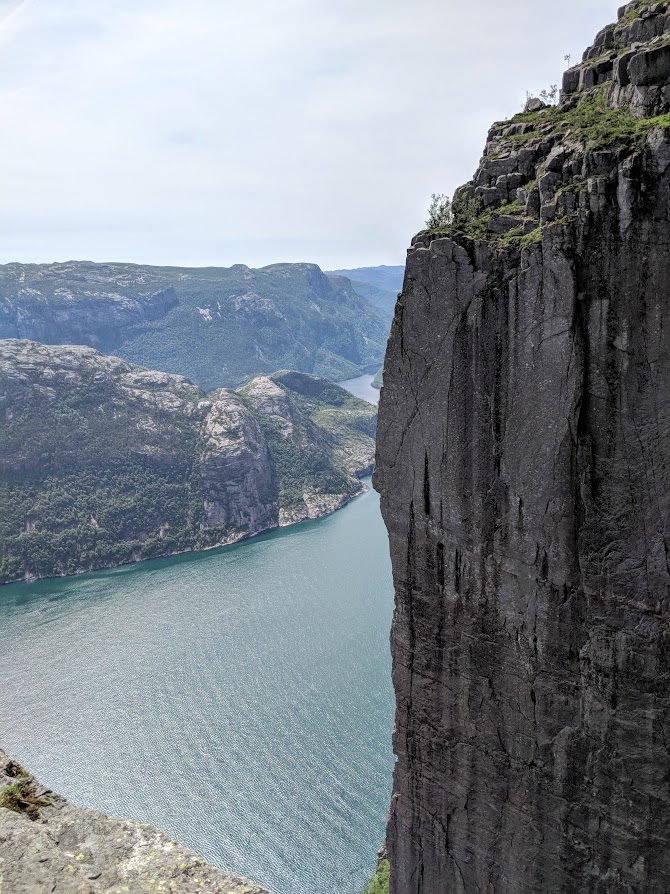 Also known as Preikestolen, Pulpit Rock was mostly formed 10,000 years ago when the Lysefjord glacier melted and left a flat mountain plateau.
There is an obvious draw to reaching Pulpit Rock itself since it towers 604 meters above the fjord below. That leads to gorgeous views and a vertigo-inducing adrenaline rush.
What I didn't expect was how many gorgeous vistas we had along the trail as well. We always had an excuse to stop and catch our breath since it was beautiful in the forest, near alpine lakes, and with cool rock formations.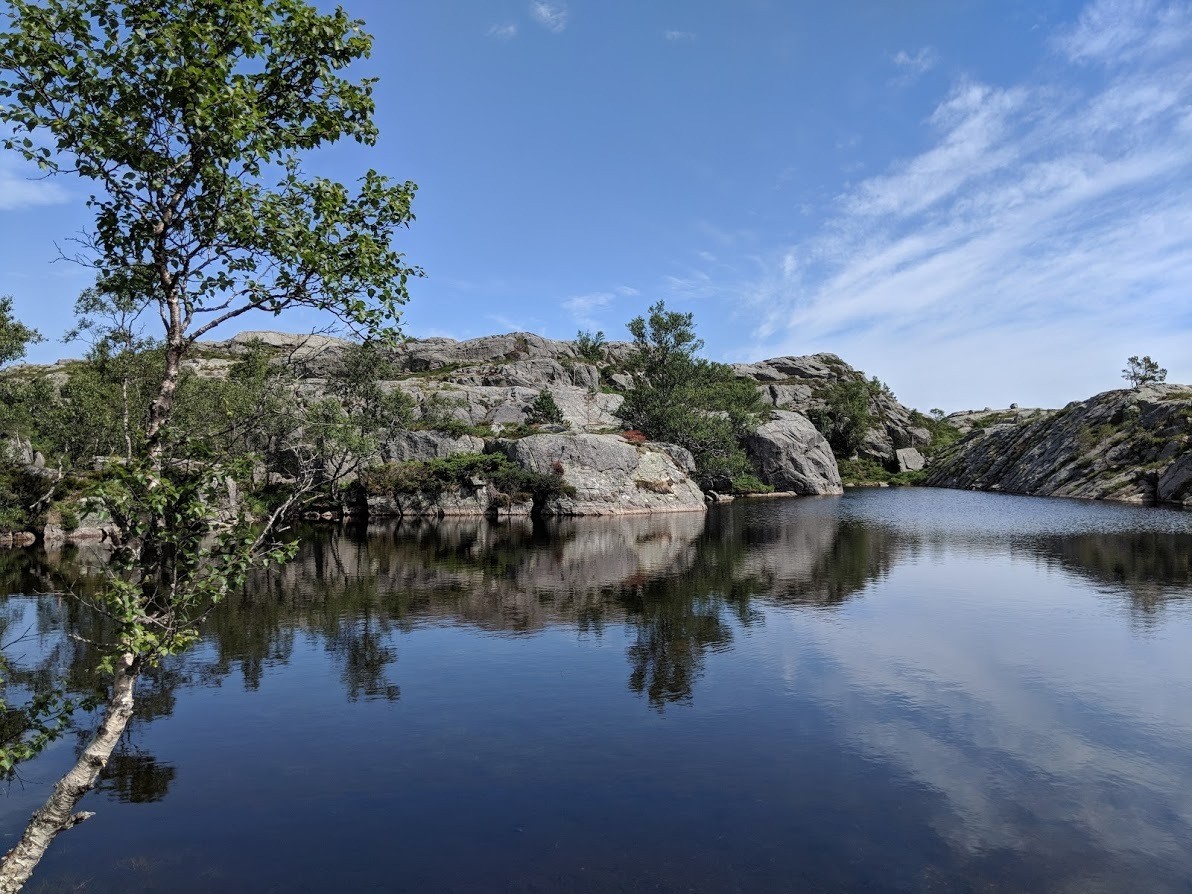 What Makes Pulpit Rock So Popular?
Pulpit Rock has the magic combination of offering tremendous views with only a few hours effort.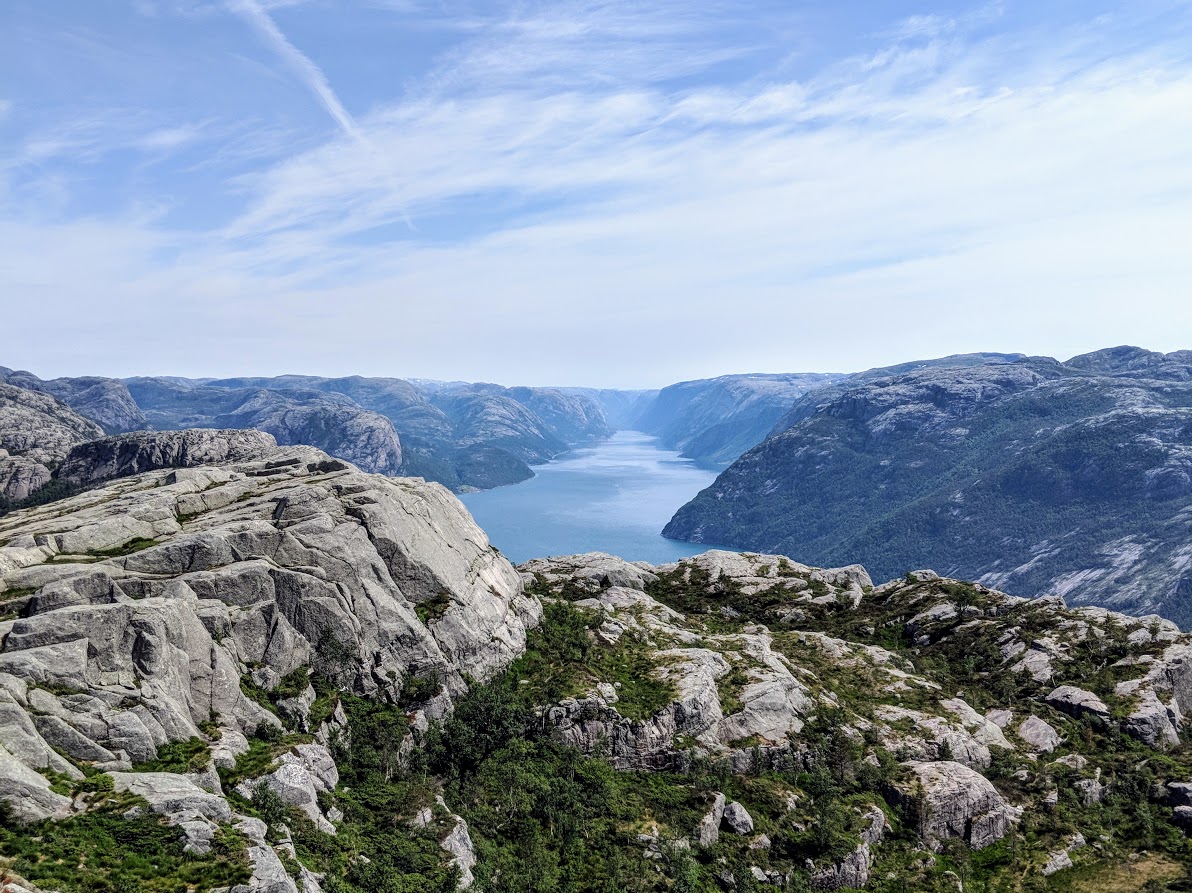 In this day and age, its own fame adds to its popularity: someone sees it on Instagram or hears about it from a friend, adds it to their own travel plans, and then word is spread even further.
I think the #1 reason it's so busy, though, is that it's easy to reach without a rental car. Buses take you right to the starting point. This was a selling point for me, and obviously for many other travelers as well.
How crowded is Pulpit Rock?
In peak season, there are six THOUSAND hikers per day. When I first read that, I assumed that had to be an exaggeration, maybe one or two days a season with outrageous crowds. Sure enough, I think that was a pretty fair estimate for the day we were there. I'm a little amazed that Norway doesn't have a fixed quota to protect the environment!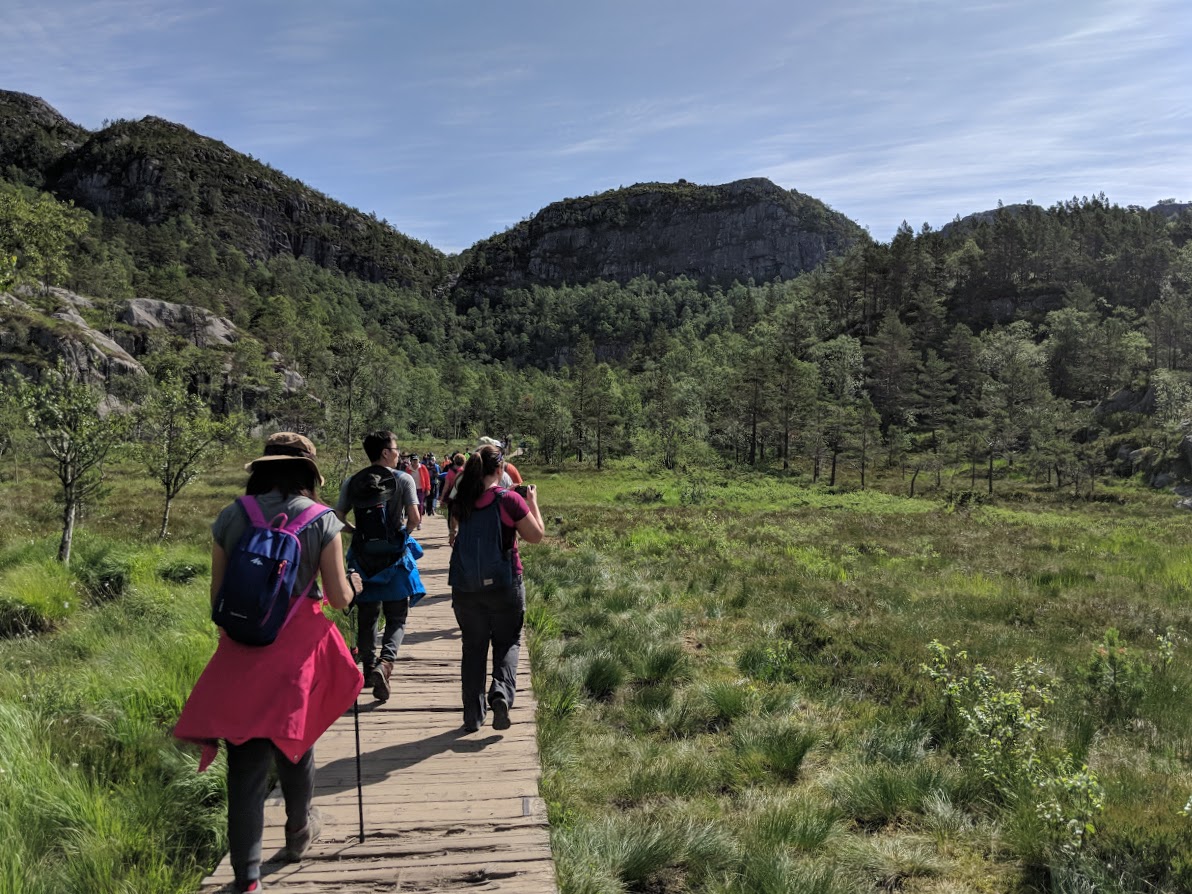 You'll need to set your expectations that you'll be sharing the vista at the top, but I promise, it's still worth it.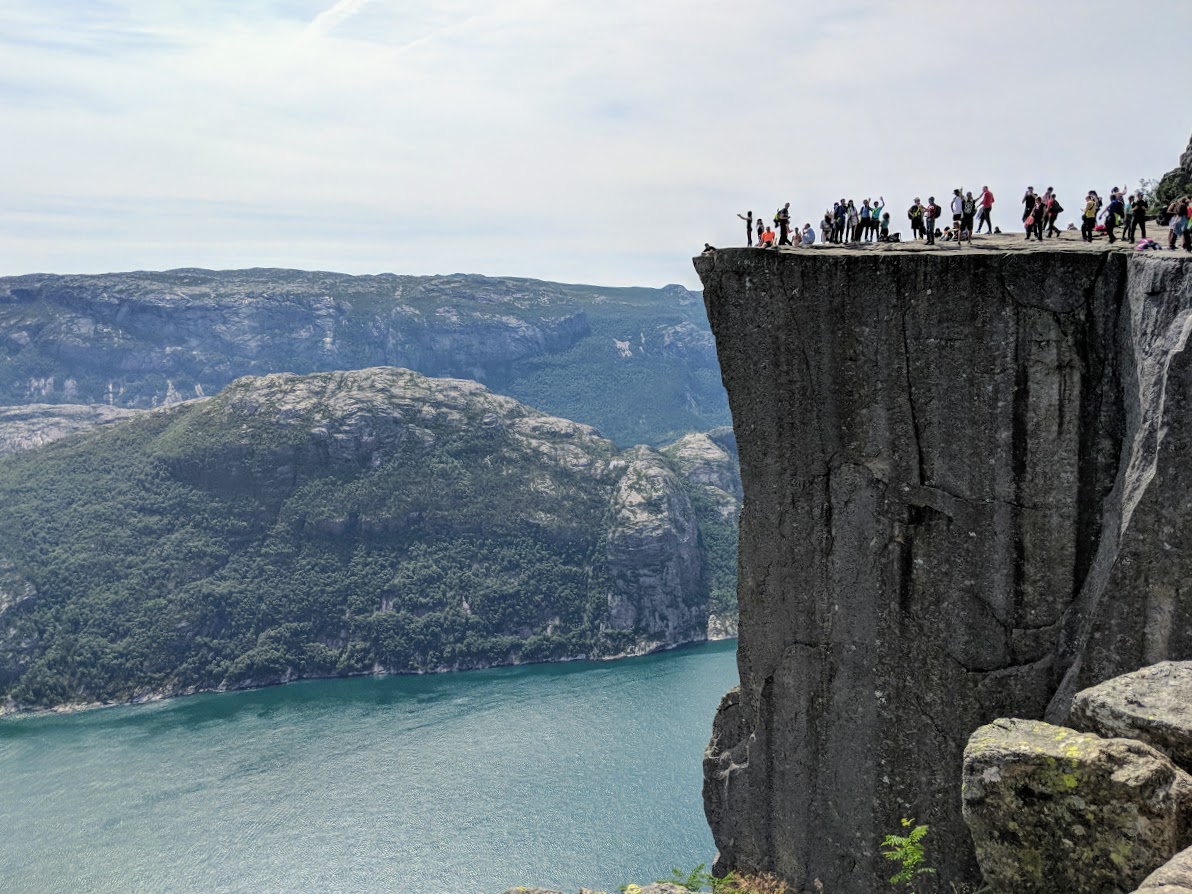 I think it was more crowded than usual when I went because there was perfect weather, but from other reviews, I got the impression that crowds are unavoidable if you're there in the summer unless you spend the night and hike very early (5am?) or very late (starting at 7pm — only a good option during those midnight sun months!).
Pulpit Rock Hike Difficulty
Any Norwegian will tell you this hike is easy! And surely you'll find local children and dogs completing the trip with ease.
For my American friends who don't spend all their free time outdoors hiking, biking, and kayaking…well, you may have a different opinion. To quote my sister, "Every trip, Becky tries to kill me on some crazy hike. Pulpit Rock was amazing though!"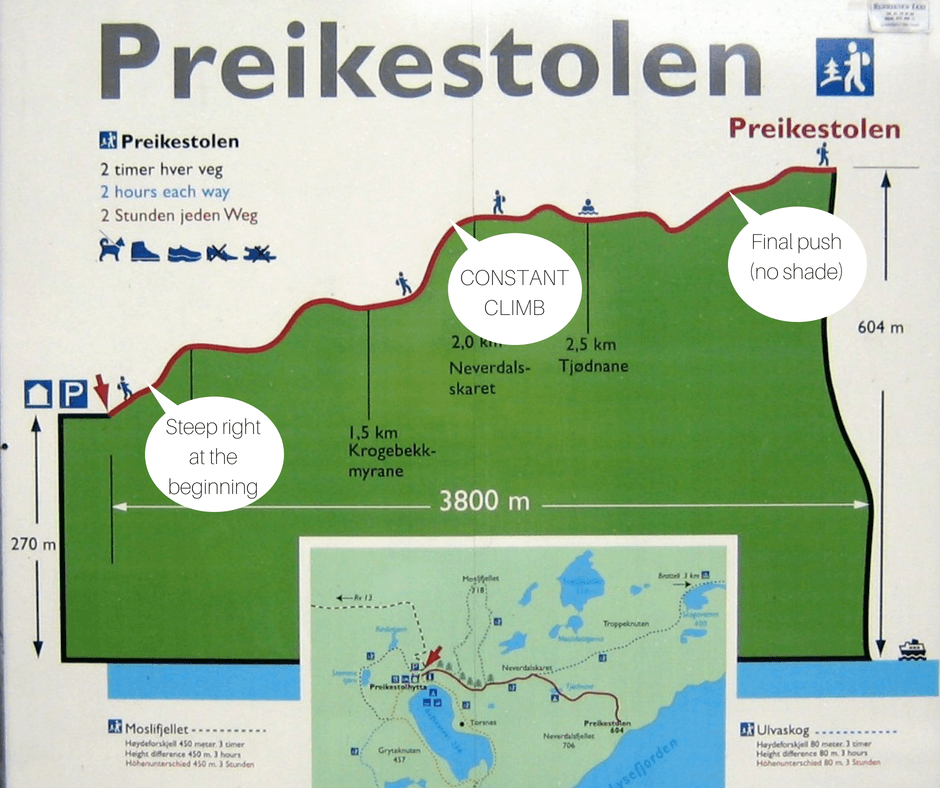 The trail is 2.4 miles each way, with uphill climbs for the majority of the trip: 1640 feet of elevation gain, to be exact. A good portion of it is in rock steps built by Nepalese sherpas (it did in fact remind me a lot of my Ghorepani hike in Nepal), which means you just need to worry about going up, up, up.
Navigating Preikestolen is easy. If you're there when it's busy, just follow everyone else! But even if you're there alone, look for paint marks on the rocks and/or official signs along the trail.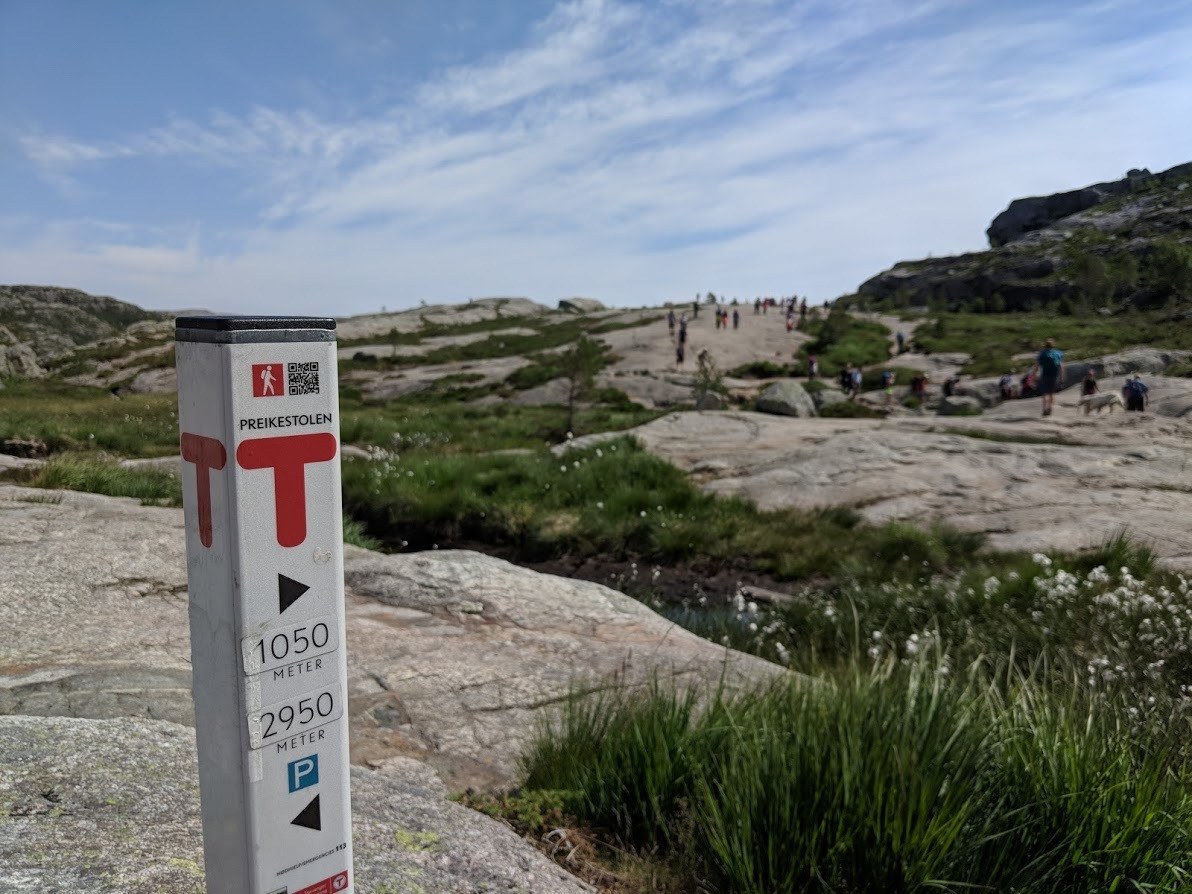 The only reason I'd recommend going with a guide is if you're heading there in winter when the markers might be covered with snow, daylight hours are short, and the path could be dangerously slippery with ice. Be smart.
Please, Please Be Safe
There are no barriers on the edge of Preikestolen, which as a nature lover, I really appreciate. That said, I saw a shocking number of tourists right up against the edge of the plateau to pose for a photograph of the fjord below. Other people were sitting and dangling their legs over the side or even doing handstands!
A few years ago, someone I knew fell to her death in NY. Tragedies can and do happen and frankly, I witnessed a lot of stupidity on this hike.
Your Facebook photo is not worth the risk, guys.

Pulpit Rock Hike Time
Plan on a total of 4 hours round trip for the Pulpit Rock hike. We spent 1 hour and 50 minutes hiking to the top, 30 minutes at the top to enjoy the view, and 1 hour and 20 minutes back down.
We stopped quite a bit on the way up, sometimes for photos and sometimes to catch our breath. We didn't stop too much on the way down, so we made much better time.
It's important to note that even if you're in the world's greatest shape, you can't go much faster even if you want to. There are bottlenecks in the trail which means either you have to travel the same speed as everyone else or you'll speed up for awhile only to stand and wait later.
What to Pack for Your Day Hike
In my opinion, sneakers are fine if you're hiking in the summer. The rock steps give you a level surface to stand on for most of the trail, so the ankle support of hiking boots is a bonus and not a necessity.
It's Norway, so weather can be fickle, and you'll likely want a waterproof/windproof layer just in case, plus possibly a warm sweater as well. We were there on a hot, sunny day and I was very thankful for my sunglasses (although I was taking them on and off constantly as we entered or left shady areas). The last third of the hike does not have much shade, so sunscreen is a smart idea also.
Due to the number of people on the trail, I don't recommend bringing trekking poles unless you absolutely need them. With so many people around, they just get in the way. If you do bring them, please practice polite trail etiquette and make sure they are pointed straight down at all times. I saw a lot of people swinging them wildly and/or pointing them backwards when not in use. You do not want to stab someone else on the trail!
How to Go from Stavanger to Pulpit Rock
There are a few steps to get from Stavanger to Pulpit Rock, but it's all easily doable by public transportation.
First, you'll take a car and passenger ferry from Stavanger to Tau. A passenger rate is 60 kroner per adult, each way, and the trip takes about 45 minutes. All payments are made once onboard the ferry.
From there, you'll jump on a bus for the remaining 30 minutes from Tau to Preikestolen. There are two companies operating this route: Pulpit Rock Tours (150 kroner each way or 210kr round-trip with online booking discount) and Go Fjords (125 kr each way).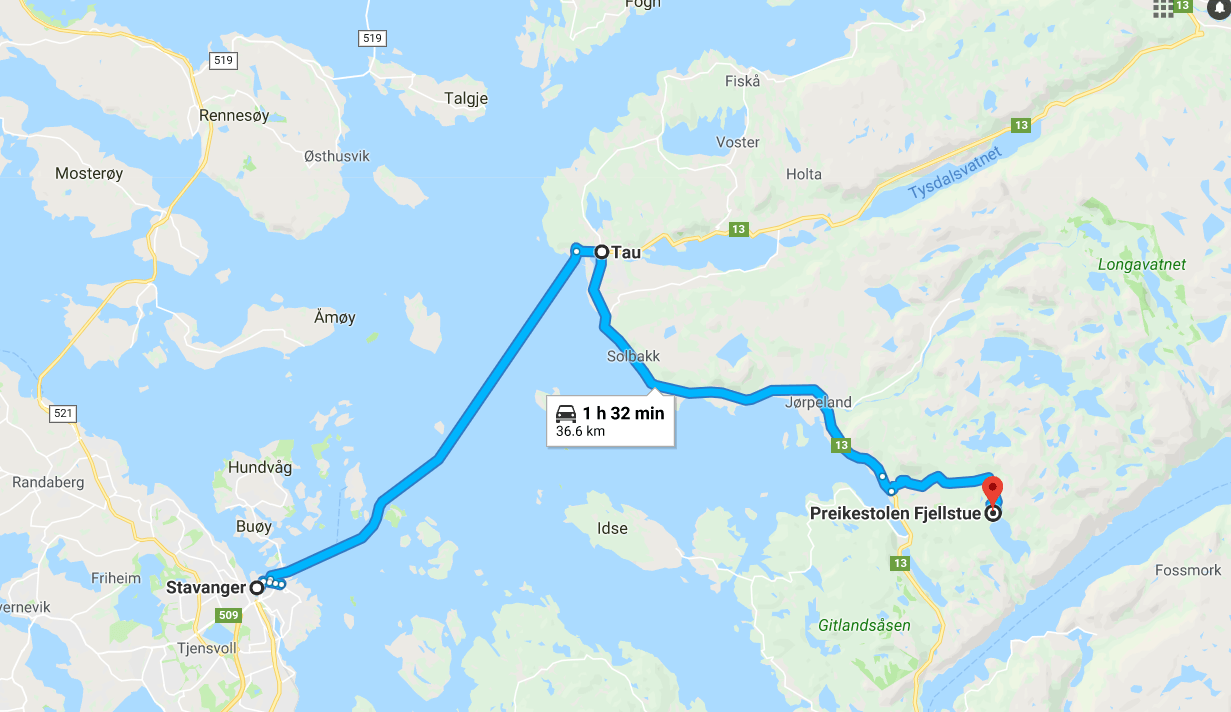 Overall, the trip takes about an hour and a half each way, from central Stavanger to Preikestolen Fjellstue trailhead.
During high season, there are ferry/bus combinations departing from Stavanger as early as 7:30am and leaving Preikestolen as late as 8:20pm. If you're there in low season, you'll need to be much more careful choosing your timetables on how to get to Pulpit Rock from Stavanger.
BONUS TIP!

Going from Stavanger to Pulpit Rock was very easy to do via ferry and bus, but if you have your own car, you could potentially take the 6:45am ferry and get a headstart on the hike before the first buses arrive.

If you're really ambitious, you can also spend the night at Prikestolen Fjellstue and hike at weird hours to avoid the hordes of visitors. I didn't personally stay there, but reviews are good.
I Understand Why it's One of the Best Hikes in Norway
It's not a serene hike, but Pulpit Rock is so incredibly beautiful that I still recommend it. Like a lot of busy tourist attractions, a lot of travel is about simply being prepared about what to expect. If you know going in that there will be a bunch of other hikers, you won't end up disappointed and can simply enjoy the scenery for what it is.
If I had more time, I would've tried the combination of Lysefjord cruise + Pulpit Rock hike. Instead of taking the ferry to the trailhead, you'll be on a scenic sail through the fjord (aka the long way) and get a good look at Pulpit Rock from water level. I can't imagine how impressive it is looking UP at the plateau. Afterwards, you'll be dropped off to hike independently and return on one of the scheduled buses. Unfortunately, I was on a cruise ship and was worried about getting back in time, so you'll have to try it and let me know how it goes.
>>>>> Related Post: 6 Norwegian Fjords Cruise Tips: How to Cruise to Norway the Right Way
And at the end of the day, you can enjoy a walk through the Old Town and grab lunch from one of Stavanger's great restaurants. That's a perfect combination, in my opinion.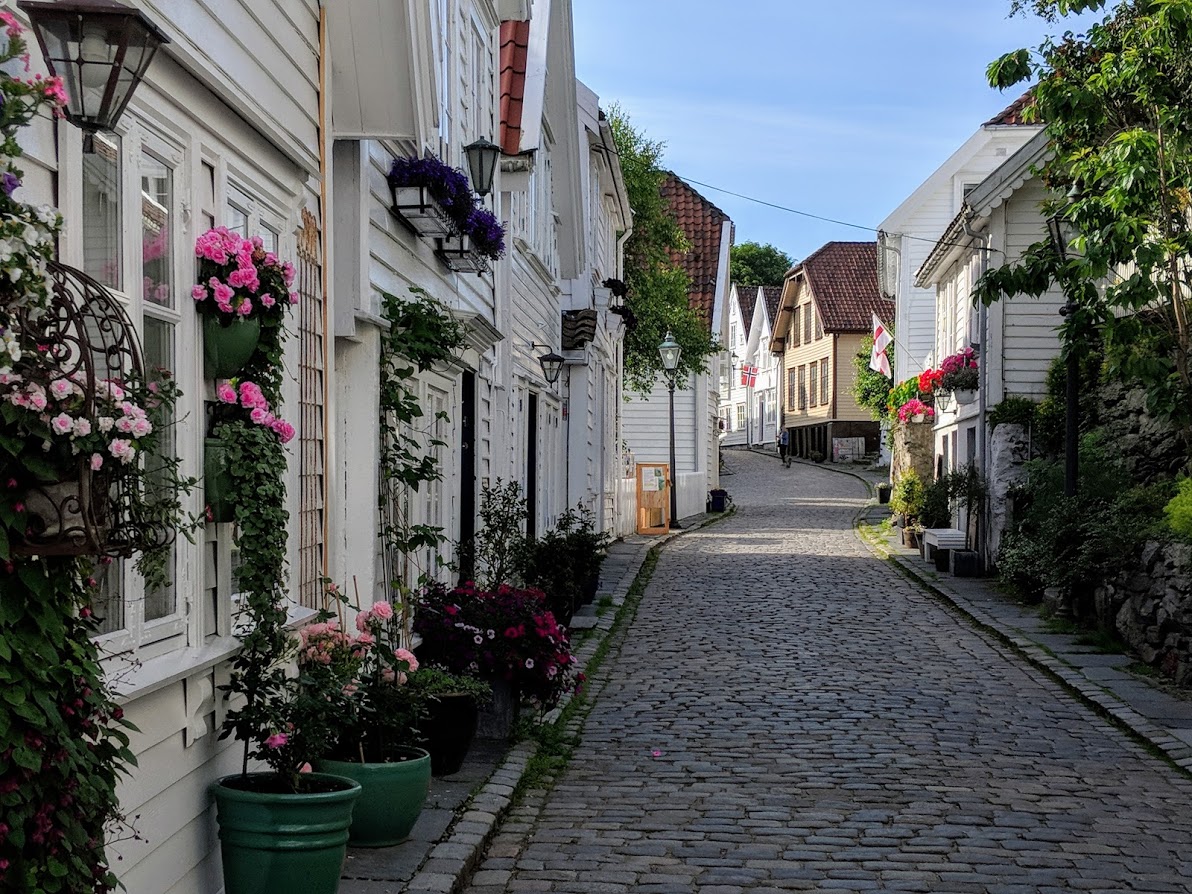 >>>>> For more photos of Stavanger, see my 45 favorite photos of Norway