This post may contain affiliate links. As an Amazon Associate I earn from qualifying purchases.
* * *
I never thought Nanjing, China would be on the list of most magnificent places I've been. For the most part, the city is dreary, smoggy, and grey, especially in winter. But Usnisa Palace in Niushoushan Cultural Park is so stunning that it raises the entire city up a notch, to a level normally held for opulent palaces like Versailles or the Alhambra.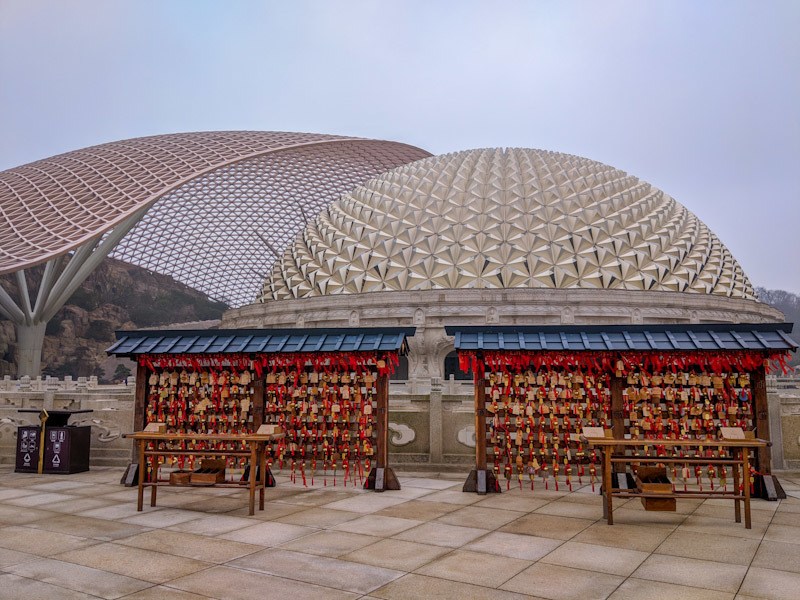 While the architecture is a marvel in and of itself, it's the entire package of the palace (much of which is underground), the park on Niushou mountain, and the surrounding temples that makes this a must-visit in Nanjing.
Niushoushan Mountain
On the south side of Nanjing, the Niushoushan scenic area covers 197 acres of perfectly landscaped trails and gardens — an oasis in a busy, crowded city. The name means "cattle head", so named for the two peaks on its east and west side amongst its mountain views.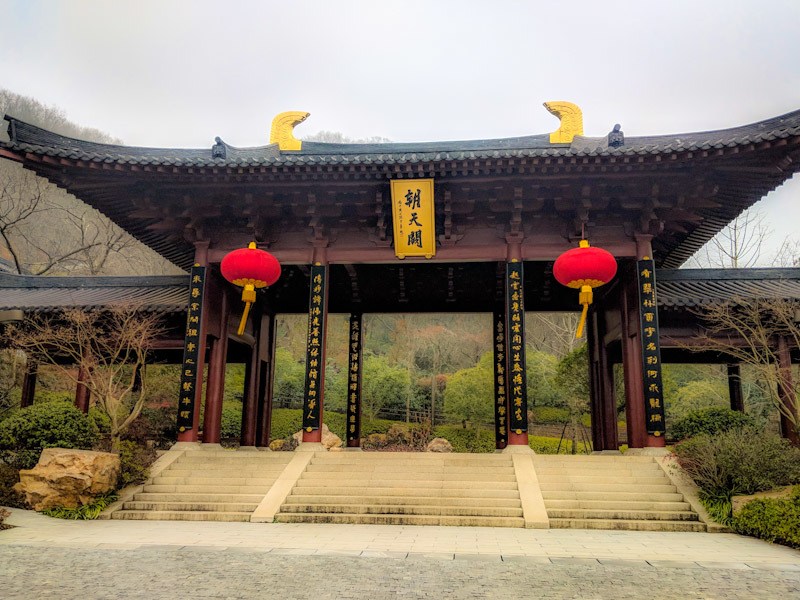 For centuries, this spot has been a sacred Buddhist sanctuary: this is where the Niutou sect of Chinese Zen Buddhism originated. More recently, a piece of Buddha's skull was found in Nanjing, which inspired the Chinese government to spend ~half a billion US dollars reviving the spot and building Usnisa Palace.
Usnisa Palace
Since the palace is new (2015) and most local cultural relics were either destroyed in the war (or over time in general), the history here isn't a draw. In fact, most of the time it's not a pilgrimage site either — the skull relic is only viewable on half a dozen holidays throughout the year.
The real draw here is the insane opulence of Usnisa Palace itself, from the gold and bronze domes to murals, stone carvings, and marble hallways.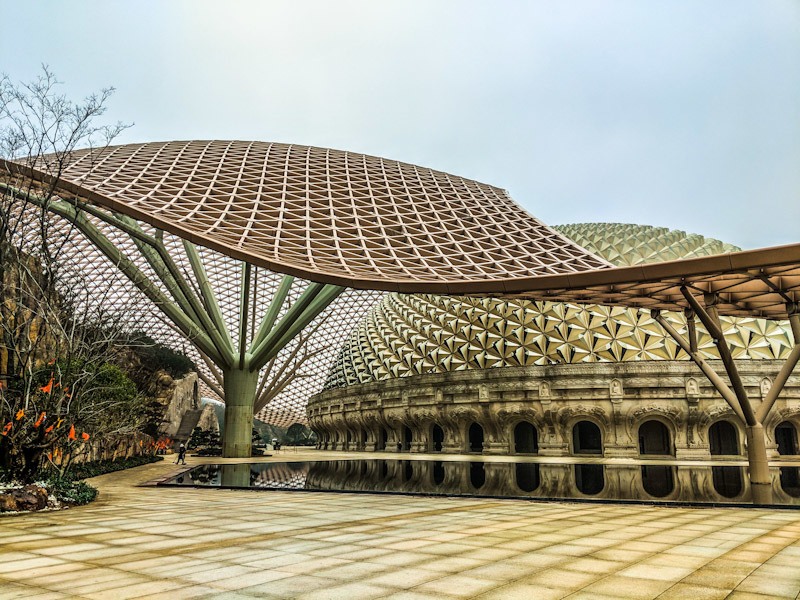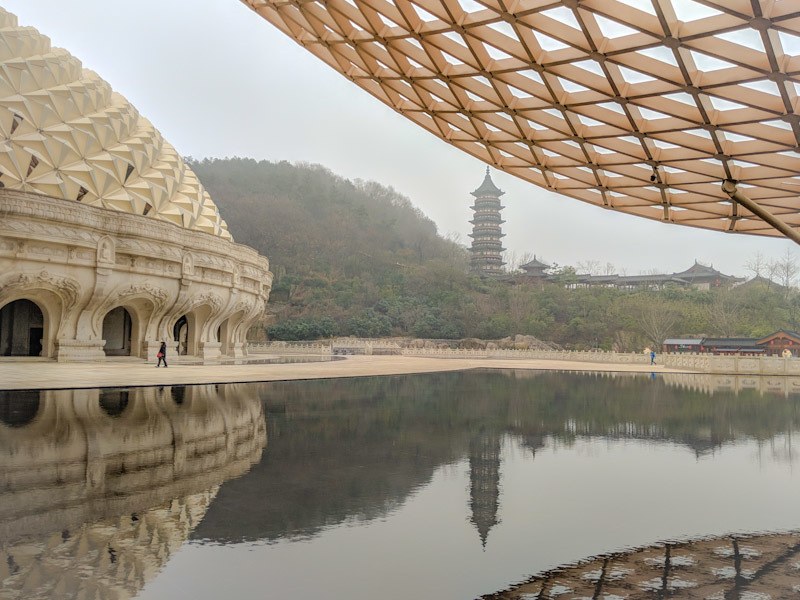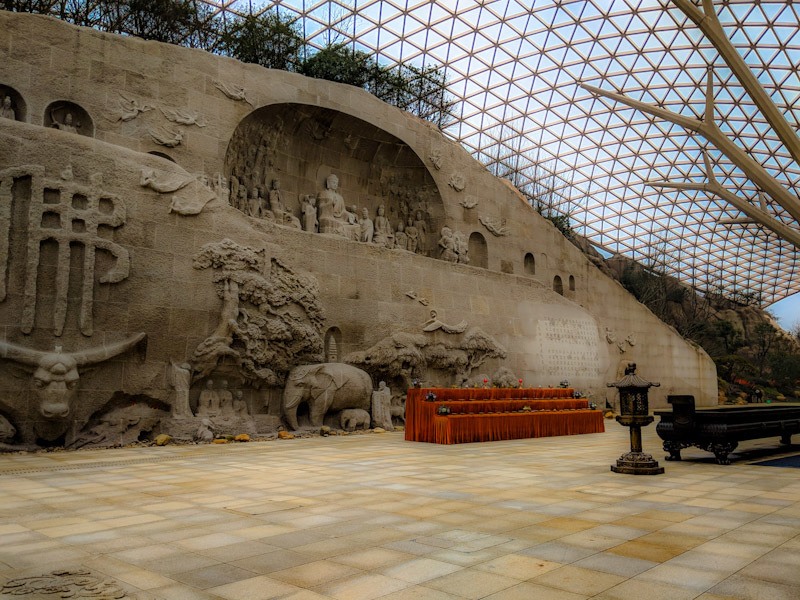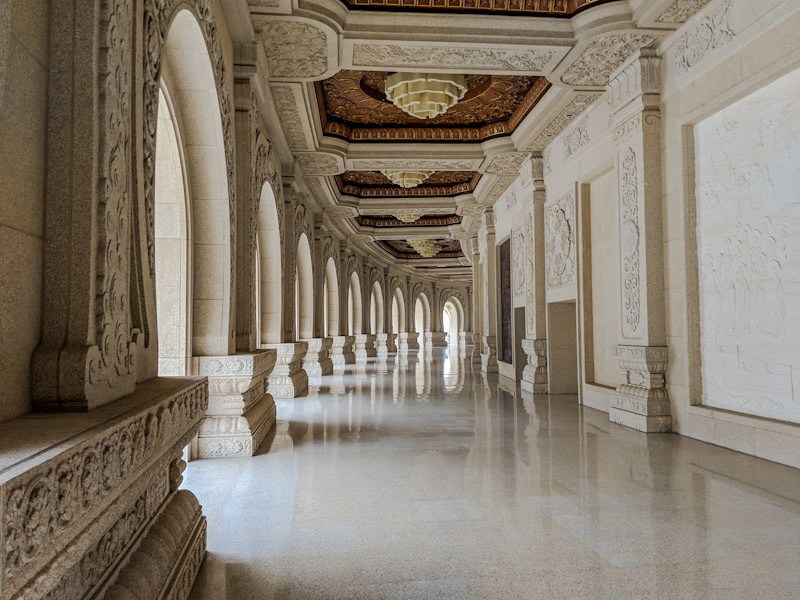 Inside Usnisa Palace are three main sections:
Chan State Scenery (home of the "lotus throne")
Great Usnisa Hall (and "ten thousand buddha corridor")
Usnisa Worshipping Palace (ordinarily closed to the public, housing Buddha's parietal bone)
Chan State Scenery (禅境大观)
When entering Usnisa Palace, this is the main room on the ground floor, sitting underneath the gold dome. The main sight here is the ~25-foot long Buddha statue lying in the middle of a lotus-shaped pond.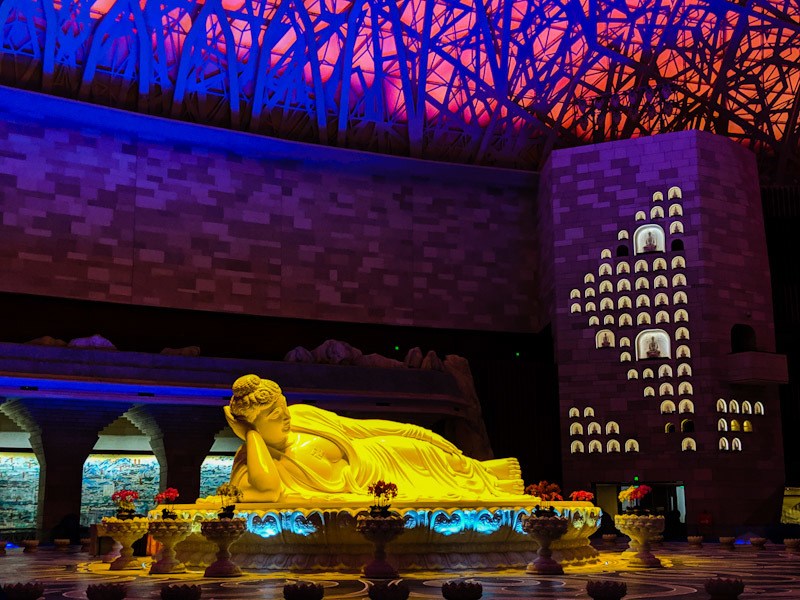 As you walk clockwise around Buddha, you'll notice more details than the statue itself and as the lighting changes color in the room, so does the atmosphere.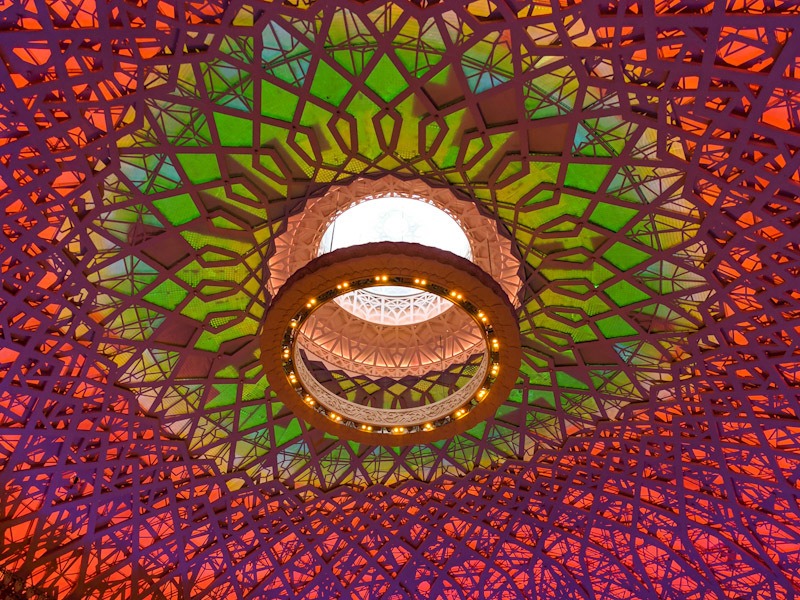 Off the main room, you'll also find classrooms and libraries, some of which appeared to be in use for private events during my visit.
Underground at the Usnisa Palace
Although Usnisa Palace is described as being nine floors tall, six of those are underground. After your walk around the lotus throne, you'll head down to the very bottom via a series of escalators. If you didn't know there was an underground temple, you'd never guess it from the outside.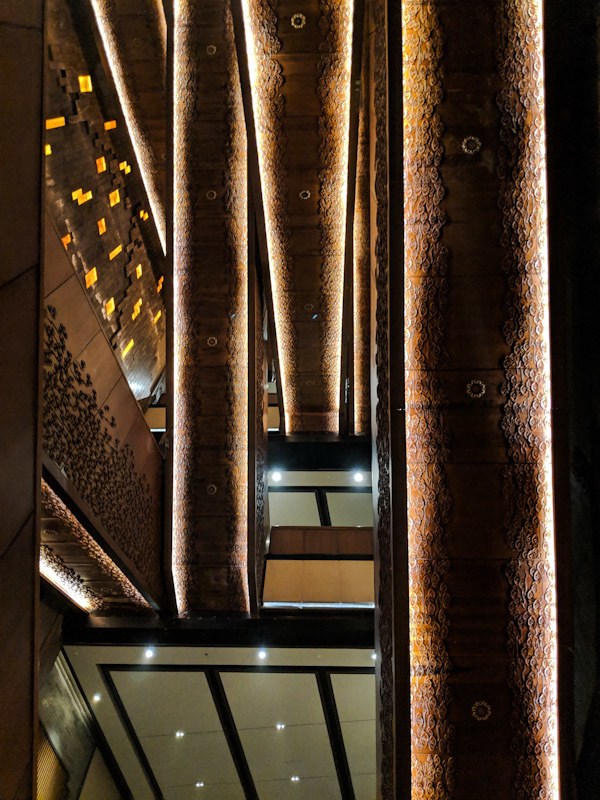 Great Usnisa Hall (舍利大殿)
Downstairs, you'll be immediately greeted by thousands of Buddhas (see the background behind the flowers below). I don't know if there are all 10,000 that they claim, but I certainly gave them the benefit of the doubt.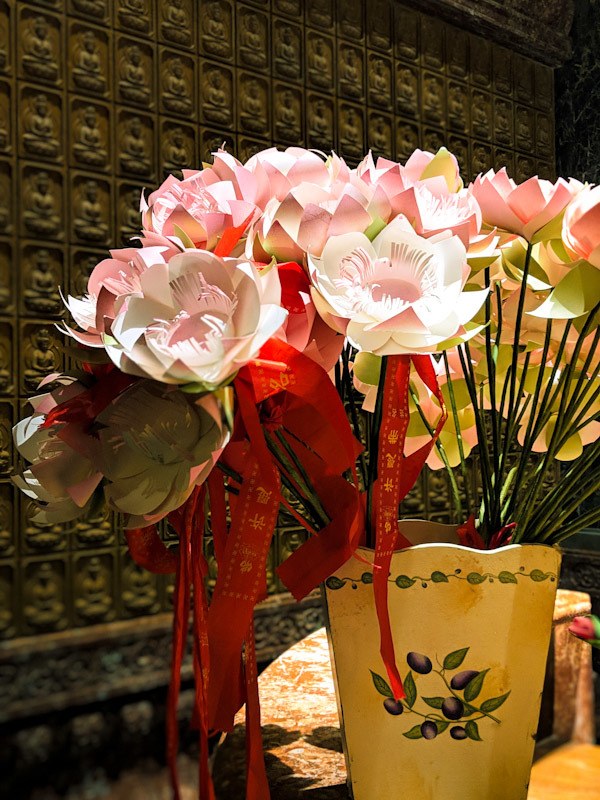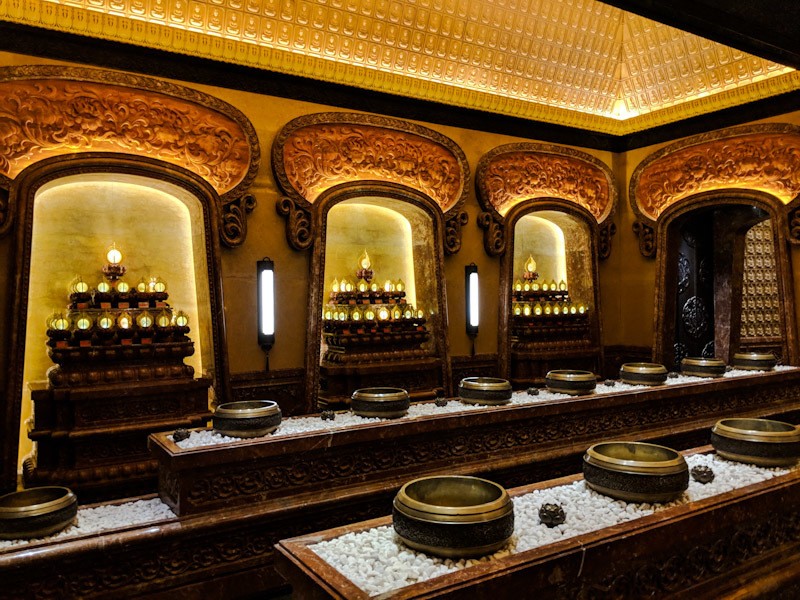 Even the offering rooms — before you enter the Great Hall — are lavishly decorated with stones and candles.
Stepping inside the Great Hall itself is unbelievably magnificent: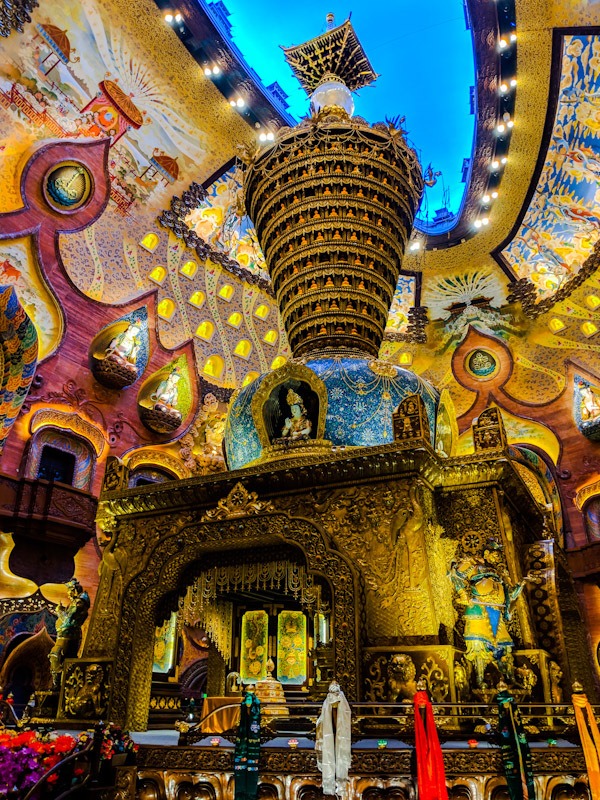 The stupa in the center is covered with gold work, crystals, and lucky symbols made from precious stones, towering 100 feet high.
Everywhere you look — above and around — is decorated in vibrant colors. The hall itself isn't huge, but you should allow plenty of time to soak it all up and crane your neck to take it all in.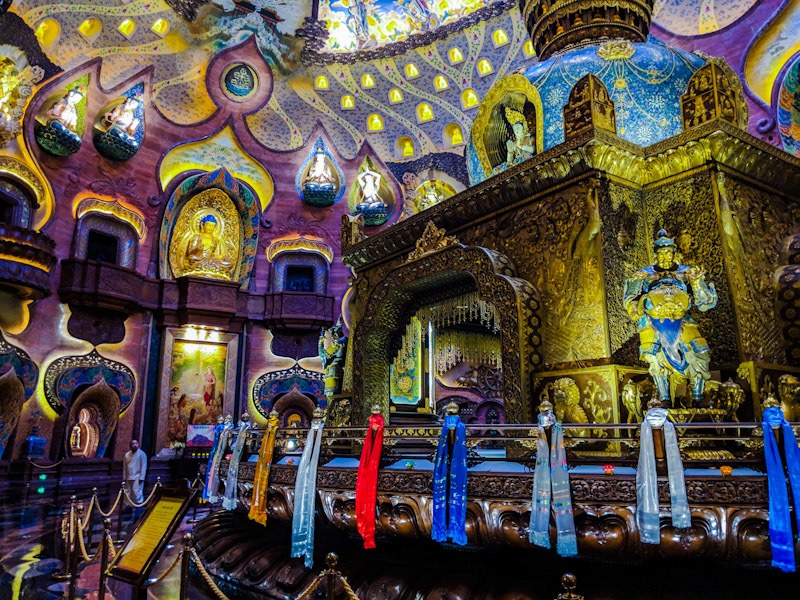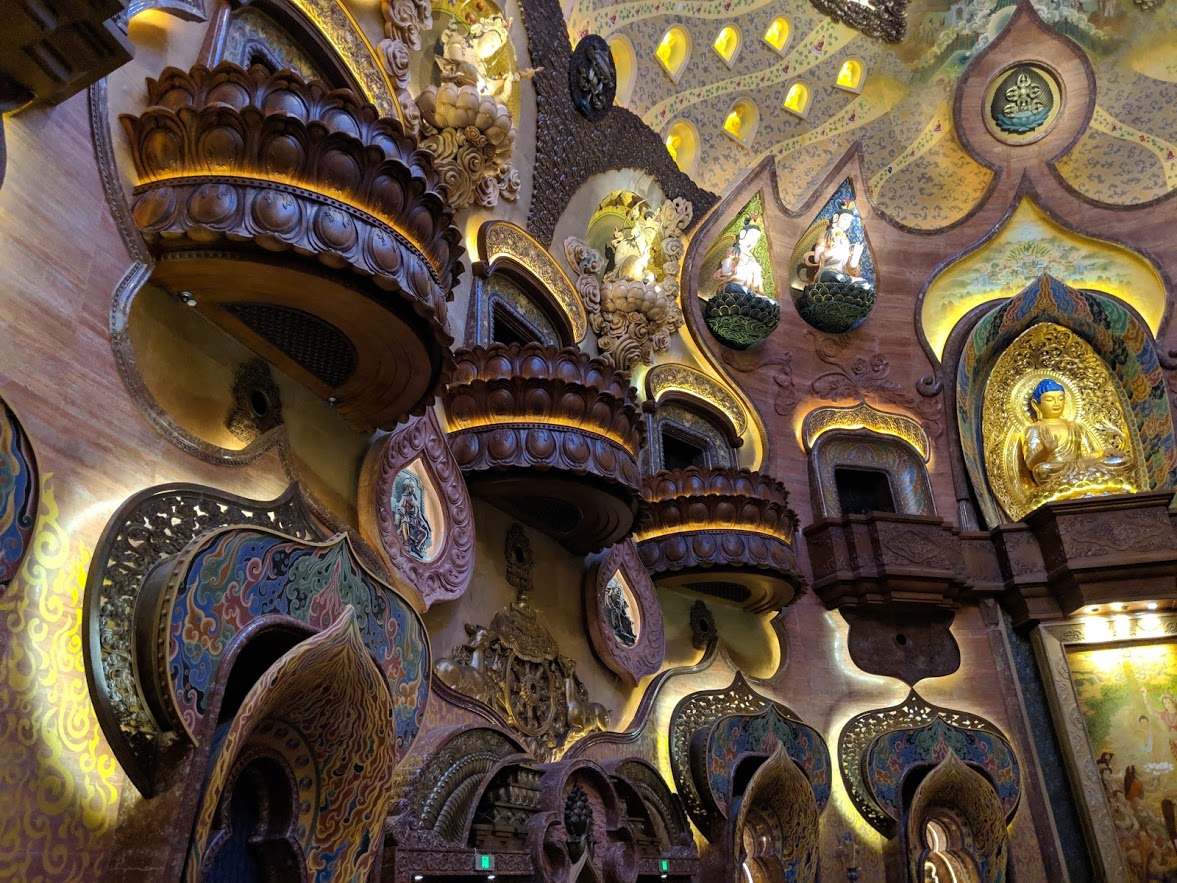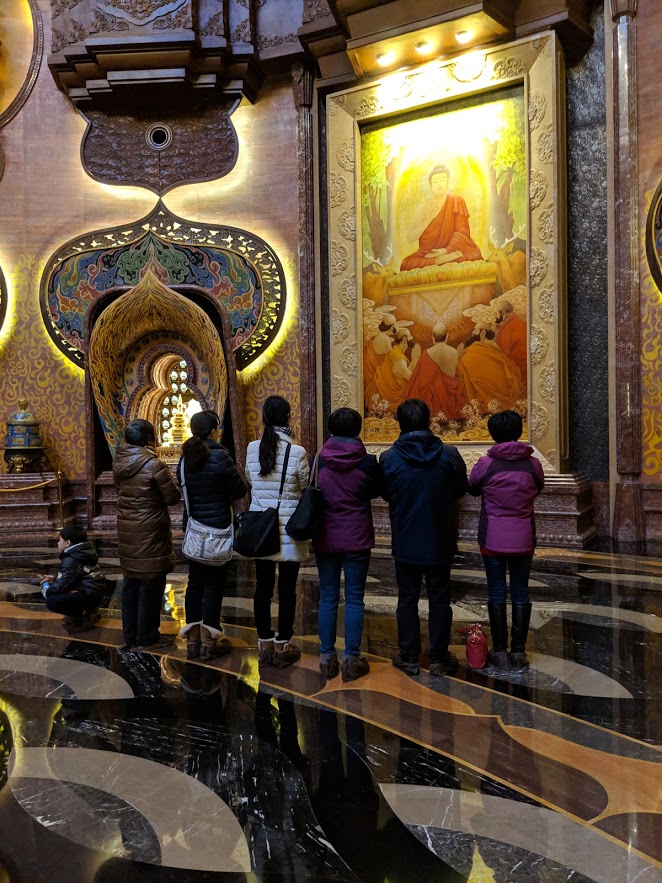 Leaving the great hall, you'll continue through opulent marble hallways, admiring floors, ceilings, walls, and statues along the route.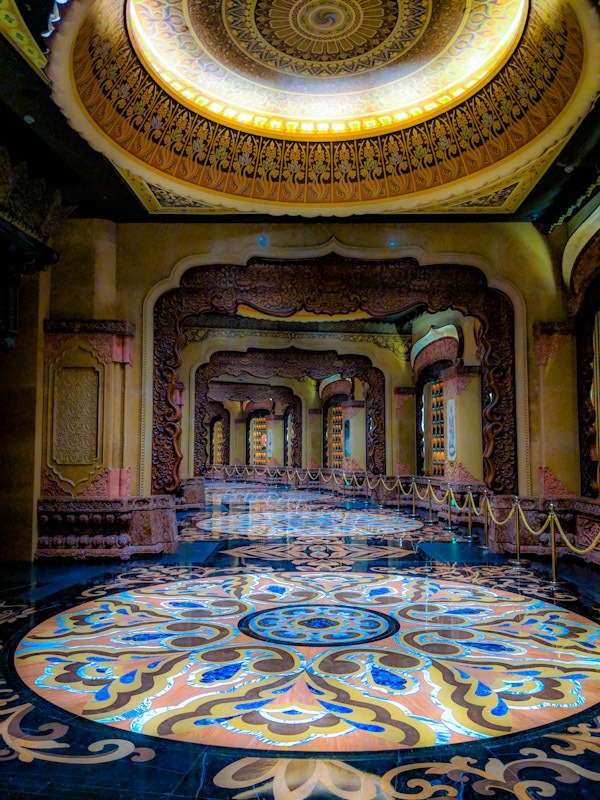 Usnisa Worshiping Palace (舍利藏宫)
If you visit on a national or religious holiday, you'll be able to enter the worshipping palace and the Sakyamuni relic; otherwise, after the lavish hallways there's nothing more of interest to see.
Visiting the Nishou Mountain Cultural Park
Leaving the palace, you'll notice the surrounding forest park has signs leading to other points of interest on the ground. At the time of my visit, the Usnisa Pagoda was closed, although theoretically you can climb to the top for expansive views (before you set out on 9 flights of stairs, keep in mind that often this region is shrouded in clouds or smog!).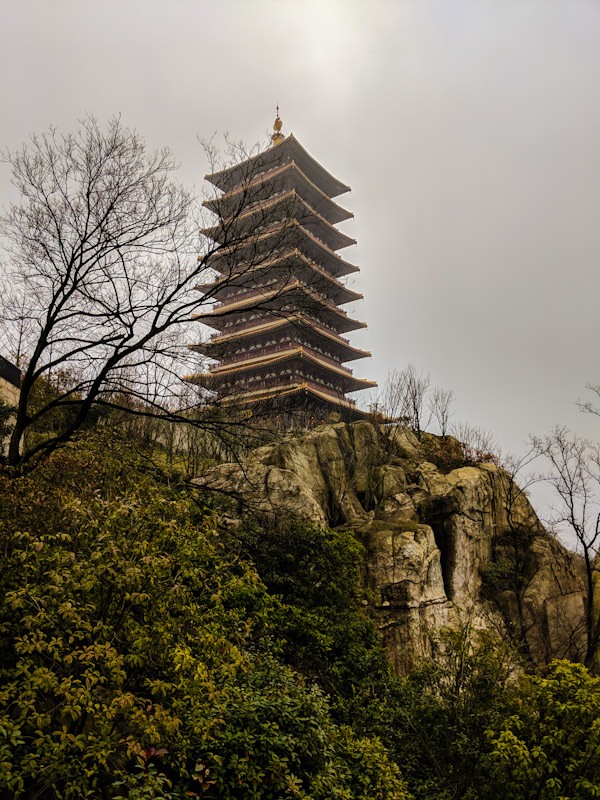 Usnisa Temple
Partway down the mountain is the Usnisa Temple area, a more traditional Chinese temple where you can observe worshippers and monks or simply take in the setting.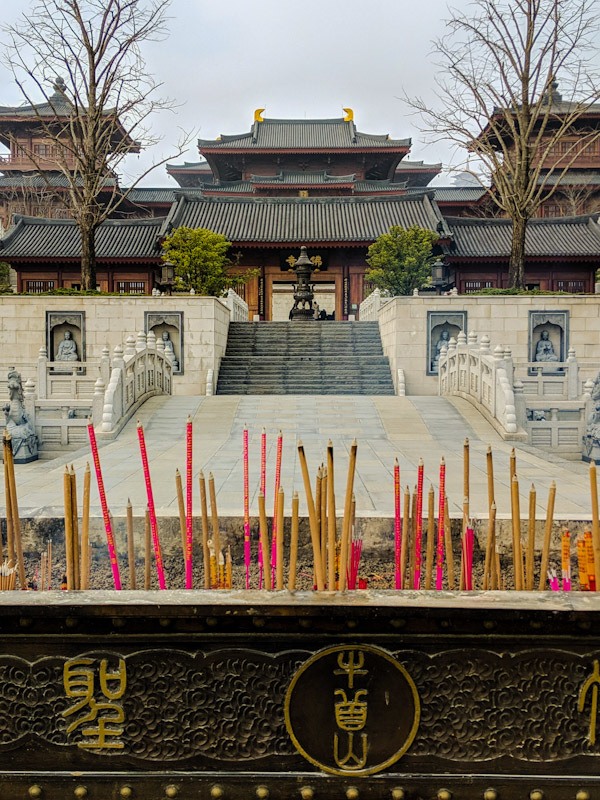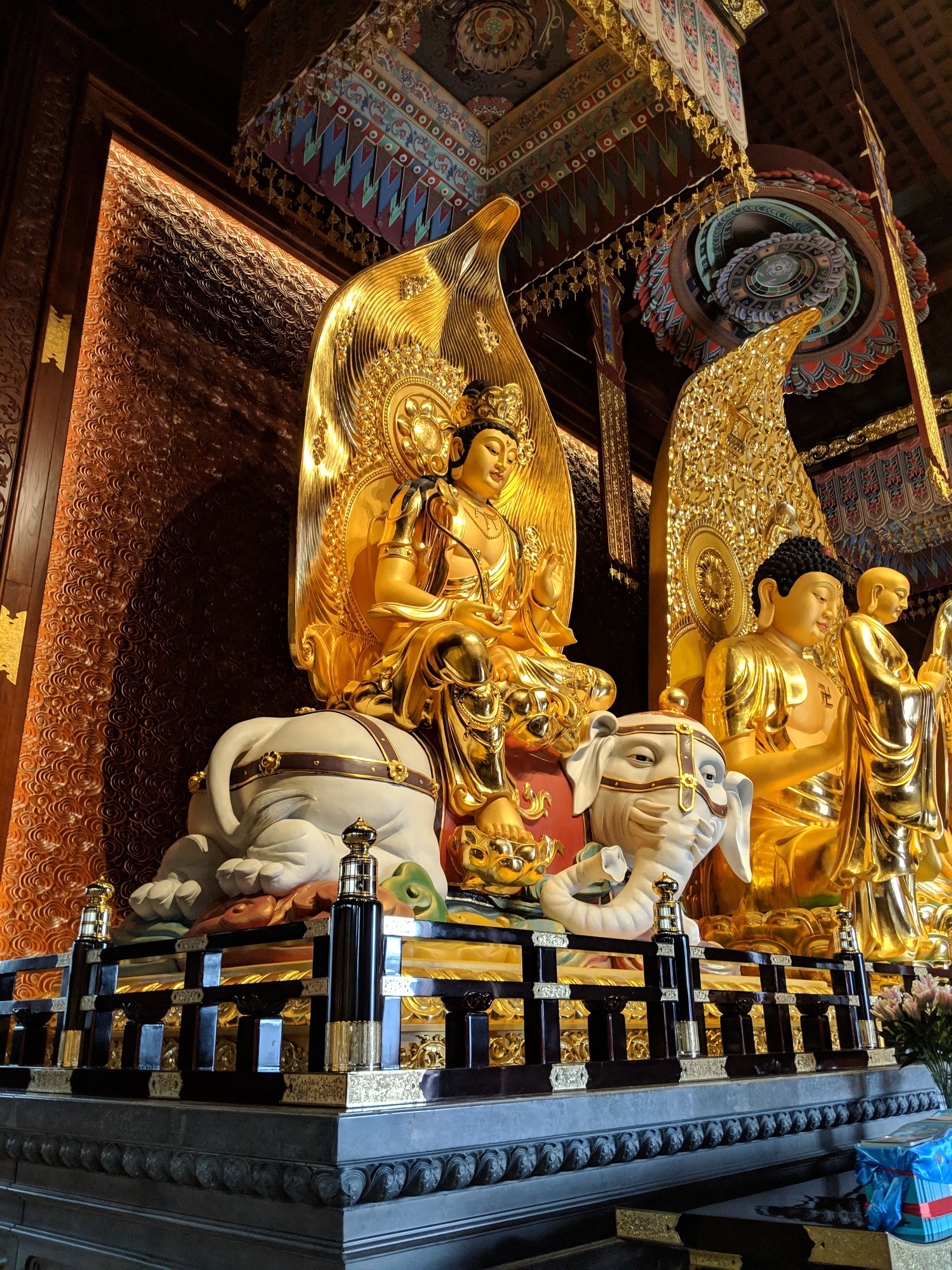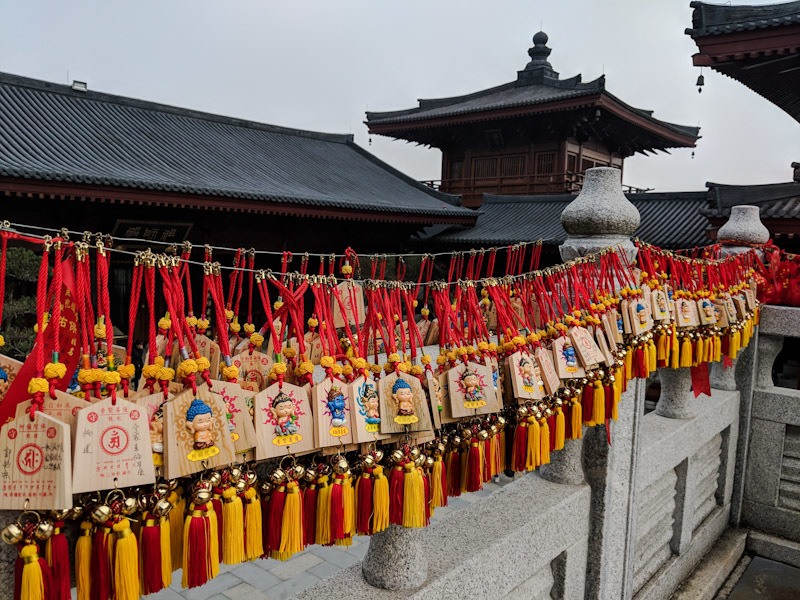 Nishoushan Forest Park
It's obvious the designers worked hard to build the cultural areas in harmony with nature. All of Niushousan scenic area is impeccably landscaped and spotlessly clean. On a nicer day, you could spend hours walking the hills, past small lakes, bamboo, and other forests, but on my January visit, that was less of a draw.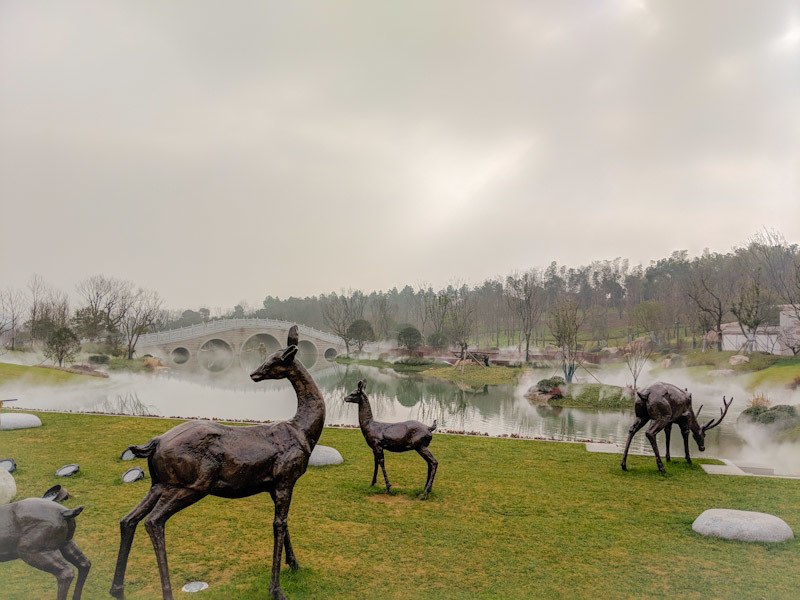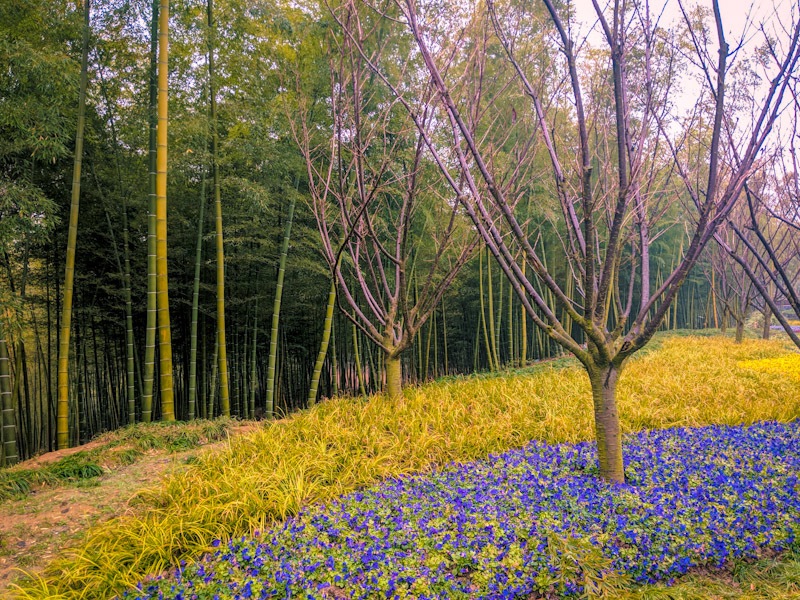 Usnisa Palace Nanjing Logistics
Buying Nishoushan Tickets
As of 2019, tickets to Usnisa Palace cost 98 RMB and could be purchased with cash or mobile payment. You can also buy tickets online with credit card at Trip.com if you plan 48 hours in advance (recommended, if your visit date is set in stone).
Planning Your Day at Usnisa Palace Nanjing
If you want a quiet, zen-like visit, you HAVE to arrive before the 9am opening. They start selling tickets at 8:30am and then you'll need to either walk (~30 minutes) or bus (20 RMB extra) from the ticket gates to the palace itself.
At 9am in the off-season, it was quiet for my visit. By the time I had completed my tour of the palace, it was a zoo. I can't imagine what the summer looks like, but the website says they'll sell up to 40,000 tickets per day!
Please, do everything you can to get there early. Do not stop, do not collect $200…go straight to Usnisa Palace and see everything else on your way back down.
I spent three hours but could've spent an extra hour or two if there was nicer weather for walking around or enjoying the views.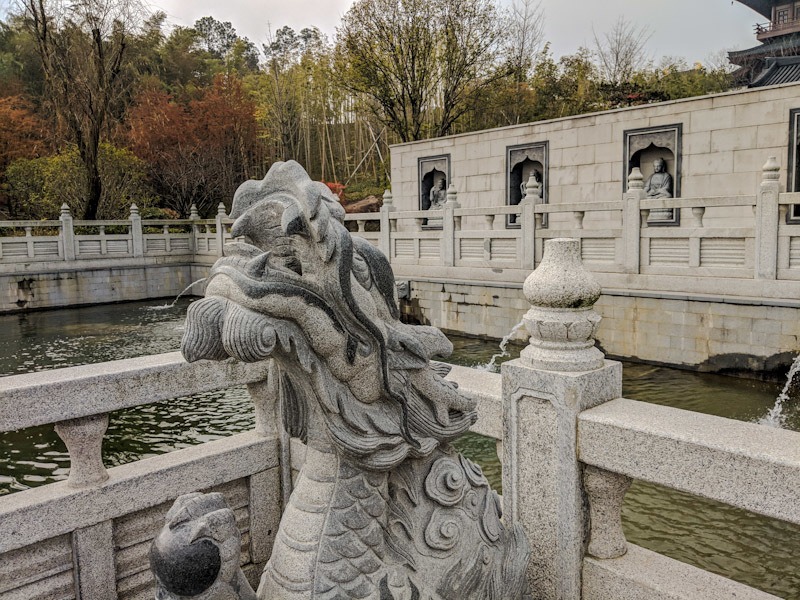 How to Get to Niushoushan Forestal Park
The Nanjing metro is great, but the bus system was quite challenging for me to figure out. The Usnisa website says you can arrive by bus 754 or 755, but I couldn't decipher route information, schedules, or connections from my hotel to make it happen. If anyone's done it, I'd love a summary to share here!
I took a DiDi (Chinese ride sharing app) in both directions, which took about 30 minutes from the FuziMiao area and cost 40 RMB (US $6).
Other Niushoushan Amenities
Near the ticketing building, you'll find a Starbucks and Haagen-Dazs. Closer to the palace, there's a vegetarian buffet with good reviews from visitors, though I chose to eat back in the city. Plenty of clean bathrooms throughout Niushoushan Mountain!
* * *
Heading anywhere else in China after Nanjing? Read more of my articles here!