This post may contain affiliate links. As an Amazon Associate I earn from qualifying purchases.
* * *
My friends looked at me a little funny when I mentioned I added Nanjing to my China plans. Why not Xian, or Chengdu, or anywhere most visitors go to? And on top of that, I spent the night instead of just taking the bullet train from Shanghai to Nanjing for the day. But I really wanted to see Usnisa Palace and once I decided on that, I found plenty of other things to do in Nanjing to justify a longer stay.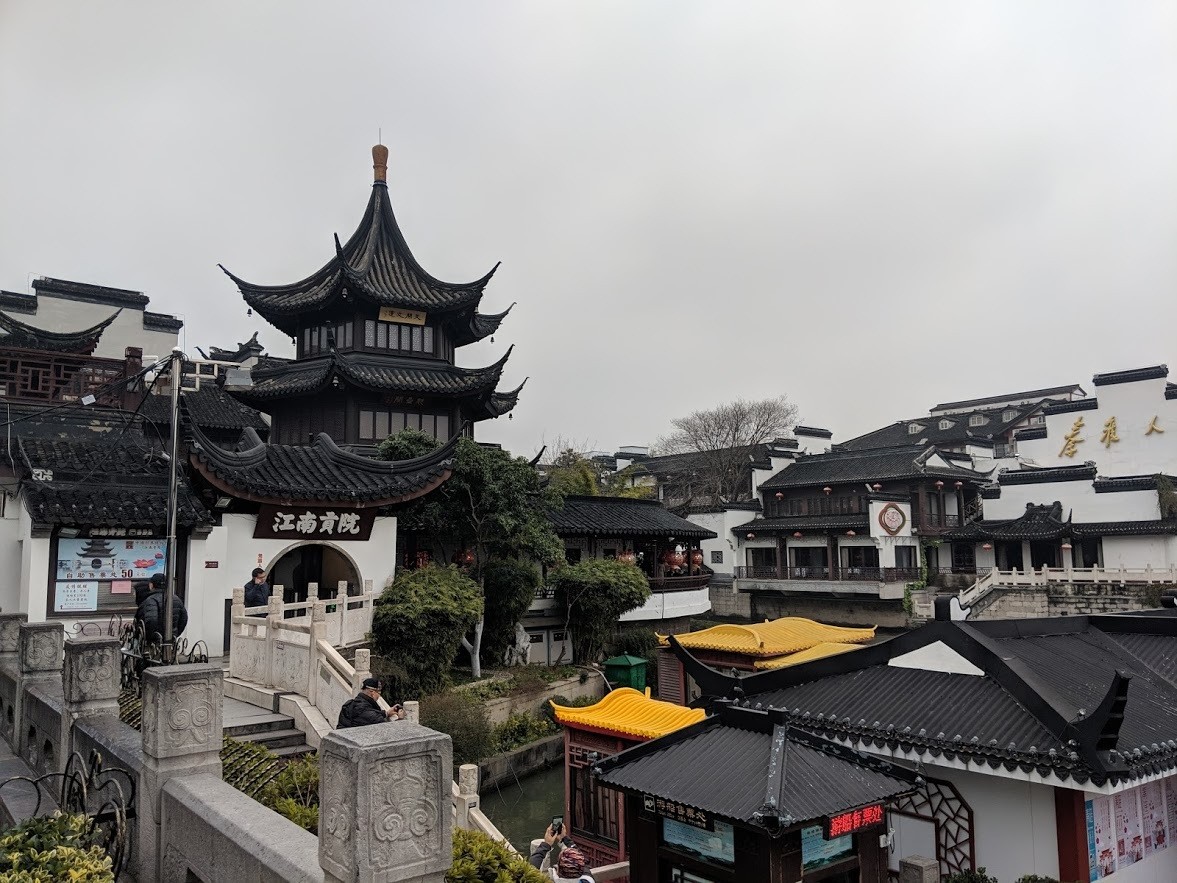 Planning Nanjing was an exercise in patience. Since it's not as popular as other Chinese cities, there aren't as many articles about it (and fewer still on the actual coordination of visiting, rather than just inspiration). But if I can do it, so can you.
First Things First: Is Nanjing Worth a Visit?
Yes, Nanjing is worth a visit. There's more to do in the city than you'll probably have time for, with a few stand-out attractions. There's also a lot to be said about going somewhere off the traditional tourist trail: locals are happy to chat with you and having to work a little harder for the experience usually leads to a more rewarding visit.
Bonus: it's easy to get to from Shanghai and in my experience, was about 25% cheaper at restaurants and hotels.
What is Nanjing Famous For?
Pull out your history books, folks.
Nanjing is the ancient southern capital of China and holds a lot of significance in both ancient and modern times. Its history gets especially ugly in 1937-38, when the Nanjing Massacre (or "rape of Nanjing") occurred, brutally killing an estimated 300,000 Chinese soldiers and civilians.
From a traveler's perspective, Nanjing is famous as the home of the Sun Yat-sen Mausoleum, the first Ming tomb, and the Nanjing city wall (the world's longest circular city wall).
Things to Do in Nanjing
Nanjing Massacre Memorial Hall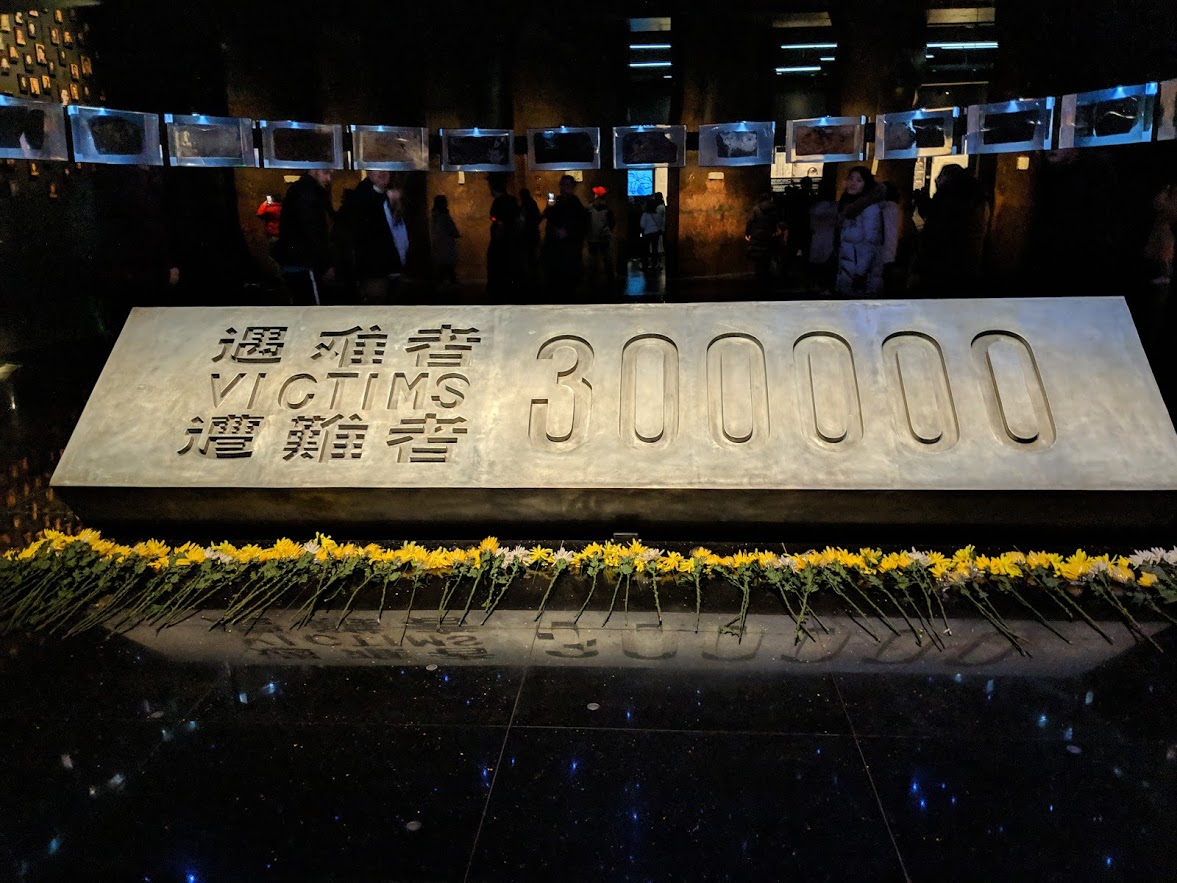 Despite its significance, I almost didn't go here — I knew it would shake me up and that's not my idea of "vacation". But having done it, I think it's a necessary place to visit in Nanjing to understand city history as well as current political tensions and international relations.
The site is part memorial, part museum, and part graveyard (one exhibition hall is literally a skeletal excavation site). The museum does a great job of providing historical context on the Second Sino-Japanese War and intermingles the facts of the atrocities with gripping photos and testimonies that will move you to tears. It ends with notes of reconciliation and moving forward.
Nanjing Museum
I'm not much for museums, so to list a second one is a big deal for me. I didn't come for the exhibits, though: I came for the Chinese opera at the Nanjing Museum which is performed daily at 2pm. For ¥10 you can get a cup of tea and enjoy as much (or as little) of the performance as you desire. It's a low-pressure way to take it in, since Chinese opera is not to everyone's tastes.
Purple Mountain (Zhongshan Scenic Area)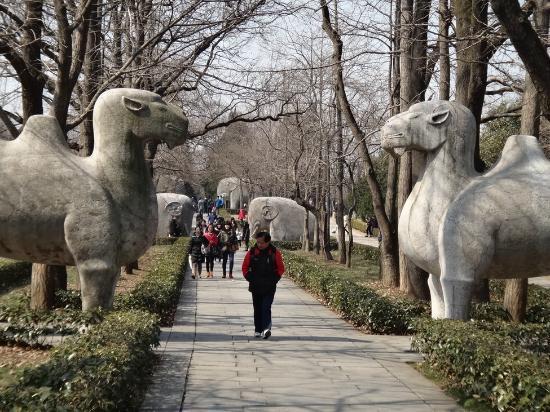 There are three major sites on Purple Mountain, as well as walking trails: the Ming Xiaoling Mausoleum, Sun Yat Sen's Mausoleum, and Linggu Temple. I imagine on a nice day you could spend all day outside exploring, or even swimming with the locals in Lake Zixia, but in bad weather, the highlight is the statue-lined promenades leading to the Ming Tombs.
Usnisa Palace and Niushou Mountain Scenic Area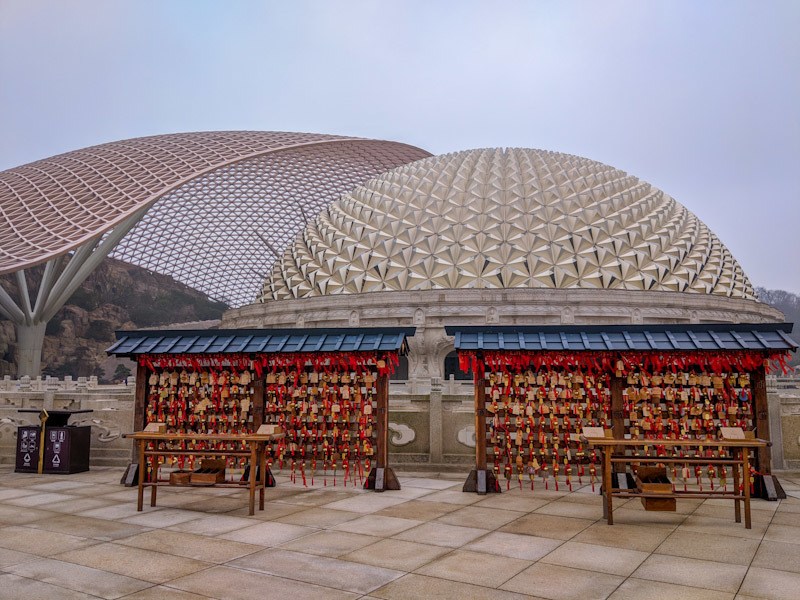 This was, by far, my favorite part of Nanjing — probably because it felt so different from everywhere else I've been in China. The underground palace is a feast for the eyes, with so many colors and intricate designs that you barely know where to look. Plus, the landscaped grounds in the park are an oasis; since there's an entrance fee and it covers a large area, it's not too crowded.
Xuanwu Lake
Like many Chinese parks, my recommendation is to visit here first thing in the morning; Xuanwu Lake park is a popular spot for seniors to practice tai-chi or for other locals to enjoy the tranquility. For great views of the lake, you can access the city wall at Taicheng and maybe even get a look at the skyline on a clear day.
Ming City Wall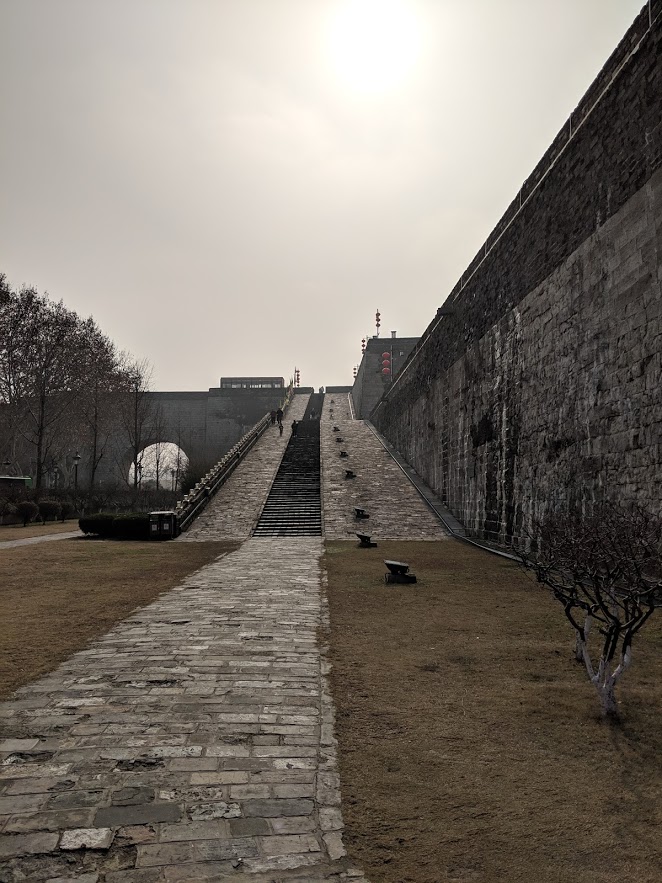 Although there's no need to see every gate and stretch of the city walls, you should make an effort to peruse at least some of it. The wall took 21 years to build and is very well preserved, with my personal highlight being Zhongyang Gate, sometimes referred to as the Gate of China.
What to Do in Nanjing at Night
Fuzimiao / Confucius Temple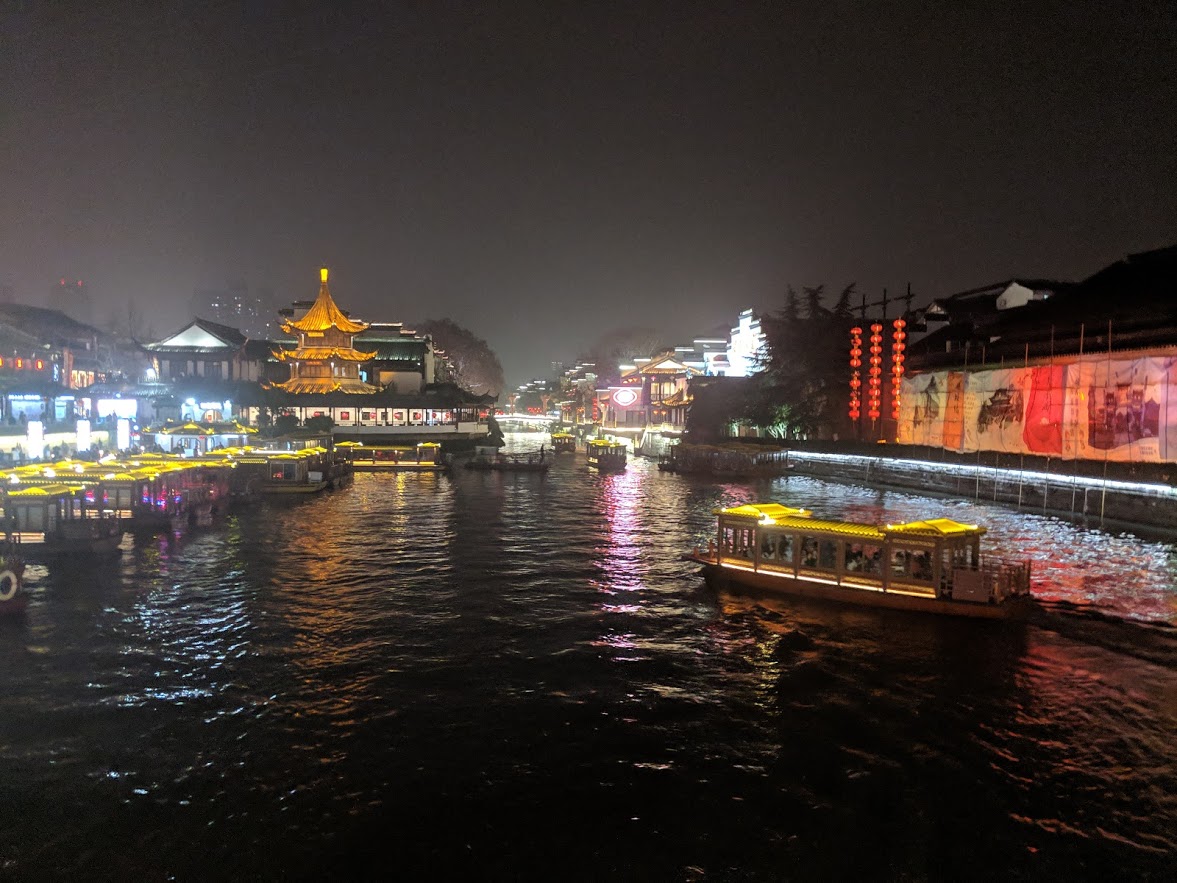 Even though this area is referred to as Confucius Temple, a visit here has little to do with religion. This part of town is all about shopping and people-watching. If you're not a shopper, you can stroll up and down the streets of Fuzimiao in an hour or so. In my opinion, it's best done at night, when the buildings are lit up; this is one place you'd rather visit when it's hopping than when it's too quiet. You can also take a boat ride down the Qinhuai River, although in the cold of January, I skipped it.
Nanjing 1912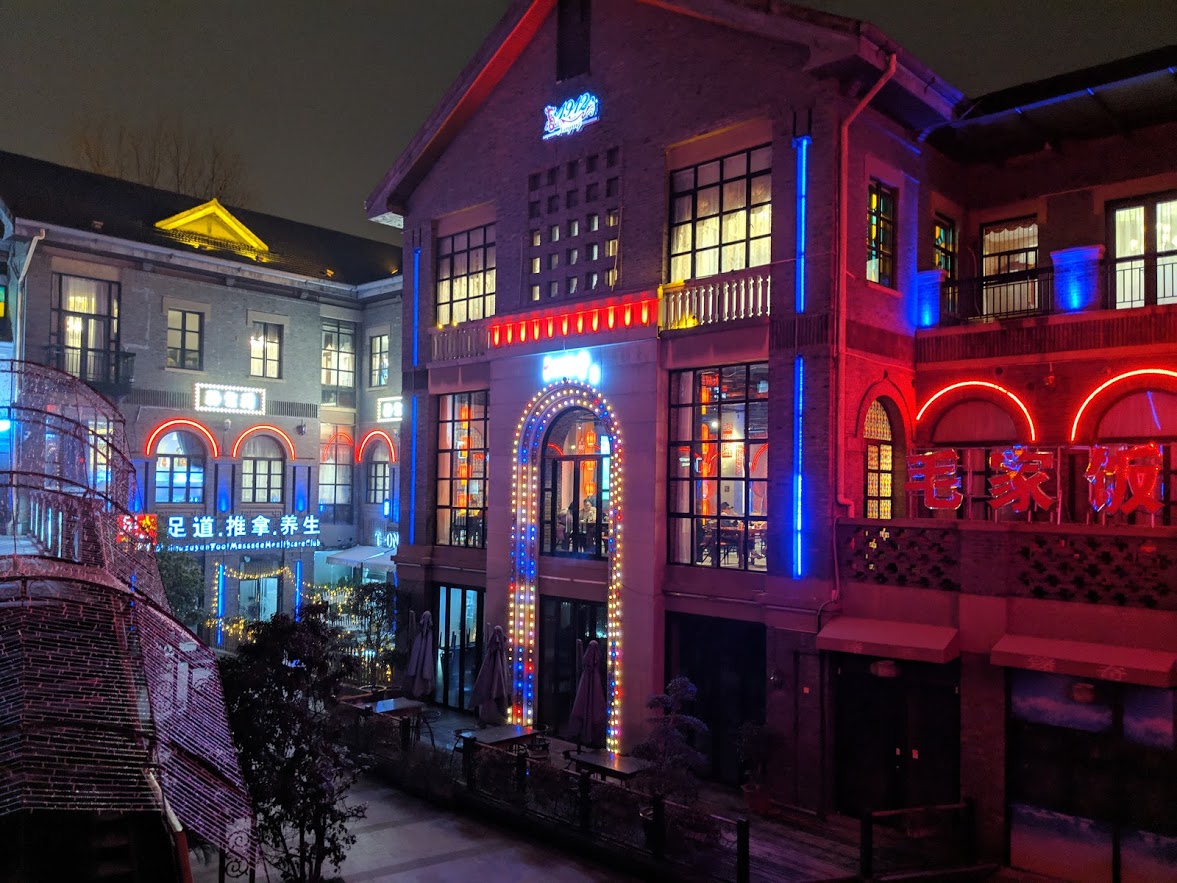 This is where to find most of the clubs in Nanjing, along with plenty of bars and some restaurants. I was underwhelmed with Nanjing 1912, but then again, I'm not much of a drinker or dancer and I was there on a weeknight. There's a western vibe here, with a craft brewery, Starbucks and other chains, and even British decor. I totally forgot about how common smoking is in China until I went to Master Gao Craft Beer and came out smelling like an ashtray.
Xinjiekou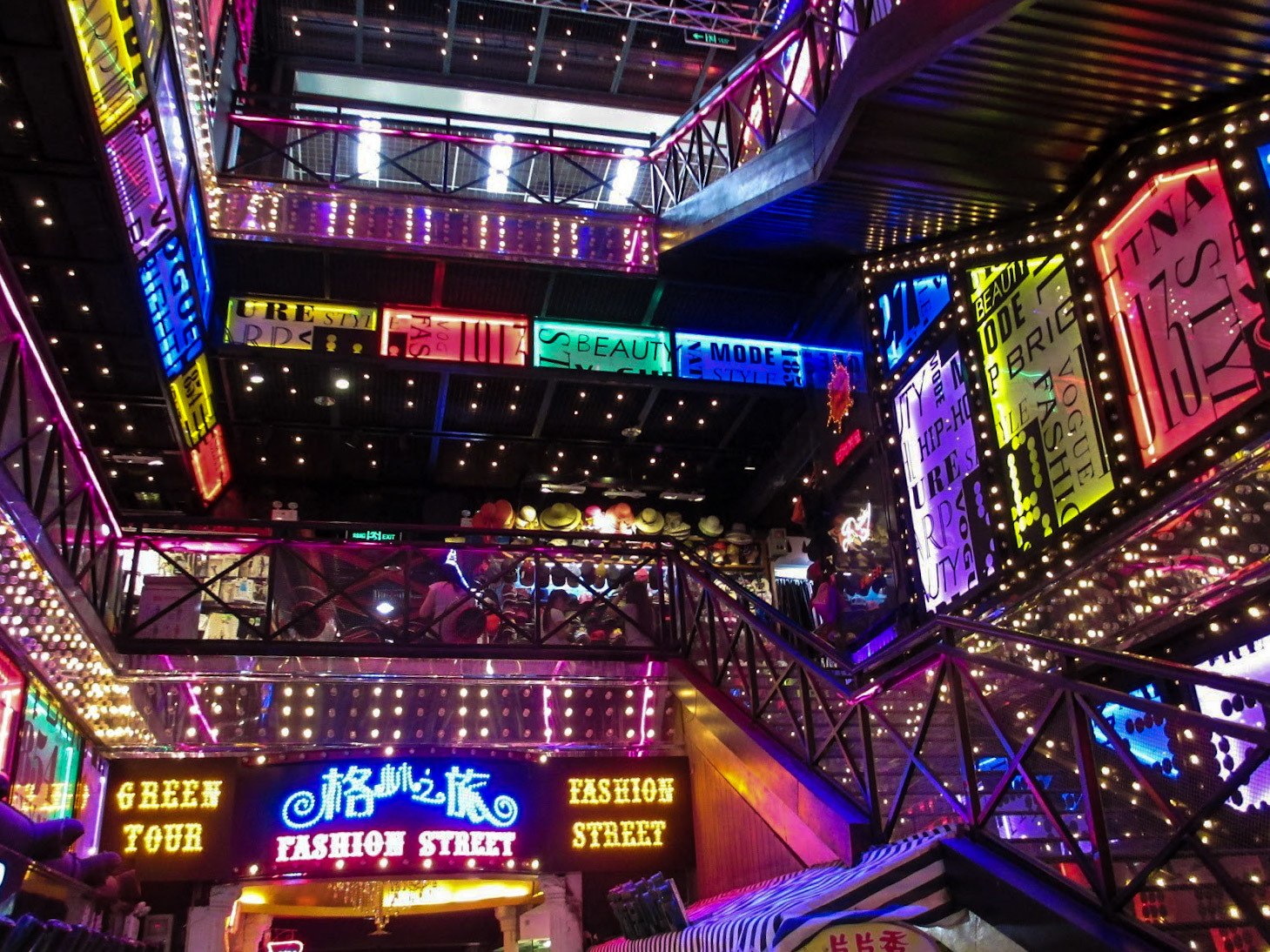 Think of this as Nanjing's Times Square, a great area to see all the neon lights at night. There is tons of shopping here — high-end western brands at Deji Plaza and Chinese brands at Fashion Lady mall. While it's great to take photos from the outside of all the bright colors, you should definitely also head inside Fashion Lady…someone else described it as a "video game come to life" and I couldn't agree more.
Things to Do in Nanjing That I Thought were Bad Advice

There are several places I skipped. Here's why:

Presidential Palace, aka China Modern History Museum: Although I commend the idea, all the exhibits are only written in Chinese, making it skippable if you're short on time.
Zifeng Tower: This is the tallest skyscraper in the city, with an observatory and restaurant on the 72nd floor (of 89). For a view of the city, this is where to go, but only bother on a smog-free day.
Nanjing Yangtze River Bridge: Yes, it was the first double-decker bridge for car and rail traffic, but today it's just a cement bridge that's not even pretty.
Grand Da Bao'en Temple: There is, technically, a temple on-site but this is mostly a strange conglomeration of WTF exhibits and dizzying light shows.

It's like they built the exhibits at Da Baoen temple just for Instagram.
Where to Stay in Nanjing
If you decide that this is just too much for one day in Nanjing (I don't blame you), choosing a place to spend the night can be overwhelming. In such a big city, it's hard to settle on a neighborhood. Everything is far apart!
In general, the two areas I'd recommend are either in walking distance to Fuzimiao or Xinjiekou. It's really nice to have the ability to head out in the evening for dinner and a little activity before heading back in the evening. Both of these areas have tons of restaurants and easy access to the metro.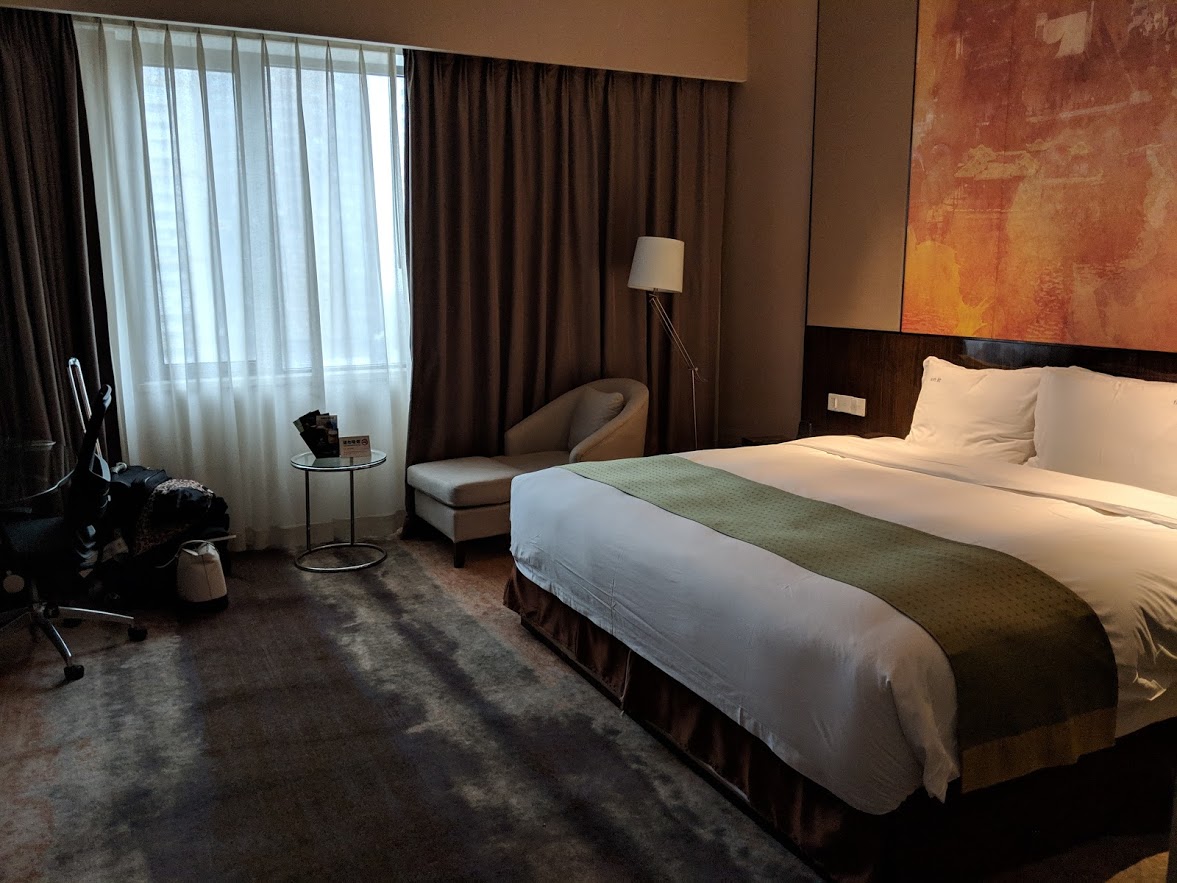 Near Fuzimiao: I stayed at the Holiday Inn Aqua City Nanjing, which was an 8-minute walk to Fuzimiao and only a few minutes walk to the metro. It was probably the nicest Holiday Inn I've ever stayed at — seriously, it's high end — and the service was exemplary. Rates are almost always less than $100 and less than $75 in off-season. You'll never find it if you walk through the Aqua City mall, but it's easy enough to find from the street.
Near Xinjiekou: Try the Crowne Plaza (slightly more expensive) or Novotel Nanjing Central (slightly cheaper). The upside to this location compared to Fuzimiao is being on two metro lines instead of one. You're also closer to the 1912 nightlife district, if that's important to you.
My Favorite Nanjing Foods
Pan-Fried Beef Dumplings
Yes, these are doughy dumplings like you'll find in Shanghai, but with a juicy potsticker filling that's loaded with flavor. Unlike the pork dumplings found all over Jiangsu province, beef is common in Nanjing due to the Muslim influence.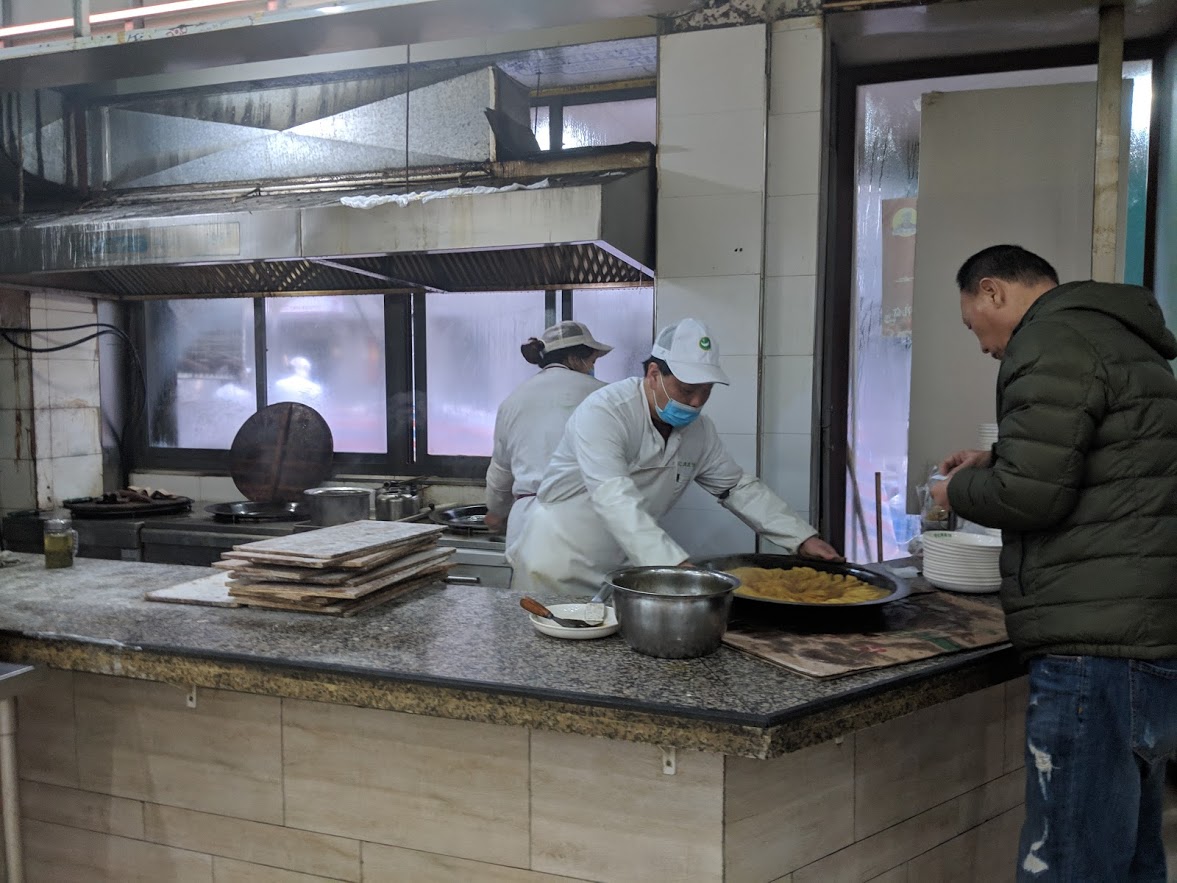 Find them at Liji Islamic Restaurant 李记清真馆, 1 Dading Alley, where you'll order and pay at the counter and then get a ticket to go to the back room to exchange for your food. You'll want one plate of dumplings, niu rou guo tie, and one bowl of beef soup, niu rou tang.
Sesame Pancakes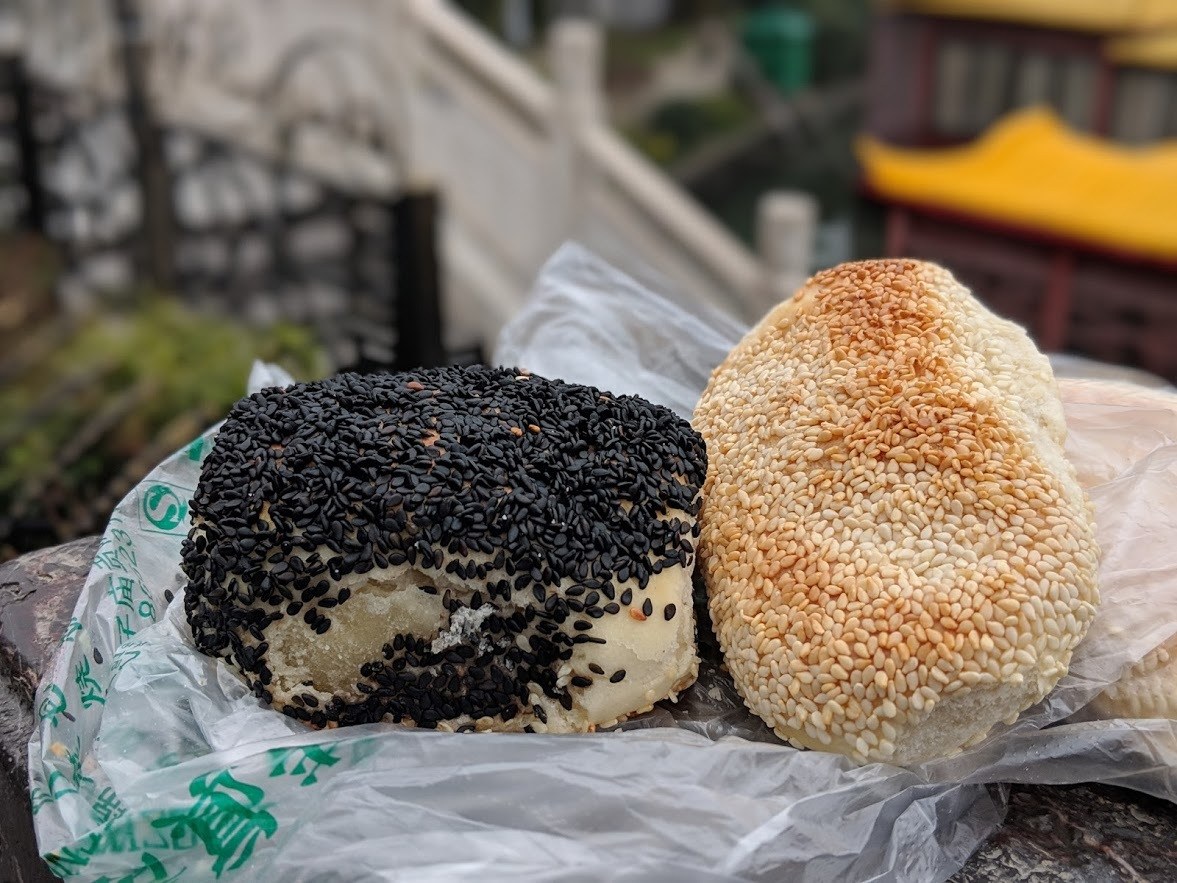 These pastries, made from duck fat, are awesome snacks on-the-go because they're cheap and filling (plus easy to find!). You can find sweet or savory versions; I preferred the oval ones that come with pork and green onion.
They're pretty much everywhere, although supposedly the best are at Qifangge (奇芳阁), #12 Gongyuan Xi Jie in Fuzimiao. (That's where I had them, and yes they are good!).
Other Nanjing foods and where to find them

Nanjing Duck (at Jinhongxin Duck Shop 金宏興鴨子店, #5 Mingwalang): A cold, salted duck that is the iconic dish of the city.

Squirrel Fish (at MaXiangXing CaiGuan, #32 Yunnan North Road): A whole lake fish, cross-hatched so that it fans out, and smothered in sweet and sour sauce.

Sweet and Sour Mandarin Fish

Duck Blood Soup (at Yadebao, #11 Chaozhi Xiang): Cubes of jellied duck blood, plus gizzards and liver for extra flavor. I couldn't do it.

Pidu Noodles (at Yiji Pidumian 易记皮肚面, #101 Mingwalang): A noodle soup with pig skin that's been boiled and fried.

Hairy Crab: Only in season in the fall, so I can't comment on where to find it — but worth a try if you're there in time!

Dumplings in Red Bean Soup (at Lianhu Rice Cake Shop 莲湖糕团店 #24 Gongyuan Xi Jie): Dumpling pearls in a bath of thick, glutinous red bean soup. I thought it must be an acquired taste!
Also of note is the chain restaurant Nanjing Impressions. If you're looking to try several local specialties all in one place, this is a good place to do it. There are picture menus to make ordering easier and service is fast. The atmosphere is hokey, but fun.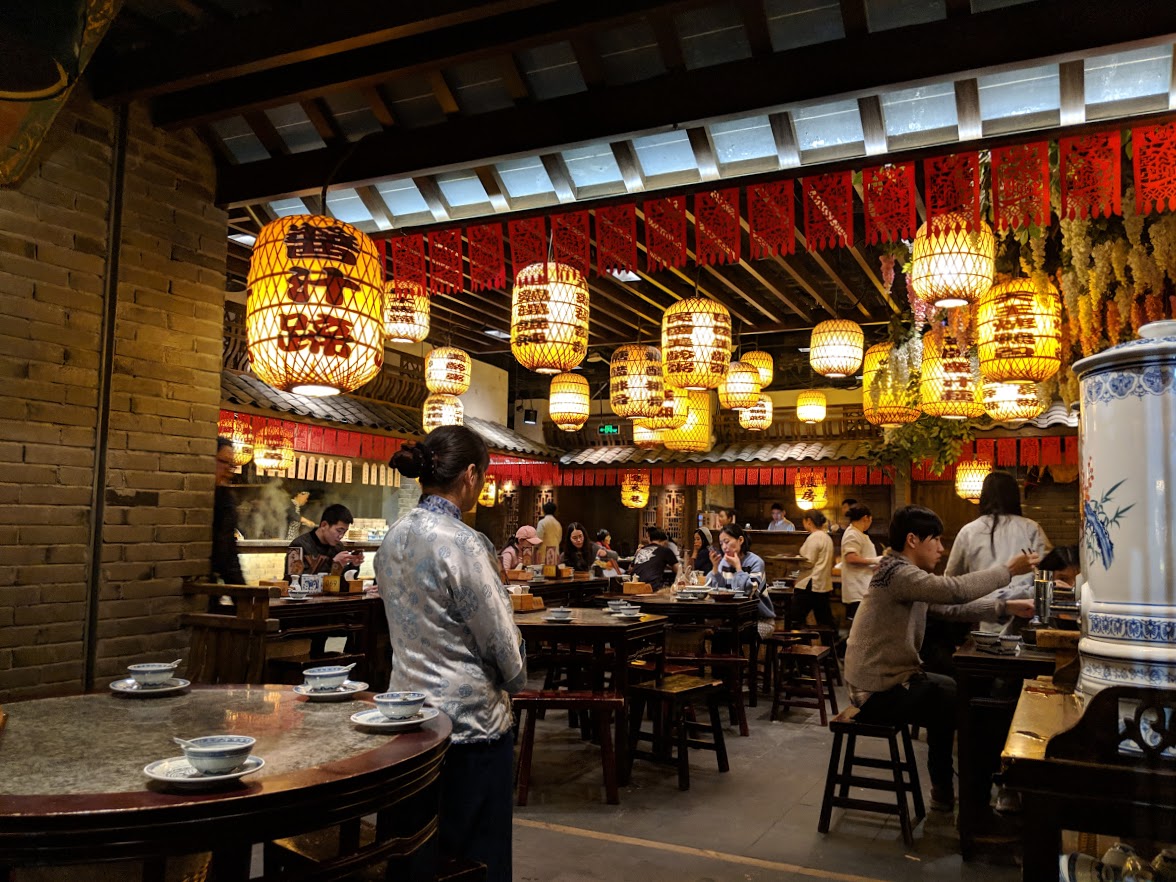 You'll find locations all over, with easy ones being Deji Mall, International Plaza, or Fashion Station (across from the Holiday Inn). Go during off-peak hours or be prepared to wait for a table (they'll give you a pager).
More to Help Plan a Trip to Nanjing
Be sure to also check out my guide to the train from Shanghai to Nanjing, how to see the city highlights in one day, and a photo guide to Usnisa Palace which was top of my list on things to do in Nanjing.