This post may contain affiliate links. As an Amazon Associate I earn from qualifying purchases.
* * *
Planning Nanjing was an exercise in patience. Since it's not as popular as other Chinese cities, there aren't as many articles about it (and fewer still on the actual coordination of visiting, rather than just inspiration). But if I can do it, so can you — especially since I'm about to share how to spend one day in Nanjing in a logical order.
Day Trip from Shanghai to Nanjing
Repeat after me: you cannot see everything in Nanjing in one day. Absolutely no chance.
BUT you can have a fabulous visit in a single day, even though you won't see everything.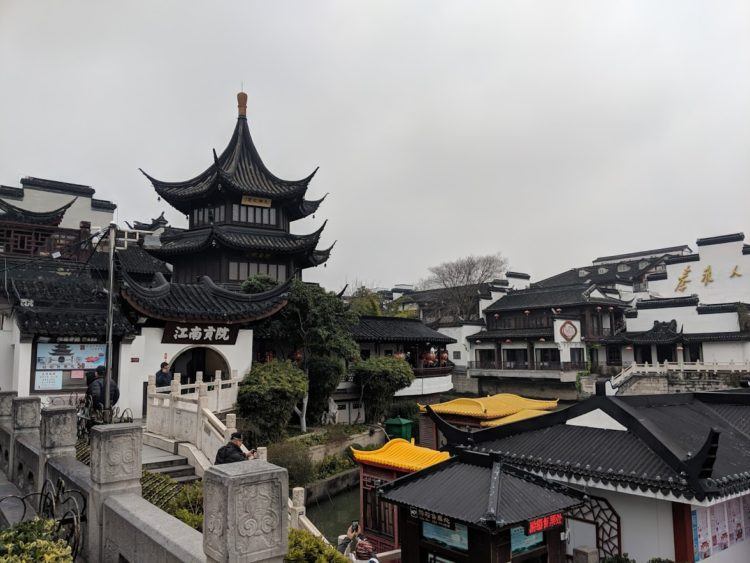 If you want to break up your time in Shanghai, or if you're visiting in winter when you won't need hours to wander through the outdoor parks at Purple Mountain or Xuanwu Lake, you can see a lot in one day in Nanjing.
The secret is visiting everything in a logical order because the city is huge and it takes a long time to get from one point to another. If you're organized, you can see a lot on a day trip from Shanghai to Nanjing.
So, here we go:
One Day in Nanjing Itinerary (Day Trip from Shanghai)
7:00am-8:15am: Take the Shanghai to Nanjing Train
It'll be most efficient if you start at Shanghai Station and end at Nanjing South, but double check your tickets because both cities have multiple train stations!
You can get step-by-step directions for buying tickets, clearing security, and riding the train in my Shanghai to Nanjing train guide.
8:15am-11:30am: Visit Usnisa Palace
You can taxi/DiDi from the railway station to Usnisa Palace in 15-25 minutes, depending on traffic, and be one of the first people on-site at Usnisa.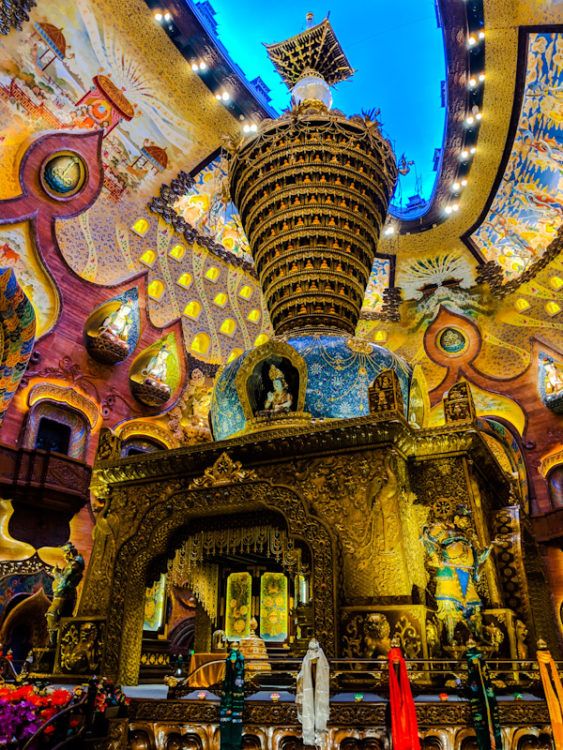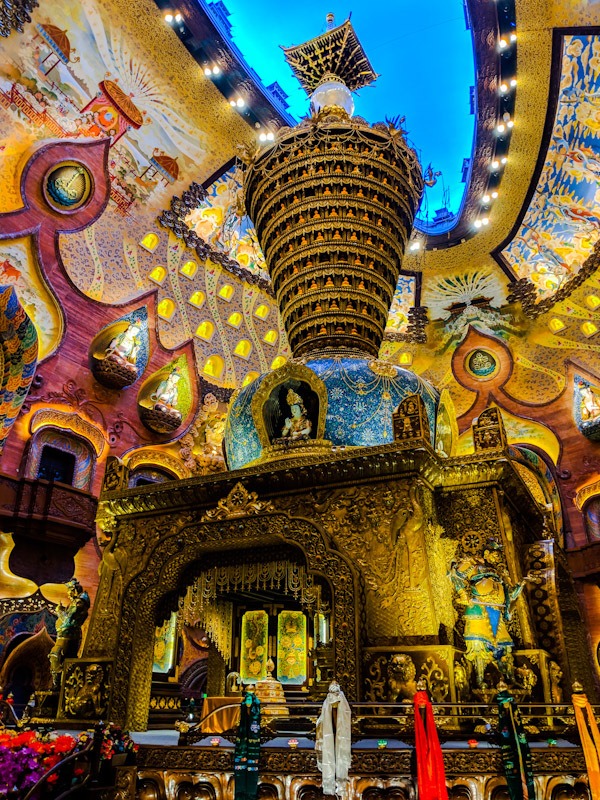 Without a doubt, Usnisa Palace and Niushou Mountain are a must-see highlight in Nanjing. It was my favorite attraction in the whole city: the mountain park is lovely to walk around, any time of year, and the interior of the palace and temple is unbelievable.
Read More: I Went to Usnisa Palace and My Jaw is Still on the Floor
11:30am-1:00pm: A Local Lunch
There's a restaurant on every corner in Nanjing, so it's not hard to find somewhere to eat. However, with just one day in Nanjing, my top recommendation is to taxi back to Liji Islamic Restaurant 李记清真馆, at 1 Dading Alley.
The food is 100% local and authentic and because they have a limited menu, everything is cooked and ready for you. That means more time for exploring instead of sitting and waiting.
Order and pay at the counter; you'll get a ticket to go to the back room to exchange for your food. You'll want one plate of dumplings, niu rou guo tie, and one bowl of beef soup, niu rou tang.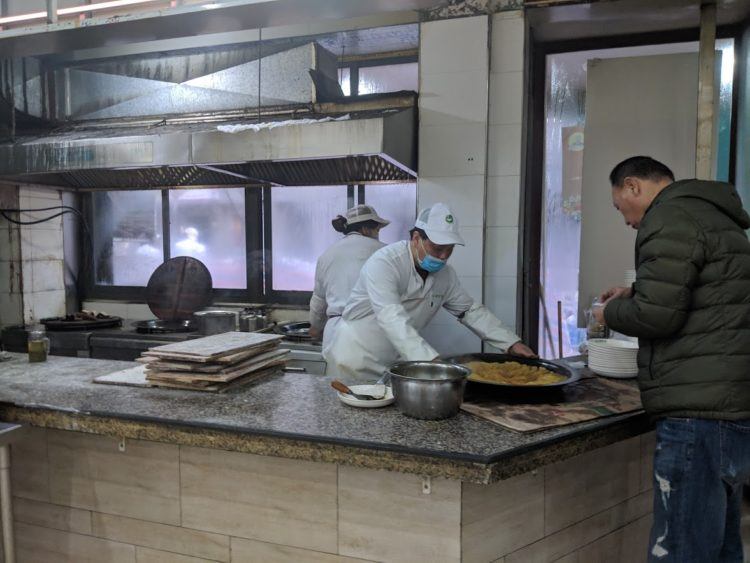 When you're done, it's a 15-minute walk to the museum. If you're not into neighborhood restaurants, Nanjing Impressions @ Deiji Plaza is a safe bet but might eat into your museum time.
1:00pm-3:00pm: Nanjing Museum
With this little time, you'll need to pick one or two exhibits to focus on.
At 2:00, pop into the daily opera performance before leaving because it really is a unique thing to do in Nanjing.
Leave around 2:45 to taxi onward…
3:00pm-5:00pm: Nanjing Massacre Museum
Nanjing's modern history is especially ugly in 1937-38, when the Nanjing Massacre (or "rape of Nanjing") occurred, brutally killing an estimated 300,000 Chinese soldiers and civilians.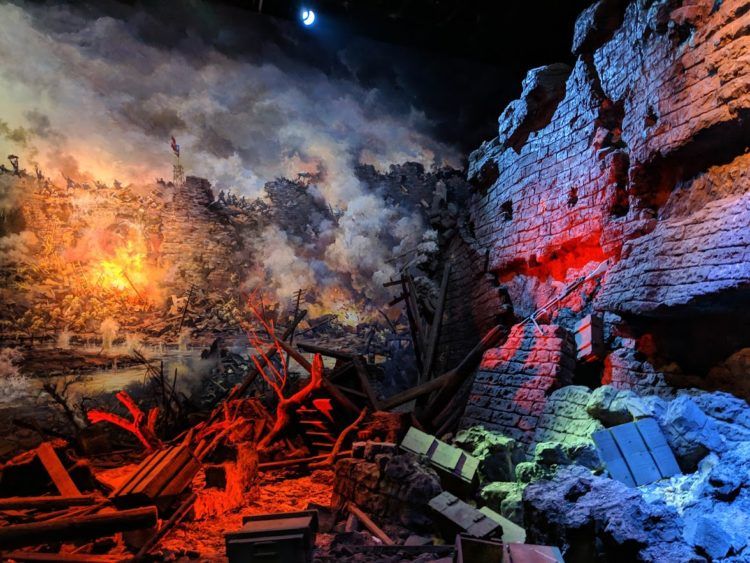 The Nanjing Massacre Museum does a good job of explaining the events leading up to it, as well as what happened to the city and its people during this short but significant period. It also ends with a look toward peace and resolution.
Two hours is enough time for the permanent exhibits; longer would be so emotionally draining I don't think I could handle it.
5:00pm-6:30pm Zhonghua Gate and the City Wall
Hop in another taxi for a quick ride.
As far as I know, the only access point to Nanjing's city walls that's open after 5pm is Zhonghua Gate, but that's okay because it'll put you close to Fuzi Miao anyway.
Walking through and on top of the City Walls is a great way to get a feel for the city layout, so it's worth a quick stroll. To walk toward Fuzimiao will only take 20 minutes or so, not including photo stops or people-watching.
6:30-8:30pm Dinner and a Stroll Through Fuzimiao
Instead of doing a sit-down meal, I'd snack my way through the Confucius Temple area (you'll find plenty of places). Hint: even though there is a temple here, this part of town is more well-known for its shopping and dining than religion. It's also best after dark, when it's all lit up.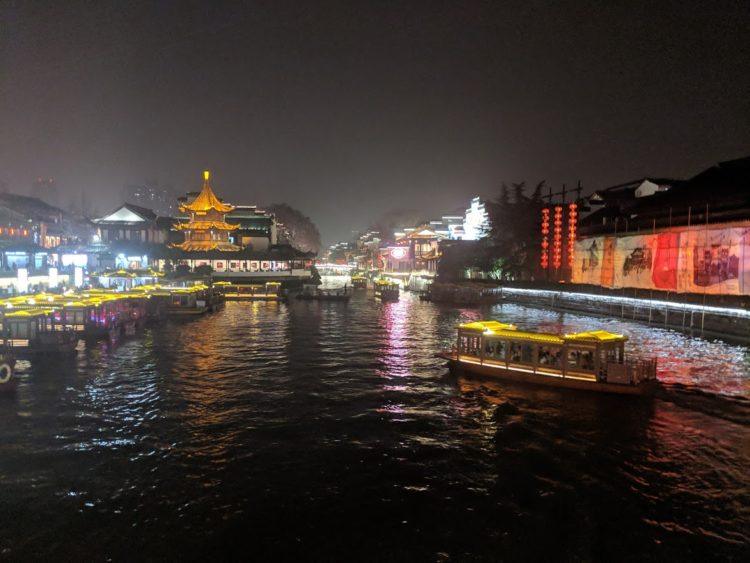 Get your duck-fat sesame pastries first, since Qifangge (奇芳阁, #12 Gongyuan Xi Jie) closes around 8. Then follow your nose past pork buns, soup dumplings, rice noodle soup, roast duck, and anything else you like!
8:30-10:45 Metro to the Train Station and Head Back to Shanghai
From Fuzimiao, you're equidistant to either train station in Nanjing.
I'd recommend finding a fast train that departs around 9:30 — even if you leave Fuzi Miao at 8:30, you'll need time to metro to the station and get through security.
Where to Stay in Nanjing
As you've seen above, you don't need to spend the night in Nanjing to have a good visit.
But if you want more time (I don't blame you!) to see other sights like Purple Mountain or Nanjing 1912, you'll need to spend more than just one day in Nanjing.
With everything so far apart in the city, you'll need to choose from one of two neighborhoods: Fuzimiao or Xinjiekou. Both of these have lots of restaurants and easy access to the metro.
Near Fuzimiao: I stayed at the Holiday Inn Aqua City Nanjing, which is a few minutes walk to the metro or an 8-minute walk to Fuzimiao. Rooms were comfortable and non-smoking and service was exemplary. Rates are almost always less than $100 and less than $75 in off-season. You'll never find it if you walk through the Aqua City mall, but it's easy enough to find from the street.
Near Xinjiekou: Try the Crowne Plaza (slightly more expensive) or Novotel Nanjing Central (slightly cheaper). The upside to this location compared to Fuzimiao is being on two metro lines instead of one. You're also closer to the 1912 nightlife district, if that's important to you.
More Details to Plan Your Day Trip to Nanjing