This post may contain affiliate links. As an Amazon Associate I earn from qualifying purchases.
* * *
Truth be told, I went to Maria Island National Park in hopes of seeing kangaroos. I knew all about the Tasmania Painted Cliffs, but I figured they were wouldn't be that impressive in person. We weren't going at the right time of day for ideal lighting to bring out the colors and I thought they'd be overrun with visitors — after all, it was Easter break at local schools.
I was wrong. The painted cliffs on Maria Island were far more lovely than I had hoped.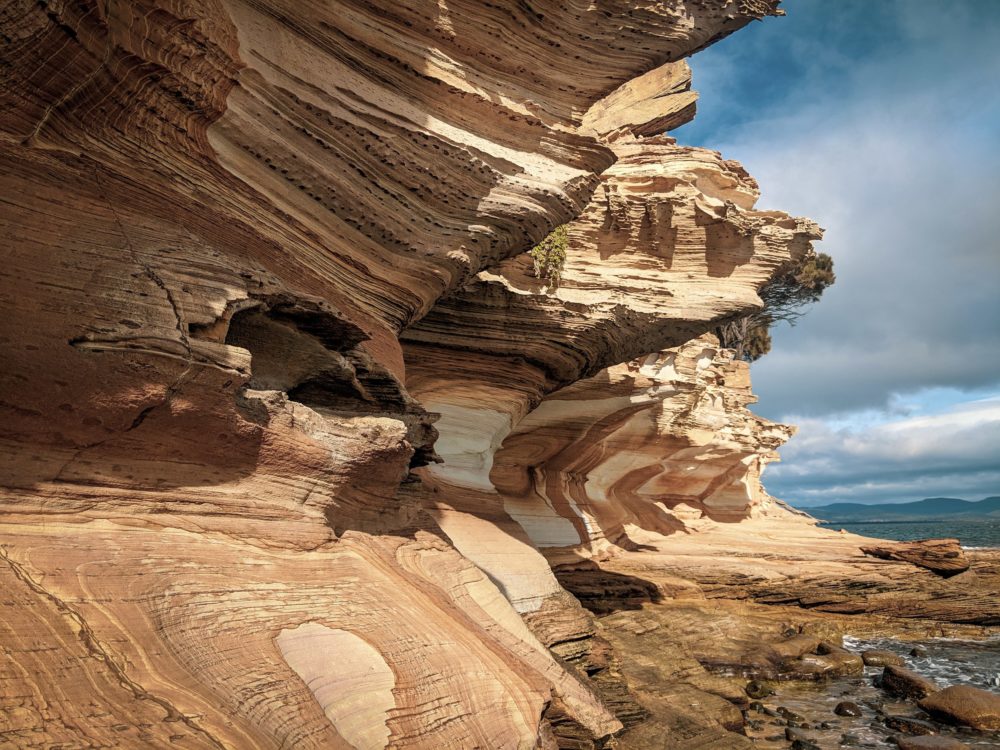 Where is Maria Island National Park?
Maria Island is an island off the coast of Tasmania (yes, an island off the coast of an island off the coast of the big island of Australia!). The only way to access it is by ferry from Triabunna, Tasmania, which is about an hour and 15 minutes drive from Hobart.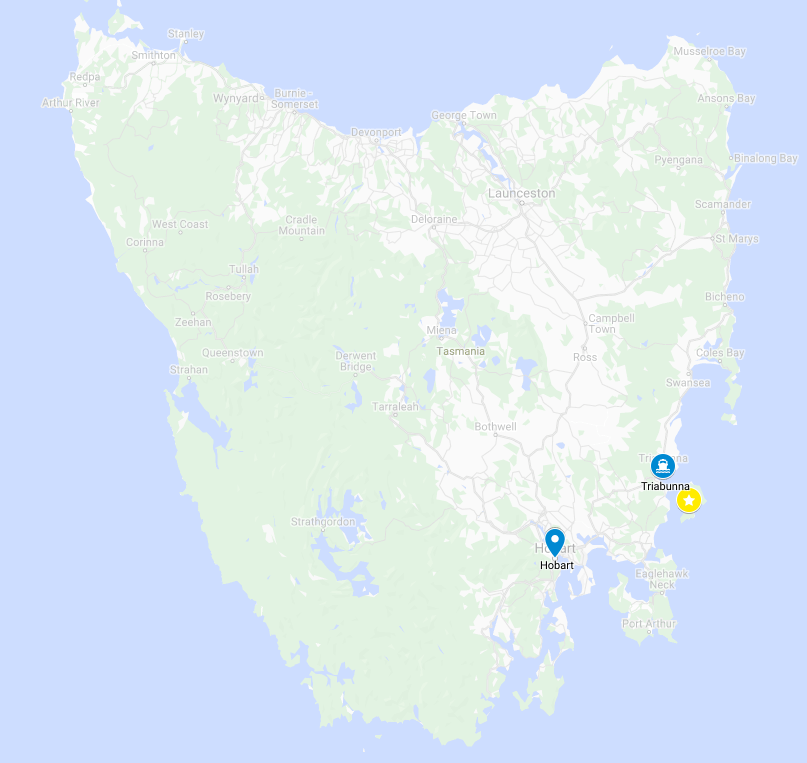 Like better known Port Arthur, Maria Island was a formal penal colony but has been a national park since 1972. Today, visitors are drawn for its history, wildlife, and of course, the painted cliffs.
The island itself is only 20 kilometers by 13 kilometers, with the main docks and old convict structures in the old town of Darlington. Due to it's relatively small size, it's easily visited as a day trip from mainland Tasmania (although there are a few reasons to spend the night — more on that below).
How were the Painted Cliffs formed?
These sandstone cliffs along the Tasman sea coast aren't unusual on their own.
However, what makes them so beautiful is a combination of a few things:
Iron oxide staining, giving the cliffs those red, orange, and yellow layers from iron-rich groundwater
The undercut of the cliffs themselves, caused from rock fragments and grit in the waves slowly and gently creating this shape
Honeycomb patterns on the rock itself, from sea spray gradually weathering the porous rock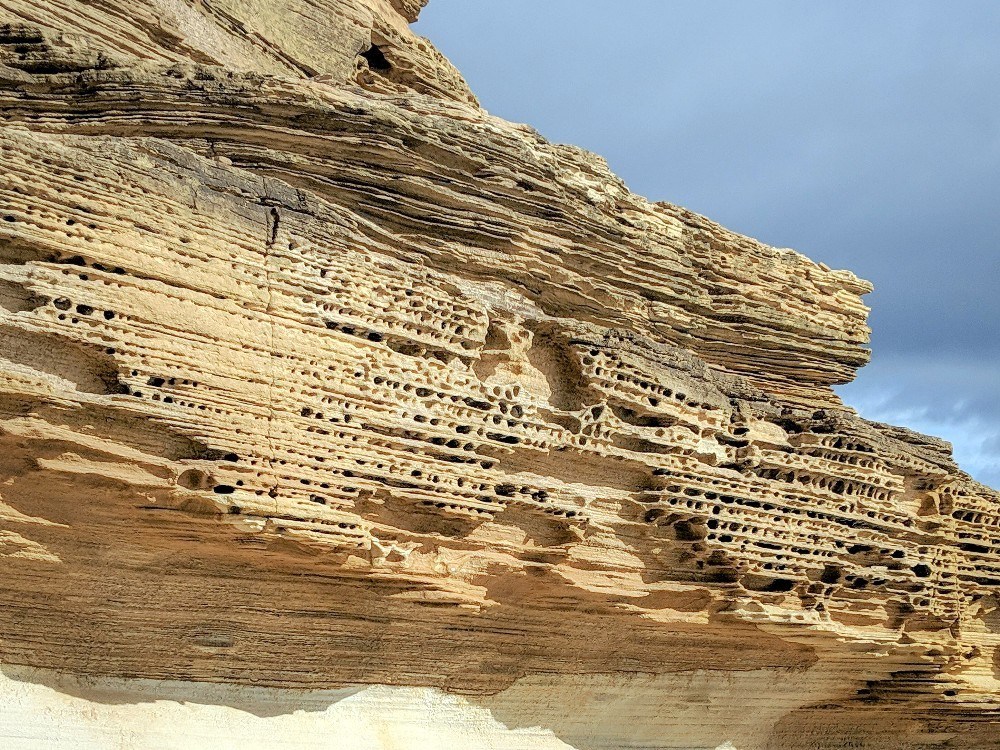 Exploring the Painted Cliffs on Maria Island
The 4.4-kilometer (one-way) hike to the Painted Cliffs are one of Tasmania's "great short walks", treks that reasonably short and accessible for visitors. The trail itself is a nice wide path, mostly flat, and leading to the beach.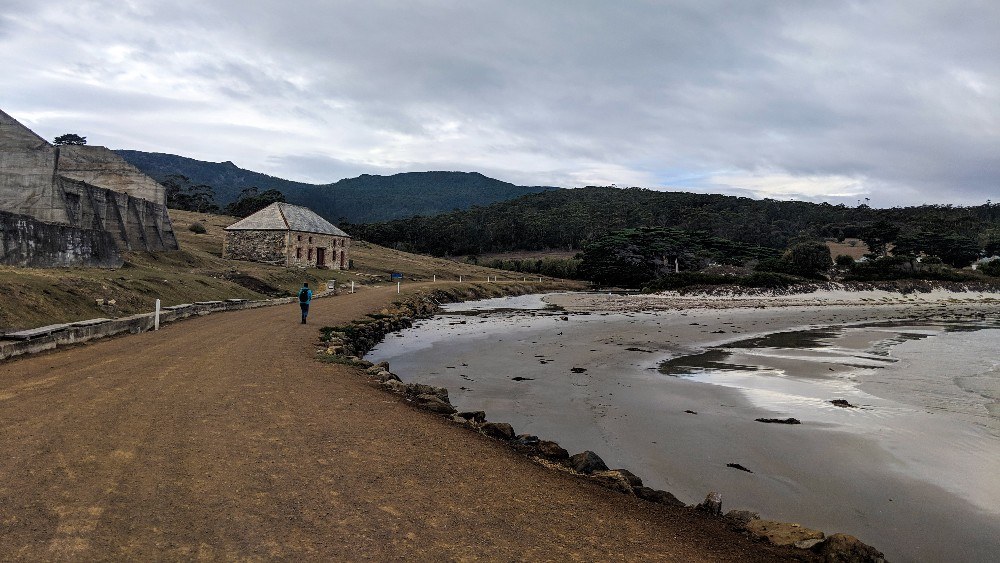 To get from the beach to up close and personal on the cliffs, you have to arrive at or around low tide. It's not particularly safe or accessible to climb up on the rocks at high tide — and frankly, half your view would be obscured anyway.
You'll want to check the tide schedule in advance of your visit to ensure you can be at the painted cliffs at low tide. For example, tomorrow's tides are scheduled at 5am and 5pm, making a day trip impossible with the ferry schedules and you'd have to either spend the night or visit on a different day.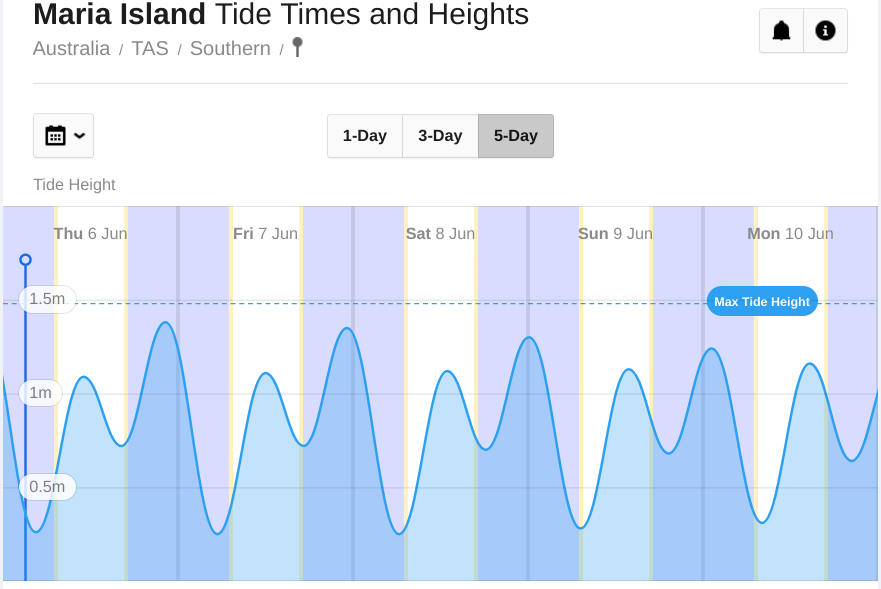 In a perfect world, you'd want to be there at an afternoon low tide (for better sunlight hitting the sandstone's colors), but if that simply doesn't line up with your travel calendar, a morning low tide will suffice. As you can see, it's still stunning even without that perfect natural light.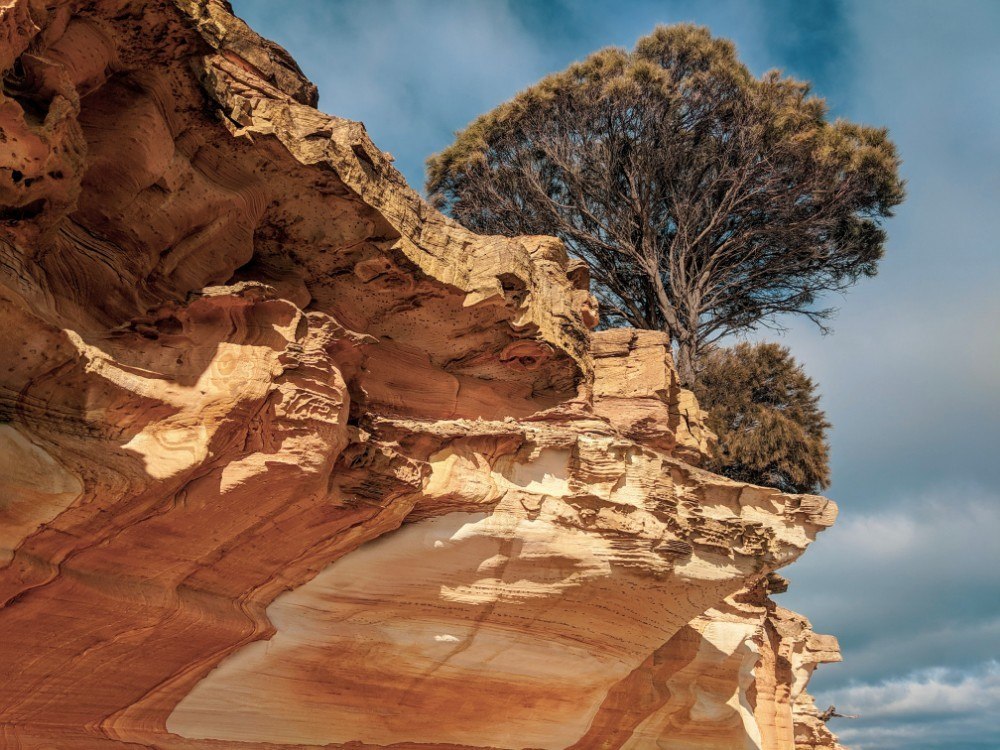 Walking from the ferry dock to the cliffs will take 45 minutes to an hour, depending on your pace and if you stop to watch any wildlife along the way. We spent about half an hour climbing up and around the painted cliffs themselves and peeking into a tidepool or two.
Fossil Cliffs: Another Great Maria Island Walk
Although most visitors focus on the painted cliffs, the Fossil Cliffs track is also a designated Tasmanian great short track.
This particular route is a circuit 4.5 kilometers along. The park service estimates it will take 1.5-2 hours altogether, though we finished in about an hour since again it's on easy terrain.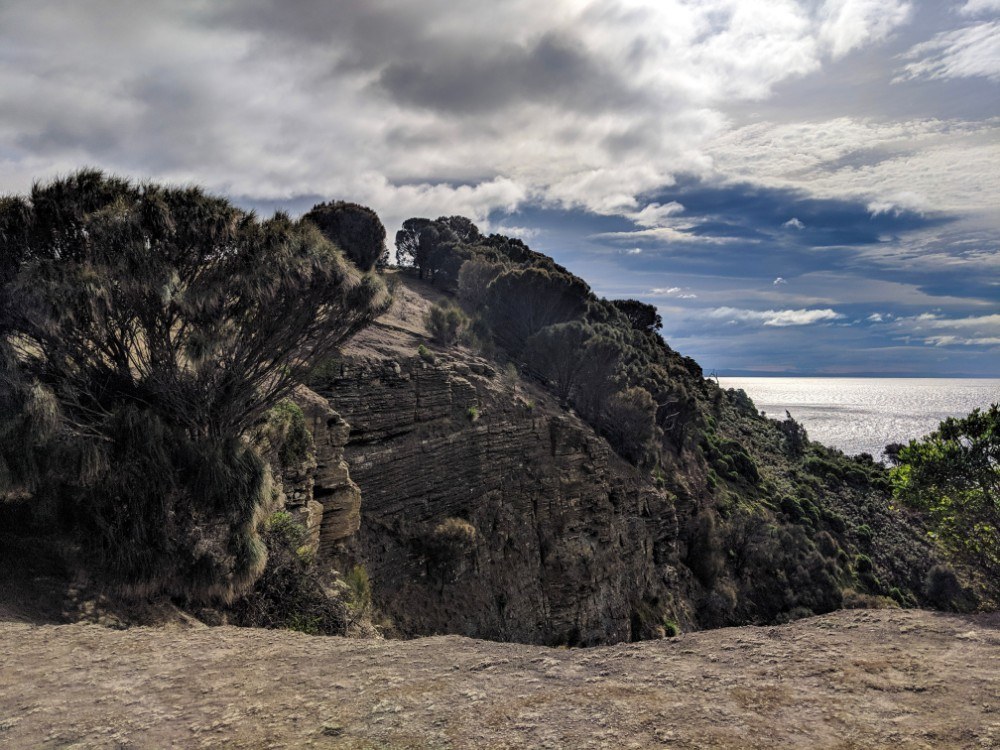 If of interest, you could spend plenty of time at the bottom of the cliff searching for fossils (sea fans, scallop shells, and coral-like impressions).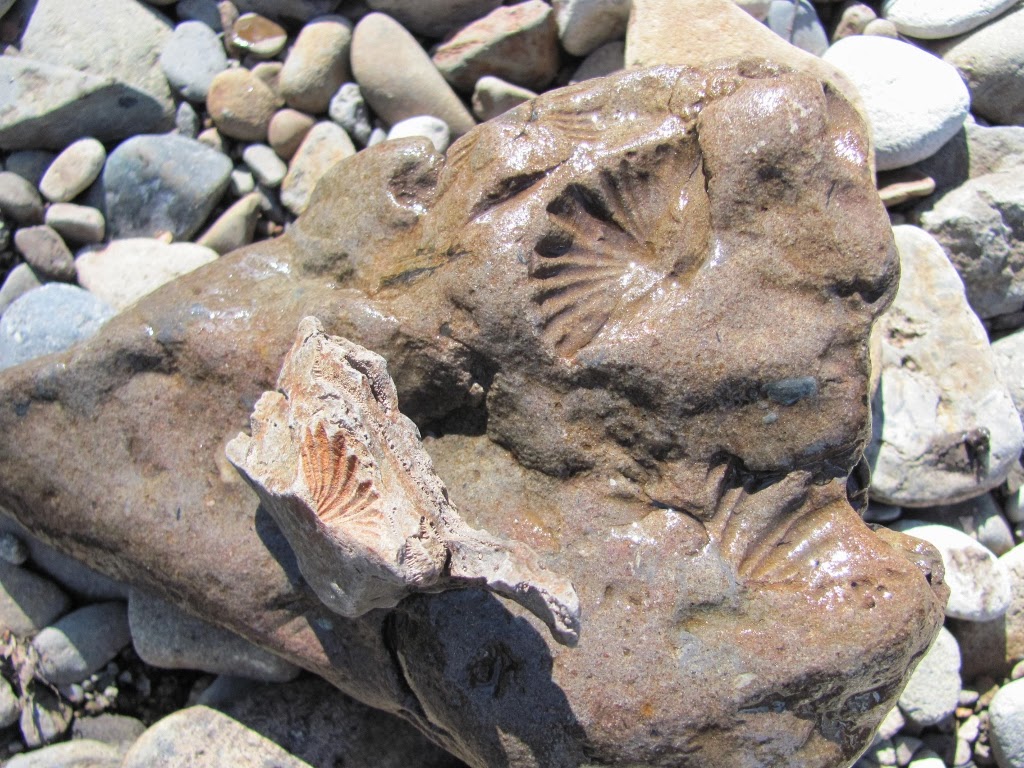 Personally, I preferred the view from the top.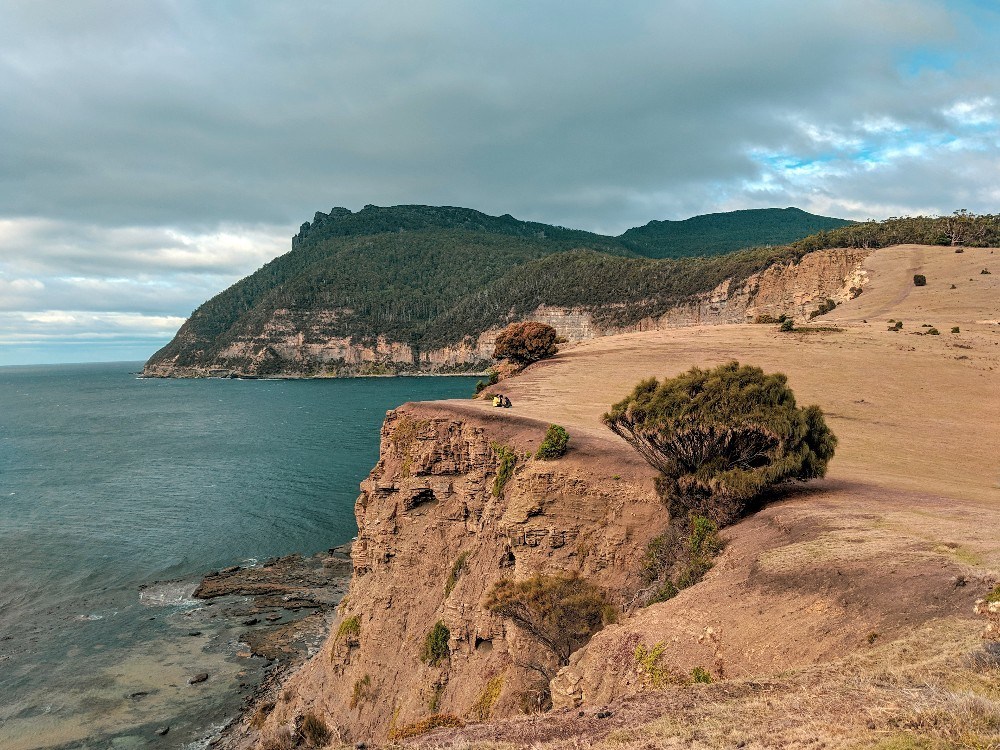 The Fossil Cliffs trail connects onward to the Bishop and Clerk hike, which leads a panorama point named dolomite columns said to resemble a bishop being followed by a clergyman. This particular hike leads steeply uphill, including clamoring over some rock piles, and takes 3-5 hours depending on your fitness level and sure-footedness. With clouds and high winds rolling in, we skipped it.
Maria Island Wildlife
Although the geology of the island is lovely, visitors are also treated to free-roaming wildlife. With few predators on the island, animals weren't particularly nervous which makes it a great place to see wildlife in the middle of the day.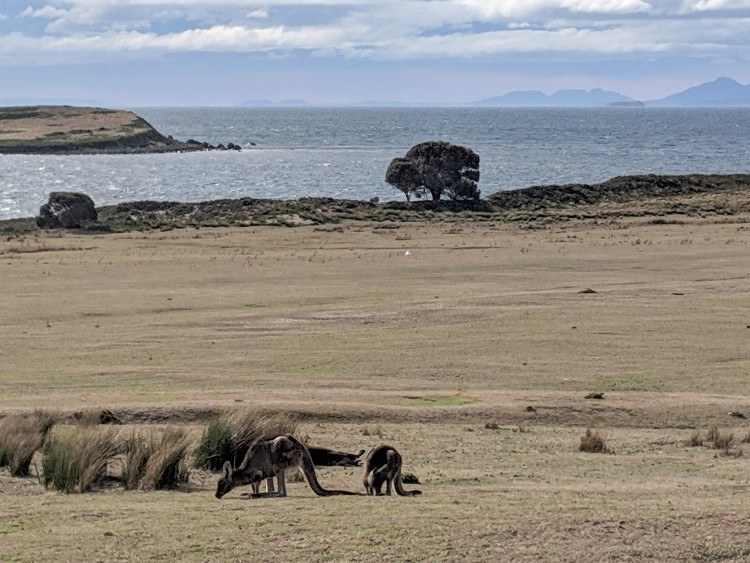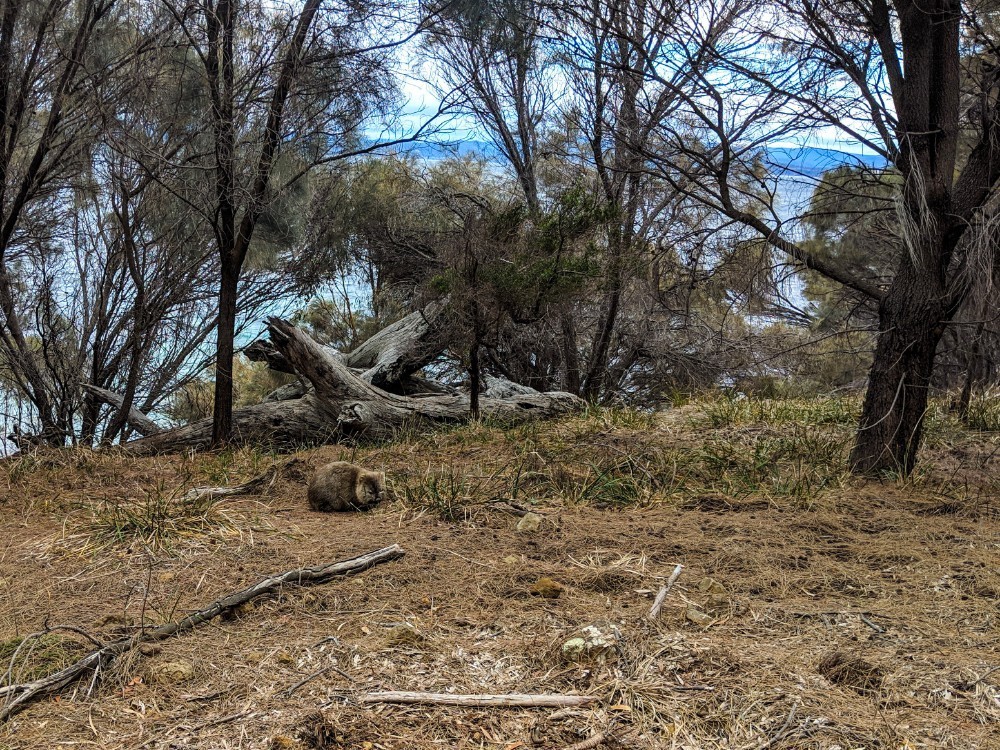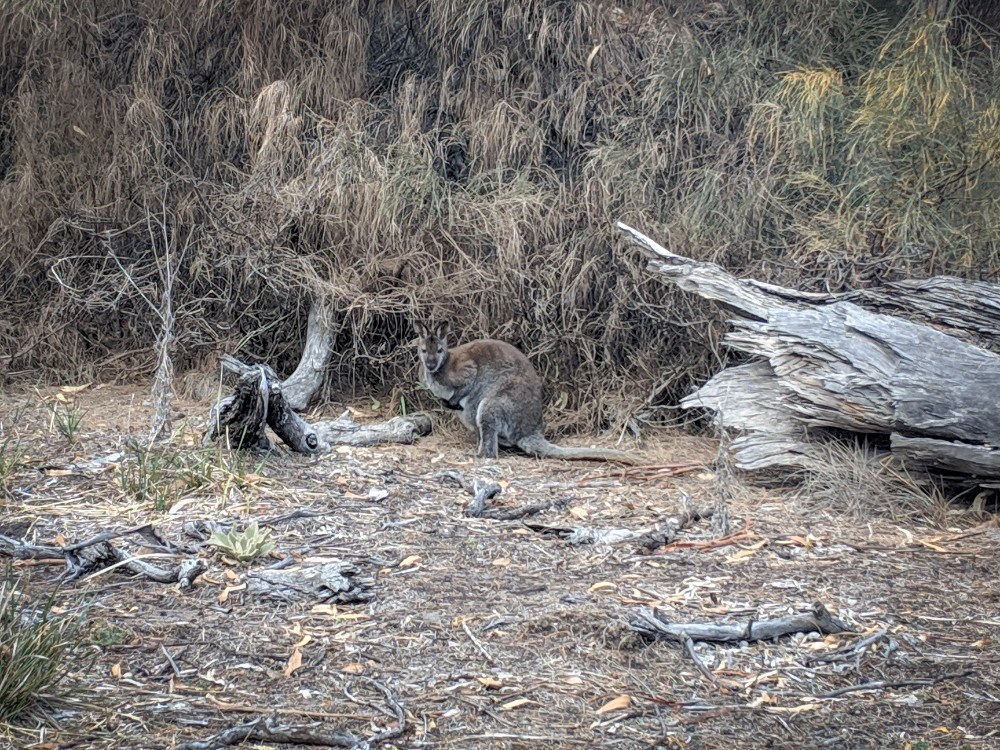 Maria Island National Park is also considered the best place to see a Tasmanian devil in the wild.
A group of tassie devils were released here in 2012 and so far seem to be thriving. Since they're nocturnal, you're almost surely going to have to spend the night in order to see one and even then, it's not a sure thing. Having seen one on the mainland, the only advice I have is to stay up late into the night and be as still and silent as possible; they are skittish creatures!
Taking the Maria Island Ferry
The 30-minute ferry from Triabunna to Darlington sails 3 times a day in the low season and 5 times a day from September – May. Schedules vary, so it's best to check online in advance and line up the departures that work best for low tide at the painted cliffs. The ferry costs a whopping $45 round-trip, not including the $12pp national park entry fee.
We saw one seal on our crossing, though other reviews mention at times seeing dolphins or whales from the ferry to Maria Island. Keep your eyes peeled along the way!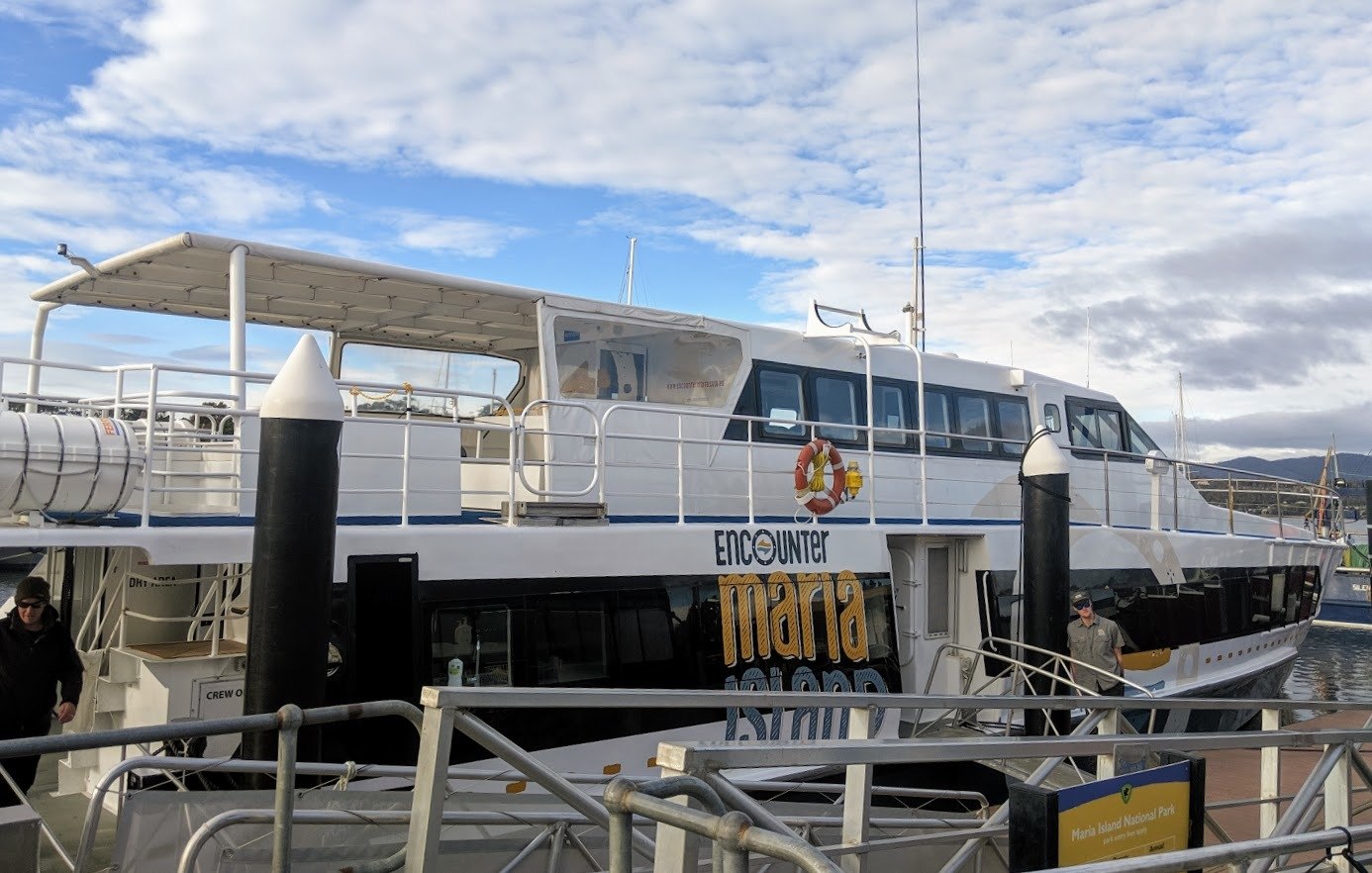 Triabunna wharf is quite easy to reach by rental car and makes a logical stopping point for anyone driving between Freycinet National Park (Bicheno) and Hobart. The wharf area has plenty of free parking, a gift shop (where you'll pick up your ferry tickets, even if you booked online in advance), restrooms, and a small coffee cart. There is no food on Maria Island, so be sure to pack a picnic or eat from the ferry snack bar.
Maria Island Tours

If you don't want to drive — and I get it, driving on the "wrong" side of the road is stressful! — then you have two options.

You can shuttle from Hobart to Triabunna and back. This is the cheapest option even though you'll need to separately buy your ferry and park entry. Unfortunately, it only runs in the high season.
You can join Maria Island tours from Hobart. These are the easiest option, by far, and also run in shoulder season. The one I'd choose is shown below: it includes your bus, ferry, entry fees, light breakfast, lunch, and wine. I also like that you can cancel for no fee if the weather looks bad (just give 24 hours notice). Honestly, I'm not sure Maria Island is worth it in the rain!
Maria Island Accommodations
It's possible to stay on the island itself, with the main draws either being wildlife-watching at dusk, dawn, and overnight OR the chance to see the Painted Cliffs when the tide schedules don't line up with a day trip.
Expect basic accommodations: camping is available or you can rent a room at the old penitentiary. There is NO electricity or running water in the rooms, although there are coin-operated showers for use.
We instead chose to stay back in the mainland at The Great House B&B — a perfect stopping point between Freycinet, Maria Island, and Hobart. Like many things in Tasmania, they close in the winter, but even in our late fall visit, we were treated to wonderful hospitality, local wine, views of the Milky Way, and wallabies outside our window before breakfast.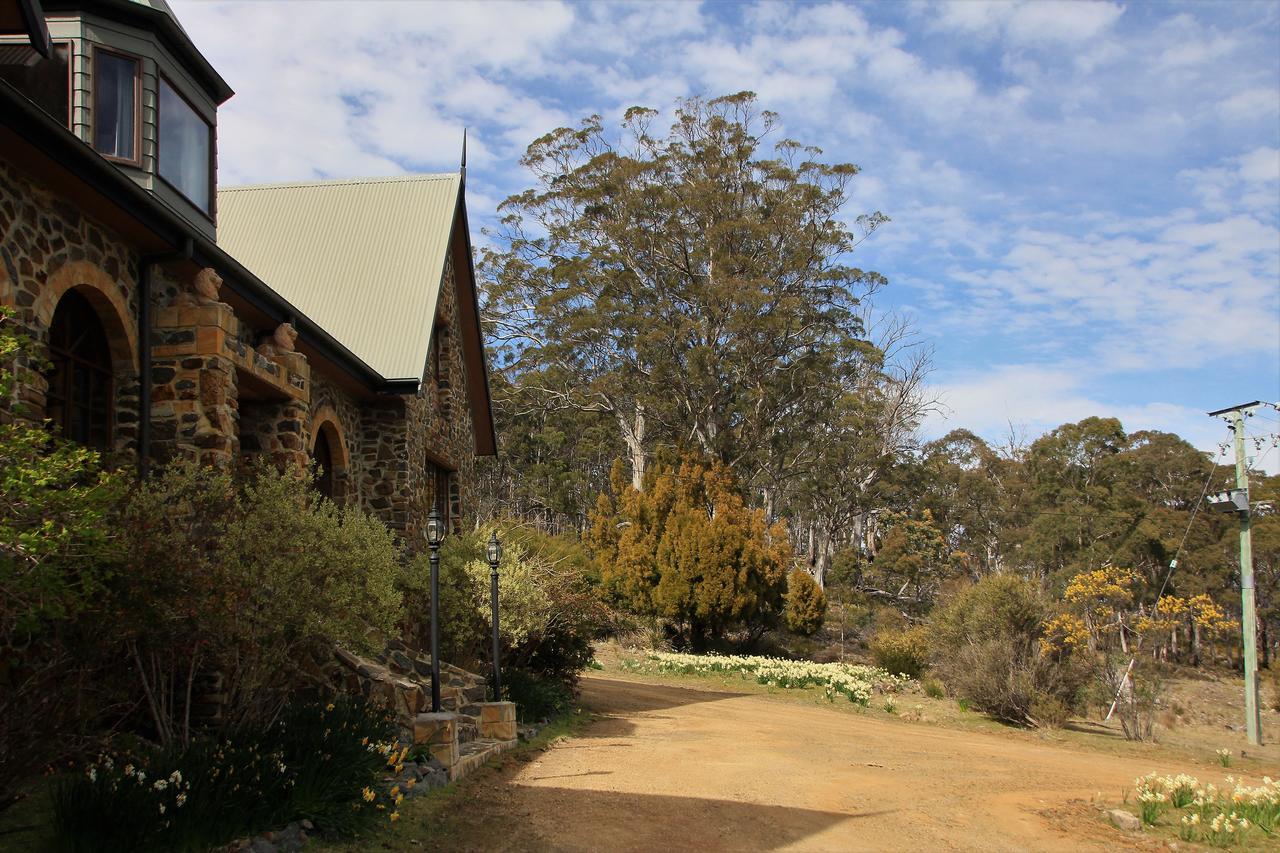 Is it Worth Visiting Maria Island?
Absolutely! In fact, the painted cliffs and wildlife ended up being some of the highlights of my entire Tasmania trip! Best of all, it's an easy day trip or stopover along the east coast and one that definitely doesn't look like home.
* * *
Keep Reading –> 11 Reasons Tasmania is the Perfect Vacation Destination
* * *