This post may contain affiliate links. As an Amazon Associate I earn from qualifying purchases.
* * *
Travelers visiting Nicaragua usually include both Granada and León on their itinerary, but they don't know how to get from Granada to Leon. Traveling from one city to the other isn't as difficult as you might think.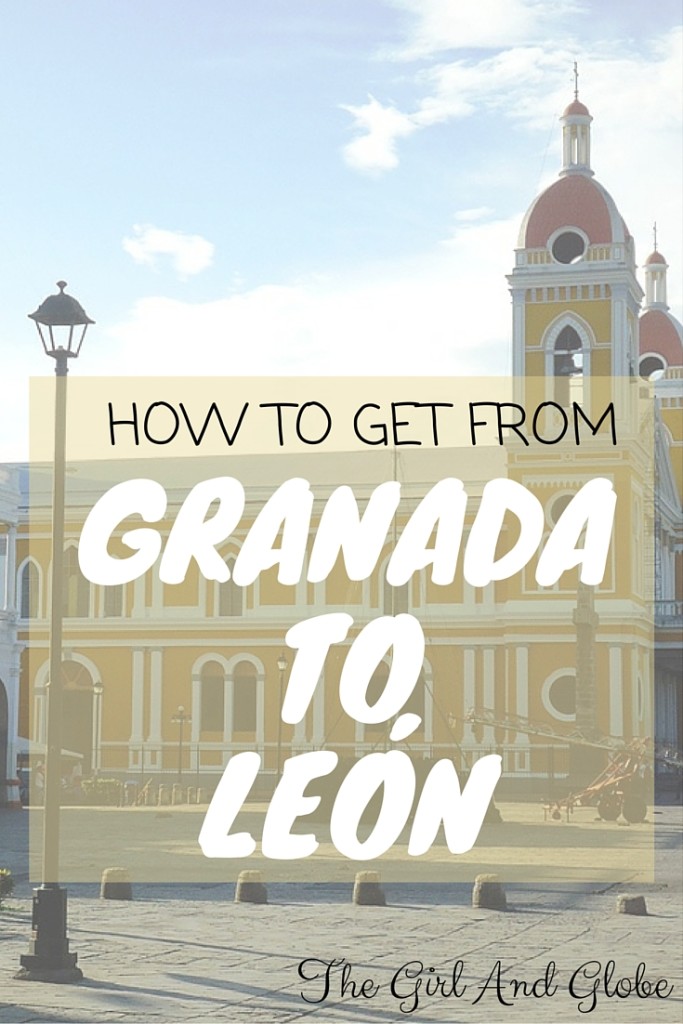 How to Get from Granada to Leon by Taxi
It takes about 2.5 hours by private taxi and costs about $80 unless you're a very good bargainer.
How to Get from Granada to Leon — by Tourist Shuttle
Although I found public transportation to be a very easy way to get from Granada to León, it's not for everyone. Storage space is limited, so if you're traveling with multiple bags (or even just a single large suitcase), you may want to opt for the shuttle.
Most hotels will be happy to arrange a seat for you on the tourist shuttle or hop into any travel agency in town to book a seat. The downside is that the shuttle leaves only once per day.
As of November 2013, the shuttle departed mid-morning in both directions, took about 3 hours to make the trip (including a stop at the Managua airport to pick up and drop off other passengers), and was $12pp.
How to Get from Granada to Leon by Bus
If the shuttle schedule doesn't work for you or if you want a cheaper alternative, traveling between Granada and León by bus is easy. You'll need to transfer in Managua but other than that, it's incredibly straightforward and will only cost you $4 per person each way. These directions are headed northbound from Granada to León, but it's just as easy in the opposite direction.
1. Catch a Minibus from Granada to UCA (Managua)
I'd recommend splurging on the minibus or camioneta instead of a chicken bus. Minibuses don't stop every mile or two, saving you precious vacation time, drop you at "UCA" (Universidad Centroamericana) station in Managua where it's easy to make a transfer, and are relatively comfortable since you won't have to stand. You may also luck out with air conditioning!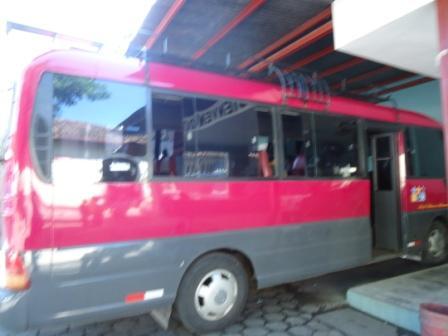 The minibuses depart from a parking lot about 1 block south of the parque central on Calle Vega. That makes it an easy walk from most hotels/hostels. Minibuses leave when they are full, roughly every 15 minutes from 6am-6pm. Ask around to find out which bus is leaving the soonest or just look for the fullest bus. The trip from Granada to UCA takes about 1 hour and costs 24 córdobas (US $1). You'll likely pay en route rather than when you board.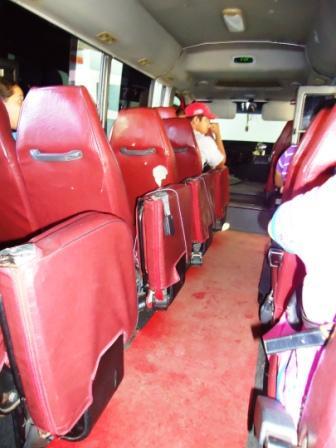 2. Connect to a León-bound Bus at UCA (Managua)
Once you arrive at the UCA terminal, you'll find buses and minibuses headed to just about everywhere in the country. There are stalls selling meals, drinks, and trinkets in case you need anything and vendors will also approach bus windows even after you board to sell you something for your journey.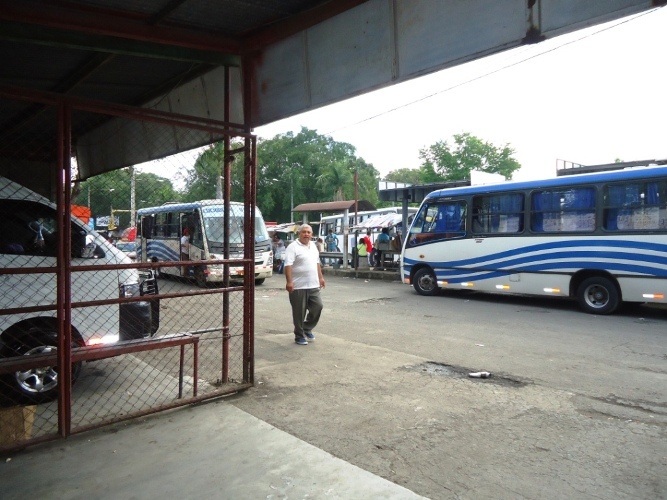 Luckily, even with all this activity, it's easy to find your connection. I only had to walk about 100 yards before hearing drivers shouting "León, León, León". Additionally, many minibuses are painted with the route on the side of the vehicle (in this case, Managua – León) and there are signs by the parking spaces. In other words, you should have no problem determining which bus you need. The trip from UCA to León takes about 1.5 hours and costs 51 córdobas ($2). No one gave me a clear answer on which hours the buses run, but consensus seemed to be every 20 minutes from 5am-8pm.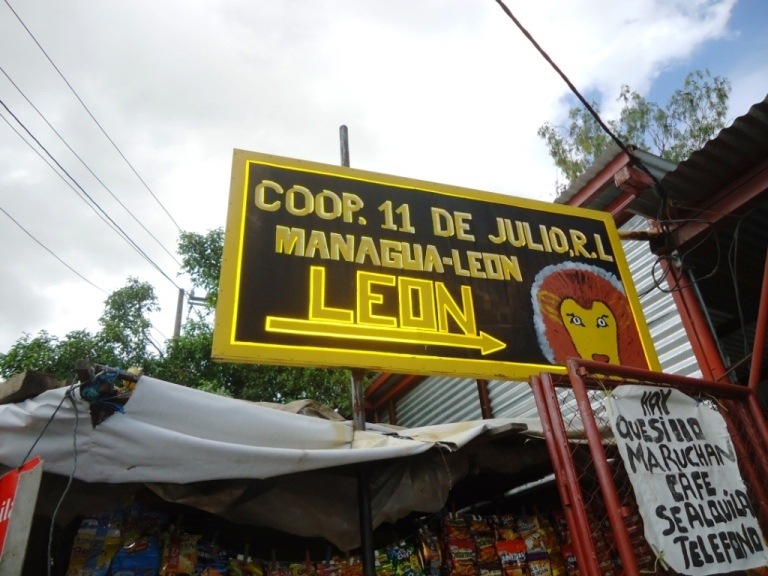 3. Take a Taxi to Your Hotel in León
The bus terminal in León is about 2km from the city center. While it's possible and safe to walk, the heat combined with your backpack/luggage will make that uncomfortable! There are public buses from the terminal to the center for just 4 córdobas per person but they are very crowded and not a great option when you're carrying a bag. Instead, get a taxi for 20 córdobas (more after dark). Beware that pedicabs charge double the price, take twice as long, and try to sell you on heading to a different hotel because yours is "full".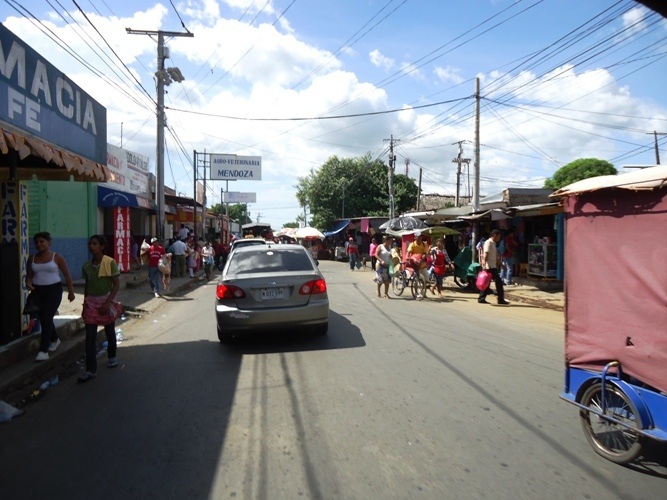 If you have time and aren't weighed down by a heavy bag, the market by the terminal was one of my favorite places in León. It's busy and a bit hectic, which makes for great people-watching. You can buy anything from toothpaste to doughnuts to used t-shirts and everything inbetween. Watch barbers at work, buy fried chicken and grilled corn, and try not to get run over by a taxi. If sticking around with your luggage isn't a good option, I'd even recommend returning later just to check it out!
Overall, you can expect to pay about $4 in transportation costs for 2 minibuses + a taxi ride and you'll spend roughly 3-3.5 hours in transit, depending on how closely you time your connections and if you walk in circles looking for your connection.
* * *
Need a place to stay in León? Check out my recommendation:

León Accommodations: Lazybones Hostel, a Great Night's Sleep for $8

Looking for things to do in Granada or León?

Volcano Boarding on Cerro Negro
* * *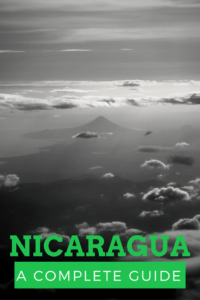 Check out my complete guide to Nicaragua for more information to plan and inspire your trip!
* * *
Have you visited Granada and León? How did you get from one place to the other?
* * *
If you enjoyed this post, share it on Facebook or tweet the link to your friends. Thanks!