This post may contain affiliate links. As an Amazon Associate I earn from qualifying purchases.
* * *
As far as I'm concerned, half the point of visiting Hawaii is spending time on the water and the Big Island is the perfect destination for that. Kona snorkeling is top-notch, but there are tons of locations and boat tours to choose from.
With so many ocean-based tours available, we looked for one that combines everything into one day and I found it: the best snorkel tour on Big Island includes sea caves, a zippy zodiac ride, whale watching (in season), dolphin watching, and of course two fabulous snorkel spots at Honaunau Bay and Kealakekua Bay.
This tour cost a little more compared to other options, but it was basically three or four tours in one amazing day!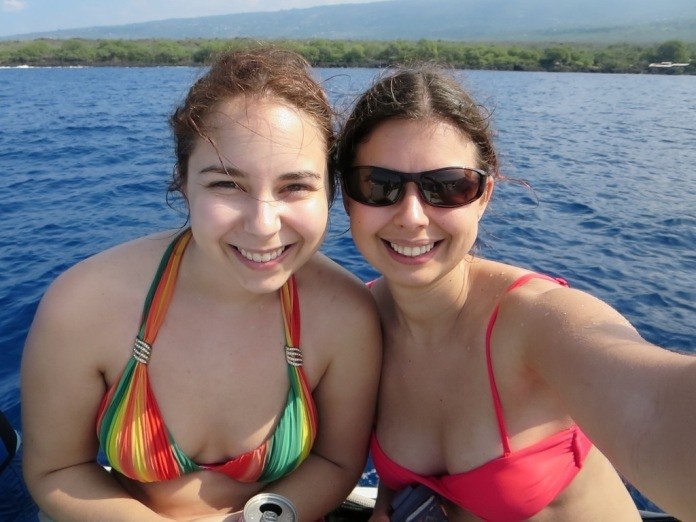 Most Famous Kona Snorkeling Spots
Our boat tour (and most other Big Island snorkeling tours) was scheduled to visit two of the best-known spots on the island: Honaunau Bay and the infamous Kealakekua Bay.
Honaunau Bay is also referred to by many other names, including City of Refuge, Two Step, or Pae'a. Kealakekua Bay is also known as Captain Cook snorkeling since it's right by the Captain Cook monument.
Because both of these spots are accessible from shore, we almost skipped over joining a snorkel tour entirely. It seemed a lot cheaper to just head out on our own with a rental car and a set of snorkel gear. After doing some more research, Kealakekua in particular sounded slightly challenging to visit on your own. You need to either hike two miles each way (uphill on the way out!) or kayak to get in (and if you kayak, you need a permit to beach your kayak on shore).
In the end, I was won over by the speed and excitement that zodiacs are known for. I could just picture the ride paralleling the coastline with the breeze in my hair.
Whale Watching On the Big Island
Snorkeling was the main event, but we were traveling during whale season (best mid-January through early March, but you might get lucky November through April). As we set off along the coastline, our guide told us to be on the lookout for whales and that we had a little buffer time in our schedule in case we had saw any.
I had already been spoiled with a few sightings the night before on my manta ray trip, so I knew exactly what to spot. Sure enough, humpbacks were migrating through the region and we had the opportunity to watch an especially playful young whale.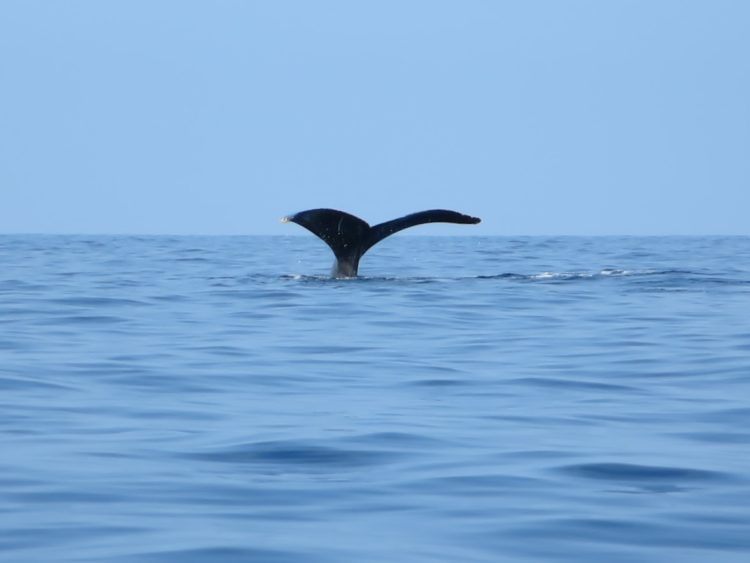 At that point, we already were having a great trip — and we hadn't even gotten in the water yet! It's always a good sign when your expectations are exceeded so early on in the tour!
>>>>> Related Post –> 10 Must-Pack Beach Items
Honanaunau Bay, or the "City of Refuge"
Honaunau Bay is considered one of the island's top snorkeling spots because the inner shoreline is protected from most of the coastal swells, keeping the water calm. Excellent visibility, fairly shallow waters, and healthy coral gardens really just add to the experience.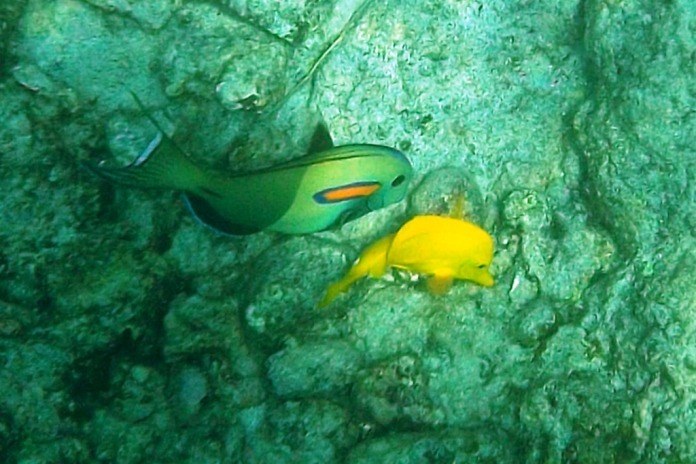 The water here is not deep near shore — maybe 10 feet or so — so the sunlight easily reaches the bottom. That makes for great visibility underwater AND it means the coral gets lot of light to grow super healthy. The fish hang out in the coral, so you might see parrot fish, tang, and even cooler species like moray eels and turtles.
The water does get very deep as you reach the center of the bay, but there's plenty to see in shallower waters if you're not comfortable in the deep water.
Captain Cook Snorkeling (Kealakekua Bay)
Our second stop was snorkeling near the Captain Cook Monument and was even better. Officially, this is Kealakekua Bay (the monument is just a navigational reference).
Kealakekua Bay snorkeling is inside a marine life conservation district, so visitor access is limited to protect the reefs. That means a better experience for you — healthier marine life AND smaller crowds! The water here is a brilliant turquoise color and underwater visibility is excellent.
Best of all, spinner dolphins often rest in the deeper waters of Kealakekua Bay since it's a naturally protected cove (and a marine sanctuary). We were lucky with sightings and enjoyed watching these dolphins swim, play, and jump.
Even after our two snorkeling stops, our tour still wasn't quite over.
Visiting Sea Caves by Zodiac
The main advantage to traveling via zodiac instead of a catamaran is that these rafts can maneuver into small, tight places, which is perfect for exploring the lava formations along the coastline. We stopped for sea caves, lava tubes, and blowholes, just to add to the excitement.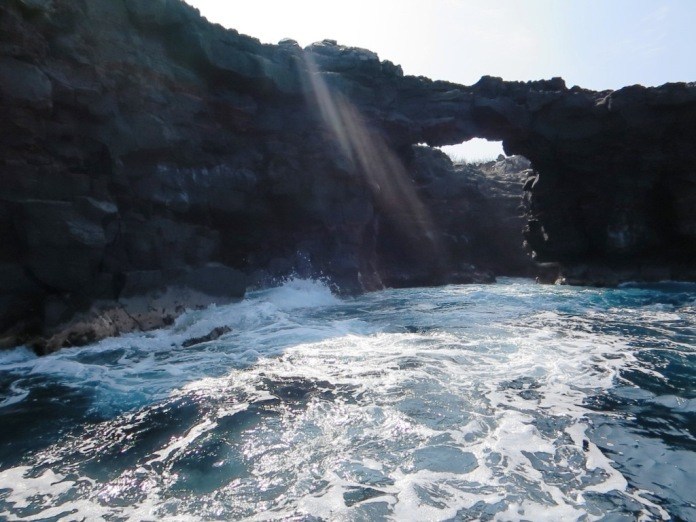 All in all, this day was more than I could have asked for because it offered far more than just snorkeling and swimming, which we could have done on our own. Instead, we got a thrilling ride, rugged landscapes, and incredible whale and dolphin sightings. Out of the three separate snorkel tours we took, this was definitely the best snorkel tour on Big Island.
Book Your Own Kona Snorkeling Tour
Our experience really was heightened by taking a zodiac tour instead of snorkeling on our own. The zodiacs go fast and tend to have smaller groups than catamarans or other Big Island snorkeling tours.
We went with SeaQuest and highly recommend their services. In fact, we liked them so much we tried to book them again later that week for a dolphin swim tour (unfortunately they were sold out and the other operator we went with was not nearly as good).
Our two-stop snorkel tour had plenty of time in the water plus time for other touring and marine life spotting, was environmentally responsible, and included snacks like bottled water and juices, fresh fruit, cookies, and addictive Maui onion chips.
* * *
For other great things to do on the Big Island, check out my other guides: