This post may contain affiliate links. As an Amazon Associate I earn from qualifying purchases.
* * *
Deciding which Sri Lankan safari to include on my trip was one of the most frustrating parts of planning. There are almost too many choices, and never enough information on each one, so I spent most of the research process locked in indecision. Finally, I settled on Wilpattu National Park, which ended up being the perfect decision for my husband and I.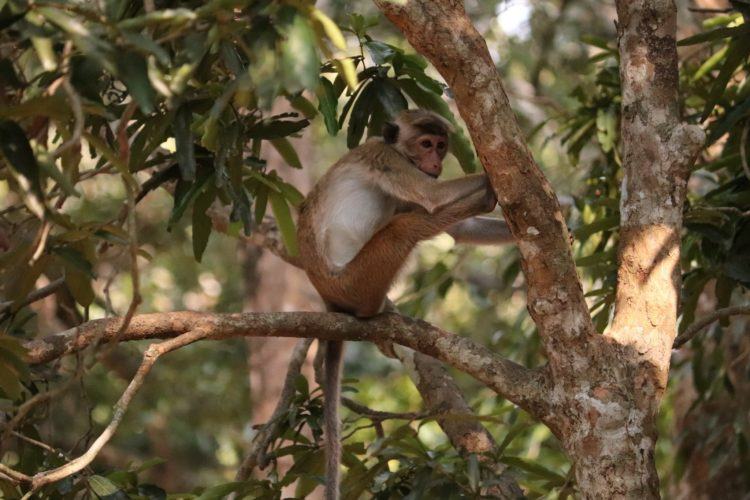 What is the Best National Park in Sri Lanka?
There are 22 national parks in Sri Lanka, with about half a dozen being common safari destinations. You'll see elephants and hooved animals (like spotted deer) at just about all of them, but to see the most popular animals, your choices are a lot more limited.
Assuming you want a chance to see the big game — leopards and sloth bears — your options quickly whittle down to Yala National Park or Wilpattu.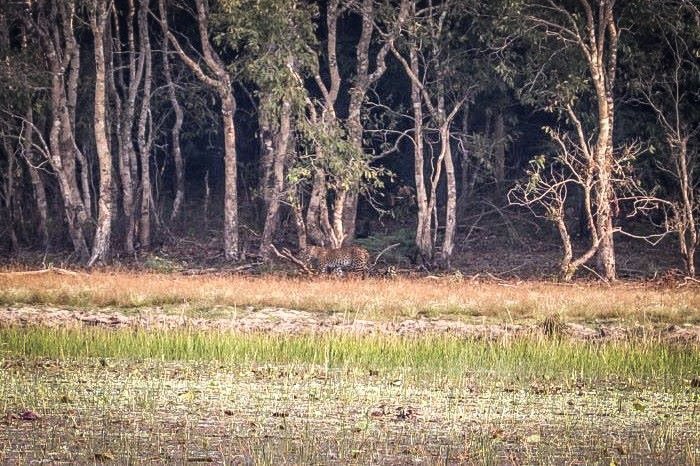 Yes, you might see these species at other parks as well, but with very low probability. You'll probably have a great time spotting wildlife, as long as you don't expect to see these two animals specifically.
Which is Better for your Sri Lanka Safari, Yala or Wilpattu?
Yala National Park is considered the best place in the world to see leopards. However, over the years, more and more foreign visitors have come to visit and now it's overtouristed.
Travel forums, online reviews, and reports from other travelers in Sri Lanka all said the same thing: you'll spend all your time looking at other jeeps or waiting in line for your turn for a close look at these incredible cats. Not to mention, with so many tourists in a small area, you're definitely influencing normal wildlife behavior and contributing to pollution in a relatively small natural habitat. Yala tourism is growing so fast that personally I don't think articles written prior to 2017 are even relevant anymore.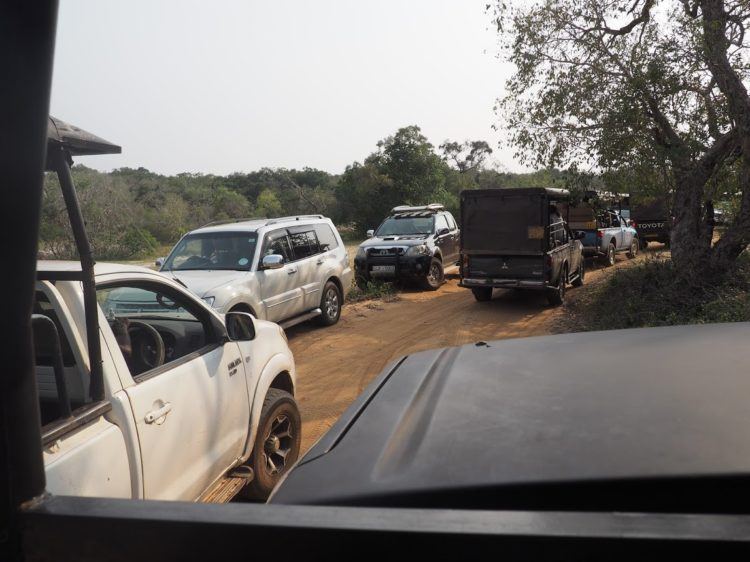 Personally, I was willing to trade some of my leopard-sighting probability for a more genuine safari experience. Wilpattu offered the possibility of sightings without as much human impact.
All this boiled down to why I chose Wilpattu as my safari destination of choice.
A Quick Guide to Wilpattu
Wilpattu is the oldest and largest national park in all of Sri Lanka. Due to the vast area the park covers, with dense forest in many parts, you can't expect to constantly see wildlife. Your guides will do their best to take you to known territories and to scan for wildlife, but you'll need to also be dedicated to searching along the way.
The large area here means that for the most part, jeeps spread out on different routes and you often won't see other vehicles: it's just you and the wildlife. There are a few traffic jams when entering and exiting because everyone's on the same schedule, but they clear up quickly.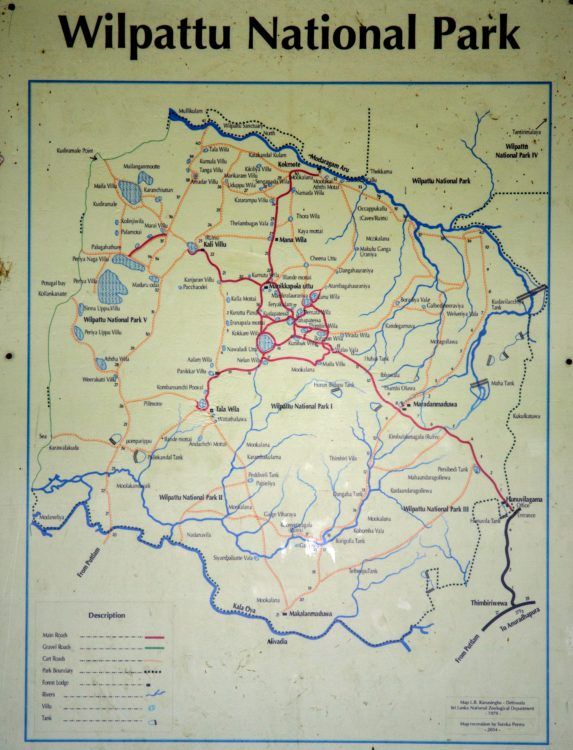 Unlike other wildlife sanctuaries in Sri Lanka, there are a variety of environments here: forests, dry zone, open grassland, and natural lakes. This ended up being a big bonus because even when there's no wildlife in sight, there's interesting scenery to look at.
For me, having to take the effort to search (and not knowing what you'll find) made this more of an adventure.
What Type of Sri Lanka Wildlife Can You See Here?
Compared to other Sri Lanka wildlife parks, Wilpattu National Park animals are some of the most varied. I wasn't interested in a park where you only see elephants — I wanted to be surprised and delighted by lots of different spottings.

As mentioned, the leopards and Sri Lankan sloth bears are the most desired sightings, but also the most challenging.
You can also see elephants, sambar, water buffalo, wild boar, jackals, barking deer, spotted deer, crocodiles, indian python, monitors, mongoose, and many varieties of birds.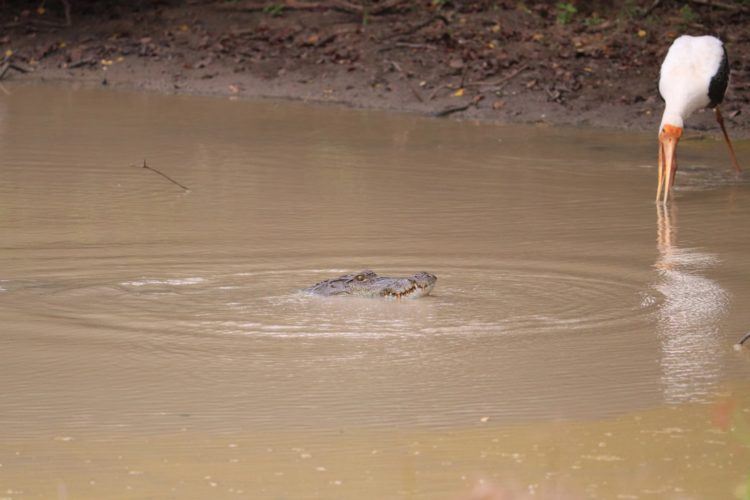 I'm not much of a birder, but the Ceylon Jungle Fowl is goofy and colorful…and the national bird of Sri Lanka. Wild peacocks are everywhere and are great entertainers.
You absolutely, positively need binoculars for your Wilpattu safari.

Unlike other places I've gone wildlife-watching, no one provides binoculars in the park. Some animals will be right off the road, but there are other times when you'll need to look across to the other side of the watering hole or scan the grasslands until you find an animal.

When you're buying optics, "you get what you pay for" holds true. Look at it like an investment, since they'll last a lifetime, and can be used for a wildlife safari in Sri Lanka or birding in the Amazon.

Not sure what to get? Binoculars are labeled with two numbers: the magnification and objective lens diameter. The binoculars I use are 8×42, meaning 8x magnification and 42mm diameter.

For wildlife, 8-10x is the sweet spot of great zoom without compromising on brightness, hand shake, or field of view (especially important when you're panning to find animals). For the objective lens, look for 30-50mm to balance low-light visibility and portability.

Unfortunately, the model I bought is discontinued, but these Nikon Prostaff 8x42s are practically the same and include must-have features: a rugged, waterproof, fog-proof design. Add on a harness to keep them handy without straining your neck. For an upgrade, my husband loves his Leupold spotting scope. It's lightweight, easy to pack, and the viewing quality will amaze you.

Where is Wilpattu?
The main gate, or Hunuwilgama Entrance, is about 190 kilometers north of Colombo, on the west coast. There's no such thing as a quick drive in Sri Lanka, so expect the drive from Colombo to Wilpattu to take about 3.5 hours (longer by bus).
Many visitors day-trip from Anuradhapura, which is about an hour away. A less popular, but possible, option is to charter a boat from Kalpitya.
Since Wilpattu is pretty close to the cultural triangle, it makes logistical sense on most tours or itineraries through Sri Lanka.
When to Go to Wilpattu for a National Park Safari
The best time to visit Wilpattu is from May to early September, which is the dry season. The drought clears some of the brush making it easier to spot wildlife.
I actually went in early spring, during the inter-monsoonal rainy season. We lucked out with fabulous weather, and even though there was some dense forest we still had great luck.
The worst of the rain is October through December. The park is still open, but you may want to be flexible with specific days for your safari and wait for it to clear. Although the rain is usually over by January, you can still expect thick brush obscuring your view.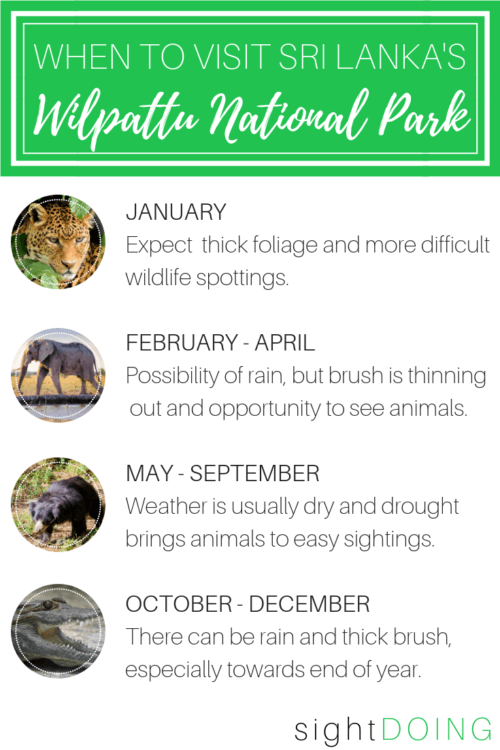 Want to include this graphic on your site? Please copy and paste the code below to embed the image.

How to Visit Wilpattu National Park
All visitors must join a guided jeep safari through Wilpattu: you're not allowed to go in a private car. In fact, you're not even allowed to get out of the jeep except in a few designated areas.
Because the park is so big and most wildlife is not situated by the park entrance, I only recommend a full day safari. In a half-day, you'd spend most of your time getting to and from the best spots. Do expect a very long day from 6am to 6pm, but it's worth it!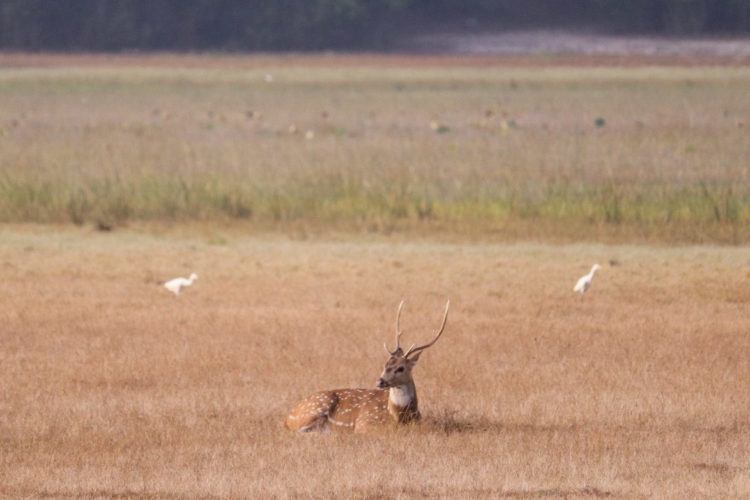 There are two types of full-day safaris, and you usually just tell your guide in the morning which you prefer:
100% of your time is spent driving the game roads in search of wildlife
– or –
You can take a break on the beach within the national park for a lunch stop, quick swim, and chance to stretch out
We chose to spend the entire time searching for wildlife and our efforts paid off. We had some great elephant spottings even in the heat of midday which we otherwise would have missed. However, if you know your attention span needs a break, you can ask to go to the beach for a few hours. You'll still look for wildlife early morning and at dusk, which are typically the best times anyway.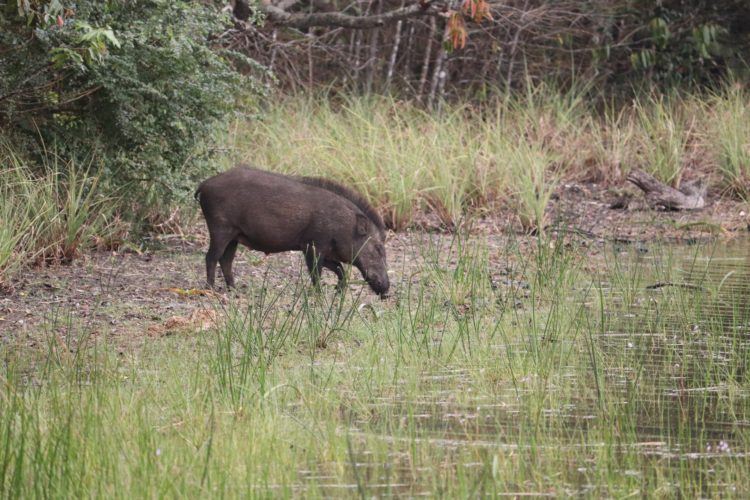 All local hotels or private drivers can arrange your safari, even on limited notice. You can also arrive at the park entrance gate independently to join a group jeep.
If you prefer a private tour, you can arrange everything in advance so you don't stress during the trip.
BOOK NOW:
Private tour starting from Park Entrance | Private tour with Anuradhapura pick-up
Wilpattu National Park Entrance Fees
As of the time of publication, national park entry fees for foreign visitors are Rs 3500 per person (about US $21). These fees are typically paid at the gate in cash. Bring your passport — they mark down your information for your ticket!
A full day safari jeep runs about Rs 10,000 ($60), although it may vary a little depending on who you book through, your guide's reputation, and the vehicle quality. This is a flat fee for the vehicle, regardless of how many travelers there are, so if you are on a budget, consider sharing the vehicle with other travelers at your hotel. This includes 12 hours of game drives, your guide salary, and fuel. If you book through your hotel, they may also throw in a packed lunch.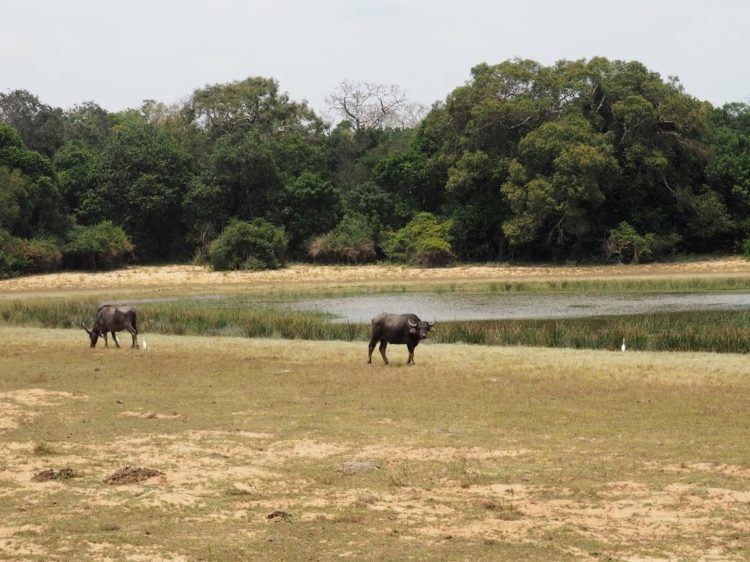 Wilpattu Hotels
When choosing Wilpattu National Park accommodation, you pretty much have to choose between one of three categories:
Rustic
Expensive
Far away
No matter where you stay, you'll need two nights so that you have a full day for your Sri Lanka safari.
High-End: Mahoora Tented Safari Camp
This was out of my price range, but it looked to be the nicest place by far. These are upscale tented suites with private bathrooms, like what you might expect an African game reserve. All-inclusive rates include your meals, drinks, and safari (and reviews praise their trackers' ability to find animals)
Mid-Range: Backwaters Lodge
I stayed here for two nights, willing to pay up a little for some comforts. Our room was nicely outfitted, our meals were delicious, and the service was impeccable. Like much of Sri Lanka, there was no air conditioning in our room. That wasn't an issue our first night, but on night 2 after a long hot safari, we had a lot of trouble sleeping. Elephants sometimes roam the property — can you imagine drinking your cup of tea while one walks by?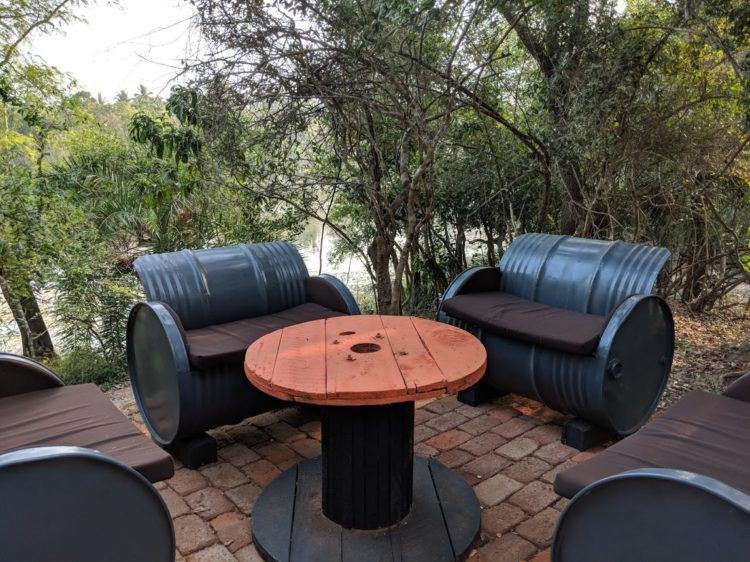 Budget: Official Wilpattu National Park Bungalows
Be aware these are 100% self-catered, so you need to bring your own groceries, bottled water, linens, toilet paper, plus extras for the caretaker. The upside is that you'll be first to enter the park in the morning and last to leave. The reservation system is, at best, finicky.
Should You Day Trip from Anuradhapura to Wilpattu?
Anuradhapura is about an hour away from the park entrance, which means you'll need to leave your hotel at 5am and won't get back until 7pm. That's a long day, but it comes with several advantages.
First, Anuradhapura is on a direct train route from Colombo. You'll save a ton of money by taking the train compared to hiring a taxi or driver. I didn't take this specific route, but in general, trains in Sri Lanka are relatively easy to figure out and if you book a reserved seat, you'll be comfortable along the way. There's plenty of room for luggage.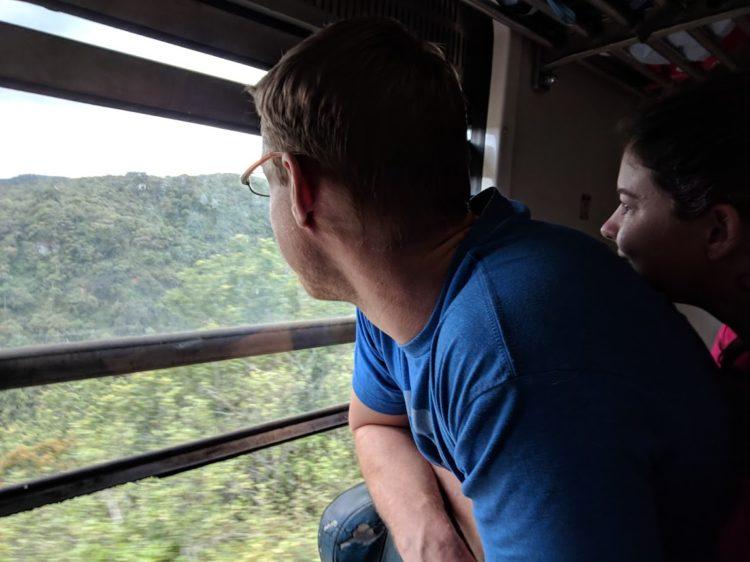 Secondly, A'pura is a popular stop anyway for travelers looking to see the history and culture there. By day tripping, you won't have to pack up and move again.
Third, there's a ton of hotel options in the city which means you're bound to find something in your budget — and you'll also be able to choose somewhere with air conditioning and/or a pool if you wish. Many hotels are also walking distance to restaurants.
If I were to do it again, I'd probably stay in Anuradhapura and just suck up having one long day in my trip.
Since booking engines (or even hotel websites) don't often exist in Sri Lanka, I recommend reading reviews and making your reservation on Booking.com.
What to Wear on a Jeep Safari Sri Lanka
Beige, tan, and light neutrals are best, but the main goal is simply to avoid bright colors (which make you conspicuous to skittish animals).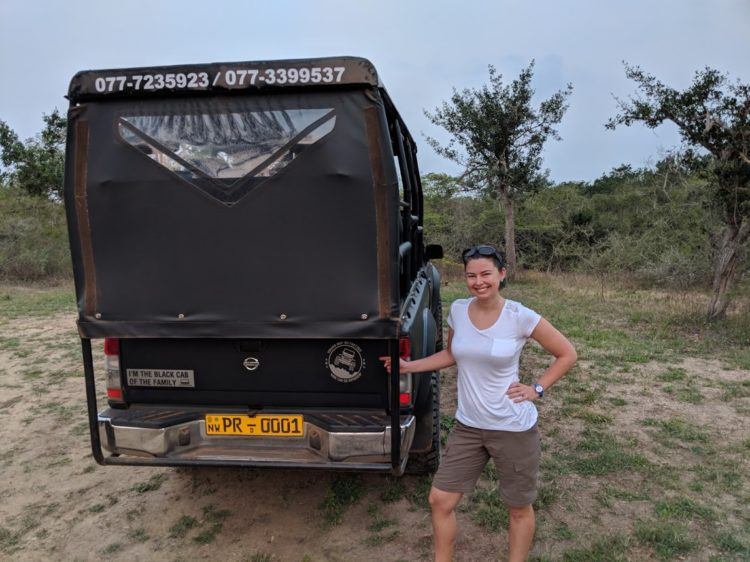 I wore white, which shows dust, but it rinsed out quickly so not the end of the world. People say dark clothes attract mosquitoes, something to keep in mind during the rainy season.
The Ideal Outfit:
Try this quick-dry shirt that's cool, UPF 50 for extra sun protection, and moisture-wicking.

For pants, I recently upgraded my old Columbias for a pair of Pranas — I wish I had found this brand earlier because they are way more attractive and still water-repellant, UPF 50, moisture-wicking, and quick-drying.

(Men, try this quick-dry shirt with "BugsAway" technology with Prana pants for men).
Sun Protection: When you're in the hot sun for game drives, you'll definitely want a lightweight sun hat, sunglasses, and plenty of sunscreen.
Not convinced this is the right Sri Lanka national park?
The only people I'm hesitant to recommend this particular Sri Lanka safari to are families with young children. By design, this is a very long day so it could be tough on the little ones who need a nap or a break along the way.
Near Habarana, Sigiriya, Dambulla
If you have a short attention span, there are easy half-day safaris departing from the cultural triangle area. You'll visit either Minneriya, Kaudulla, or Hurulu. All three wildlife parks border each other, so don't stress over which one you go to — just allow the guides will take you to whichever one has had the most sightings over the past few days.
None of these parks have the biodiversity you'll find at Wilpattu and you'll mostly see elephants. If you're there in August or September, you'll be there in time for the "elephant gathering" when literally hundreds of elephants migrate to these parks. That would be a selling point to visit even if you spent a day at Wilpattu.
Side note: There's a lot of controversy surrounding Pinnewala Elephant Orphanage, which "cares for" elephants needing special medical assistance but still keeps them chained up for a tourist attraction. We didn't visit and I encourage you to research thoroughly before making a decision for your family.
Near Galle, Unawatuna, or Tangalle
If you're only traveling to the south coast of Sri Lanka and don't want to take a very long detour north to Wilpattu, your best bet is Udawalawe National Park. Leopards are rare, but everyone raves about the wildlife and scenery. Crowds will be much lighter than Yala but it's still close enough to make a trip from your beach resort.
If you have a private driver, Udawalawe also makes a logistical stop along your route from the coast to Ella and a great excuse to break up the drive. I haven't been here, but I heard a half-day safari is enough.
Description:

Are you Looking forward to Travel Ella from Galle or nearby area, thisi is the best way to do that. start in the morning from Galle and visit Udawalawe National Park as a private tour on the way to Ella. 3 to 4 hours Safari in the National park. Udaw

Price:

$200.00
Description:

Udawalawe National Park, the sixth largest animal sanctuary of Sri Lanka, is located 112 miles (180 km) from Colombo in south-central sector of the island. The park is situated just south of the Central Highlands, of which escarpment brings about an enrap

Price:

$78.00
Near Arugam Bay
The only other national park I personally went to was Kumana, on the east coast. Every local told us the same thing -- evenings are better than mornings -- so we jumped in a safari tour from 2-7pm. The wildlife here was excellent, but since it's smaller than Wilpattu, we did run into other jeeps more frequently.
This was absolutely worth a stop if you're in the area, but getting to the east coast is a long drive from Colombo so a lot of travelers skip it. Don't come just for the park.
The Bottom Line
Overall, I thought Wilpattu National Park was the perfect choice for a Sri Lanka safari. It offers a variety of habitats -- and thus a variety of wildlife -- in an authentic setting for a safari. If you're looking for a single park to show off incredible Sri Lanka wildlife, this is your best bet.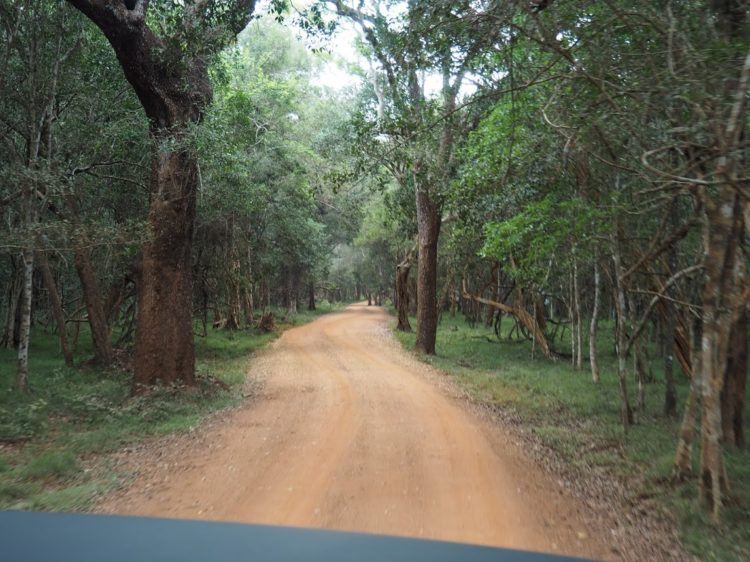 * * *
Planning a trip to Sri Lanka? Keep Reading
9 Sri Lanka Travel Tips the Guidebooks Left Out
Where to Stay in the Sri Lankan Cultural Triangle