This post may contain affiliate links. As an Amazon Associate I earn from qualifying purchases.
* * *
I have a major problem when travel planning: anytime there are too many options, I'm rendered frozen in indecision. I read far too many reviews, approach things from every angle, and compare so many options I forgot what I've already covered. And that was 100% my problem for planning our visit to the Sri Lanka Cultural Triangle. There's almost too much information and too many choices.
Since I sweated over making the perfect decision — and then gathered even more information once I was actually there — I'm about to make your life easier. I'll offer all the information you need all in one spot, so you make a final decision in ten minutes or less. Travel is supposed to be fun, not a never-ending mental challenge.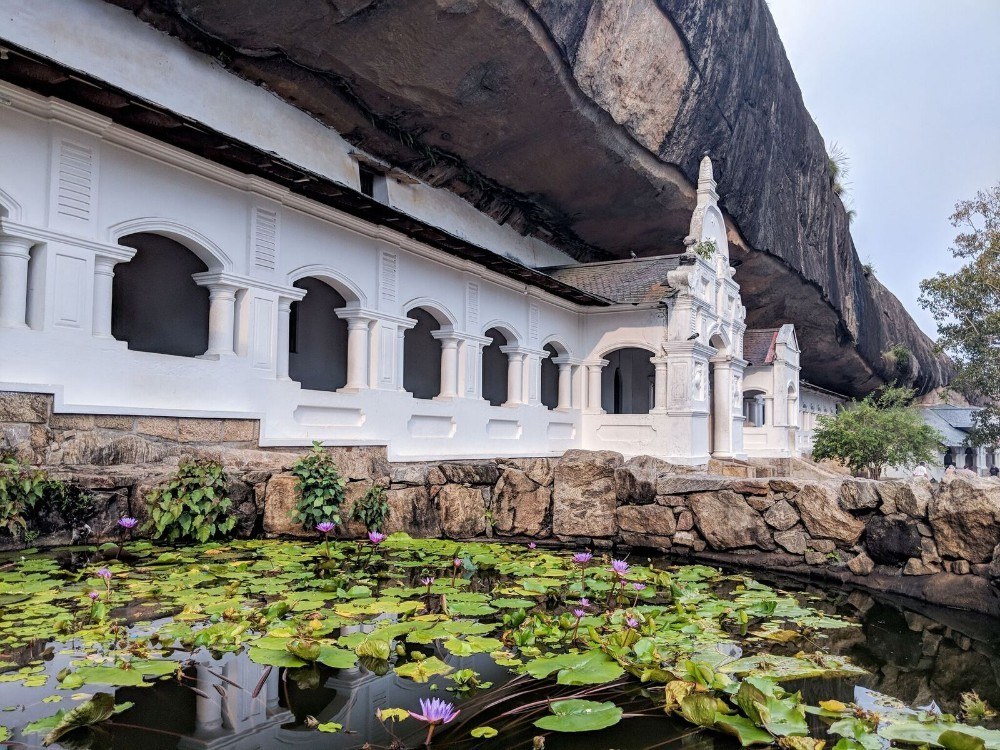 Some Background on the Sri Lanka Cultural Triangle
Centuries before the Colosseum, more than a millennium before Machu Picchu, and even before the Great Wall of China, the Cultural Triangle of Sri Lanka was already forming. Of course, no one called it the cultural triangle then — kingdoms like Sigiriya had no idea they'd be making history that would still fascinate travelers today.
The "triangle" itself is formed by three cities:
Anuradhapura, the first Sinhalese capital
Polonnaruwa, the medieval capital
Kandy, the hill capital
All three have their draws, but it's the cities inside this triangle that tend to get a lot more hype and tourist love. Sigiriya, an incredible rock fortress, is probably the most visited. You'll also hear a lot about the Dambulla cave monastery, the national parks and elephant safaris outside Habarana, and dozens of smaller ancient sites.
This hotspot in central Sri Lanka is a highlight of the country and the number one region I recommend visiting if your time is limited.
Best Things to Do in the Cultural Triangle
If you're like me and don't feel the need to see each and every ancient city, palace, temple, or fortress, it's pretty simple to narrow things down to just the highlights.
Do Not Miss: Sigiriya Rock
Perhaps what makes Sigiriya so special is that the citadel rises far above everything around it, sitting on top of a flat rock that rises tall out of the plains. It's an incredible site and very recognizable: the lion gateway halfway up the rock is featured in numerous travel photographs.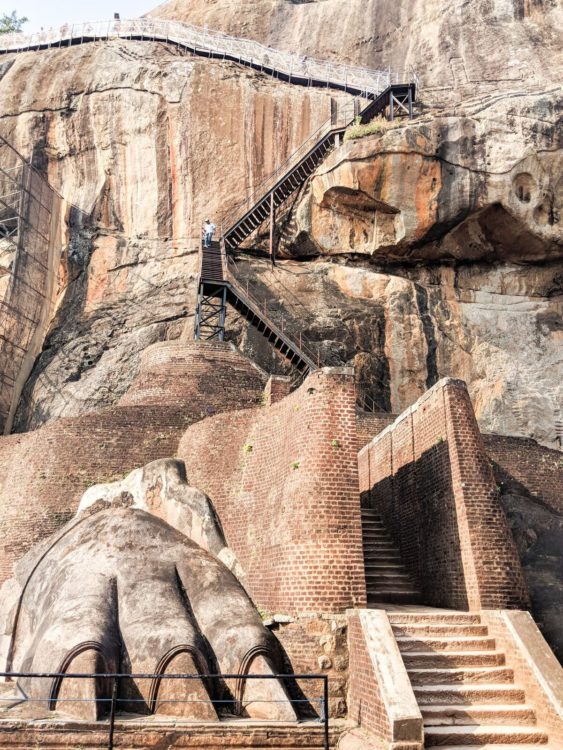 This rock fortress was built in the late 400s by King Kasyapa, although there's evidence that people were living in the caves and rock shelters long before that.
Today, you can visit this UNESCO World Heritage site and climb up narrow staircases to get to the top. You'll also see water gardens around the site, frescoes painted on rock overhangs, and of course, great views that seem to span for miles.
The site is open from 7am-7pm, with last entry at 5pm. Plan on about 2.5-4 hours to visit the site, depending on your physical fitness (there are a LOT of stairs). The absolute best time to go is late afternoon, around 4pm, when it's least crowded. Second best is right when it opens at 7am, to beat the heat — but be aware, a lot of people have the same idea 🙂
PRO TIP: You can buy Sigiriya tickets online to skip the long line and to pay with a credit card. The 60-cent transaction fee is well worth it to save 20-60 minutes of queueing! You can even buy Polonnaruwa and Anuradhapura tickets in the same transaction, if you're planning ahead.
Do Not Miss: Polonnaruwa
Sigiriya is the most famous site, but Polonnaruwa was my favorite spot in the cultural triangle. What I loved about here is that you'll see a great amount of architectural variety throughout the site; it really is a full city. You'll see temples, the royal palace, baths, brick walls, and Buddhist rock carvings. You can also walk on and amongst most buildings, which makes it easy to understand what it would've been like to live in medieval Sri Lanka.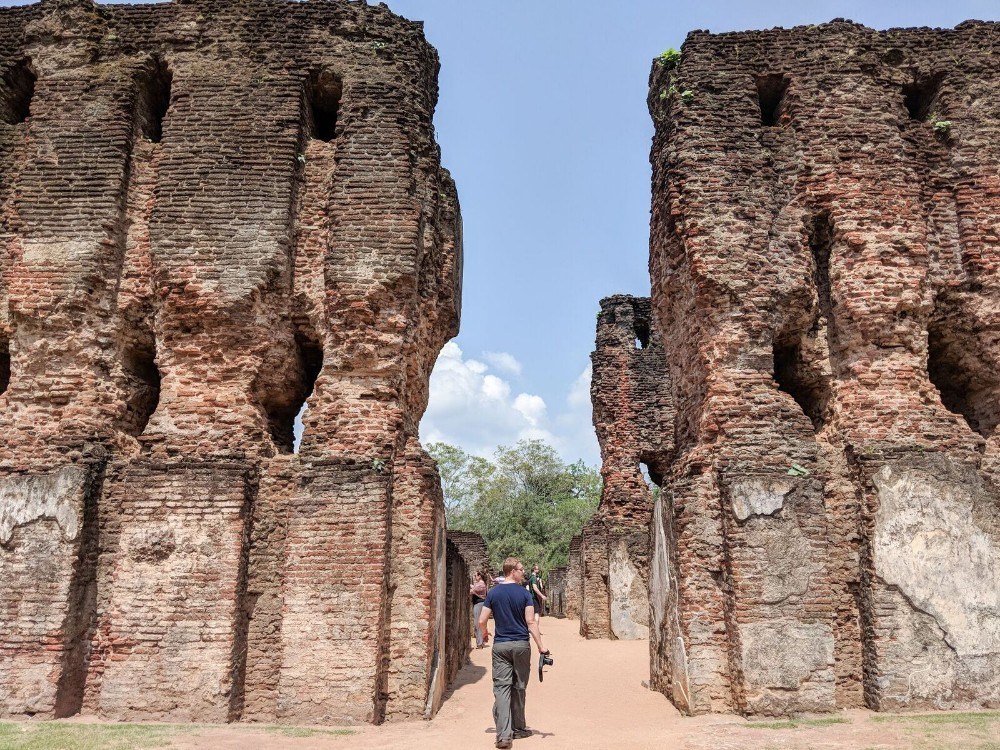 It's better preserved than Anuradhapura (it's not as old — it was the capital between the 11th and 13th centuries) and it's also more compact, which makes it much easier to explore on foot or by bike. So, if you're only choosing one or the other, make it this one!
Despite it's sprawling grounds, you can see it in 3-4 hours. We did it all on foot and loved the freedom to wander to less popular spots and enjoy some quiet temples all by ourselves.
For a faster visit, bikes are available to rent at the entrance and throughout the site (hawkers will find you — no need to search for them!). If you have a driver, they can also transport you between many of the Polonnaruwa buildings.
YOUR FOOTWEAR IS IMPORTANT AT POLONNARUWA!

Don't give me that confused look — just hear me out! Most of the ancient sites here are temples, and out of religious respect, that means you must remove your shoes at each and every building.

I wore flip flops, which were fast to slip on and off, but my bare feet burned on the hot pavement in some spots. My husband, on the other hand, wore sneakers which were a pain to constantly lace up, but at least he had socks to cover his bare feet.

A best case scenario…wear slip-on shoes and socks. You'll thank me later.

Read other random, yet super helpful, travel tips in my Sri Lanka travel guide.
Do Not Miss: Popham's Arboretum
An arboretum? Yes! Although this area is best known for its religious and historical sites, Popham's Arboretum is a great way to mix things up — and do something after dark, too.
The best way to visit this spot is to join their night walk, which departs most nights at 7pm. With flashlights, you'll head out after dark to look for nocturnal birdlife, mouse deer, and if you're lucky: slender loris. Our guide was outstanding at sharing information on the local wildlife and we had a great time even in the pouring rain.
If you go, you'll need to call a day or two in advance to make reservations. Many drivers don't know where it is (after all, it doesn't pay commission and it's not heavily touristed), so if you can, pass the phone along to your driver to ask for directions. It is sometimes also known as Suddage Waththe.
Worth a Visit: Dambulla Cave Temple
More than 2000 years old, the cave temples on a hilltop in Dambulla are beautifully preserved. Each temple has Buddha statues, gorgeous paintings, and a very cool setting. To be fair, the site has been remodeled and repainted over the centuries, but I've never seen anything like it.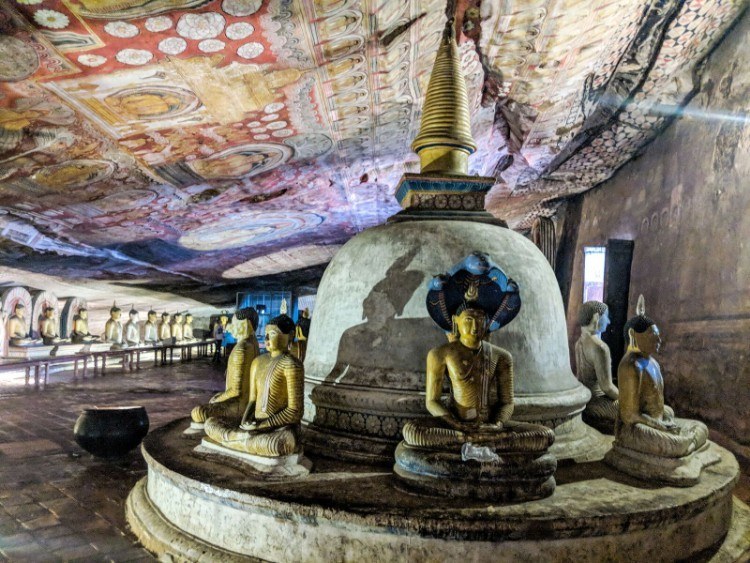 The most impressive caves are Cave 1, with a massive Buddha statue, and Cave 2, with murals everywhere (including the ceiling). The monkeys along the pathway are also a playful touch to visiting.
Although this isn't one of the absolute best things to do in the cultural triangle, it's unlike anywhere else I've ever been and is pretty convenient to reach. I'd allow about an hour and a half to visit, including the upstairs climb. I'm very glad we went.
Worth a Visit: Pidurangala Rock
Nature lovers, this is your chance to get a small hike in while you're here. Like many spots in the Sri Lanka cultural triangle, this is more of a staircase than a nature hike, but it's beautiful and there are spell-binding views of Sigiriya in the distance once you make it to the summit.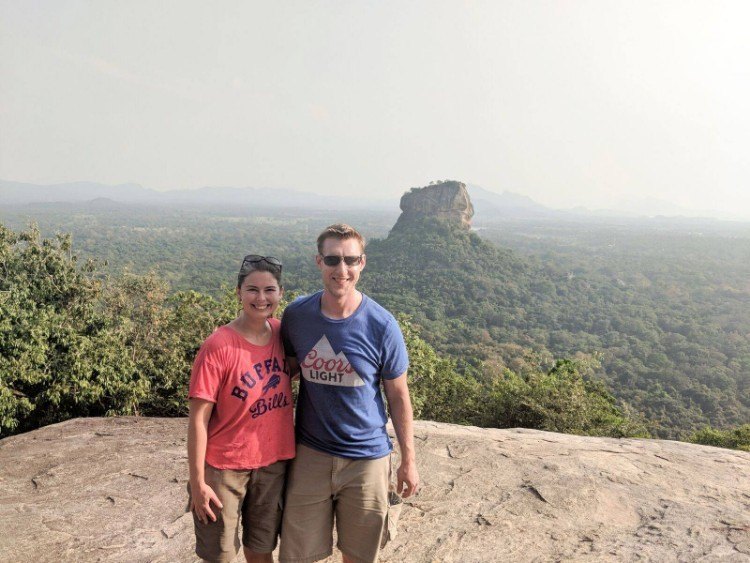 Most travelers will need 1.5-2 hours for this FREE hike, depending on how fast you walk and the amount of time you spend at the top. Don't expect solitude, perhaps unless you go at sunrise.
Worth a Visit: Mihintale
Near Anuradhapura is the mountain peak of Minhintale. Sri Lankans believe this is where Buddhism began in Sri Lanka, after the meeting of Buddhist monk Mahinda met King Devanampiya Tissa. It's religious significance means it can get crowded on local holidays.
Once again, the temple is built on top of a mountain, so be prepared for lots and lots of steps. There isn't a lot to see here, other than one gigantic Buddha, but once again you're treated to lovely views. Go at sunset and hope for lovely colors — the pathway is lit, so there should be no issue getting back down to the parking lot after you've enjoyed the view.
If you're not going/staying in Anuradhapura, it's skippable, but it's a nice inclusion if you're in the area anyway.
Worth a Visit: The Elephant Gathering (July – September ONLY)
First, let's clear up the confusion. Minneriya National Park, Kaudulla National Park, and Hurulu Ecopark all border each other in the cultural triangle and the elephants freely wander between all three. If you sign up for a jeep tour, you're best off asking the driver to take you to where they've most recently seen elephants rather than asking for a specific location.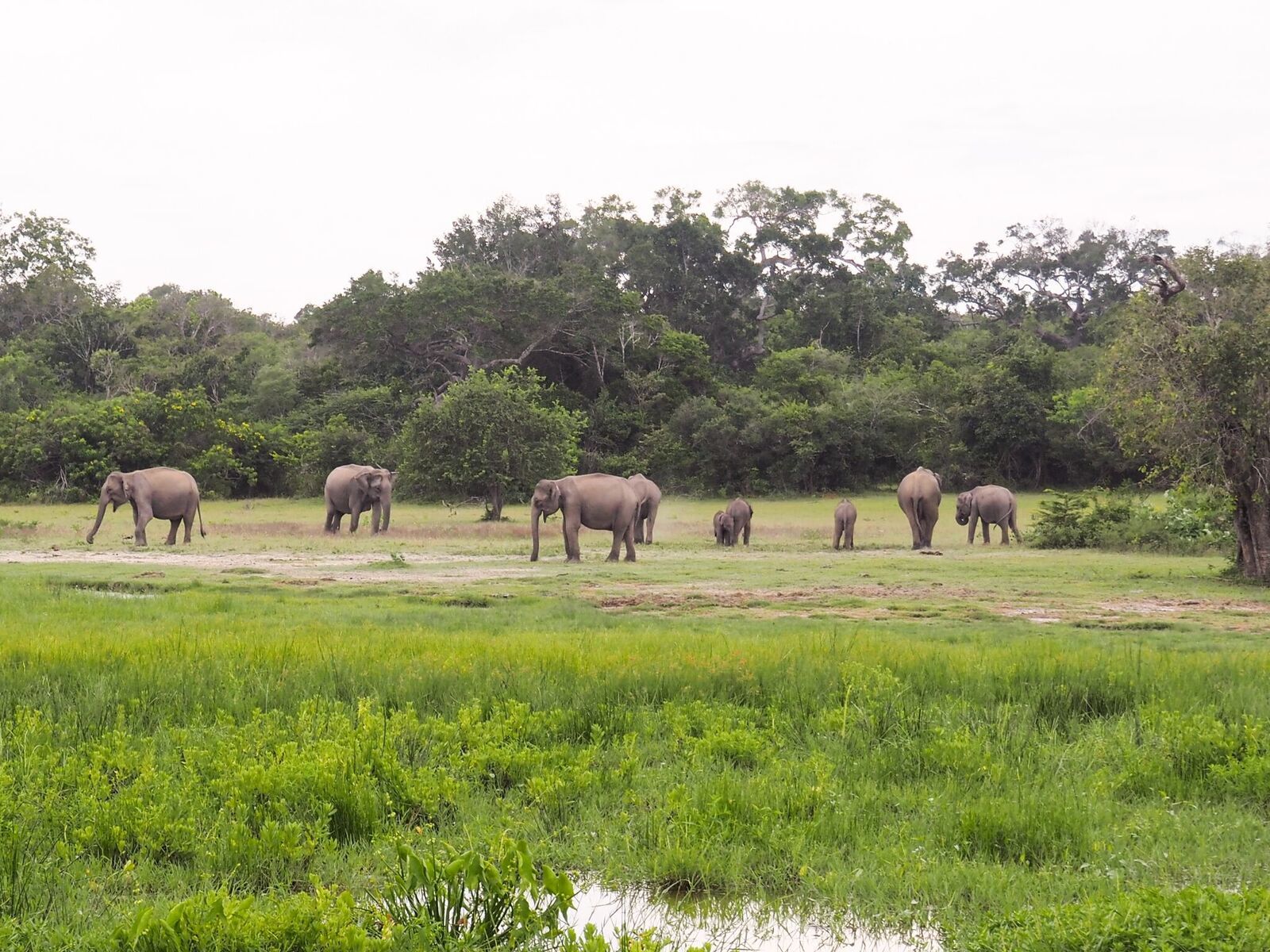 In my opinion, there are better national parks elsewhere in Sri Lanka. There's no wildlife variety in these three parks, basically just elephants, so you'll need to plan a different safari to see leopards, sloth bears, and other animals. BUT for a few months a year, you should specifically plan a jeep safari in the cultural triangle of Sri Lanka.
In the dry season of July through September, Minneriya and Kaudulla are home to "The Gathering", the largest assembly of Asian elephants in the world. Large numbers of elephants head to this area to find drinking water and grass for feeding and I'm told the sight of fifty or more elephants in one spot is incredible.
Afternoon Safaris are the Way to Go

These parks are compact enough, and with little wildlife variety, so a half-day safari is enough (unlike some other larger national parks). For the elephant gathering, the afternoon safaris are a better bet — so go ahead and arrange that 3-6pm safari. There's no reason to wake up for sunrise!
Worth a Visit: Kandy Lake Club
As far as I'm concerned, Kandy is too far away from the cultural triangle to be a useful base, but many travelers visit Kandy either directly before or after their visit, so I'll speak briefly about it anyway.
We stayed in Kandy for two nights — unplanned prior to the trip, but our hill country visit was spectacularly rained out. I ended up enjoying the city greatly, with the dance performance at the Kandy Lake Club a highlight.
The music, dancing, and costumes were wonderful and it was just the right length (5:00-6:15pm). For about $6, it's a lovely evening of entertainment and it finishes just in time to walk to the Temple of the Tooth evening puja. The sacred tooth relic itself isn't too exciting, but the puja itself is a fascinating event.
Skippable: Anuradhapura
How do I know this one's skippable? Because I skipped it and totally don't regret it. Anuradhapura didn't appeal to me in advance from the articles and reviews I read and most other travelers we met along our route had mixed reviews about it when we inquired.
That said, Anuradhapura is a sacred site for Sri Lankans, with monasteries now in ruins and scattered throughout the area. It's not in great shape, so you'll need to use your imagination to picture the Brazen Palace columns or the Jetavana dagoba (stupa), said to be the highest in the world.
If you do go to Anuradhapura, make sure you go to Wilpattu National Park as well — probably the best place to safari in all of Sri Lanka.
Skippable: Habarana Village Tours
These "authentic encounters" are anything but. If you're traveling with kids, they might get a kick out of the ox cart ride, but otherwise, you can head into any rural village in the country and walk around to observe farmers or fishers.
Locals are very friendly — so introduce yourself, peruse their produce offerings and make a purchase to support them, and create your own genuine exchange instead of pretending you're in a human zoo.
Sri Lanka Cultural Triangle Itinerary
I know just how difficult it can be to get time off work and thus how much pressure there can be to pack things in efficiently (without going overboard).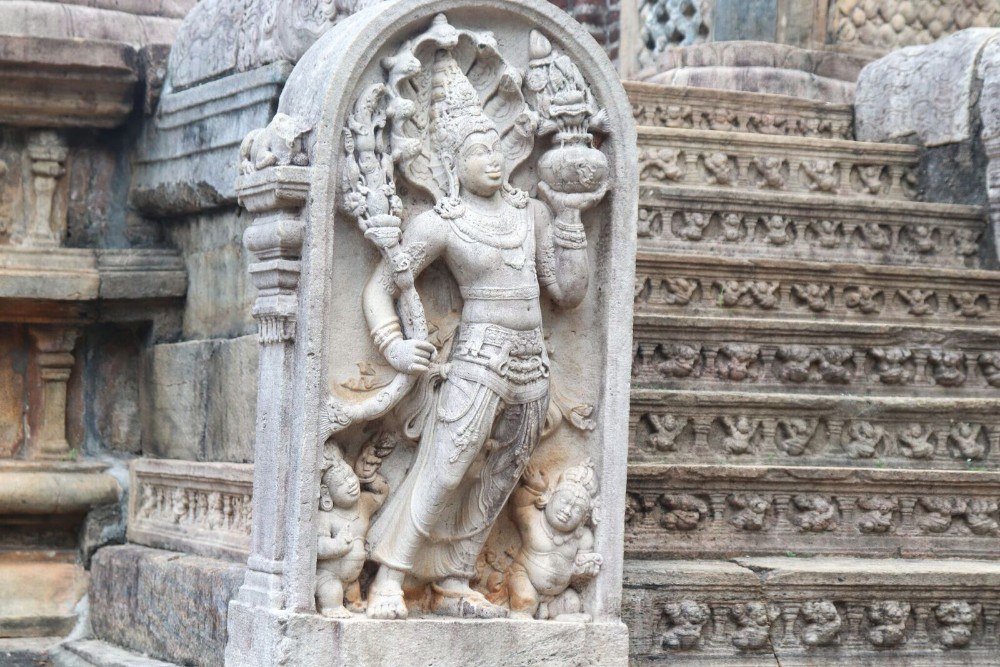 In my opinion, the ideal amount of time is 3 days in the cultural triangle.
Day 1: Drive in from Colombo, Kandy, or Anuradhapura. Spend late afternoon touring Sigiriya Lion's Rock.
Day 2: Hike Pidurangala first thing in the morning and then relax by the hotel pool. Late afternoon, visit Dambulla Cave Temple and the night safari at Popham's Arboretum.
Day 3: Day trip to Polonnaruwa. In season, stop at Minneriya National Park on the way back for a sunset safari. Otherwise, you can likely make it all the way to Kandy or Anuradhapura before dark (Colombo is too far).
Best Base for the Cultural Triangle
For most travelers, my recommendation is to stay in Sigiriya. It's a central spot and with the right hotel, you can walk around to restaurants, shops, and services. It is also convenient for those late afternoon visits to Lion's Rock and early starts at Pidurangala.
Sigiriya Hotels

Sigiriya Village Hotel ★sightDOING favorite★— Come for the views, stay for the pool! It's nice to build in a little relaxation time and between the pool and on-site ayurvedic massage, you're all set. Walking distance to some restaurants for convenience. The one downside is that wi-fi is in public areas only, not the rooms (but that's very common in all of Sri Lanka).

EKHO Sigiriya — This mid-range pick has air conditioning (trust me, you'll want it) and a fabulous location in walking distance to anything you could need in Sigiriya. It's not quite as nice as the Village Hotel above, but you'll save a few bucks.
Be aware that in Sigiriya, you're most likely going to rely on taxis, tuk-tuks, or private drivers for visits to anything other than Lion Rock or Pidurangala.
For Budget Travelers: Dambulla Hotels
Both Dambulla and Habarana are on public transport routes, but of the two, Dambulla is a better bet. It's a major hub, meaning you'll find more air-conditioned buses, more chances to actually sit on the bus (instead of standing for hours), and routes to pretty much anywhere thanks to a highway junction leading to both Colombo and Kandy.
Plus, Habarana is boring and unexciting, whereas Dambulla at least has some great street eats.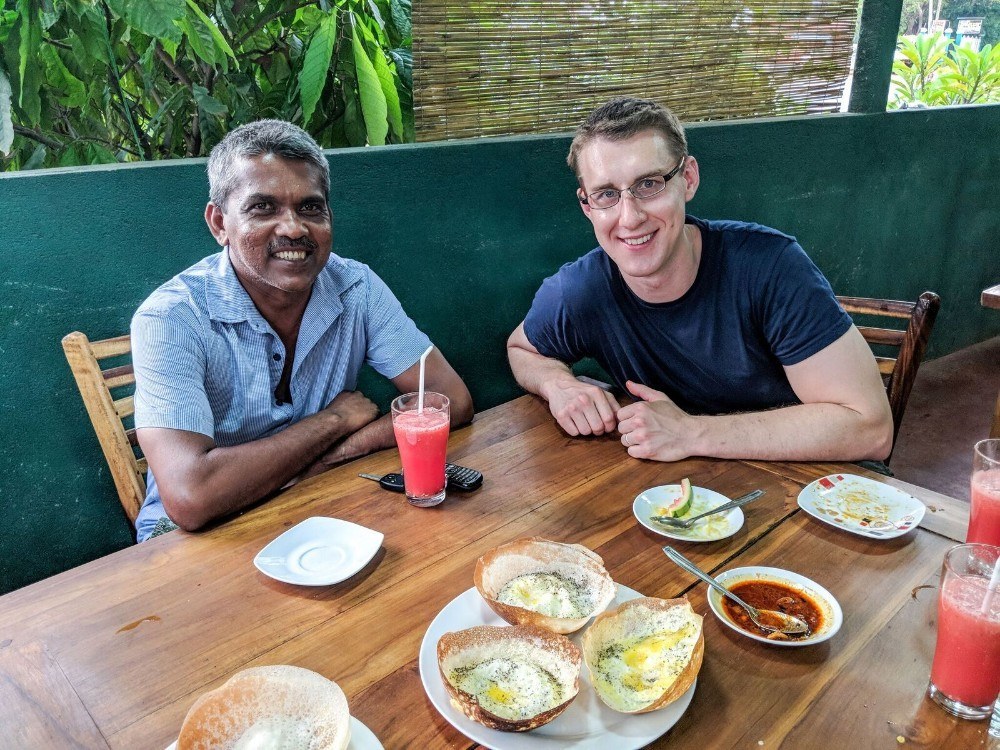 My top pick in Dambulla is Sevonrich Holiday Resort, which is about $30 for a private room with air-conditioning and access to the pool. Do be aware that it's transport convenience is somewhat negated by the fact that it's also loud, dirty, and not too easy to walk around.
Other Thoughts on Where to Stay in the Cultural Triangle
Please don't stay in Polonnaruwa: it's too far out of the way to be convenient for anything else and town is pretty small and remote.
Kandy is worth a visit on its own, separate from the Cultural Triangle. I stayed at Hotel OZO Kandy and highly recommend it. Yes, it's worth paying extra to be right in town (we walked everywhere!); many hotels marketed as "Kandy" are actually a 30-minute drive away!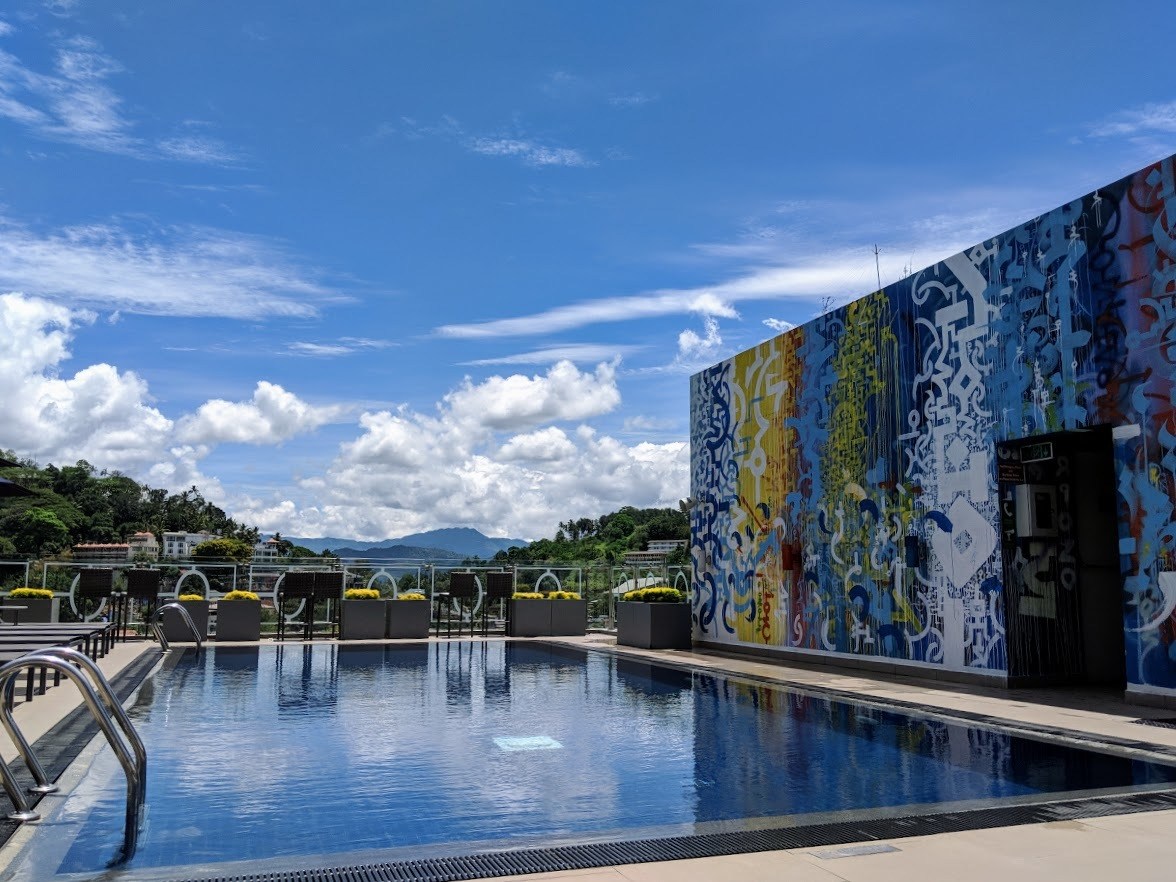 As I mentioned, I think Anuradhapura is skippable but if you're set on going there, I would day trip to there from your base in Sigiriya or Dambulla. If you spend the night — good for visiting Wilpattu National Park — I bookmarked the Hotel Heladiv.
* * *
Any other questions on this fabulous part of central Sri Lanka?
* * *
Planning a trip to Sri Lanka? Keep Reading
9 Sri Lanka Travel Tips the Guidebooks Left Out
How to Hire a Private Driver in Sri Lanka