This post may contain affiliate links. As an Amazon Associate I earn from qualifying purchases.
* * *
I'm far from a SUP expert, so getting on a board in Hamburg, Germany made me a little nervous. Unlike where I've gone before, there's nothing tropical about stand up paddling Hamburg style. Falling in didn't seem like an appealing option, but in a city with so many waterways, it would be a shame not to explore them.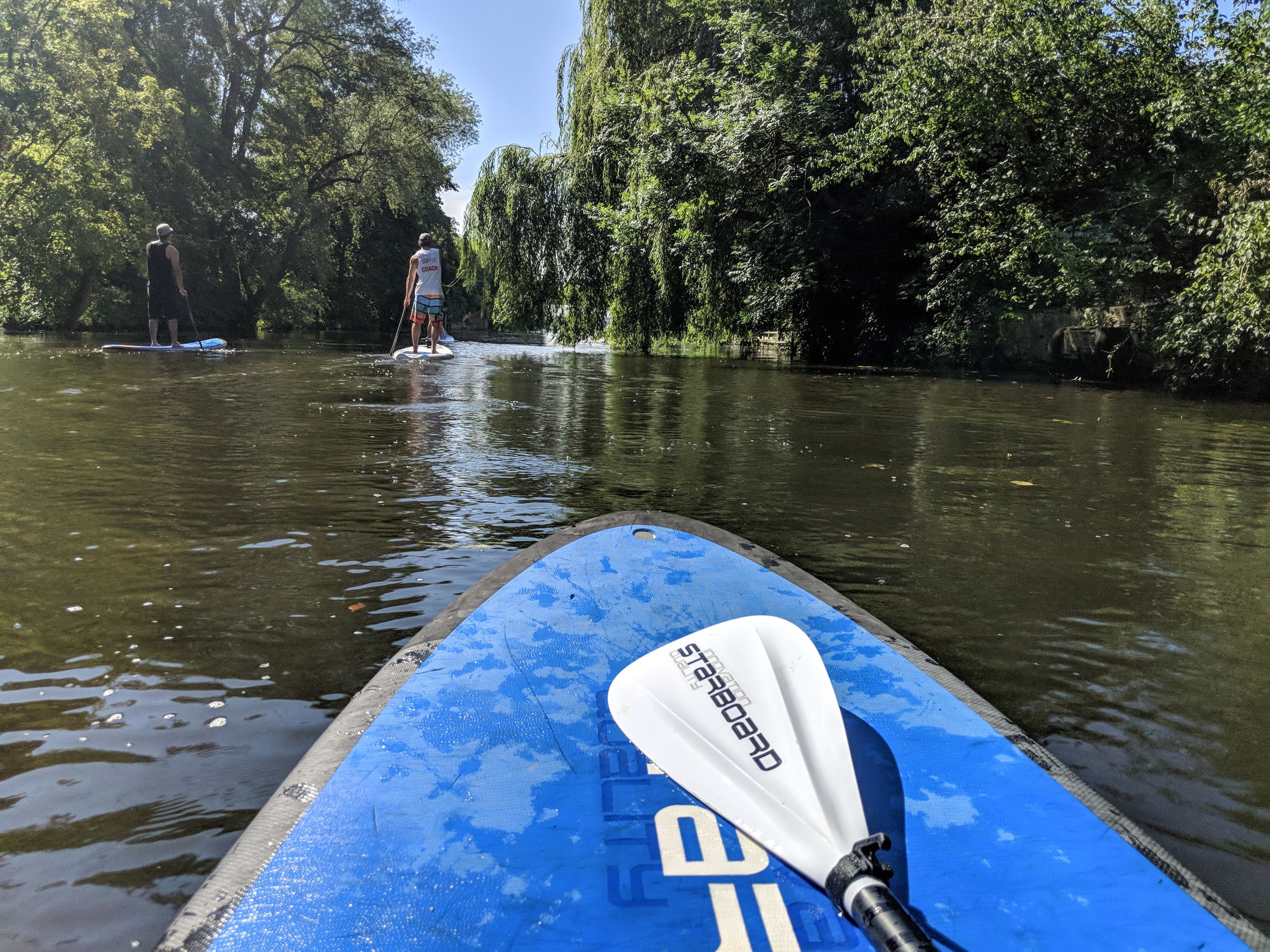 Getting started in the canals
Hamburg is the perfect place for paddling. The city has a network of 22 canals around Alster Lake, creating a set of peaceful pathways only accessible by water. You can head under bridges, past greenery, and in front of beautiful homes I can only dream of affording.
Plus, the water is flat and still, making it a great place for beginners to get a feel for the sport (and for more advanced paddlers to try out new tricks and skills).
It's no wonder that paddling is a popular pastime here.
Paddleboarding is Quick to Learn — Seriously.
Stand up paddling has gotten really popular over the past five years and I think the reason is because it's relatively easy to pick up. The boards are longer than you think, which makes them very stable. Yes, it takes some balance and concentration to stand up and paddle, but you'll get the feel for it faster than you expect.
And, paddle boarding is customizable to your own level. If you're not confident, sit down in the center of the board with your legs dangling in the water, which makes it practically impossible to flip. When you're more confident, you can move into a kneel and eventually stand up. There's no shame in sitting or kneeling and in fact, I can go way faster in a kneeling position than when I'm standing.
Who can paddleboard?
Anyone who can swim. While it's unlikely that you'll fall into the water, there's always a small chance, especially if you're distracted by taking photos or chasing swans.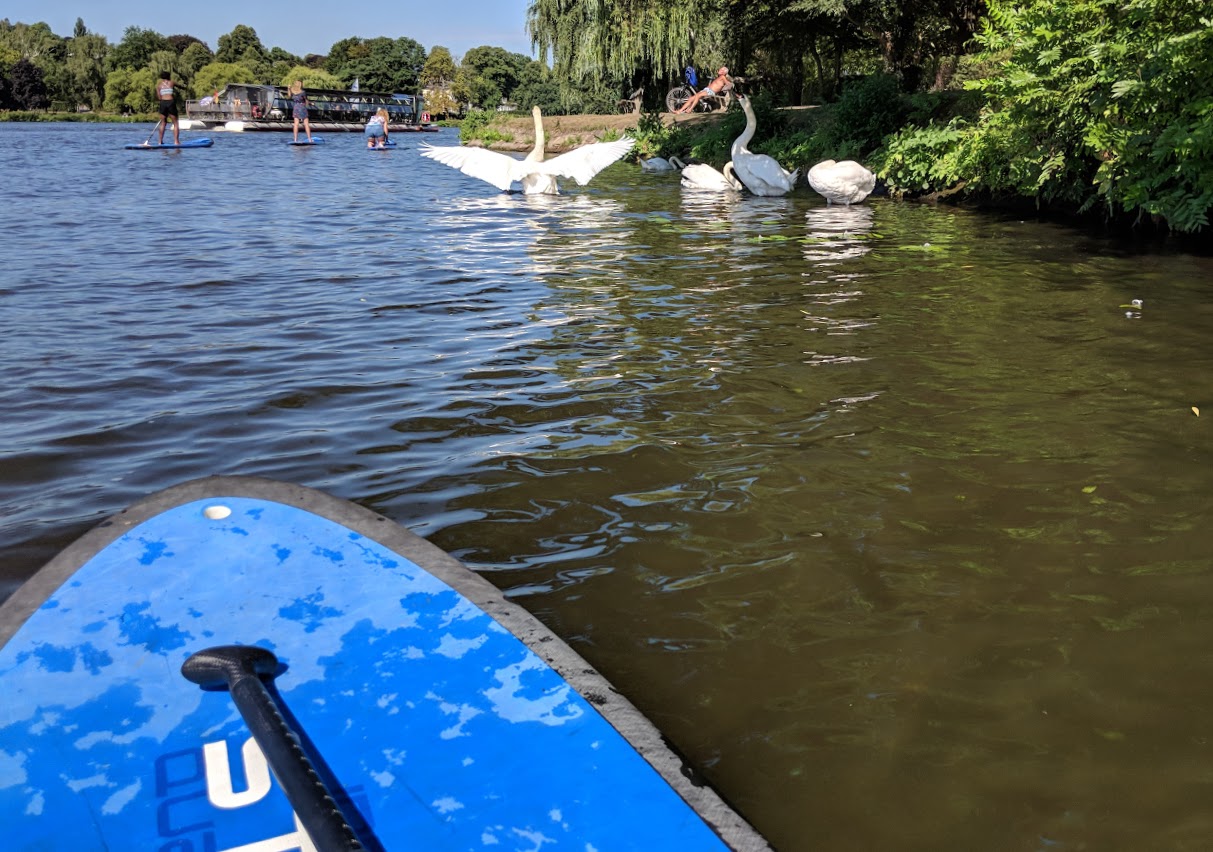 Where to Paddleboard in Hamburg
There are a few SUP rental spots in the city, but I recommend starting on the canals rather than a location that's directly on Alster Lake. In general, you'll find less motorized traffic on the canals (which makes a smoother paddle for you), plus it's more interesting to create your own route through the waterways. Of course, you can end up on Alster Lake eventually if you choose.
The Supper Club, on the north side of Alster Lake, has a quiet location right on the canals which makes it a great place to set off from. They've thought of everything, with lockers to keep your things in while you're paddling and a delicious restaurant to chill out at after your paddle.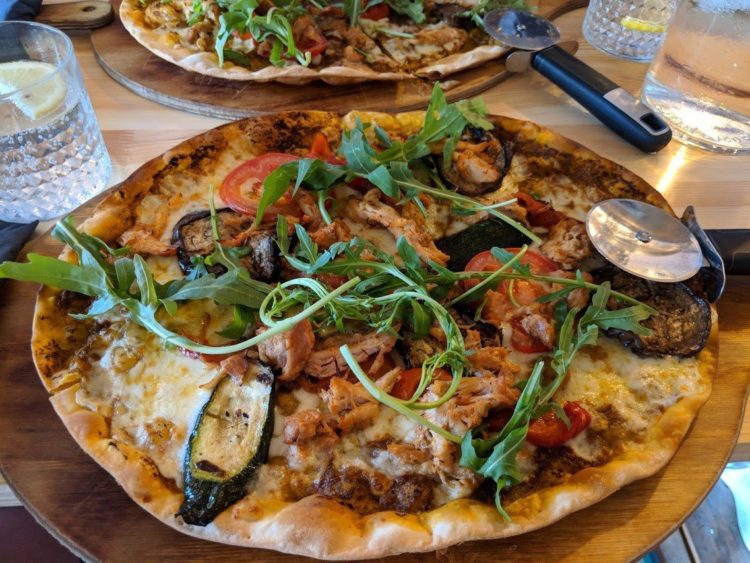 Although there are a few guided tours you can join there, most of the time, Supper Club focuses on individual rentals. A rental paddleboard starts at just 14 euro per hour. If you happen to be there on weekends, you can sign up for classes or tours starting at 35 euro.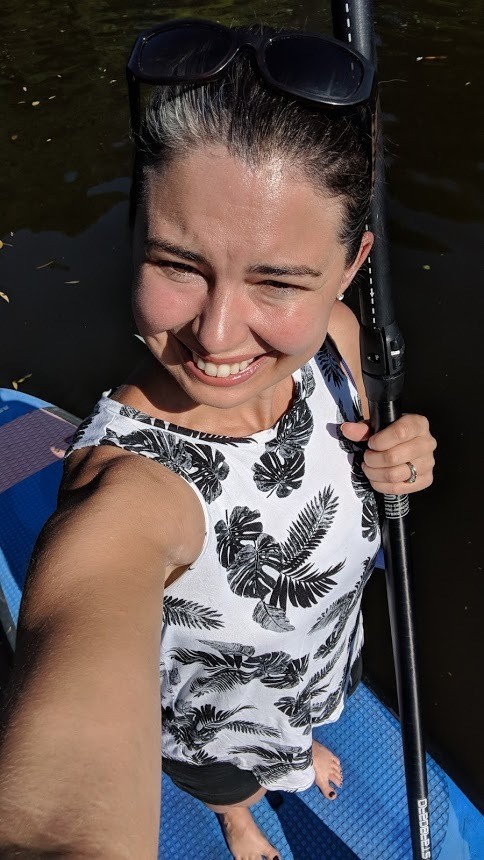 If SUP isn't for you…
The Supper Club also rents canoes, kayaks, paddleboats, and rowboats which will give you a similar experience navigating Hamburg's waterways.
Two other very Hamburg experiences are to sail on the lake or to ride bikes along the shore. If I had known how popular sailing was before my trip, I would've booked a tour in advance.
For independent travelers, you can rent a bike on your own and cycle to Alstervorland park. My fellow traveler (and mega Hamburg fan!) Cynthia Drescher also recommends stopping at Bodos Bootssteg on the lakeshore for a cold beer and a great view.
Looking for things to do off the Alster Lake? Check out my favorite way to spend one day in Hamburg.
WHERE TO STAY IN HAMBURG

I stayed at the Motel One Hamburg am Michel. It has low rates and a fabulous location in Sankt Pauli so you can walk everywhere. Particularly great for nightlife lovers!

For more amenities, or a location closer to the picturesque Speicherstadt, try 25 Hours HafenCity. The rooms are styled like boat cabins — such a Hamburg thing to do — and have views of the harbor.
My trip was sponsored by Visit Hamburg but all love for stand up paddling Hamburg is my own.
This post contains affiliate links. Thanks for your support if you choose to book something through my website.