This post may contain affiliate links. As an Amazon Associate I earn from qualifying purchases.
* * *
I gained 6 pounds my first month in Buffalo. I was determined to try all the iconic Buffalo foods, some of which I hadn't had since I was a little girl. I stuffed my face with wings, sponge candy, and half a dozen cup-and-curl pepperoni pizzas. When you eat all that in a month, you can probably guess what comes next.
I admitted I had a problem when I had to buy pants one size larger, so I started perusing the rest of local menus, hoping to find something else to eat, something that wouldn't clog my arteries.
But Buffalo does comfort food best, and I can't say I was thrilled by the lighter options. There was still a silver lining, though: tons of other amazing Buffalo foods that I saw over and over. There's a whole second set of what to eat in Buffalo that doesn't get the same attention and I don't know why.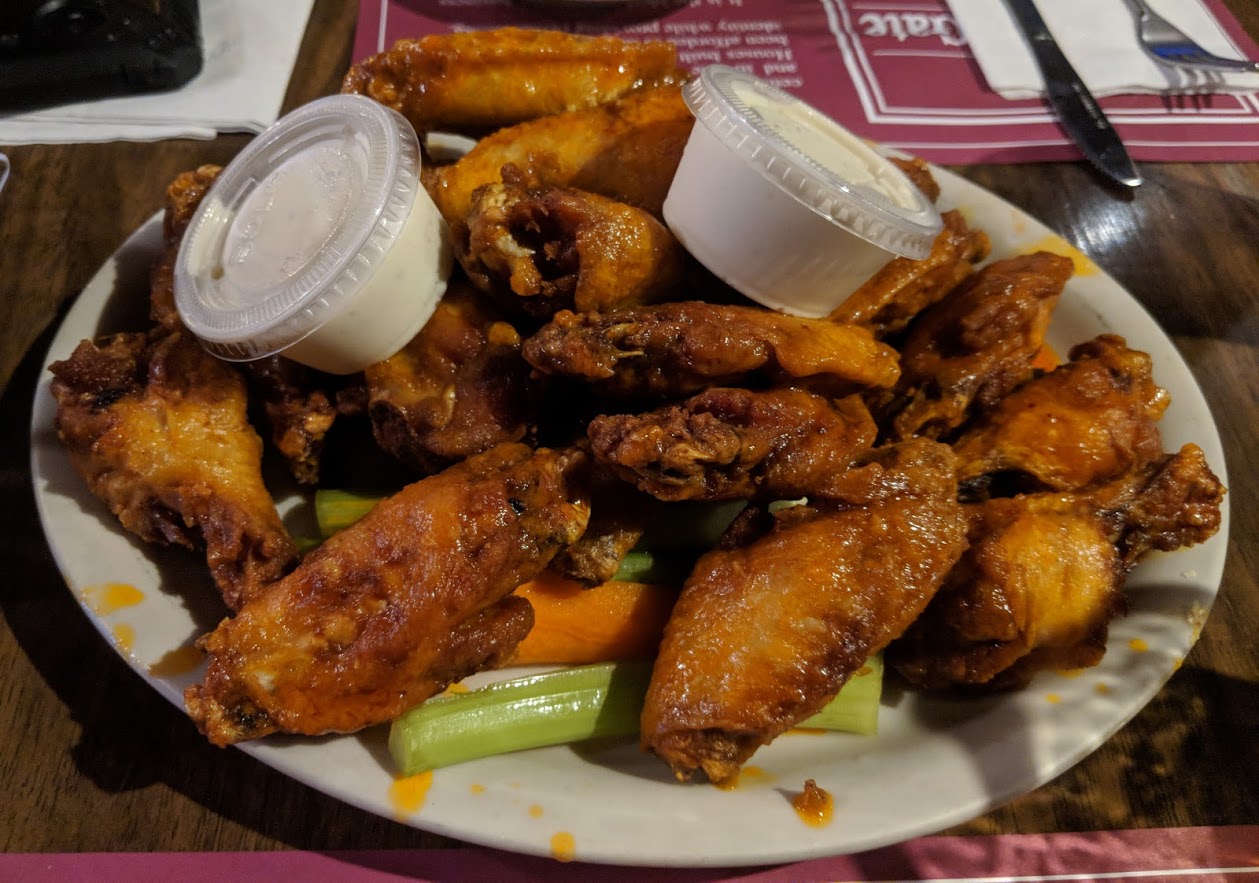 What to Eat in Buffalo NY
Surprise, surprise! The lesser-known checklist of things to eat in Buffalo is yet another set of delicious calorie bombs. If you're into cheesy, fried, or gastronomic indulgences, this is the city for you.
Stinger
It's pretty common to find chicken finger subs all over western NY but Buffalo takes them to a whole new level. They take chicken fingers, coat them in buffalo sauce, and then layer them inside a cheesesteak. The end result is a messy sub so overloaded with meat and flavor that you can't help but devour the whole thing. Sit up straight, or everything will fall right into your lap.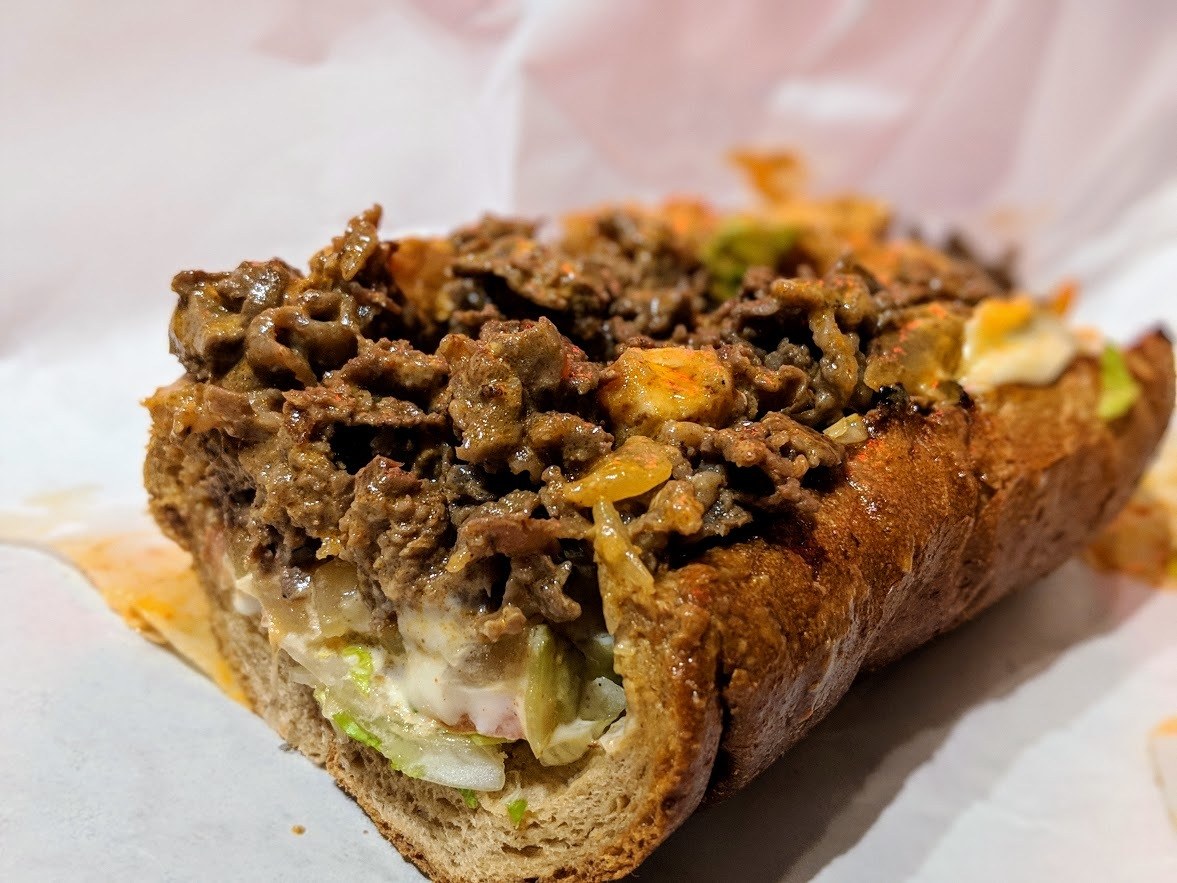 The first bite at Jim's Steakout won't surprise you: it's straight up cheesesteak, albeit with so much shaved angus beef that the sandwich doesn't really close. You'll get a mouthful that's gooey and cheesy followed by a little heat from the hot sauce. When you get a morsel with fried onions, there's no turning back. Eventually, you'll notice their secret sauce (if I had to guess, it's like an Italian dressing mixed with mayo and hot sauce) and the perfectly-toasted texture of a local Costanzo's bakery roll.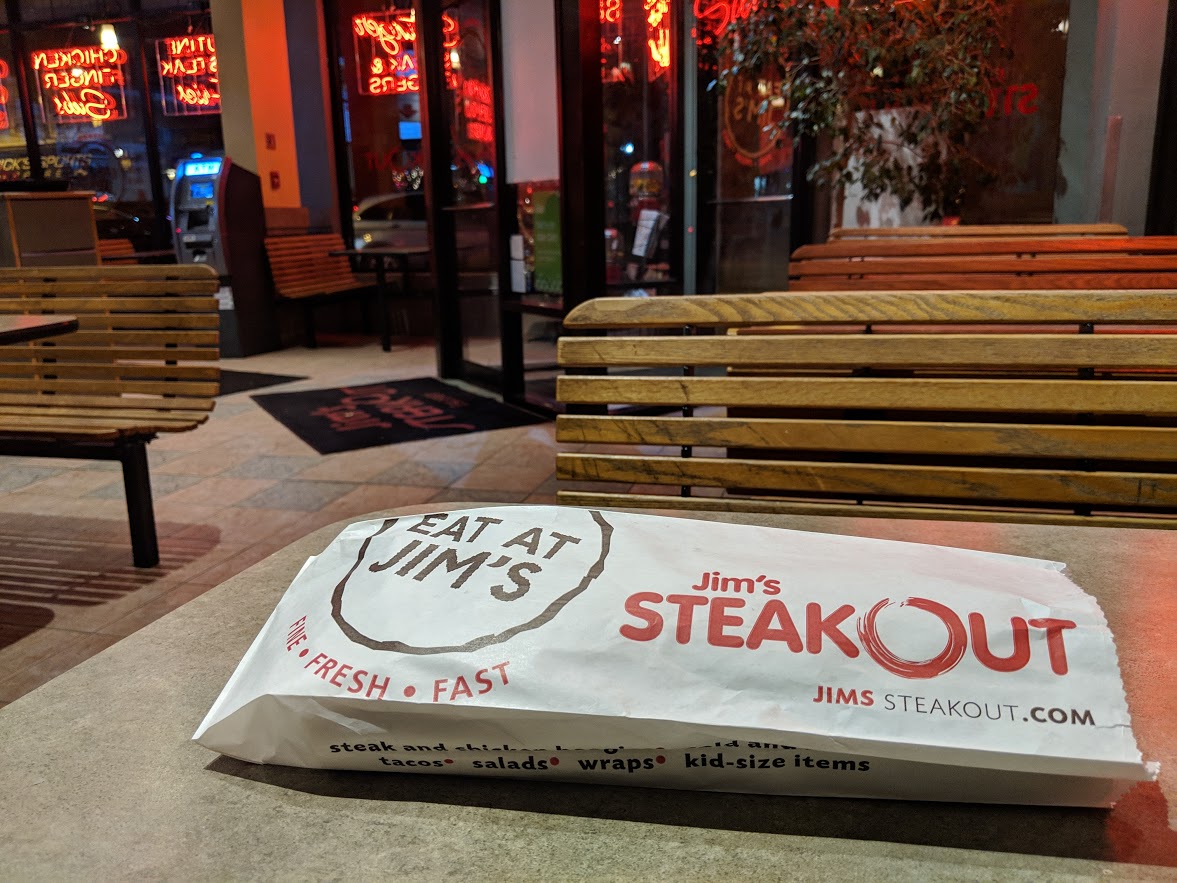 Jim's is known for being a late-night spot (the grease works perfectly at soaking up alcohol), but I've had stingers sober and can vouch that these are the real deal. But there's no judgement from me if you wander in after last call and get a large to cap off the night.
Stuffed Banana Peppers
Before I moved to Buffalo, I thought banana peppers were tangy pickled vegetables from a jar that are only good for my husband's Italian sub. Turns out, I was very, very wrong.
These things grow like weeds locally — just check any farmer's market this summer — but a genius named Andrew DiVencenzo decided to stuff them with cream cheese, bread crumbs, and Italian sausage and turned them into the city's second-favorite appetizer (after wings, of course). These are so beloved that when Chef Andy passed away, Congresswoman Slaughter paid tribute to him in front of the House of Representatives. I can't make this stuff up.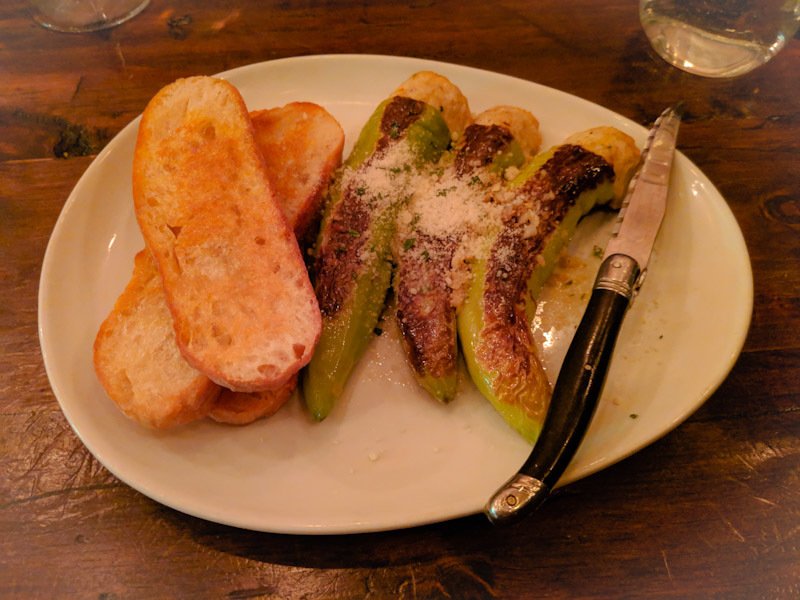 Now, every restaurant does them differently: some have ricotta, some parmesan, some mozzarella. Many have sausage, some do not. Some mix bread crumbs in the inside filling and others coat the outside for frying. Some serve them with a house sauce while others let the banana pepper speak for itself. But yup, all of them have cheese. And all of them are delicious.
I never had the original, but they say today's closest version is served at Falley Allen, where it's seared in a smoking pan until blackened just the right amount, then topped with the hot oil, garlic, and parsley.
Tom & Jerry
Newsflash: winter in Buffalo is a thing. It's cold, it's snowy (#1 in the nation so far this season; should I brag about that?), and it's l-o-n-g.
The other thing you should know about Buffalo is that it's a drinking town, supposedly the 6th-drunkest city in the nation. I can neither confirm nor deny that, but um, bars are open til 4am and I don't know how to handle that.
Therefore, I bring you to the next Buffalo food on my list, which is indeed not a food at all, but a cocktail that lost favor everywhere other than Buffalo 50 years ago.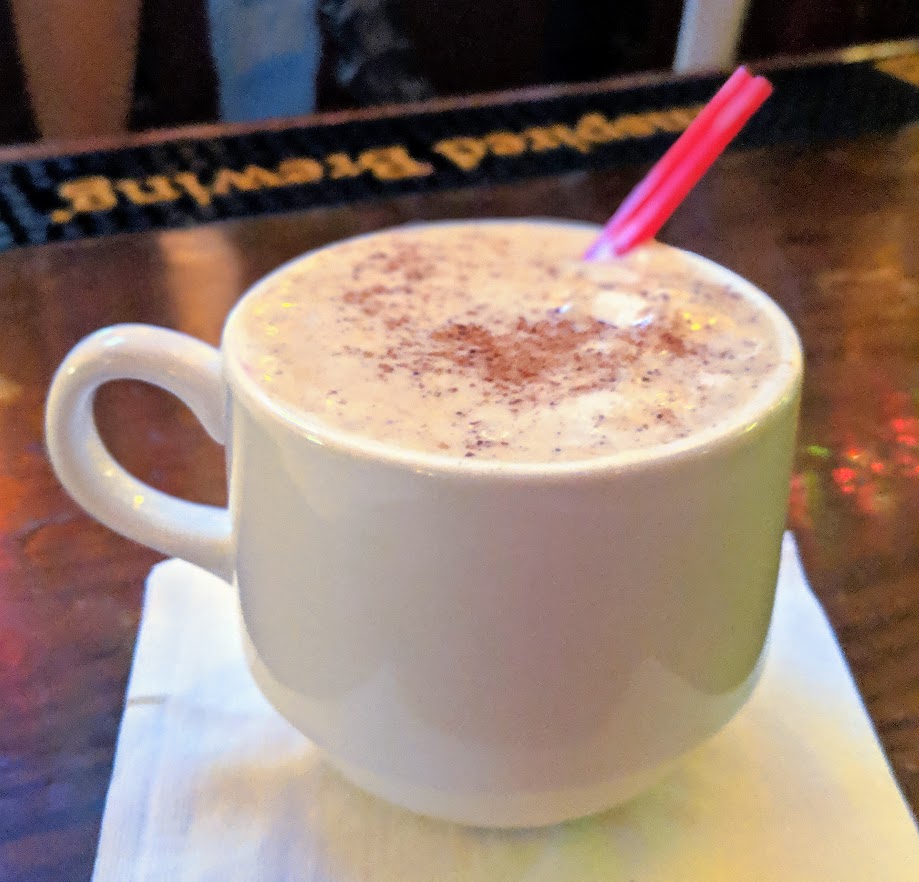 The Tom & Jerry is a hot, seasonal drink served in local bars like Cole's throughout winter. It gets a big popularity push around Christmas, but some bars and restaurants serve them as early as Columbus Day and as late as St. Patty's. Like anything in life, every recipe varies a little bit, but you can expect frothy eggs, rich hot milk, warming spices and vanilla, and butter…yes, butter. Rum, brandy, or both.
Now, I'll admit that I only had a single sip of one of these; I don't normally drink liquor but made a (tiny) exception to sample this. It's frothy, sticky, and absurdly sweet. The mixture is so thick that it feels more like a marshmallow fluff than a latte and it'll stick all over your face if you're not careful.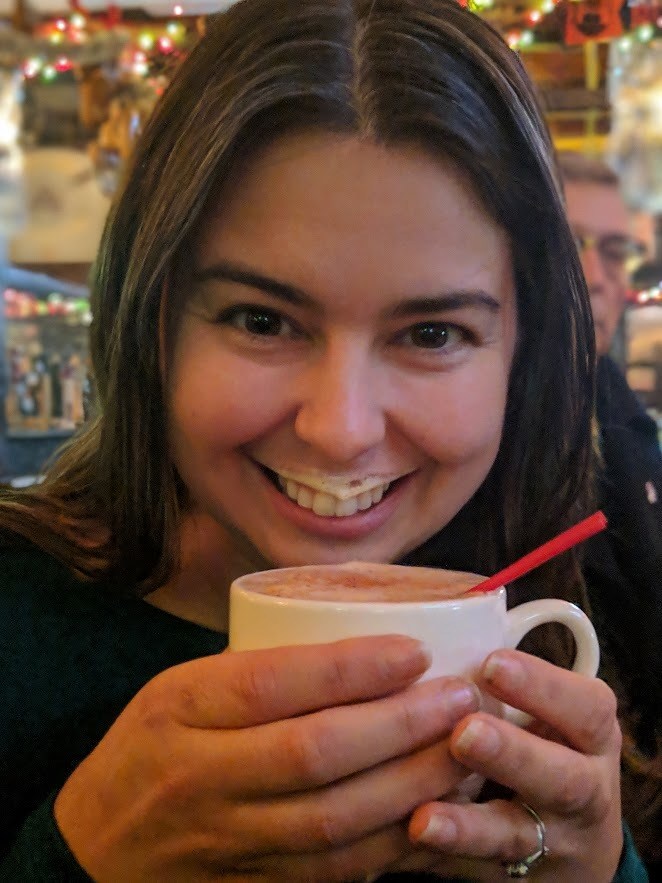 Even if I drank liquor, I'm not sure I could finish one, although everyone else at the bar certainly did.
Famous Buffalo Foods

If it's your first visit to Buffalo, you can't skip the classics. After all, calories don't count on vacation.

Wings (because no one calls them "Buffalo wings" in Buffalo)

The story goes that the first wings were invented in Buffalo in 1964 — deep-fried chicken wings coated in hot sauce. And even though the Anchor Bar may have invented them, the rest of the city perfected them 🙂 The best way to start a local feud is to ask a group where to find the best wings in Buffalo. Everyone's got an opinion and my vote is for Duff's.

No matter where you order them, Buffalo takes pride in serving large, meaty wings coated in homemade sauces and served with blue cheese (#NeverRanch). It'll be a step up from the chain restaurant you have at home.

Beef on Weck

Everyone's favorite Buffalo sandwich (sorry stinger, maybe you'll win next year).

It starts with carved roast beef — not the lunch meat, the real stuff. It's piled onto a "Kimmelweck" roll, which is a hard roll topped with caraway seeds and coarse salt. The next steps are up to you to customize, since you'll add on the horseradish and au jus to taste. If you're smart, you'll be generous with both.

Hint: skip Charlie the Butcher (they're skimpy with the meat) and go straight to Schwabl's, which will also serve you a Tom & Jerry five months out of the year. You're welcome.

Buffalo Pizza

What makes Buffalo pizza different? Thick crust that's doughier than a Chicago deep dish, sauce that's borderline sweet, and so much cheese you almost wonder if they screwed up.

Then, layer on cup-and-curl pepperoni. This is small, spicy sausage whose lip curls up while baking with just a small char on the edges. As it does, that glorious pepperoni grease drips into a perfect little cup to give you an intensely flavorful bite.

See that oil inside the pepperoni cups? I'm obsessed.

I'm still making my way through all of Buffalo's pizza joints — the city has more pizzerias per capita than New York City — and so far my front-runner is Bella.

Sponge Candy

Need I say more?

All the Others

Sorry, but in my opinion the other Buffalo food traditions aren't worth your while on a short visit.

If anyone tells you to get Ted's Hot Dogs, Mighty Taco, Paula's Donuts, a Friday Fish Fry, or Spaghetti Parm…you can use your imagination and guess what they taste like. Sure, they're fine, but I don't think they're so unique that you have to eat them in Buffalo.

Realistically most visitors only have a few meals to eat in Buffalo and you can do better.
Fried Bologna
I know what you're thinking: bologna exists in a lot of places other than Buffalo. It wasn't invented here, that's for sure, and you can find it in every grocery store. But this is the only city — and I've been to a lot of cities — that manages to take the stigma out of a fried bologna sandwich. This isn't some cheap meal to throw in a lunch pail. It's a delicacy for you to savor every bite.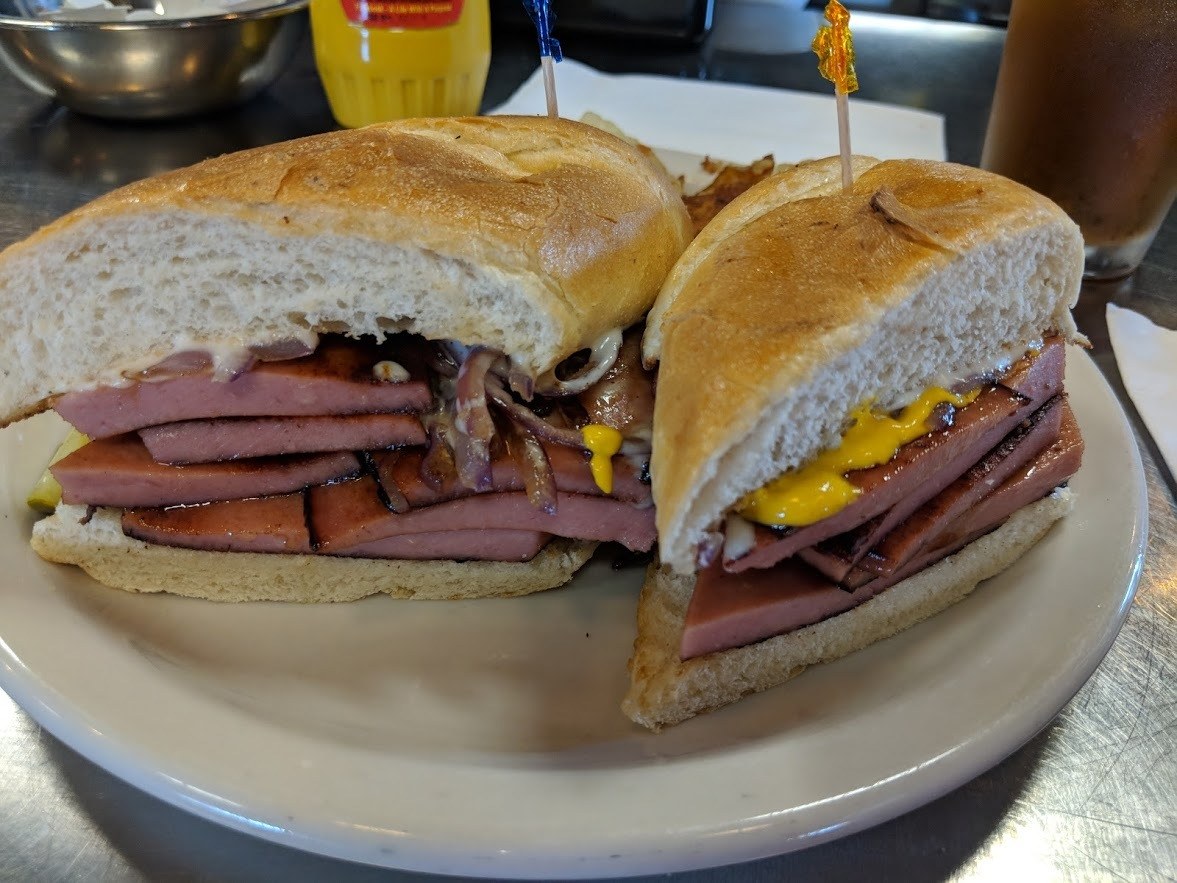 Fried bologna is such a staple here that you'll see it at upscale trendy spots (I'm looking at you, Toutant) to late-night dives (The Old Pink) and everywhere in-between. My personal favorite is Sophia's, a neighborhood joint that won't have any tourists in it, and a place that's probably better known for their bloody marys.
But, oh, that first bite of their fried bologna sandwich will have you immediately diving in for more. You have to ask for the homemade bread, but they'll graciously oblige. That bread alone could make the dish, but the meat they use has a particularly garlicky twinge that is a big step up from the classic. Each slice of meat is individually cooked on the flattop, giving it a carmelized char to go with the sweet carmelized onions. They'll top it with melty, gooey American cheese.
The icing on top, if you will, is the Weber's horseradish mustard, a local favorite. You have to add it yourself, but don't skimp: it's the extra kick that makes a perfect bite.
Buffalo Foods Leave You Fat and Happy
Look, obviously you shouldn't be eating like this every day…but if you're in town for a few days, live a little. This town knows how to eat.
Foodies, need a hotel?
Hotel Henry is chic and central — and is home to 100 Acres, one of my favorite Buffalo restaurants.
* * *
Keep Reading:
* * *