This post may contain affiliate links. As an Amazon Associate I earn from qualifying purchases.
* * *
As much as I love traveling solo, it's not always a picnic. I struggled when I arrived on the Atlantic coast of Guatemala. I had spent the past two weeks or so traveling through the country, first with my husband and then with my mom. We had great experiences, funny stories, and lots of memories.
Just six hours after my mom left the country, I was already lonely. That's not something that happens to me often — in fact, some of my solo trips have been my favorite vacations.
I didn't realize it at the time, but I wasn't ready to be alone. I wanted someone to eat lunch with and someone to watch my bag as I went to the bathroom. Then, floating through Livingston Canyon, I wanted someone to share the view with and to get excited about the manatee I spotted along the way. Little by little, I was being eaten up by loneliness.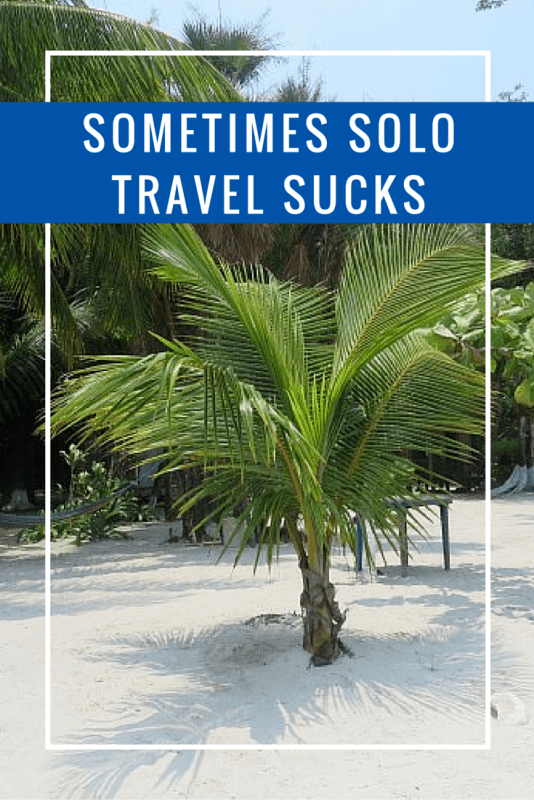 As day turned to night in Livingston, I wanted a friend to watch traditional dances with me and laugh as the wind blew my napkin off the table. Befriending the seven-year-old son of a musician just didn't seem the same.
I cut my time short in Livingston, not because the town wasn't interesting, but because I was lonely. I headed down river to an eco-resort. I thought staying somewhere you're essentially forced to stay on-site meant I'd be more likely to meet other travelers.
I'll never forget that night at "jungle paradise". I tossed and turned all night, haunted by my own thoughts. In a dorm room with beds for twelve, I was the only traveler. Everyone else had rented family cabins on property.
The only thing that makes you feel more alone than requesting a table for one is being in the middle of a dozen couples, all awkwardly ignoring you even when you try and start conversations.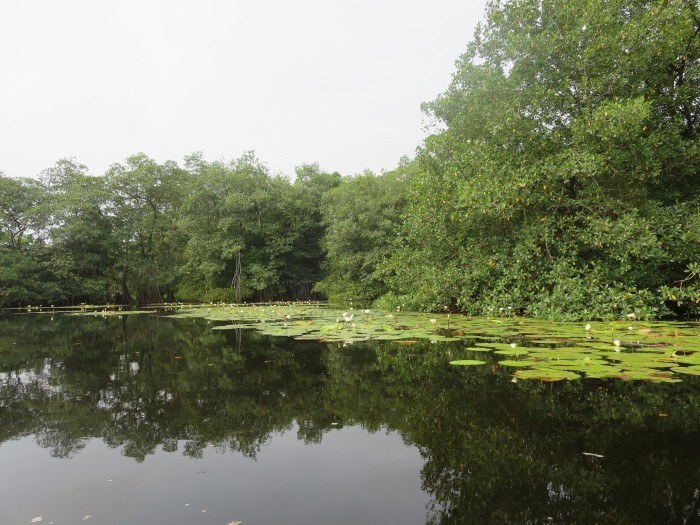 Once again, I moved on in search of socialization. Back in the town of Rio Dulce, I booked a bunk at the town's party hostel. I hate parties, big groups, loud music, and late nights…but I figured it was my best shot at meeting someone. Ironically, the place was basically deserted during my stay and yet another night passed on my own.
At this point, I was ready to throw in the towel. The easy option would be to head back to my beloved Antigua, a town I had already spent two weeks in. I knew people there and I knew I'd meet more. But for better or for worse, I decided to make a quick trips before taking the easy way out. First stop: Finca Paraiso, a set of hot springs and waterfalls.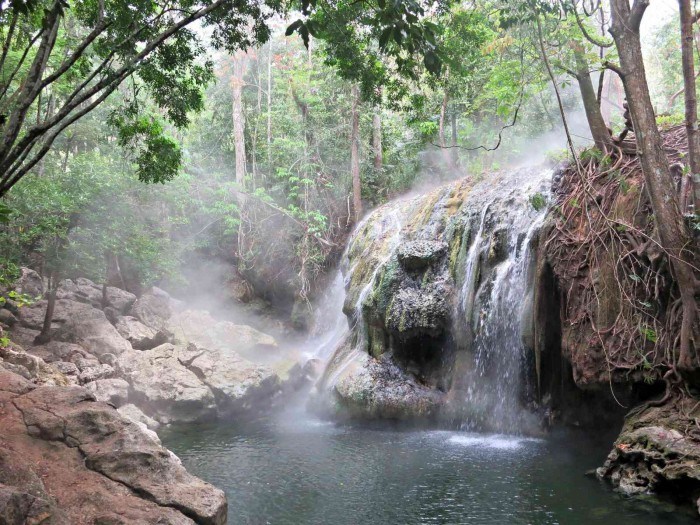 It was there, in one of the country's most picturesque settings, that I had someone to joke with. Early in the morning, it was just me and a group of Korean men hanging out at the waterfalls. Together, we swam in the rejuvenating waters and applauded a local teenager who back flipped into the water. I speak no Korean, and they spoke almost no English, but we shared in the common language of travel. That hour of smiling and laughing was all I needed.
After four lonely nights, I remembered what it takes to travel solo: a smile and a positive outlook. The rest would follow naturally.
And so I left Rio Dulce, heading onward to Semuc Champey, where I made friends I still keep in touch with. We salsa'ed in the evening and went tubing in the afternoon. I no longer had to eat dinner by myself and even when I was alone, I didn't feel lonely.
But three days later, I was ready…ready to strike it out completely on my own. Without feeling a pang of loneliness, I hopped on a bus all by myself, ready for the next adventure. Sometimes solo travel sucks, but more often than not, it's amazing.
This post isn't meant to discourage you from solo travel. The reason I continue to travel on my own is because 90% of the time, it's awesome. The freedom is liberating and I've become a more confident person from it. It's just that every once in awhile…solo travel sucks.
Have you ever traveled solo? Were you lonely?
Related Posts: