This post may contain affiliate links. As an Amazon Associate I earn from qualifying purchases.
* * *
When I started planning my Norway trip, I knew there was only one way I wanted to do it: by Norwegian Fjords cruise. Being in the midst of it all — tumbling waterfalls, dramatic cliffs, and narrow bends — is only possible when you're on the water.
But quickly, I realized there were other advantages to cruising too: the ability to see many towns without packing up and moving every night (especially in Norway, where most towns are small enough to experience in a day) and major cost savings compared to the cringe-worthy prices of food and local transportation.
Pros and Cons of a Norway Fjords Cruise:
Obviously cruises aren't perfect, although I think a Norwegian fjords cruise can be the right choice for a lot of travelers, especially first-time visitors to Norway. The trick is picking the right cruise, managing your time wisely, and avoiding a few pitfalls that cruisers accidentally fall into.
6 Norwegian Fjords Cruise Tips
1 – Pick the Right Cruise to Norway
Unlike tropical cruises, on a Norwegian fjords trip, the emphasis needs to be on the ports. A lot of itineraries include other European cities (like Gothenburg or Warnemunde) which means you'll have less time scheduled in Norway itself as well as fewer scenic sails in and out of the fjords. Make sure you pay attention to this when you're choosing the right fit for you!
When you're checking itineraries, I'd recommend picking a ship that visits at least four ports in Norway and at least one scenic sail. My favorite stops were Geiranger, Stavanger, and Flam.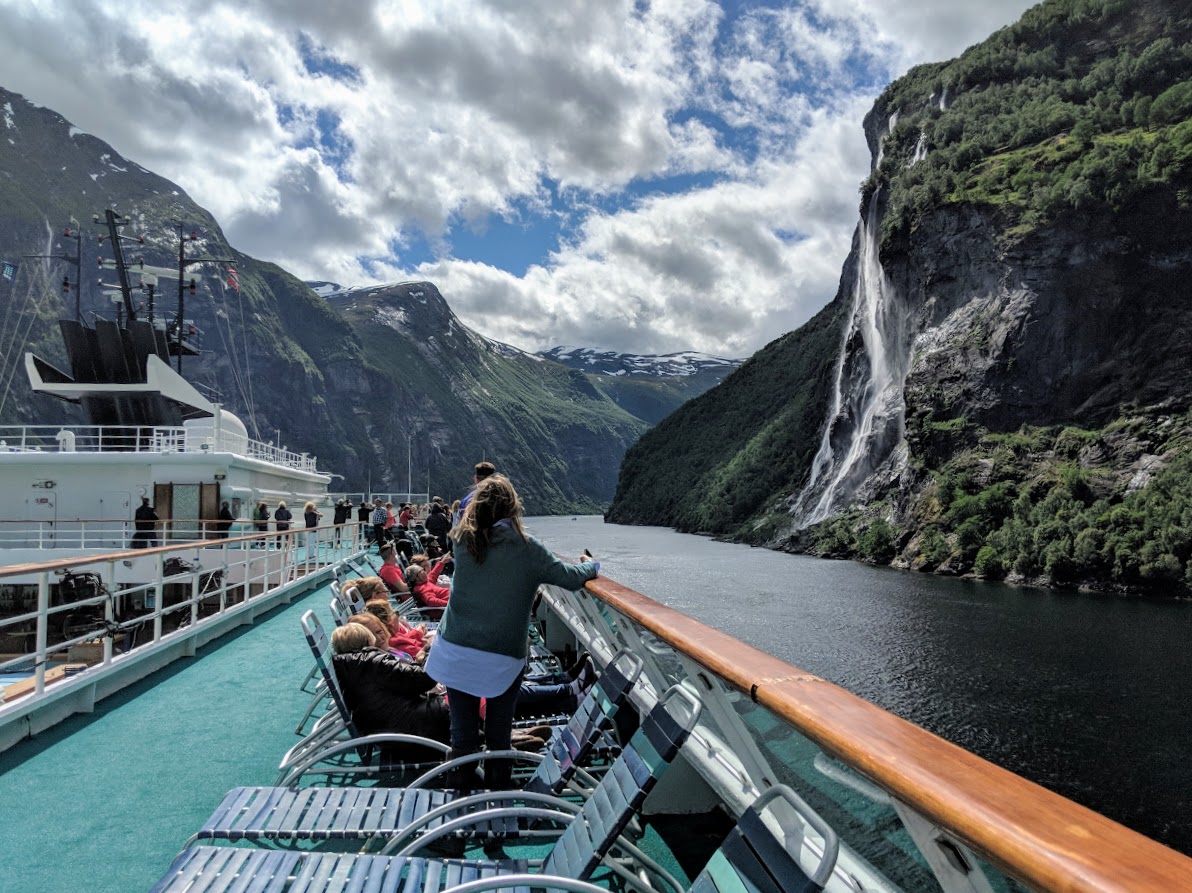 Hint: Some cruise lines specifically advertise the scenic sails while others don't mention them. This is the time to pull out a map! If the only way in and out to a port is via a fjord, you'll obviously be sailing through it even if it's not specifically mentioned.

Then, the trick is just to make sure the hours directly before or after your port stop are times you could comfortably be on deck watching the scenery. Chances are, your cruise will hit some gorgeous areas.
2 – The Best Time to Visit Norway Fjords is mid-June through Early September
Norway isn't known for having great weather, but visiting in the summer gives you the best shot at blue skies and warm-ish days. Even then, you'll need to be prepared with rain gear and warm layers (in July, the average high in Trondheim is 67°F but it can easily get colder).
Shoulder season has fewer crowds and lower prices, with most cruises operating May through September. If that sounds better to you, double check operating schedules before paying your nonrefundable deposit: some tours, buses, and ferries run weekends only or a limited schedule during the spring and fall.
That said, I've learned the hard way on other trips: if you plan on hiking, it's better to go later in the season as opposed to earlier when there can still be snow on the trails!
>>>>> Norway is beautiful in the rain, too! Check out 45 photos of Norway to inspire your trip.
3 – Book an Inside Cabin
The key to a busy day in port is getting a good night's sleep before and after!
Midnight sun is a reality of travel through Norway. It kept me up a few years ago in Sweden and it kept me up again on this cruise. When the sun never sets, it is difficult to sleep, especially if you're adjusting to jetlag on top of that.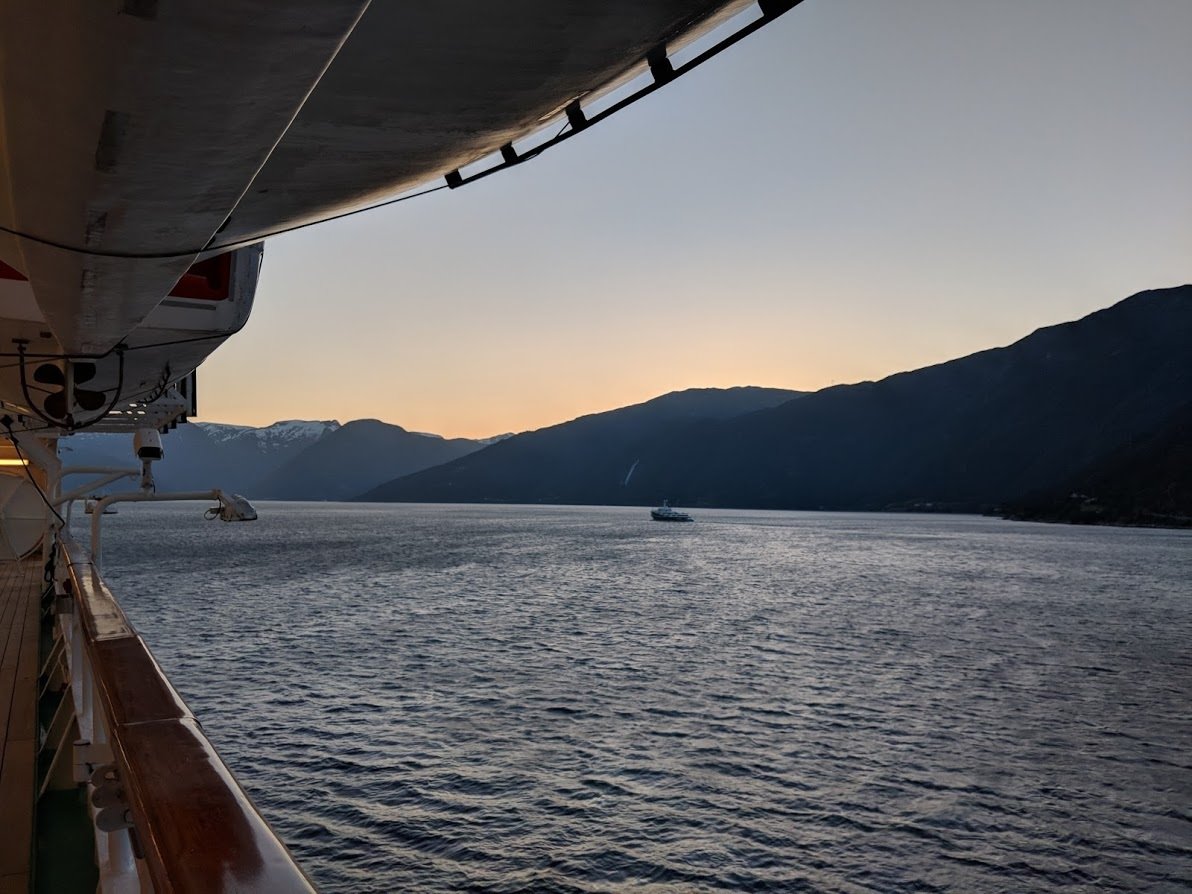 This is the one time when booking an inside cabin can help — with no windows, you'll have a perfectly dark place to rest when you're tired.
4 – Explore with Purpose
In my experience, there are two types of cruisers:
Those who leisurely go on shore to hit 1 or 2 hot spots before returning onboard
Those who get off at the first chance, pack in as much sightDOING as they can muster, and board at the last possible minute
By being in the second group, a single day in port is plenty for most Norwegian towns. For one thing, most ports are relatively small (less than 500 people live in Flam, for example) and port days tend to be 8-12 hours since ships only have a short journey to the next day's destination.
That said, a little bit of research and planning goes a long way in Norway. Popular activities may only run once or twice a day and they do sell out. To use your time efficiently, you'll need to line up schedules and make reservations. You'll also want to get outside of the central port area, which can be super cheesy and overcrowded.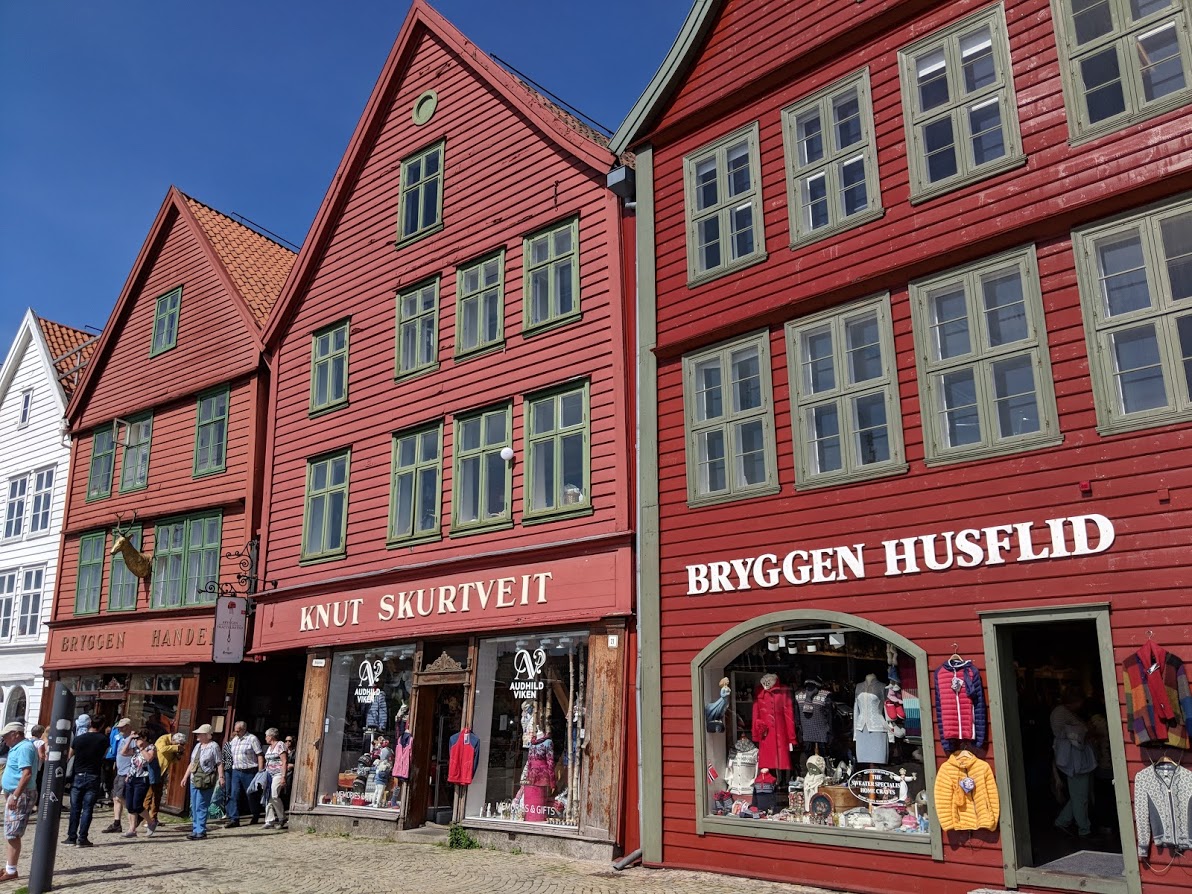 >>>>> Related Post: How to Avoid Tourist Traps
5 – Budget for Meals in Port
A bowl of soup for $18? Catch of the day $40? Pint of beer $9? Yikes!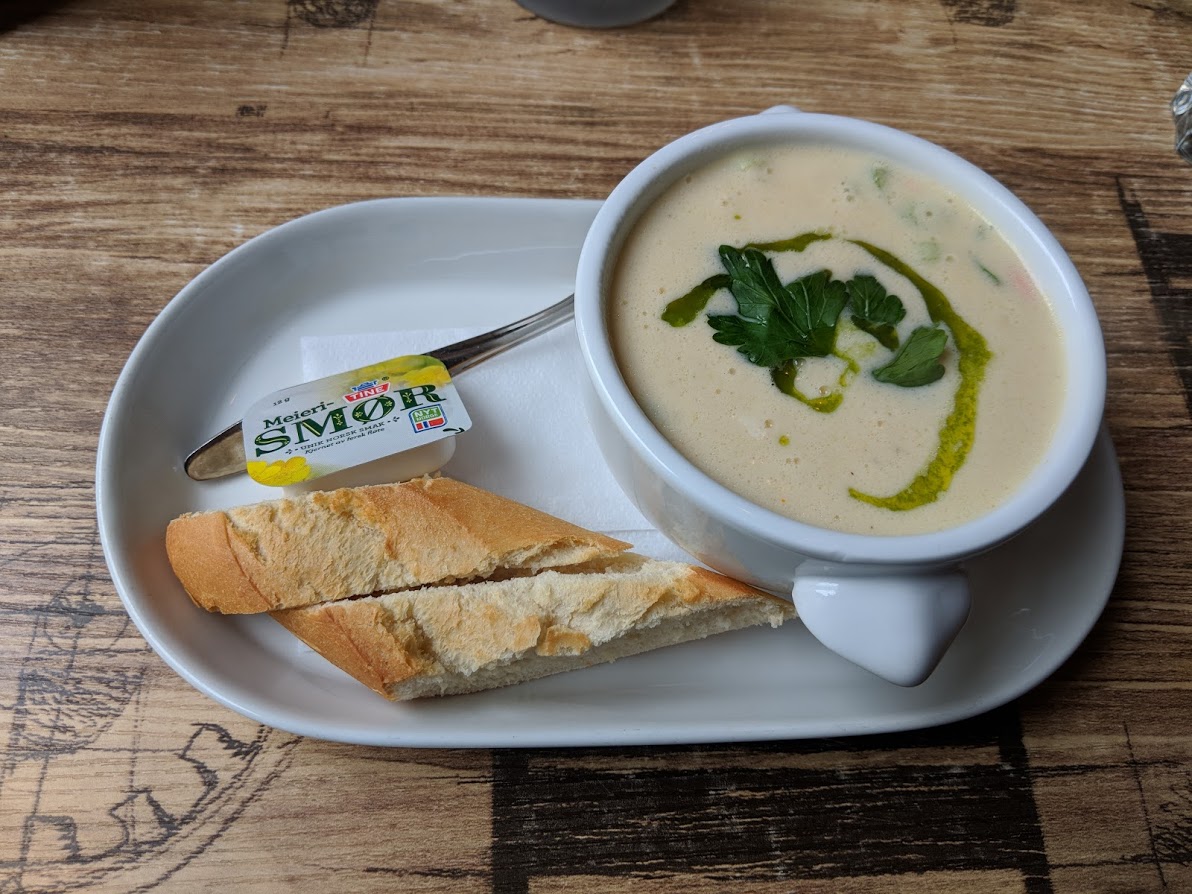 It's easy to understand why I didn't want to pay for three meals a day in Norway, but even still, I think it's important to budget for a few on-shore meals. Food is a huge part of culture, not to mention that bars can be a great place to chat with locals. Even a walk through the grocery store provides great insight into traditional Norwegian food.
Throw $100 toward your budget to split between a few meals or snacks and make sure you sample a few local flavors.
What to Eat in Norway:

Brunost ("brown cheese") – I don't know how to describe it, other than maybe a carmelized Velveeta? Like nothing else I've ever eaten and strangely addicting
Weird seafood – like lutefisk (cod soaked in lye), klippfish (salted and dried cod), or rakfisk (salted and fermented trout)
Waffles – thin Norwegian waffles, traditionally topped with jam, are an affordable and popular snack
Reindeer – particularly a "finnbiff" stew of reindeer, mushrooms, bacon, juniper, and sour cream
Aquavit – the Norwegian version is a potato liquor flavored with caraway, dill, or other herbs (for sipping, not shots)
6 – Go Outside (It's the Norwegian Way)
What do locals do during the summer? Hike, bike, and kayak! There are opportunities to try any or all outdoor activities just about everywhere you go. Norwegians tend to be fit, active people so you'll find buses that take you to trailheads as well as plenty of kayak rentals, organized tours, and one-of-a-kind adventures.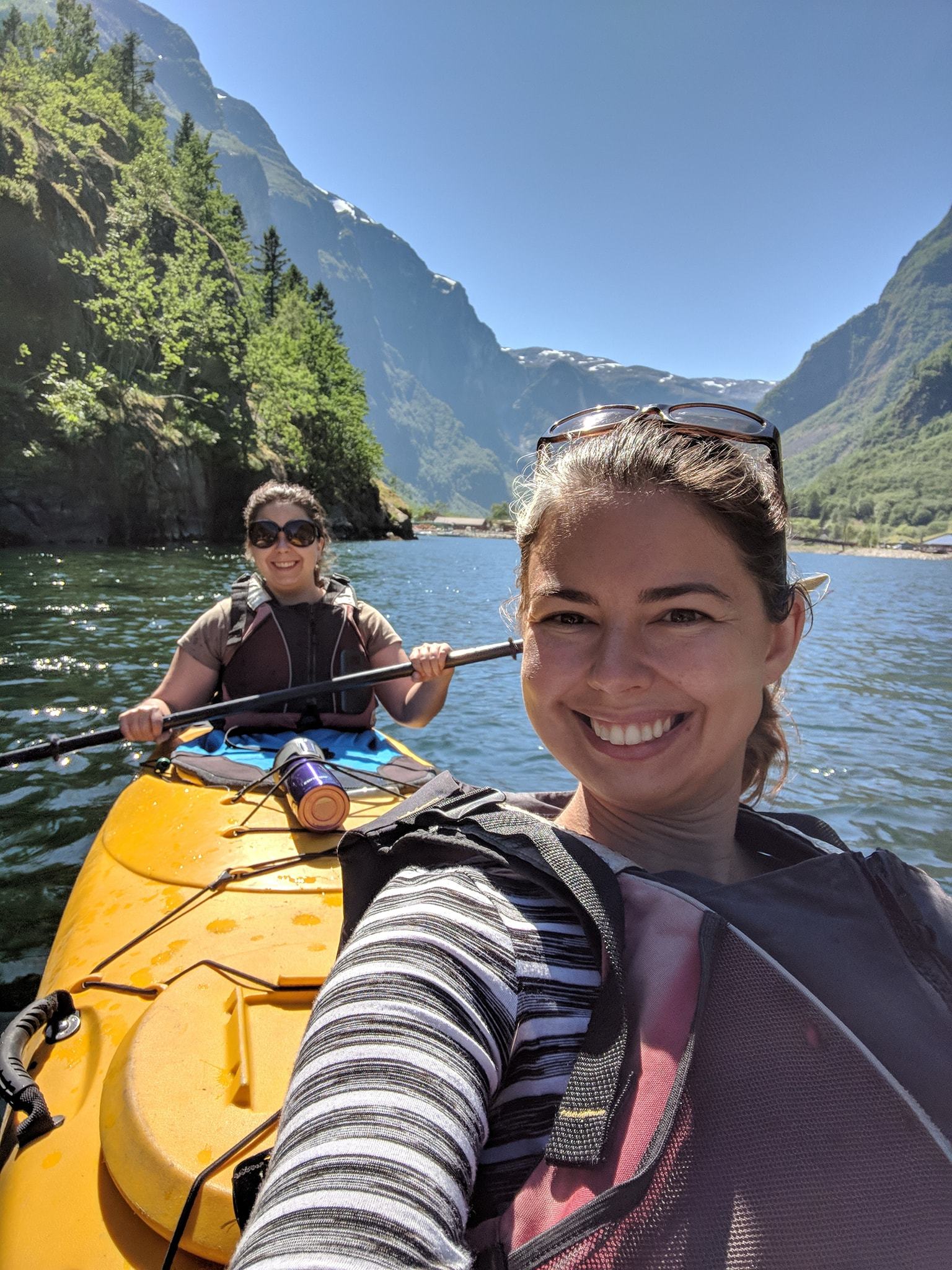 The one thing that caught me off-guard is hiking time estimates within Norway. In general, they tend to be very optimistic, especially if you're the type of traveler who likes to take lots of photographs along the way and/or catch your breath along the way.
To fit in with the locals, you'll need to be prepared for fickle weather. Cloudy mornings give way to gorgeous afternoons and vice versa, so grab a raincoat, sweater, and boots no matter where you're headed.
Best Norway Cruises for 2020:
If you're in the market for a Norwegian fjords cruises, here are a few itineraries to look into:
For travelers who want to pack a lot of ports into limited time — One Week on the Crown Princess
This trip is super convenient for travelers since it leaves from Southampton, England (easy to get to from all London airports) and runs from a Saturday to the following Sunday, which means you just need one week off from work. You'll visit Stavanger and Geiranger (my favorites) as well as Alesund, Bergen, and Olden. I've sailed on this cruise ship (albeit in the Caribbean and not in Norway) and thought it was very comfortable.
For travelers looking for the full Norway cruise experience — Two Weeks on Holland America Veendam
Can't decide where to go? This Holland America cruise visits several of the most popular Norway cruise ports (Eidfjord, Bergen, Trondheim, Molde, and Alesund) before stopping in the Lofoten Islands (Leknes), crossing the Arctic Circle and sailing through the North Cape, and hitting northern Norway (Tromso, Honningsvag, Harstad, Bronnoysund). If you have the time, the variety on this makes it one of the best Norway cruises!
For travelers who can't decide between cities and nature — One Week on Costa Fascinosa
I was focused on the scenery and outdoors, but if you'd prefer a mix of culture and adventure, Costa does a great job blending the two in this itinerary. You'll spend a day each in Copenhagen and Gothenburg for great, walkable city centers. Geiranger is super scenic and outdoors-focused, while the final stops of Bergen and Stavanger can be bases for city or nature, depending on how you feel. Spend the weekend in Berlin afterward to round things out.
A Quick Note on Hurtigruten
You'll see hundreds of Hurtigruten "cruises" listed for Norway, but this is more of a ferry than a traditional cruise experience. Yes, there are onboard restaurants and you can book a cabin to sleep in. However, many port stops are less than 30 minutes long (just long enough to load and unload passengers), so if you want to spend time anywhere, you'll need to formally disembark and check into a hotel for the night and then re-board a ferry the next day.
Read More About Norway