This post may contain affiliate links. As an Amazon Associate I earn from qualifying purchases.
* * *
It's really disheartening when you start to research a trip and realize that there isn't much information. TripAdvisor only has a handful of listings of things to do in Skelleftea Sweden and most of them don't have a review. Lonely Planet had even less to read and didn't exactly inspire a trip. Maybe going to this unknown city was about to backfire.
My airfare was already booked, the photos looked gorgeous, and in theory, Skelleftea reflected the Sweden I wanted to see. I just hoped I hadn't made a big mistake.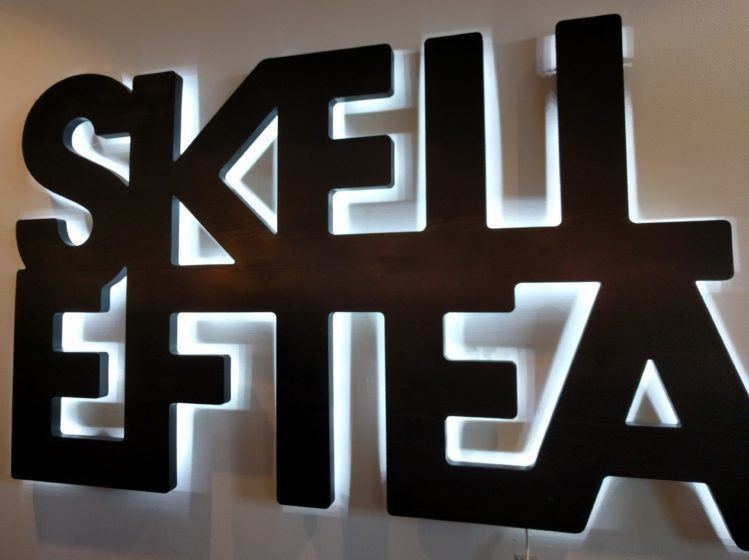 Thankfully, I was worried for nothing. My three days flew by…and even though I still can't pronounce it, I can definitely share my favorite things to do in Skelleftea.
6 Things to Do in Skelleftea Sweden (in Summer!)
Rev Your Engine at Svansele
My favorite part of all of Skelleftea was a wilderness resort called Svansele. It's a winter paradise that I need to go back to, but it's still a joy in summer. ATV trails criss-cross the property and there are rentals and tours on-site to help you get around.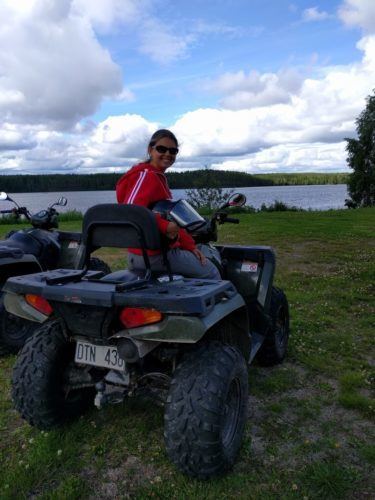 When you go, make sure you allow extra time to stop the ATV every once in awhile and go for a hike. Maybe you'll have better luck spotting a moose than I did!
Swim in the Gulf of Bothnia at Midnight
When you think of island hopping, your brain probably doesn't jump to northern Sweden. You'll be stuck in Greece or Tahiti until you allow yourself to think outside the box a little. Ironically, many Swedes have "summer homes" on country islands and if you skip them, you'll miss out on a piece of local culture.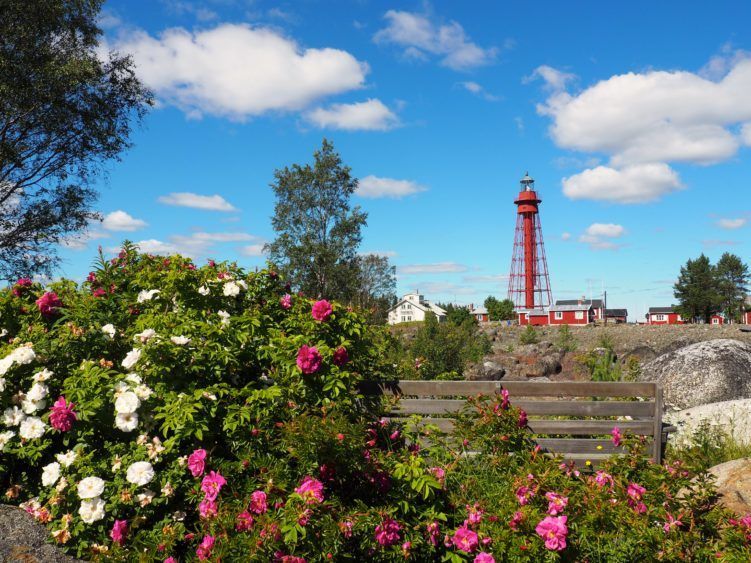 Hop on a water taxi for a trip to Pite Rönnskär, possibly the most idyllic in the area with it's "falu red" cottages and monumental lighthouse. Day trippers pack a picnic and look for seals on the ride over, but sightDOERs spend the night at the island hostel and brave the cold waters under the midnight sun. When in Sweden, why not?
Fall in Love with a Husky
I used to have a bad habit of referring to all dogs as "puppies", regardless of age or size. For me, it's a term of endearment and a sign of my love for all breeds. I stopped doing that after my visit to Lappland Emotions.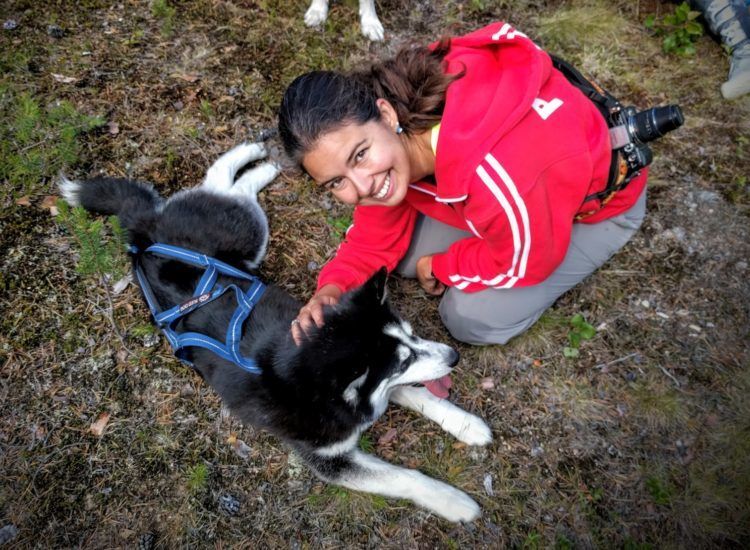 The sled dogs there are just as friendly as all others I've met, but as soon as I spent the afternoon walking Luna and could feel her incredible strength , it doesn't seem right to call her a puppy. She is a beautiful, powerful animal with a sweet demeanor. Even the actual, young puppies are so strong they can wriggle right out of your arms!
Skim the Surface of Skelleftea River
Skelleftea is a peaceful city and if you skip the river, you'll be sorry. It cuts through town, with riverbanks perfect for lounging on a summer day and a walking path paralleling the shore. If the glass-topped river calls out to you, you can paddle these calm waters.
Swenature offers tours and rentals by canoe or kayak. My recommendation: stick to the rental, since you'll want the freedom to go at your own pace and stop for a million photos along the way. It's too beautiful to zoom right by.
Monkey Around at Skelleftea Adventure Park
One of the most exhilarating things to do in Skelleftea is to try out the ropes course. There are a few ziplines, which I'm starting to feel are overdone, but the obstacles up in the trees are the challenge and draw here.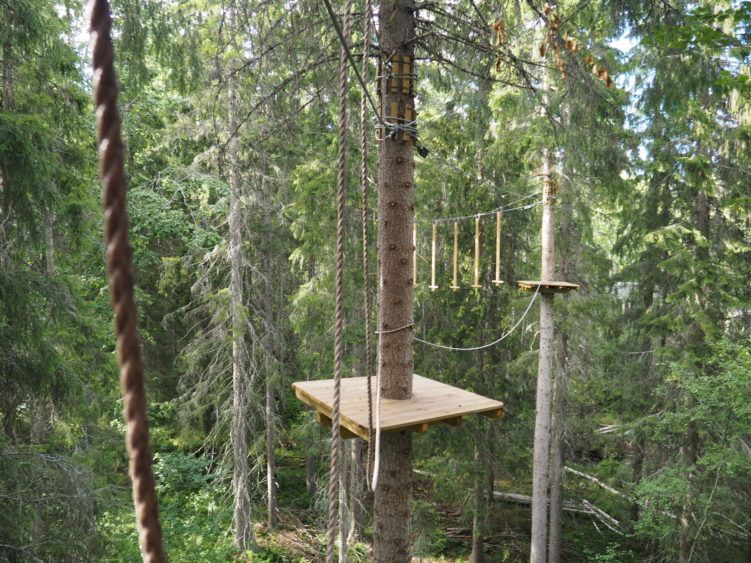 Skelleftea Adventure Park has six distinct courses, varying in difficulty. Brains meet brawn here, and you'll need to think through each challenge in order to complete them efficiently. Bravery and balance obviously play a part, too. Plan on 30-60 minutes per course, making it a great half-day activity.
Hike, Hike, and Hike Some More
Skelleftea is only 200km south of the arctic circle, so the landscapes there are out of this world. It partially reminded me of Maine and partially of Alaska — but with its own unique twist to both. You really have to see it to believe it and you have to walk on the spongy earth to understand.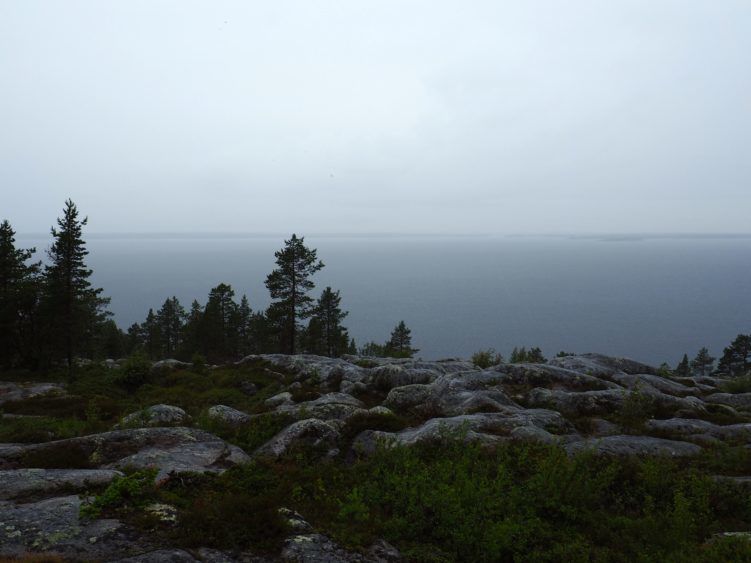 Unfortunately, a thunderstorm cut my visit to Bjuröklubb Nature Reserve short, especially since I only had a disposable poncho and not real rain gear (shame on me; I came home and bought a new jacket). However, for the short hike I was able to squeeze in, I passed by blueberry bushes, dense forests, and the Baltic Sea. Better luck next time.
BONUS: Fish for Crayfish
I went to Skelleftea in mid-July, a lovely time for sunshine and warm weather. The one thing I missed out on was searching for crayfish, an August and September tradition. My food tour in Stockholm explained how delicious Swedish crayfish are (tender and sweet like lobster), but I was too early to try them myself.
Visit in August or September, in hopes of still-spectacular weather, and you just might time it right. Head out after dark to harvest your own crayfish and eat them next to the fire. To me, that sounds like an amazing Swedish experience and one I'm sorry I missed.
If you go…
I stayed at the Stiftsgarden Hotel, in a quiet location on the outskirts of town. Their breakfast spread was wonderful (with a loose leaf tea selection I very much appreciated!) and bike rentals if you want to include more activities in your stay.
Unfortunately, they had one very large flaw: the black-out shade was smaller than the window, so the midnight sun interrupted my sleep. From August through April, it won't be an issue. During summer, I'd recommend the Quality Hotel in city center. I didn't stay there, but I had great luck with the Nordic Choice Hotels family in Stockholm and expect nothing less in Skelleftea.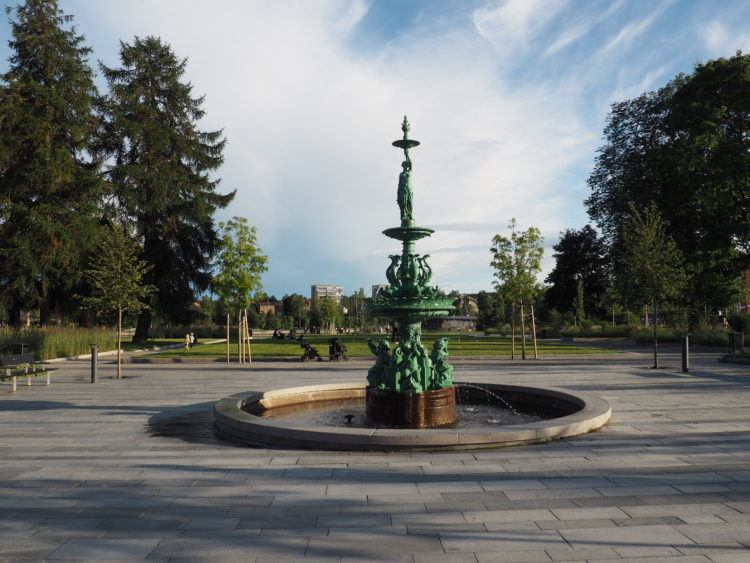 If you prefer somewhere more remote, check out Lantliv Lodge. Staying away from the city is half the appeal to this region. I had dinner there one night — homemade Italian food by real Italian hosts — and the hospitality is amazing. The home is beautifully decorated and includes outstanding photography of local scenes. Hint: book through Airbnb and get $35 off your first stay.
* * *
KEEP READING:
My trip was sponsored by Visit Skelleftea, but it's easy to fall in love with this region of Sweden. All opinions remain my own, but better yet…plan a trip to Skelleftea and form your own opinion!