This post may contain affiliate links. As an Amazon Associate I earn from qualifying purchases.
* * *
I didn't plan to go to Chattanooga this year, but when a town is named "best town ever" by Outside Magazine, it catches my attention. Chattanooga earned that honor not once, but twice . And I still wasn't planning on going to Chattanooga until I went to Knoxville and Nashville in June and remembered how much I love Tennessee.
Frankly, Chattanooga is more up my alley than both of those cities combined. Next thing I knew, I was booked for a 4-day trip to the Scenic City.
With a long, curving riverfront and the surrounding Appalachian terrain, Chattanooga has made great strides to build in harmony with nature rather than plowing it all down to start over. Buildings are built into cliffsides, there are beautiful parks, and lots of businesses are LEED certified as green buildings.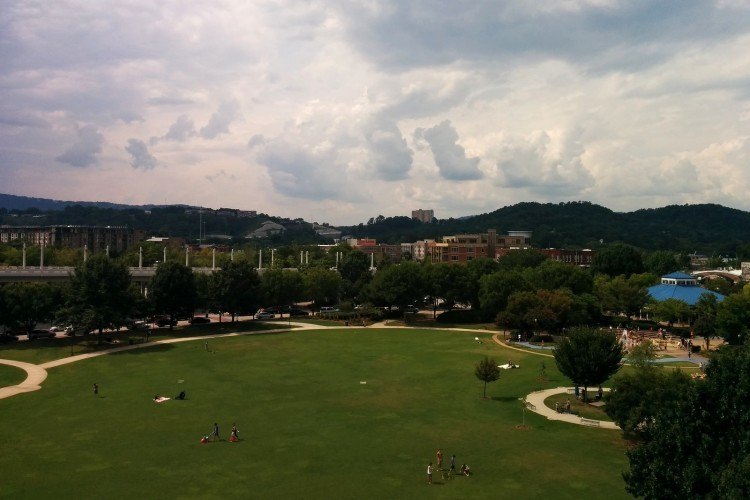 But better than all that, everywhere I looked, people were doing interesting outdoor things. Rowers practiced on the Tennessee River, families and racers were biking down streets, and rock climbers were scaling up the side of a parking garage. Yes, you heard me right…even rock climbers were taking advantage of urban Chattanooga. That is sightDOING at its finest.
Even though downtown Chattanooga has its share of active pursuits, it really is the base camp feel that I loved best about the city. The amount of day trips you can make from Chattanooga (even half-day trips!) is incredible. Want to paddle a canoe or kayak? Try the Tennessee River Blueway, a 50-mile section of the river through the Tennessee River Gorge. Mountain biker? There are 120 miles of single track within a 10-mile radius of the city. Bouldering? Caving? Whitewater rafting? Hang gliding? Yeah — they've got all that, too, and probably anything else you can think of.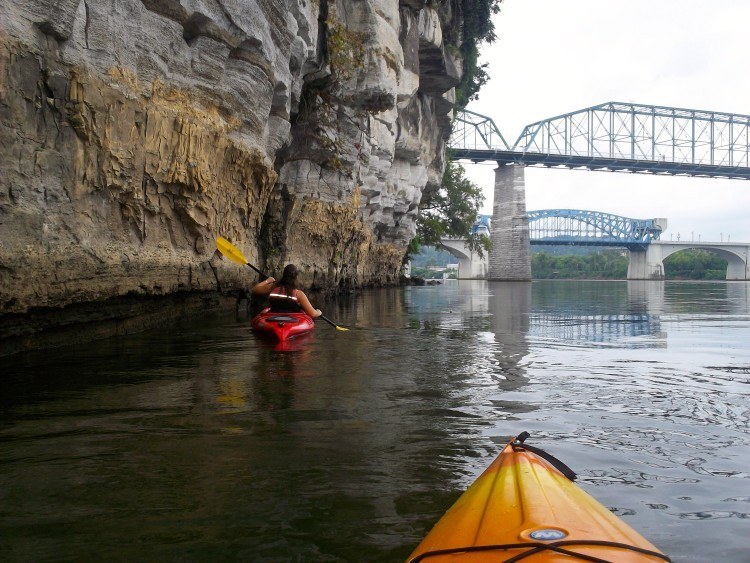 With rainy weather during my stay, I stuck to the basics and still had a great time even without any death-defying stunts.
If there's one part of Chattanooga you absolutely shouldn't miss, it's fifteen minutes southwest of downtown near Lookout Mountain. My first stop was Ruby Falls. If I'm being perfectly honest, I hesitated a bit before heading there. Pay to see waterfalls? Aren't those supposed to be outdoors and free?
But Ruby Falls isn't just a waterfall. The experience includes a cheesy tour through a fascinating cave, leading you 1120 feet underground. Tours have been operating for 85 years — and if you ignore the bad jokes, they've done a great job highlighting the cave features and lighting it in a beautiful way. I loved the caves, and especially the waterfalls. It's impossible not to fall in love with the waterfalls, especially when they're lit up in such a festive spirit.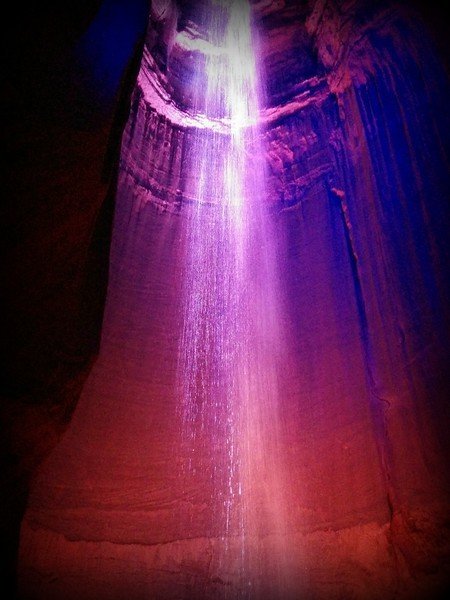 The other highlight of Lookout Mountain is Point Park. This small portion of the Chickamauga & Chattanooga National Military Park has Civil War significance, but even if you're not interested in history, it's worth a stop for the best view of Chattanooga and Moccasin Bend.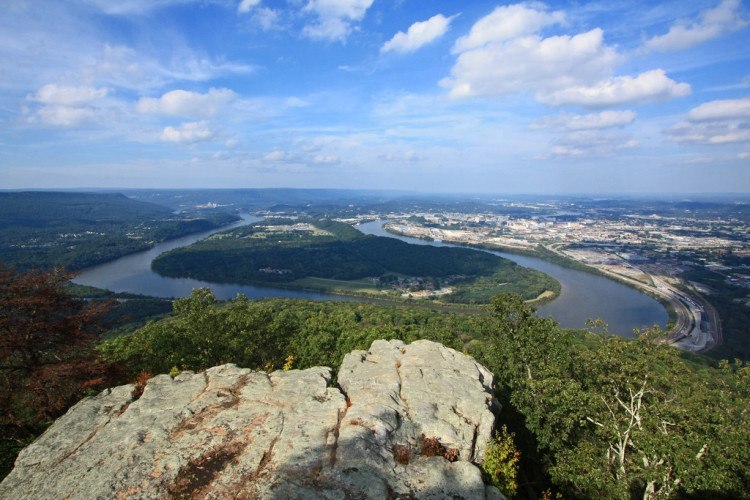 Don't stop at the lookout though. On my only nice day in Chattanooga and with time to kill before a very delayed flight, Point Park was the perfect stop. Follow the steps downhill to find trails leading to Sunset Rock and Cravens House. You can create a nice loop with beautiful views for about an hour long excursion or plan on a full day of hiking the park's trails.
I'd call my time in Chattanooga "light adventure", not because you can't do hardcore things, but because it was the balance of adventure and city life that was most appealing to me.
What makes these activities great is that you can play outside all day and still come back at the end of the day for a hot shower, a refreshing drink, and a hot meal.

I spent my first night at a hostel specifically designed for outdoor-lovers. The Crash Pad pays homage to Chattanooga's outdoor spirit, named after the mats used in bouldering. Other guests lean toward active persuasions, spending their days outside and sharing stories at the outdoor firepit or next door Flying Squirrel bar and restaurant afterward.
The uncommon hostel goes out of its way to provide a lot of value for a $30 bunk: privacy curtains, individual fans, outlets, and reading lights, and actual wooden frames with mattresses unlike the crap you find at a lot of hostels. Where they fell short was my private room: it was a steal, but completely un-soundproofed. I'd highly recommend the hostel, but next time I'll save my money and head straight for the dorms.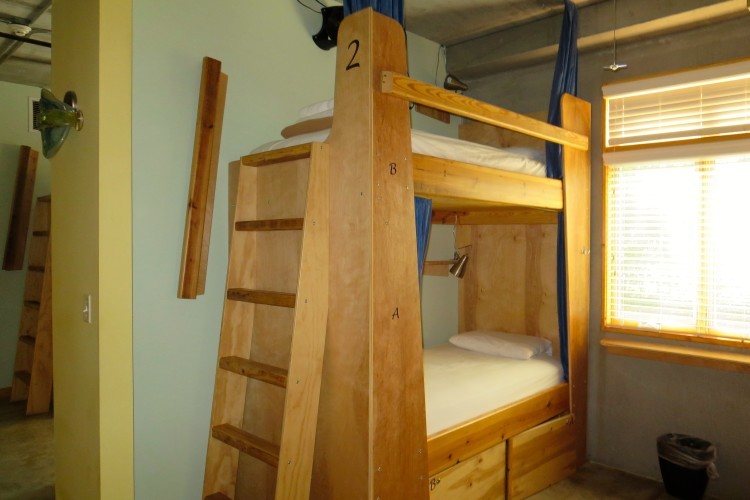 Is Chattanooga the best outdoor town ever? I'll leave you to decide, if only to give you another excuse to visit it yourself. My four day trip was the perfect length visit, but if you're short on time, it's nestled between Atlanta and Nashville and makes a great overnight stop. Just be careful…you might find yourself planning a return visit before your trip is even over.
* * *
My trip was planned and supported by the Chattanooga Area Convention & Visitor's Bureau with tons of my own input and requests. However, the views and opinions are completely my own!
* * *
Read more about Chattanooga!