This post may contain affiliate links. As an Amazon Associate I earn from qualifying purchases.
* * *
I feel badly for West Virginia. Most of the time, it's forgotten about or maybe purposely ignored. When people do acknowledge its presence, its usually to put it on the wrong side of a joke or to perpetuate a stereotype that lost any semblance of truth a hundred years ago.
But this week West Virginia finally caught a break. The state is in the news and not for a miserable, hateful reason. Nope, West Virginia is finally getting the attention it deserves and (hopefully) other people will learn what I've known all along: that it's the best state for outdoor adventure anywhere on the east coast.
Buried in the pandemic relief package is legislation that designates the New River Gorge as a national park. While we were all wondering if we'd get $600, Congress upgraded the region's status as a national river (which means practically nothing) to a full-blown national park: our nation's 63rd.
You'll Love the New River Gorge National Park and Preserve (or at least, I do!)
Frankly, this is a long time coming. If you ask me, the New River Gorge is far more interesting than some of the existing national parks on the east coast — Shenandoah and Cuyahoga, I'm looking at you — and this is your opportunity to visit before the rest of the world catches on.
What makes this part of West Virginia special (and why I like it so much) is that there's an endless supply of sightDOING. Other national parks focus on hiking, camping, scenic drives, and wildlife watching. The New River Gorge starts there and then tacks on some pretty epic adventures. Since this park is brand new, it's not yet determined what activities will officially be allowed within park boundaries and which ones will be right outside but it's safe to say that travelers can squeeze them all in anyway.
Considering how many people are easily within a day's drive of the new park, there's really no excuse not to go.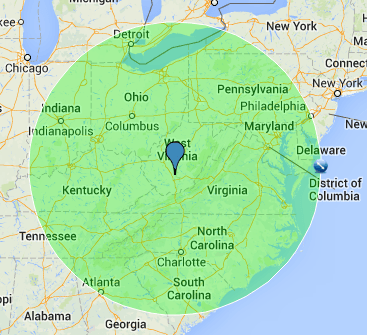 Things to Do in the New River Gorge West Virginia
If you're looking for outdoor adventure, you'll find a ton of variety all in one place.
Photo Credit: JaGa, CC BY-SA 4.0 via Wikimedia Commons
The steel arch New River Gorge bridge is the longest in the western hemisphere. providing great views of the river below. But instead of driving over it, join the Bridge Walk tour to walk the 24-inch catwalk and get hair-rising views of the river 800 feet below. If that's not scary enough for you, see if you can time it for one of the few full moon walks. Everything's more exciting in the dark!
There are actually a few options for rafting in this region and all of them are a ton of fun.
The Upper New River is a calm section of river with a few mild waves. You can rent inner tubes and head out lazy river style, go in a guided raft (to enjoy the scenery and search for bald eagles), or grab an inflatable "ducky" kayak to paddle yourself.
The Lower New River tackles class II-IV rapids and is good for anyone except small children. You'll get a few thrills plus lots of chances to jump into natural pools and go for a swim. The water is really warm in the summer.
The Lower Gauley River (typically rafted in the fall) is high adventure class III-IV rapids. In my opinion, the Gauley is also more scenic than the New River...but don't take my word for it, try both!
The Upper Gauley River is an extreme rafting ride, not for the inexperienced. It's class III-V rapids, including one waterfall that will leave you drenched. Do the "Gauley Marathon" (the Upper & Lower combined) for an adrenaline-filled day.
If rafting is too intense for you, you can paddleboard instead. There are tours that will take you right under the bridge, but I'd actually recommend heading to the no-wake zone at nearby Summersville Lake (Battle Run). Sure, it's different scenery but if you grab a rental you can paddle all day.
Photo Credit: www.nps.gov
There are 1400 established rock climbs in the New River Gorge so there's something for everyone. Novices (that would be me) will find plenty of outfitters to show you the ropes -- pun totally intended -- but experienced climbers can check out the sandstone rock walls on their own.
Photo Credit: officialbridgeday.com
The third Saturday of October is Bridge Day at the New River Gorge. It's a huge festival, with the food, vendors, and music you'd expect plus one extra thing: daredevils BASE jumping from the bridge to the river below. The bridge is also closed to vehicle traffic so you'll have the chance to walk across and take as many photos as you like, no catwalk required. I've never timed my visits right but it's supposed to be a really fun day out!
Mountain Biking
There are several trail systems in the area, with the Arrowhead Trail System one of the best options for up to 15 miles of single track. There are a few rental shops in nearby Fayetteville, WV so you can hit the trails even if you don't have your own bike (or can't haul yours with you). Brand new to the sport? There are tours available too! And if you're a cycling failure like I am, you're welcome to stick to scenic rail trails which are much wider and easier!
Photo Credit: wvtourism.com
There are tons of ziplines in West Virginia, but two stand out in the New River Gorge region: The "AdrenaLine" at Adventures on the Gorge resort is the longest zipline on the east coast. The other notable zipline is at Ace Resort, with a backwards free fall and the only course with views of the gorge.
It should come as no surprise that fishing is a big draw here. In fact, the New River is one the the top places in the country to fish for smallmouth bass, plus opportunities to catch other species. There are plenty of public access points on the river and guides that will show you the ropes if you prefer.
Photo Credit: www.nps.gov
There are numerous trails in the area and it would take several visits to try them all. To get started, here are a few trails to try:
The Long Point trail has an impressive view of the bridge from the end.
The Bridge Trail has views looking UP at the bridge from underneath it (some steep sections).
Hawks Nest State Park is also worth a visit with sweeping views over a different section of the New River. This is also where the New River Jet Boats depart from, for a ride to the bridge and back.
Photo Credit: www.wildblueadventurecompany.com
See the New River Gorge by air! Wild Blue Adventure Company offers scenic flights over the gorge (and optional extensions to see other West Virginia beauties) in a WW2 Stearman Biplane. For a sightDOING twist, you can request your pilot add in some aerobatics.
Photo Credit: beckley.org
Admittedly, my husband is way into this than I am, but you can go underground at the Beckley Exhibition Coal Mine. You'll tour a real, former mine and visit the museum exhibits as well.
For something a little less packaged, you can hike to the abandoned Kaymoor Mines (no, you can't go in). Check out the mining buildings and equipments, plus track remnants. Beware - it's about 800 steps down...then 800 steps back up to the trail.
Photo Credit: www.lostworldcaverns.com
Lost World Caverns are about an hour from the New River Gorge, but true caving tours are so hard to find that this one is worth the detour. The wild cave adventure here lives up to its name: this isn't your average walk on a well-lit path in a group of 30. Prepare to crawl, slide, and get covered with mud...and see some really cool things.
When to Visit the New River Gorge National Park
This is a four-season destination, with outdoor activities no matter when you come.
The most popular times of year to visit are summer, for long days and lots of water activities, or autumn for fall foliage, Bridge Day, and Gauley rafting. I've done both and have to admit I prefer fall, but that's because I'm usually partaking in strenuous physical activities where summer heat is a nuisance. Obviously, if you want to swim, July and August are your best bet.
Where to Stay near the New River
The first few trips, my husband and I camped in the area. Pack wisely if that's what you decide to do — summers in West Virginia are muggy and buggy by the water. I personally prefer national park campgrounds (like the Burnwood Campground) better than staying at the nearby adventure resorts but it really depends if you want a nature experience or one packed with activities and amenities.
You'll find hotels scattered throughout the area and the "best" one will depend on the location of most of your activities. Remember, it's a long river! Fayetteville is the closest town to the bridge (Lansing is close, too, but with few lodging options). Beckley is about 30 minutes away but has more chain hotels which keeps prices down. Summersville is another option although I haven't personally stayed there.
Stay in Fayetteville if you like independent properties and eating at local joints: I recommend the Historic Morris Harvey House B&B (pay attention: not all rooms have private bath) and a meal at Pies & Pints. I also have this yurt on my wishlist!
If you prefer a more mainstream experience, I like the Hampton Inn Beckley and dinner at Campestre's.
Winter is the one time I'd seek out a cabin rental. Can you picture yourself sitting in a hot tub on your private deck, snow falling all around you? I sure can, and winter (the quiet season) is the only time you can afford these deluxe cabins anyway. Search Lansing, WV on VRBO and look for the Mill Creek Cabins or book rentals at adventure resorts like ACE.
More to See in Wild and Wonderful West Virginia