This post may contain affiliate links. As an Amazon Associate I earn from qualifying purchases.
* * *
The opening scene of Netflix's Bridgerton pans through 19th century England: cobblestone streets, a horse and carriage, high society men in top hats and women in high-waisted gowns. And then you see it: the Royal Crescent in Bath.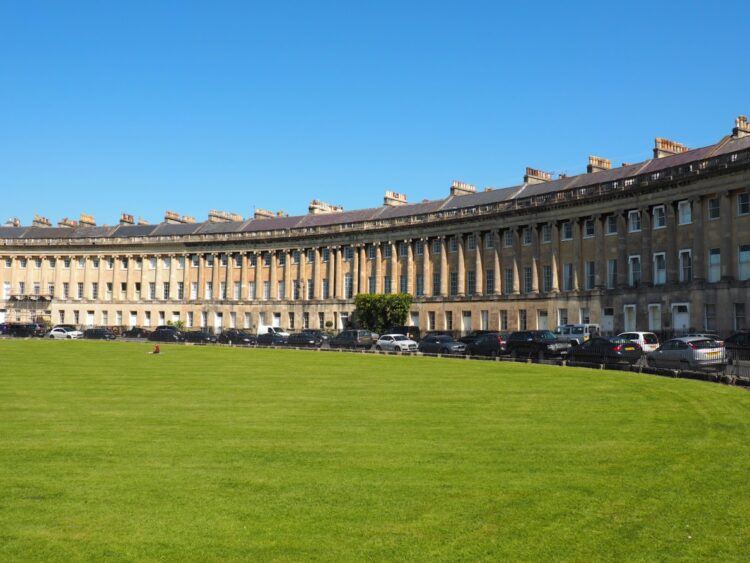 One of the most iconic landmarks of the city, it's instantly recognizable. We later learn the story takes place in 1813 London, but beautiful, historical Bath is the ideal filming location. What's best — at least for you and me — is that so much of the Bridgerton experience is easily replicated by the common traveler. You can walk the streets (they really look like that!), dress up in ball gowns, and live out your inner Bridgerton fantasy.
Britain is essentially closed to tourism right now, but that's okay. The Royal Crescent has been around for nearly 250 years; it (and the rest of Bath) will be waiting for you when the world is ready. For now, dream, plan, fantasize.
Not all of Bridgerton Was Filmed in Bath
Although Bath was the site of many filming locations, there were scenes filmed throughout England, including London, Chatham, and Salisbury. So, you won't find everything here but it is a very atmospheric place to start! In fact, the entire city of Bath is a World Heritage Site, in part due to its architecture.
Bridgerton Filming Locations in Bath
As of right now, there are no official tours in Bath that will take you to filming locations. I suspect that will change in the future, but for right now you can easily DIY. Here's where to go:
No. 1 Royal Crescent
On the east end of the Royal Crescent is No. 1 Royal Crescent, a Georgian Era townhouse. In the show, the exterior is used for filming the outside of the Featherington family. Inside, though, it's a house museum filled with furniture and decor reminiscent of what life was like for aristocrats. Go ahead and pretend you're Penelope or her cousin Marina while you're inside.
Bath Assembly Rooms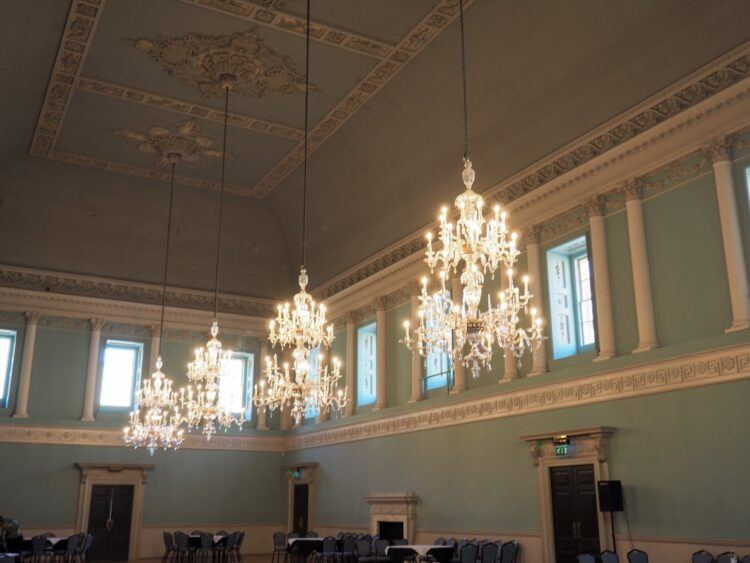 The Assembly Rooms were truly used during the social season, so it makes perfect sense that several of the ball scenes were filmed here. I have to admit, seeing these rooms in person was a little uninspiring — at the time of my visit, the rooms were set up with round meeting tables and chairs, like you'd find at any conference — but the crystal chandeliers are indeed gorgeous.
Holburne Museum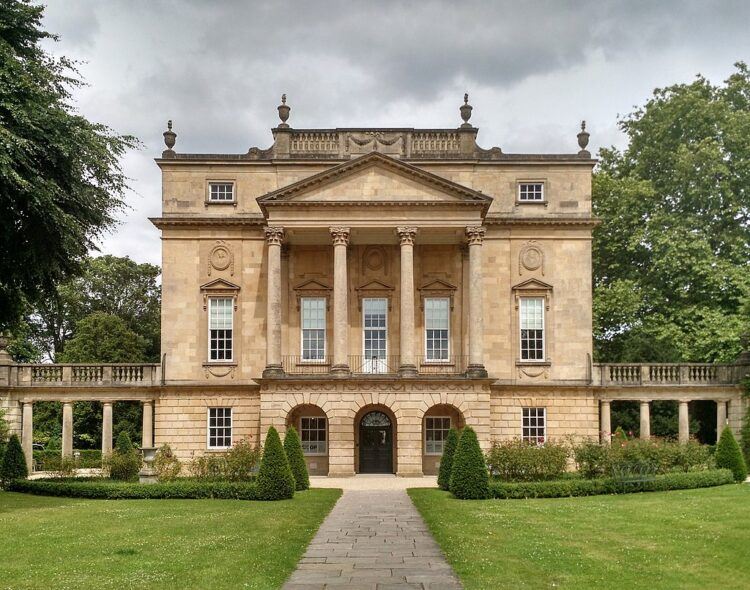 Other balls were filmed at the Holburne Museum, and you may recognize the exterior as well as Lady Danbury's home. I haven't been here, but the house is now an art gallery you can visit at your leisure.
A few ball scenes were also filmed in the Bath Guildhall, although unfortunately it's not open for visitors unless you're lucky enough to be invited to a wedding or other event.
Walking Tour of Bath
Several other exterior filming locations are easily explored on an independent walking route: Bath Street, Trim Street, Barton Street, Beauford Square, and Abbey Green. Obviously a visit today won't have horses and carriages and visitors in period costumes, but the cobbled streets and historic cottages look exactly the same as they do in Bridgerton.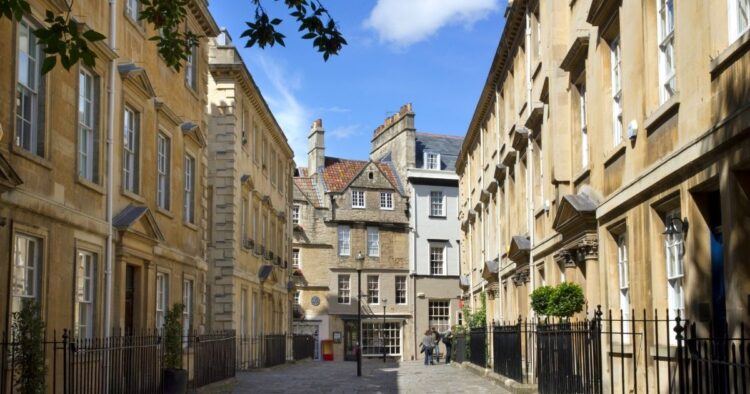 Bath Street in particular is a great place to walk: the shops and streets look precisely as they may have two hundred years ago.
Non-Filming Locations Still Worth a Visit
Fashion Museum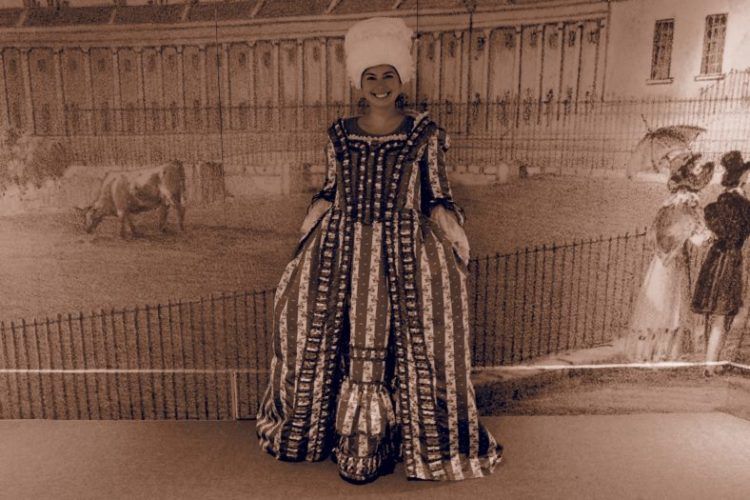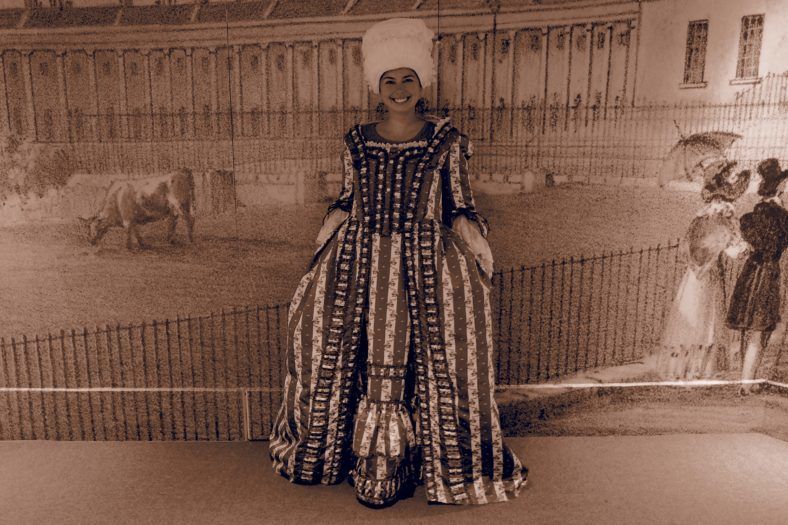 I'm not normally a huge fan of museums, but this one is fun. There are great exhibits on the history of British fashion — including the dresses and corsets worn by women and men's long suit coats — and even an area where you can play dress up. Since the Bath Fashion Museum is right next to the Assembly Rooms, you can use your imagination to pretend you're out for the evening.
Theatre Royal Bath
The Theatre Royal wasn't used in filming, but it sure looks similar to seeing an opera in Bridgerton. If there's a show on during your visit, go ahead and book a box for yourself like the Queen would have.
Parade Gardens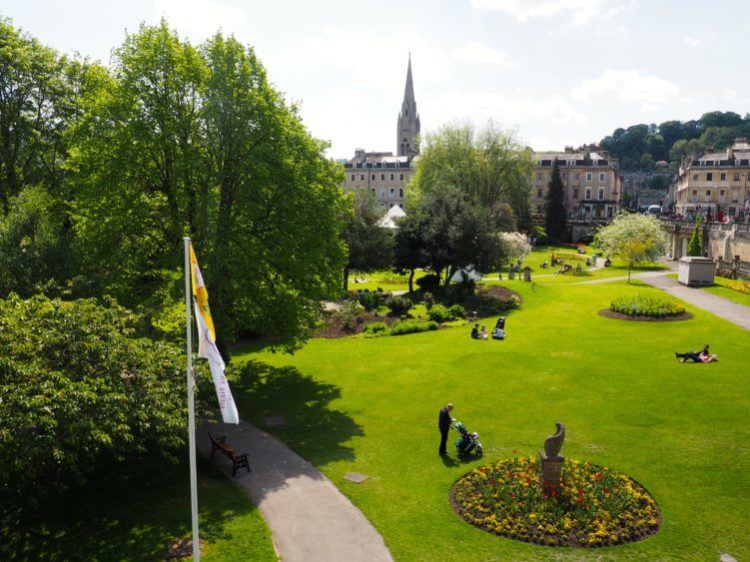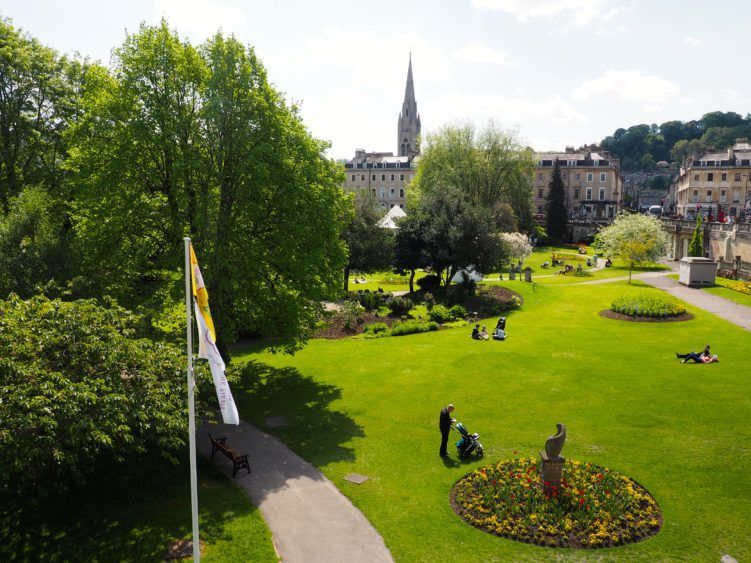 You'll see Bridgerton characters promenading through parks (chaperoned, of course) and Bath's Parade Gardens are reminiscent of where they may have strolled on a fine summer day. The actual filming location was a few hours away, in Surrey.
Other Things to Do in Bath
Have time to spare? Bath has plenty of non-Bridgerton activities as well. Tour the Bath Abbey, walk the length of Pulteney Bridge, and visit the Jane Austen Centre. Be sure to spend an evening or two in Walcot neighborhood: it's the nightlife center with pubs, trendy bars, clubs, live music, and more.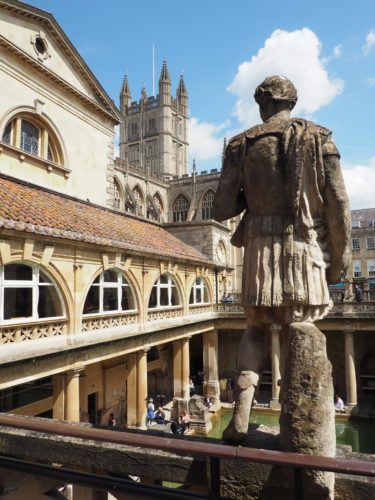 Bath was so-named for the Roman baths here, a bathing complex built around Britain's only hot springs. Today, it's a historical attraction with a great audioguide. Nearby, the Thermae Bath Spa is fed by the same springs but with modern pools and spa treatments. My favorite part here was the rooftop pool: you'll love overlooking the city. The view here makes it incredibly obvious how much of the city is built in the same 18th century architecture style.
The city of Bristol — quite the contrast to Bath! — is a mere 15 minutes away by train and thus a great daytrip (you can also do things the other way around, staying in bigger Bristol and day-tripping to quaint Bath).
I wish I had time to have biked from Bath to Bradford-on-Avon along the canal towpath. No traffic and plenty of countryside scenery, culminating in an even cuter town. Too tired to cycle back? No problem, just take the train.
Where to Eat in Bath (Bridgerton Style)
Afternoon Tea at the Bath Priory
There are plenty of places to take afternoon tea in Bath and you surely should. Pretend you're in high society taking scones and biscuits during receiving hours.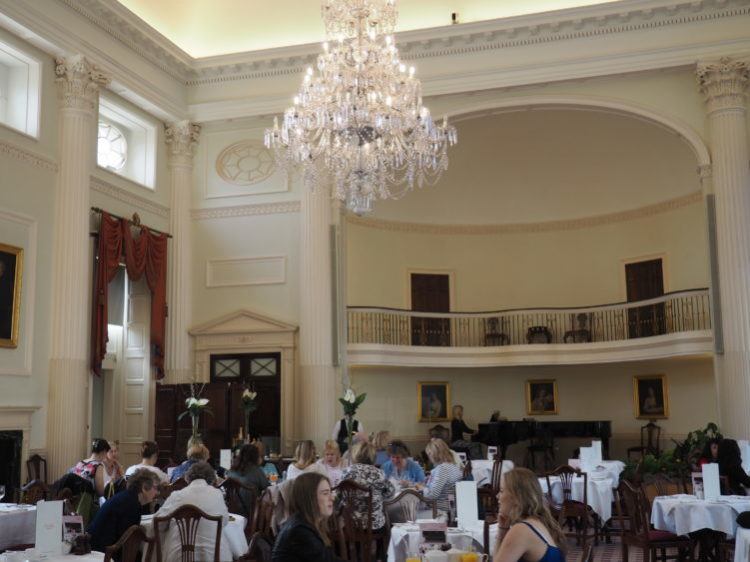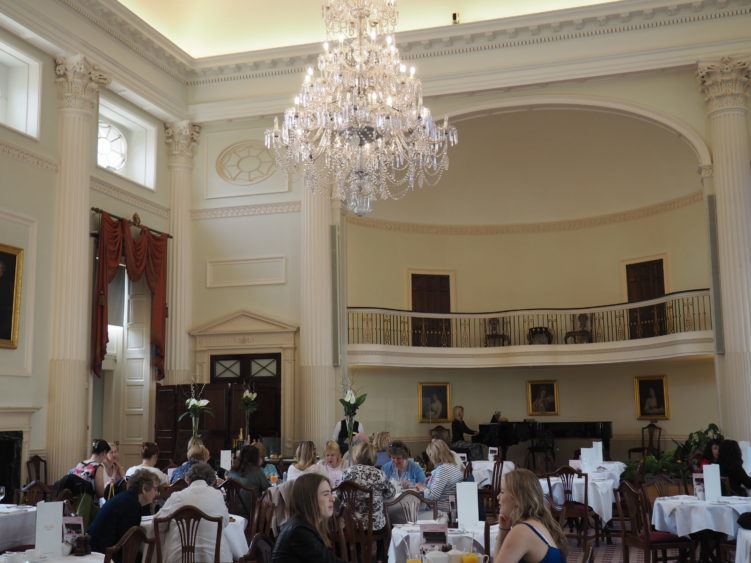 I had afternoon tea at the Pump House and at the Francis Hotel. The Pump Room has a "Bridgerton" feel to it, with Georgian architecture in a room that could easily have doubled for a ballroom. If I were to return, I'd actually prioritize the Bath Priory, which from the pictures looks exactly like a country home both inside and out.
Dinner at the Dower House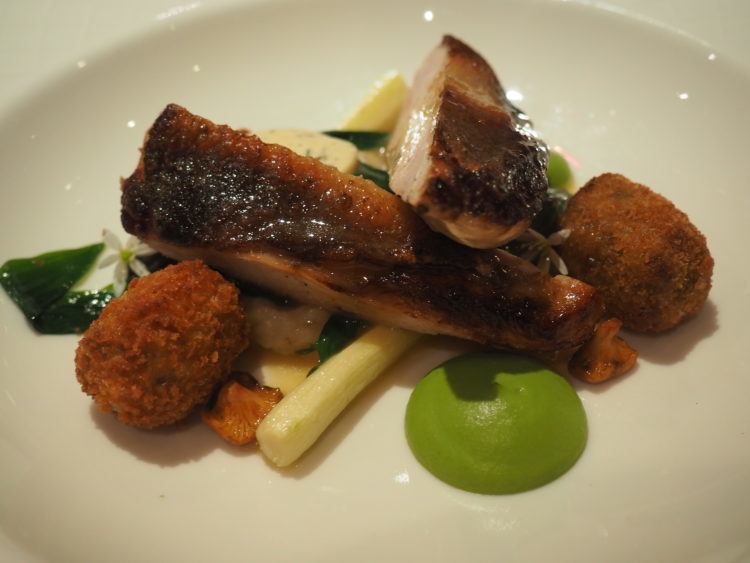 The Dower House Restaurant, inside the landmark Royal Crescent, is an upscale affair befitting of the Duke and Duchess. This is your chance to get dressed up and enjoy yourself for a special night out drenched in history and glitz. All three of my courses there were memorable.
Where to Stay in Bath (Bridgerton Style)
I stayed at the Queensberry Hotel in Bath, which was fine but not noteworthy (and had nothing to do with Bridgerton). The options below are what I'd look for next time and my recommendations for any Bridgerton fans!
Abbey Hotel Bath
The outside of the Abbey Hotel is decidedly historic; the inside, entirely modern. More importantly, this hotel puts you steps away from several Bridgerton filming locations as well as all of Bath's best attractions, shopping, and restaurants. The Abbey Hotel is a Tribute Portfolio Hotel, so you can redeem Marriott points (or category 4 certificates) for a free night.
READ REVIEWS | BOOK THE ABBEY HOTEL DIRECT ON MARRIOTT
Townhouse on Abbey Green
There are several Airbnbs right on picturesque Abbey Green in the heart of Bath. You'll have all the comforts of home with plenty of space overlooking one of Bridgerton's filming locations.
Grosvenor Villa
For a traditional B&B, look no further than Grosvenor Villa. You'll love the stately architecture and reception hall. The four-poster beds, vintage piano, sitting rooms, and formal breakfast room will have you think you're from the Bridgerton (or other elite) family.
READ REVIEWS | BOOK ON BOOKING.COM
Can't Wait for Season 2 of Bridgerton?
I know, it's hard enough not be able to travel yet. And on top of that, you'll have to wait patiently for another season of Bridgerton to come out. If that's asking far too much, you can read all nine books right now to see where the story ends up.