This post may contain affiliate links. As an Amazon Associate I earn from qualifying purchases.
* * *
Thirty-five million years ago, a crack in the earth's crust began to erode by the Grijalva River in Chiapas, creating the Sumidero Canyon. A narrow passage passes through vertical walls up to 1000 meters tall, twisting and turning for thirteen kilometers of beautiful scenery just 45 minutes from San Cristobal de las Casas.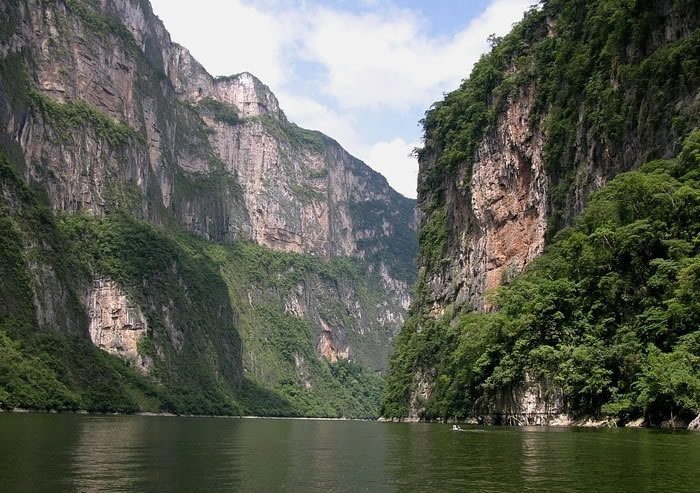 Like many parts of Mexico, the canyon isn't given credit for being the incredible destination it is. It gained a bit more awareness in 2009 when Sumidero Canyon National Park was a candidate for the Seven New Natural Wonders of the World. The canyon didn't win an official title, but the exposure was enough to entice me to visit.
Sumidero Boat Tour
By far, the most popular way to visit Sumidero Canyon is to take a 2 hour boat trip, enjoying the scenery from the bottom up and getting a good look at the abundant greenery and wildlife. Tours leave until 3 or 4pm, simply departing as they have enough visitors to fill a boat. Guides provide information about the region, usually only in Spanish, but that shouldn't dissuade you from a visit.
During the rainy season, the canyon is home to seasonal waterfalls, the best known being El Árbol de Navidad (Christmas Tree). At the time of my visit, it was still too early in the season to see run-off rain dripping into the canyon, but you can still make out the shape of the tree where moss-covered rocks have taken shape from waterfall deposits.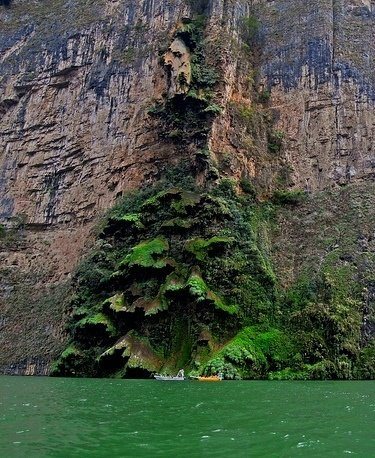 Even though there are numerous caves and rock formations to explore, I was more impressed by the local wildlife. Buzzards circled high up within the walls of the canyon and spider monkeys jumped from tree to tree on shore.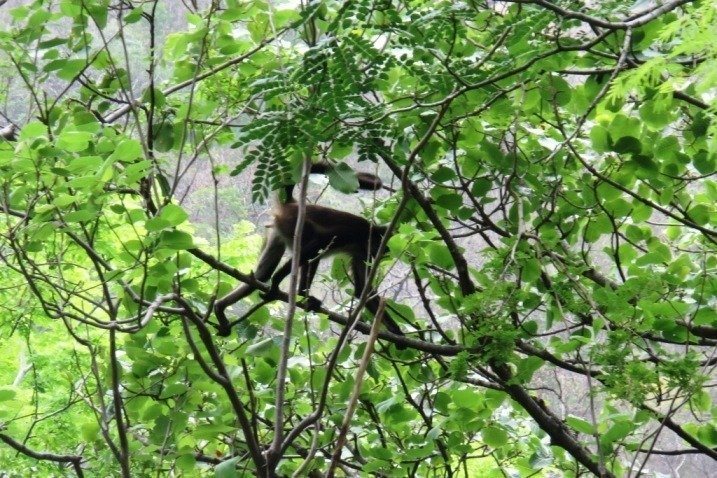 Somewhere there are another 50 species of mammals hiding in the canyon's biosphere, but such grand scale makes it impossible for spotting without binoculars. Instead, looking at eye level, we were lucky enough to see crocodiles. Some were floating still as logs and others were sunbathing, mouths open to regulate their body temperatures. Eventually, we hit the wildlife jackpot with this more active crocodile:
Although the tour passes by manmade wonders, including a shrine to the Virgin of Guadaloupe and Chicoasén Dam, it was the sheer immensity of the rock walls surrounding us that continually impressed me.
Perhaps more noticeable than normal due to the area's indisputable beauty is an area of unfortunate pollution. In fact, the Grijalva is considered one of Mexico's most polluted rivers, a true shame for a national park. There are long, beautiful stretches of river with no pollution in sight, but at narrow bottlenecks, the area loses all charm.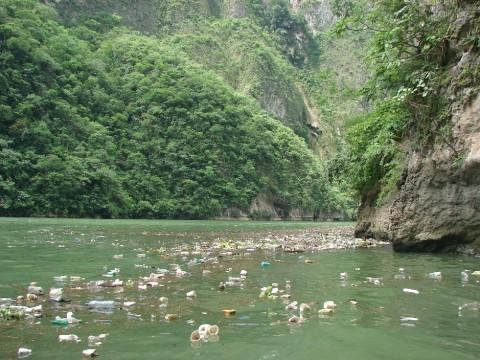 Steps are being taken to clean up the area and part of the park entry fee is used to fund clean-up efforts. Sadly, though, the bigger issue is all the garbage underwater, invisible to the casual visitor, but wreaking havoc on the ecosystem.
The juxtaposition of natural beauty with floating rubbish may put a damper on part of the tour, but the canyon is worth a visit just the same.
Sumidero Canyon Tour from San Cristobal
Day trips from San Cristobal de las Casas are offered by every agency in town; the going rate is 250 pesos for a 6-hour trip including about an hour to explore the small town of Chiapa del Corzo. Be sure to try pepita con tasajo for lunch; it's a special pumpkin soup from the area. Some agencies may offer a longer tour including scenic lookout points from the top of the canyon for 300 pesos.
Public Transportation to Sumidero Canyon
Although I normally encourage independent travel, in this case it's actually cheaper — and certainly easier — to go with a tour group, especially since there's nothing else to see.
However, it's straightforward to go on your own:
from San Cristobal: Take a bus heading to Tuxtla Gutierrez and get off early, in Chiapa de Corzo. The 1-hour trip costs 40 pesos.
from Tuxtla: Take a shared van (colectivo) to Chiapa de Corzo. The 40-minute trip costs 20 pesos.
Once you're in Chiapa de Corzo, there are groups leaving from the main square OR you can walk/bus to the port (embarcadero). The boat ride will cost 190-200 pesos, depending on your bargaining skills. The price includes your national park entry fee.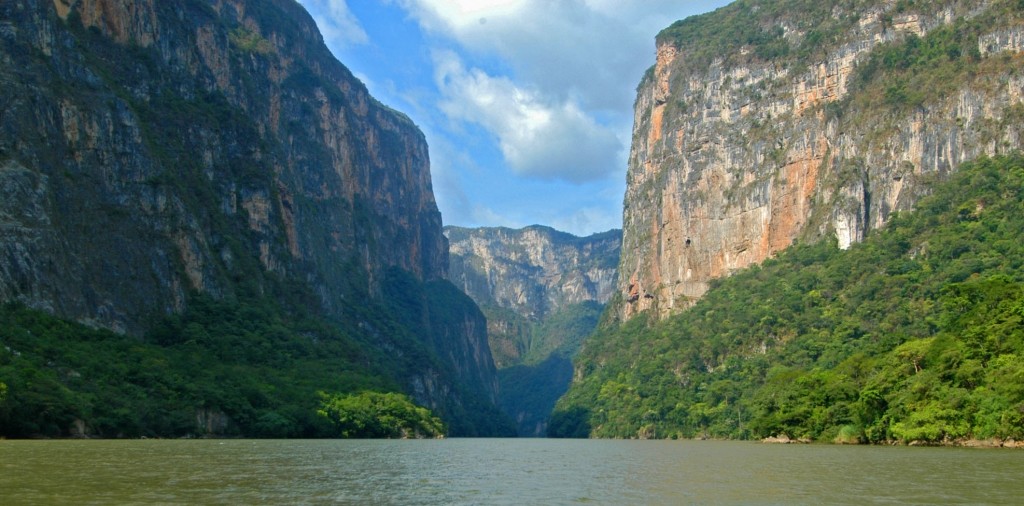 What to Bring on a Day Trip to Sumidero Canyon
Keep in mind that the canyon interior is hot, so dressing for the weather is important.
Be sure to bring sunscreen, a hat (most boats don't have covers), and plenty of water. I highly recommend bringing a reusable bottle since the pollution is so noticeable on this trip. Tap water in Mexico is safe to drink when using a Sawyer water filter.


I also recommend bringing a pair of binoculars — my pick are these mid-range Nikons that balance price and quality. I've traveled with them all over the world and highly recommend them.
* * *
Have you ever been to a place of scenic beauty that's been heavily impacted by pollution?
Where did you go?
* * *
More to Plan Your Mexico Trip: