This post may contain affiliate links. As an Amazon Associate I earn from qualifying purchases.
* * *
If the image of Spain you have in your head is bullfights, sunny days, late nights, flamenco, and tapas, then Seville is where you want to go. It oozes Spanish stereotypes — and then shows you a whole different side of Spain — for a one-two punch that you won't be able to get enough of. It's one of my favorite cities in Spain and it's one you don't want to miss.
Top Seville SightDOING
Learn the Art of Flamenco Palms
In my opinion, this is the most unique sightDOING you can find in Seville. Several studios offer the chance to try dancing, but honestly that can be intimidating. But palms? That's the rhythmic clapping that accompanies flamenco — and just about anyone can clap! In an hour, you'll get a basic rundown of flamenco's origins and its rhythmic styles (palos) plus a chance to try it yourself. (Stay for a second hour if you want to dance, too).
If you want to see a flamenco show, you'll have a dozen to choose from. I went to La Casa de Flamenco and highly recommend it. The show was just the right length, great seating, and mixed up the music and dancing to feature all four members of the ensemble: guitarist, vocalist, male dancer, and female dancer.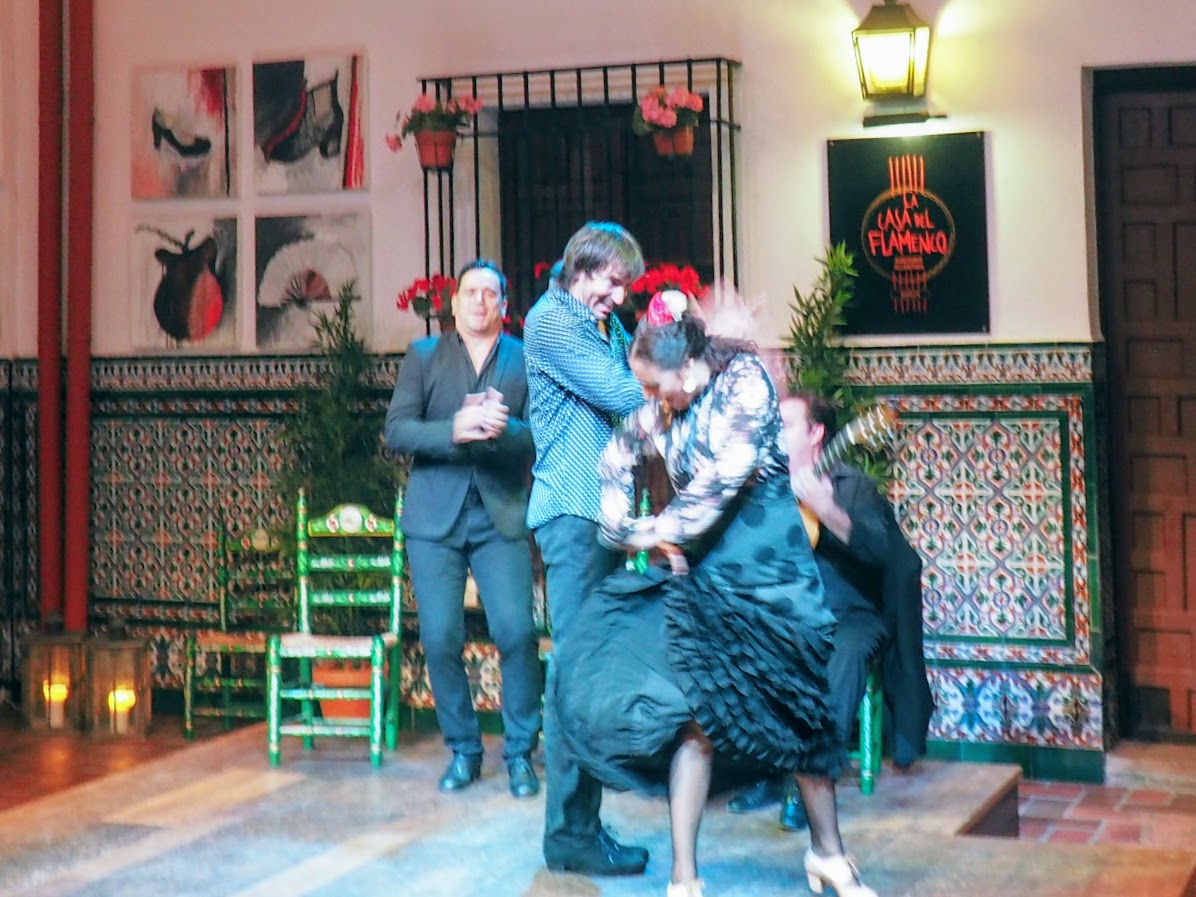 You can't come to Seville without trying tapas, but I was torn on whether or not it was worth it to join a food tour or to do it myself. In retrospect, I'm thrilled I went out for my first night with Devour Seville. Their evening Tapas, Taverns, & History tour covers classic tapas done well: iberian ham, lamb, tuna, and more. It blends just the right amount of sightseeing and history in-between tapas stops.
Two tips:
You're going to local favorite tapas bars, not tourist traps. Expect to stand almost the entire night — Sevillano bars don't really have seating (and it'll be packed, anyway).
Drink portions are pretty generous, so bring a bottle of water, eat up, and don't feel obligated to finish everything.
Related Post: If you love to eat, you'll want to check out my 24-hour guide to Madrid for foodies
Kayak down the Guadalquivir River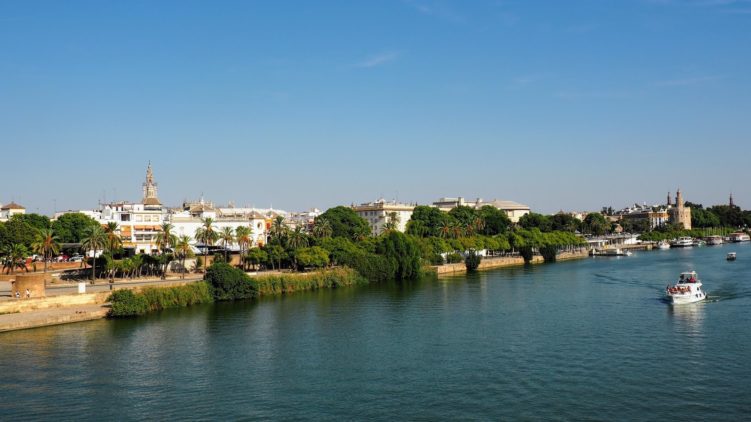 The Guadalquivir runs right through the center of town, which means you'll get a completely different perspective on city monuments and bridges from water level. More importantly, you'll learn how the river impacted Seville over the centuries. It was a key transportation channel all the way back during Roman times and it is the main reason Seville and Triana developed into different neighborhoods, divided by economic class.
Classic Seville Favorites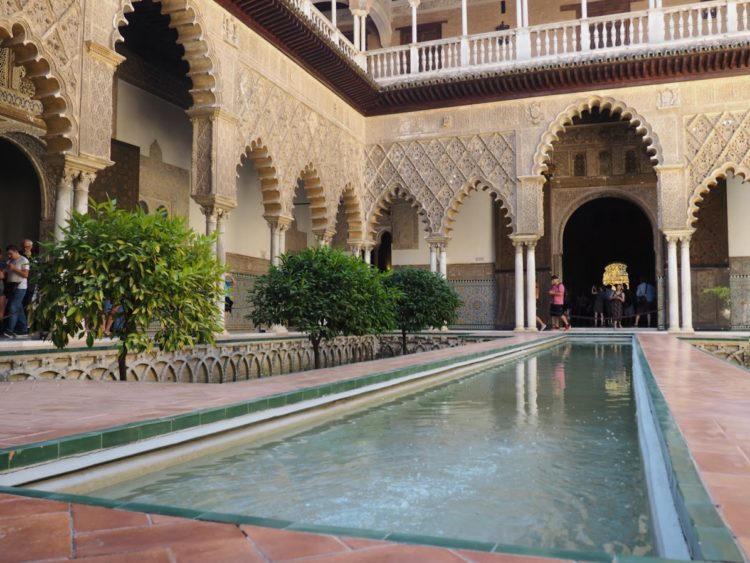 Once a Moorish palace, the alcázar is an absolutely gorgeous compound. The buildings feature intricate wall carvings, archways, and wide open courtyards that rival Granada's Alhambra. Plus, Seville's warm climate means the gardens are spectacular most of the year. Get the audioguide to make the most of your visit and buy tickets online to skip the line.
Plaza de España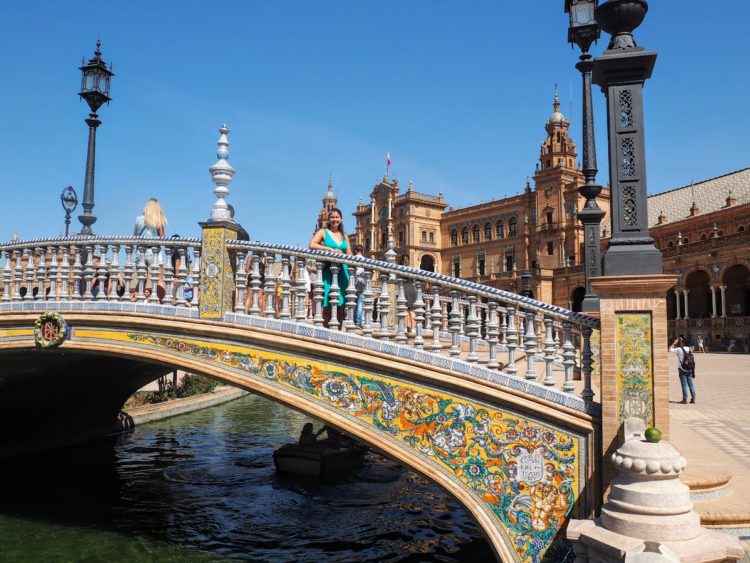 My favorite place in all of Seville. This plaza has gorgeous architectural details, colorful mosaics, and wide open spaces you can't help but love. Go weekday mornings if you want it to yourself or go weekend afternoons to picnic with Spanish families in the surrounding Maria Luisa park.
sightDOING twist: Rent a bike or rowboat to make your way around!
Cathedral
I'll confess, I didn't actually go inside the cathedral. They're just not my thing. But Seville's cathedral is the largest Gothic cathedral in the world and full of art and history dating back to 1434. If you go, allow plenty of time in your schedule since the lines are pretty long.
Bullfight
Admittedly, bullfights are a very controversial topic — so much so, that even my husband and I disagreed on whether or not to go. In the end, he went and I did not, although anyone can tour the bullring and museum.
If you do want to go, here's what I learned. Bullfights are infrequent, except during the spring Feria de Abril. Check schedules ahead of time and buy your tickets directly from the event to save on upcharges. Mike paid a whopping 110 euro, but he claims he had the best seat in the house (TENDIDO 7; SOMBRA 4-5: Fila 5; Núm.: 21).
For even more activities in Seville, check out Viator. They have everything from walking tours to olive oil tastings to hot air balloon rides.
Where to Eat in Seville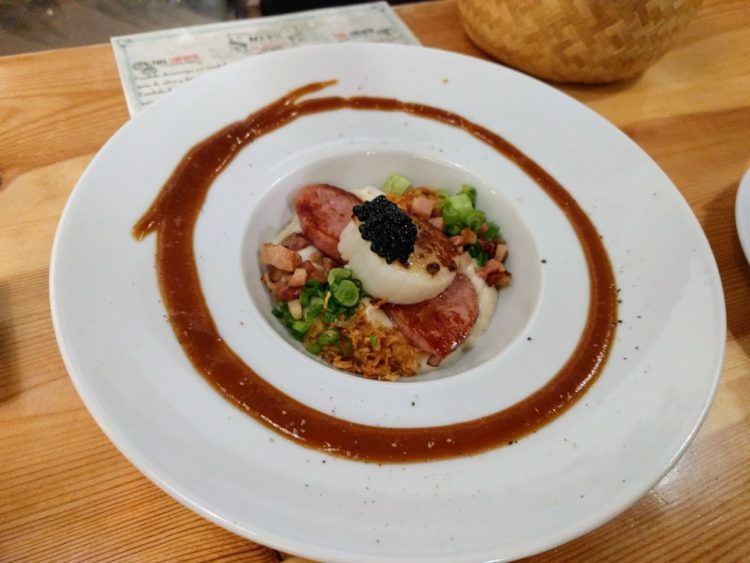 If you make one reservation, make it here. Their food has a modern twist (a nice change from the traditional tapas we ate almost everywhere else) and everything is cooked to perfection. Order two plates per person; I recommend the scallops (viera), sirloin (solomillo de buey), and octopus (parillada de pulpo) — plus one of the others that catches your eye as servers deliver it to another table. Save room for dessert; everything looked fabulous.
Bodega Mateo Ruiz
There are fried seafood bars all over the city and this one is off the tourist track in the Alameda de Hércules neighborhood. It'll be you and the locals in a very relaxed atmosphere. Their specialty is the bacalao frito (and you should absolutely order it). In general, we found the fried seafood better than the grilled…and everything washes down nicely with a cold caña of beer.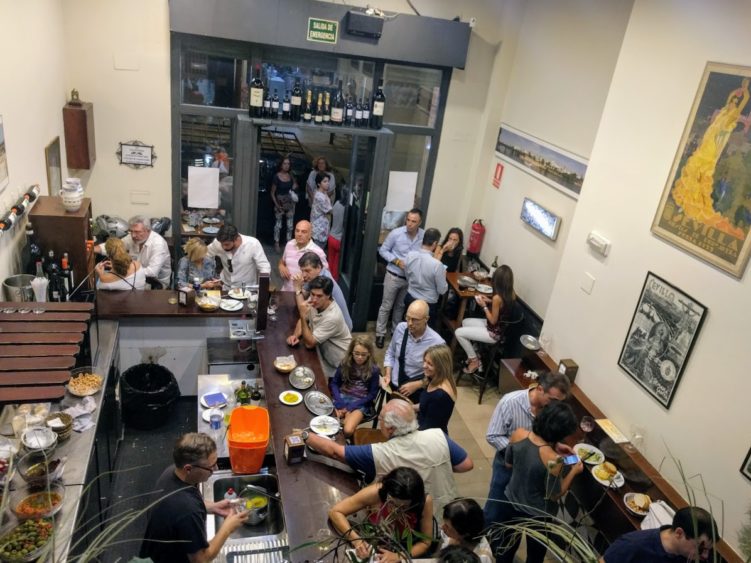 This is the excuse you need to eat in the Triana neighborhood! It's a great first place for tapas, partially because you'll want to get early before it's jam-packed and partially because everywhere you go afterward you can stumble into based on sight and smell. Eat at the bar (at tables, you're forced to order full-size plates instead of tapas) and don't miss the puntas de solomillo.
I loved this traditional cafe for breakfasts. For about five euro, you'll get a coffee, fresh-squeezed orange juice, and a traditional tostada (I like mine with tomato and/or ham with a healthy drizzle of olive oil). What makes this one great is the people-watching and eavesdropping on all the locals coming in and out.
There's something special about going to Seville's oldest bar, especially since it's still popular today. This is the place to stick to the basics: indulgent ham, sharp cheese, and a cold glass of vermouth. Yes, vermouth — I promise it tastes nothing like the junk normally shaken into martinis.
Day Trips from Seville
Córdoba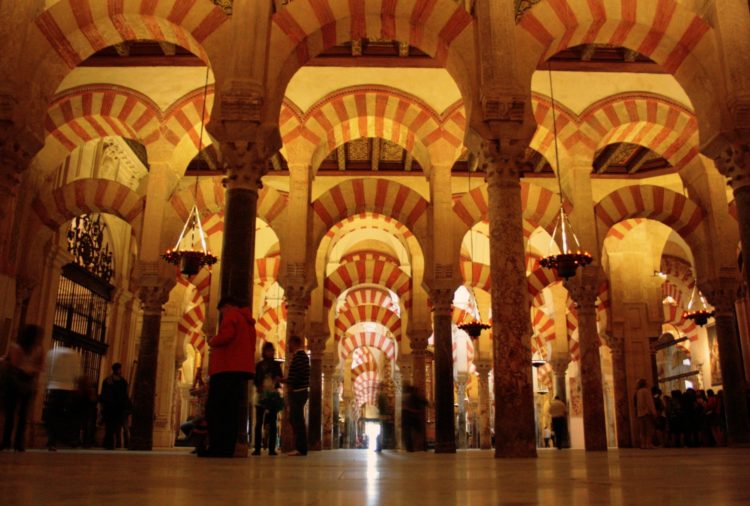 Córdoba makes a perfect day trip from Seville. It's just a 45-minute train ride away and the Mezquita is a must-see. Afterward, walk the narrow streets of the Jewish quarter, visit a tea shop, and enjoy a bowl oxtail stew. If you can, I'd plan your day trip to start and end late so you can see the Mezquita lit up outside.
Grazalema
If you want to visit a hill town — and you'd rather be sightDOING than just snapping pretty photos — then I think Grazalema is your best bet even though it's farther than the famous Arcos de la Frontera. You'll need to rent a car, but the roundtrip 4-hour drive is pretty easy.
Here's how I'd do it: head to the small town of El Bosque to get hiking information for Parque Natural Sierra de la Grazalema and potentially permits depending on the path you choose. Enjoy some shopping, strolling, and dining in Grazalema itself. On the way back, take the long way over Puerto de la Palomas for scenic vistas. You can stop for a hike anywhere between here and the town of Zahara de la Sierra (pack lots of water! it's hot!) and then if you've got time, check out the castle in Zahara as well.
To go to Ronda or not…

Both Mike and I were thoroughly unimpressed by Ronda. It's super busy, super touristy, and with the exception of the photogenic aqueduct, we didn't think there was anything unique to do there. We cut our visit short and probably won't go back.
Where to Stay in Seville
High-End: Hospes Las Casas del Rey de Baeza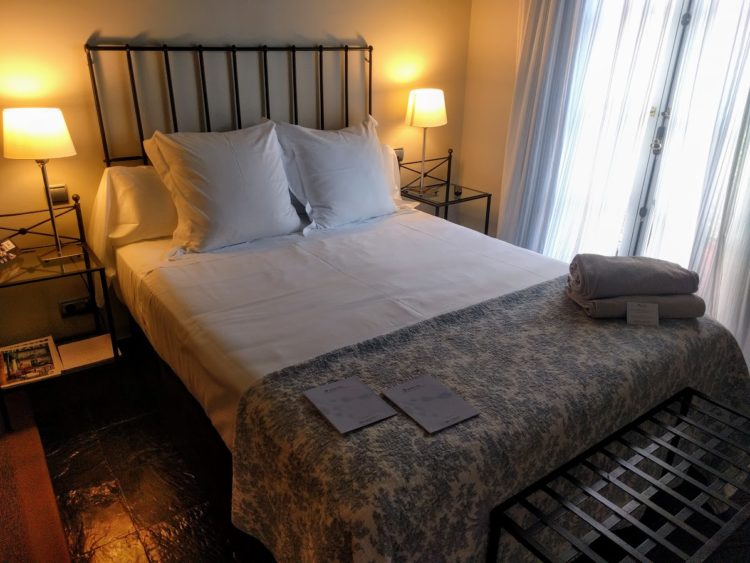 We stayed here, mostly because we had hotel points to burn, and absolutely loved its location. It was just close enough to the city to walk everywhere and just far enough to be calm and quiet to rest. The building is from the 18th century and still uses colonial furniture and 10-pound metal keys (the front desk will hold onto it during the day if you don't want to lug it around). I enjoyed the freezing rooftop pool and we overall had a good stay. I'd recommend it, but don't think it's 100% necessary to splurge.
Mid-Range: Hotel Albanico
If I were to do it over, this is where I'd stay. It's sightDOING worthy with a convenient location that makes it easy-to-reach activities, great value so there's money left over what matters most, and a lot of the same Andalucian charm and decor that we liked at Las Casas del Rey de Baeza.
Budget: Apartment Welldone Cathedral
Yes, a location in the city center for less than $100/night! This place has great reviews, as long as you don't mind that it's self-catering. You won't have the same full service you get at a big hotel, but when you're steps away from restaurants, it shouldn't matter. The downside, of course, is that being in the heart of the city means you should expect some street noise.
Want more apartment options in Seville? Airbnb may make sense for you, especially on longer stays. Check out my full guide to Airbnb and get a coupon off your first stay.
Final Thoughts
If you're really short on time, you can squeeze in the best of Seville to a single day: the alcazar, Plaza de España, tapas, and flamenco. Two days means you'll have time to wander the maze of streets, add in some sightDOING, and get to know the city. Three days is perfect to add in a day trip to Cordoba.
* * *
Have you been to Seville? What would you recommend?
* * *
This post includes affiliate links. If my guide helped you plan your trip to Seville, I appreciate if you make your reservations using the links in this post to help support the site.