This post may contain affiliate links. As an Amazon Associate I earn from qualifying purchases.
* * *
Rimowa manufactures the best, I repeat, the BEST suitcases for people who travel a lot!
I guess now I also have to explain why I am so convinced…
Read on and I will go into detail about my Rimowa Salsa 29″ Multiwheel in this Rimowa Salsa review.
Rimowa Salsa Review
What is Rimowa?
Rimowa is a high-end luggage manufacturer with more than one hundred years of experience, founded in 1898.
In terms of global market share Samsonite (17.3% in 2015) is far bigger than Rimowa (1.8%). That is because Samsonite is cheaper with a branding more for the mainstream traveler.
But for a person who travels much, the durability and well thought through design of Rimowa luggage cannot be topped. One gladly pays a little extra for the comfort of knowing, if anything should happen (wherever you are in the world) there will be an easy way to fix your suitcase at one of the many service centers all over the world.
Rimowa Salsa Features
When you need to buy a new suitcase you should first think about what kind of features you need and what else you want your suitcase to have. If the price is the most important criteria for you I recommend you don't buy Rimowa as it is a high-class brand.
In my case these were the things that I was looking for in my new suitcase:
4 rolls for easy steering
A standard size suitcase with a lot of volume
A light frame that will allow me to pack a lot of weight
A material which would survive a lot of rough handling
A square shape to be able to put my hand luggage securely on top of the suitcase
A handle with two bars instead of just one
A reasonable price for all the features
The Rimowa Salsa Air 29″ offers all of these features. Are you already convinced? Great then go straight to amazon.com to purchase your Rimowa suitcase now.
For those of you who need more details, let me go through the points one by one to explain what led me to my current suitcase the Rimowa Salsa 29″ Multiwheel 78l made of polycarbonate.
4 Roller Wheels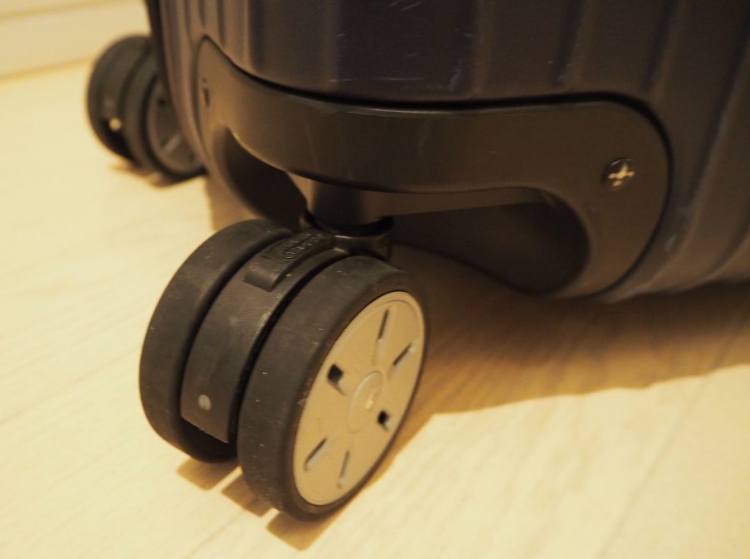 Almost all new suitcases nowadays come with 4 rolls, even the ones from the discounter. You should be aware that there are quality differences and that cheap rolls break more easily after a little bit of use. If only one roll is broken it can already become very annoying to travel with the suitcase.
Rimowa wheels are very durable and the Rimowa technology should keep you and your Rimowa trolley going smoothly for a long time.
A Standard Size With Exceptional Capacity
Especially as an American or when traveling to the US, you need to be careful that your suitcase is within the size limits or airlines. Other airlines also have some size regulations and it is important that your suitcase is within the limits of all of them.
With a standard size of 75 x 49 x 27 cm (29.5 x 19.3 x 10.6 in) for the Rimowa Salsa Multiwheel 78l you will have enough space to pack at least 23kg (the limit for economy class on most airlines).
A Light Frame
For the size described above there are discrepancies in weight depending on what material is used for the suitcase.
If you compare for example the metal suitcase (6.7 kg or 14.8 lb) of the same size with the one made of polycarbonate (4.7 kg or 10.4 lb) you will see that the metal one is 2 kg (4.4 lb) heavier, meaning you will be able to pack 2 kilos less even if you still have space.
For this reason I highly recommend buying a suitcase made from the much lightweight ploycarbonate like the Rimowa Salsa Air Ultralight.
Durable Material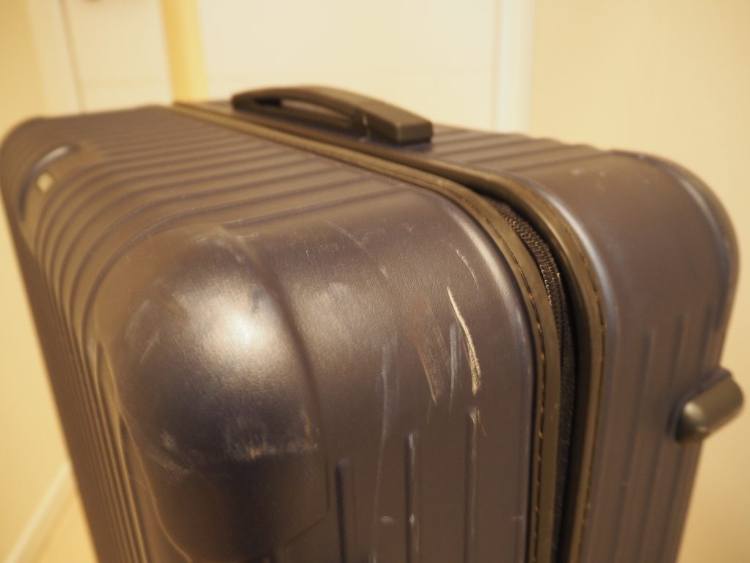 This Rimowa review wouldn't be complete if we didn't talk a little bit more about the luggage material: Polycarbonate
A suitcase is often handled roughly and will get discolorations, scratches, and bumps depending on the material. My Rimowa made from polycarbonate has some white scratches after almost three years of use but is still fully functioning and has kept its shape perfectly.
Many expensive aluminum cases (for which Rimowa is famous) get their first bumps after only one trip on an airplane. If you care about what your suitcase looks like I can't really recommend the metal cases.
Square Shape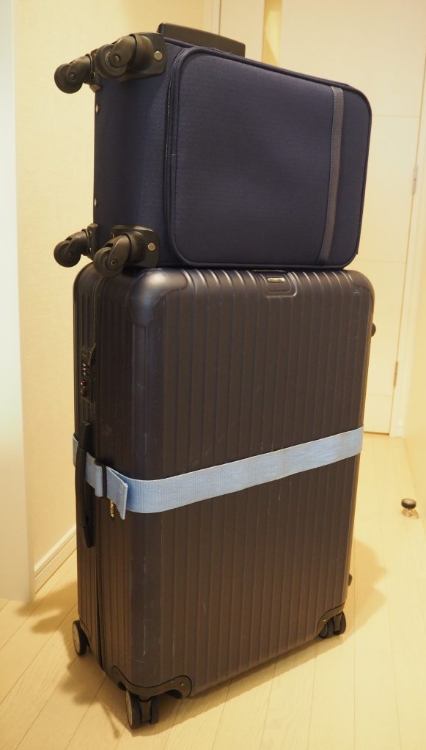 Many suitcases, for example, those from Samsonite have a rounded shape. For me, that was a disqualification criterion. I usually travel with a lot of luggage, because I move around a lot (first to study in Japan for 10 month, then to live there, traveling there and back to Germany regularly).
The easiest way to handle a lot of luggage is to put a small hand baggage trolley on top of the big suitcase (in case I travel lighter, I put my handbag securely on my suitcase). Which is only possible if the top is flat.
Two Bars for the Handle
Two bars for your telescope handle are better than just one. Why? They will make the whole thing more stable when going around corners. And also as described above, if you put something on your suitcase it is much more stable leaning against two bars.
A big plus in this Rimowa luggage review.
Rimowa Salsa Drawbacks
A Rimowa Salsa review wouldn't be complete without listing the drawbacks, so after almost three years of use here is what I can complain about:
The Book-Style Opening Can Be Annoying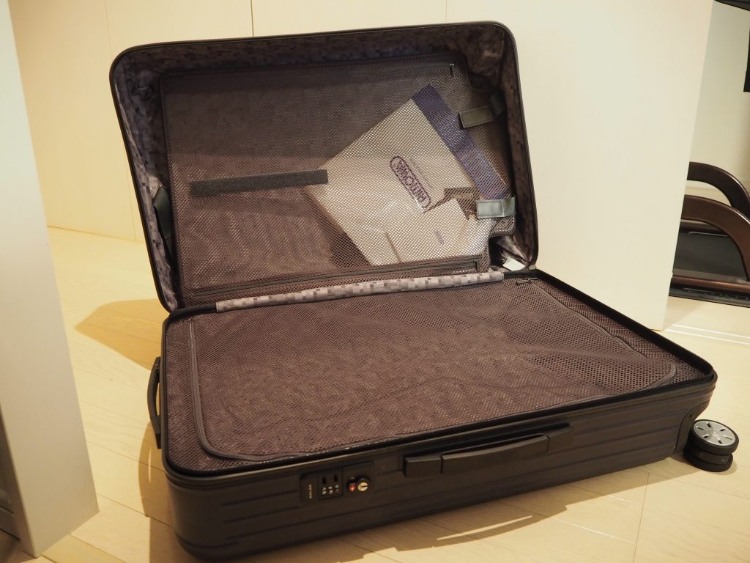 If you need to open and close your suitcase often during a trip, in airports to get changed, to re-pack or for whatever other reason I can't recommend the Rimowa models. Because they open in the middle you need a lot of space to open it and it is more work to open and close than a suitcase which is filled from the top.
On the other hand, it is much easier to organize your belongings and find things quickly because of the book-style opening.
All Rimowa Suitcases Look the Same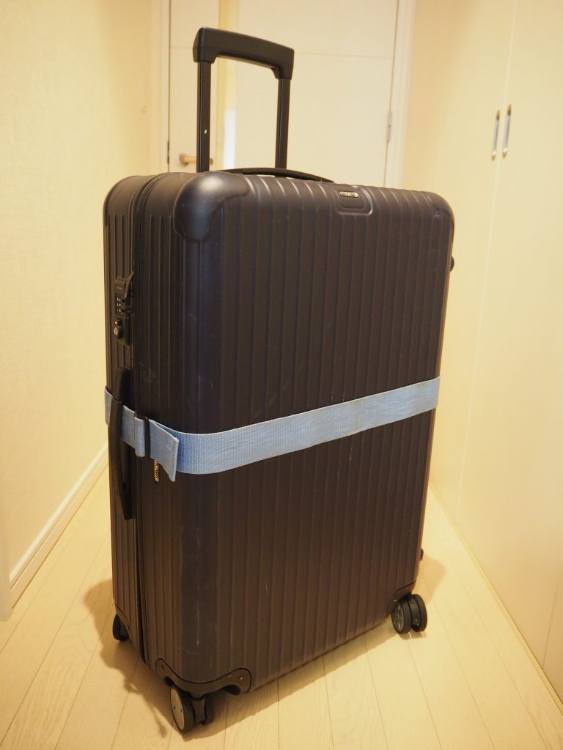 A lot of people are using Rimowa suitcases. So make sure you put something on it which makes it recognizable, like a tag on the handle, a big sticker or a luggage strap in a distinctive color, so no one else takes your luggage by mistake.
Rimowa Salsa at a Glance
And that are all the features for which I love the Rimowa Salsa 29″ 78l. I hope this was helpful.
Again here are the most important points as an overview:
Model: Rimowa Salsa 29″ Multiwheel
Where to buy online: (check the current price now on amazon.com)
Warranty: 5 Years
Weight: 4.7kg (10.4 lbs)
Volume: 78l
Size: 75 x 49 x 27 cm (29.5 x 19.3 x 10.6 in)
For different models it is probably best to check the Rimowa website directly.
This post was contributed by Lena Schneidler, a world traveler and founder of Nagoya Foodie – a great resource (and food tours!) for your next trip to Japan.
Not what you're looking for? Keep Reading!