This post may contain affiliate links. As an Amazon Associate I earn from qualifying purchases.
* * *
Bright sunshine. Warm ocean. Sweet pineapples. If that sounds like your idea of vacation, then Playa Samara Costa Rica is for you.
This small town on the Nicoya Peninsula offers a tropical getaway without the sky-high prices you'll find in overdeveloped resort areas farther north. That means you get all of the bliss without the price tag (and without the generic sterility that all-inclusives often come with).
If you want a beautiful beach on the Pacific coast, keep reading: there's a good chance you should add Playa Samara, Costa Rica to your travel wishlist.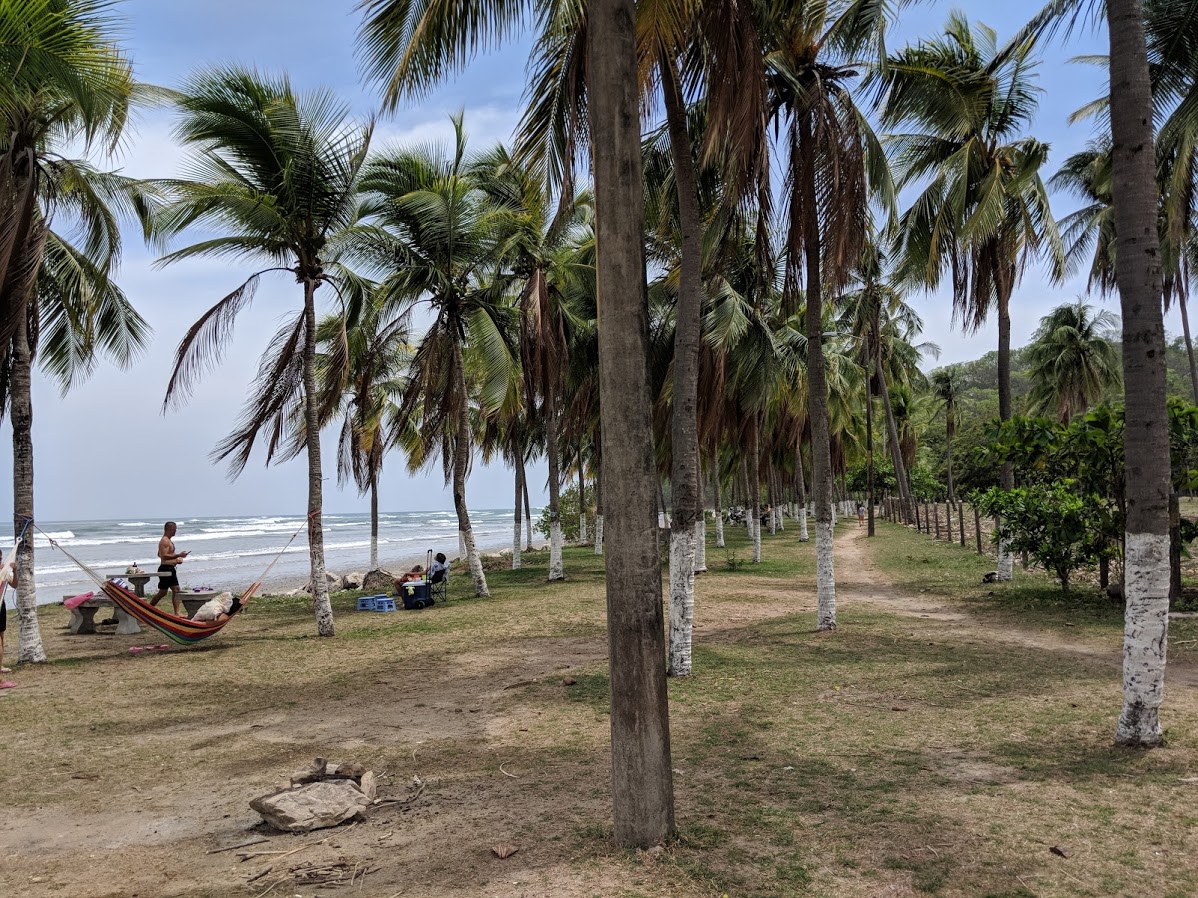 My First Impression of Costa Rica
It's no secret that I've spent a lot of time in Central America, but this was my first trip to Costa Rica. Overall, this was a logistically seamless trip. If you haven't been to Central America, this is an easy country to visit. Lots of people speak English, infrastructure is mostly maintained and reliable, it's safe for solo female travelers, and you can even drink the tap water if you're not in rural areas. Easy.
Plus, Costa Rica is simple to reach from almost anywhere in the USA. There are quick flights and easy connections, like the one I took on Spirit Airlines.
Why Samara Beach?
For me, time was limited and I knew I only had time for one small corner of Costa Rica. Playa Samara had the perfect combination of local culture, a gorgeous stretch of beach, great sightDOING, and low prices to round out my three full days.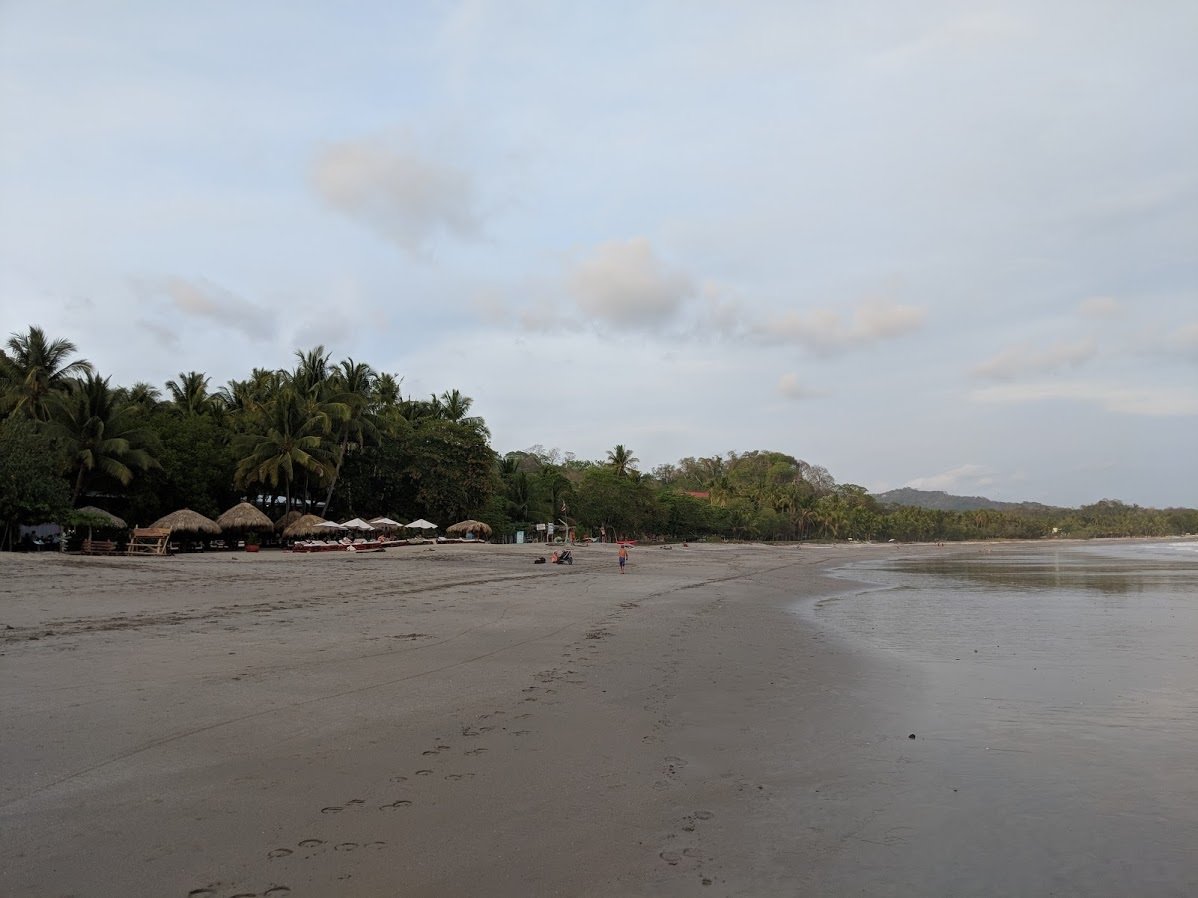 For travelers with more time, Samara nests easily in a getaway combining the beach with a few days each at a rainforest and volcano (to hit Costa Rica's three best known ecosystems).
sightDOING insider tip: At first glance, Playa Samara looks like it just has three main roads…and to be fair, you'll find everything you need on those streets. BUT this is one of those towns where a 15 or 20 minute walk will take you far away from souvenir shops and Americanized restaurants. Take a walk and see where it leads you — I bet you'll walk by horse farms, local churches, gorgeous flowers, and delicious smelling restaurants.
>>>>> Related Post: How to Avoid Tourist Traps
How to Get to Playa Samara Costa Rica
Samara is one of the few beaches towns on the Nicoya Peninsula that has paved roads all the way there which makes transport a breeze.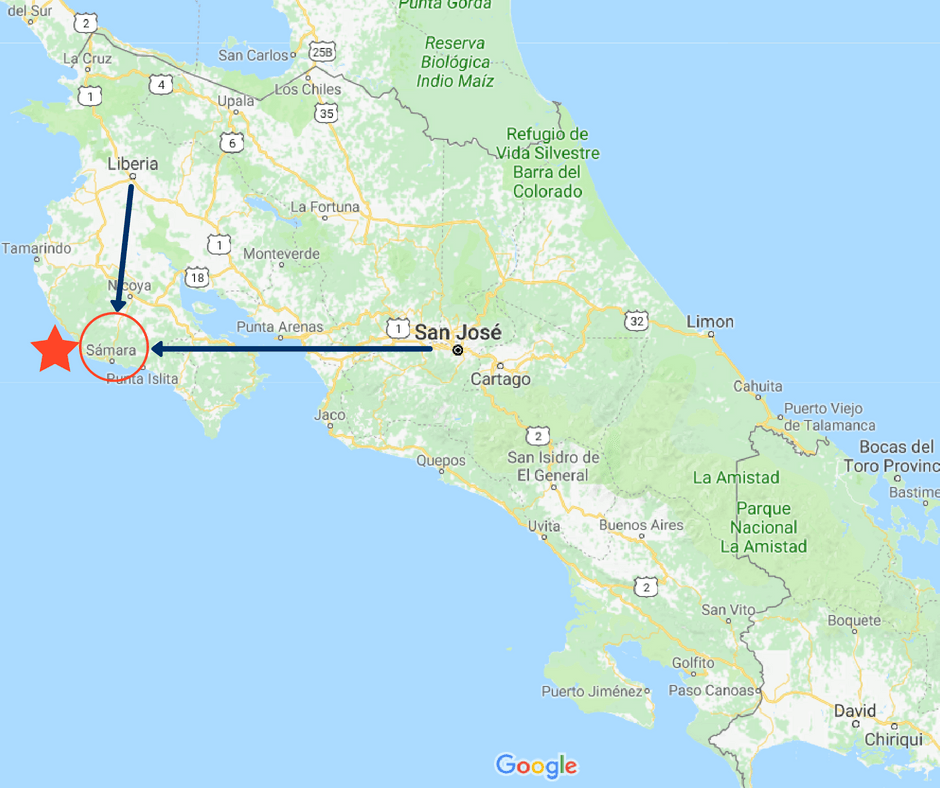 Liberia airport is the closest international airport to Samara — about a 2 hour drive or 3 hour bus (with change in Nicoya). Check bus schedules here.
I arrived at San Jose airport, which tends to have more flights and lower prices. From San Jose, it's about a 4 hour drive or 5 hour bus. Overall, it was just as fast for me to come via San Jose because the flight connections were better.
The Bus from San Jose to Samara Costa Rica:
Direct buses are operated by Alfaro and leave at 12 noon and 5pm from Terminal 7-10 in San Jose. Buy tickets online or arrive an hour in advance since routes do sell out. You can kill time at the terminal — it's essentially a mini shopping mall with a few clothing and souvenir stores, fast food, a killer bakery, and surprisingly clean bathrooms.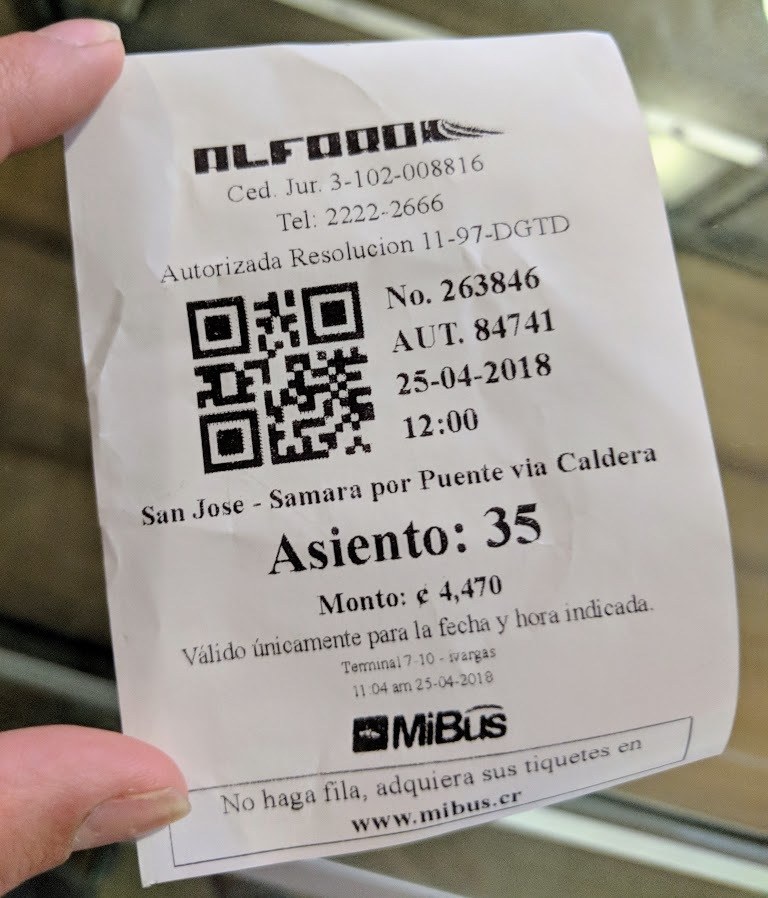 In a worst case scenario, if your preferred bus is sold out or the schedule simply doesn't work for you, there are plenty of other departures connecting in Nicoya. You won't be stranded.
My bus was clean and safe, but not air-conditioned despite their advertising claims.
Return buses depart at 4am and 8:30am — with plenty of afternoon departures connecting in Nicoya. BONUS: On the way back, you can ask to be dropped off at the airport to save time and a taxi fare from San Jose. I don't recommend doing that starting at the airport though because you may not find a seat.
Did you know? Uber works really well in San Jose and is quite a bit cheaper than airport taxis!
Top Samara Costa Rica Things to Do
Hit the Beach
Yes, it seems so obvious, but lazy beach-going is by far the most popular activity here. For sunbathing, several restaurants have beach chairs and umbrellas available for no fee as long as you're actively ordering from them.
>>>>> Related Post: 10 Must Have Beach Items to Add to Your Beach Packing List
The best time to go, if you're not swimming, is 5pm. Take a walk from end-to-end (it'll take about twenty minutes) and watch the local kids playing soccer on the sand. Join a pick-up game of volleyball. Toss a coconut husk for a dog to catch. C'mon, everyone's doing it! Then find your favorite beach bar for happy hour and settle in to watch the sunset and the activity, local and tourist alike.
★ sightDOING pick ★ La Dolce Vita for great sunset views and cold drinks during happy hour (4:30-6:30)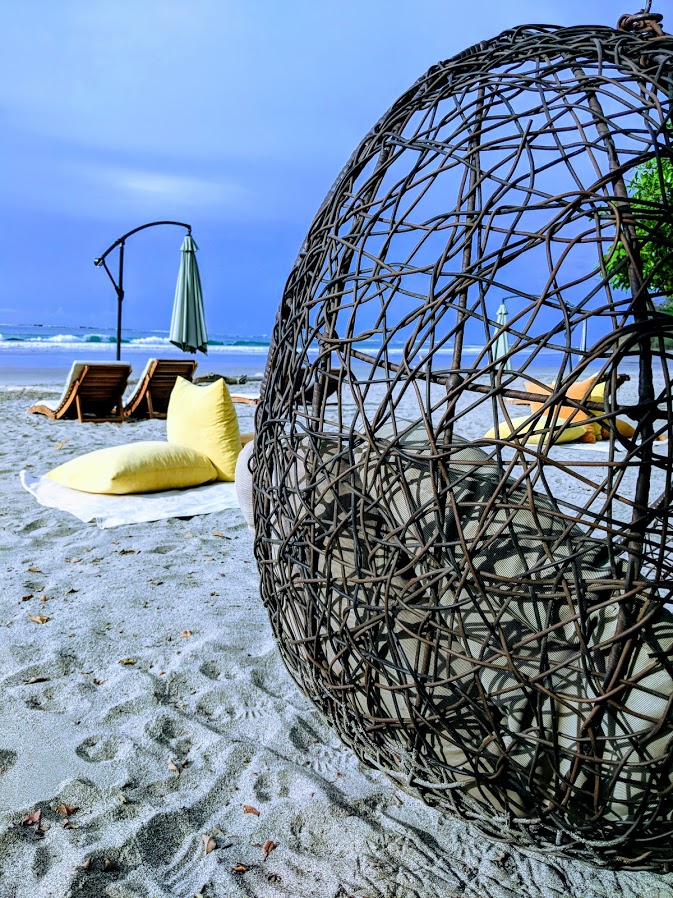 Head to Isla Chora
Isla Chora is a small island just off the coast of Samara Beach — you can't miss it. During low tide, it's pretty easy to reach by kayak, paddleboard, or boat. If you're an experienced paddler, you can rent equipment and head out alone, but I chose to go with a group.
This Viator paddleboard and snorkel tour was fabulous and cheaper than anywhere I could book directly in town since I was a solo traveler. We had good equipment, great instruction, plus a nice snack and cold water that I never could have successfully paddled without spilling on my own. Well worth the $45.
Learn About the Ecosystem at the Werner-Sauter Biological Reserve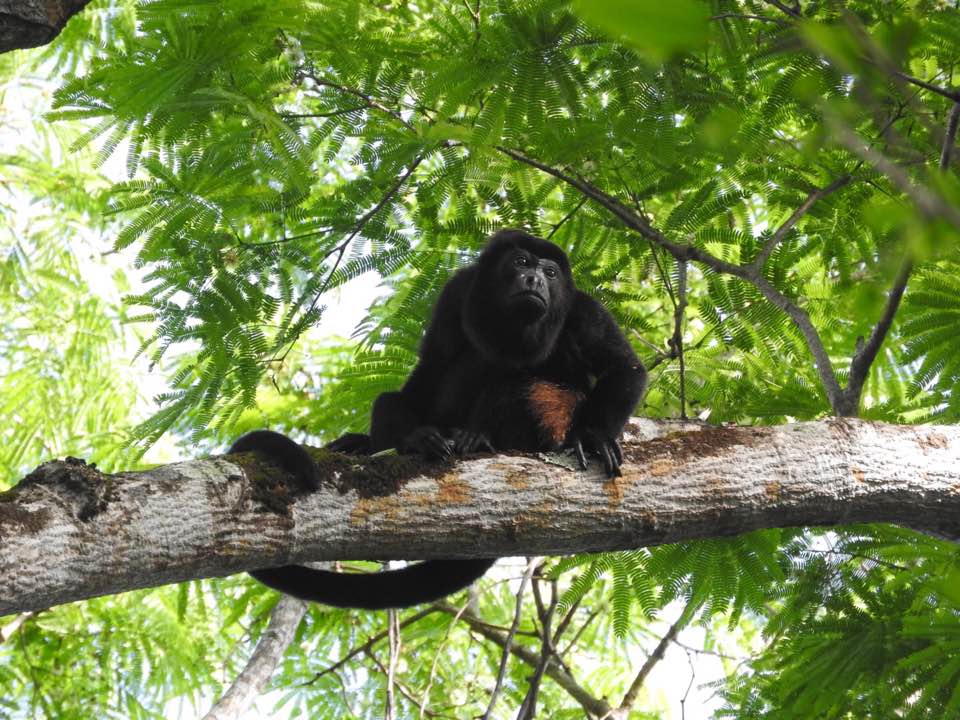 This was advertised to me as a hike, but a hike it was not. You'll barely cover two miles over the course of three or four hours and it's not much of a challenge. What you will do is learn all about the ecosystem, some incredible trees and other flora, and learn to identify a few local birds.
Be aware that this tour very much runs on Costa Rican time, so I got picked up late and it ran over its scheduled end time by at least an hour. It's a great morning out, just be prepared 🙂
Playa Samara is part of Costa Rica's dry forest, which means it gets a lot less rain than other parts of the country. That's great for travelers, although you should still bring a raincoat.

Green season runs from May through October, with shoulder season in April & November. If you're headed during this time of year (like me!), be sure to pack bug spray. I had no issues in town or on the beach, but the wildlife reserve was a mosquito feeding frenzy. I like the all-natural Bugs Be Gone, but if you want something stronger, I can also recommend Ben's Deet Wipes. Since it's not a liquid, these wipes are flight friendly!
Look for Dolphins
Boat trips depart from Playa Carrillo, just south of Samara, to search for bottlenose and spotted dolphins (plus humpback whales in the fall). The water was too rocky for a comfortable trip while I was there, but that's not the norm. Afterwards, you can stay on the beach in Carrillo if you want and then make your own way back by bus or taxi.
The upside to Playa Carrillo, compared to Samara Beach, is that it's entirely undeveloped. It's a great spot for a picnic, swimming, and a good book. It's super quiet during the week and packed with local families on the weekend — choose the atmosphere you're looking for accordingly.
Get a (Cheap) Massage
After all this fun, you can recuperate with a massage at a fraction of the cost by getting one from the local massage school. After students have completed their required coursework, they apprentice at the Samara Massage Center giving hour-long massages for about $27. This is a great way to stretch your travel budget farther and a great indoor activity for the rainy season.
A few other ideas of things to do in Samara:
Surfing – most people who surf in Samara are beginners and not all schools are created equal. Try Pato's.
Kayak the Ora River Mangroves – and keep an eye out for birds, turtles, iguanas, and monkeys.
Zipline at Wingnuts – there are ziplines all over Costa Rica, but Samara's is known for small groups and wildlife on the course
Watch Nesting Turtles at Night – I didn't get to do this because it was the wrong time of year (try September – October), but seeing turtles in Nicaragua was incredible so I imagine this is too.
Rent an ATV – Even if you're not chasing an adrenaline rush, this is a good way to see the local, natural area.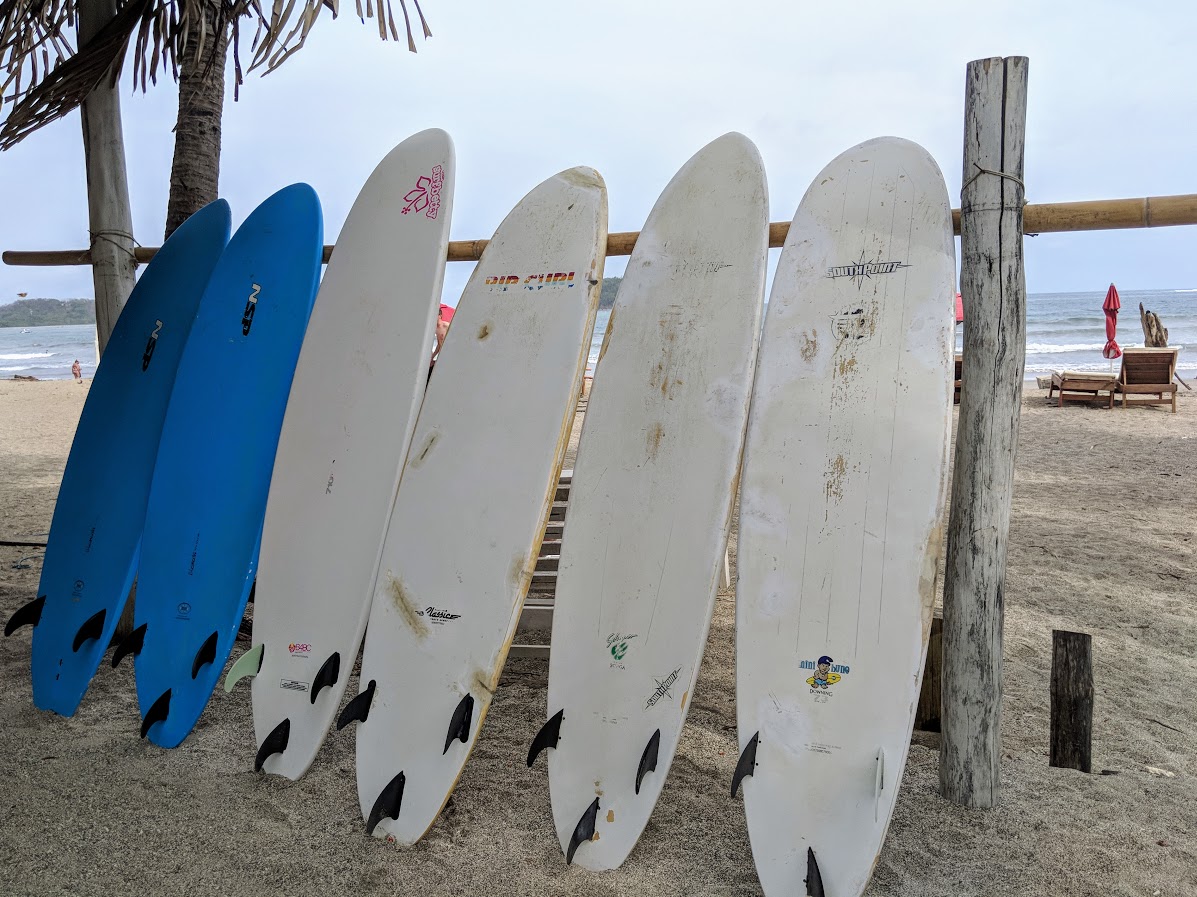 Samara Restaurants – Recommendations for Local or Traveler-Friendly Spots
Samara restaurants come in two distinct styles:
Tourist restaurants complete with back-home prices
Local restaurants with simple meals and lower prices
I ate at a mixture of both — the tourist restaurants because I always appreciate options that incorporate vegetables and fresh flavors. However, it wouldn't really be traveling if you didn't also try the local joint!
Eating locally: what you need to know

In Costa Rica, basic restaurants are referred to as "sodas". These family-owned restaurants usually have limited menus, low prices, and are often open-air structures.

The main meal at a soda is a "casado". These plates feature a protein of your choice, like fried fish or roast chicken. They always come with rice, beans, and a salad. Depending on where you'll eat, you'll probably get another side dish as well, such as plantains, sauteed vegetables, fries, or tortillas. It's not fancy, but it's filling and it's cheap.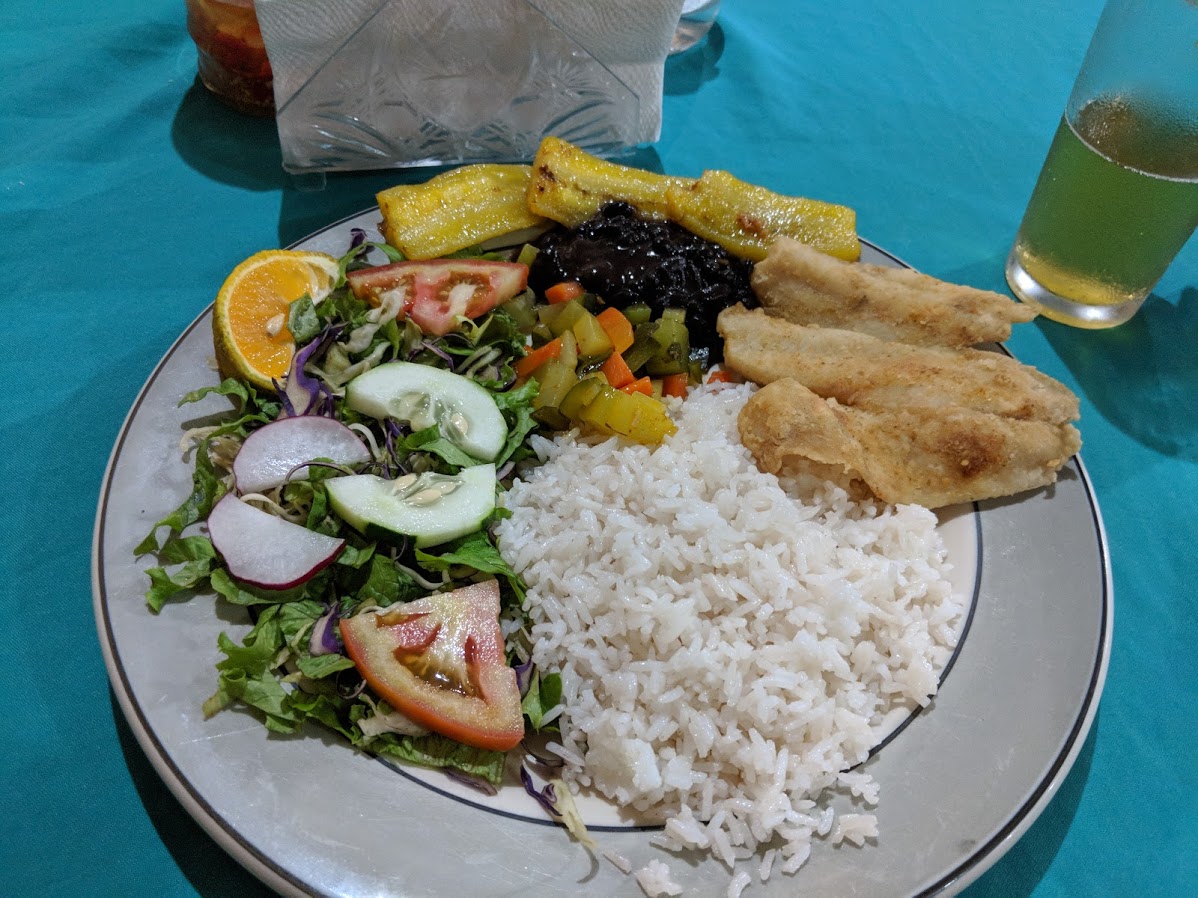 Sodas are also a great place for breakfast since meals are prepared and served quickly. A typical Costa Rican breakfast will have your choice of fried or scrambled eggs, toast or corn tortillas, and gallo pinto which is just a fancy way for saying your rice and black beans have been mixed together. You can also add on the local white cheese turrialba, sour cream, plantains, or breakfast meats if you're feeling particularly hungry.
Marisqueria Colochos
In my opinion, this is the best soda in town with friendly service and good food. Start with a small ceviche and then choose your favorite seafood entree, since everything is fresh.
Soda La Perla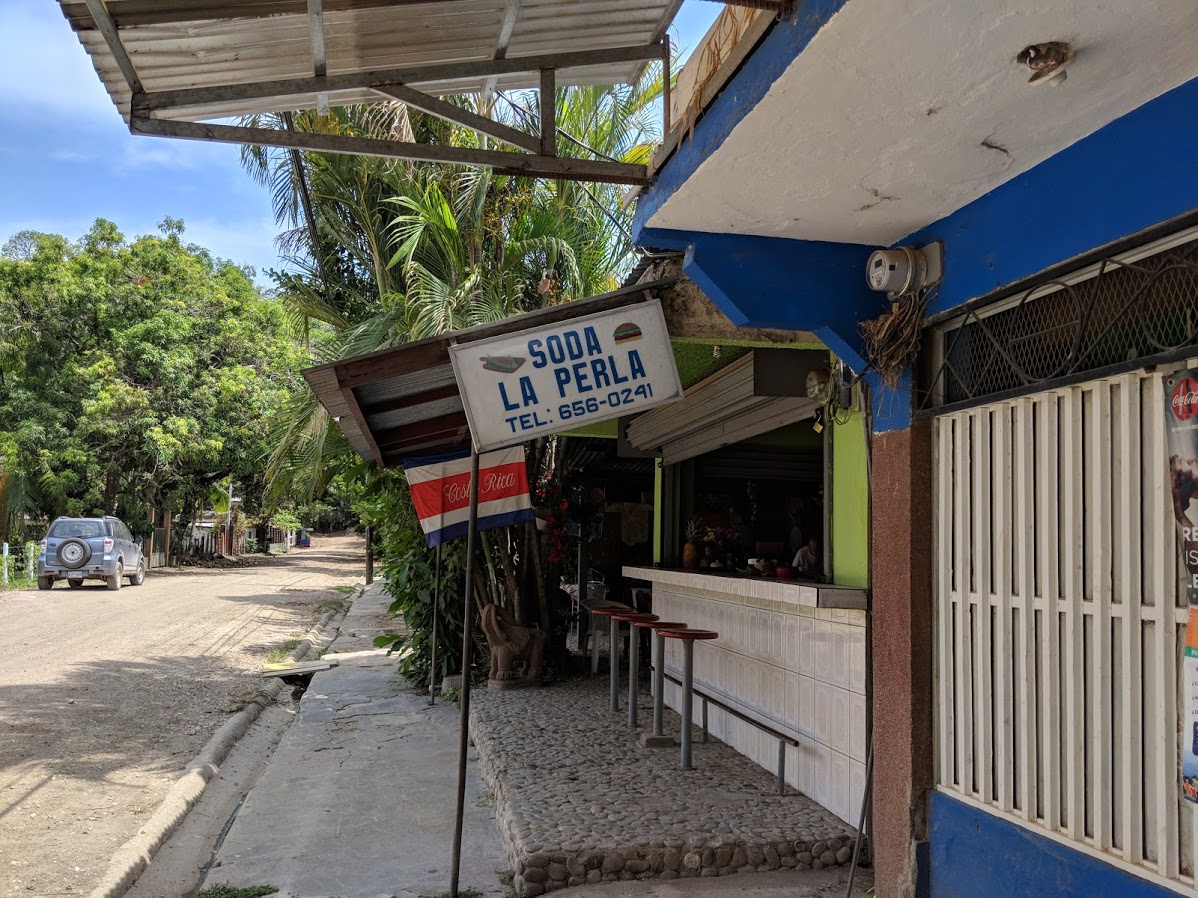 You won't stumble upon La Perla on accident, but it's an easy walk past palm trees on the beach to a residential side of town. Their menu doesn't have anything extraordinary on it, but the execution is spot on.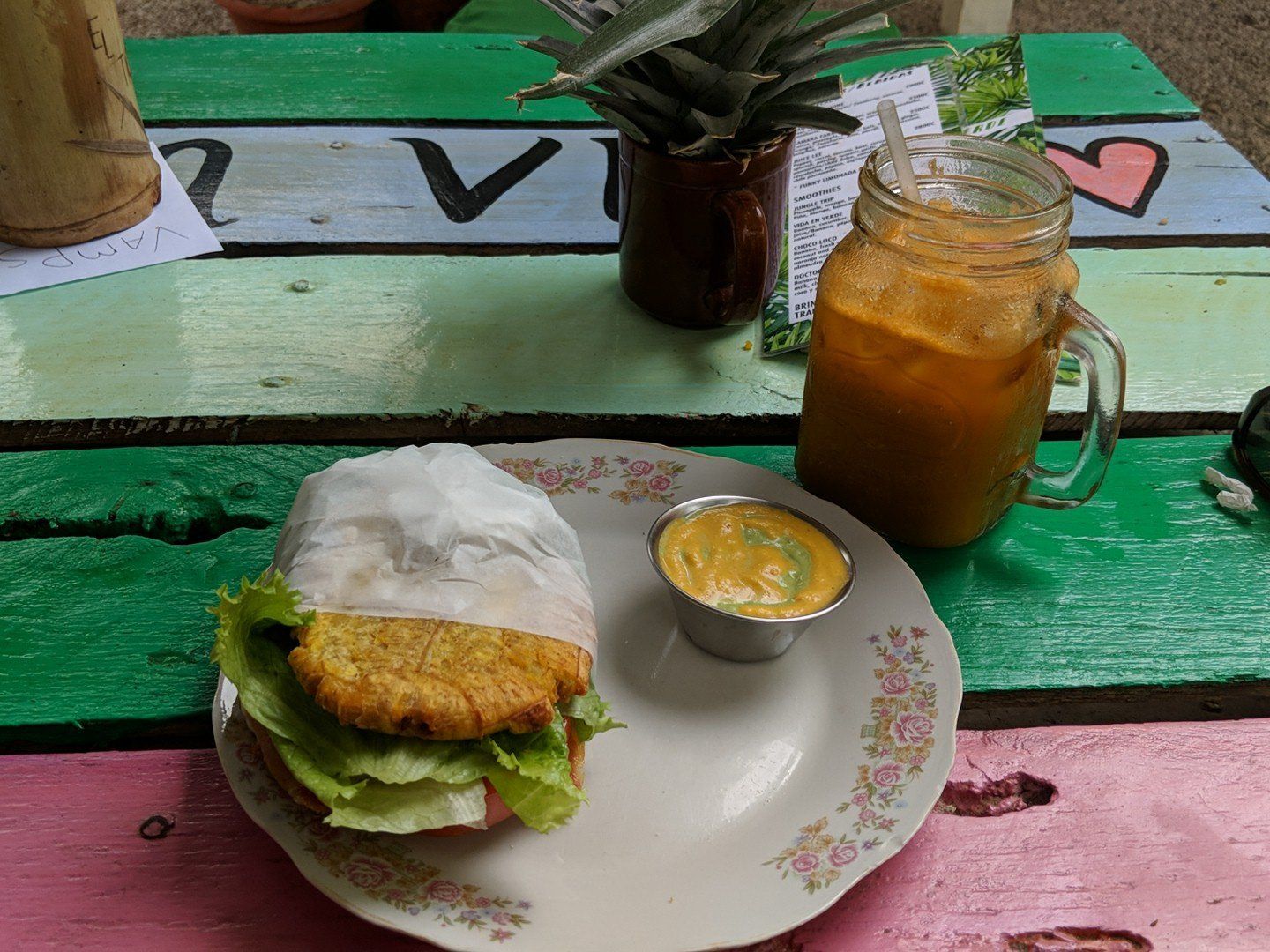 Possibly my favorite spot in town: they have great juices, salads, and some sort of spicy mayo they put on sandwiches that is dangerously addicting. It's not on the beach, so it won't win any awards for ambiance, but it's worth a stop.
Their "famous" veggie burgers fall apart and crumble making them impossible to eat, but the oversized smoothies are a great meal replacement especially in the heat of the day. I wish I had tried their falafel, which others raved about.
I'm not much of a partier, so I appreciated the laidback vibe at Microbar. As the name suggests, it's a tiny closet of a bar but has a killer Costa Rican craft beer list (yes, you read that right). Evenings only.
** You should know… ** Most Samara restaurants are CASH ONLY and add on a 10% service charge.
Samara Costa Rica Hotels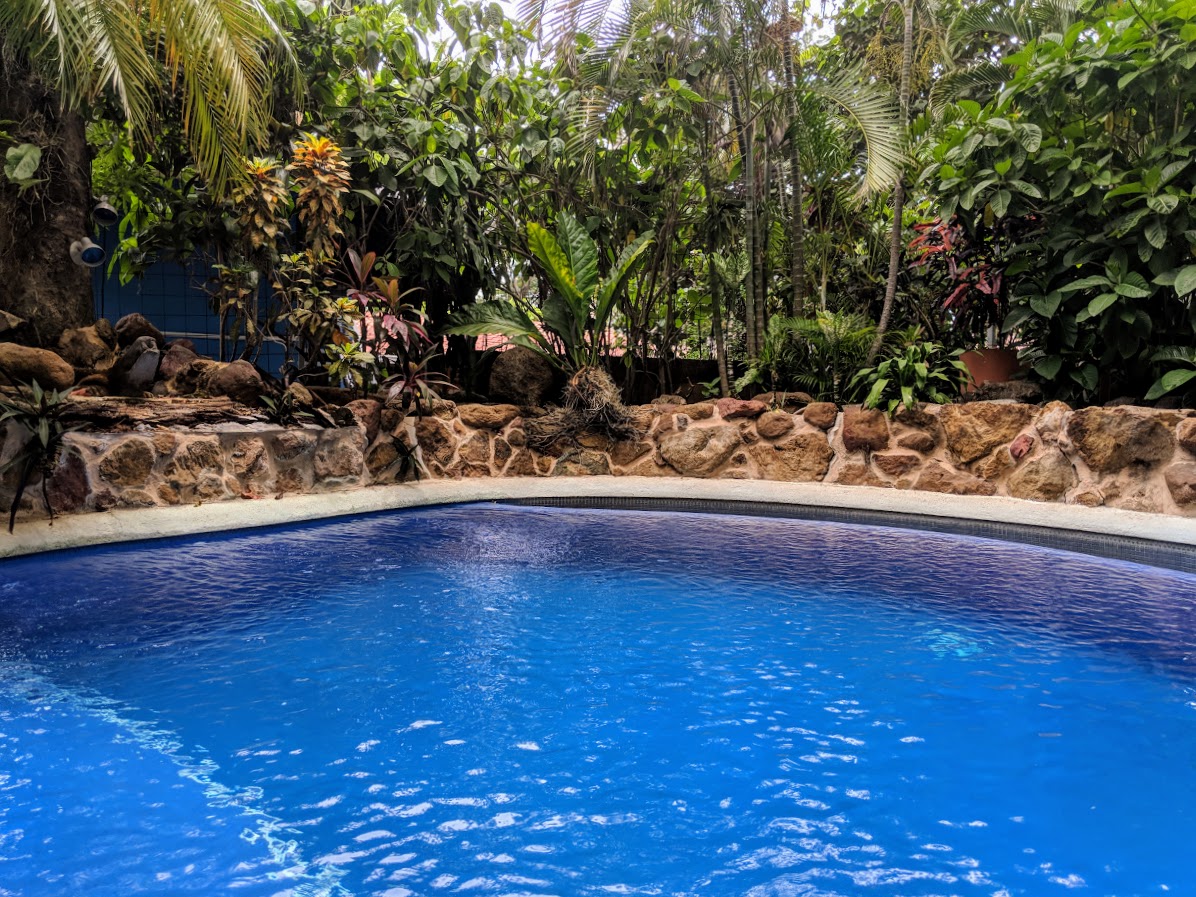 Air conditioning, strong wi-fi, a pool, free coffee starting at 7am, on-site yoga, and a 5-minute walk to the beach and/or restaurants…all for $35/night in a single or $45/double (private room with en-suite bathroom).
Honestly, I'm not sure you'd find a better place even at double the cost! I had a great stay here and absolutely no complaints. Tico Adventure Lodge should be your pick for where to stay in Samara.
If you absolutely need a beachfront location when you're choosing hotels in Samara, try Locanda Samara Beach which has a prime location and super cute bungalows. I didn't stay there, but I can vouch for how comfortable their beach daybeds are.
For anyone on a tight budget, the dorms at Las Mariposas are supposedly the best in town (and just $11/night). It's pretty close to the Flying Taco, a bar that can have loud music at night, so pack a pair of earplugs just in case.
Is Playa Samara Costa Rica Safe?
Yes!
Without hesitation, I recommend Samara as a safe place for all travelers. Solo female travelers, families, and visitors who don't speak Spanish should all feel very comfortable here.
Take basic precautions like you would anywhere — don't walk by yourself late at night, especially if you've had a few drinks. Don't bring valuables to the beach and leave them unsupervised while you're swimming. Don't engage in illegal activities.
I think you'll also find that Samara lets you balance your own personal comfort zone. You can do everything independently, or stick to organized tours if you want a little help. Stick to restaurants with English menus or search for family sodas to try their daily special. It's all up to you!
Crime is not an issue here, other than taking basic precautions you'd take anywhere (like not bringing valuables to the beach while you're swimming in the ocean).
Is Samara Beach the Best in Costa Rica?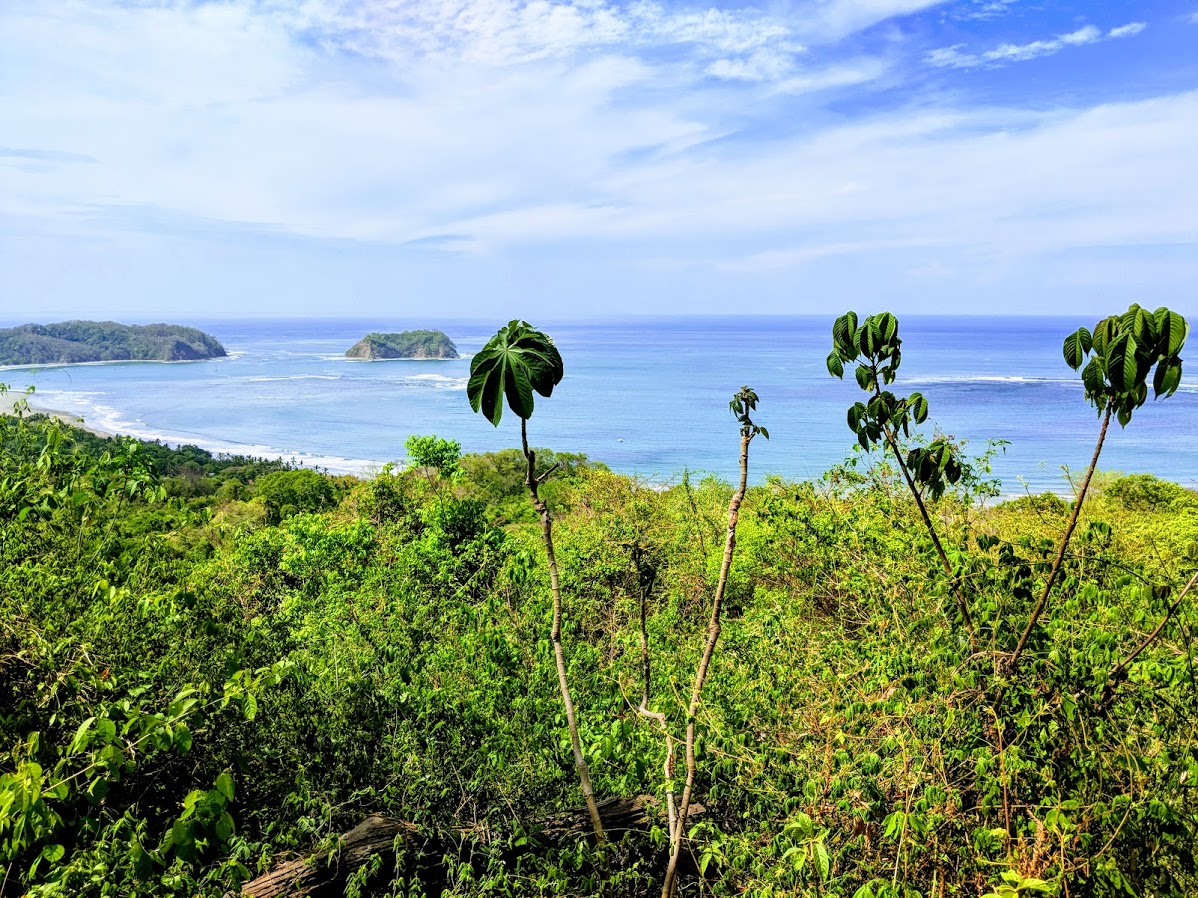 Depends on what you're looking for.
I've been to beaches with softer sand, bluer water, and better swimming conditions. But for the price, convenience, and the fact you can walk a little bit outside the main drag and feel like you're actually in Costa Rica (and not America) — it can't be beat.
* * *
This post was sponsored by Spirit Airlines — an easy and affordable way to get to Costa Rica.