This post may contain affiliate links. As an Amazon Associate I earn from qualifying purchases.
* * *
Considering it's such a fun city, it only makes sense to extend that spirit overnight by choosing from unique hotels in Chicago. I love when places surprise me or offer something I can't find anywhere else — and there are definitely some cool properties that you won't find anywhere else.
6 Unique Hotels in Chicago for Your Next Trip
Throw a Party at theWit Chicago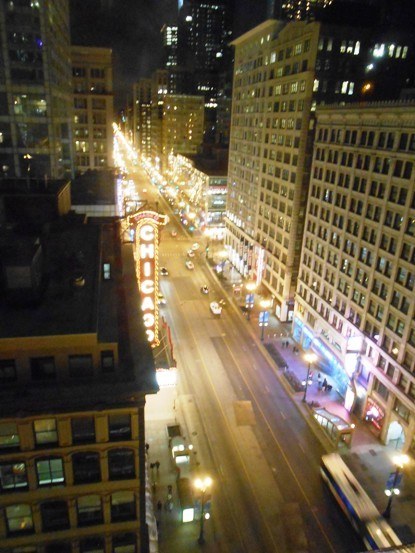 My absolute favorite hotel in Chicago, theWit, takes things up a notch. In addition to great rooms and fantastic service, their private multimedia theatre, SCREEN, is a real hit. Guests kick back in plush recliners while enjoying themed cocktails like Manhattans for "Mad Men" marathons or champagne for a glamorous Academy Awards showing. When you'd rather watch something from your own room, just watch the streets in action from your own bathtub.
>>>> Read my full review of theWit hotel.
Go Camping in the Heart of the City
When you and your partner can't decide between an urban or an outdoor getaway, go straight to The Gwen, part of the Marriott Luxury Collection. As soon as the weather turns warm, you can book a room with a terrace overlooking the city — where they'll set up a tent decked out with lanterns and even a s'mores kit. Not into camping? No problem…you can head in and out at your leisure.
Party Like a Rockstar at Hard Rock Chicago
At first glance, the Hard Rock Hotel Chicago looks like just another hip hotel, but it offers a unique set of amenities. Choose from their list of more than 20 different Fender guitar and bass rentals for your stay (they come with headphones and an amp). If you're like me, and you don't know how to play the guitar, you can try DJ equipment instead for a mini-party in your room. Just don't wake the neighbors!
See the World Through New Eyes at ACME Chicago Hotel
Smack dab in the center of the River North neighborhood, the ACME Hotel Company: Chicago Hotel offers modern rooms and craft cocktails, but that's not all. Stop by the front desk and ask for your free Google Glass and wi-fi hotspot to go. You may look silly walking around in your new lenses, but you'll be a Chicago expert when you have instant access to the internet without pulling out your phone.
Be a Social Butterfly at HI – Chicago Hostel
Hostels aren't just for broke college students anymore, and the HI – Chicago Hostel is one of the best. Accommodations range from dorm bunks to private rooms, but it's not the beds that make it special. Join events like free downtown walking tours, pub crawls, and pub nights. Then settle into the social atmosphere with activities like make-your-own Chicago hot dogs and improv comedy shows.
>>>>> Find more things to do in Chicago, including some unusual hands-on activities.
Stay with Friends at Hotel Monaco Chicago
Not only does the Hotel Monaco Chicago invite your pets to stay with you, but if you don't have one, they'll let you borrow one. The hotel's resident dog, Oliver, loves to greet and play with guests in the lobby. You can also borrow a goldfish for your room through their "guppy love" program. Guests can enjoy their new pet without any hassle; staff take care of the cleaning and feeding for you at this boutique hotel.
Chances are, your days in Chicago will be busy with activities and tours, but that doesn't mean the fun ends back at the hotel. Next time you're in the area, spice up your trip with these six fun and unique Chicago hotels.