This post may contain affiliate links. As an Amazon Associate I earn from qualifying purchases.
* * *
It's probably not a coincidence that Naivasha was my favorite place in Kenya. After all, it was one of the few places where there are opportunities to stay active while simultaneously feeling like you're on safari. Even if you love traditional game drives, there are still a lot of places to visit in Naivasha that are absolutely worth your time. In fact, I spent two nights there and feel like I could've spent double that if I had had the time!
Let's start with a little context first: Lake Naivasha is a large freshwater lake north of Nairobi. Supposedly, it's an hour and a half away but the highway is currently under construction, making it more like 2-2.5 hours drive (more if you hit bad weather, a holiday, or a spat of bad luck).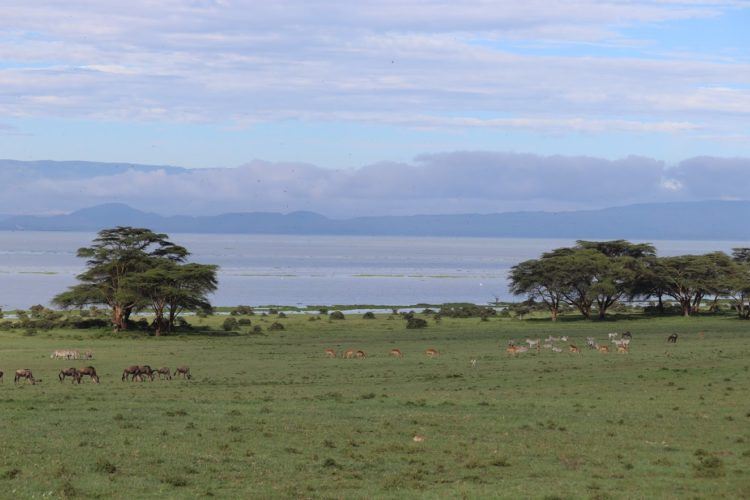 Naivasha town is a decent distance from the lakefront and the most popular tourist hotels and resorts. It's nearly impossible to walk from site to site, although matatus (buses) head up and down Moi South Lake Road. Still, without a car, you'll feel a little isolated at your hotel.
Most Naivasha visitors are here for one of a few reasons:
It's a popular day trip from Nairobi for visitors who want to see Hell's Gate National Park
It's a popular weekend getaway for Nairobi locals and expats
It's a popular stopping point to break up the drive between Amboseli and Masai Mara parks
We actually made a special trip to visit here because there's quite a bit to see and do in the area. I'll break it out by some of the best attractions and things to do in Naivasha Kenya.
Hell's Gate National Park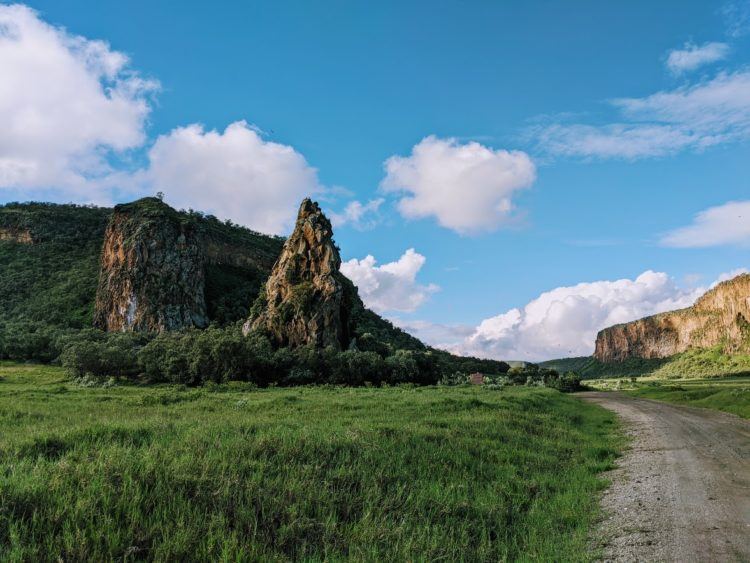 Hell's Gate is the best known and most popular Lake Naivasha national park. Compared to other parks in Kenya, it's unique because most visitors come on a cycling safari!
Bikes are available to rent outside the park and the vast majority of them are in pretty sorry condition. But the main road through the park is only about 8km each way (there are spur trails if you're so inclined), so if you can suck up a bad ride for a short trip, it's a unique way to explore the area. Be prepared to weave around large rocks, potholes, and other obstacles so you won't be biking fast even if you're a pro!
The appeal, other than simply taking a spin, is to be amongst the cliffs — tremendously beautiful scenery — and to get a close viewpoint to animals that are often close to the side of the road. Zebras, hartebeest, gazelles, and other hooved animals are common here and I saw close to two dozen warthogs along my ride! You'll also see numerous vultures, buzzards, and nearly 100 other species of birds.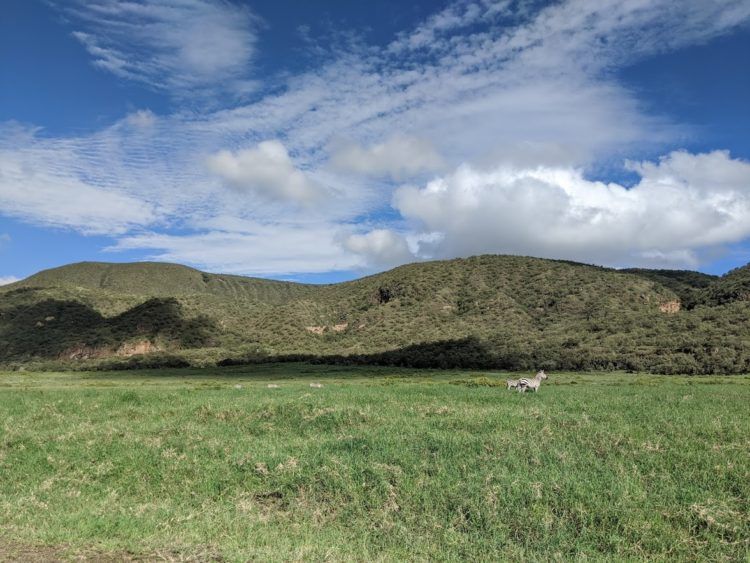 At the far end of the park, there's a famous gorge hike (allow 1-2 hours, and go with a guide, which you can hire by the ranger station at the gorge entrance). Unfortunately, the gorge was closed at the time of my visit due to flash flooding, and this seems to be common if you're visiting October-December or April-May. If this is important to you, ask if the gorge is open before buying admission!
Park Entry: $26 + $3 to bring a bike in with you (bike rentals themselves are about $6). You'll need cash for the bike rental and credit card only for the park admission.
Hell's Gate Travel Tips:
Go early! I was literally the only person in the park before 9am, and it was an incredible feeling to have this vast park all to myself (although I was glad I only found out later that a lioness had migrated here in search of dry land; predators aren't normal in the park)
Bring as little as possible. These bikes aren't comfortable and it was made worse because I was carrying a heavy backpack. A cell phone for pictures, a wallet, and a water bottle is enough.
Wear sunscreen. There's no shade on the main road and the sun is strong here.
Bonus tip: rock climbing is popular here and can be arranged through your hotel (or most likely, by inquiring at the entrance station).
Crescent Island Game Sanctuary
For another chance to get up close and personal to wildlife, add Crescent Island to your plans. The island has the highest density of animals of any park in Kenya, so you're guaranteed sightings! More notably, even though the animals here are wild, they are used to human presence so you can get relatively close to observe or take photographs as you walk around the island.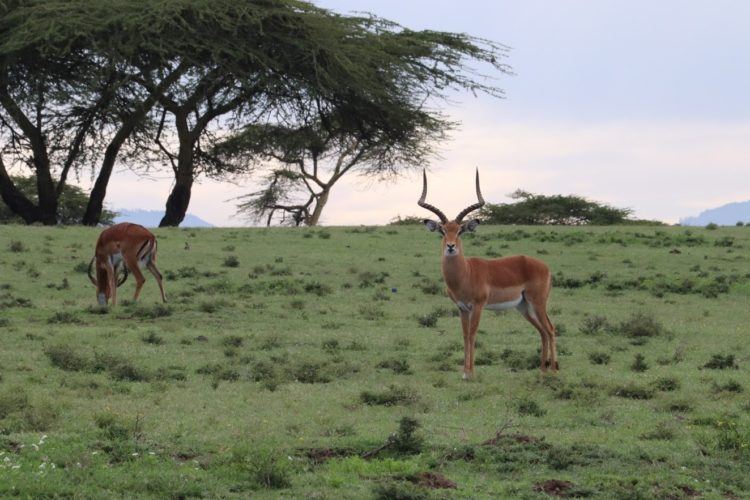 There are no big predators here — unless you count a python or two — so you're free to walk around as long as you stay out the way of buffaloes. A little common sense will go a long way.
You'll see zebras, gazelles, impalas, waterbuck, bush buck, and maybe more. And, you'll see them going about their day, undisturbed by your presence.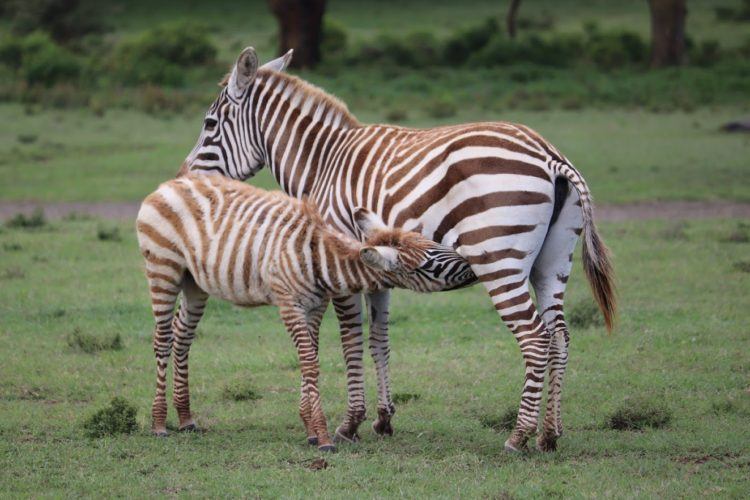 Park Entry: $30 cash, which I thought was on the high side considering you can walk around the island in 2-3 hours. They know it's a unique experience and charge accordingly. Feel free to pack a picnic and stay all day.
Hours: 8:30am-6pm. I'd recommend going late afternoon (maybe 4ish) to see the animals when they're active before dusk.
Lake Naivasha Cruise
Just about everyone who comes to Naivasha takes a boat ride on the lake to see if they can get closer to hippos and crocodiles. Most trips are about an hour long, with a guide who will point out and identify birds throughout your cruise as well as keep you a safe distance away from the hippos, who can quickly become agitated.
Unless you're a birder, this isn't the most exciting excursion in Naivasha, since both hippos and crocodiles spend the majority of daylight hours lazily floating in the lake (or even underwater). However, you'll likely see African fish eagles and pelicans, and perhaps even herons, cormorants, or egrets.
Naivasha Boat Costs: The going rate is 3000 shillings per person, per hour (about $30), with trips departing from Sopa Resort, Fisherman's Camp, Camp Carnelly's, Elsemere, Sanctuary Farm, and more. If you're on a tight budget, head to Karagita Beach and negotiate hard with anyone who has a boat!
Horseback Riding at Sanctuary Farm
Right next to Crescent Island (with no fences in-between), you can go for a trail ride with Sanctuary Farm and see tons of animals from yet another perspective.
Now, I'm not normally much of a rider, but supposedly being on horseback means that the other animals ignore you entirely, recognizing only the four legs carrying you! Because of that, you'll see their normal everyday behavior without them giving you a second glance. It seems like a cool twist on things and an activity I may have prioritized higher if I had had extra time.
Crater Lake
I traveled out to Crater Lake, not realizing it was nearly an hour each way from my hotel. It's not a far distance, but the road was the worst I saw in all of Kenya so it's pretty slow going. Don't stress to much about this: the road leads you right through Oserengoni Wildlife Sanctuary and there's plenty to hold your attention along the route.
Like the name suggests, Crater Lake is a green lake in an old volcanic crater. The lake itself is not the main reason to visit, but rather there are a few hiking trails here where you'll have absolute solitude.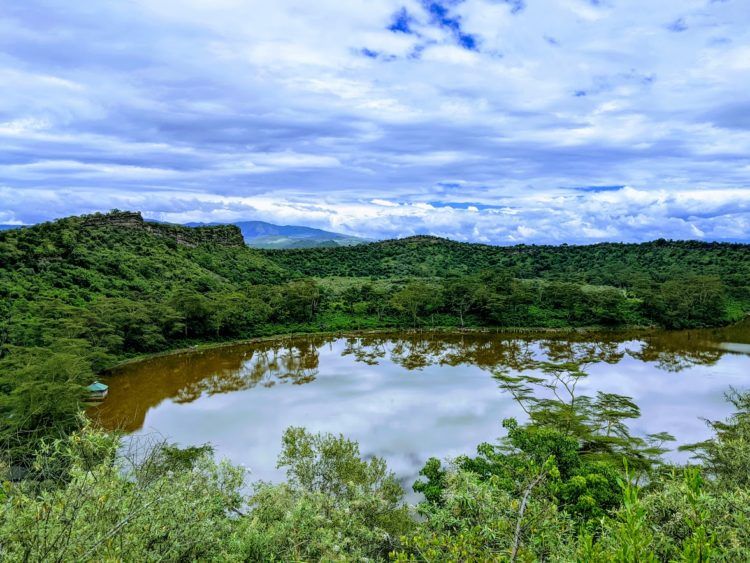 There are two main loops here, each taking you 2+ hours. The first heads from the lodge up to and around the crater rim, passing through forests along the way. You'll see Crater Lake, as well as Lake Naivasha from some of the higher vistas. The other loop covers more distance but without as many steep climbs and gives you the opportunity to see animals hidden in forest scenery (unlike the open plains of Crescent Island or Hell's Gate).
I took the crater rim hike, which was fine but not extraordinary. If I went back, I'd encourage you to get a map for the wildlife hike instead. Either way, pack insect repellent. This was the first place in all of Kenya that seemed to have a healthy population of mosquitoes.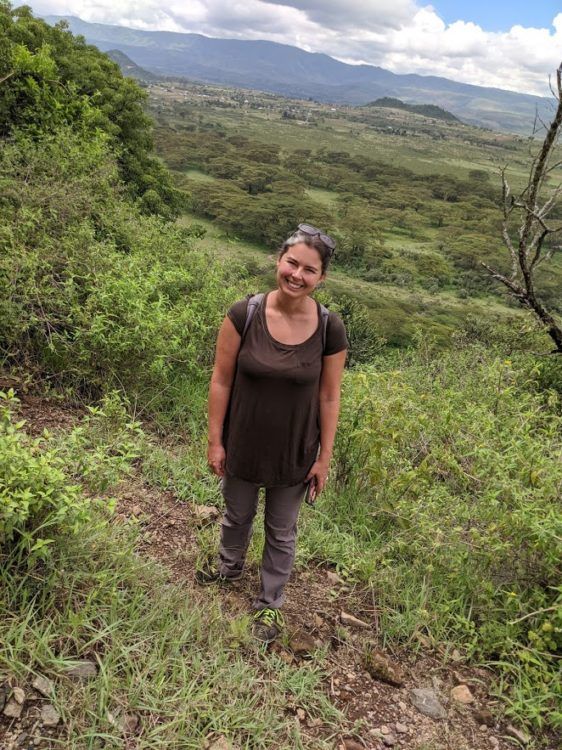 Crater Lake Entry Fee: They asked for a $22 entry fee, although it felt negotiable, especially if you planned to stay for a meal in their restaurant.
Bonus Tip: Since the road here is so bad, I'd contact them ahead of time to see if they can arrange a driver with 4WD, or at the very least, higher clearance than a standard taxi.
Olkaria Geothermal Spa
Don't get yourself worked up just yet: this is not Iceland's Blue Lagoon, it's just a hot swimming pool outside of Hell's Gate.
It was too hot outside for me to want to sit in a hot thermal pool, but the Olkaria Geothermal Spa is a popular place for locals to come. Because Kenyans are so welcoming, I imagine a few hours here would be an awesome way to meet a few people and enjoy a few conversations.
I wouldn't make a special trip just for this, but nonetheless it might be a good "Plan B" on a cool or rainy day (or if your muscles need a good soak in the naturally heated water).
Thermal Pool Admission: I was told it was $30 for foreigners, which sounds absurdly expensive to me. Credit card only.
Mount Longonot National Park
Mount Longonot isn't actually in Naivasha, although it's closest city to base yourself in for this day trip.
I wish I had an extra day in my schedule to add this to my plans because hiking here sounds wonderful…probably better than the Crater Lake hike I carved out time for. Unlike other preserves in the Naivasha area, this hike is 100% focused on nature and scenic views, rather than wildlife.
It's not supposed to be an easy hike — you'll have to climb up, then down, the mountain — but it's short enough that you can do it as a day hike. Besides, who wouldn't want to say they climbed to the highest point of the Great Rift Valley? On my next trip to Kenya, I'll include this in my plans.
Mount Longonot Costs: Entry is $26, though you'll also need to arrange a driver and guide.
The One Place I Don't Recommend Visiting from Naivasha: Lake Nakuru National Park

You'll see plenty of articles encouraging you to day trip to Nakuru from Naivasha. I'd personally vote against this: for one thing, it takes longer to get there than any tourist agencies will admit. Secondly, most of the flamingoes have flown away (the lake lost its salinity due to too much rain/climate change) which means the wildlife that remains there — rhinos, for example! — are most commonly see at dusk and dawn…times that lend themselves better to spending the night than day-tripping in.

By all means, go visit Nakuru, just don't do it as a day trip from Lake Naivasha.
Where to Eat in Naivasha
Like most safari lodges, Naivasha tourist hotels operate on a full board basis where all meals are included in your rate. You're not always locked into this, although the cost difference between room only or room and board is usually minimal. Because of this, you probably won't need to eat many (any?) meals off-site.
Two places to check out, if your meals aren't included or if you're just desperate for a change of pace:
Afternoon Tea at the Elsamere Hotel
If you haven't seen the elusive colobus monkey on any of your safaris, one of the places to visit in Naivasha for a sighting is the Elsamere Hotel.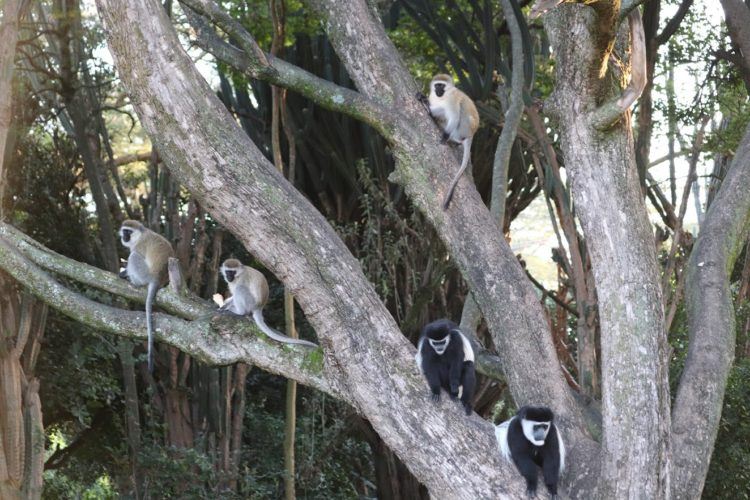 Even if you're not staying here, you can join them for afternoon tea at 3:00 (reservations required). You'll get a chance to learn more about Joy Adams and the Elsa Conservation Trust before munching on homemade cookies and tea. This isn't a fancy high tea — it's Naivasha, not the Ritz — but colobus monkeys are known to play in the yard outside the hotel making it a fun excuse to indulge in sweets.
Chilled Out at Lazybones Bar & Restaurant
At Camp Carnelly's, on the lakefront, Lazybones Bar & Restaurant is a great place to just relax before or after taking a boat cruise. You'll find cushions on the floor to sprawl out on while giraffes meander by.
It's known for it's fresh lake tilapia, but if you're not hungry enough for a full meal, you can still go and enjoy fruit smoothies and cold drinks in a lovely setting.
Where to Stay: Sopa Lodge Naivasha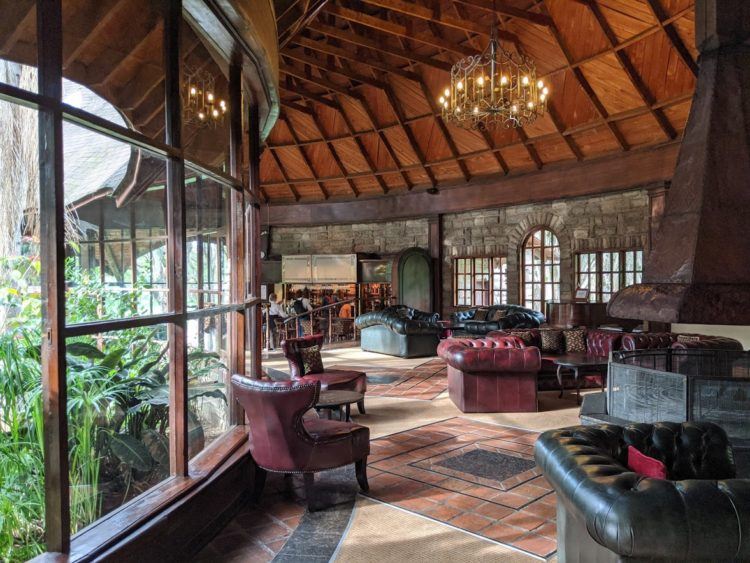 As far as I'm concerned there's only one place that should be on your list of Naivasha hotels: Sopa Resort. We stayed here for two nights even though it was a splurge for us, but it was worth every penny. This was by far the best hotel of our trip, both in terms of quality accommodations and an incredible setting.
Not one to pay for luxury hotels, we splurged here because of its resident hippos rather than four-star status. Every evening, from dusk until late, hippos come ashore to graze on grass and other foliage on the hotel lawn. Hotel security staff will escort you outside and use flashlights to point them out to you from a safe distance.
In addition to hippos, there are dozens of zebras and waterbucks that also live on the property; we had one buck who slept on our patio overnight, mere inches from our room. Verdant monkeys swing in trees overhead and there are rumors that one of the giraffes stops by the pool every so often to perform his lifeguarding duties.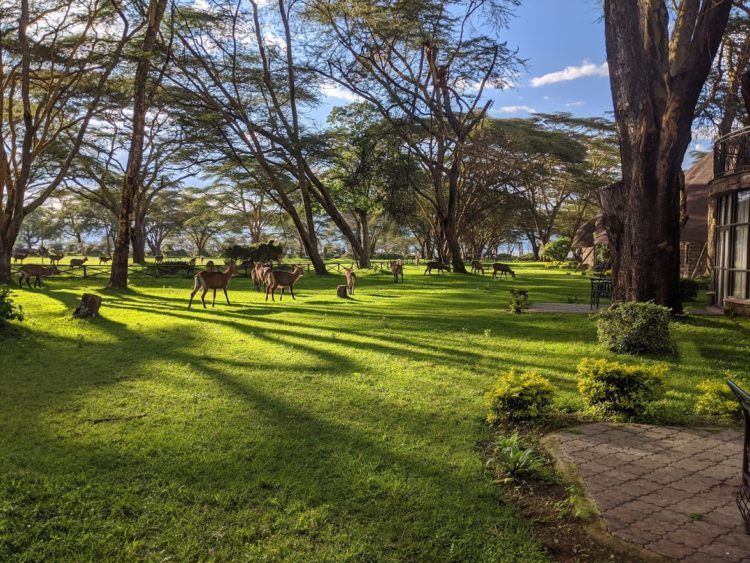 We found our room very comfortable and enjoyed the property's pool, selection of teas, and chatting with staff who are eager to share stories of baby animals' birthdates or monkeys' mischievous antics.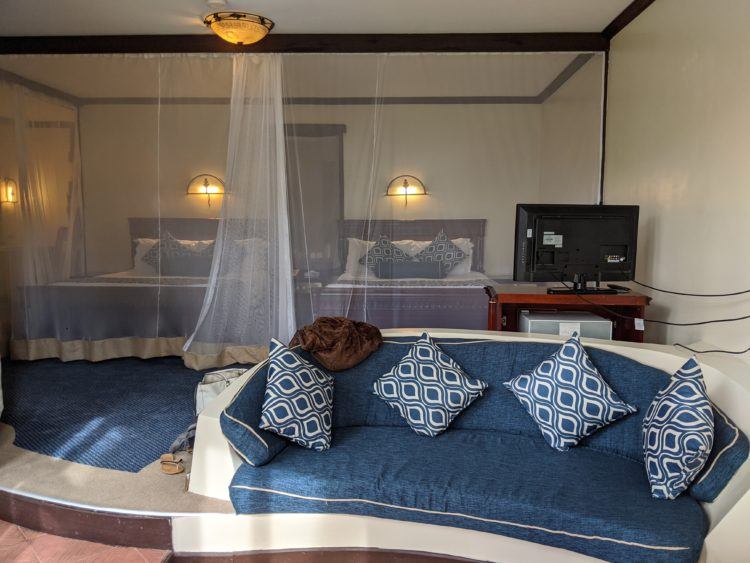 How to Travel Between Nairobi and Naivasha
If you don't have a private driver, there are a few ways to get from Nairobi to Naivasha or vice versa.
Your fastest option will be a taxi. Don't expect drivers to use a meter; you'll need to negotiate a fare in advance but expect it to be in the neighborhood of $100.
The next most comfortable option will be a "Mololine Express" minibus. These buses leave from Nairobi-Odeon Station and pass by Naivasha on their way to Nakuru. Locals told me it's a great northbound option for about $6, but heading southbound, there's not always an open seat.
Because of that, if you're heading southbound from Naivasha to Nairobi, you may want to take a standard matatu minibus for ~$3. These buses leave from the Naivasha bus depot throughout the day (like many countries, they leave when they're full, and in this case that usually means every 20 minutes). Expect it to be a cramped ride and keep an eye on your wallet and cell phone because it's not unheard of for things to go missing on these rides.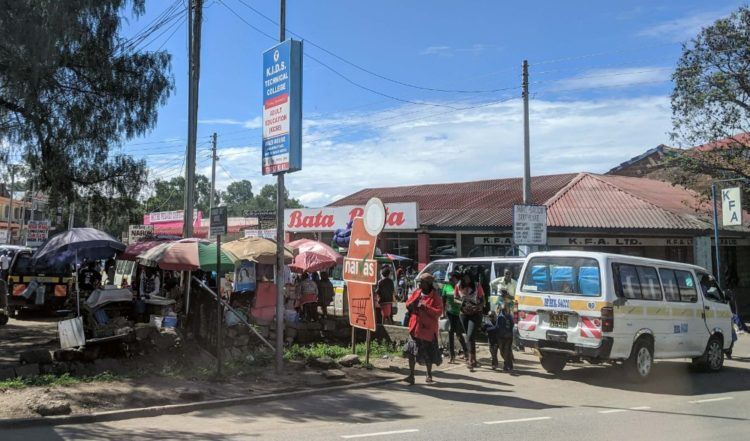 Should You Day Trip to Naivasha?
This was my original plan and one that seems pretty common on Kenya itineraries. If that's all you have time for, I think Naivasha is special enough that it will be worth the hassle of driving there and back in a single day (this was a much easier trip before the highway was torn up).
When you're looking for day trips, I'd choose one that specifically covers BOTH Hell's Gate and Crescent Island. If you're going to spend that long in a car, you may as well pay a little extra to see the area's two best parks.
In a perfect world, you'd spend the night…or perhaps even a few.
Sample Itinerary for Naivasha Kenya
Too many travelers use Naivasha as a stopover point between Amboseli and the Mara, arriving just before dinner and departing after breakfast without time to do anything.
With one full day, you can visit Hell's Gate National Park in the morning, stop for lunch at Lazybones restaurant and then take a boat ride from there to Crescent Island (yes, use the boat as transportation instead of a traditional cruise). Walk through Crescent Island in the afternoon and return to Sopa Lodge in Naivasha to see the hippos that night (and other animals at dawn).
If you have two days, you can choose another activity or two that sounds best for you — and with three days, you could likely do it all.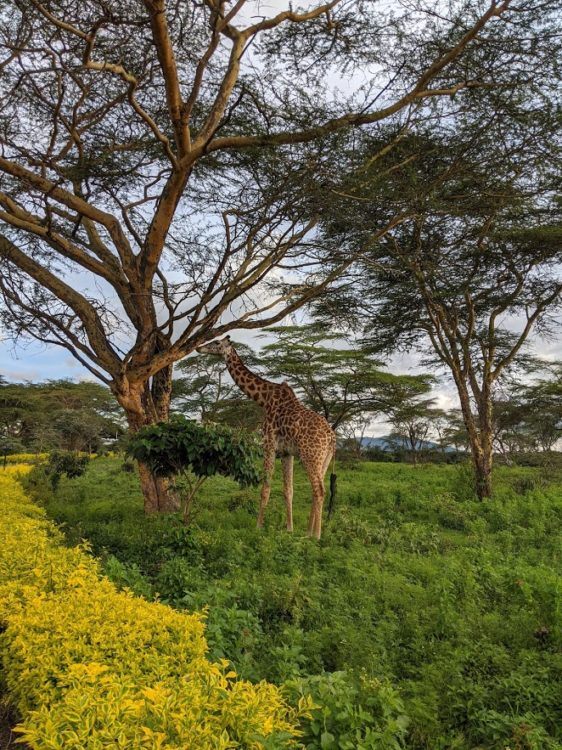 Unlike most spots in Kenya, Lake Naivasha attractions allow you to get out of the car and explore on foot, which is a welcome change after spending multiple days doing traditional game drives. It's a great way to add variety to your Kenya trip and a beautiful place to spend a few days.
Read More About Kenya