This post may contain affiliate links. As an Amazon Associate I earn from qualifying purchases.
* * *
Travelers fall into two camps: those who love cruising and those who think it isn't real travel. Strangely, a lot of travelers who criticize cruising have never tried it! Many of them just haven't had the chance. Others raise claims on why cruising isn't a good vacation for them. All of these concerns stem off of stereotypes — usually from outdated experiences or exaggerated concerns. Today I'll share some of the biggest cruising misconceptions, as well as recommendations for cruises that solve that problem.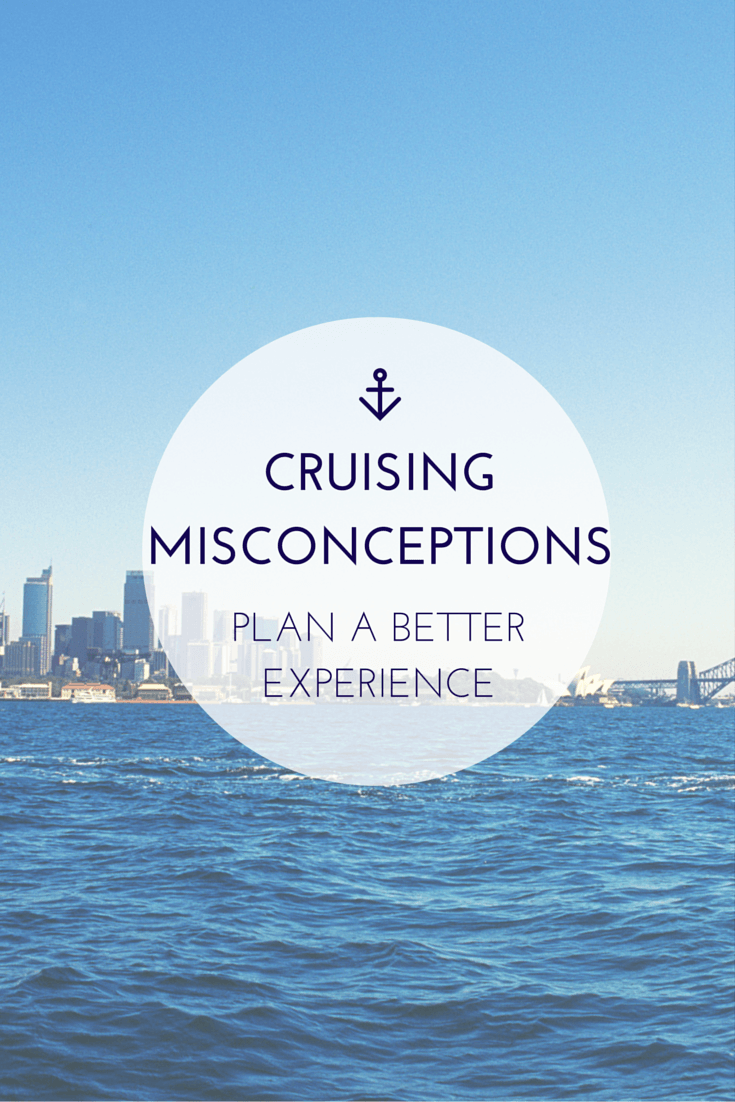 Cruise Myth #1: I'll Get Bored!
Let's face it: you're stuck on a ship for a week (or more!) so boredom sounds like a real possibility. Luckily, having nothing to do isn't the reality for cruises. Every cruiseline publishes a daily activity schedule with special activities including language classes, cooking demonstrations, group trivia, wine tastings, comedian performances, and more.
On top of that, just about every mainstream ship has pools for sunbathing, theatres for live entertainment and first-run movies, spas, fitness centers, bars, discos, casinos, and art galleries. Oh, yeah – that's on top of spending some of your days in port where you can explore on your own or with a tour. You can have a sightDOING vacation if you want it!
Try: A cruise through the Western Mediterranean on the Norwegian Epic. Six out of seven days are in port exploring destinations that will keep you busy, including Barcelona, Cannes, and the island of Capri. When you're back onboard, you can spend your free time bowling, rock climbing, or seeing the Blue Man Group perform. Boredom will never cross your mind!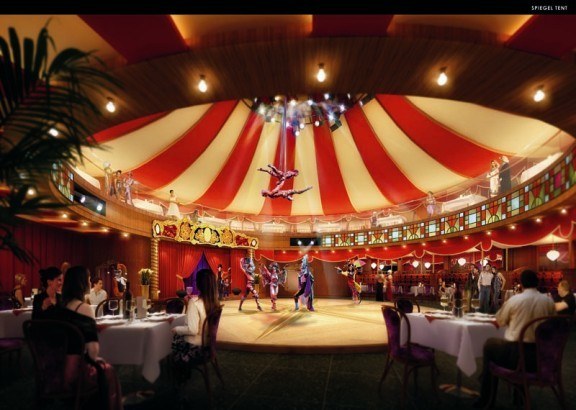 Cruise Myth #2: I'll Get Fat!
Somehow, cruising has become synonymous with the "midnight buffet". It's unfortunate that cruising has gained this reputation because just like at any restaurant, it's all about what you choose to eat. There's food everywhere (I'll give you that) but only to provide options and not to create a glutton out of you!
Restaurant portions are actually on the small side compared to American restaurants, as long as you don't return to the buffet between meals or order five courses at dinner. Every cruiseline offers healthy options, ranging from fresh fruit at breakfast to fully stocked salad bars open most of the day to low-calorie/low-fat options on restaurant menus.
While eating healthy is only half the battle, you'll be happy to know there's plenty of options to stay active both onboard and in port to work off those calories. Fitness centers on ships are actually quite extensive, and you can participate in exercise classes or work with a personal trainer just as you would at home.
Try: A southbound Alaskan cruise on the Celebrity Millennium. The Aquaspa Cafe in particular is known for serving light fare with a focus on lean proteins, whole grains, and fresh produce. Plus, Alaska lends itself to active experiences and adventures where you'll forget you're exercising and you'll probably crave a hot coffee instead of a calorie-ridden pina colada!
>>>>> Related Post: Plan Your Own Alaska Cruisetour: 2 Weeks by Land and Sea (opens in new window)
Cruise Myth #3: There's Not Enough Time to See Everything!
I don't disagree with this; cruises usually spend 8-10 hours in port which barely gives you time to scratch the surface of a city. This is a definite trade-off that allows you to sample a lot of different places without committing to any one city. You can always plan on returning to your favorite places for an extended visit in the future.
Embrace this trade-off: rapid travel isn't bad, just different. Careful planning will allow you to prioritize the attractions that appeal to your personal interests and hiring a guide can add local flavor to your abridged visit (and ensure you don't waste time accidentally getting lost). That being said, some cruises offer much longer port times than others, so be sure to pick a schedule that works for you.
Try: A cruise through the Greek Isles on Azamara Journey, where port days extend til 9 or 10pm. You'll have the perfect amount of time to see the highlights of your destination, sample a local lunch on shore, and even catch sunset.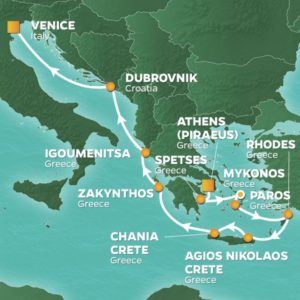 Cruise Myth #4: Cruising is too Regimented!
Historically, cruises were known for their rules: set dinner times, predetermined dining companions, and dress codes galore. Times have changed, and cruising rules have too.
Today, most cruise lines have no dress code during the daytime and lenient dress codes at night. You don't need dinner reservations and you can eat with whoever you like, whether that's family or new friends onboard.
Formality still holds its place in certain situations, such as the specialty restaurant onboard, but frankly, you'd never consider showing up to a five-star restaurant at home without a reservation while wearing a t-shirt and jeans. It's no different at sea.
Try: A cruise to Bermuda on Royal Caribbean. Dress codes are informal and with "My Time Dining", you can eat when and where you want. The Bermuda itinerary has a few overnights in port, so you're not even stuck to a docking schedule. Want to stay on the island until 2am? No problem. You can go with the flow.
Cruise Myth #5: The Whole Cruise is Just One Big "Nickel and Dime" Ploy
At one point, cruising was considered all-inclusive…and to an extent, that's still true. Cruise fare covers your accommodations, most meals, some beverages, and plenty of onboard activities. Still, there are optional upsells everywhere you look.
Can you go on a cruise and not pay a penny over your fare? Sure, just like you can fly to London and only go to the museums that are free. All the additional charges are for options, just like you have the option to ride on the London Eye, visit the hotel spa, or spend the night at a pub.
Cruising can be as cheap or as expensive as your heart desires, and luckily, price lists are available online ahead of time so you can budget appropriately for tours in port, mystery dinner theatres, and babysitting.
Try: A South American cruise on Regent's Seven Seas Mariner. Practically everything is bundled into one price with Regent, including a suite upgrade, alcoholic beverages (including the minibar), shore excursions, gratuities, fitness classes, and specialty restaurants. Plus they'll throw in a credit ($400+) for you to spend on anything not already included, such as spa treatments.
* * *
Ready to book? Check out three resources for booking a cruise — to make sure you picked the right one (and that you got the best price!).