This post may contain affiliate links. As an Amazon Associate I earn from qualifying purchases.
* * *
As an American, it blows my mind that Chinese businesses accept neither credit card nor cash after a long history of counterfeit money. They only accept mobile, electronic payment — WeChat Pay or AliPay. That alone isn't really an issue, except for the fact that it's impossible to set up a WeChat Wallet without a Chinese bank account.
So what's a girl to do? Find a workaround, of course. There are several steps, but it works and it makes paying for things in China so much easier.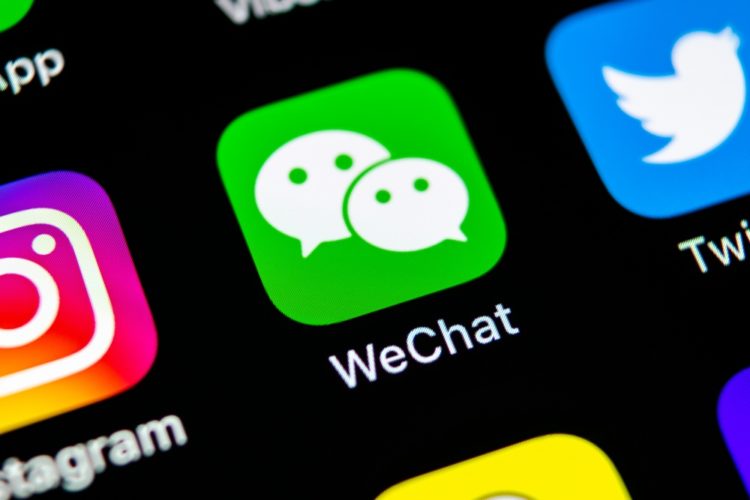 What is WeChat?
WeChat is a popular all-in-one app in China. It basically stands in for WhatsApp and Facebook, serves as a travel booking app for trains, planes, and hotels, plus has functionality to hail rides through DiDi (Chinese Uber).
The WeChat Wallet is widely used throughout the country and works much the same way Apple Pay or even a Starbucks app does on your phones at home.
Even in places that accept cash, mobile payment is a huge convenience because you never need small change for street vendors, are less likely to be ripped off by taxi drivers who "can't make change", and you won't be fumbling around because you're unfamiliar with which bills and coins you need to pay your bill.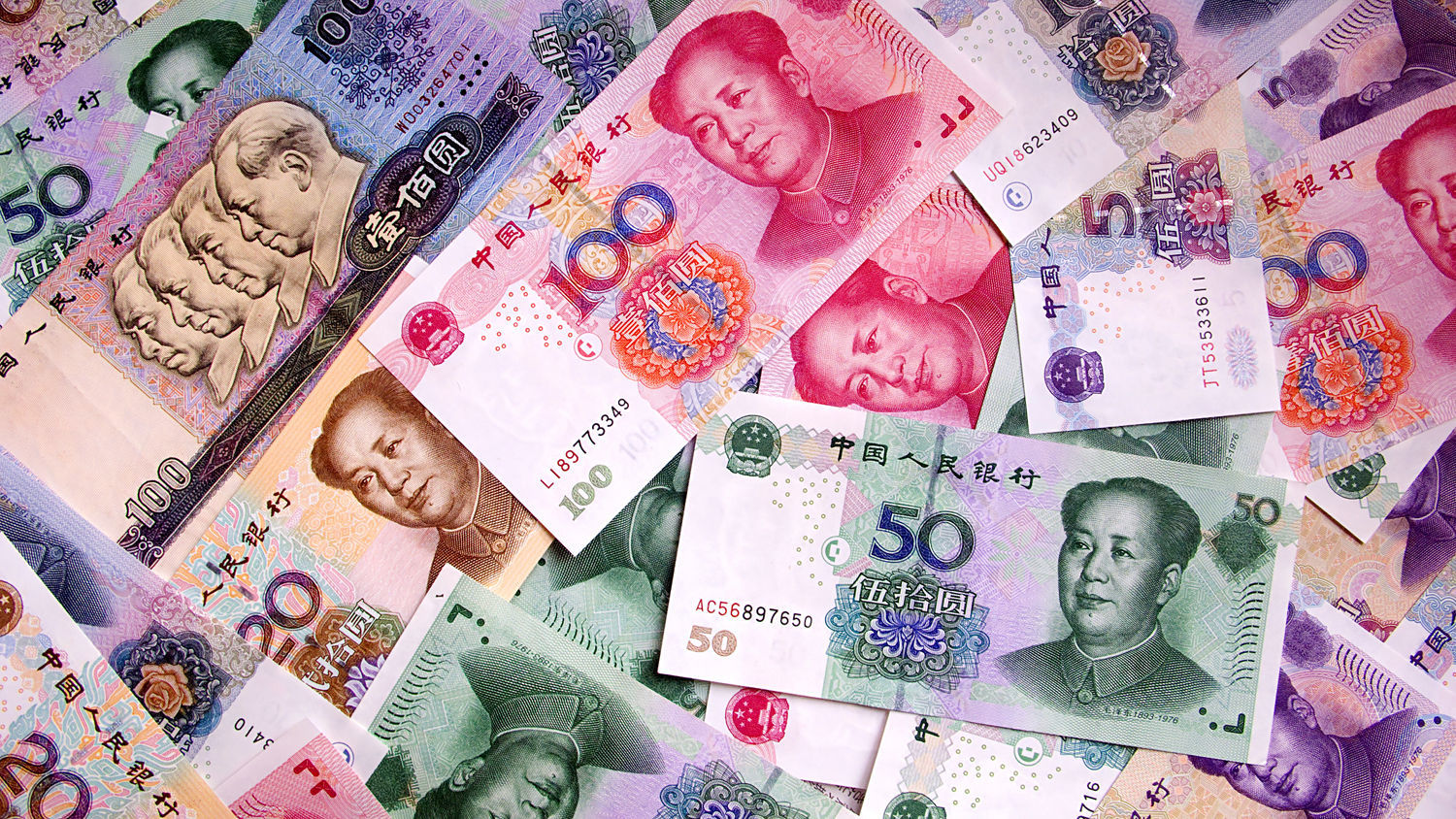 –> HEADS UP! <–

As of May 2019, the technique below does NOT work for WeChat. I've been following the comments from other readers and travelers and EVERY workaround is failing.

But good news! Now there's a workaround for Alipay, although it comes with a 5% surcharge starting in 2020. Up to you if you'd rather settle for paying cash everywhere in China or if you'd like to pay 5% for convenience.

(I'm leaving the WeChat information underneath here, just in case that workaround ever comes back, or in case you'd ever like the extra context).
Create WeChat Account
Creating an account is easy. You'll need to download the app on your phone and then sign up with your mobile phone number (one account per phone number). They'll send a verification code by text message and you're good to go for basic functions like messaging.
Even if you have no intention of using WeChat payment, you should set this up because tour guides will likely use this to communicate with you.
How to Set Up WeChat Pay
When you first login to your account, you'll only notice screens for messaging and contacts — nothing at all that looks like a payment service.
At the top of your screen, click on the magnifying glass and search for wallet. You should see the "My Wallet" feature pop up. It will say that you need to add a Chinese bank card, but in my experience, you can also add international Visa or Eurocard credit cards.
Walking through how to add a foreign credit card to WeChat is as simple as typing in your card number and billing address, though be aware you might get a "busy message" and have to try 2-3 times.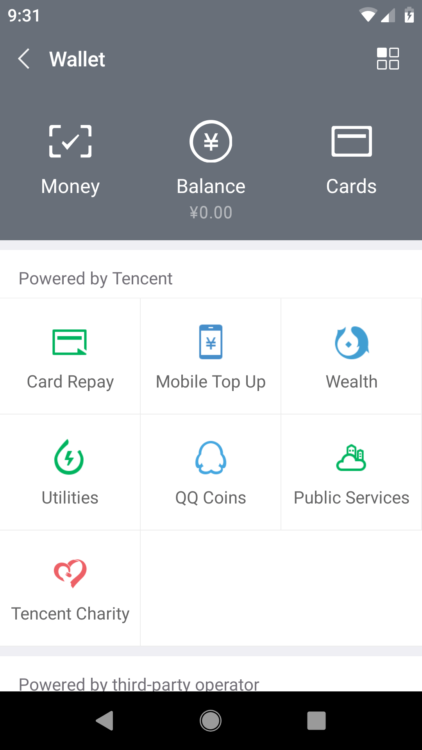 WeChat Pay for Foreigners Isn't *Quite* That Simple
The good news is you've linked a credit card which verifies your identity and is an important step in WeChat sign up. Unfortunately, you won't actually be able to pay for anything with your credit or debit card on the app unless it's officially issued by a bank in mainland China.
Thus, we'll begin the workaround.
Loading Money to WeChat Pay Without Chinese Bank Card
If you know and trust someone in China, you can have them send money to your WeChat Wallet and then pay them back offline. Funds are sent instantly and your balance can be used anywhere WeChat Pay is accepted. This is, by far, the ideal situation.
When you're in-country, you could even ask a hotel concierge or tour guide if they'd send you a payment in exchange for cash payment — although asking might be awkward 😉
Presumably, most tourists don't know anyone in China and want their balance set up before they start their trip. It was very convenient for me to arrive and immediately be able to pay for my DiDi ride from the airport and a street snack to power me through.
The way I did this was by adding funds to my WeChat Wallet with a service called Swapsy.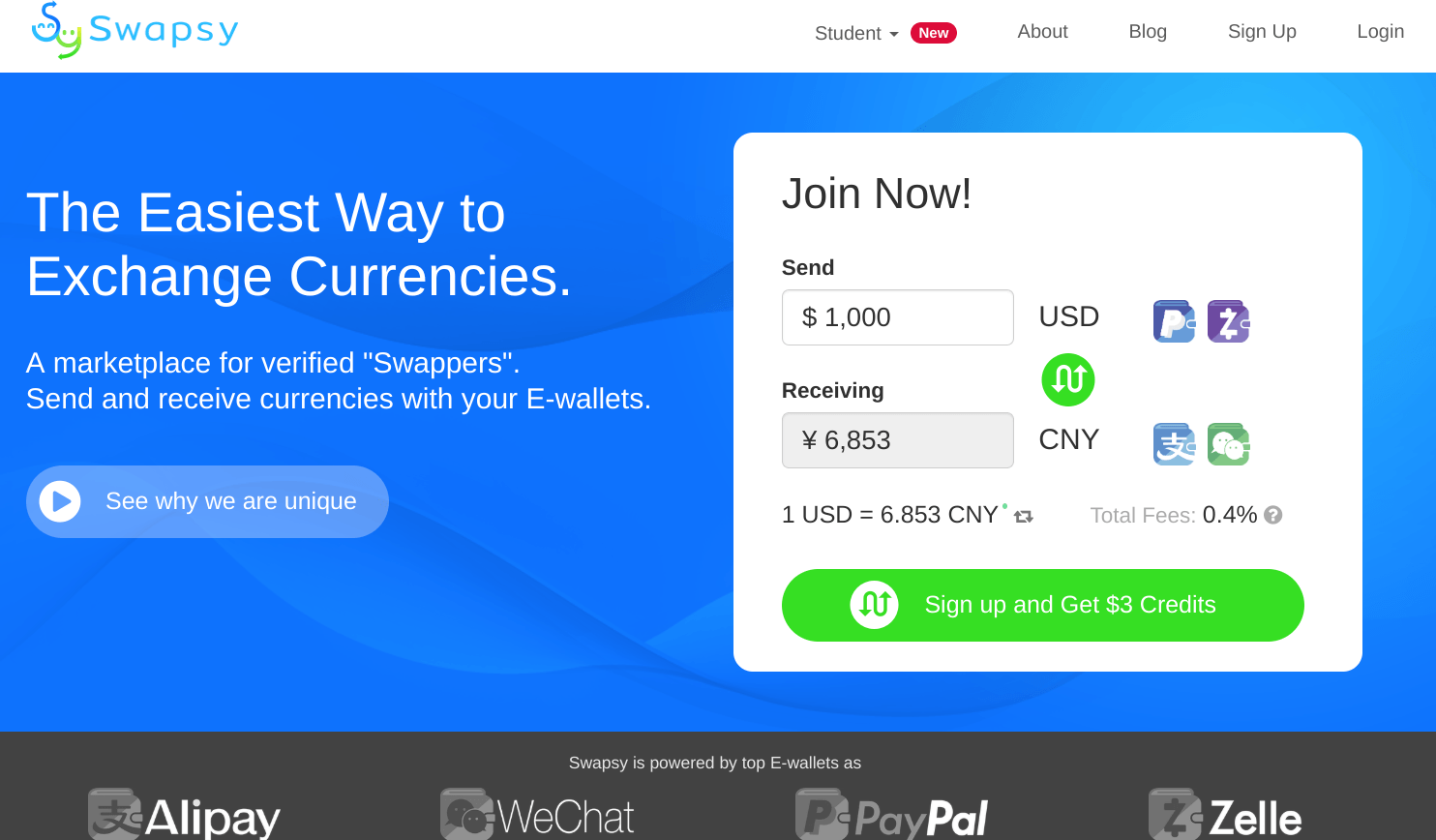 How Swapsy Works
Swapsy is a person-to-person marketplace for users to swap US Dollars for Chinese Yuan. One person will send dollars through Paypal or Zelle and in return, they'll receive an equivalent amount in CNY deposited to WeChat or Alipay.
**You do not need to live in the United States to use Swapsy, but you do need to send USD, which means you may encounter Paypal currency fees if your account is normally in euros, pounds, or any other currency other than dollars.**
And before you ask me to clarify, yes, you are sending money to a stranger. There is an inherent amount of trust that goes into this, though Swapsy supposedly guarantees the swap. All my transactions worked as expected, so I can't verify if/how they assist if the swap doesn't pay out.
Although Swapsy is easy to use, it does require you to verify your real name by uploading a copy of your driver's license or passport, so you should get started a few days before your trip begins to ensure everything's in order before you arrive. You'll also need to link your finance accounts (Paypal, WeChat, etc.) to Swapsy.
Sending Money Through Swapsy
Once your account is verified, you can enter the marketplace. There are two ways to trade money:
Find someone's existing request and pay them the amount specified (lower fees and essentially an immediate match)
Start your own request for a specific dollar amount (higher fees and you may need to wait for someone to match up with you)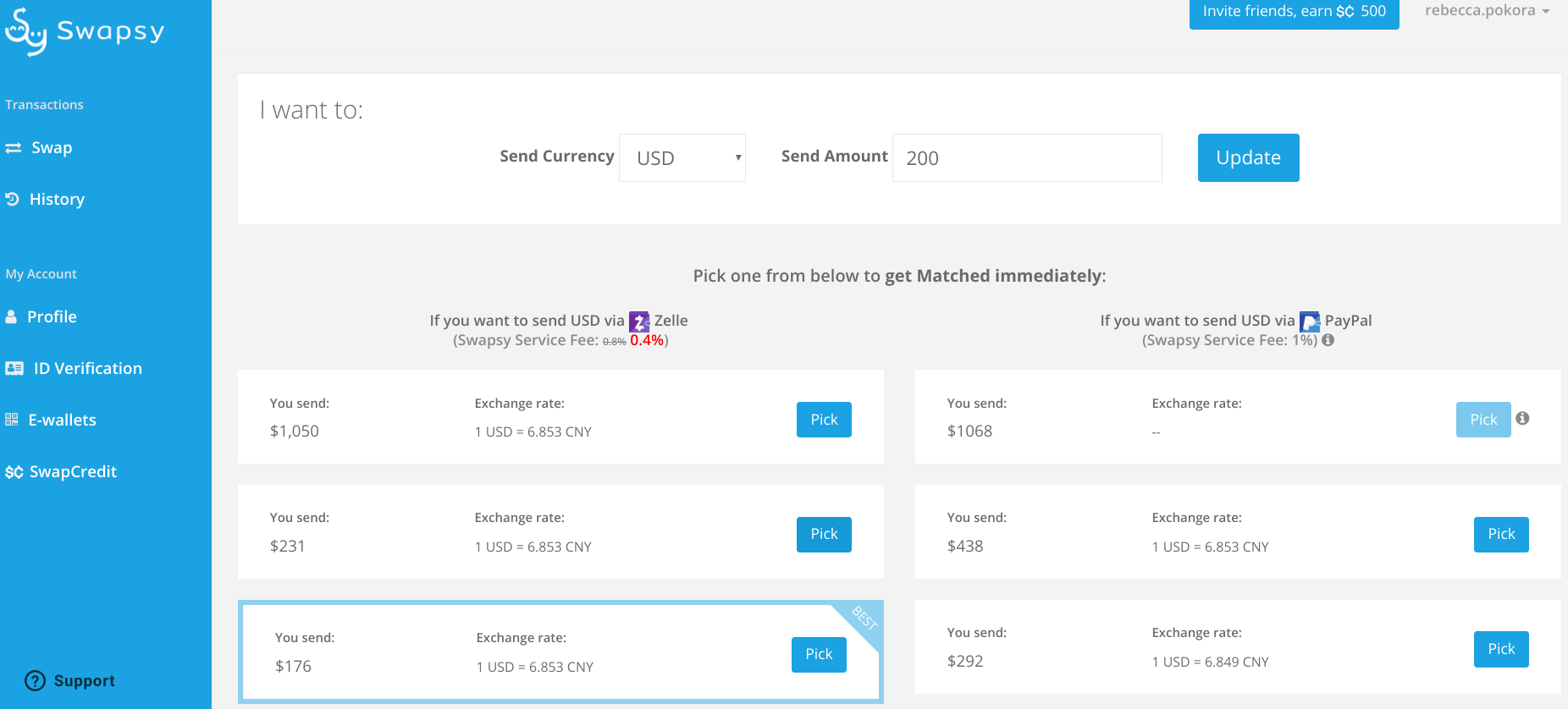 Once you select a swap amount, you'll be directed to choose whether you are going to send USD through Paypal or Zelle and if you'd like to receive CNY via WeChat or Alipay.
Then, Swapsy will tell you who to send the money to (e.g. a Paypal account email address) and ask you to upload proof of payment (like a screenshot) after you've completed the transfer.
Since the other user needs to manually send you the reciprocal payment, it can take take up to 24 hours for you to receive money.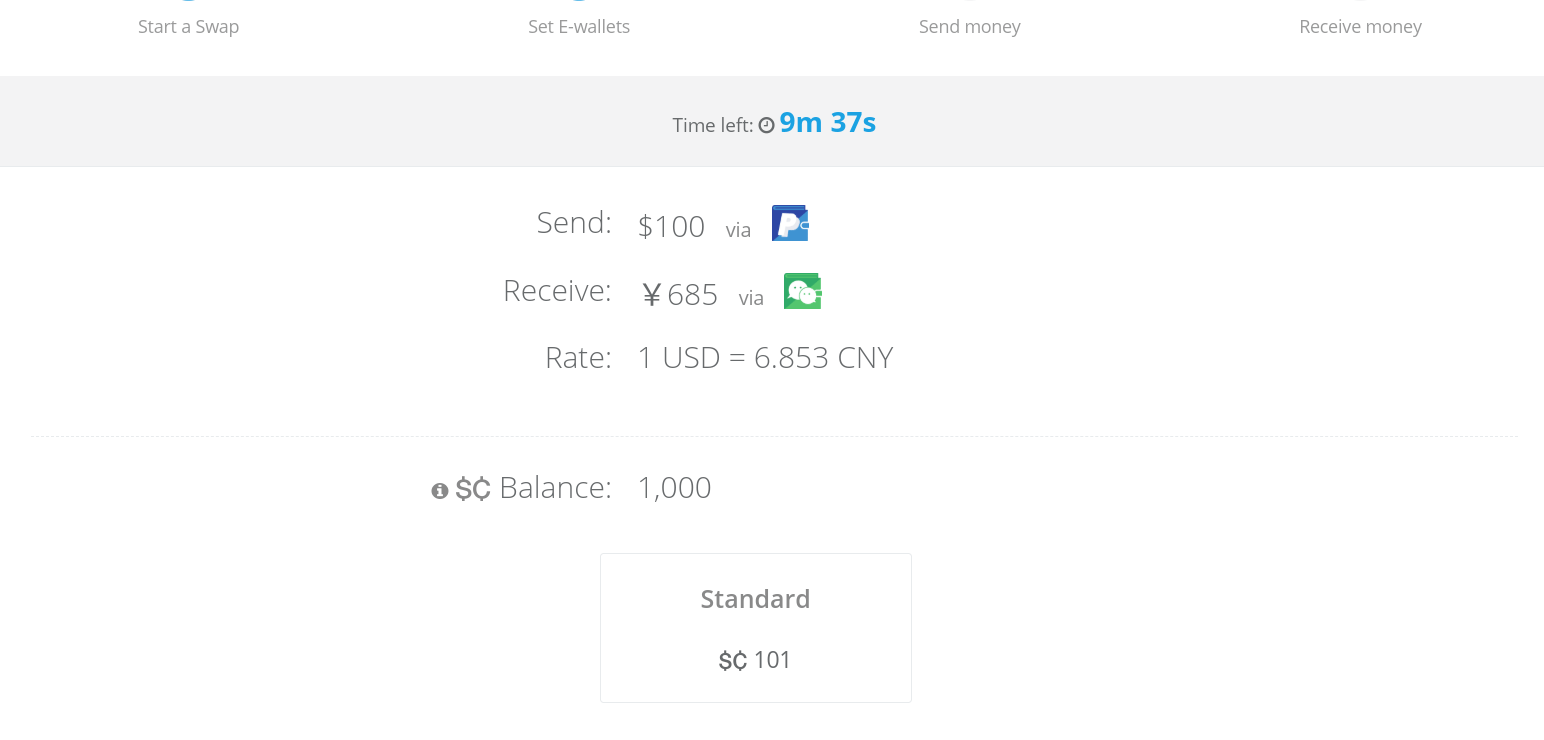 Swapsy Fees
Good news first: Swapsy uses the official interbank currency exchange rate. Hooray!
However, they do charge you a separate fee (paid in "Swapsy credits"). The fees range from 0.4%-1.5% depending on if you initiate the transaction or match up with an existing transaction and whether you send payment through Paypal or Zelle. It's worth noting that Paypal credit card fees, if any, are charged separately and payable directly to Paypal.
On small transactions, you'll still be charged a minimum fee of 100 Swapsy credits = $1 to transfer money.
When signing up, you'll get 500 free Swapsy credits if you use a referral link (the best public offer is otherwise 300 credits). You'll also get 200 credits for verifying your ID and 100 credits for verifying your phone number. Free credits expire after two weeks, but if you time everything correctly, you'll probably get enough free swaps to cover your entire trip.
All the money in your WeChat Wallet is stored as a balance and can be used for payment throughout China.
A few quick Swapsy tips:

Paypal fees are higher than Zelle, but they go through more quickly. There are often holding times (1-2 business days) with Zelle when sending money to an individual for the first time.
Because Swapsy has a minimum $1 fee, you'll be charged the same whether you use Zelle or Paypal on swaps of $100 or less.
When I returned home to the USA, I started a new, custom match for the 430 CNY left in my WeChat Wallet and was able to effectively empty my wallet back into USD.
There is a maximum $2,000 day / $16,000 month limit per Swapsy account.
How to Use WeChat Pay
There are two ways to pay using your WeChat Wallet. Most brick & mortar businesses will ring you up at the register like normal. Then, on your app, you'll hit the "+" sign on the top, choose money, and click OK to display a barcode. The vendor simply scans the barcode and payment is instantly made.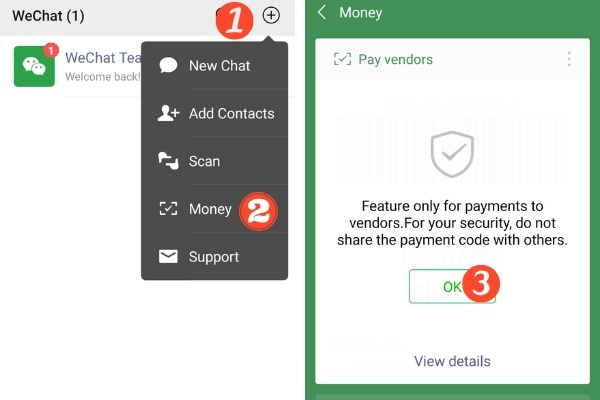 In some circumstances, the vendor won't have anything to scan your barcode so paying is slightly more difficult.
Instead, you'll hit the "+", then "Scan", which will bring up a QR reader. You'll just scan their QR code (trust me, they have one), type in the amount you want to pay, and select to pay with your balance. You'll get a final screen reviewing the transaction where you hit "Pay Now" to type in your PIN code and send the money.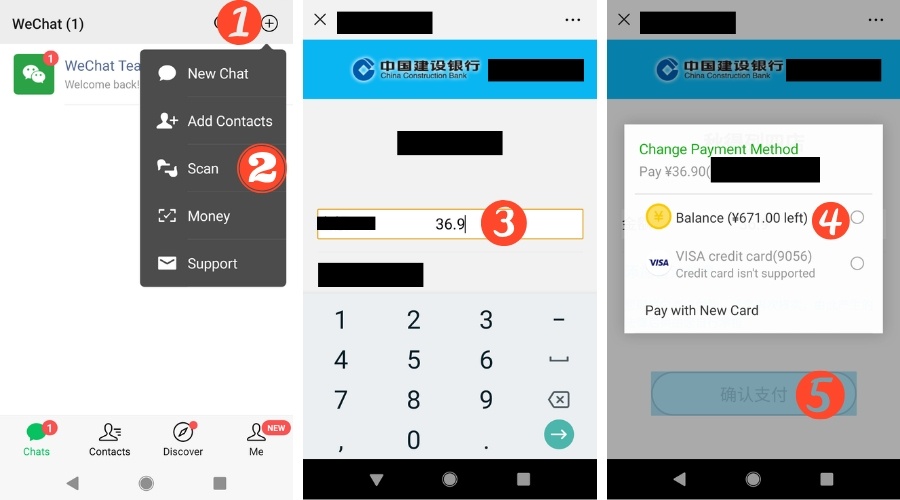 This sounds more complicated than it is. I didn't know what I was doing the first time, so I just handed my phone to the vendor and she did it for me while I watched. After you do it once, it will be very easy for you on future payments.
Bottom Line: It's Not Straightforward, but WeChat for Tourists is Possible
You can still use cash for all your purchases in China, but mobile pay is king. If you're willing to put in a little effort and plan ahead, WeChat Pay without a Chinese bank account is still possible and will make your travels through China easier.
Don't forget to read all the comments below for more recent tips!