This post may contain affiliate links. As an Amazon Associate I earn from qualifying purchases.
* * *
There are things that sound like a good idea and then there are things that sound like a bad idea when traveling.
Take tejo, fondly referred to as Colombia's national sport. Locals get together to drink — heavily — and then throw metal pucks at triangle-shaped explosives made from gunpowder. I had to see it, so piling into a taxi to head to a semi-shady bar on a dark and deserted street seemed like a good idea. Nothing could go wrong, right?
(After all, I brought Jeff, my friend and "bodyguard", with me.)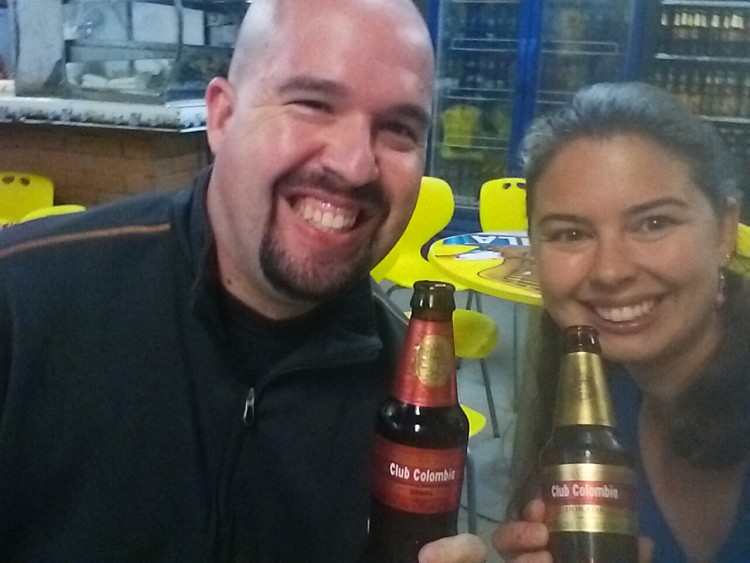 Long corridors lead to a board set up at a forty-five degree angle. They're covered with clay, so that the puck (or tejo) doesn't bounce out and hit someone. And the explosives? Those are mechas, or triangle-shaped envelopes containing gunpowder. They're specifically set up to sit on a metal pipe in the clay board so that if/when you hit them with the metal puck, BANG!
Neither one of us knew exactly what to expect, but when we got there, it was pretty obvious that it's like horseshoes with a bang.
Originally, players would drink chica, a fermented corn drink, while playing. That stuff is nasty, so I'm glad the modern-day sport substitutes in beer instead. At our club, the cost to play a round of tejo was free, as long as you ordered a case of beer for your group.
Jeff and I weren't up for the challenge of consuming said case on our own, so the obvious answer was to invite more friends.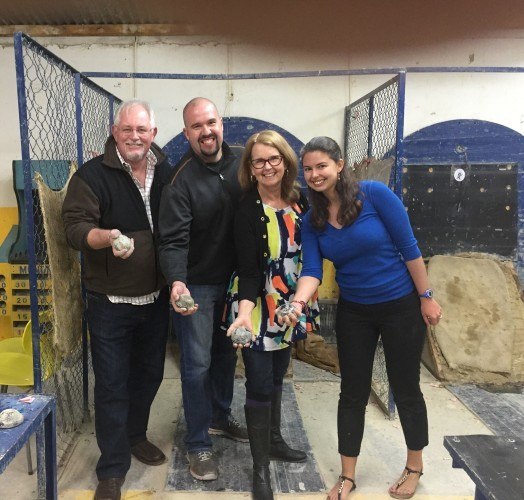 Ironically, by the time they arrived, the club was in its final hour of operation so we were able to purchase by bottle, not case. Thank goodness, because this game is harder than it looks.
Almost as if the club owners anticipated our struggle, they had playing lanes upstairs on a much shorter course. That alone was a blessing, but sending a staff member to teach us the proper mechanics and how to re-stock the course was another appreciated gesture.
How to Play Tejo
Officially, a "bullseye" is the small area inside the pink explosive targets (shown below). At the end of each round, the person who gets closest to the bullseye gets 1 point. If you explode a mecha, you get 3 points and if you hit inside the bullseye without exploding a mecha in the process, 6 points. The holy grail is hitting inside the bullseye and simultaneously exploding a mecha for a total of 9 points.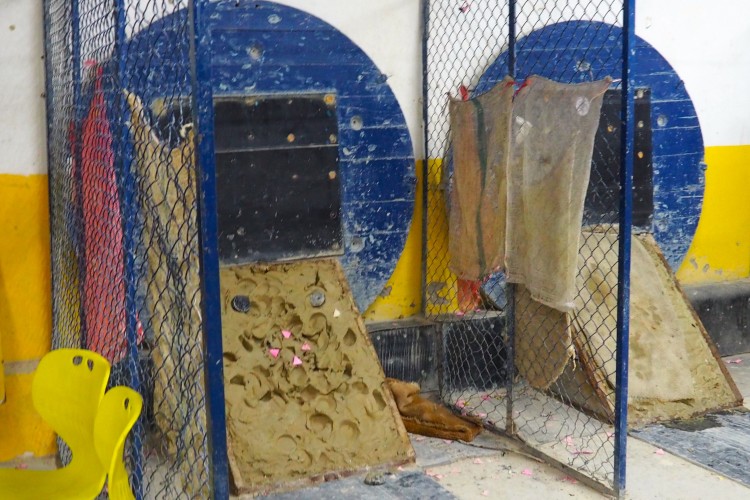 Try as I might, I only got close about half the time. I've never been particularly athletic, so my underhand pitches lacked aim and I had a pretty bad grasp on my own strength.
Like most bar games, you can either play until someone reaches a set score or you can see who has the highest score after a set number of rounds. For us, scoring was arbitrary, but no matter how we scored, I can assure you I lost.
As with all my travel, sightDOING is about interacting and trying something new in order to better understand the culture by experiencing it firsthand. By that definition, tejo was a win.
But more than that, we had a good time, just like all the locals on a Friday night. We laughed, played, and had a good time rather than taking it seriously. I'll never be a professional tejo player, but I just might go back and play again.
Where to Play Tejo in Bogota
There are several tejo clubs in Bogota, and some tours may even make a stop at them to play a round. My tours didn't, so we had to make a special trip and got the inside scoop by asking around town. Since my bike tour guide, hike tour guide, and bed & breakfast owner all recommended the exact same place, I took their word as golden.
The verdict? Campo de Tejo a La 77, which is at Ak. 24 #77-40 (that address translates to…Carrera 24 near 77 Calle, if you prefer the grid system like I do). As of our visit, they were open 11am-11pm, and I was told if you just want to watch, try weekend afternoons when there are often leagues and competitions on the long course downstairs.
* * *
Read More on sightDOING:

Is Bogota Safe?: I spent a week in Bogota, partially on my own and partially with my friends. Find out why I think it's safe for groups and slightly iffy for solo female travelers.
How to Avoid Tourist Traps: This tejo club was definitely off the tourist trail and finding local experiences like this one is easier than you think!
A Week in Bogota for $1,000: Find out what things cost in Bogota and how I managed to spend a whole week (including airfare from the USA) for under $1,000. Hint: you could spend even less if you wanted to.