This post may contain affiliate links. As an Amazon Associate I earn from qualifying purchases.
* * *
I think I first learned about the concept of the ice hotel in 2005 or 2006, when I was a sophomore in college. Ever since, I've been fascinated by the concept and have been lusting after a stay year after year. Although the "original" ice hotel may be in Sweden, I've never considered anywhere but the Hôtel de Glace in Québec for my ice hotel adventure. It was my original, the one I looked at photos of and dreamt of each winter.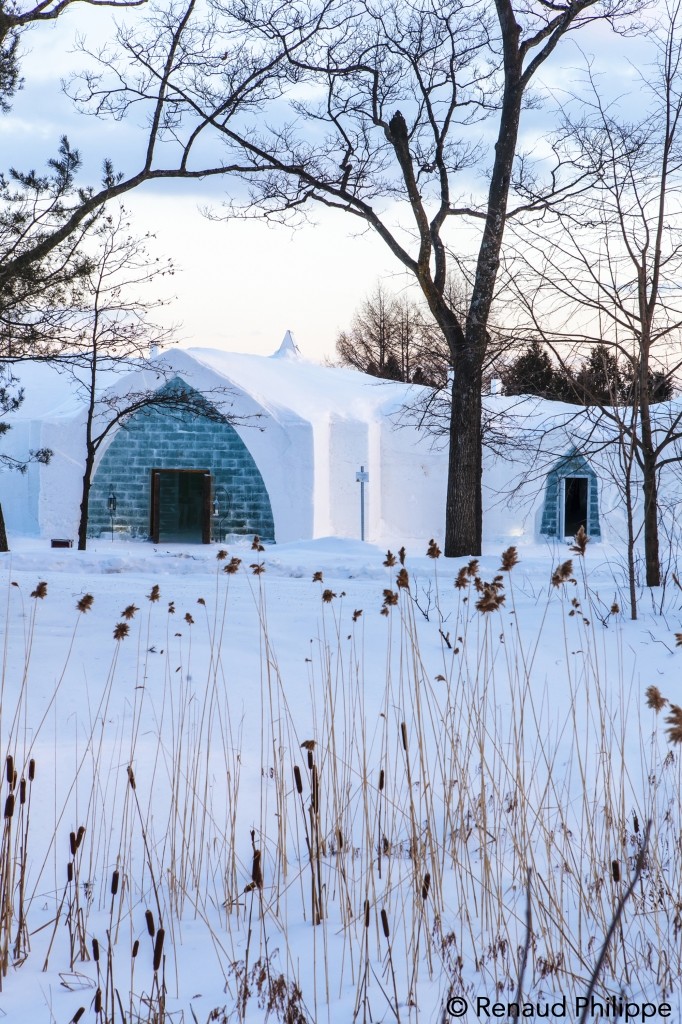 Every year, the Hôtel de Glace is built entirely from scratch, from 30,000 tons of snow and 500 tons of ice. Construction of the rooms is done in stages, with the heart of the hotel opening in early January, the suites fully completed in mid-January, and finally, the standard rooms finished by the end of January. The season ends in late March, so there's a short window to visit and/or stay overnight.
Long overdue, my husband and I finally made the journey north for a unique overnight!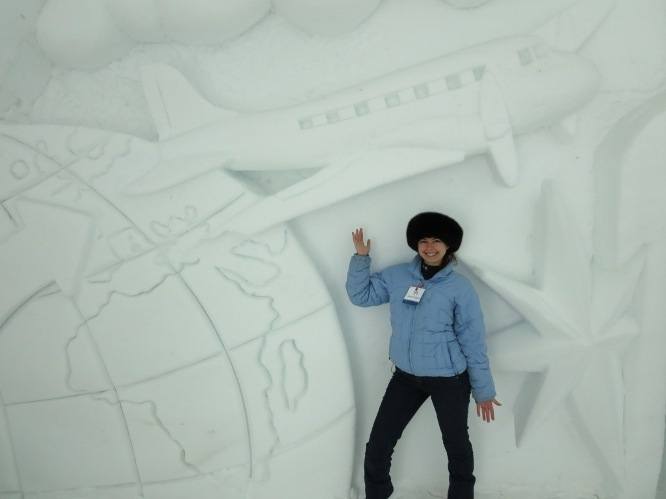 Just so you know — my overnight stay was comped by the Hotel de Glace, but all opinions (and long-time fantasies!) are 100% my own.
Our check-in information was really vague, saying only that we could check-in as early as 3pm at the Visitor Centre but that rooms wouldn't be ready until 9pm and that sometime inbetween we'd need to attend an informational session about how to stay warm overnight. There were no further suggestions on whether it's best to arrive as early as possible or wait until the last minute or what time the sessions might be held. Luckily, Hôtel de Glace is only twenty minutes from the tourist center of Québec City and we had a rental car, so it seemed simple enough to arrive early and just head back to the city if we got bored.
Let me tell you: boredom was never an issue.
Upon our arrival, the first thing we did was tour the property. The hotel has 44 rooms, a mix of standard rooms, themed suites, and premium suites with fireplaces and private spas. There's also a large ice bar, wedding chapel, and even an ice slide. The hotel's theme for 2014 is Myths and Legends from Around the World.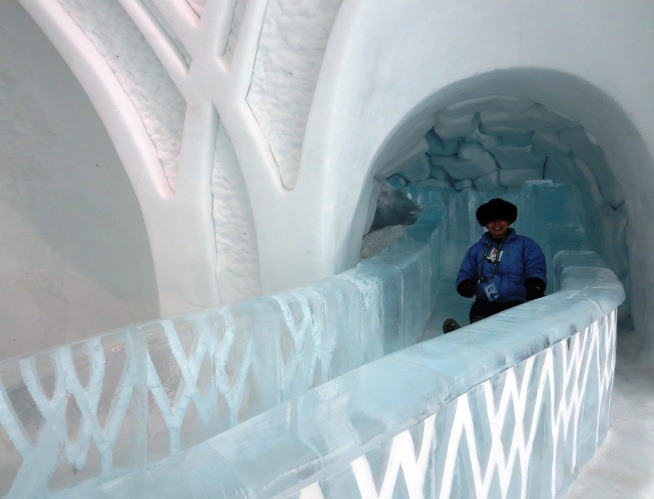 While you're allowed to poke around rooms unguided until 9pm, there are also guided tours offered daily from 12:00pm-5:30pm, with English tours on the hour and French tours on the half-hour. You'll appreciate the beauty of carved ice sculptures, snow murals, and other intricate details either way, but the tour will give you the basics about labor-intensive construction and maintenance and what inspired many of the suites, including one that was created in a special partnership with Disney to feature the studio's latest movie Frozen.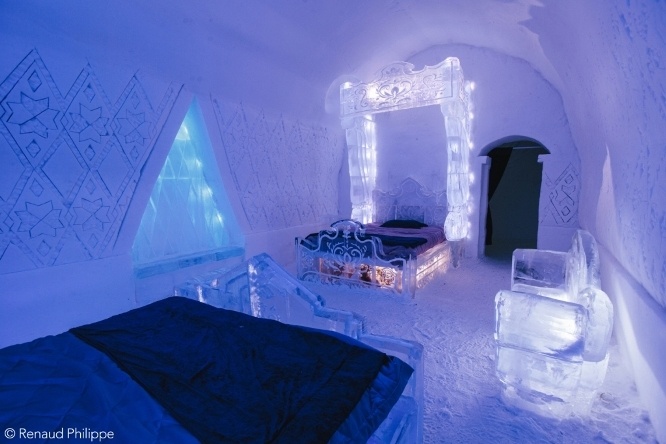 Kinda funny to think about the beach when you're at an ice hotel!

The Tibet suite: my favorite!

Beautiful detail

©Renaud Philippe – Used with Permission
If you're more intrigued with the inner workings of the hotel, you can also join a behind the scenes tour (at additional cost). Among the highlights was being able to create my own ice glass for a cocktail. I'd made ice shot glasses in college using a mold, but at Hôtel de Glace, they actually drill holes into preshaped blocks of ice.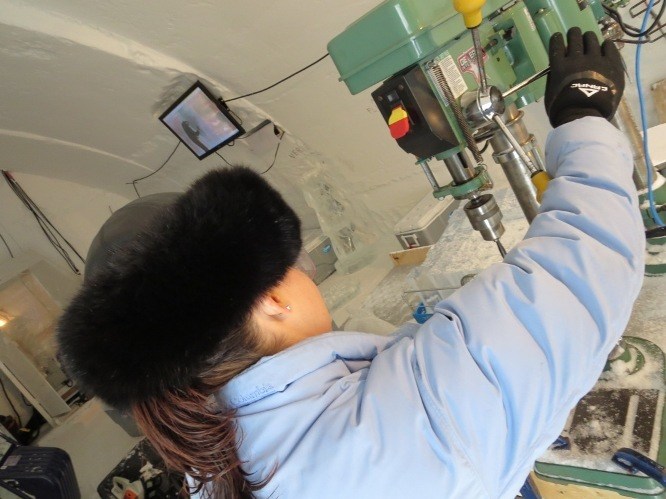 Also during daylight hours is the option to go snow tubing. Now, I know there's nothing unique about this, but it's still a blast and their course has the added benefit of being an easy walk back to the start so you can go down again.
After dark, most of the visitors leave and the hotel takes on a different feel. As overnight guests, we were welcome to make ourselves home in their indoor facilities, which included a small lounge area, large lockers for your suitcase, and a separate locker room for changing or showering. They provided towels, bathrobes, soap, shampoo, and hair dryers for convenience.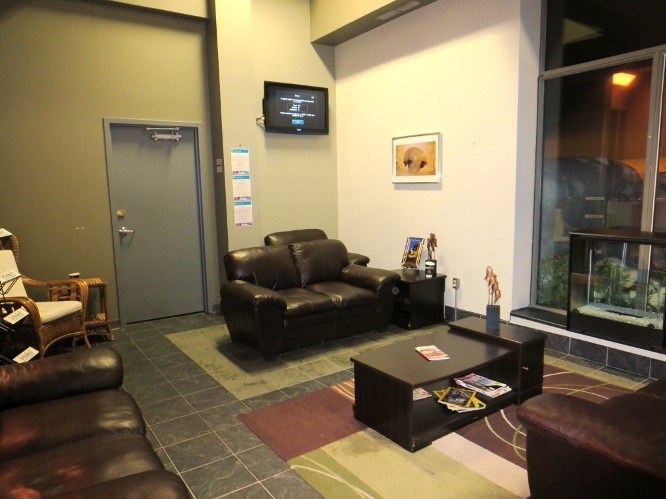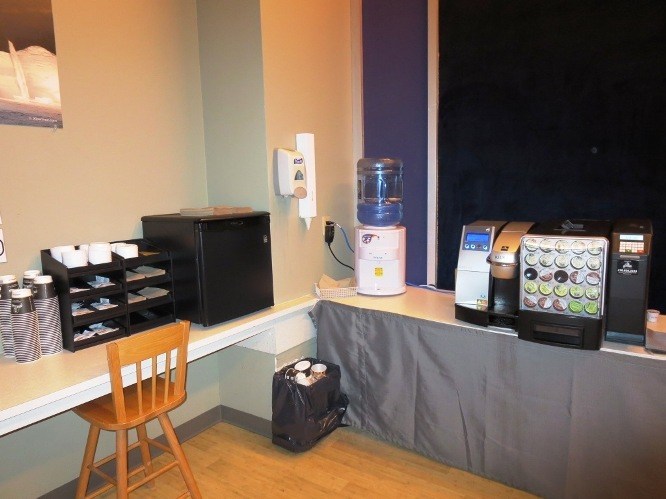 To ensure everyone stays warm overnight, we attended a mandatory informational session in the evening. The inside of the ice hotel remains at roughly 23-27 degrees Fahrenheit regardless of the outdoor temperature since snow is a good insulator. I've been camping at temperatures in that range before, so spending a night in winter conditions wouldn't be a new experience for me and in fact, their equipment is more suitable than what I own at home. Still, the discussion was a welcome reminder about how to layer your clothing (see related post: How to Dress for Winter Trips) and how to effectively use the provided sleeping bags.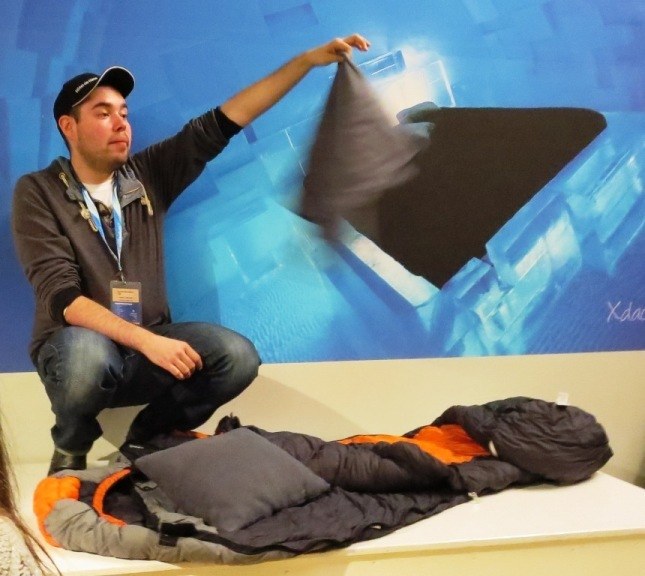 We spent the remainder of the evening enjoying the activities and facilities on site. Ice carving was a good way to remember I have no patience for any form of arts and crafts, especially if it requires getting my fingers cold. Luckily, snowshoeing warmed me right back up! (Many thanks to my husband who posed for photo after photo…)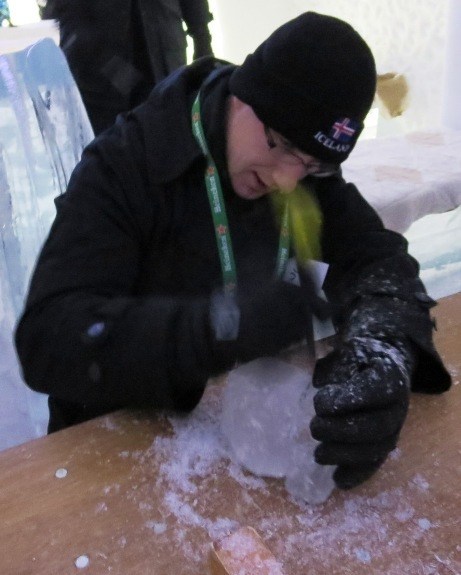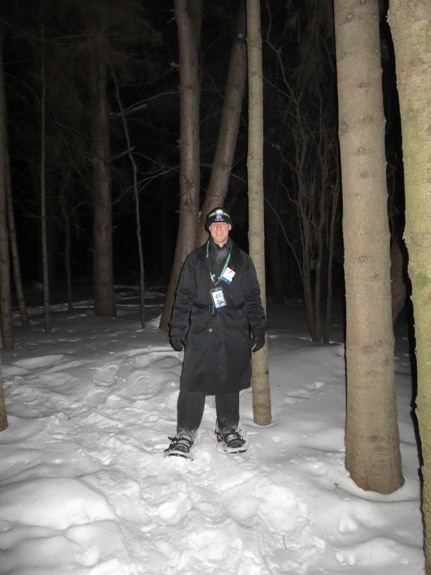 Rounding out our evening was a full-on party at the Ice Bar, complete with DJ and plenty of cocktails. On the cocktail menu were drinks featuring local flavors, such as ice cider, maple cream, and spruce beer, as well as a specialty Québécois beverage known as Caribou. Supposedly it gets its name from a drink consisting of a mix of caribou blood and whiskey which was drunk by hunters and loggers in colonial times to stave off the cold when working; today recipes vary but it's essentially a hot, spiced red wine mixed with hard liquor for a potent punch.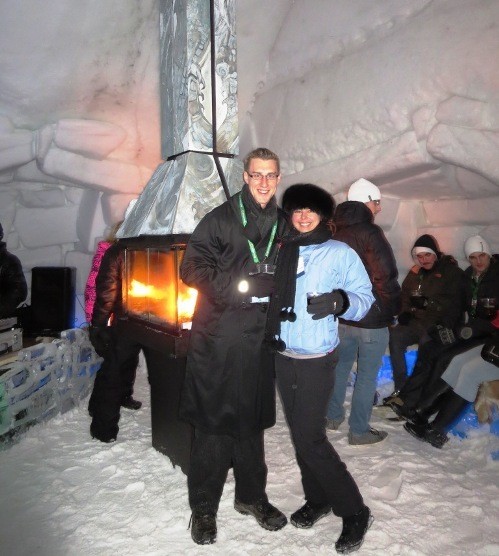 By this time, it was late into the night and yet we weren't ready for bed yet. Overnight guests have access to a nordic spa area, with jacuzzis and a dry sauna. Raising your internal body temperature is a great way to help ensure a better night's rest, so they recommend these options for all guests. Unfortunately, the jacuzzis were luke warm at best, but the sauna was plenty hot.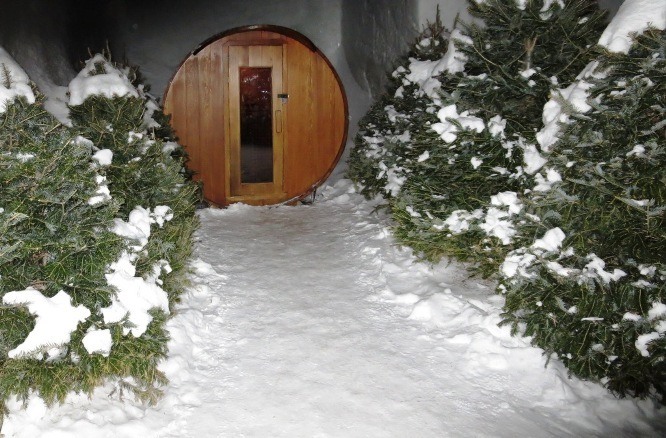 Before we knew it, it was 3am and I suppose time to get some rest. We were staying in a standard room, which isn't decorated in the slightest but still just as snowy and icy! While beds are on ice-carved frames, they do have mattresses which are covered with blankets so you're not sleeping directly on the ice itself.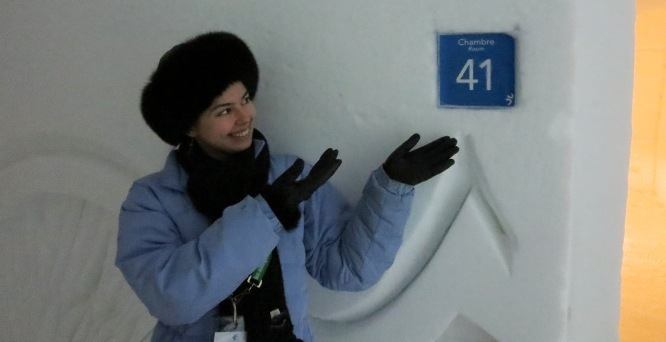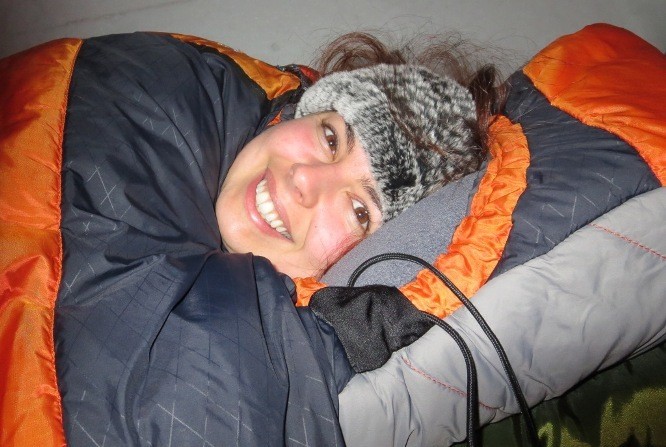 I'm happy to say that my nordic experience didn't kill me. In fact, I can honestly say I wasn't cold. That's not the same as implying I was 100% warm and toasty, but I was certainly comfortable enough to get a few hours of sleep. Wake-up calls start early and everyone is kicked out of their room no later than 9am so they can prepare the hotel for day visitors. After a decent breakfast buffet and a hot shower, we were on our way to other Québec activities.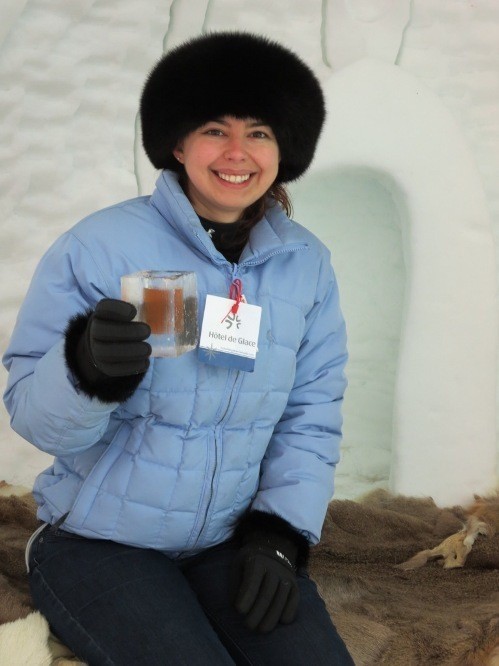 Booking a Night at the Hotel de Glace
If you're visiting Québec City anyway, the Hôtel de Glace should be on your list of things to do. I won't even try to pretend that an overnight will be everyone's cup of tea, but a day visit would be a fun way to spend half a day for everyone!
Admission in 2014 was C$18pp for day visitors (discounts for seniors, students, and children). Access to the snowshoe trails, tube sliding, behind-the-scenes tours, and drinks at the ice bar are at an additional cost. You may want to consider a weekend visit so you can also check out their Sugar Shack for treats like maple syrup taffy.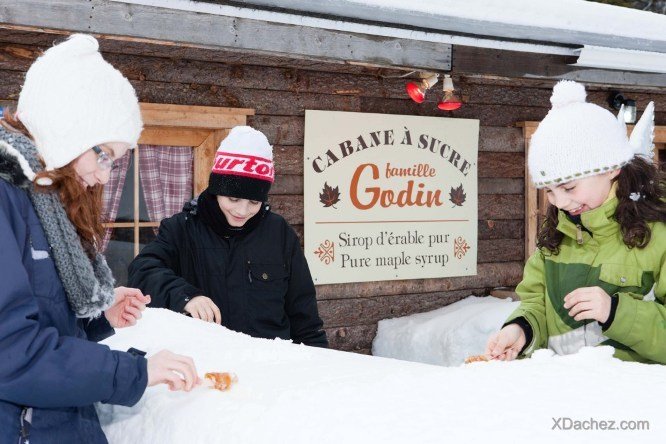 Overnight stays include admission (including access to the outdoor activities) and your first cocktail, making it a reasonable upgrade from the day visit.
The easiest way to arrive is by rental car, but they also offer (paid) transportation from Place d'Armes a few times a day or Metrobus 801 will also get you there.
As a member of the media, my stay was sponsored by Hôtel de Glace. Special thanks to the team there who literally made my dream come true. As always, my opinions remain my own.