This post may contain affiliate links. As an Amazon Associate I earn from qualifying purchases.
* * *
The Great Wall is the most recognizable site in Asia and hiking the Great Wall of China is an iconic experience. I had to do it, but I didn't consider its history until I was in China.
"Construction on the wall began in the seventh century B.C. It spread more than 21,000 kilometers over almost 2500 years of construction," our guide told us. They built the Great Wall of China for protection from raids and invasions. Eventually, it was also used as border control: regulating trade and tariffs as well as immigration and emigration, just as checkpoints in modern times do.
"Today our route is similar to one our enemies would have taken if they wanted to attack."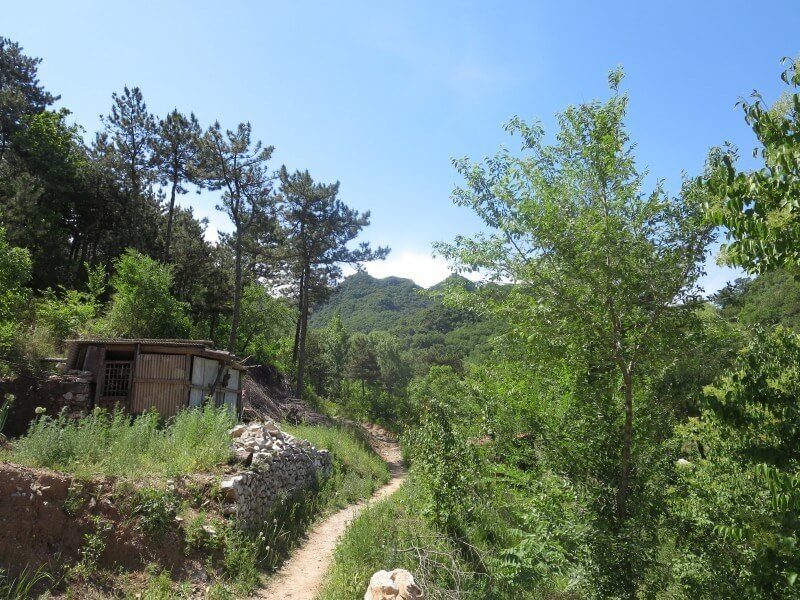 Hiking the Great Wall of China
After a two-hour drive from Beijing, my husband and I arrived at the Jiankou trailhead near Xizhazi village. We wanted to hike the Wild Wall, an area somewhat in disrepair from being centuries old. Jiankou is away from the crowds, the souvenir stalls, and in some spots, grown over with plants. We had a ten kilometer trek to Mutianyu planned, allowing us to make our way to a restored section of the wall as well.
For the moment, though, we were just on any other trailhead in the woods. We had left behind the smog and congestion of Beijing for an area of natural beauty — with or without the Great Wall of China. It felt good to be hiking after six days of Asian cities and before long, trees surrounded us.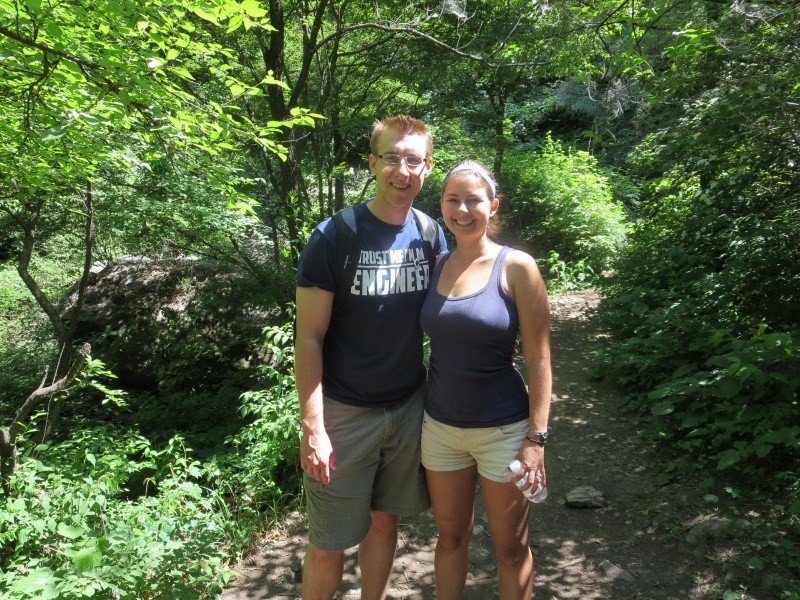 Trail descriptions led me to believe this would be an impossibly strenuous hike. In reality, the tough uphill section lasted only fifteen minutes. Gasping for breath with sweat dripping down my back, I called a time out…only to find out if I had hung on another 100 yards, there was a perfect viewpoint and rest stop.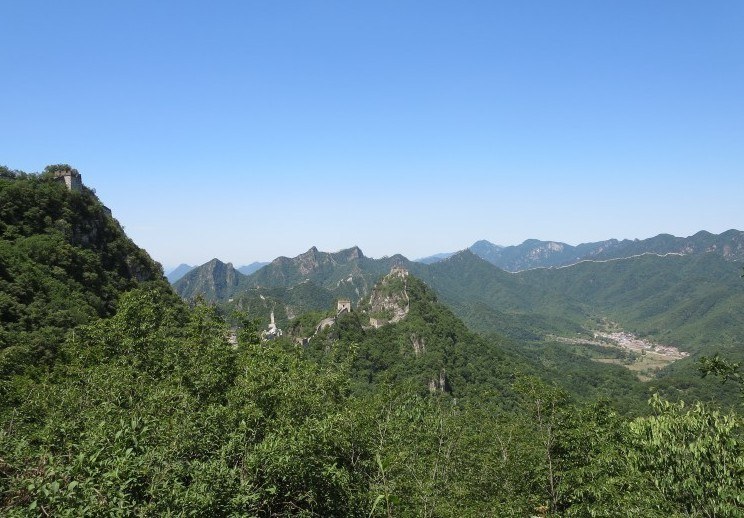 Glad I didn't have to carry a bow and arrow or supplies for an attack, we made the final stretch to the wall. Jiankou translates to "Arrow Nock" for the shape of the collapsed ridge opening. This, with steep mountains and bright blue sky, makes it a beautiful part of China. And the wall itself is just as mind-blowing as I expected it to be.
I had made it to one of the wonders of the world. I was standing on a piece of centuries-old history. I was touching the Great Wall of China.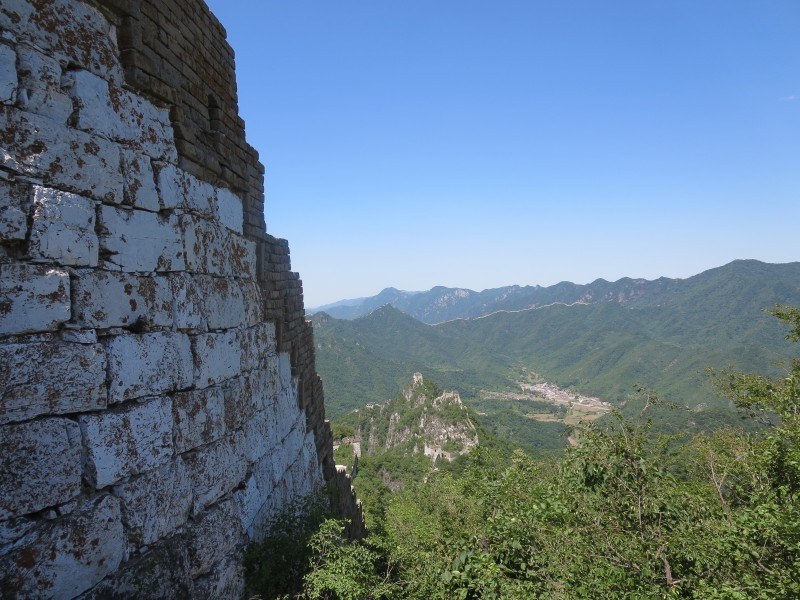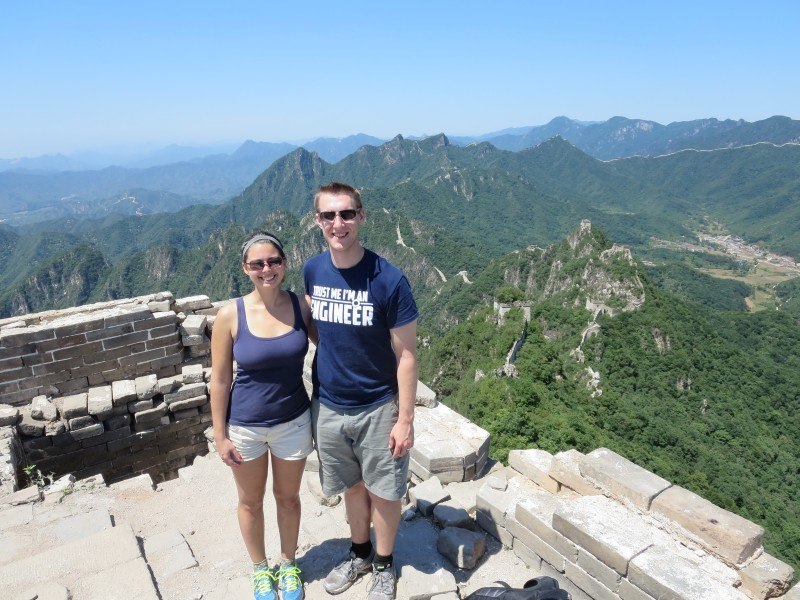 Jiankou was built in the Ming Dynasty, like much of what remains of the Great Wall of China. Rammed earth was replaced with bricks and what you see today is what was built in 1368. No one has ever restored Jiankou, which adds to the adventure. Some watchtowers were in extraordinary shape given their age and even the beginning of our hike was decent.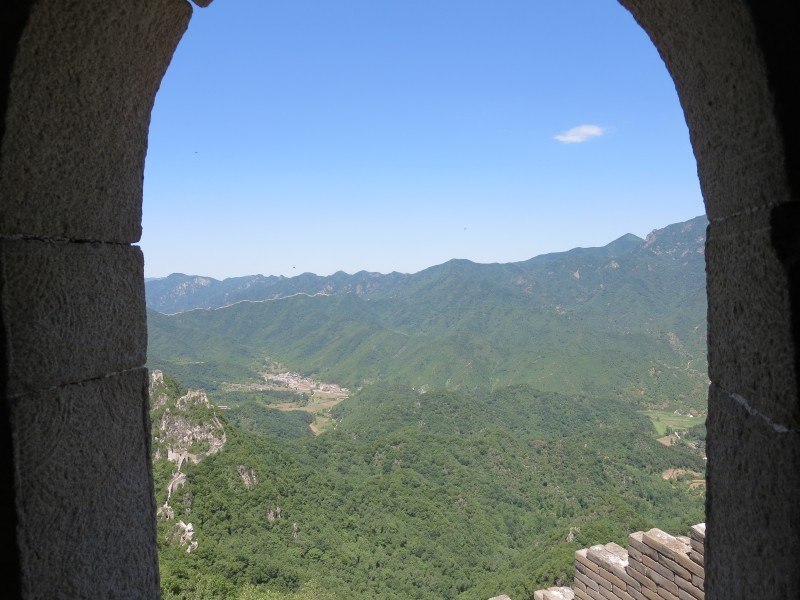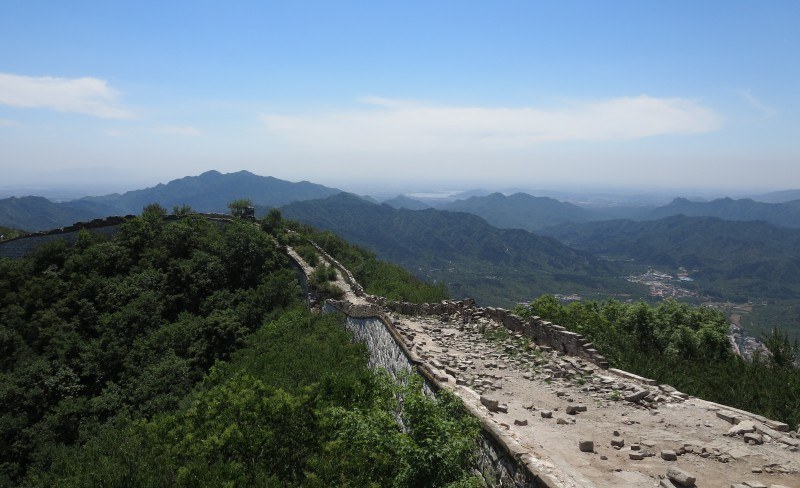 While that first watch tower was the most memorable, we enjoyed hopping down to the path along the Great Wall. The views continued with us even as the path started deteriorating.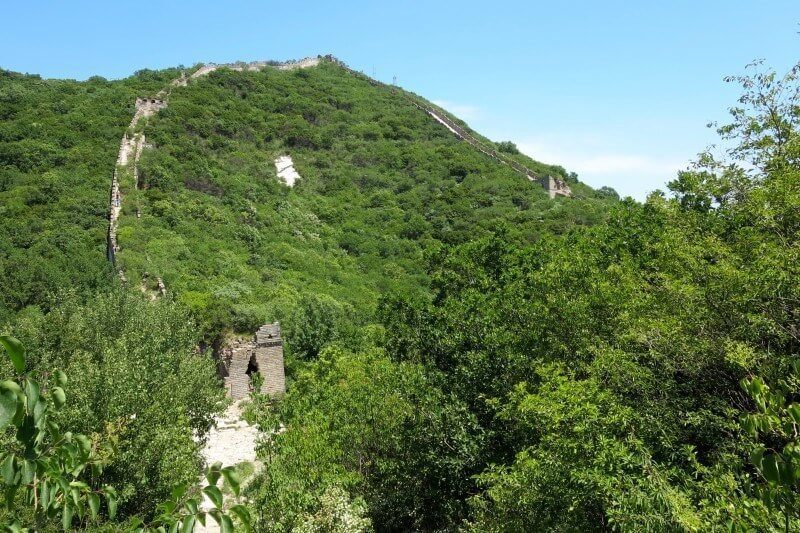 I worried that hiking for four hours on a wall might become monotonous, but it never did. The sheer enormity is incredible: it was amazing even for the 10 kilometers we covered and it runs almost the entire length of China!
As we approached the Mutianyu section, the changes in the wall were noticeable immediately. No longer were the bricks crumbling or encroached on by plants and trees. The path was clear and the bricks were laid level and smooth. Mutianyu was rebuilt in 1569 on one of the largest construction scales and qualities among all sections of the Great Wall of China. It was built primarily out of granite at least seven meters high and four meters wide and has been maintained and restored over the years.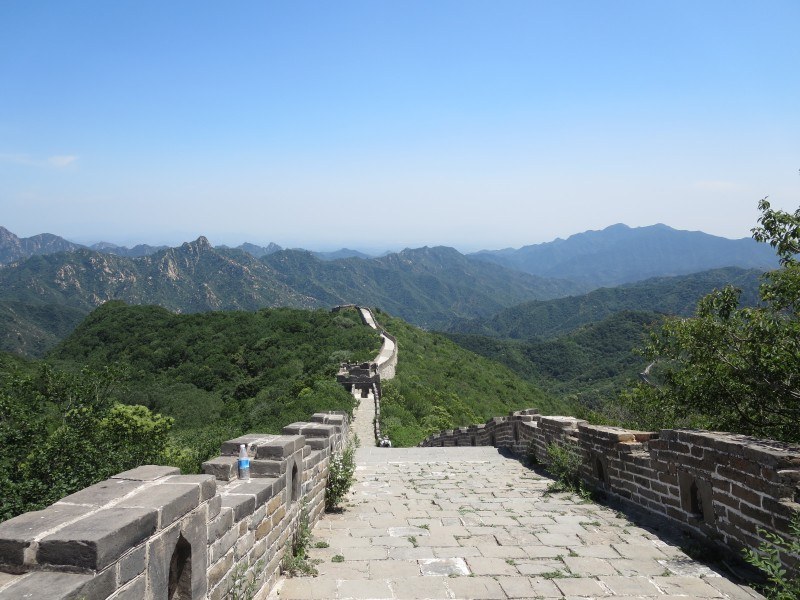 It was here, at the transition from wild wall to restored wall, that I had something special in store. Exactly five years into our marriage, Mike and I were going to renew our vows. For outdoor lovers, it seemed far more appropriate to do this in mountain air than in church.
Like the Great Wall, our marriage has a solid foundation and grew into an even stronger structure. We've withstood the storms and battles of life and will stand through the best and worst of what's still to come.
As curious onlookers peeked our way, we made new promises and renewed old ones. After all, as an old Polish man in a bar once told us, "Those vows mean something, you know."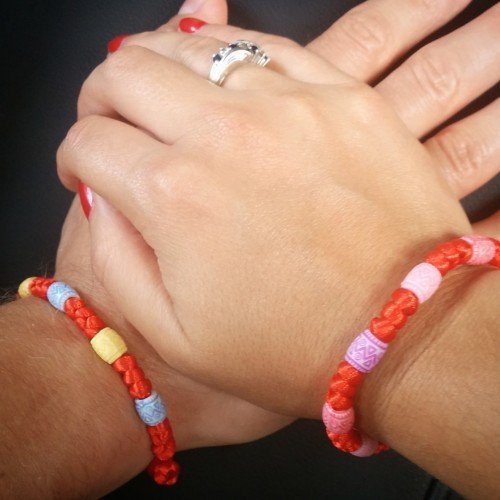 RELATED: How Going to the Yukon Led to a Proposal (opens in new window)
As we got closer and closer to the main entry to Mutianyu, we came across more people. It was far from the hordes I expected, though our guide said more tourists visit in the morning.
Regardless, the wall became less interesting. Announcements over loudspeakers interrupted the vastness, ice cream stands were next to historic watch towers, and I no longer felt like a Mongolian attempted to conquer new lands.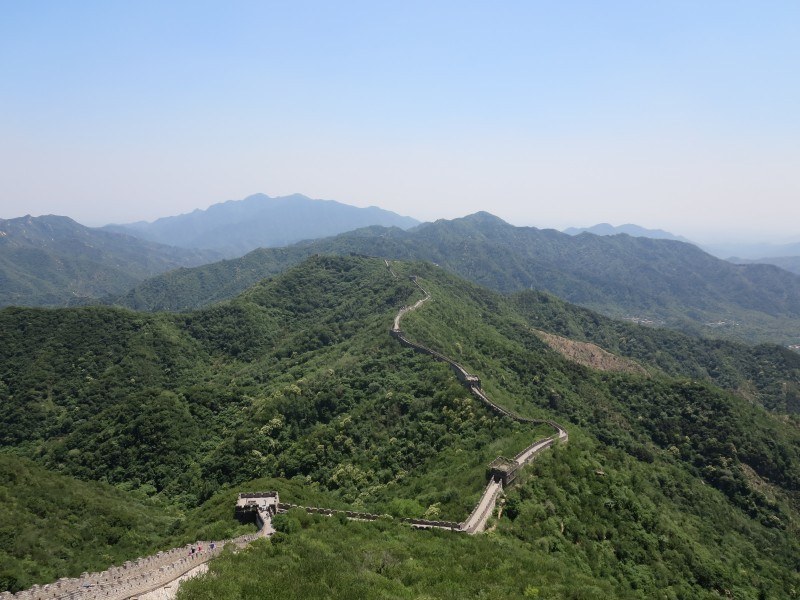 If you go…
The hike from Jiankou to Mutianyu is about 10km and took us 4 hours (including lots of stops for photos, a vow renewal, and a cable car ride off the wall toward the shuttle bus lot). Combined with a 2+ hour drive in both directions and a lunch stop, that makes it a full day adventure.
The first hour of the hike is the hardest, including that 15-minute uphill battle. The rest will require some uneven terrain and a few short uphills and downhills. Everywhere on the wall, you will encounter dozens (hundreds? thousands?) of steps. I earned the acupressure massage I had afterward.
We booked our tour with Catherine Lu Tours, an agency that promises private tours with no shopping stops. We paid 1900 yuan (about $300), which is admittedly expensive. You can do this on your own for a fraction of the price, but we didn't want to deal with the hassles of changing buses, hoping to find a trail map, and potentially trespassing on village property with a language barrier.
Our tour included a great guide, a safe driver in a brand new car, all admissions (including your choice of cable car or tobaggan ride down the wall), shuttle fees, and a surprisingly delicious lunch considering it was a tourist restaurant. While 1900 yuan is a lot of money, it seemed to be the going rate or even cheaper than the four or five agencies I contacted.
* * *
Which wonders of the world have you visited?
* * *