This post may contain affiliate links. As an Amazon Associate I earn from qualifying purchases.
* * *
Before this year, the last group tour I went on was a trip to Ecuador back in 2005. I was brand new to international travel — or to be honest, travel without my family — and so an escorted tour seemed like the perfect fit. Even though I had a fantastic time, my next trips naturally migrated closer and closer to fully independent travel: first U.S. roadtrips, then cruising, then finally a solo trip to Europe.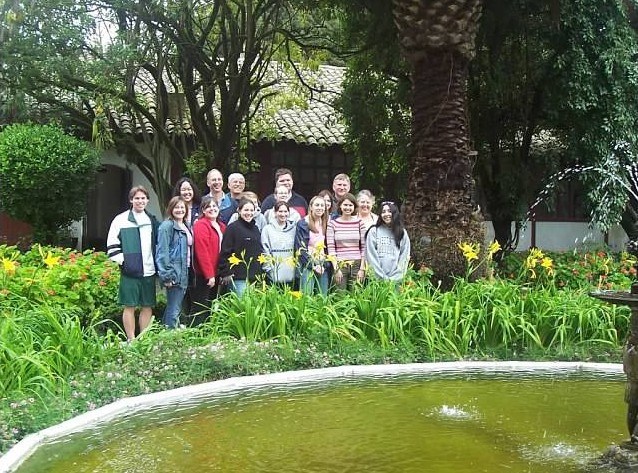 That's not to say I haven't participated in day trips or activities with a tour guide and other travelers. I have, and I will continue to do so. However, it has been more than seven years since the last time I traveled on an honest-to-goodness packaged group tour. Then this year, I spent 10 days racing through Western Europe with Competitours and then just last week I spent another few days on an organized visit to Isla Mujeres, Mexico. This summer, I've definitely re-discovered the pros and cons to group tours.
The Upsides to Group Travel:
It's So Easy: Organized travel is popular for a number of reasons, and I'm nearly positive the primary reason for this is convenience. Joining a group tour means you don't have to make a hundred reservations, spend time researching each individual component of a vacation, or stress out when something doesn't go to plan. Someone else takes care of everything for you and you may even have local experts or translators on your trip.
Groups Have Different Opportunities: There's absolutely no way I could have participated in a fencing tournament in Maastricht on my own or organized a special tasting menu at Isla Mujeres Palace. Groups often have access to insider activities or skip-the-line privileges, both of which can be priceless.

I took second in the women's fencing competition with Competitours!

You Get A Lot of Bang For Your Buck: Sure, sometimes tours can be more expensive, but they frequently add a lot of value as well. I traveled to Isla Mujeres on a chartered yacht instead of a public ferry and had an entire train car reserved for just my group in Switzerland. Other times, tours can be cheaper than booking travel components individually, since they're essentially buying in bulk.
You're Never Alone: Assuming you get along with at least a few people in your group, you've got built-in companions, which is perfect for making conversation on your train ride or having someone to eat dinner with. My husband and I split up a few times in Europe so we could each do what appealed to us and yet we still didn't have to do anything alone. This can be a really great social benefit.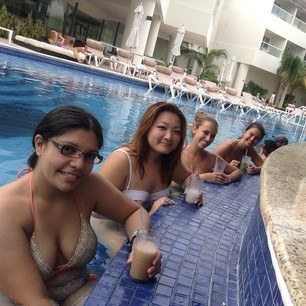 But of course, it's not all rainbows and sunshine on group tours. The truth is, there are trade-offs in group tours.
The Downsides to Group Travel:
Less Flexibility: Letting someone else do the planning can mean lower stress, but it also means you no longer have full control over which activities you do or even what time you wake up in the morning. I went all the way to Rome without having time to visit the Vatican and on Isla Mujeres I spent time checking out the street art, something I had zero interest in.
It's Touristy: Let's face it: only certain restaurants and hotels are set up to handle groups, so it's likely you might miss out on some local hotspots in favor of those easy, convenient options. Both of my tours did their absolute best to immerse us in reality (and choosing your tour guide carefully will make a big difference in this), but even still, I ate at tourist buffets and stayed in airport hotels instead of being in the thick of things.

Confession: Sometimes Touristy is Fun

You're Always Waiting: Think back to your last trip…did you ever run behind schedule because you forgot something in the room, spent a little too long browsing the gift shop, overslept, or needed a bathroom break? Once you have an entire group traveling together, those minor delays add up to some serious waiting time. Pack your patience and be prepared to spend time waiting — or apologizing when you're the one who lost track of time!
You're Never Alone: Having travel companions can be great, but it also means you're unlikely to be able to get a great photo without someone in the way or find a quiet moment to appreciate a sunset. Unfortunately, it's also possible you have someone on your tour with a clashing personality, which could bring a damper to your entire experience. Look for tours that build in free time as an excuse to get away, even if just for a short while.

I had this beach to myself in 2010 when traveling to Isla Mujeres independently; no chance of the same in 2014 with a group
To be perfectly honest, I was a little hesitant to try group travel again this year, but my Competitours trip was a blast so I gave it another shot in Mexico. Overall, I was pleasantly surprised with both of my group tours, though I'll admit that I think independent travel is still my preference. Under the right circumstances, I'm positive I'll join another group tour but I'm not yet seeking out another package.
Now it's your turn: Have you ever traveled with a group? How did you like it? Would you do another? Share your story in the comments below!