This post may contain affiliate links. As an Amazon Associate I earn from qualifying purchases.
* * *
In a little town called Ponca, there's a mighty big river. For 153 miles, the Buffalo River flows past bluffs and woods and waterfalls, creating a scenic journey throughout a large stretch of Northwest Arkansas. Seeing it all requires days of dedication, either hiking or paddling (and several nights camping). While that was more than I wanted to take on, I was bound and determined to see at least a part of it. There's no better way to explore a national river than by actually getting on the water.
Near Ponca, one day float trips head through what's supposedly the most scenic section of river. It packs in a little of everything, from imposing bluffs to sparkling clear pools and quick side trips to impressive waterfalls. We were also lucky enough to see lots of wildlife: a river otter was a highlight, but far from the only critter along the way. Plus, floating the Buffalo River from Ponca to Kyle's Landing is only about 11 miles, making it a half-day jaunt that most people can manage.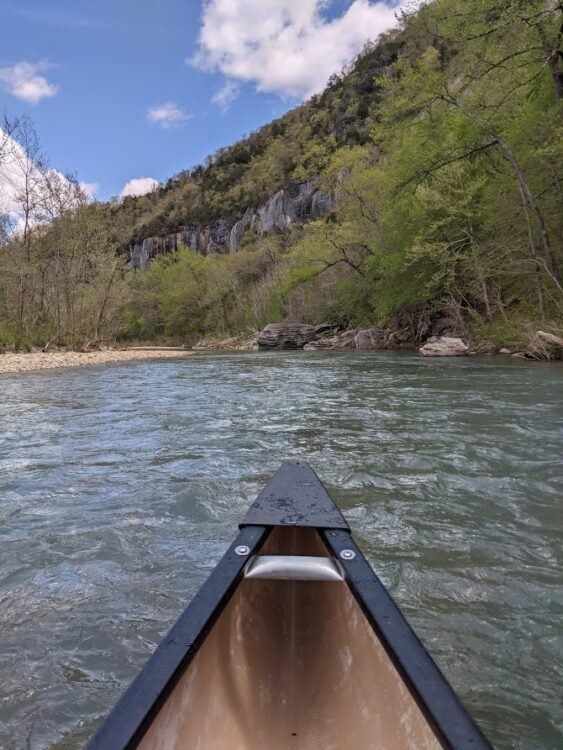 Worth noting, though, is that "floating" is a bit of a misnomer. This is how locals and websites promote the trip, but in reality you'll be paddling even though you're heading downriver (so keep that in mind). Like everything, I don't shy away from a little sweat equity and you shouldn't either. Your paddle strokes will have more to do with steering than propelling since there's a near-constant (but sometimes slow) current. This one's worth the effort.
Buffalo River Float Trips in the Spring
Sadly, my trip almost didn't happen. The Upper Buffalo is a finicky stretch of water. When water levels are too high, it runs too fast for the average paddler. When it's too low, you'll end up dragging your canoe or kayak in a dozen sections since it's too shallow. The season for floating from Ponca to Kyle's Landing is typically in April-May. Afterwards, it's usually too low and you'll have to choose a segment farther downriver (Pruitt to Hasty is the preferred option in this case).
On my late April departure date, you'd think I'd be golden but Mother Nature threw us a curveball. When I woke up, it was only 27°F, much colder than you'd like for a day on the water. In fact, the first outfitter I called wouldn't rent us a canoe, citing high risks of hypothermia. The second outfitter was more flexible after stressing that it was, indeed, cold and the water would be, too. On top of that, the water was "borderline" low and there were likely a few shallow places we'd need to get out of the canoe and either drag or portage it. Such is life.
Stubbornly, we went anyway. It had warmed up to about 45 by the time we started (and 55 by the time we ended). The water temperature was brisk but bearable. It wouldn't be the day I chose if I lived in the area and had my choice of weekends, but when you're traveling you often have to play with the hand you're dealt. Based on the cards in my hand, we chose to rent a canoe instead of a tandem kayak in hopes of dripping less water on our bodies while paddling. This ended up backfiring — as you'll find out below — but at least I had good intentions.
It's All About the Scenery
We set off from Steel Creek, a canoe launch 2.5 miles downriver from the standard put-in at the Ponca Bridge. Before that, the water level was too low and we wouldn't be able to paddle anyway. This suited me just fine: as far as I was concerned, an eight-mile trip was still adequate for the experience and a variety of scenery.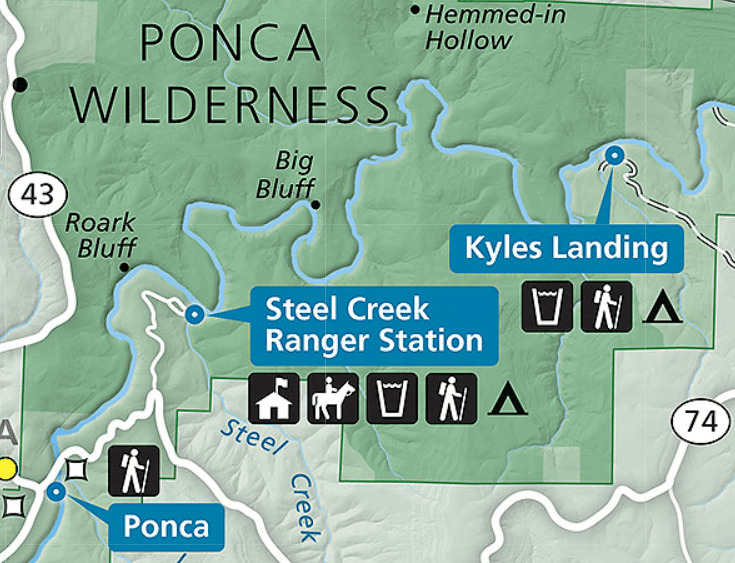 Right around the put-in, 220-foot-tall Roark Bluff stand next to the river, towering over you so you have to crane your neck to see all the way up. It's an epic start to the trip although before you know it, you'll be craning even more to see the top of Big Bluff which hits a whopping 500 feet.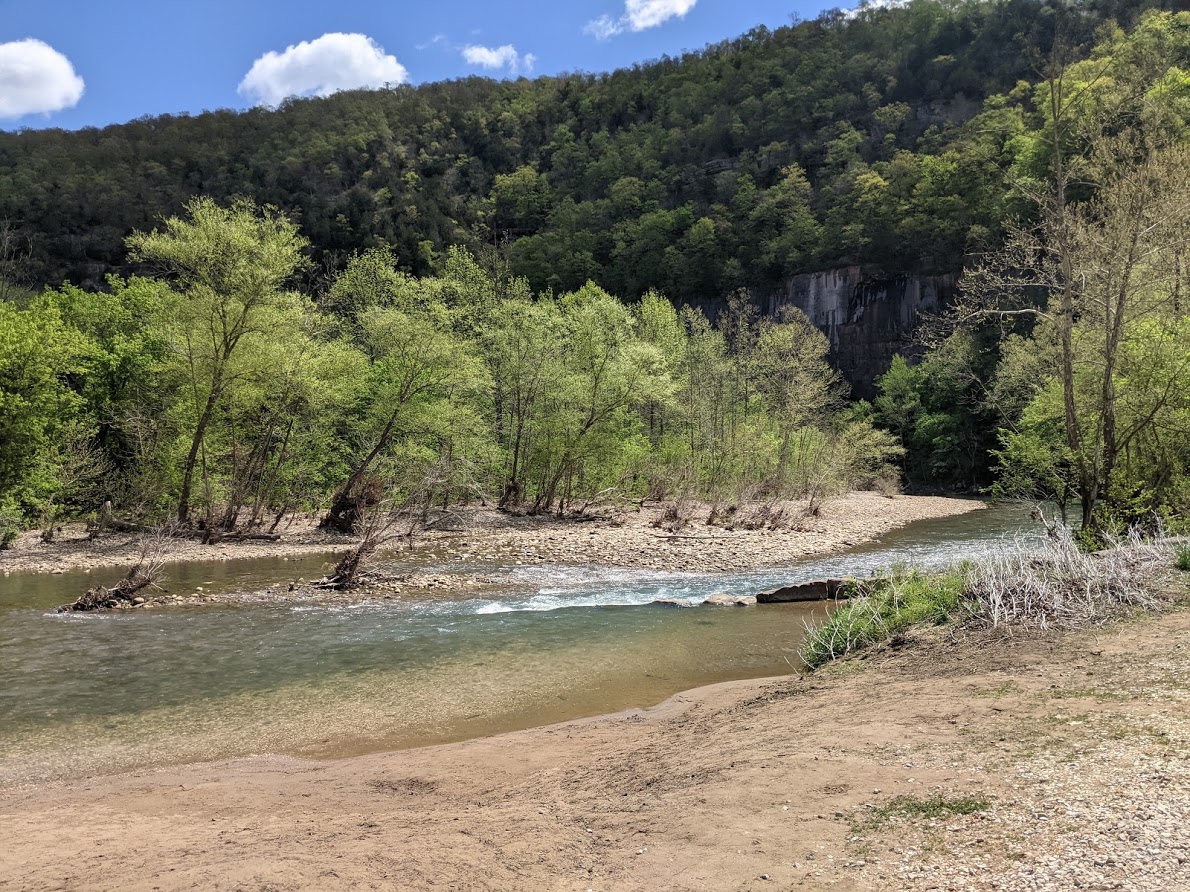 The bluffs aren't the only scenic wonder, though. On the river itself, views changed from a few white-capped rapids to quiet, shallow stretches with beautifully polished rocks just under the surface. In a few spots, there were gorgeous blue-green pools that would be ideal for a swim on a warm, sunny day. In early spring, abundant greenery lined the shore.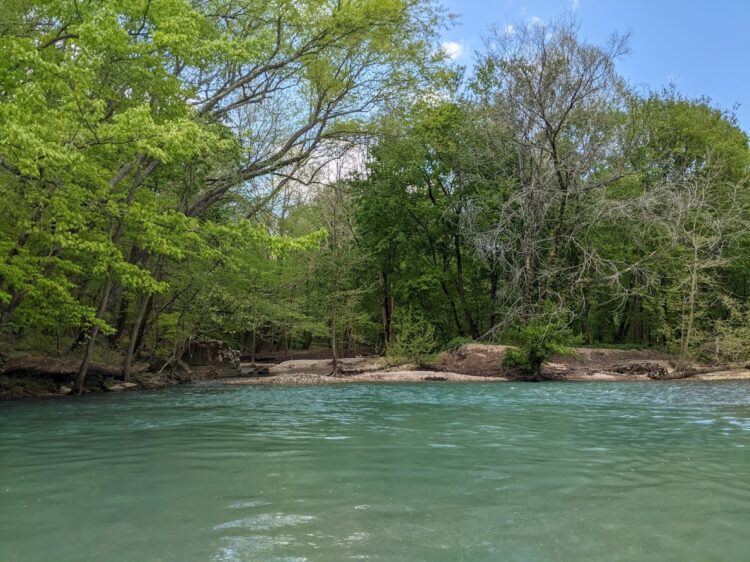 Hike to Hemmed-in-Hollow Falls
About a mile past Jim Bluff, there's a pull-off on the left-hand side for the short hike to Hemmed-in-Hollow Falls, a highlight of the river trip and of the Buffalo National River site in general. Considering nearly everyone stops here, it's really easy to miss since the pull-off is right in-between two sections of rapids. You'll be distracted and may not notice until you're practically on top of it. If that happens, just head to the left bank ASAP and walk the 40-50 yards back to the trailhead; it's easier than turning around and paddling upstream.
Honestly, this hike is one of the best in the entire region. Not only is there the grand finale of the tall waterfalls, but the trail itself is lined by a beautiful creek and several smaller falls. It's an easy walk (it took us 25 minutes uphill from the river to the falls and 20 minutes back downhill) and a welcome physical stretch.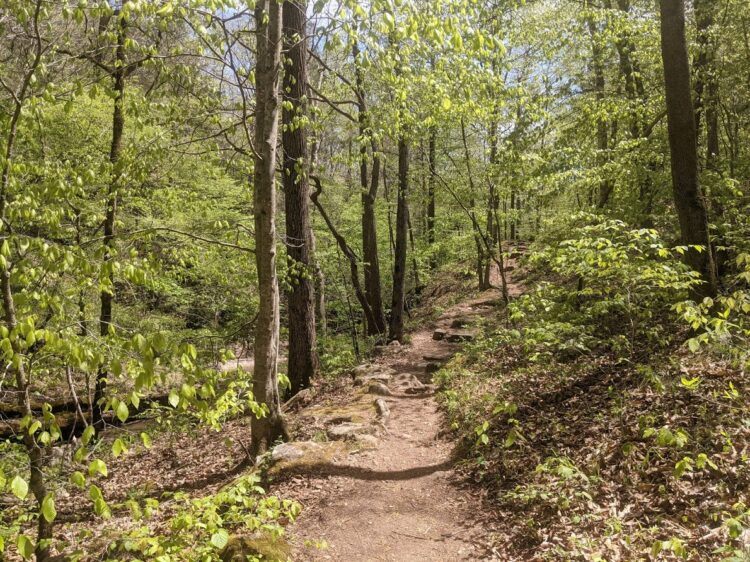 The photos here don't do it justice because they can't possibly capture the scale of how tall this waterfall is. The cascade, thin as it is, also seems to dance like a ribbon every time a breeze comes through. You have to see it to believe it.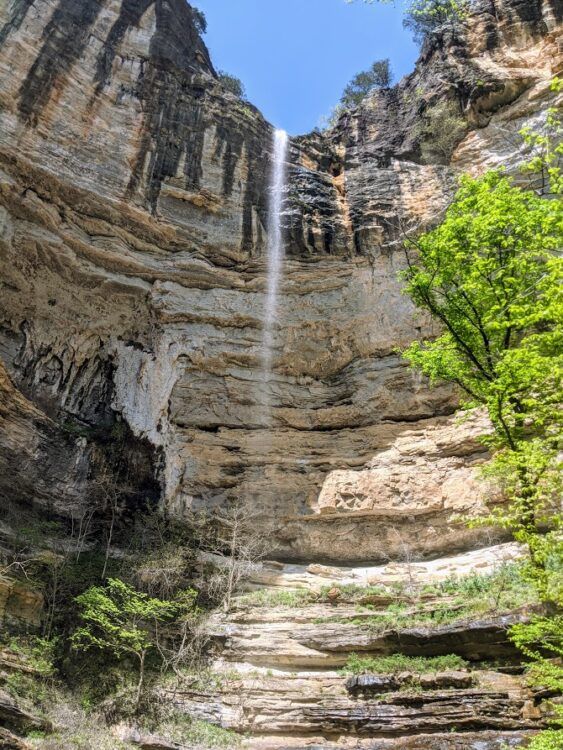 For what it's worth, I hiked in basic sandals — you won't need hiking boots. In a perfect world, I'd recommend a Keen or Merrell watershoe or similar so that you have a protected toe, but I wouldn't buy something special unless you'll have other uses for it, too.
Watch Out for Rapids on the Buffalo National River
Throughout the journey, you'll come across several Class I and II whitewater rapids. Most of them you'll get through in a breeze. For others, it might require more strategy to make it through without an unplanned swim.
The most notorious rapid is near the end of this route, right before you get to the take-out at Kyle's Landing. Here, keep an eye on the left bank for Gray Rock Shoal and some fast-flowing water (sometimes known as "Hell's Half Acre") that's been known to trip up a fair amount of paddlers. I'm happy to report we made it through this section without incident!
HOWEVER, we tipped our canoe earlier in the journey in a Class I rapid that was totally an embarassment. I zigged while my sister zagged while in a shallow section of the river. End result? A quick flip that dumped us into the chilly water. In a kayak, we probably would've made it through without incident, but we're far less practiced in a canoe and apparently failed to communicate at what we were doing.
Long story short — keep an eye out for the rapids.
Quick Mileage Guide for the Ponca to Kyle's Landing Section
All distances are approximate.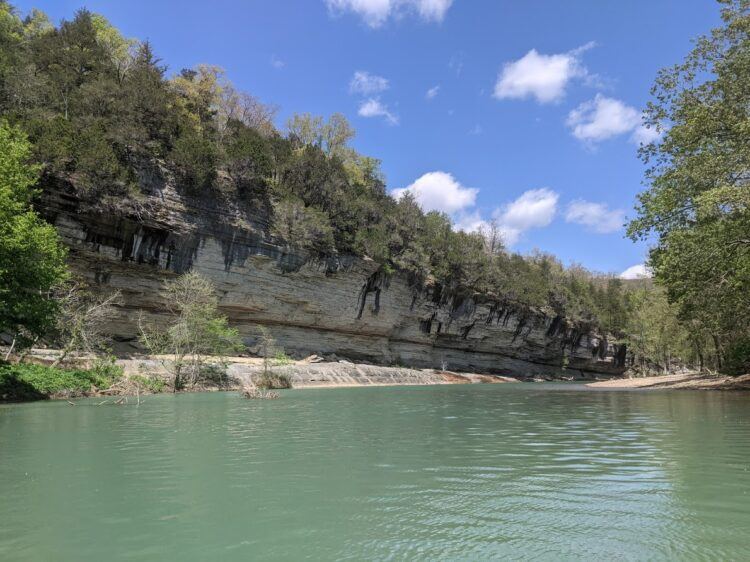 Mile 0: Ponca Put-In
Mile 2-2.5: Roark Bluff (it stretches quite some distance)
Mile 2.6: Steel Creek Put-In
Mile 4: Big Bluff
Mile 6: Jim Bluff
Mile 7: Pull-Off for Hemmed-in-Hollow Hike
Mile 8: An Unnamed Hollow – you'll see a small waterfall on the left and if you pull off and go for a hike, you'll find several smaller waterfalls.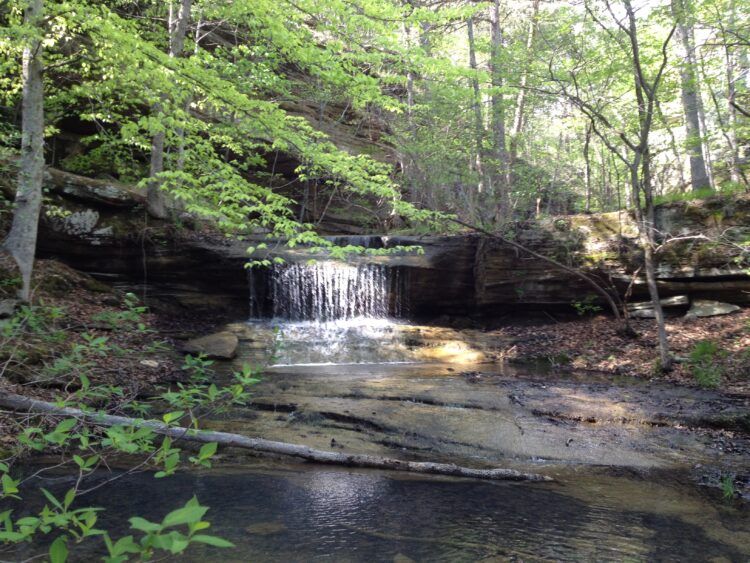 Mile 10.5: Gray Rock Shoal & rapids
Mile 10.7: Kyle's Landing Take-Out
A Few Practical Tips to Canoe the Buffalo River
All trips are independent. I didn't find any guided trips by canoe, kayak, or raft, so you'll need to be able to paddle for yourself.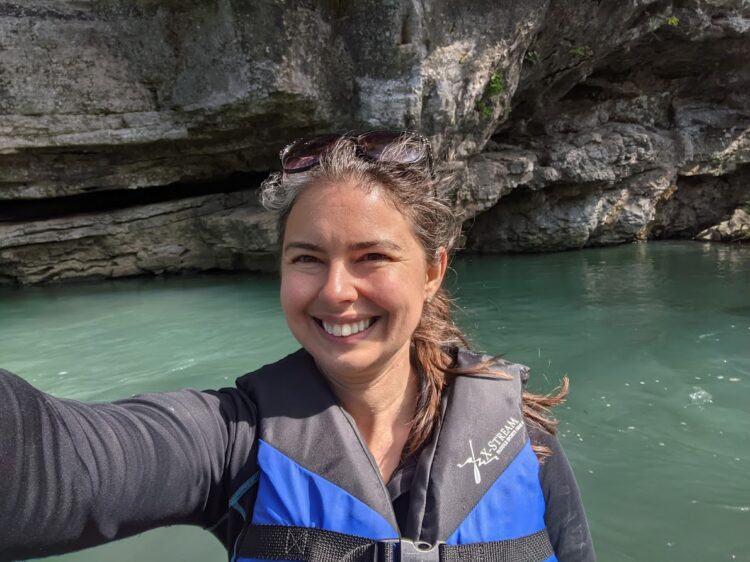 Allow plenty of time. We spent four hours from Steel Creek to Kyle's Landing, which included three hours of paddling (for eight miles) and one hour for our Hemmed-in-Hollow side hike. If you start in Ponca and need to paddle the entire 10.7 miles, allow an extra hour. With more time, you could also picnic on one of the pebbled beaches along the river or to explore the unnamed hollow.
Reserve your canoe/kayak in advance, but not too much. Cancellation policies are pretty stiff in this neck of the woods, so I wouldn't commit until you have an inkling of what river levels and weather conditions will be. It seemed like same-day boat rentals were available at the time of our visit, but I'd recommend booking 2-3 days in advance or longer if you want to go on a weekend.
We booked our Buffalo River canoe rental through Buffalo Outdoor Center. They were easy to work with, easy to find, and had equipment in great shape. Their rate was slightly more expensive ($70 vs $65) but I appreciated their knowledgeable staff.
Arrange a vehicle valet. Most outfitters will (for an extra fee), valet your car from the Ponca/Steel Creek put-in to the Kyle's Landing take-out, which is the easiest way to make the one-way trip. The national park service recommends a 4WD for the drive at Kyle's Landing, which I think is overkill. It's a steep road but was in good condition and we saw all types of vehicles waiting in the parking lot. I believe they offered shared shuttle services in past years as well if you can't drive your own vehicle, but that wasn't running because of the pandemic and I don't know if/when it will resume.
If you can, go on a weekday. We've heard it gets pretty busy on the water on weekends but on a Wednesday afternoon, we only saw three other groups the entire time. I'm sure the cold weather contributed to that as well.
Make any and all arrangements in advance. Cell service is non-existent along the Upper Buffalo River so you can't plan as you go.
Pack a towel, just in case you flip. Miraculously, even after the canoe flooded, my towel was still nice and dry since I had packed it in my favorite waterproof day bag. You may also want a bucket or cut-up milk jug in case you need to bail yourself out. I had to improvise with a sandwich-sized Tupperware which took forever.
Read More About Arkansas