This post may contain affiliate links. As an Amazon Associate I earn from qualifying purchases.
* * *
The Boxley Valley elk herds are one of the country's great wildlife reintroduction stories. As other animal populations have struggled, elk have flourished in this area — giving visitors an awesome chance to see elk in Arkansas.
I've done enough wildlife travel to know that nothing is guaranteed so I was hopeful (but not optimistic) about my odds of seeing elk during my trip to the Buffalo National River. Turns out, I needn't have worried. We saw elk in a handful of places at dawn and dusk, with Route 43 and 21 between Ponca and the Boxley Baptist Church being the most fruitful area for us.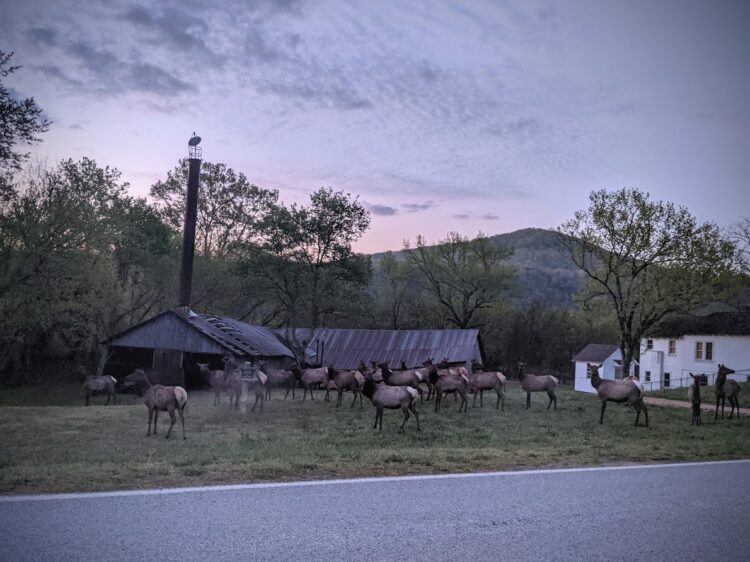 From Extinction to Healthy Herds
While elk are native to the region, they were hunted to extinction in the mid-nineteenth century. However, 112 elk from the Rocky Mountains were brought to the Ozarks between 1981-1985. Since then, the population has flourished from its original numbers to an estimated 800 elk, many of which are still found near the Buffalo National River. In fact, it's the best place in the state to catch a glimpse of these majestic animals.
You can learn more about the history and biology of elk at the Ponca Elk Education Center or the Hilary Jones Wildlife Museum and Elk Information Center in Jasper.
Finding Elk in Arkansas
Boxley Valley is the best place to see elk in Arkansas, although that's a bit of a vague term. More specifically, Boxley Valley refers to the area along AR 43 just south of Ponca (a town you should want to visit anyway for great hiking and canoeing).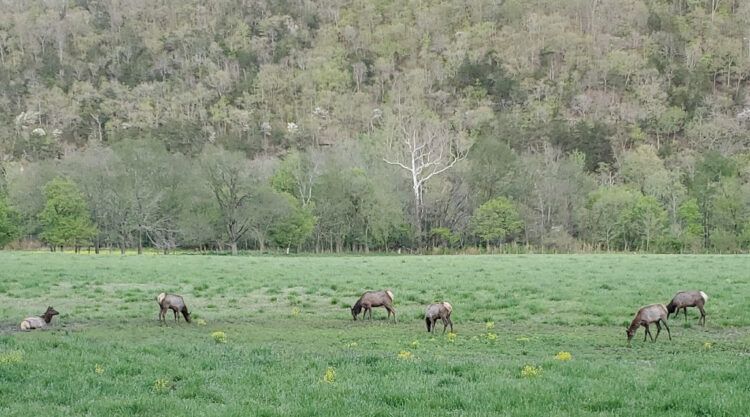 Other popular elk viewing spots include:
along AR 21 outside Ponca
Bearcat Hollow Wildlife Management Area
Gene Rush Wildlife Management Area
Richland Valley
near Pruitt Bridge
near Carver Bridge
near Erbie Campground
along Hwy 65 between St. Joe and Marshall
On the map below, two places I consistently saw elk are marked with red stars. The purple stars are places I didn't see elk (but you might!).
Similar to most wildlife, your best odds to see elk are in the mornings and evenings, when they tend to be active and moving around.
Best Time of Year to See the Boxley Valley Elk
Although the elk live in Boxley Valley Arkansas year-round, it's not always easy to find them. That said, don't give up hope! You have reasonable odds!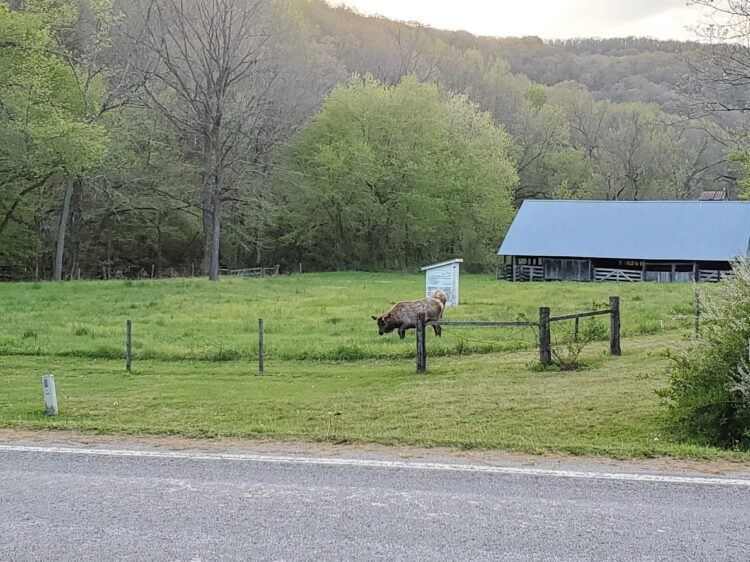 Your best bet to see elk is in fall, winter, and spring when the herds are in the valley itself and thus viewable from the road. In the summer, elk move deeper into the forests and higher in the mountains where they find different food sources (plus a little relief from the heat).
I had numerous sightings in mid-April but would love to return sometime in the fall. If you've never witnessed it before, the fall mating ritual is incredible. Males "bugle" to attract females, a distinct high-pitched screech you can hear for miles. When I was in Yellowstone in September, it was a highlight of my trip so I imagine it's equally amazing in the Ozarks. Most years, late September and early October is ideal.
In some cases, males also duke it out to fight for the best females. I haven't personally seen a sparring match, although I've watched some epic videos.
These roads get busy in the fall with other elk viewers, so go on weekdays if you can and/or pack your patience. Even if you don't see elk, this region is known for its spectacular fall colors which makes it another good reason to go.
And, if you really want to experience bugling season, consider camping at Gene Rush Wildlife Management Area or Erbie Campground in the Buffalo National River. Both spots should position you for a natural concert.
Other Wildlife Near Boxley, Arkansas
Elk — certainly the largest local animal — aren't the only wildlife you might see in this part of the Ozark Mountains. There are also white-tailed deer (drive carefully!), coyote, fox, bobcat, cougars, skunks, otters, weasels, minks, raccoons, black bear, bats, possums, armadillos, hawks, vultures, ospreys, herons, snakes, turtles, and so much more. The national park service has a great wildlife list to get you started.
Bottom Line
The main reason I went to this section of the Buffalo National River was focused on hiking…but elk-watching in Arkansas was a great add-on. Plus, it's easy to do: head out in your car, enjoy the scenery, and keep your eyes peeled. In fact, you might even see elk without trying as you head out for your activities for the day. Sometimes, those spontaneous viewings are the best ones of all, so pad your schedule with a little breathing room if you can.
More Information to Plan Your Arkansas Vacation