This post may contain affiliate links. As an Amazon Associate I earn from qualifying purchases.
* * *
In the northwest corner of Arkansas, there's a national park site everyone overlooks. The Buffalo National River — America's first national river, to be precise — is 36,000 acres of natural playground hidden in plain sight. How the National Park Service manages to hide something that large is beyond me but I'll bet most of you have never given it a second thought.
That's the beauty of pseudo-national parks. The lesser sites (in this case, a national river) offer everything a fully-fledged national park does but with far fewer people. There are still majestic views, epic hikes, scenic drives, and wildlife sightings. Rarely will you see a tour bus; in fact, on two of my six hikes at the Buffalo National River, I didn't see anyone at all.
For me, solitude is always a draw when it comes to nature-based vacations. This year especially, it's nice not dealing with crowds. Arkansas' covid restrictions are pretty minimal, so I appreciated having a house rental with a kitchen to prepare meals and plenty of space to spread out for touring and activities.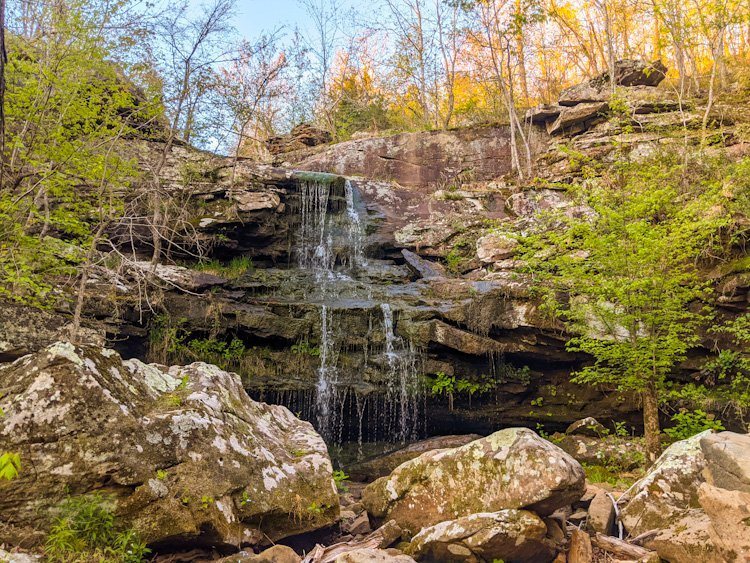 But solitude isn't the only reason to visit the Buffalo River in Arkansas. Most visitors will be more focused on all the sightDOING (hiking, paddling, mountain biking, and horseback riding are popular) plus the abundant scenery and wildlife. Here's why you should go.
135 Miles of Clear Waters
With a title of national river, it makes sense that taking to the water should be high on your agenda. Local outfitters make it extrordinarily easy to do by packaging your choice of canoes or kayaks (or small rafts, if water conditions allow) with a vehicle valet so you only have to worry about paddling one-way.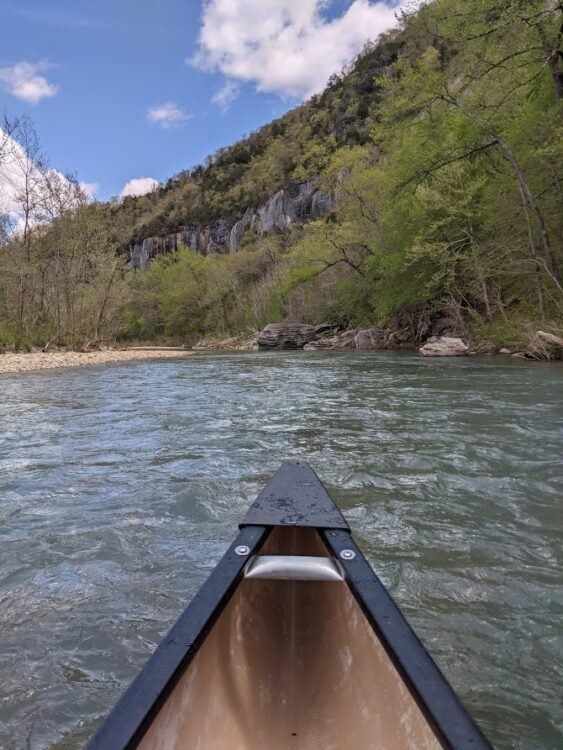 The Buffalo River has a noticeable current so there's plenty of opportunity to sit back and enjoy the scenery without constantly paddling. And the scenery is as lovely as you'd expect, with towering bluffs, crystal clear waters, and some beaches and hollows where you can beach your canoe to picnic or explore. On a warmer day, there were some great looking swimming holes and jump rocks, too.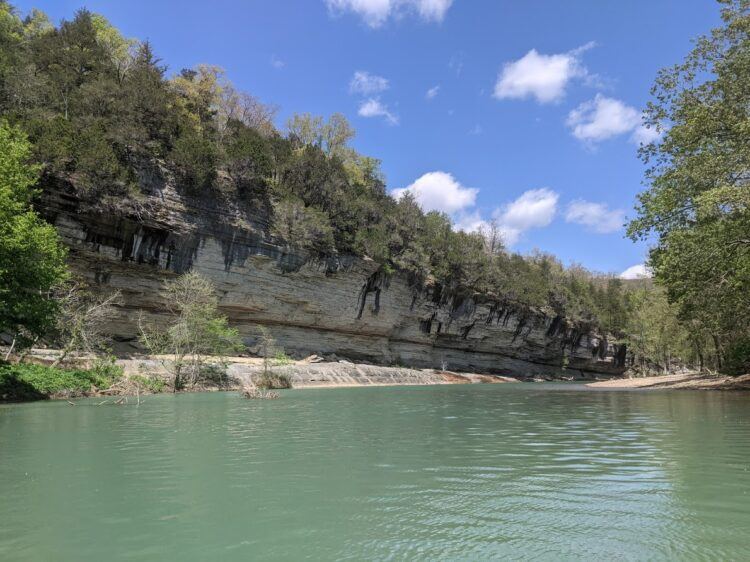 I did a modified version of float trip from Ponca to Kyle's Landing (due to low water levels). My 8-mile trip took about four hours from start to finish including a one-hour stop to hike to some waterfalls — an easy excursion to add to your itinerary. Other trips (including multi-day camping adventures) are also easily arranged.
Buffalo River Hikes With Grand Finales
There's no shortage of hiking in the area, including the 37-mile Buffalo River Trail from Ponca to Pruitt. My hikes, though, were all shorter endeavors, spanning from 1 to 6 miles round-trip and ranging from easy to intermediate in terms of difficulty. I loved that these trails offered incredible views without major effort required: even casual adventurers get a lot of payoff on a reasonably short hike.
For the most part, I'd define all of these trails as "grand finale" hikes. The majority of the walk is pleasant, but not extraordinary until you reach the end of the trail. Then, you'll be delighted by killer vistas or gigantic waterfalls. There are so many waterfalls in this part of Arkansas that it was almost overwhelming!
Heads up: Trail reports usually mention busy trails and packed parking lots on the weekend. If you can, hike midweek.
Centerpoint Trail to Big Bluff
Round-Trip Distance: 5.5-6 miles, depending on how far along the cliff edge you explore. The first half is all downhill, which means that the return is all uphill.
Daredevils, take note: the "Goat Trail" to Big Bluff (which spurs off from the Centerpoint Trail) is downright epic. The trail is a narrow ledge on the cliffside, plunging straight down to the river 500 feet below. This is not for the faint-of-heart, anyone with vertigo, or anyone who isn't 100% confident with their balance.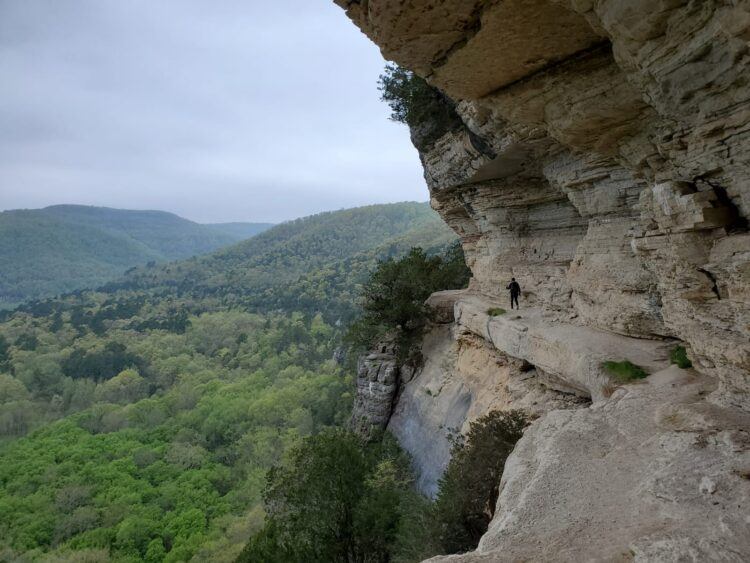 All dangers aside, it's a pretty incredible experience to walk along the bluff and see the Buffalo River below.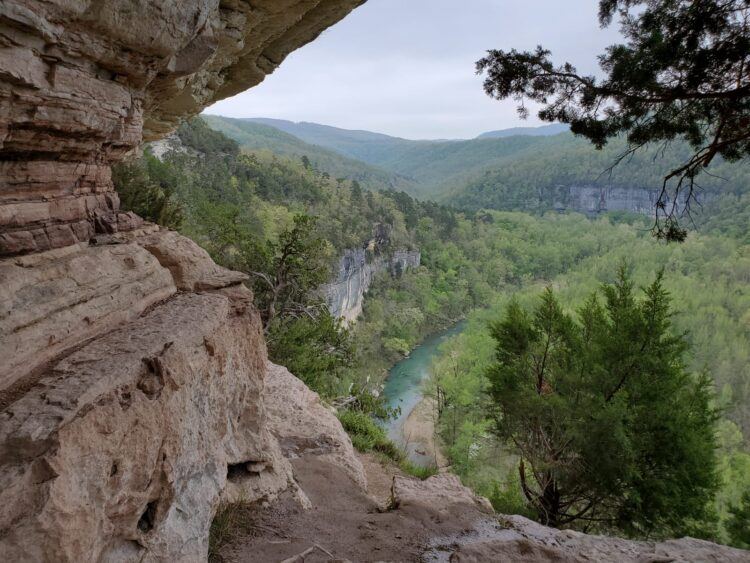 Riverside to Hemmed-in-Hollow
Round-Trip Distance: 1.5 miles from the river (or about 11 miles if you start from the Centerpoint Trailhead)
The best way to see the Hemmed-in-Hollow Falls is to hike in from the river…yes, that means you'll need to paddle the section from Ponca to Kyle's Landing which I mentioned above. This trail is mostly easy and there are numerous small waterfalls along the way, making it one of the most enjoyable for the entire trail experience rather than just the finale.
The falls themselves — and you'll know you found the falls when you see them — are the tallest between the Appalachians and Rockies at 270+ feet high. They sheer scale makes them extraordinary to see and you can walk behind them as well if you're so inclined.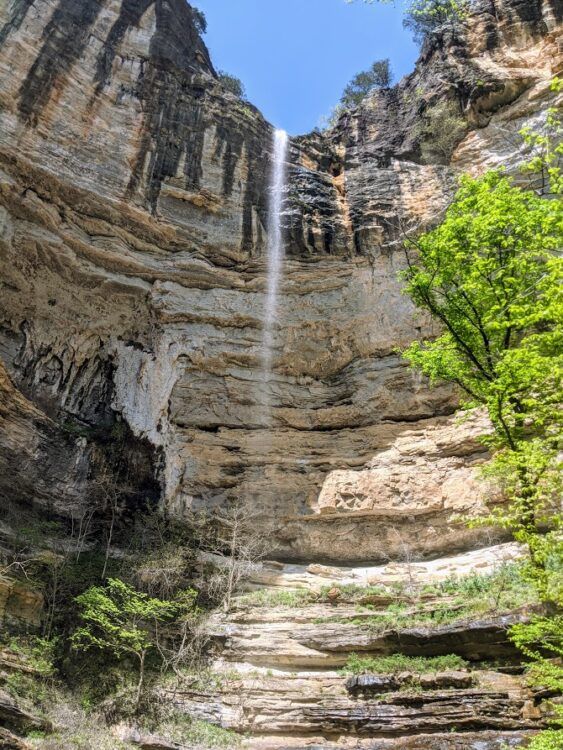 Whitaker Point Trail to Hawksbill Crag
Round-Trip Distance: 3 miles (downhill on the way there, uphill on the way back)
If you're planning a trip to the Ozarks, there's a very good chance you've seen Hawksbill Crag: they use this landmark in a ton of marketing materials.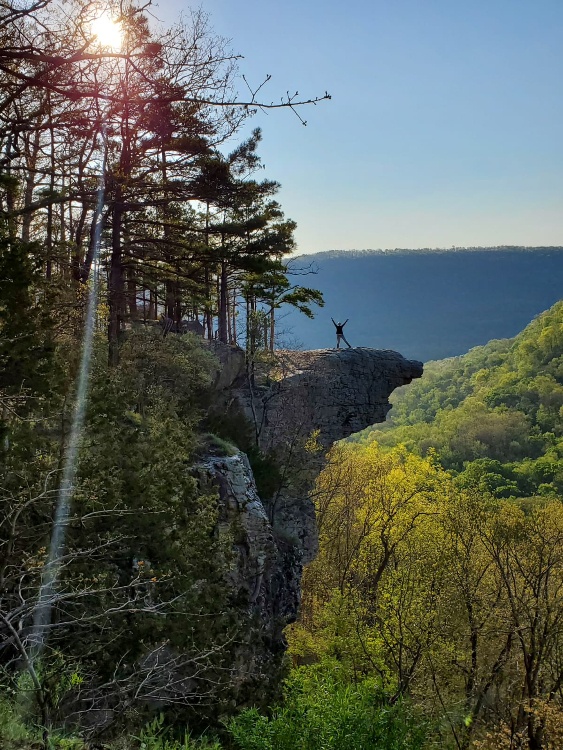 The rocky outcrop makes for great Instagram photos and is a lot less scary in person than it looks. There are several viewpoints toward the end of the trail beyond the famous one, some of which actually have better views.
Getting to this trailhead requires a bumpy ride in on the dirt Cave Mountain Road. If you're approaching from Route 21 (closest to Ponca), the road is steep and meant for 4WD. If you have a standard rental car, you'll need to approach from Route 16 which means a longer drive but less likelihood of damaging your undercarriage.
Lost Valley Trail
Round-Trip Distance: 2.4 miles, super easy and accessible to the Natural Bridge but more difficult/stairs between there and Eden Falls
The Lost Valley Trail is home to lots of landmarks, including a Natural Bridge, Cob Cave, Eden Falls, and Eden Cave. Perhaps this line-up is what makes the trail so popular — it was, by far, the busiest of the trails I hiked (on a Thursday morning, I came across about 20 other people). In my opinion, the true jewel here is Eden Falls.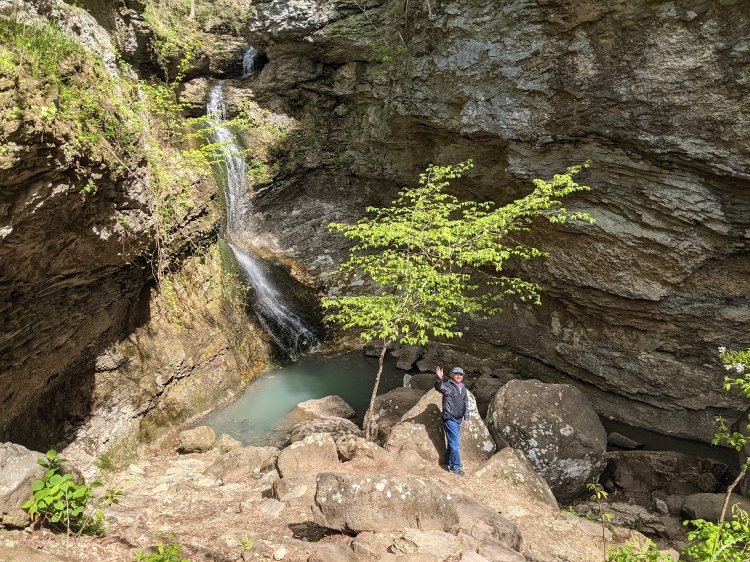 As of April 2021, Eden Cave is closed (and has been for over a year). Don't lose sleep over this…you'll still see most of the trail's landmarks. From pictures I've seen, the cave isn't particularly unique and will be a dark and slippery hike in any case.
Glory Hole Falls
Round-Trip Distance: 2 miles, yet again it's downhill on the first half and uphill on the way back to your car
Technically, I belive this hike is off national park land but it's lovely nonetheless. The trail was lined with flowering trees during my visit and I stopped a handful of times to admire red-headed woodpeckers and families of tadpoles. However, the grand finale of this hike is a unique waterfall that plunges through a round hole in the rock rather than over a ledge like most cascades.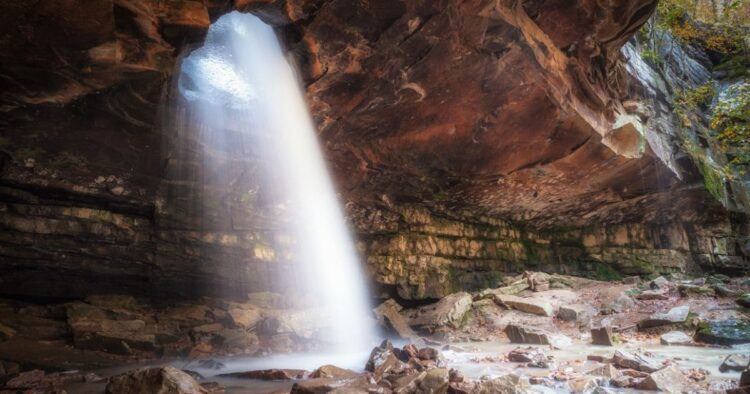 This final section of the trail can be quite slippery, so be careful as you're heading down to the waterfall and/or exploring some of the rock formations nearby.
Unexpected Wildlife
By far, the most notable wildlife in the Buffalo River region are the herds of elk. In fact, the Boxley Valley Historic District is known as the "Elk Capital of Arkansas". I was lucky enough to see two separate herds during my visit (and a total of 5 sightings). There's an estimated population of about 100 elk in the immediate area and 500 in the greater corridor. That obviously can't compete with somewhere like Colorado's Rocky Mountain National Park, but it's a sizable number.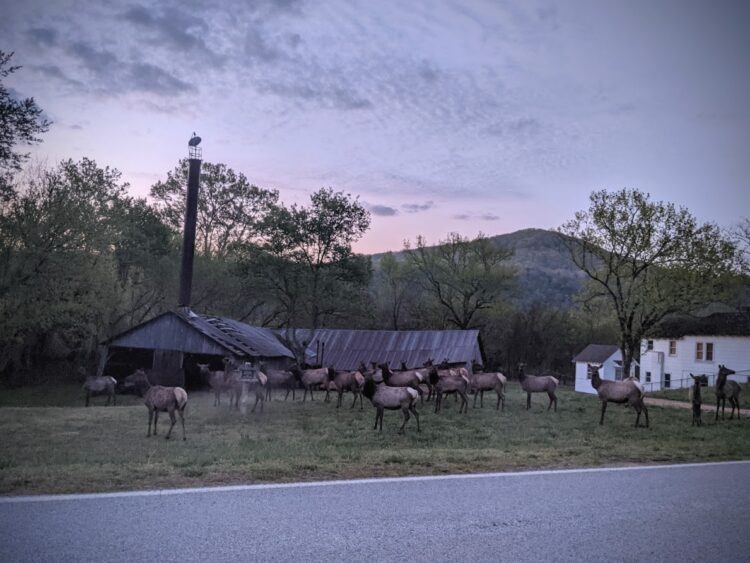 In addition to the elk, I was fortunate enough to see herons, a river otter, white-tailed deer, a groundhog, and the largest hawk I've ever seen.
Next time, I'll keep my eye out for flying squirrels and armadillos, both of which are also in the area.
Traveling to the Buffalo National River
Where to Stay Near the Buffalo River Arkansas
The Buffalo River region covers a massive amount of territory so choosing the right base is important. We stayed near the town of Ponca on the Upper Buffalo — it was the perfect location for the hikes I took and for easy rides at dawn and dusk to search for elk. No matter what town you stay in, I strongly recommend booking somewhere with a kitchen: there are very few restaurants, many are a lengthy drive away, and all of them have limited hours.
I stayed at the Azalea Falls Lodge, but in retrospect I'd recommend the Azalea Falls Cabin instead. It's the same management and same location, but with fewer stairs for easier loading/unloading and a better driveway in case you're arriving in a low-clearance rental car. It's a steal for three bedrooms, living room, full kitchen, and gorgeous outdoor setting. Or, check out these other recommendations for Buffalo River cabins.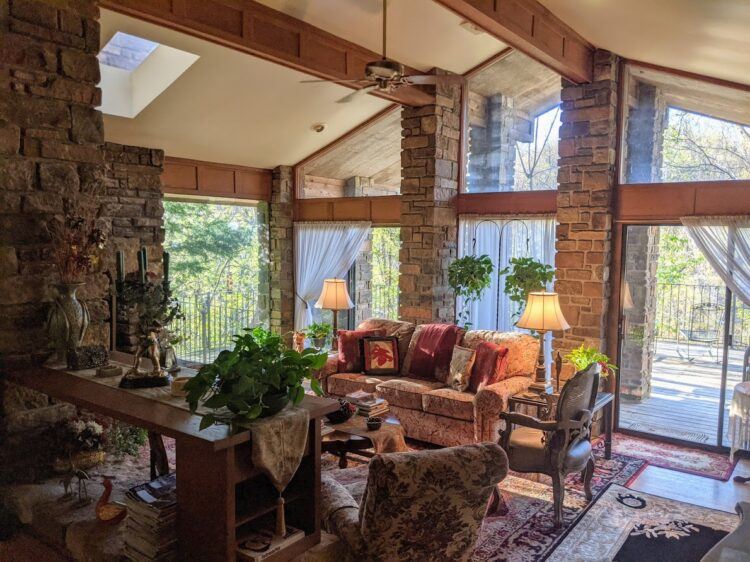 If that's a little too remote for you, consider a day-trip from Branson or Eureka Springs, both of which have more restaurant and lodging options. At 60-70 minutes away, they're both realistic options.
Closest Airports to the Buffalo River
Northwest Arkansas (XNA) is about 1 hour and 40 minutes from Ponca.
Springfield, Missouri (SGF) is about 1 hour and 50 minutes from Ponca.
Fort Smith (FSM) is about 2 hours and 10 minutes from Ponca.
Little Rock (LIT) is about 2 hours and 40 minutes from Ponca.
Tulsa, Oklahoma (TUL) is about 3 hours from Ponca.
If you're coming from XNA or TUL, I highly recommend stopping at AQ Chicken House in Springdale along the way. Their "over the coals" chicken is a uniquely delicious: first, the chicken is fried and then afterward grilled and seasoned with lemon and pepper. It makes a fabulous dine-in or take-out option.
While the Buffalo National River might not sound as glamorous as other destinations in the USA, it turned out to be a great spot. In my opinion, it's type of place you'd want to spend 1-3 days (depending on your affinity for outdoor adventure). For most travelers, that makes it more of an add-on to a longer itinerary than a standalone trip and it would combine well with other spots in Arkansas, Missouri, or Oklahoma. You can even hit parts of Tennessee, Texas, or Louisiana within a half day's drive.
For travelers who love waterfalls, quiet trails, and the chance to get away, make this a stop on your next roadtrip.
Read More About Arkansas