This post may contain affiliate links. As an Amazon Associate I earn from qualifying purchases.
* * *
If you're heading to Egypt, you can't miss Cairo. The Great Pyramids of Giza are the obvious draw, but there are many other things to do in Cairo too!
I squeezed Cairo attraction into just 2 days, which is VERY rushed, although doable. Add another day or two so you have a little time to catch your breath.
Related Post: If you haven't read my no-nonsense guide to Cairo yet, start there. The city isn't for everyone (opens in new window)
Things to Do in Cairo: Giza and Ancient Sites
I'd be remiss to start with anything other than the pyramids since this is the area most travelers think of when planning a trip to Cairo. Ironically, the pyramids are actually outside the city itself but they make an easy day trip from Cairo.
I saw Dahshur, Saqqara, Memphis, and Giza all in one, long day. I wouldn't do it that way again unless you have a huge history in history, but I'm living proof it's possible.
Dahshur
Dahshur is the site of the Bent Pyramid and Red Pyramid, which are older than the iconic Great Pyramids. This was our first stop of the day in order to show the chronological progression (it's also the furthest south from Cairo, so logistically made sense to start there).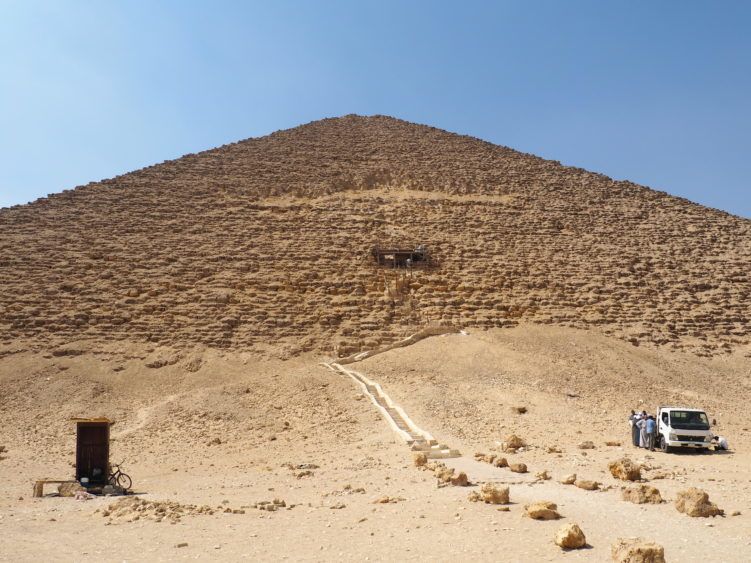 The Bent Pyramid looks "bent" from the change in slope on its sides about halfway up while the Red Pyramid gets it tint from weathered limestone. While it's interesting to see the architectural progression throughout Egypt's history, you can get the gist from any book or photograph.
So why go?
There are no crowds and it's ridiculously cheap to go inside a pyramid. We were literally the only people at the site on our morning visit, which meant we could stand mesmerized in front of the pyramids without anyone hawking items for sale or bus groups trying to get a photo. Inside the pyramid, we wandered freely in the small space and experienced total silence.
If a solitary experience is important to you, go to Dahshur. Otherwise, I think it is skippable when time is short.
Saqqara
The Step Pyramid of Djoser at Saqqara (sometimes spelled Sakkara) is a great one to include in combination with the main pyramids at Giza.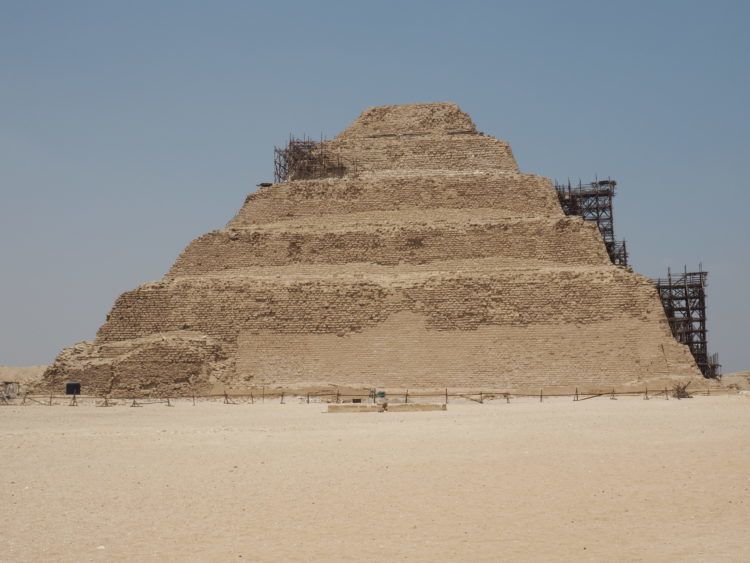 There were definitely other groups at Saqqara during our visit, unlike at Dahshur. Still, it was relatively uncrowded and a very enjoyable visit. The step pyramid is an obviously different shape, making it interesting to see.
However, Saqqara also offers variety: there's a small museum on-site and lots of tombs to walk through. If you're not heading to Aswan or Luxor where tombs are a dime a dozen, this is an easy way to add them to your list of things to do in Cairo.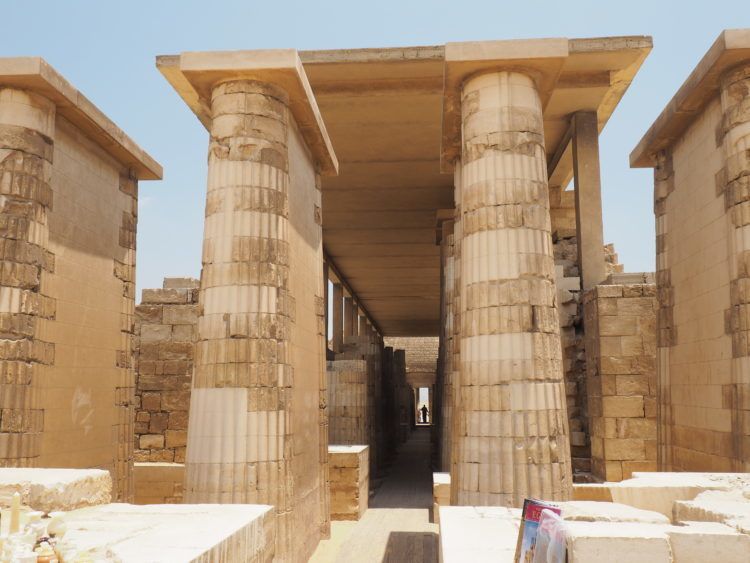 I think that Saqqara and Giza pack a great combination into a reasonably-lengthed day trip. Learn more about Saqqara before your trip.
Memphis
The ancient city of Memphis was an important capital in Egyptian history and a significant site. It marks a boundary between Upper and Lower Egypt, which were unified in the fourth millennium BCE.
Today, there's not much there, but we made the 20-minute detour from Saqqara to Giza anyway. The highlight of the stop is the 33-ft long statue of Ramses II, though there are some other sculptures in ruins as well.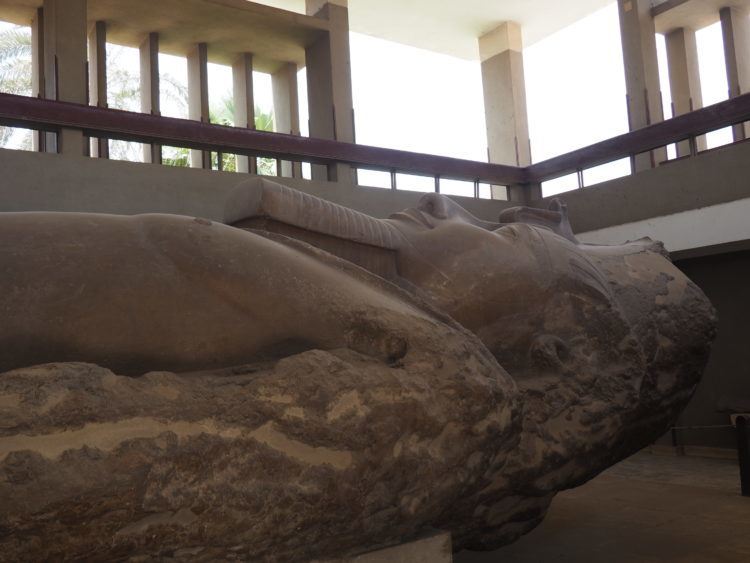 In my opinion, Memphis wasn't worth the time we spent there. If your tour guide includes it automatically, that's fine — but I wouldn't ask for it specifically when there are so many other things to do in Cairo.
Giza
The Giza Necropolis is the primary ancient site in the region and one of the most popular things to do in Cairo. Between the three main pyramids all in the same vista as well as the Sphinx, you will want to come and see it for yourself.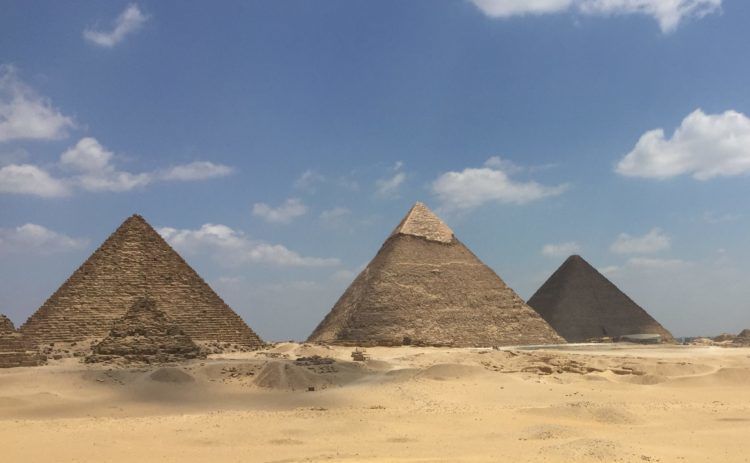 The area is busy and crowded — and full of local salesmen. Souvenirs are aplenty, and you will need to get used to saying "no" over and over. Hopefully you've already been inside a pyramid at either Dahshur or Saqqara because entering the main one here is a whopping 200 Egyptian pounds admission fee.
The plateau here is huge and just walking from one end to another will take some time. But the reason people spend a lot of time here is because they add in the Sphinx, the Solar Boat Museum, horse rides, camel rides, and souvenir shopping.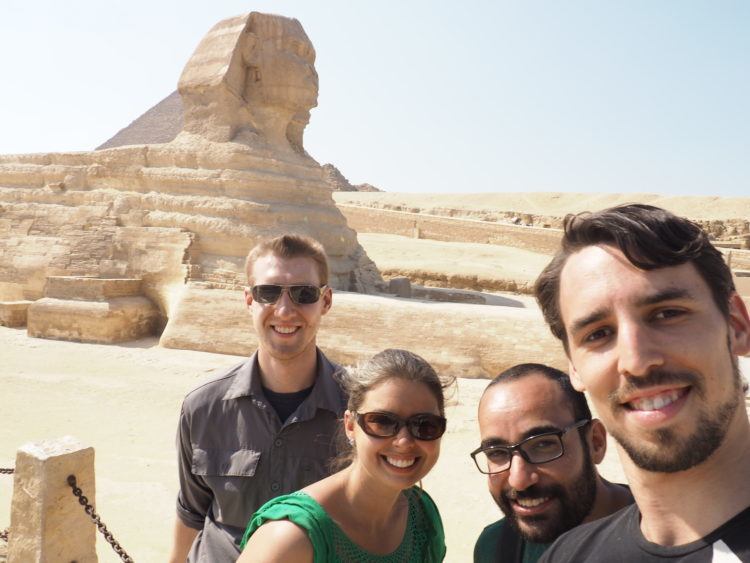 We added in a quad ride in the desert around the pyramids (not in park boundaries itself), which was a ton of fun. You can book it in advance or show up and hope your guide knows a perfume store owner who knows a guy who owns a couple of ATVs. As much fun as I had, I'm not 100% sure I could re-create the same set of circumstances!
Things to Do in Coptic Cairo
Most people don't think of Egypt when they consider early Christianity, but Coptic Christianity is a sect dating back 2000 years. It's worth a peek, if only because it's so different from the rest of things to do in Cairo.
Coptic Cairo was my favorite part of the city and one that surprised me. It's the first area people skip when they are short on time — after all, it's "just" churches — but it's absolutely beautiful. It won't take you very long to explore all the Coptic Cairo attractions, but it's well worth two or three hours.
Side note: If you have a desire to ride the metro just to check it out, the easiest route to take is on Line 1 from Sadat (near Egyptian Museum) to Mar Gigis (Coptic Cairo). Rides are 1 Egyptian pound and there are cars exclusively for women available.
Church of St. George
This church wasn't even on my list of things to do in Cairo because it's actually Greek Orthodox (and not Coptic), but I thought it was the most beautiful spot in the neighborhood. It dates back to the tenth century, although most of it has been rebuilt since then. It's said that it was built on ancient circular Roman rampart, which led to its circular shape.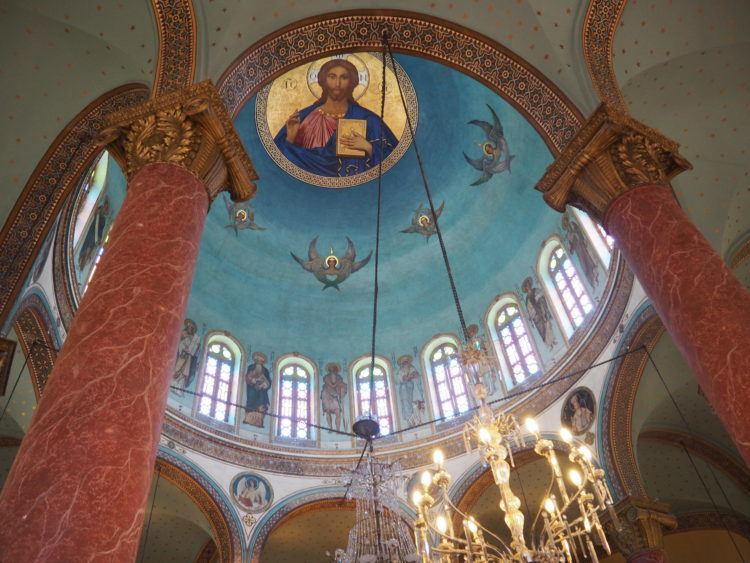 But the mosaics…they are everywhere you look and oh so beautiful. Since it'll only take you twenty minutes to stop in, there's no excuse not to go.
Abu Serga
The churches of St. Sergius (Abu Serga) and St. Barbara are right next to St. George's. The church itself is dated back to the fourth century and said to have been built where Joseph, Mary, and Jesus rested at the end of their journey to Egypt. That said, it isn't particularly pretty, so if you don't care about the unconfirmed historical significance, I'd skip it.
Ben Ezra Synagogue
This synagogue is Egypt's oldest surviving synagogue. I wanted to see it because it's supposed to be on the spot where baby Moses was hidden among the reeds in order to save him (another rumor, who knows if it's true). Unfortunately, despite walking around the area, we never did find it. Bring a better map than I did and let me know if it's worth it!
Coptic Museum
Looking for more historical things to do in Cairo? The Coptic Museum shows Coptic art and artifacts, with limited information in English. In fact, they re-use the same sign over and over again throughout exhibits to provide context. That said, there are some tapestries, frescoes, and other art and the building's woodwork is extraordinary. It's worth a peek, even if you don't have a ton of time.
Hanging Church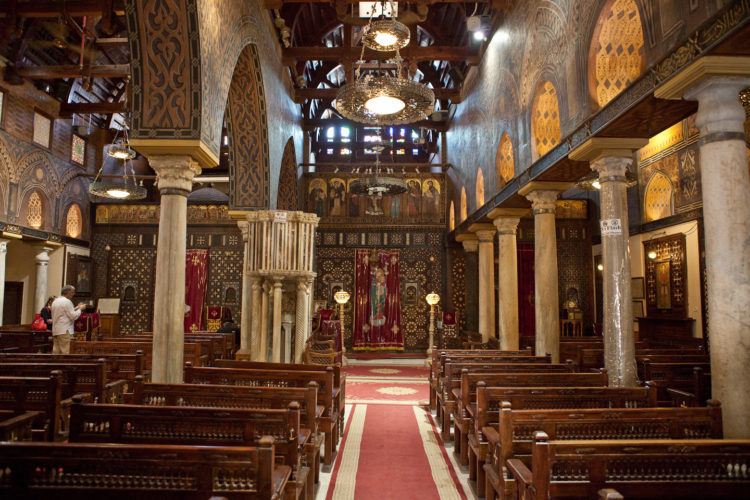 Also known as Saint Virgin Mary's Church, this church got its name because it's "hanging" over a passage of the Babylon Fortress. There are 110 icons in the church, giving you plenty to look at. Visit the ebony and ivory sanctuary area and marble pulpit. After Saint George's, this was one of my favorite Cairo attractions. Get there early because tour groups love it too!
Things to Do in Islamic Cairo
I've done very little travel in the Arabic world, but I'm fascinated by the architecture in mosques. You'll obviously find mosques all over the city, but the most "monumental" are in the Islamic quarter.
The Citadel
Possibly the greatest of all attractions in Cairo (after the pyramids) is the Citadel. Formerly, this was the center of Egyptian government, but today it houses three museums. However, my arguments for visiting have nothing to do with those exhibits.
Firstly, the Mohammed Ali mosque in the Citadel was the most beautiful I saw in Cairo and is open to non-Muslims. The square leading to it is also a sight to be seen. If you only see one mosque in Cairo, make this one it.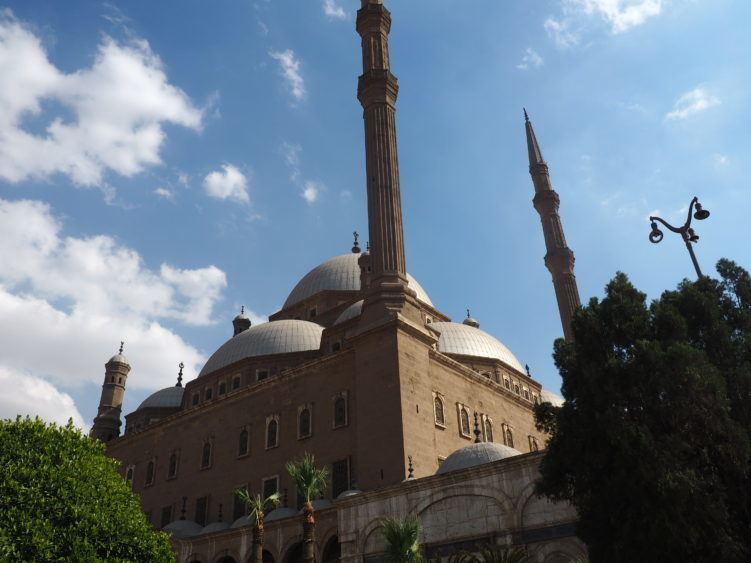 The other reason to include this on your list of things to do in Cairo is for the view overlooking the city. You'll get great vistas that rival the ones from nearby Al-Azhar park and if there isn't too much pollution, you might see all the way to the pyramids.
Other Mosques in Cairo
The Sultan Hassan mosque is one of the largest in the world, at 150 meters long and 36 meters tall. Apart from its size, it couldn't compare to Mohammed Ali mosque. I enjoyed looking at the huge doors and looking at all the motifs within the structure, but I don't know if it's a must-do when you're short on time.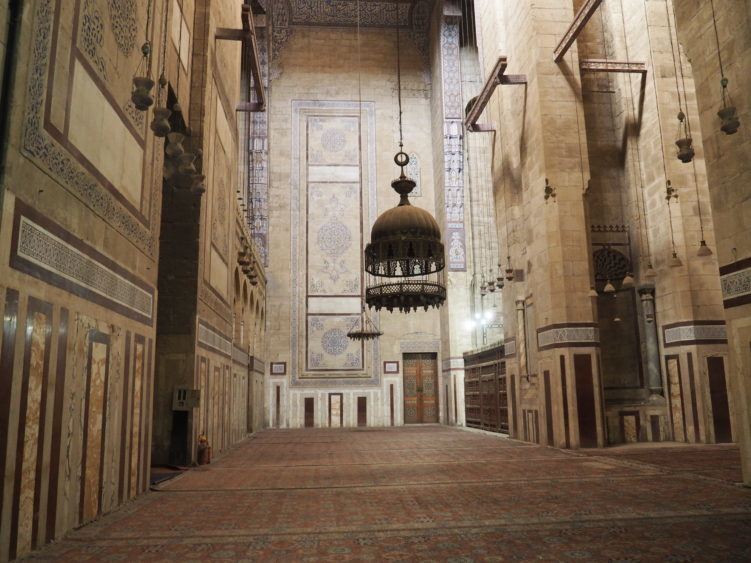 The Ibn Tulun mosque is the other one that most visitors see, which is also huge and has a slightly different style to it.
In general, if you're planning on visiting several mosques, I'd recommend hiring a guide who can provide additional context to your trip, both for cultural and art reasons.
Visiting a mosque? Have coins ready to give a tip to the man who holds your shoes during your visit and women should pack a head scarf out of respect. Photos seemed to be encouraged, as long as it isn't during prayers.
Khan el-Khalili Market
When you think of shopping in Cairo, this market is the one to include. It's especially great for jewelry, perfume, and spices, though never at the best prices in town unless you're a great bargainer. The open-air market is packed with stalls and permanent shops plus it's busy and crowded with shoppers. It's quite an experience, even if all you end up with is souvenir trinkets.
Since it's so busy, beware of pickpockets and leave your valuables at the hotel. You'll have to say "no" a million times to shopkeepers, but we only found one that was crazily aggressive. The others will annoy you, but seemed harmless.
This is a late night town, so don't go before late afternoon and evening is a great option.
Sufi Dancers
Two or times a week, loud shows featuring local music and whirling dervish dancers take part at Wikalat al Ghuri. We had a lot of trouble finding it at first — locals don't know the words "whirling dervish" or "dancers". Some seemed to know "sufi" and others the location name of Wikalat al Ghuri, so be prepared to ask accordingly.
Every guide book states a different starting time. My best recommendation: show up at 6 or 6:30 to buy tickets, then head back to the market for some shopping (5 minutes walk away) or grab dinner. Then show up at the appropriate time for the show start (7-9pm).
What many visitors don't realize is that the show is 90% music and only 10% dance. The horns are loud and obnoxious, but overall the show is colorful and fun. I recommend it.
Things to Do in Downtown Cairo
A lot of people stay in downtown Cairo since there are tons of choices. We stayed at the Conrad Cairo, which is a great property but not the best location (I'd try Zamalek next time). Since you're likely to stay in the area, take the opportunity to include a few Cairo attractions at the same time!
Egyptian Museum
The museum is probably on every traveler's list and for good reason: the sheer number of artifacts, mummies, gold pieces, and more is overwhelming. There are some English signs, but most display the name of what you're looking at rather than providing any type of context. If you want the whole story, bring a guide (as weird as it sounds to have a guide for a museum).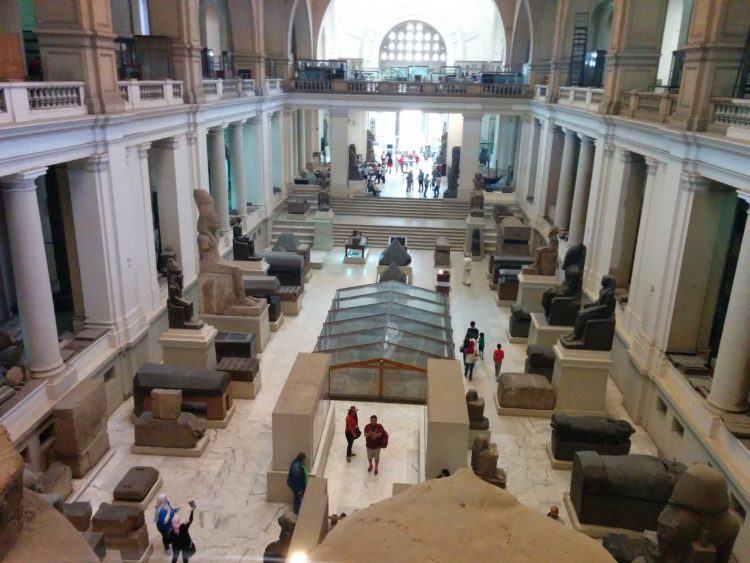 As you might know, I don't love museums, so I hit a few highlights but overall thought a cursory look was plenty. The exception? There are two mummy rooms (additional admission cost) that are 100% worthwhile. The animal mummies were cool too!
On the other hand, my husband was in awe of everything and easily could have spent a half day there.
Nile River
The typical Nile cruises you have in your head sail between Aswan and Luxor, but you can head on the water in Cairo, too. There are dinner cruises with bellydancers, felucca sailboats that head at a slow pace, and plenty of docked boats where you can just enjoy dinner or shisha. If you've never smoked hookah before, Cairo is a good place to start.
My favorite part of the Nile was just walking across the bridges downtown in the evening and passing locals fishing off the bridges or heading out on a stroll.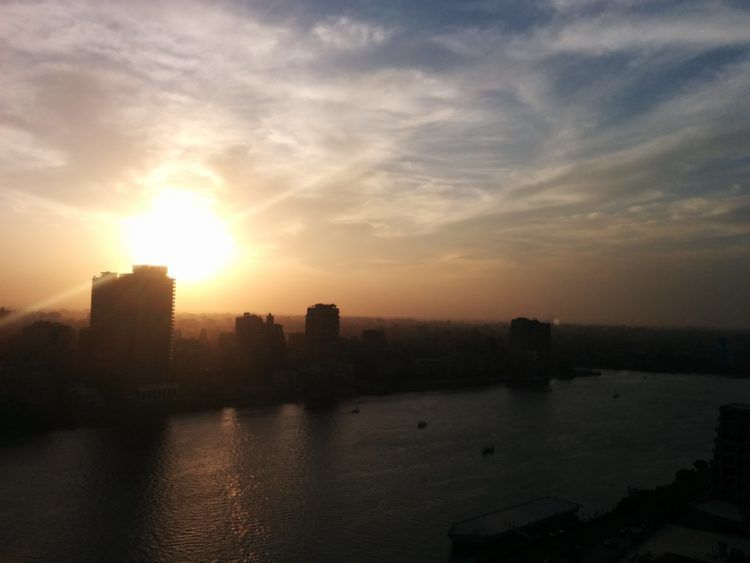 Including the Best Things to Do in Cairo in Just 3 Days
Ready for a great trip?
Day 1: Learn about local culture by heading to the Islamic Quarter. This was my favorite place to wander without an agenda since there are old, narrow alleys. Stop in a mosque or two, tour the Citadel, and then spend the evening shopping in the market.

Day 2: It's Pyramid Day! Combine a visit to Saqqara first thing in the morning with a stop by Giza. Make sure you budget for ATVS, camels, horses, or other activities. Alternatively, sleep in and get a later start but then stick around Giza after dinner for the sound and light show.

Day 3: Start by heading to the Egyptian Museum in the morning and then heading to Coptic Cairo for two or three hours. After a break at the hotel for some pool time or just relaxation, head back out in the evening to walk along the Nile.
* * *
Fess up: Do you want to go to Cairo or are you a little intimidated about visiting this destination?