This post may contain affiliate links. As an Amazon Associate I earn from qualifying purchases.
* * *
My husband is the one who convinced me to go to Macau. It wasn't that I wasn't interested; it just seemed like on an already short trip, there was no reason to squeeze in a third city. And Macau would just be shopping and casinos anyway.
That was my first Macau mistake and probably one that a lot of people make, but trust me, there are plenty of other blunders to make as well.
Macau Blunder #1: Thinking Macau is "Asian Vegas"
In some ways, Macau is Vegas on steroids: they brought in $44 BILLION of gambling revenue in 2014, roughly six times what Vegas brings in. Construction is everywhere with massive resorts that will out-grow Vegas in terms of size and number of rooms. However, there are lots of distinctions.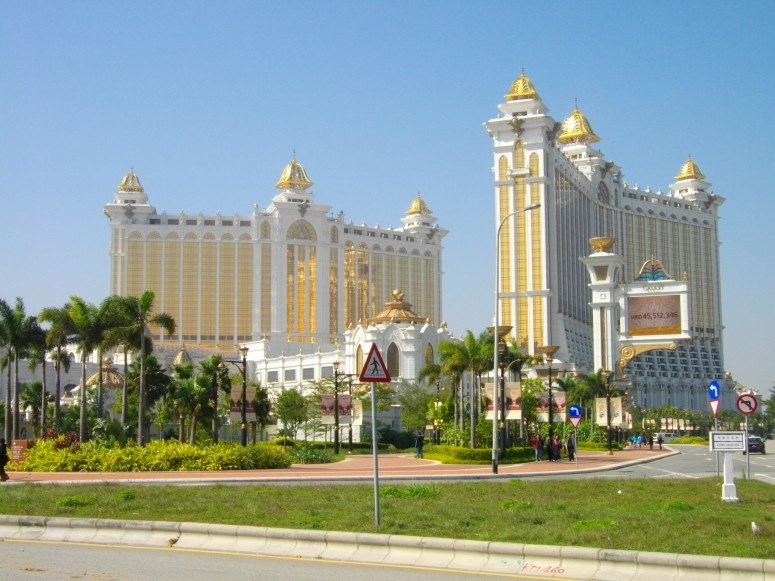 While the Venetian looks like its predecessor in Vegas, most of the hotels lack the "show value" or attractions you'll find in the USA. There aren't museums, roller coasters, or free family entertainment options to draw you in as a tourist. You're not here to be entertained, you're here to gamble.
Standard table games like poker and blackjack are available, but in Macau, baccarat is the most popular choice, followed by sic bo. Table minimums can be ridiculously expensive; you'll rarely see 100 Macanese patacas (about $12) as a minimum and 300 ($37) is far more likely. Macau isn't for a casual American gamer! Slot minimums are also high, and instead of receiving free drinks on the floor, you'll receive tea or Coca-Cola.
Macau Blunder #2: Not Leaving the Cotai Strip
Back in the 16th century, Macau was established as a Portuguese colony. This, combined with their history as an Asian fishing village, means that Macau has a unique and fascinating identity.
As soon as you arrive in Senado Square, you'll wonder if you're still in Asia. The architecture resembles what you'd find in a European capital and squares and plazas are set up for that same cafe culture you'll find elsewhere in the world. It's gorgeous and entirely unexpected compared to what you find across the border in Hong Kong or mainland China.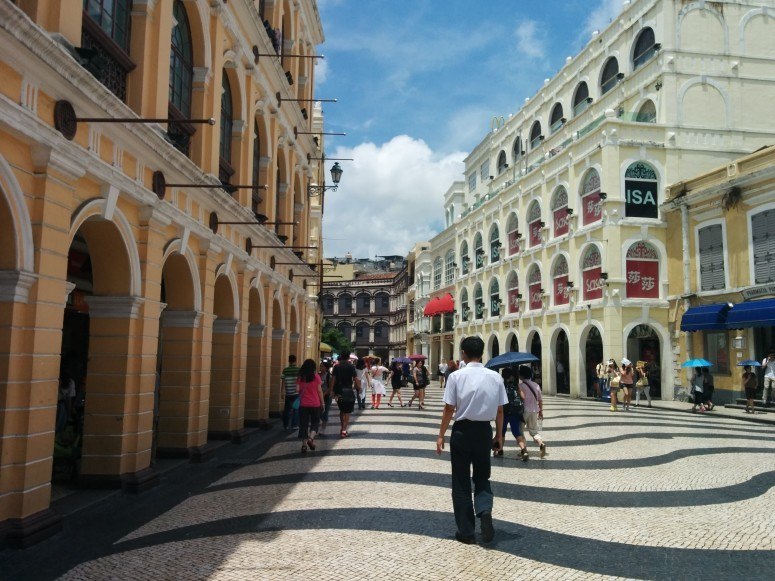 Head beyond Senado Square. The ruins of St. Paul's cathedral are fascinating: right next to the Virgin Mary, you'll see Chinese dragons and inscriptions in Chinese characters.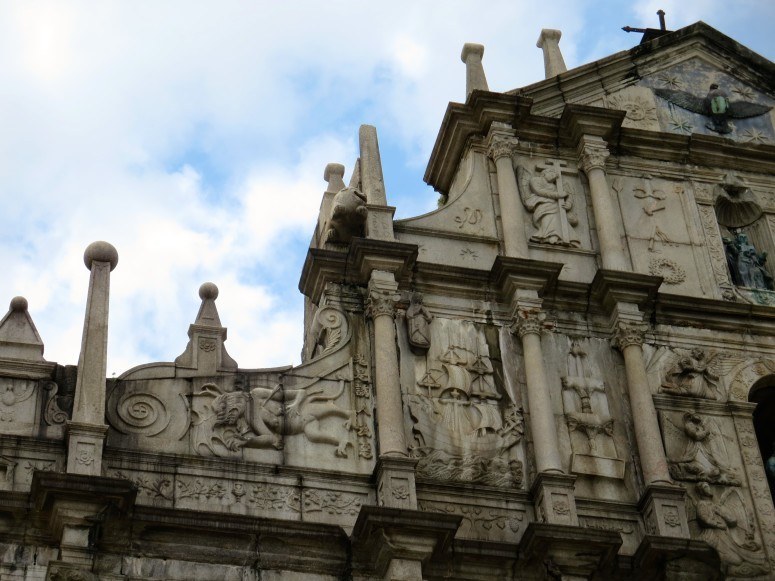 Elsewhere, Taipa Village and Coloane Village are home to narrow lanes (great for getting lost in), colonial shops, and traditional fishing vibes. You can find lots of Cantonese cuisine or Portuguese restaurants rather than limiting yourself to resort restaurants. Just wander, and see what you stumble upon.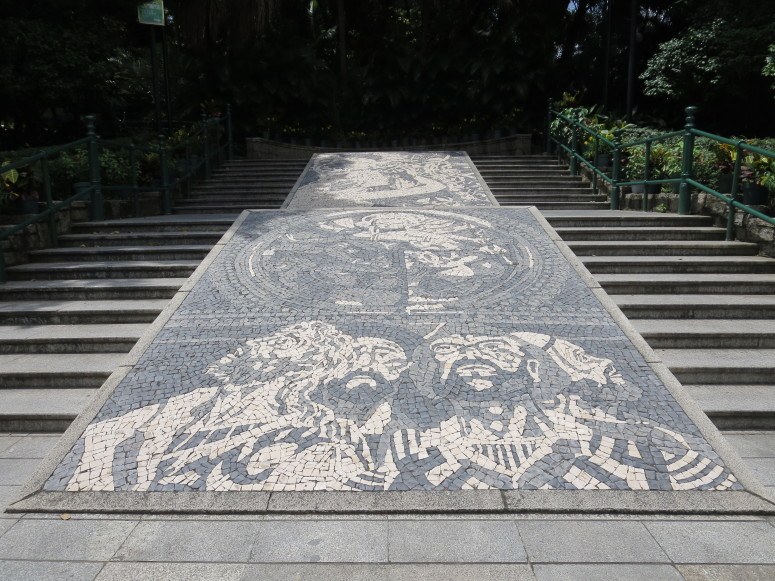 Macau Blunder #3: Expecting Things to Be Open Late
Considering that the casinos are open 24 hours, I was shocked that the rest of Macau shuts down early, even in the Cotai Strip. Most restaurant kitchens closed at 9pm, stores closed up shortly after, and even bars and entertainment open late are hard to find. While I can certainly adjust to those hours, I made the mistake of assuming things would be open later and didn't plan very well in advance.
Macau Blunder #4: Skipping "The House of Dancing Water"
Macau's one and only regular evening show, The House of Dancing Water, has a terrible plotline and a $72+ pricetag so I am almost skipped it.
Luckily, I changed my mind a few days in advance. The show is amazing. It is better than Cirque du Soleil. The acrobatic feats are mind-blowing, the synchronized divers are spectacular, and even the stage is an engineering marvel. I absolutely loved the show…just go in with the mindset of seeing incredible athletic feats rather than planning on an interesting story.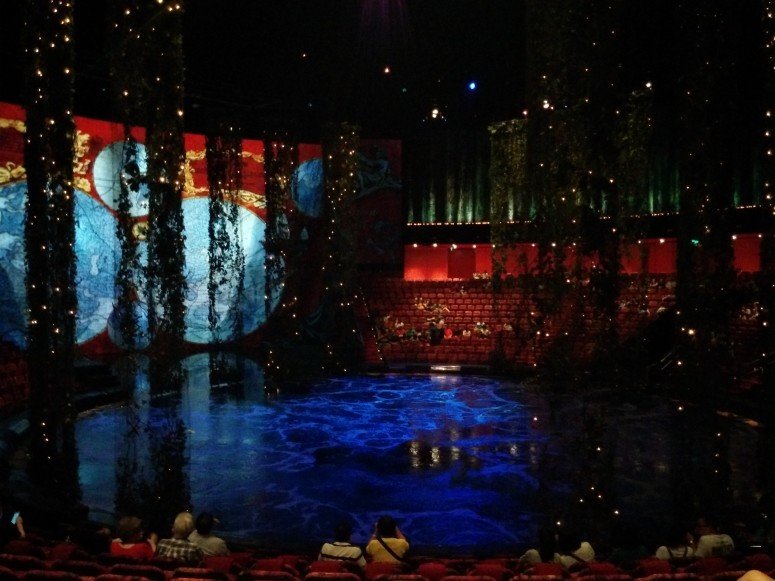 Our seats in "A Reserve" (section 500, row L 511/512) were perfect, but if you can get seats in "B" near the center and in rows E or higher, I think they would be great too and save you a little money. No matter what, skip the VIP upgrade.
Hint: If you go, see the early show and plan dinner (with a reservation) after. That way you don't have to rush beforehand and you won't find yourself eating at a crappy Venetian resort restaurant like us when you realize nothing is open late.
Macau Blunder #5: Not Spending the Night
Many Macau visitors come in on a day trip from Hong Kong. In a worst case scenario, that'll do, but we loved spending the night. For one thing, the ferry trip and customs/immigrations on both sides will chew up a lot of your time if you do a round-trip within a day. Secondly, the whole feel of Macau changes between day and night.
In Taipa, locals came out in the evening for dinner and tourist shops closed up to make room for conversations on the street. In Cotai, well, the gambling is pretty legendary to watch.
On weeknights, hotel prices are relatively affordable. You can find basic rooms for about $100/night in Cotai, but we splurged on the $180 Conrad Macau, a five-star hotel. It was worth it for the service level and outdoor pool alone but with Hilton Gold status, we made out like bandits. We had a sweet suite upgrade and lounge access (with free breakfast and evening cocktails and h'or doeuvres substantial enough to make a meal). I'm thrilled we chose to stay two nights.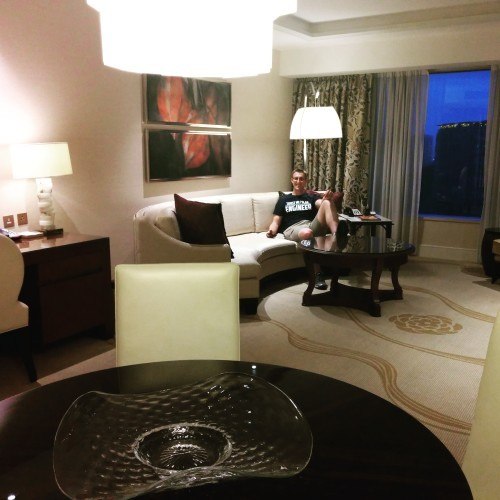 Macau Blunder #6: Visiting on a Budget
Today, Macau is built around money. That may not be Macau's heritage, but it definitely is a piece of today's culture.
Don't get me wrong: there are ways to save money in Macau. By all means, buy a $7 pork chop sandwich for lunch and ride the local bus to get around. But at some point, it's worth opening your wallet so you can experience Macau the way so many others are.
Plan a nice meal, withdraw $20 to play some slot machines if only as an excuse for people watching, and live it up a little.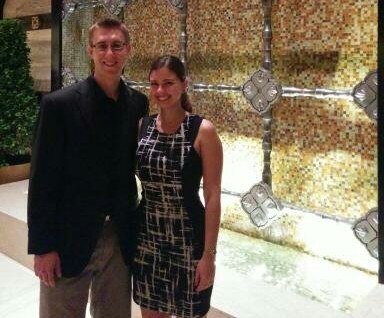 * * *
How to get there…
We took the Turbo Jet ferry from Hong Kong; even in their premium seating, leg room was cramped, so next time I'll try Cotai Jet. We had no problems buying a last-minute ticket at the terminal, but I hear on weekends that tickets can sell out and it's worth buying in advance. We flew out from Macau airport, a tiny airport with no amenities other than allowing us to skip a ferry return. It's also possible to arrive/depart via the Chinese mainland, assuming you have a separate Chinese visa.