This post may contain affiliate links. As an Amazon Associate I earn from qualifying purchases.
* * *
Even after just one trip to Europe, I had trouble deciding where my favorite city was. Each time I returned, it just got harder since I've enjoyed a lot of places I've been to and would love to return. I've stopped trying to rank my favorites and instead have categorized them as "best" for different occasions. Ljubljana wins the best small city award, (barely) edging out Strasbourg in my book.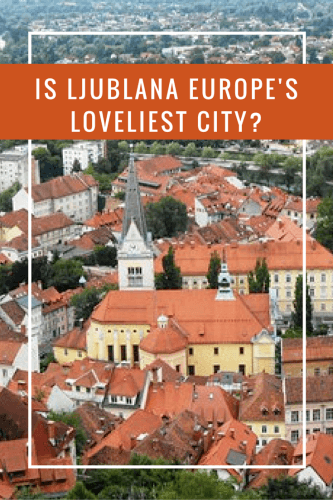 Considering it's the capital of Slovenia, Ljubljana's pretty small. I suppose that's fitting for a small country. With a population just around 300,000 and a compact city center to get around, I fell into the trap of spending too little time in Ljubljana. No, there aren't any world-famous attractions to tick off your list, but there's plenty to enjoy.
What makes it so charming? For one thing, it's the wide range of their pedestrian areas. In other cities, there are a few scattered squares blocked off from traffic, but in Ljubljana, it seems to extend much farther. The Ljubljanica River cuts through the center, breaking things up and providing lots of open space while the many decorative bridges make things easy to access. And like many European cities, the Old Town truly looks quaint.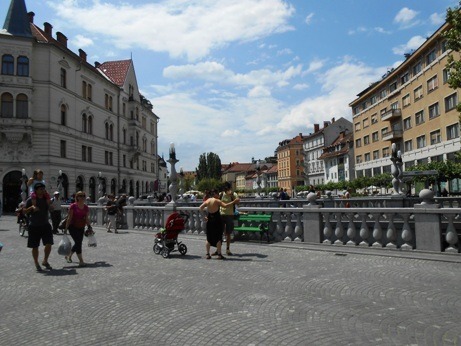 The one thing Ljubljana has that many other cities don't is that the city was primarily planned by a single architect: Jože Plečnik. While each area of Ljubljana maintains a separate identity, there is an underlying continuity between the riverbanks, bridges, parks, plazas, and main buildings. Everything just seems to flow together in a way that is both functional and aesthetic.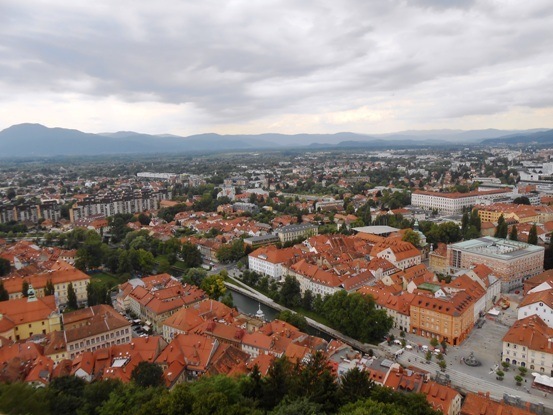 We only had twelve hours in Ljubljana, which is enough to know that I'd like to go back, but not enough to see any of the museums (which focus heavily on history, art, and architecture). If you enjoy museums, I'd greatly encourage you to include at least two days in Ljubljana for your visit. Otherwise, here are the five things we focused on during our short visit and which were easily incorporated into a single day.
Visiting Ljubljana Castle
Despite driving past several castles on our trip, we hadn't actually visited one. Ljubljanski Grad sits on Castle Hill, an area that has been settled since 1200 BC, though most of the castle as seen today is a mere 150-200 years old as it has been rebuilt and renovated numerous times over history. Today, the castle is home to a "virtual castle" (i.e. film on the area's history), viewing tower, and exhibition of Slovenia's history. If you're not a history buff, be aware that the film covers the broad themes that are explained more in-depth within the exhibit. The best reason to visit, though, is for the view overlooking Ljubljana.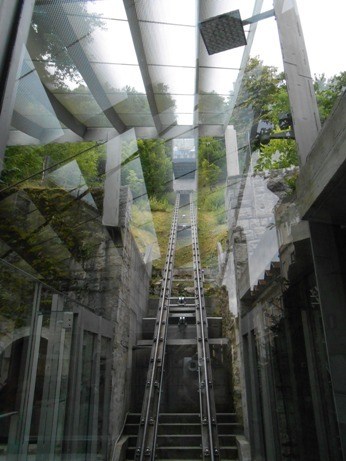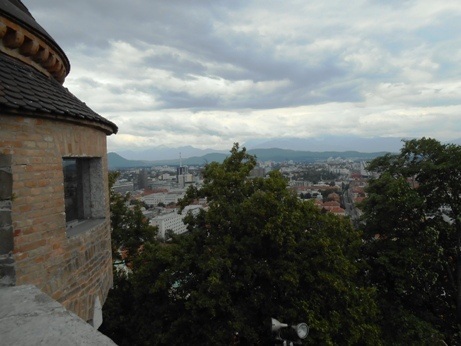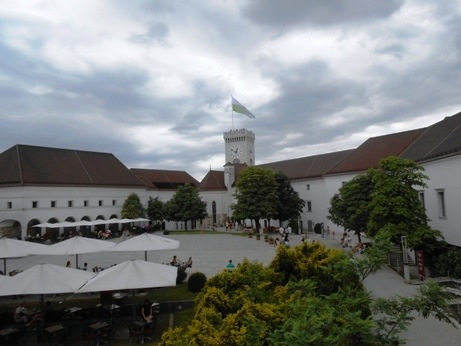 Exploring on Our Own
I think one of the best ways to get a feel for a city is to wander and draw your own impressions, and thus that's exactly what we did. The entire city feels pleasant and cheerful. The pedestrian areas slow things down so no one feels rushed and the many bridges are picturesque with the Old Town's buildings in the background. We spent some time at the local market (closed Sundays), and picked out some fresh foods to picnic on in a nearby square while we were people-watching. Some non-food items, such as clothing, jewelry, souvenirs, and bags/baskets were also available for purchase.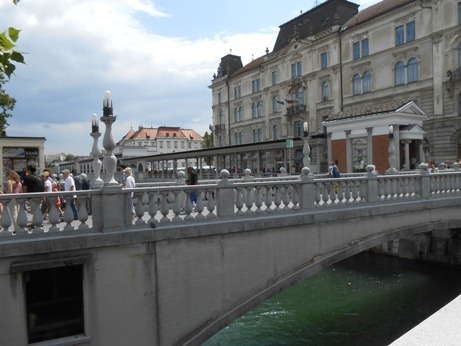 Touring Old Town
Once we had had the chance to walk around on our own a little bit, we joined a short tour given by the Tourist Information office in order to have a chance to ask questions and learn a little more about the history of the area. Our guide was fantastic, pointing out references to poet France Prešeren, sharing how Slovenia celebrated its 20th anniversary of statehood in Ljubljana, and telling us the symbolic meanings to the cathedral doors. While a guidebook may be able to tell you the facts and basic history of the city, a good guide can make things come alive. Included on our tour was a short 20-minute boat ride on the river so we could see the banks and bridges from another point of view.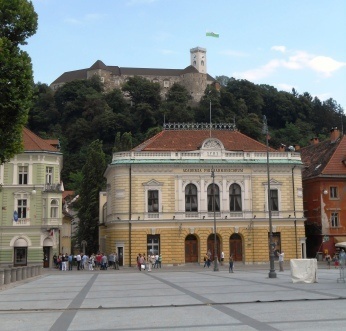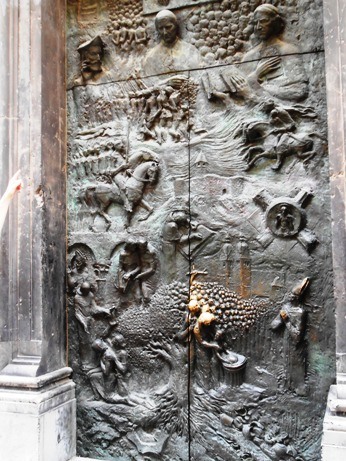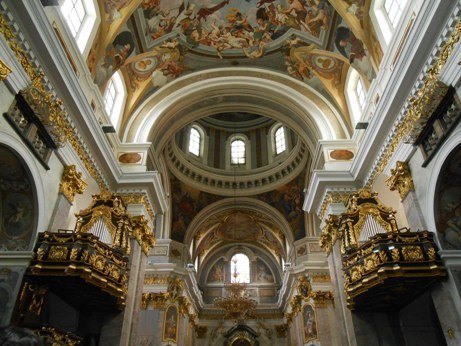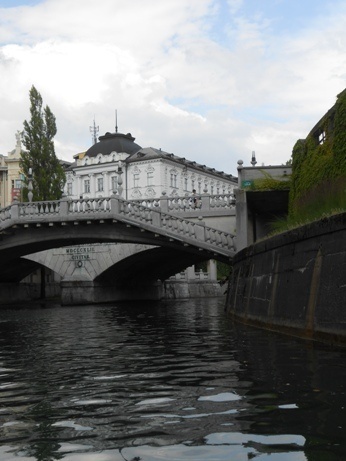 Atlantis Waterpark
My sister was sweet enough to let me plan most of our trip, but requested we spend some time at the pool. From my point of view, that's not exactly traveling and instead has more to do with 'vacation'. However, it still sounded like fun and it was easy to work into our plans. We took the bus to Atlantis Water Park in the BTC City district of Ljubljana (a shopper's delight). This is an indoor/outdoor water park with three sections and admissions priced accordingly. We enjoyed the Adventure Park area the best as it had big, warm pools, a few hot tubs, and good music in the background. The Themal Temple section was much quieter but nothing special, and we skipped Sauna Land for lack of time and interest. This was definitely a local's hangout and not a tourist hot spot, so it was fun to see how Slovenian families spend their time. By early evening, the place was deserted, though.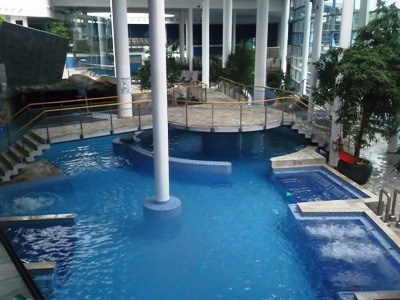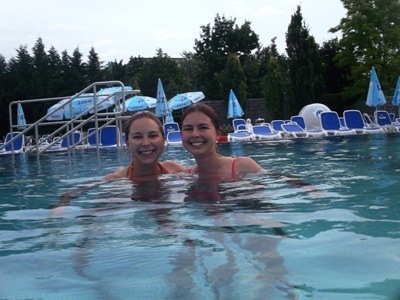 Strolling the Riverbanks
We returned to the main section of the city in the late evening, taking a quick detour through Metelkova City and deciding it wasn't the scene for us. Instead, we headed along the riverbanks where we found literally hundreds (thousands?) of other locals and tourists doing the same thing. Restaurants were open with plenty of outdoor seating, which is perfect for watching the night go by and like in much of Europe, you were just as welcome to sit with a coffee or glass of wine if you didn't want to order a meal. On this Saturday night, we came across dozens of stag (bachelor) parties and lots of sights to take in. The streets themselves were lined with performers of all types, so grab a gelato, walk the streets, and enjoy the night. We left around 11:30pm because we had a train to catch, but things were still going strong.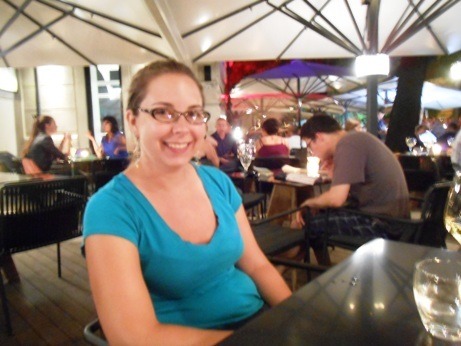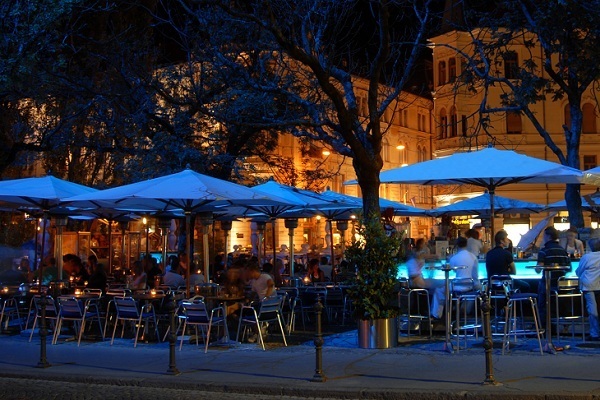 Having one day in Ljubljana was enough time to get a feel for the city and I'm glad we included it on our itinerary. I'd love to return to visit the history museums as the 20th century was an eventful period for Slovenia/Yugoslavia. However, I'd also love to return just for the atmosphere. It seemed an easy place to meet people and strike up a conversation, stroll the streets, sit in a cafe overlooking the squares, and enjoy life in Ljubljana.
* * *
Read More About Slovenia!