This post may contain affiliate links. As an Amazon Associate I earn from qualifying purchases.
* * *
Out of the three days I spent in Lima, my excursion out to Islas Palomino was the best part of my visit. The islands are eco-havens, home to sea birds galore (including penguins!) and rugged landscapes where you can't go ashore. Best of all, you can swim the sea lions in cold waters of the Pacific Ocean if you're adventurous.
Where are the Palomino Islands?
There are four islands collectively known as Islas Palomino off-shore from Lima, Peru. Boats leave from the port of Callao, which is a 20-minute drive from Lima's airport or 45 minutes from city center.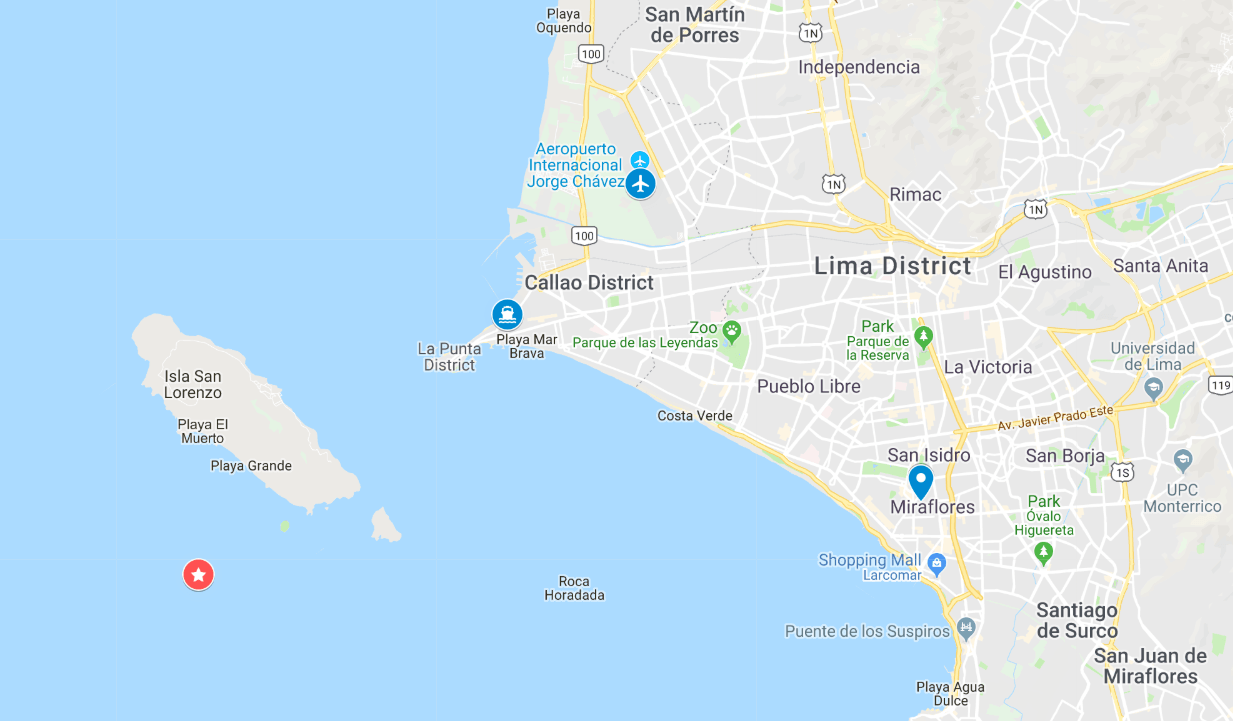 The position off the coast of Callao makes this a great day trip for cruisers docking in Callao for the day or even for visitors who have a long layover at Lima airport.
The islands themselves are about six miles off-shore from Callao and will take 60-90 minutes to reach by boat, depending on engine speed and how many sightseeing stops you make along the way.
Swimming With Sea Lions in the Islas Palomino
For most people, the main draw of this tour is to see the 8,000 sea lions that live near Islas Palomino. You'll see a few along the boat ride, but most of them are at one main site where they bask in the sun on the rocks and then dive into the water for a swim.
Trust me, you'll hear and smell them before you can make out their individual bodies.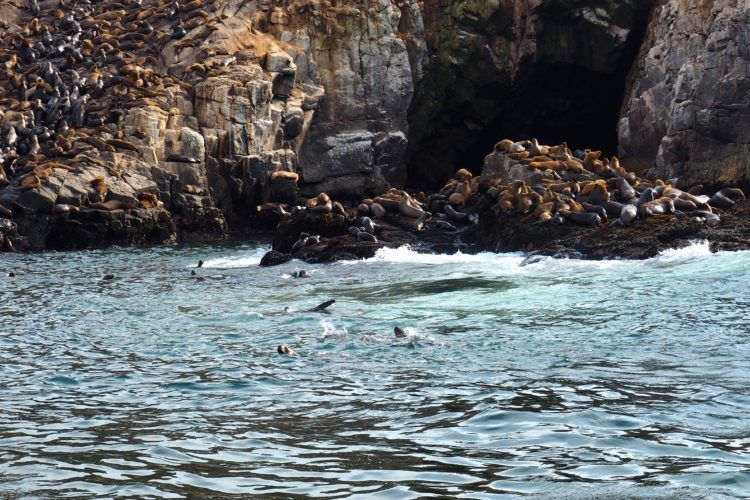 I've seen sea lions in a number of other places, but Islas Palomino is special because of the opportunity to swim with them. Don a full-body wetsuit (you'll want it: the Humboldt current keeps the water chilly) and jump in.
These massive animals are super playful, so any nervousness you have will evaporate after a minute or two. Then, just sit back and relax. Like most wildlife encounters, the main rule is do not touch, although you might notice a few sea lions accidentally graze past you.
The younger sea lions were the most curious and likely to come right up near you. You'll probably encounter a few nudges and tickles while you're in the water. Try not to get nervous, even though they're huge when they're up close and personal. They definitely aren't scared and you shouldn't be either!
Seeing Penguins in Peru
I've never been much of a birder, but these islands are home to millions of sea birds: gigantic colonies that make them reminiscent of the Galapagos Islands. I was most interested in the Humboldt penguins, although there are also gulls, zarcillos, boobies, pelicans, cormorants, and other birds.
The sheer number of birds is impressive and our guide knew lots of information about the different species and their nesting and migrating patterns. Much of the wildlife is similar to my experience in the Ballestas Islands only a few days earlier.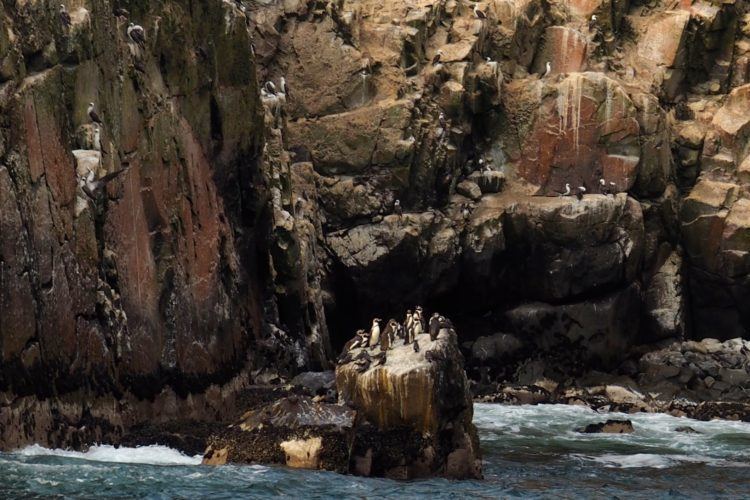 Half-Day Boat Tours from Callao to the Palomino Islands
We booked our trip with EcoCruceros, who provides wetsuits, light snacks, soda, and the boat trip for about US $50. Trips run weekdays from 11:30am-3:30pm or on weekends from 10am-2pm and 2pm-6pm. Their website is finicky and broken, so expect to email them to make reservations and get broken English replies.
If you prefer to keep things simple, you can also book a trip with Viator so you can pay with credit card, check-out easily, and include round-trip transportation from your hotel.
The ride to Islas Palomino takes about 90 minutes, including views of a few other larger islands along the way. Once once you are in open water, the journey can be rough, so I only advise visiting under ideal weather conditions. I have a strong stomach and went on a nice day, and unfortunately I still got a little queasy on the way back. Pack bonine or my favorite: ginger chews (works great, tastes yummy, and no side effects).
What to Bring to Islas Palomino
You'll need a swimsuit, towel, and biodegradable sunscreen. I also brought along a snorkel and mask — not included in your tour — but the water was so cold on my face that I didn't end up using them for more than a minute or so. Save the space in your suitcase and enjoy the view above water!
I also brought my trusty binoculars, but that was a waste. Our boat was rocking and rolling, so it was more comfortable to keep a wider view view at the horizon rather than zooming into the sea birds.
Is Callao Safe?
Callao has a reputation for being one of the most dangerous cities in Peru, but you can still visit Callao safely. It's a hotspot for cocaine trafficking and various related violent crimes. However, most of the crime is in a few particular neighborhoods (and thankfully NOT in the area around the cruises to Islas Palomino).
So here's the thing: you need to stay in the tiny little section of Callao and you need to do it during daytime hours. We left after our boat returned at 6pm and there was still enough general foot traffic around to feel OK, but I wouldn't stay much later than that.
Bonus travel tips: This is one situation where I think you're better off taking a taxi/Uber instead of taking public transportation. Better safe than sorry. Like always, Uber fares vary based on demand (and your starting point in Lima) but you should expect fares of 50 soles each way, or about US$15.
If You Have Time: One Day in Callao
Despite it's grittiness, I really liked Callao and you make a wonderful day trip from Lima.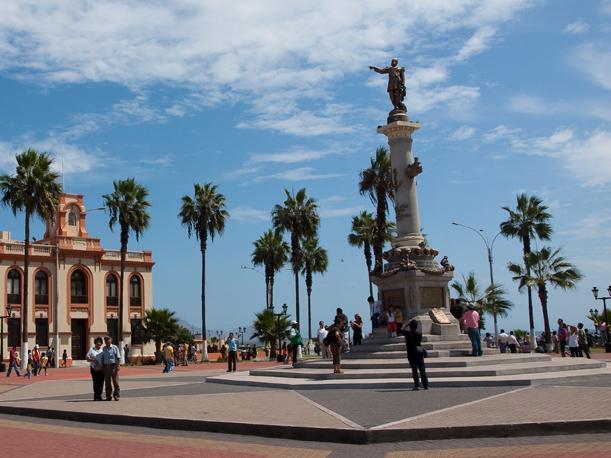 Obviously, the star attraction of one day in Callao will be Isla Palomino, but here's what a perfect day would look like:
Visit Fortaleza Real Felipe in the morning
Grab a seafood lunch at Cabos (they close super early)
People-watch and let your lunch settle for a little at Plaza Miguel Grau
Head to Islas Palomino in the afternoon
Everything is within a 5 or 10 minute walk of each other, in the safe section of the city. In fact, you'll love watching families with kites or balloons and who knows? You might be tempted to order an ice cream in the plaza.
Ballestas Islands vs Palomino Islands

Should you visit Ballestas Islands or Palomino Islands? Both have penguins and sea lions, so it may feel repetitive. If you want to swim with sea lions, you can only do that from Islas Palomino, making it the obvious choice. However, if you don't want to swim and you have a tendency for motion sickness, then Ballestas Islands are a better option.

If I were to do it again based on what I know now, I'd favor the Palomino Islands. Swimming with sea lions in Lima was such a fun, unique activity and it was much closer than getting down to Paracas and the Ballestas Islands. Even if you don't swim, you still get a lot closer to the sea lions at Islas Palomino.

For anyone passing through Paracas anyway on your way to Nazca or Arequipa, get the full scoop on the Ballestas Islands and my favorite sightDOING activity there: a half-day dune buggy ride and sandboarding! There's nothing else like it in South America.
* * *