This post may contain affiliate links. As an Amazon Associate I earn from qualifying purchases.
* * *
I have a major problem when it comes to deciding where to go on vacation: I want to travel everywhere. It can be impossible to narrow the world down, which is one of the reasons I rely so much on price as a deciding factor. When the goal is to find cheap flights to anywhere, I usually end up with a fabulous trip at such a low price that I can afford another trip later!
While waiting for fare sales is one option and bombarding Kayak.com with random searches is another, neither one is particularly efficient. For me, Google Flights is the easiest way to gather inspiration and real-time price information so you can see at a glance where to go.
So Easy, Anyone Can Find Cheap Flights to Anywhere
To get started, just enter your departure city and specific dates, leave your final destination blank, and wait for Google to search flights on your behalf.
You'll end up with a list of airports as well as an easy-to-read map that you can filter by maximum price, number of connections, preferred airline, and more.

There are a few reasons why this search option far excels compared to others:
It is accurate. If I see a rate I like, I can actually confirm the price on an airline website and buy the ticket.
It is specific. Several other websites can be a good starting point, but you can't specify exact dates or lengths of stay which means a lot of the results will be irrelevant to you.
It is as flexible as you are. I can add in multiple departure airports if I'm willing to drive to an alternate airport and I can specify a region of the world if my destination is less specific than "everywhere". See what happens when you type in Europe instead of leaving it blank!
It is intuitive. Move around the map and zoom in or out to get different deals.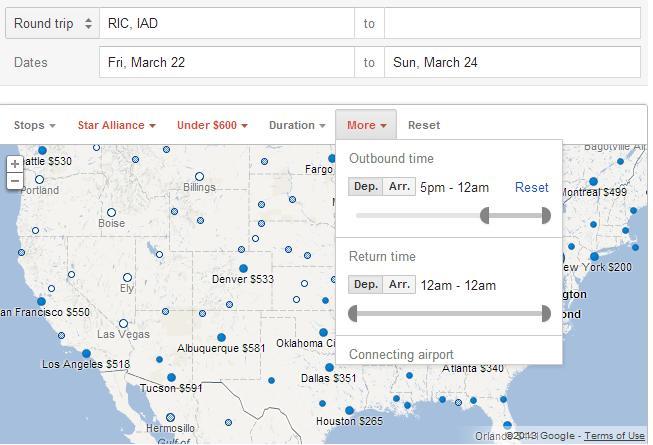 Although SkyScanner is one of the best search engines for specific routes/dates, their "Everywhere" feature is not particularly helpful. They use pricing that can be up to 15 days old — which means the cheapest flights may be long gone by the time you see them. Google's information is much more recent.
Google Flights Shows Most (But Not All) Airlines
Results will include budget airlines (which you can filter out, if you want to avoid being charged separately for everything from carry-on bags to a cup of water onboard). However, Google's flight search engine doesn't have every obscure airline. You won't find little 8-seater airplanes that typically cover short distances and it excludes a few foreign, regional airlines.
Still, you can expect to have plenty of destinations that fall into your requirements.
Taking it a Step Deeper
Once you choose a destination/airfare you're interested in, there is another feature I like: a visual calendar of fares, just in case you are flexible on your dates. The bar chart can be very fast to see at a glance which sets of dates are cheapest.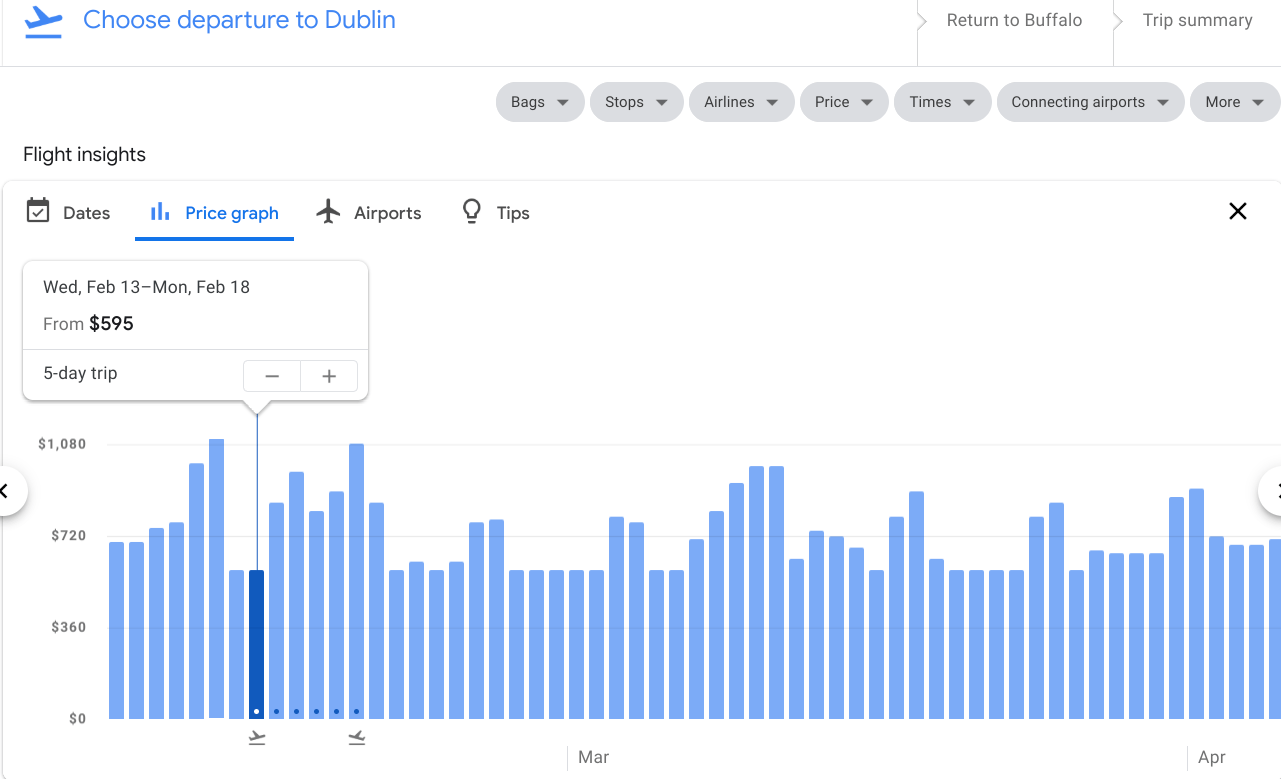 Limitations of Google Flights
Generally speaking, this tool will only show you cities and dates that other people have searched for recently (Google then aggregates the data to show you so much information all at once!) so it might not show every single off-the-beaten-path option, but it's plenty comprehensive for most needs.
When your dates are set in stone but your destination is up in the air, I think it's a fantastic tool to find cheap flights to anywhere!
* * *
This post contains affiliate links. If I've helped you book your flight and save money along the way, please consider starting your next travel purchase from one of the links on this site. You'll support this site without paying anything extra!