This post may contain affiliate links. As an Amazon Associate I earn from qualifying purchases.
* * *
Orange Beach and it's neighbor, Gulf Shores, are one of the country's worst kept secrets.
Northerners shrug off the entire state of Alabama (I hate to say it, but it's true). No one thinks of traveling there — unless you live in driving distance, and then everyone knows it's amazing.
Way back in 2012, I stumbled on the Alabama coast by accident while on a solo trip. At that point in time, I didn't know I'd eventually plan a girls getaway to Orange Beach. I just knew there were miles of powder-soft sand, hundreds of happy dolphins, and shockingly good restaurants. I made a mental note to return and bookmarked it in the back of my brain.
Finally, way too many years later, my sister and I arrived in Orange Beach for a quick girls' trip to see if it was as good as I remembered.
(Spoiler alert: it was).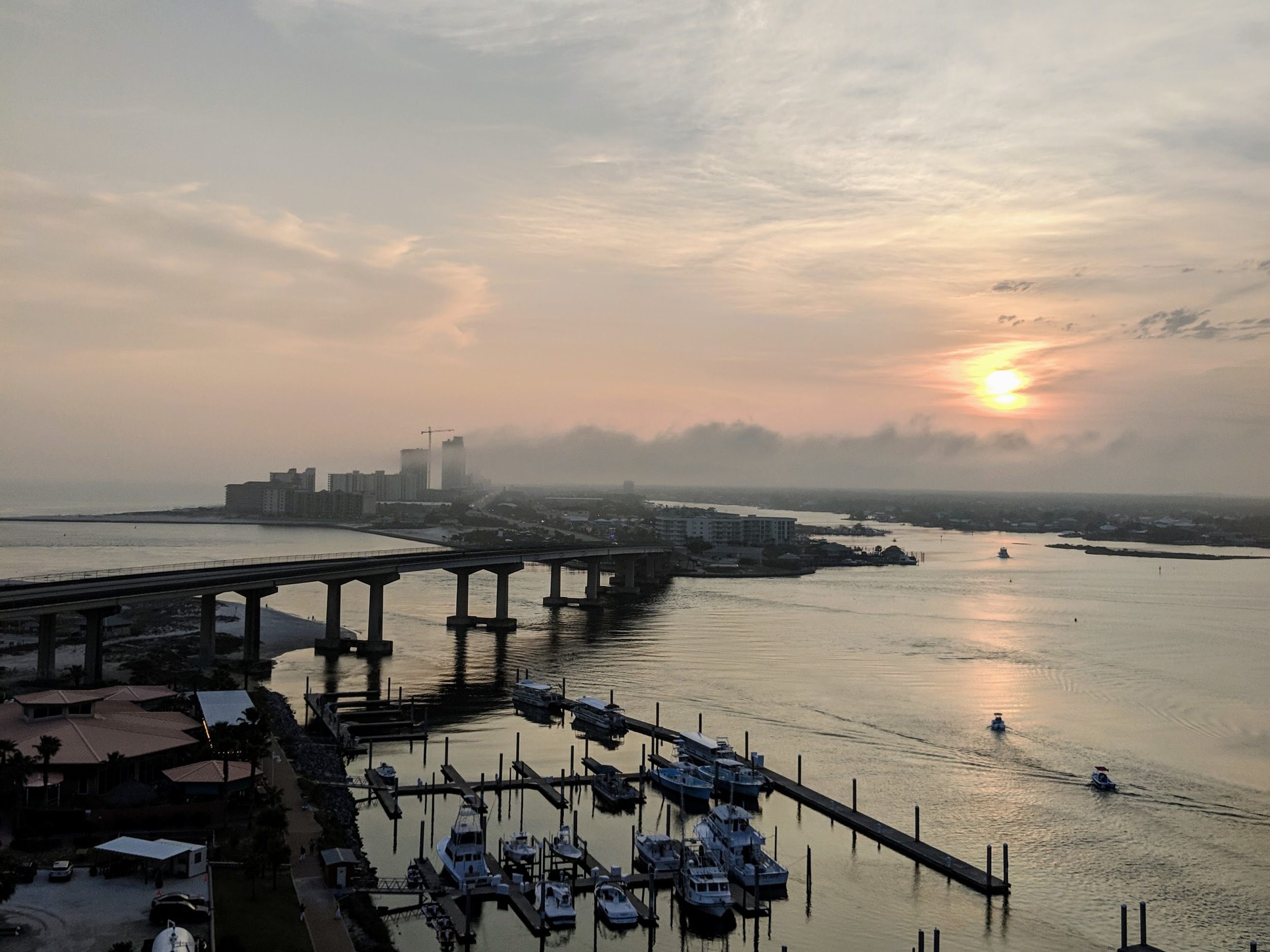 Just so you know — my visit was hosted by Gulf Shores & Orange Beach Tourism but they graciously gave me complete freedom to plan activities and restaurants that appealed to me (just like if I was traveling independently). As always, all opinions and recommendations are my own.
The gulf coast seems like an odd choice for a couple of northerners, I know. Honestly, if I hadn't already visited once myself, I would've given you a sideways glance if you recommended it.
But my sister, bless her heart, trusts my travel recommendations and didn't second-guess it at all, instead just saying, "Sure, sis, if you think it's special, we'll go!".
What Makes Orange Beach the Perfect Girls Trip Destination?
When we were kids, my sister and I bickered the way only siblings can. We fought on all of our family vacations about things like who got the "best" seat in the minivan or who got to pick the TV show at the hotel (hey, we didn't have cable at home!).
We're all grown up now, but it's safe to say we still have very different personalities. Finding somewhere that lets you stay busy and active — or do nothing at all — is harder than you think. We needed somewhere that balanced my ambition with her fondness for downtime without packing up and moving to a second destination. Let me tell you, that's one thing that Orange Beach does best.
The region packs in plenty of sightDOING (more on that below!) to keep my adventurous spirit happy, but is also great for the chill-time we desperately needed. It's not just about the beach, either; in fact, our visit was particularly cold and rainy so out of four days, we only spent 20 minutes on the beach and still had a fabulous time.
Of course, if you have better weather, that glorious ocean is icing on the cake!
Things to Do During an Orange Beach Girls Getaway
Retail Therapy (with a Twist)
My sister will vouch for me on this: I'm not much of a shopper. I've moved too many times to accumulate stuff and I'd rather spend my cash on travel than things. When I do shop, it's usually for consumable items, usually a unique variation on things I need to buy anyway.
In Orange Beach, I found shopping paradise at High Cotton Bath Co. Here, it's easy to get pulled in to design your own fragrance by blending essential oils and other scents. Once you've found the perfect combination, you can add your custom fragrance to their high-end products, like nourishing lotions, silky body washes, and the most luxurious salt scrub I've ever used.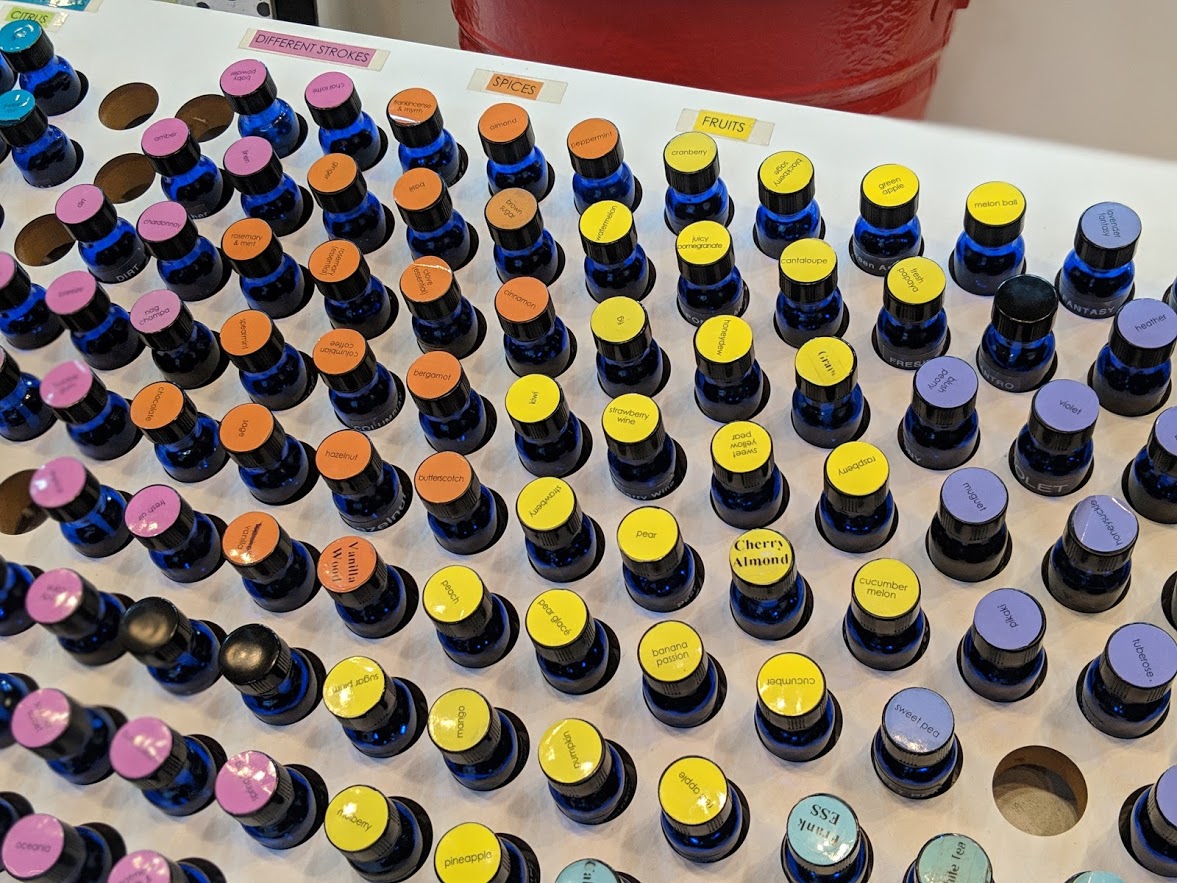 We started by smelling scents that appealed to us — I'm a sucker for eucalyptus essential oil — and then trying out different combinations. I stuck with mostly botanicals; my sister, fruits. After blending a half dozen combinations or so, I settled on a fresh, aloe and tea tree inspired fragrance and then had it blended with moisturizing oils, salt, and my favorite shade of green.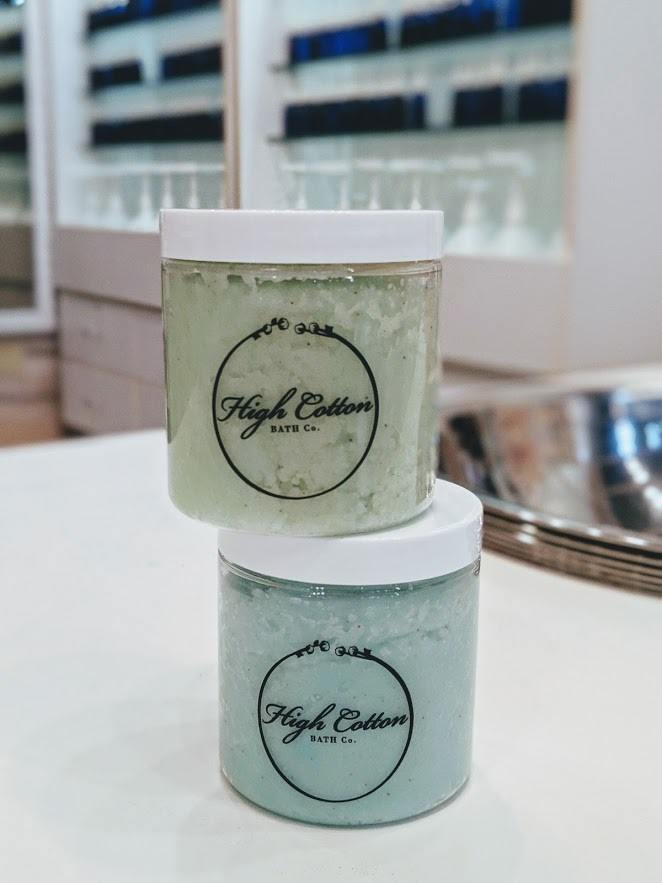 (If you're short on time, there are plenty of pre-made products that make perfect gifts, too!)
For more traditional shopping, I loved all the home goods shops at The Wharf (plus the cheese plate at Red and White wine bar and lattes at Southern Grind Coffeehouse) . There's also a Tanger Outlets mall about twenty minutes away, in Foley.
Boating with Dolphins
Have you ever met someone who doesn't like dolphins?
(Me neither.)
I mean, they're playful creatures, sometimes graceful, sometimes majestic, but always an animal that knows how to have fun. We all need a dose of that in our lives which is why I carved out time for a dolphin cruise on my first trip to Orange Beach. This time, we stepped it up a notch by renting a cat boat that we could drive ourselves in search of dolphins.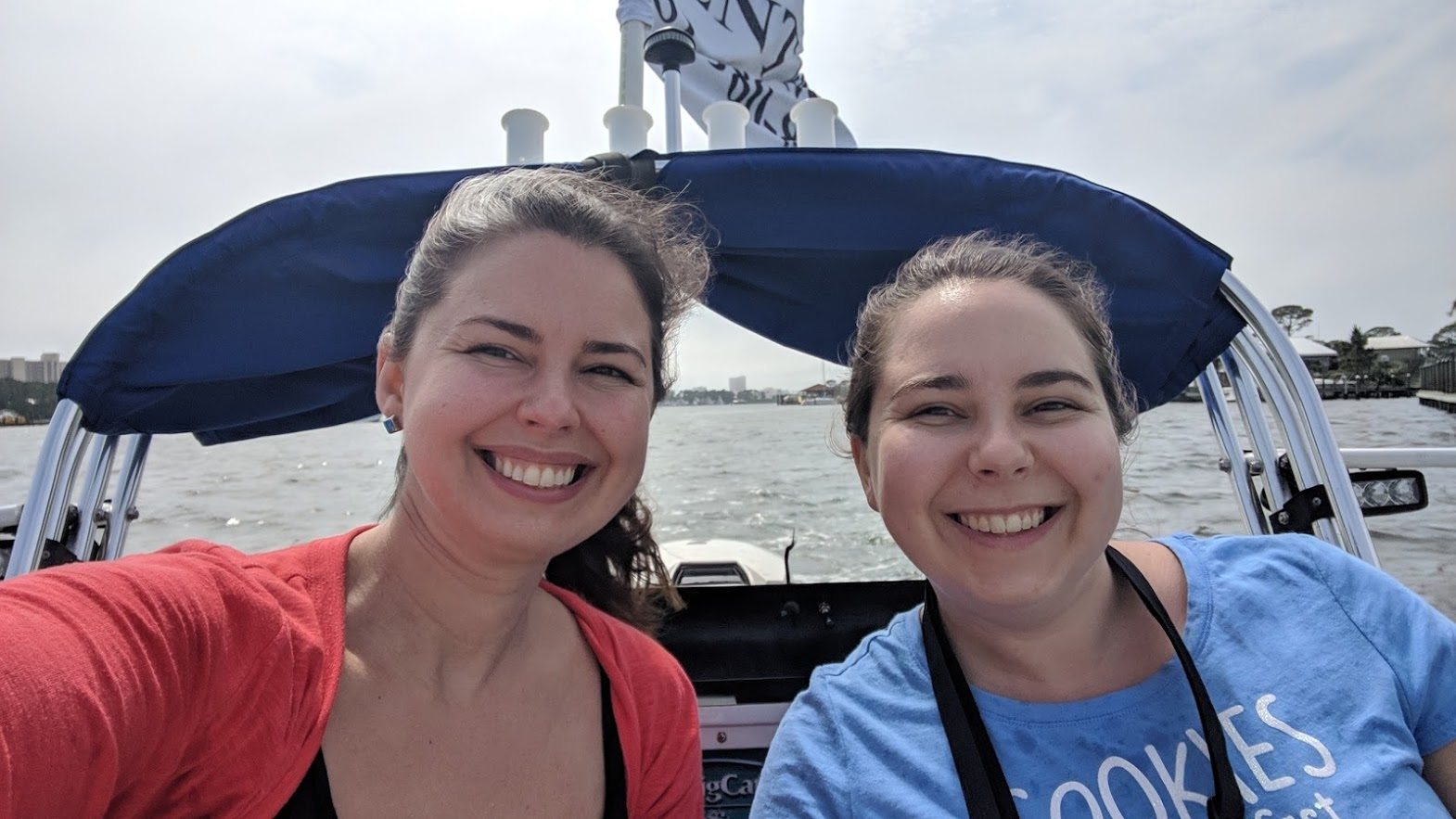 Not only is driving through the intracoastal waterways a lot of fun, but it also lets you see the dolphins right at the water line, which is a definite plus compared to the bigger boat tours that stay farther away and sit higher up. It took us awhile to find a few dolphins, but once we did, it was the highlight of our trip. Speeding up to 25mph didn't hurt either!
Head to the Hot Shop
When you think of beach towns, you probably don't think of art (or at least, I didn't). But the waterways around Orange Beach are so inspiring that it brings out a lot of creativity.
At the Coastal Arts Center, they have hands-on art classes: spinning pottery or my personal pick…glass-blowing.
Now, I've been fortunate enough to do a few glass classes around the world, and if you're looking for a one-time only workshop (vs. an ongoing course), then the Coastal Arts Center is probably the country's best. The instructors walk you through in small groups and allow you to do a remarkable amount of the work yourself.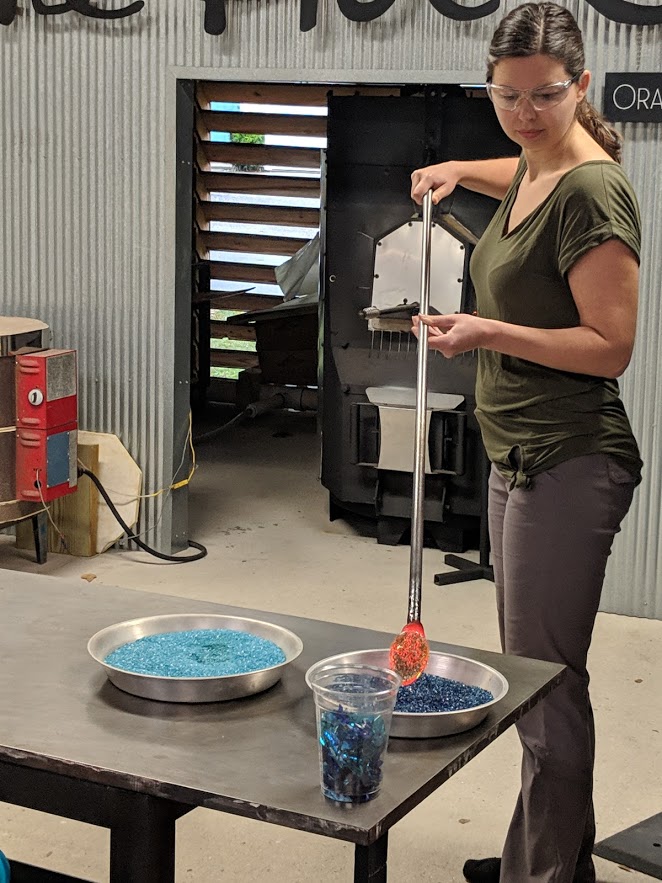 My sister and I had an amazing time making paperweights — mine inspired by the ocean, naturally, with blue waves and bubbles in the center.
It's also worth taking an hour to visit their beautiful gallery and stroll the property searching for dolphins afterward.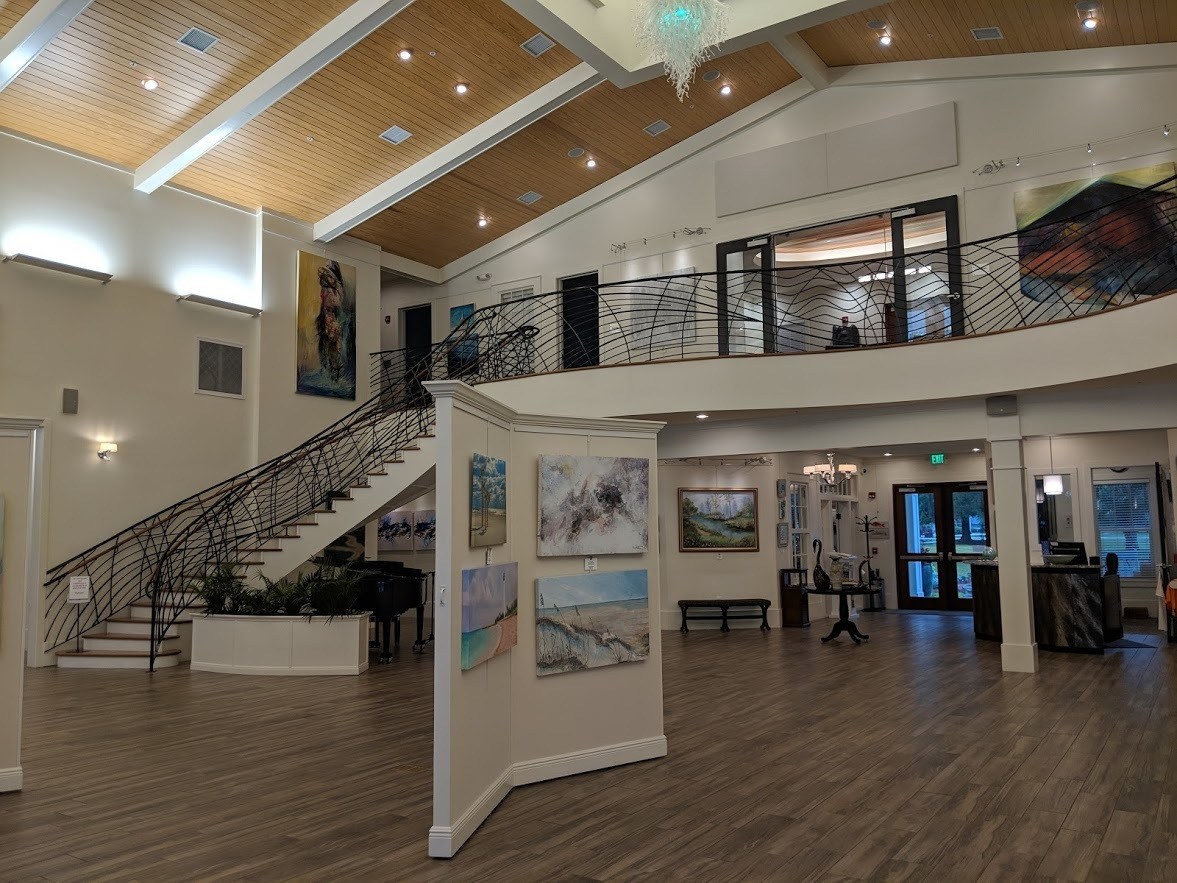 Float Without a Care in the World
Sometimes I suffer from an inexplicable guilt about "wasting" time while traveling. Why sit by a pool when you could be exploring?
Maybe because it's sunny out.
Maybe because it's vacation.
Maybe because it's a chance to chat and reconnect with someone you don't see often enough.
Maybe because your life has been extraordinarily busy lately (you know the feeling).
So yeah… for the few moments the sun was out during our Orange Beach girls getaway, my sister and I very much enjoyed floating around the lazy river at Caribe Resort.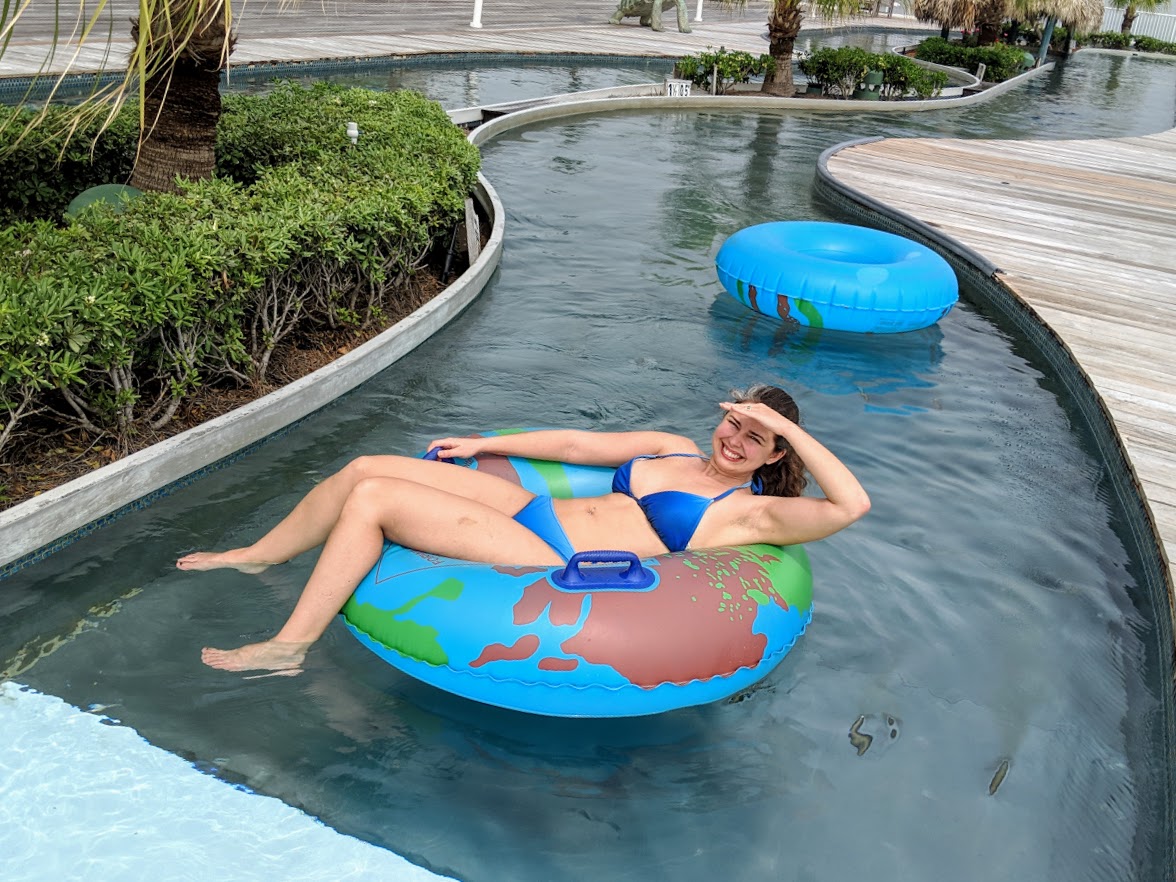 Hugh S Branyon Backcountry Trail (and Gulf State Park)
You guys, I saw an ARMADILLO in Alabama.
This was a serious highlight of my vacation, probably because it was so unexpected (did you even know armadillos live on the gulf coast?).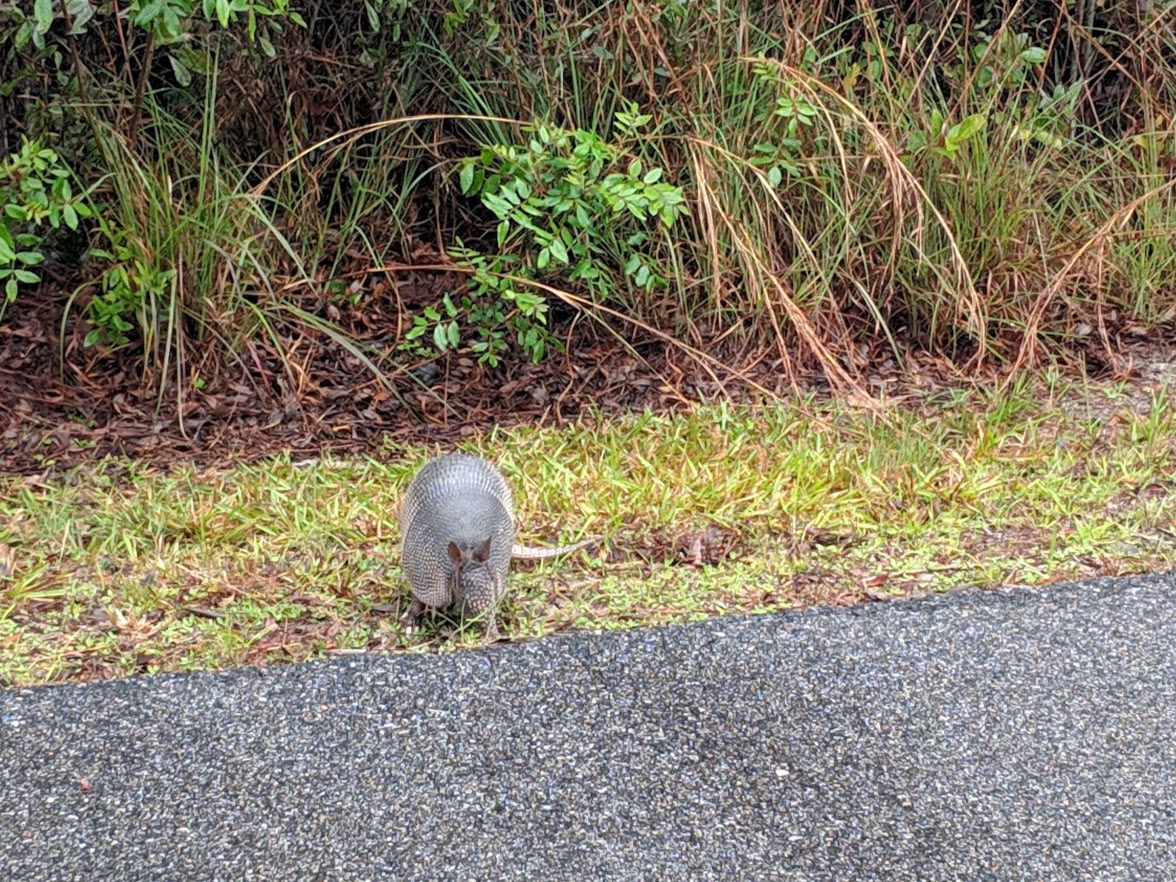 This cute little guy was hanging by the side of the Hugh S Branyon Backcountry trail, a 27-mile system for walkers and bikers, part boardwalk and part coastal forest path. Even just taking in the scenery was a really pleasant way to spend a few hours, but after we saw the armadillo, we made a specific point of going back a second day (to a different section) to see what other wildlife we could find.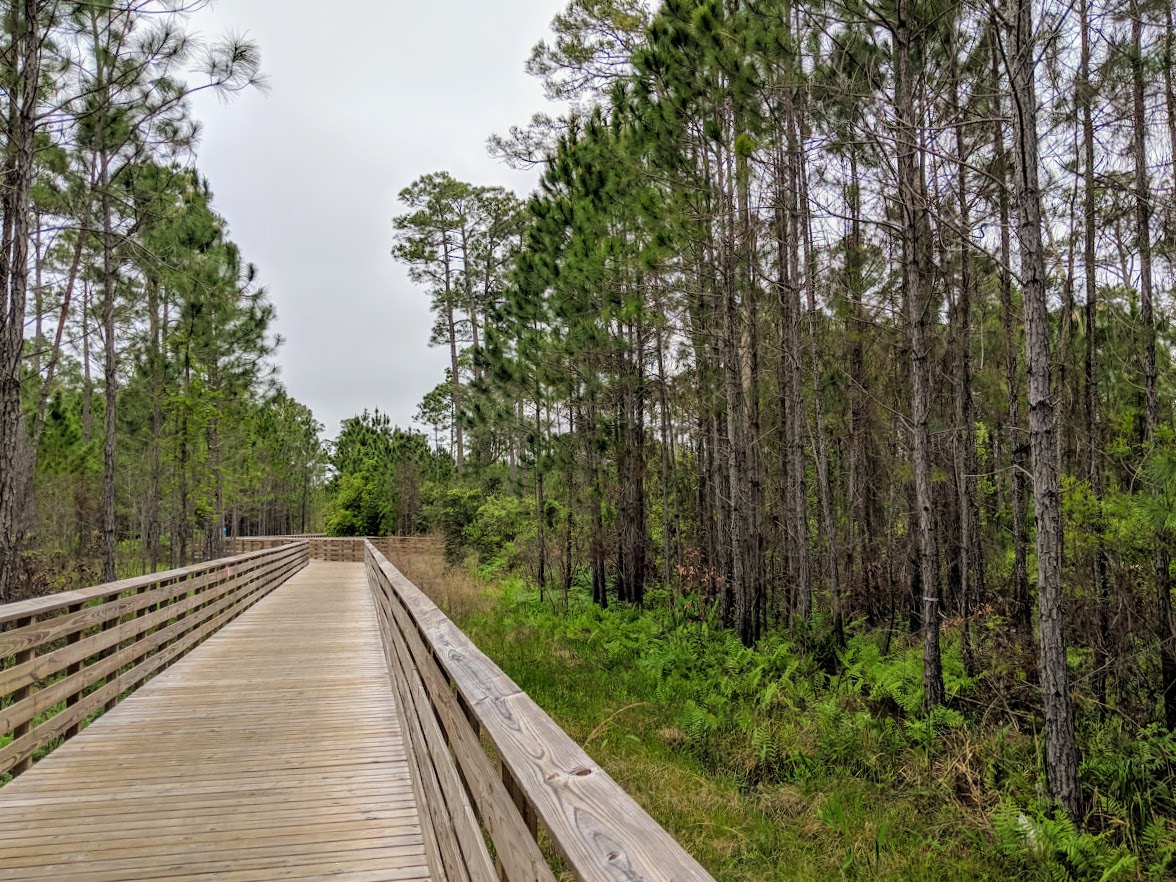 And if walking isn't adventurous enough for you, never fear: there are plenty of bike rentals available, too.
Meet the Lemurs
Speaking of wildlife, the Alabama Gulf Coast Zoo has some pretty cool animal encounters. Y'all know me — I don't like zoos — but my sister is the exact opposite. She'll watch animals all. day. long. And if you can interact with them? Even better.
That's how I found myself locked in a zoo enclosure, lemurs bounding around me, crawling over my shoulders, and getting right in my face.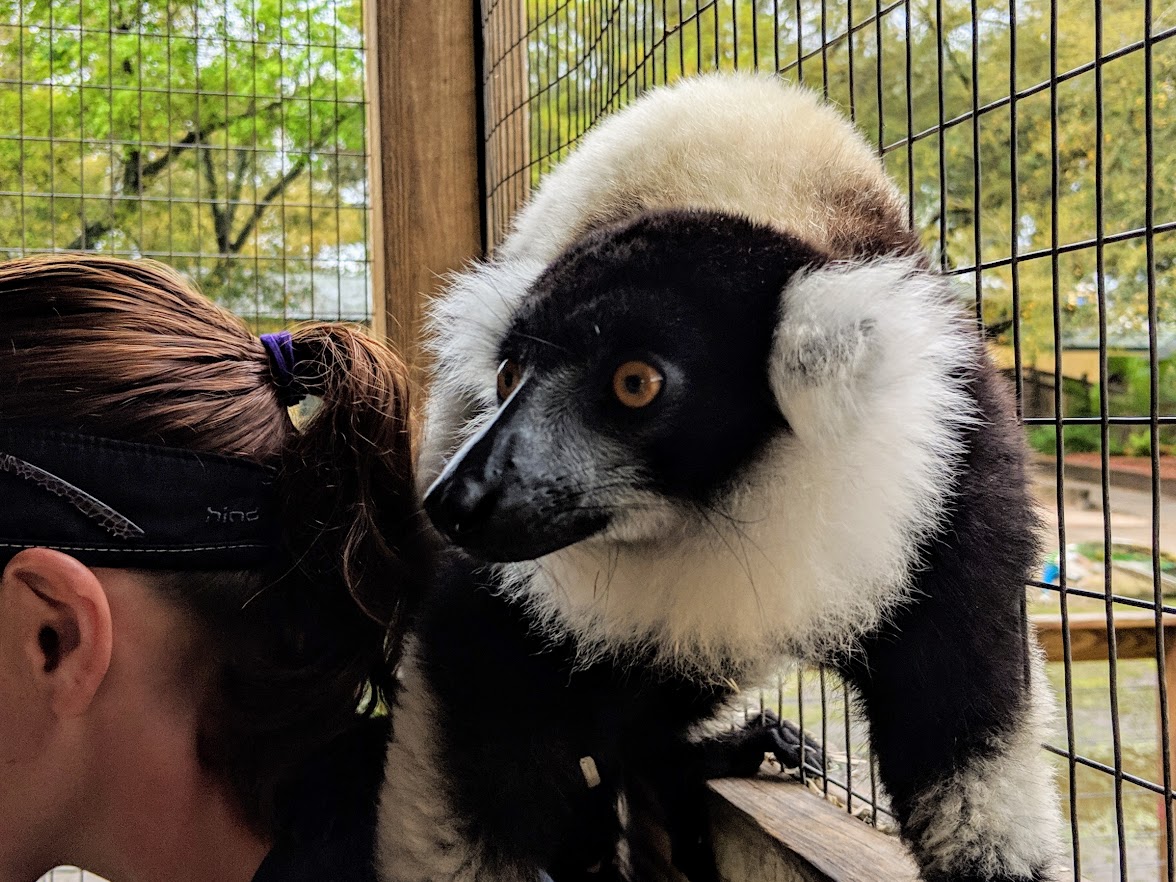 As my husband and I say about our spirited dog, these guys have the "ener-gee-zies". They zoom, jump, and climb faster than your camera shutter will work and it's a lot of fun watching them and letting them use you as their personal jungle gym.
For the most playfulness, go in the morning. For a (slightly) more subdued visit, hit them at their last session of the day (around 3pm).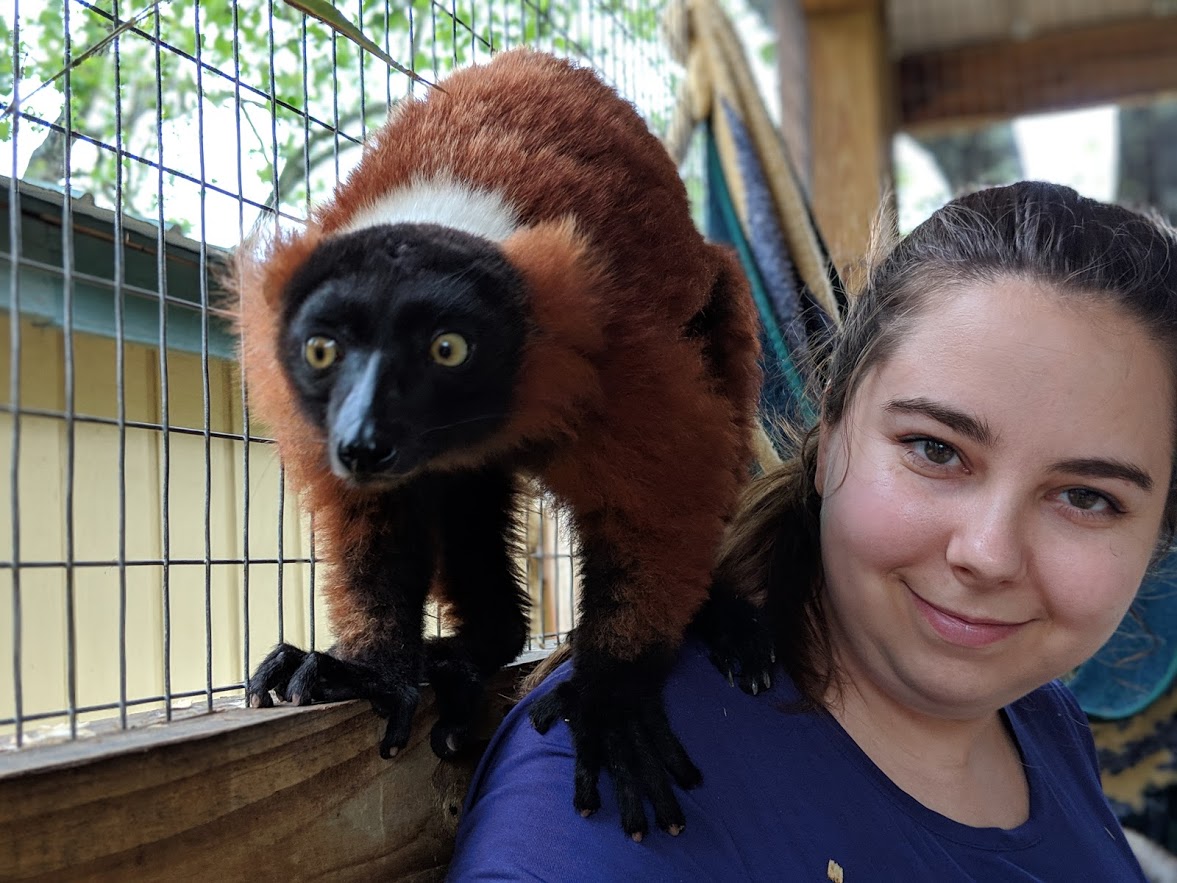 The Beach (Obviously)
There's something about the beach that just feels like an appropriate setting for a girls trip. Though we tried, we unfortunately didn't get to partake in the sand and sun we were hoping for. C'est la vie.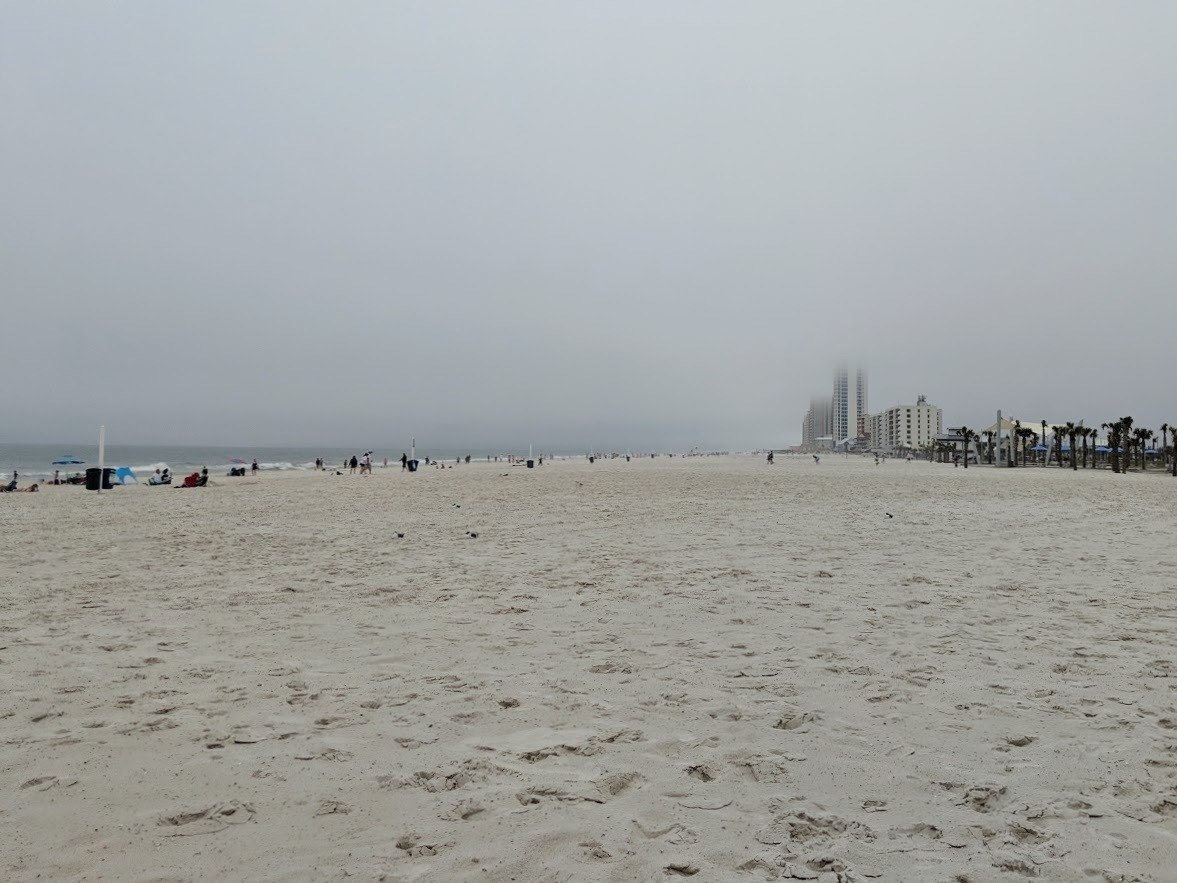 But assuming you have better weather than we did, I still remember how idyllic it can be from my trip a few years ago.
The water is a perfect turquoise with sugar sand beaches and it's warm in-season (roughly May through October). My September trip was exactly the right time to go, with no summer crowds or peak season rates since school's back in session. If the beach is an essential part of your trip (and it doesn't need to be, with so much other sightDOING in town!), then I'd shoot for that early fall time frame.
Where to Eat in Orange Beach
Is there anything that's more of a quintessential girlfriends trip than food, drinks, and good company?
Here's what I liked best about Orange Beach restaurants: everywhere we ate was good. Usually while traveling, there's at least one meal that doesn't live up to my standards, but the food down there is delicious and I'm kinda convinced you can't make a bad choice.
Oh, and even in a town where most of the restaurant patrons are out-of-towners, service is wonderful. No one shrugged you off because they knew you'd never return — that warm, southern hospitality is genuine in the Alabama beaches and we were super appreciative of that.
The downside to eating in Orange Beach and Gulf Shores: long waits for a table. We had one place tell us there was a 90-minute wait and another told us 2 and a half hours! Even the famous milkshake joint had an hour-long wait. Eat at off-peak hours or make a reservation. Sheesh.
Ruby Slipper Cafe
Breakfast is the most important meal of the day, so this breakfast spot makes the first position on my list. And it's particularly worthy on a girls getaway to Orange Beach because you can indulge in what's essentially "cake for breakfast" without any judgement.
Ruby Slipper Cafe is one of those places where I wanted to order everything on the menu, but we settled on sharing one savory dish and one sweet: fried chicken biscuits with tasso cream sauce and banana pudding French toast. Doesn't get more southern than that.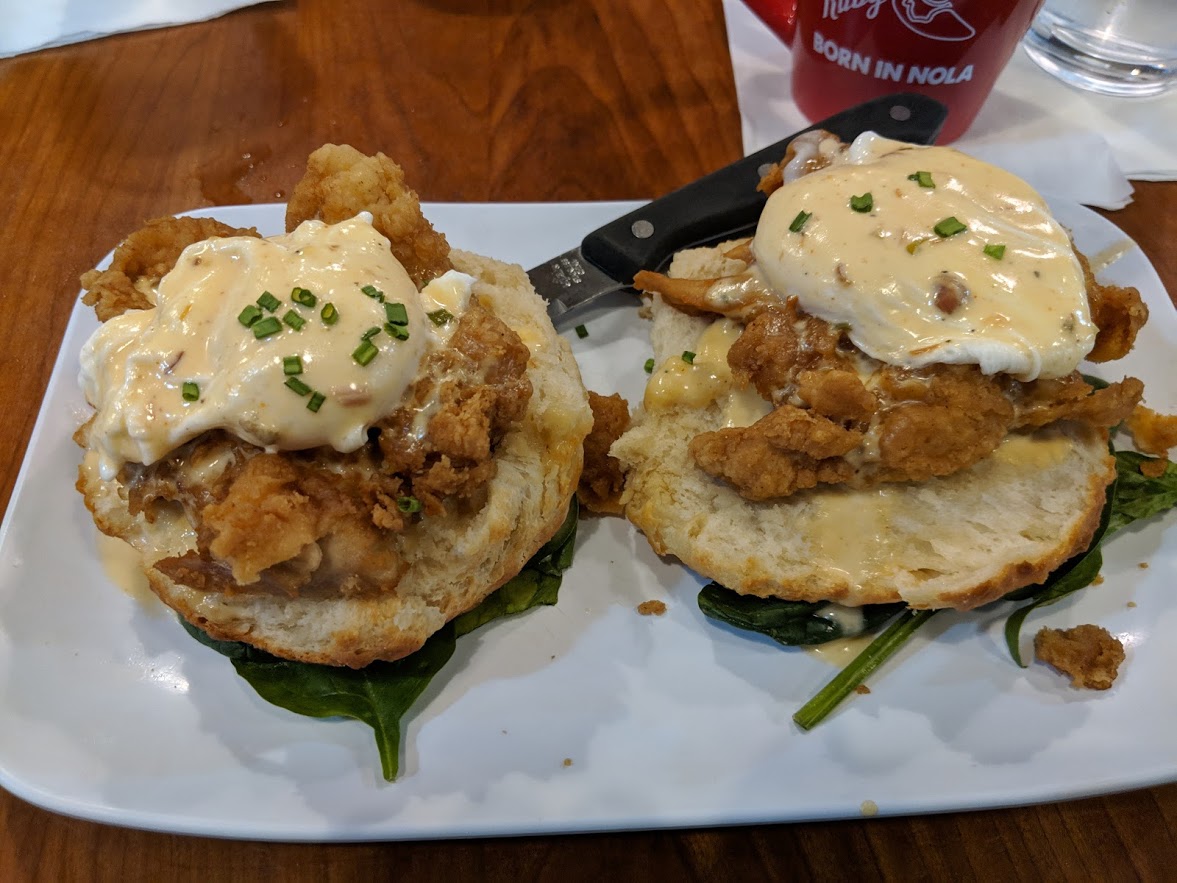 Both plates were unbelievable and we were scraping sauce off the bottom of our plates. Both of us settled for strong, New Orleans-style coffee, but imbibing is easy and encouraged here with mimosas, bloody marys, and boozy iced coffees. Maybe next time.
Playa at Sportsmans Marina
Playa is my top pick for a delicious seafood dinner in a setting that's great for socializing with your girlfriends rather than feeling like you should be on a hot date.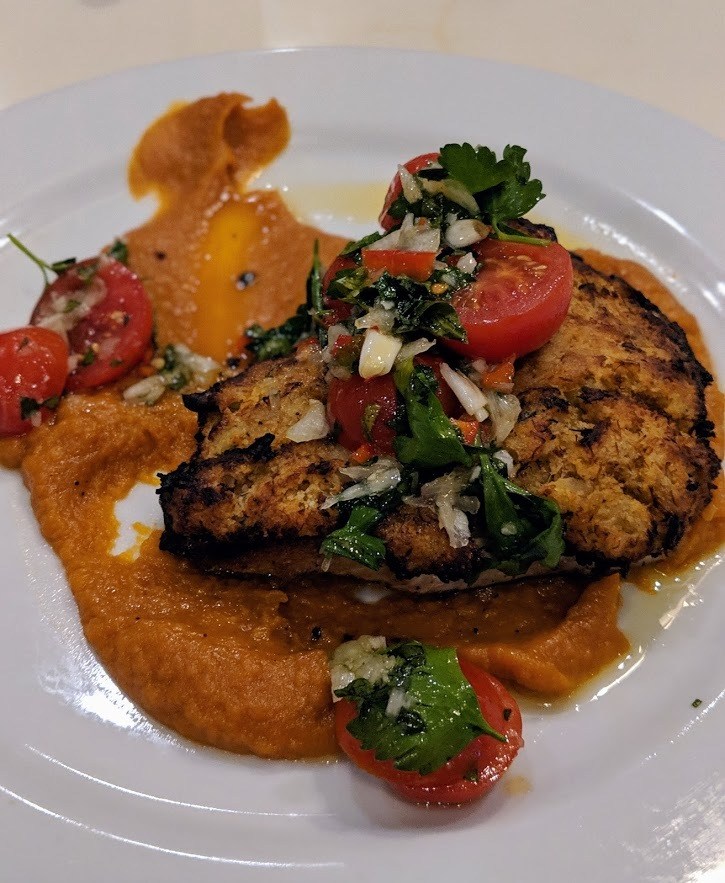 Their menu is packed with local fish, like grouper, amberjack, and mahi-mahi. Both my sister and I had excellent entrees here, with recipes creative enough to be interesting without being so weird or hipster that you're nervous to order. Bonus points: you can actually afford to eat here, even if you want to order an appetizer or dessert.
Flora-Bama Yacht Club
Although the bushwacker wasn't invented in Alabama, it seems to be the unofficial cocktail of Orange Beach and Gulf Shores. It's on every menu and you'll see plenty of bars and restaurants claiming to have the "best".
I don't drink hard liquor, so I didn't partake, but my sister was happy to do some sampling. The verdict? If you want a bushwacker, you should head to the Flora-Bama, a bar and set of restaurants that's practically a local institution on the Florida-Alabama state line. It's thick with lots of ice cream, a healthy helping of chocolate syrup, and a cherry on top.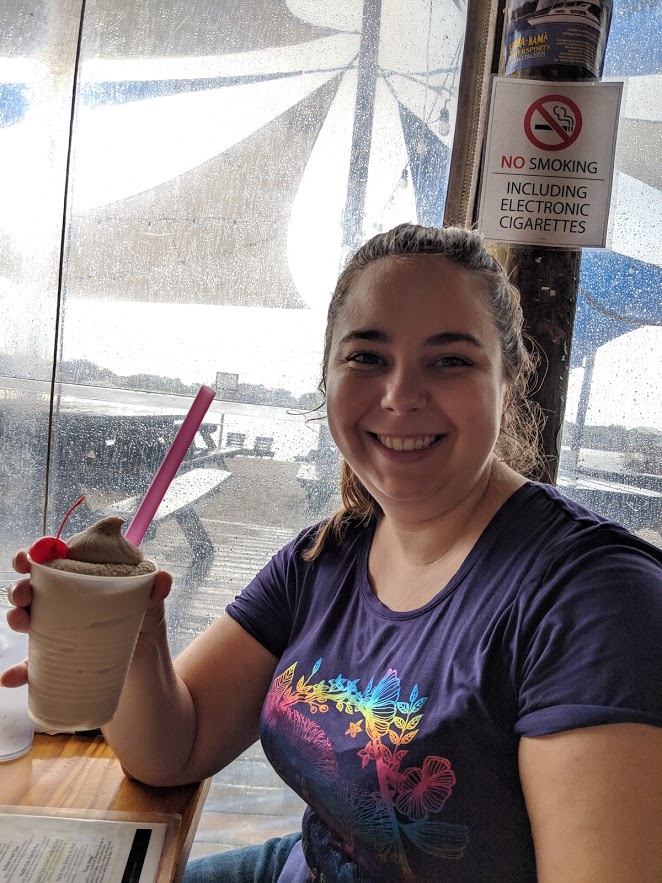 Just make you sure you stop at one. You wouldn't want to get brain freeze or anything else that would make you sick on vacation!
The Hangout
Go ahead, play with your food.
The Hangout is a fun and casual beach club with easy waterfront access, making it the perfect place to pop in for a quick bite. Their menu is basic but fresh — think peel and eat shrimp — but what makes it special is their whimsical nature. You'll find rubber duckies hanging from the ceiling, dance contests, live music, and my personal favorite, the bubble machine!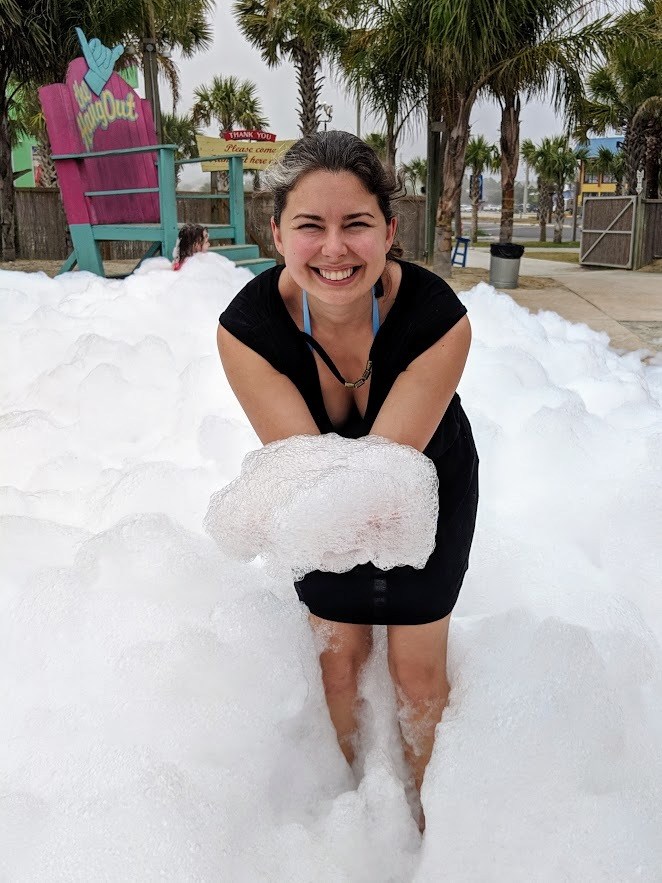 This is a family-friendly establishment, but I had zero shame while acting like a kid again. It's fun to let loose a little and they've got this down to a science.
Lartigue's
We had a stunningly beautiful kitchen in our condo, but as you might imagine, us girls had zero inclination to cook.
Lartigue's to the rescue! This local seafood shop will sell catch of the day to you, which is great, but they also have steamed and seasoned shellfish for sale which makes for a quick and easy dinner on a budget. Pick up something to your likely and order it mild or spicy (yes please!). If you'd like, you can also order sides like corn on the cob, cole slaw, or potato salad.
We chose steamed royal reds — the Alabama crown jewel of shrimp (they taste like lobster!) — and spicy crawfish, served up with a bag of salad and garlic bread from the grocery store.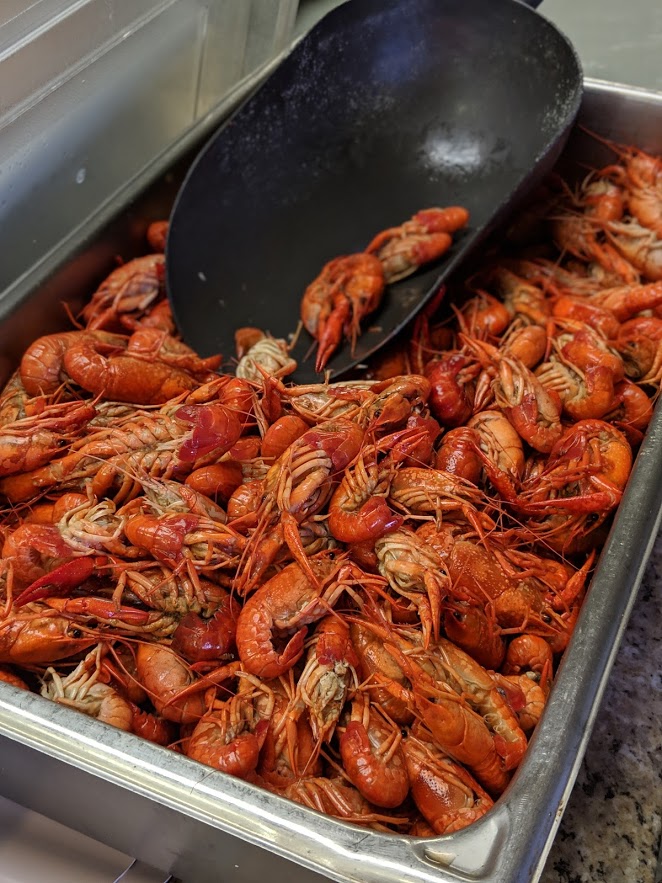 Where to Stay in Orange Beach
Most of the accommodations in the area are beach condos, which makes sense once you know that most visitors are families with children who are staying all week long.
Well, we didn't fit either of those buckets, but having a condo was still the way to go for our Orange Beach girls getaway. We both had our own room and bathroom which meant we could get ready in the morning simultaneously. We also loved having a living room to chill with a rom-com and wine — exactly the right combination for girls' night.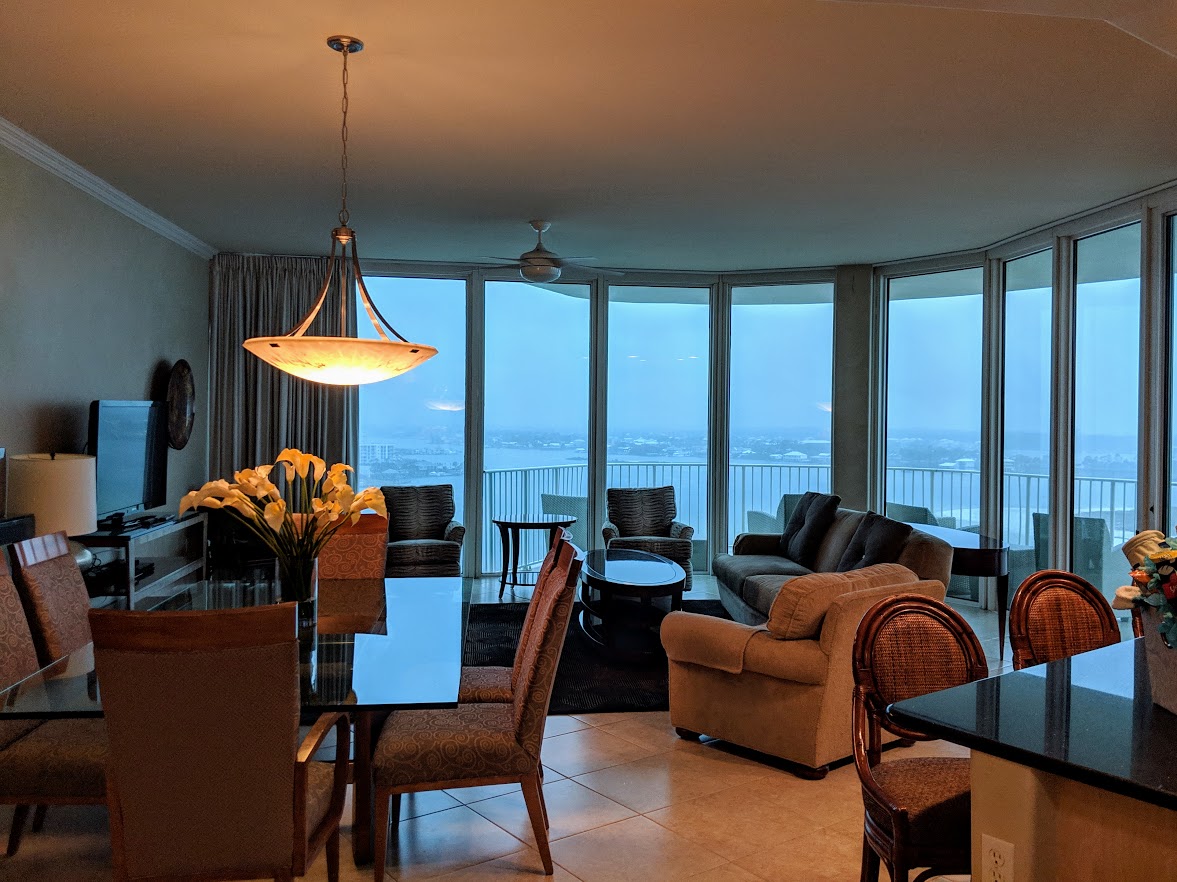 Hint: getting a condo is usually cheaper than getting two standard hotel rooms, so don't write it off without checking!
Caribe Resort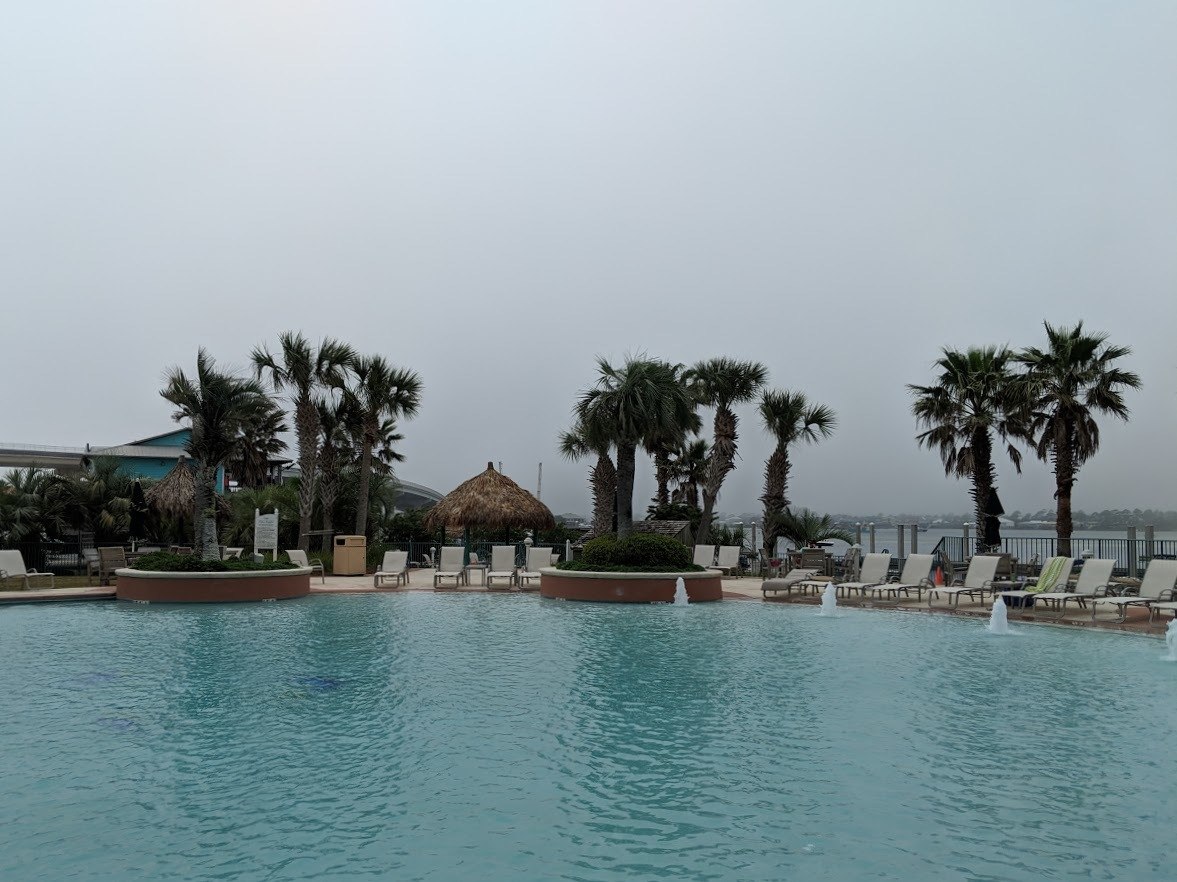 If you've decided that a condo is right for you, I'd highly recommend where we stayed: the Caribe Resort. They take comfort to a whole new level!
Along with spacious, comfortable rooms with fully-equipped kitchens and awesome balconies, the property itself is awesome. They have several pools — including indoor ones for rainy days — and the lazy river you saw above. The on-site marina is also the starting point for catboat rentals, dolphin tours, and equipment rentals, so it's easy to add in some activities.
I'd stay there again without hesitation.
The Lodge at Gulf State Park
For short visits, a condo won't make sense and you'll find several chain hotels along the main drag. My pick of all of them would be the Lodge at Gulf State Park (owned by Hilton). From there, you can walk to the beach, or if you head in the other direction, to Lake Shelby and the backcountry trail. It also puts you in convenient driving distance from activities in restaurants in both Orange Beach and Gulf Shores — perfect for the person who can't make up their mind.
Plus I know I'd take advantage of their outdoor firepit!
Other Tips for Planning Your Alabama Gulf Coast Vacation
Stay at least one night longer than you think you need to. Everyone here is sociable and I guarantee you'll hear about something else to check out that you'll need extra time for.
Come hungry. My recommendations above didn't even include room for the donut sundaes, grilled oysters, or fried okra that you'll want to try.
Book flights and car rentals early. The nearest airports are Pensacola and Mobile, each about an hour away, but they're both small airports so rates shoot up if you don't plan in advance.
Don't make it solely a beach vacation. My first visit was all about the beach, but this one was everything but. For the best girlfriend getaway, include a little of both!
And once you're there…kick back and relax. Whether you're on a girls getaway to Orange Beach or you're traveling with someone else, this is one of those spots great for sightDOING by day and relaxing with a cold drink and a view of the Gulf at night.
* * *
Heading to the Alabama Gulf Coast? Don't miss my other guide –>
Orange Beach vs Gulf Shores: Both are Great, but Which is Better?