This post may contain affiliate links. As an Amazon Associate I earn from qualifying purchases.
* * *
This time of year, budgets get stretched by holiday shopping and costs of traveling to visit family and friends. If you need to boost your travel budget back up, go from collecting dust to making cash with this guest post by Crystal of The Petite Adventurer.
* * *
Have you ever wanted to splurge on a nice dinner or excursion while on vacation, but had to reconsider due to your budget?
After the initial adrenaline rush of booking the airplane ticket wears off, the reality is that you will be portioning your budget to find reasonable lodging accommodations, modes of transportation, and finally booking activities that you want to do. It seems as though your bank account shrinks as your travel itinerary fills up. Luckily, here are a few simple websites and applications you can use to offset this travel cash burn and step into a side hustle.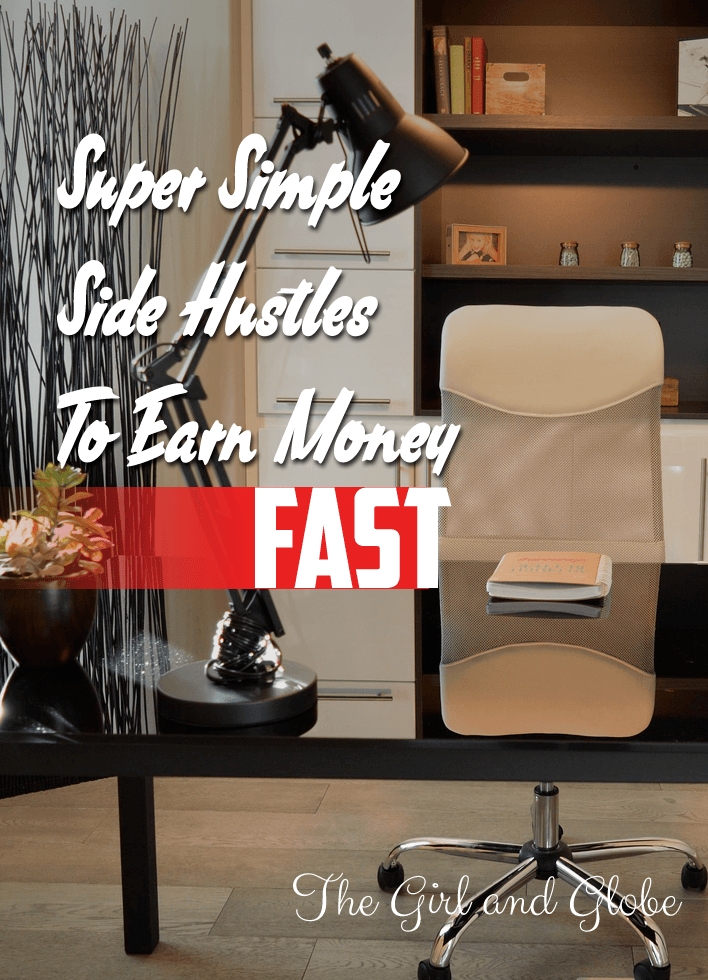 Poshmark
I've been selling items items I don't regularly use or have outgrown on Poshmark for several years and have generated over $700 in revenue to date! This is a great place to generate income from gently used items that you may have splurged on way back when, and have since been collecting dust in your closet.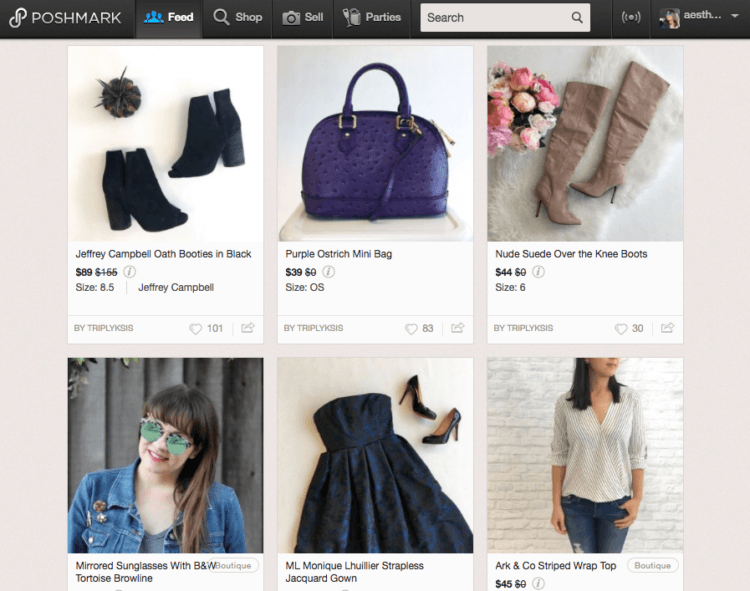 Great for: Selling everyday clothing, accessories (watches, shoes, wallets, purses), and other fashionable apparel for women and men.
Materials needed: Iphone, Ipad, or Android device, thank you cards, packaging tape.
Pro tip: Enable multi-item sales in your "closet" by enabling bundle discounts!
Platform fees: For all sales under $15, Poshmark takes a flat commission of $2.95 and the seller (you) gets to keeps the rest. For sales of $15 or more, the seller keeps 80% and Poshmark's commission is 20%.
Available: United States
The process is very easy! Simply take 4 great photos of the item, add your description, set your listing price, and let the platform work for you. "Poshers" can leave comments on your listing to ask questions, and may even try to work out deals with you on the page. You can also receive direct offers and choose to accept within 24 hours.
Once an item is purchased, print the prepaid shipping label for 1-3 day priority mail through USPS. Thoughtfully package your item with a note card of thanks (Poshing community best practice), and secure with packaging tape. One of the unique features from Poshmark are the virtual and in-person "Posh Parties". Here, you'll find a deeply involved community of fashionistas who support upcycling.
Tradesy
Tradesy has a clean, modern, and polished website. When you upload a picture of your item, their design team will remove the background on your feature photo to make your product look as if it's being sold on a department store website. They have excellent customer service through email, chat, and phone, and make the entire selling and buying process simple for both parties. I had trouble finding a platform that had held a niche audience of modern brides looking for gently used high-end items, until I discovered Tradesy.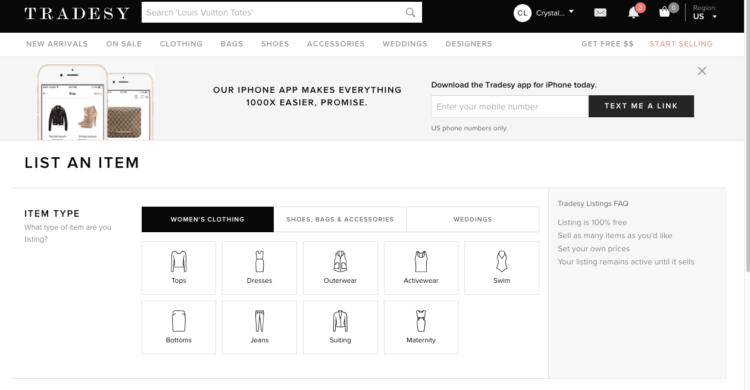 Great for: Selling designer goods and specialty items such as wedding dresses and accessories.
Materials needed: Camera or smartphone to take pictures and laptop for managing the listing.
Pro tip: Shipping is so convenient, that you don't even have to leave your home for most goods. A shipping kit (box, labels, packaging) is sent directly to you!
Platform fees: Tradesy gets 9% commission on every sale.
Available: United States but ships internationally
My experience selling my beloved wedding dress made quite the impression on me. The bride-to-be had been shopping around for her wedding dress while working within a specific budget and had fallen in love with a dress way beyond her price point. Even her father, a naturally serious man was brought to tears by the vision of her in this embroidered lace dress. They had to walk out empty-handed that day; but, by sheer serendipity and magic in the universe, my listing on Tradesy popped a few days later. It was incredibly fulfilling to help another person make her wedding day extra special with her dream dress.
Craigslist
Every couple of months, I regularly purge unused items around the house. It's incredible to see how many random things can pile up and take up valuable space in your life! Many of these items still have some value, so Craigslist is a great way to make a few bucks and give your item a second life. The site has been around for a long time– it's likely you have used it before! You might be weary the time it takes to answer emails, flakey "no show" buyers, or people that put you into uncomfortable haggling situations on the spot. If you keep a few tips in mind, Craigslist can still be a great way to sell your items.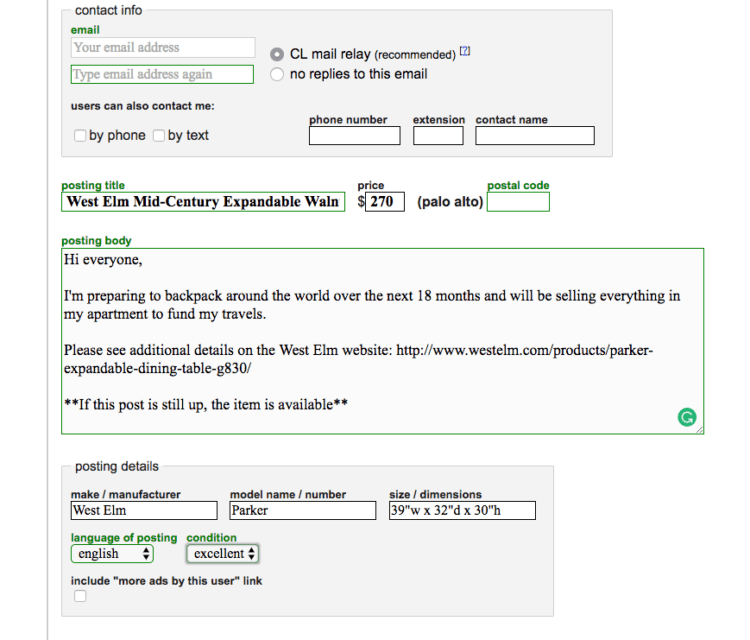 Great for: Selling miscellaneous "hard goods" such as furniture, decorations, tools, supplies, kitchen gadgets, collectibles, and electronics.
Materials needed: Camera/Smartphone for pictures and access to the web.
Pro tip: Use descriptive wording and include great photos to get a leg up above the rest.
Platform fees: $0
Available: Internationally
Start with a professional and descriptive title. Try going with "Mid-Century Walnut Dining Table in Brown" instead of "Brown Table", and you'll engage many more serious buyers and set your listing apart from the rest. Use related keywords in the description body to boost more traffic when anyone uses the search function. Clearly state product dimensions and include links to the item if it is still available. Remind the prospective buyer that you are a real person by starting off with the reason you are selling the item.
For some reason, many people on Craigslist tend to initially respond to your posting with a question asking whether the item is still available. To prevent this extra email, I always write: **If this post is still up, the item is available**. Once the negotiation process is moving along, practice efficient and safe selling by meeting in a public space such as a coffee shop. If you need to sell the item from home, move the product next to the front door or even outside on the porch. Let a friend or two nearby know that you are completing a transaction on Craigslist at a certain time. While these steps of safety take a little extra effort, it is nice to know 100% of the sales go directly into your pocket.
The side hustle does not stop here! Here are a few other alternative sources of income:
For the animal lover – Rover
Dictate your own schedule by accepting clients in your area who need pet sitting, walking, or house sitting! Earn even more during holidays through their special rates.
Available: United States
Costs: Rover takes 20% commission on every job.
For the idle car – Getaround
Does your car sit in your company parking lot for 8+ hours a day? Does your family typically only use one car over the weekend? Rent your car when it's not in use. Getaround verifies users and includes rental insurance and roadside assistance.
Available: United States
Costs: One-time setup fee of $99 to connect to the Getaround network, $20/month subscription to cover the data network installed in your car, and other special fees determined on unique circumstances.
For your spare change – Acorns
Saving and investing does not have to be difficult! Acorns rounds up your purchases to the nearest dollar and then automatically invest your spare change by connecting your cards used to make everyday purchases.
Available: United States and Australia
Costs: Accounts under $5000 pay $1 per month. Accounts over $5000 pay .25% per year.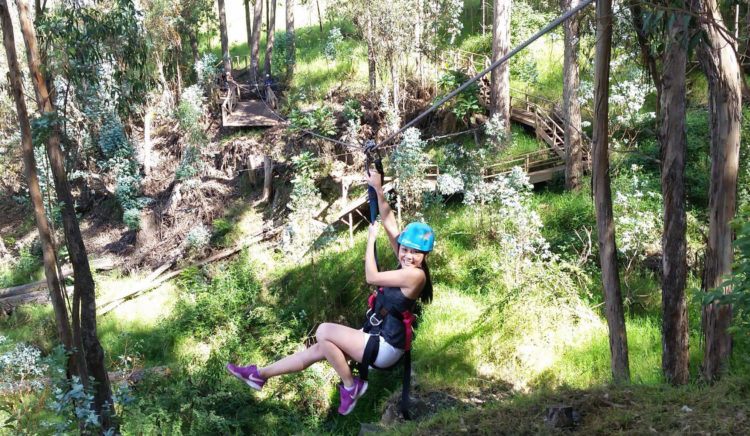 Now you can feel great about treating yourself to the activity you wanted to book for your upcoming trip!
* * *
Do you have any side hustles of your own that you'd like to share with us?
* * *
Crystal Le is a curiosity-driven techie based in California with an obsession for eating noodles. Inspire yourself to live vividly, travel the planet, and find adventure within your everyday life on her blog, The Petite Adventurer.