This post may contain affiliate links. As an Amazon Associate I earn from qualifying purchases.
* * *
I've wanted to go to the UAE for years, for no good reason at all. Curiosity alone compelled me — there's really nowhere like Dubai anywhere else in the world. And you know me…I'm a sucker for the unique.
Although I always assumed my first trip to the UAE would be as a stopover on the way to somewhere else, my sister and I ended up going full speed ahead: 6 nights in Dubai and 2 more in Abu Dhabi. Hey, we live in an era where border restrictions make a "stopover" complicated and the UAE offered good food, sunshine, and beaches without unreasonable entry requirements. In other words, it alone made a fine destination for a girls' trip in 2021.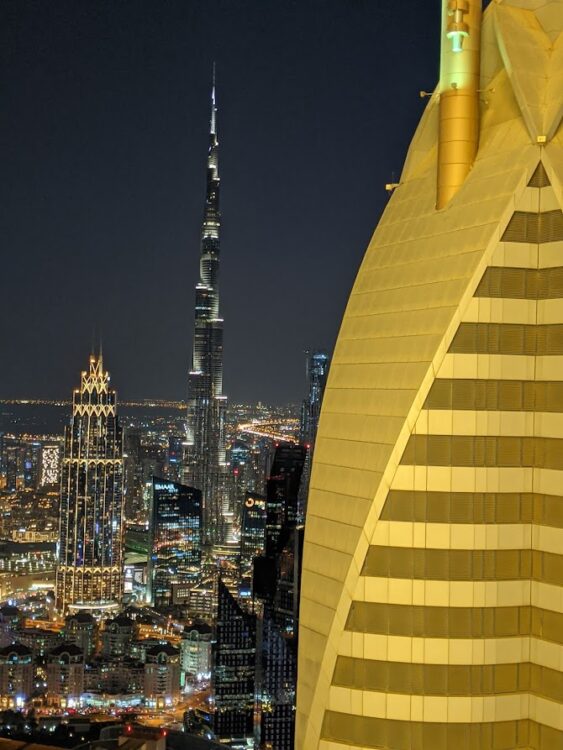 Although I researched a fair amount before arriving, there was still a fair amount that surprised me. Here's what I didn't expect beforehand, both good and bad.
Dubai's Marina District is Disappointing
I agonized over where to stay before our trip. Like any major city, Dubai has numerous neighborhoods each with their own feel. Nearly everyone recommends the Marina District as the ideal place to stay, though. It has shopping, dining, and a beach right there as well as a promenade for walking and street performances. With its popularity — and some lovely hotels — it's quite pricey.
We ended up staying in DIFC, the Financial Centre, primarily for cost savings. But when we day-tripped to the Marina, I was so glad we didn't stay anywhere near there.
It's crowded, bland, and not conducive to using public transit since the tram awkwardly only runs in one direction. The beach wasn't the nicest in town and forgive me if I don't want to eat at chain restaurants after flying long-haul.
Eating Out is Shockingly Cheap
I was really worried our trip would end up over budget from restaurants alone. And yes, you can spend a bundle on dining in the UAE if you're not careful. However, there are good bargains all over the place and you don't even have to work hard to find them.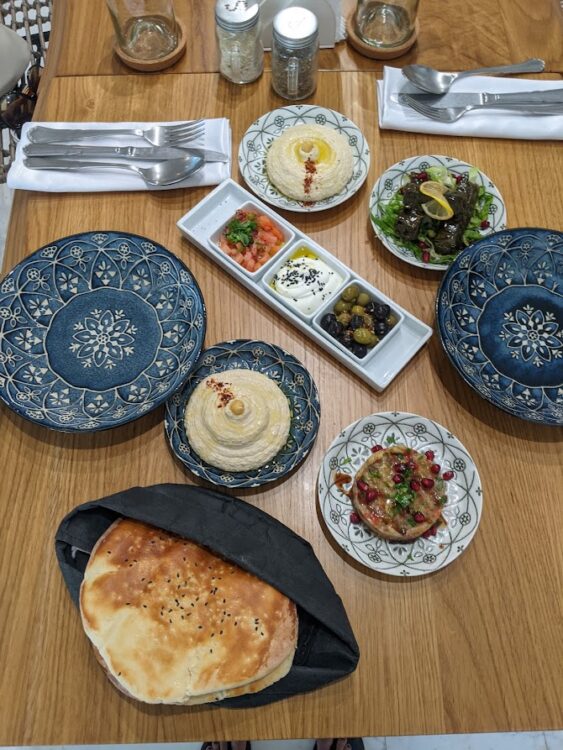 Some great ways to save:
Business Lunches – these set menus can get you into the most coveted restaurants at town at a great price (think 99-199 AED / US 25-50 for 2 or 3 course meals). Menus are posted on restaurant websites.
Ladies Night – alcohol is expensive in the UAE, unless you avail yourself of ladies night offers. I frequently saw packages for a light dinner + 3 drinks for $35-50 and sometimes it was full open bar for a few hours. Details are often front and center on business Instagram accounts.
Delivery – Ordering delivery is common and easy in the UAE and we took advantage of it a few times when we were exhausted. Tons of restaurants offer you discounts for your first order.
Discount Programs – Many hotel restaurants offer 15-30% discounts with My Emirates Pass (if you flew Emirates), there are 40% off coupons with an $8 Zomato Pro subscription, and BOGO meals at some of the cities finest restaurants when you purchase an Entertainer subscription for $55 (plus sightseeing freebies!).
Hole-in-the-Wall Restaurants: Some of Dubai's best food is at its neighborhood eateries. I ate a ton of both Lebanese and Turkish food, where you can consistently find a full meal for $10. Indian and other South Asian restaurants are also wallet-friendly.
Couple those with free breakfast at your hotel and you're made in the shade.
Dubai is Terribly Unwalkable
I can't think of any cities that are as pedestrian-unfriendly as Dubai (Abu Dhabi was a lot better). Sidewalks abruptly end, if they existed at all, and there were multiple times when I'd be ready to cross the street only to realize there were 8 lanes of traffic and no crosswalk.
Yes, of course there are some areas where walking makes sense. But there were many times when I'd take a taxi for a short distance because walking was so impractical and bus routes don't cater to tourist routes. C'est la vie.
Driving Would've Been a Piece of Cake
I should have rented a car.
Like Los Angeles, there's a big driving culture in the UAE. There are no trains between emirates (though there are some buses) and to get anywhere outside the city you'll definitely need a car. Whoever says "taxis are cheap" is saying that relative to other major cities rather than as an all-encompassing statement.
Driving looked very straightforward. Yes, it's congested and yes, rush hour is bumper-to-bumper, but navigation appeared to be a breeze and highways are in great condition. Even parking looked easy (as long as you're willing to pay).
In Abu Dhabi, where there is no metro and only meandering bus routes, a car would be especially helpful.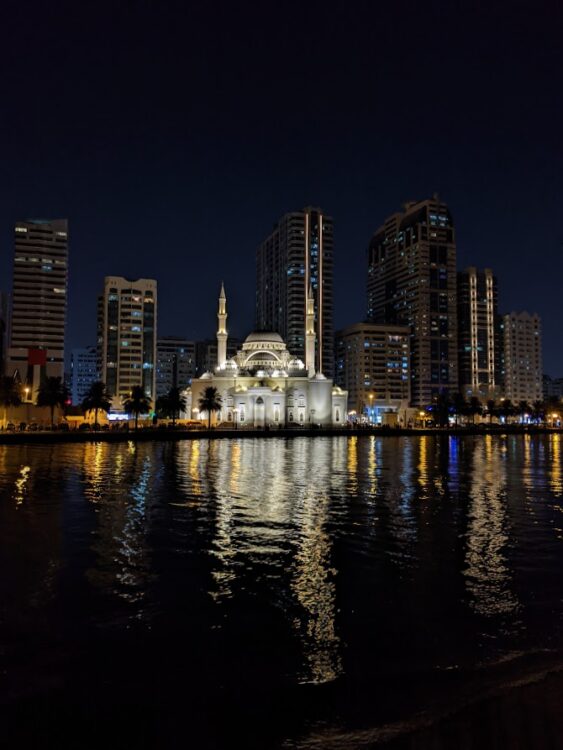 Dubai is Legitimately Fascinating
I get it: Dubai is a polarizing destination. So many people hate it because it's "fake" or "nothing more than a shopping mall" or "astronomically expensive". Admittedly, it does feel like all of those things at times depending on exactly where you are or what you're doing.
But at the same time, being in Dubai is so intriguing because of its multiculturalism. We talked to people from all over the world, ate cuisines we had never tried before, and also learned a little Emirati history. It's a fascinating combination that keeps you constantly on your toes.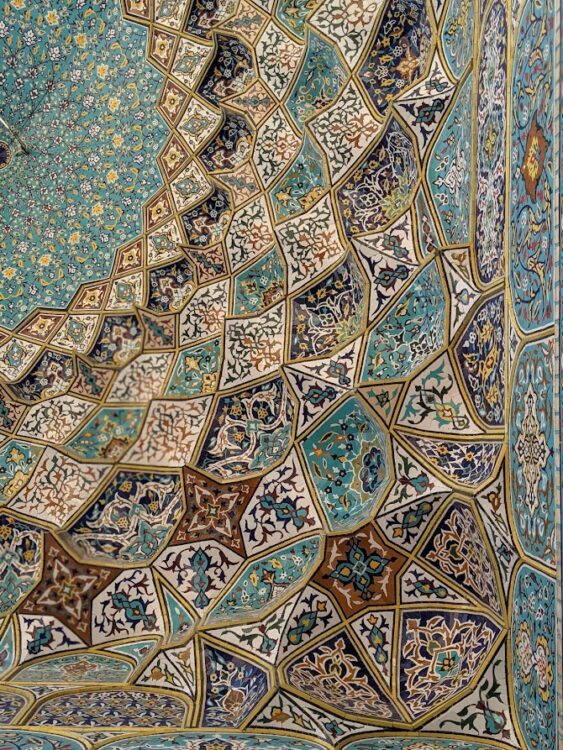 Dubai doesn't have a strong identity yet, that's true. However, I often felt like I was watching history in progress. Is that what visiting Singapore once felt like before it became the melting pot it is today?
Key Attractions Can Be Very Small
I thought we'd need 6 days in Dubai to complete everything on our list but that's because I made one bad assumption: that we'd spend a fair amount of time at each attraction. In reality, a lot of Dubai's attractions were very small. The Miracle Gardens, which I loved, took less than an hour to tour and Green Planet (also cool) only took us about 40 minutes. The fountain shows were disappointingly short.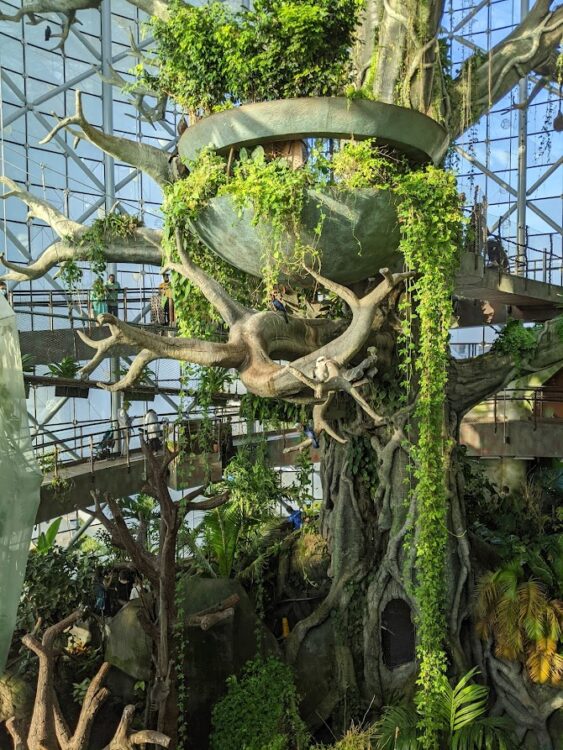 Over the course of our trip, we'd save an hour here or an hour there compared to my estimates. Before long, we were way ahead of schedule. This wasn't the end of the world: we lingered over three-course lunches and mornings at the beach. For once, my girls trip actually felt like vacation!
The Air Quality is Terrible
When I think of smog, my brain instantly goes to India and China. I know other Middle Eastern cities are offenders too, but I somehow overlooked how bad things were in the UAE.
The air pollution was bad every day we were there, in all three cities we visited. Honestly, it almost made me glad that masks were required outdoors.
Abu Dhabi Has a Phenomenal Beach
Supposedly, the best UAE beaches are on the Gulf of Omani, near Khor Fakkan and Fujairah. We never made it out that way (to reiterate: I should have rented a car).
But man, Saadiyat Island in Abu Dhabi has some great beaches, too. The sand is straight out of a dream — or, more specifically, it's straight out of the Maldives. Abu Dhabi is so crazy that they shipped it in to build their own perfect beaches.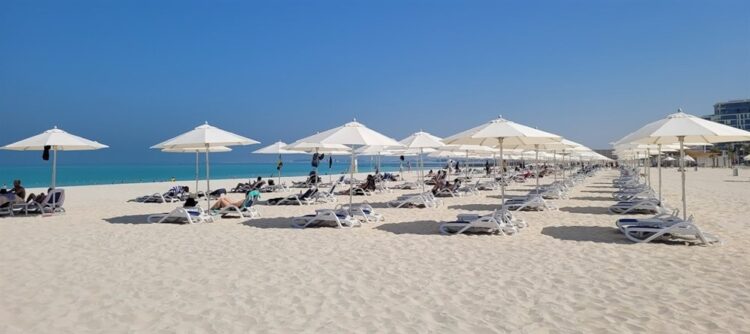 The white, powder-soft sand is complemented by clean, warm water. Soul Beach is the best place to access it on a budget (day passes are affordable) and the St. Regis is the best place to splurge on a day pass.
I found the beach at our hotel, the Radisson Blu Abu Dhabi Corniche, to be very rocky and uninspiring so it's definitely worth the trek to Saadiyat if you want a beach day.
Abu Dhabi Should Be Way More Popular Than it Actually Is
Abu Dhabi was everything I wanted Dubai to be. There's history, incredible architecture, stunning design, and some great, walkable areas. The vibe is laidback and lived-in and the city is doing its best to offer visitors something beyond shopping. There are a few mangrove parks for travelers who want a natural experience as well as plans for two great new museums, the Guggenheim and Zayed National Museum (in addition to the existing world-class Louvre).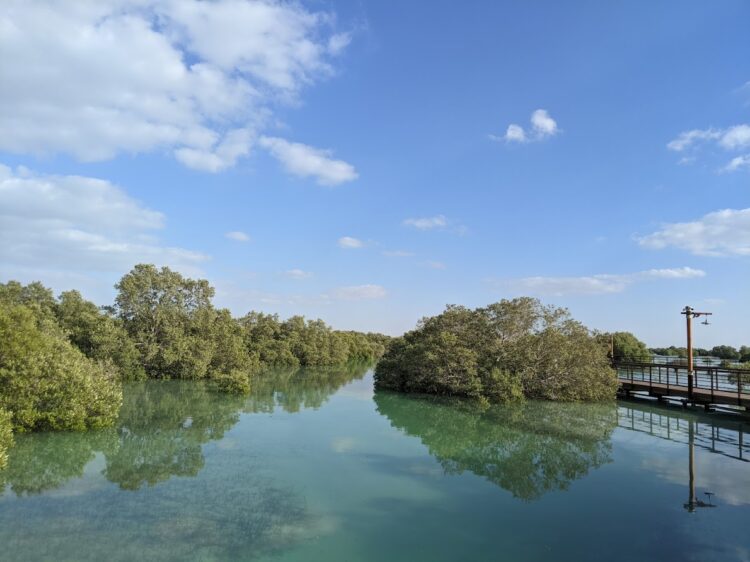 In retrospect, I should've spent longer in Abu Dhabi and less time in Dubai. You don't know until you go.
My Overall Impressions: Yes, I'd Go Back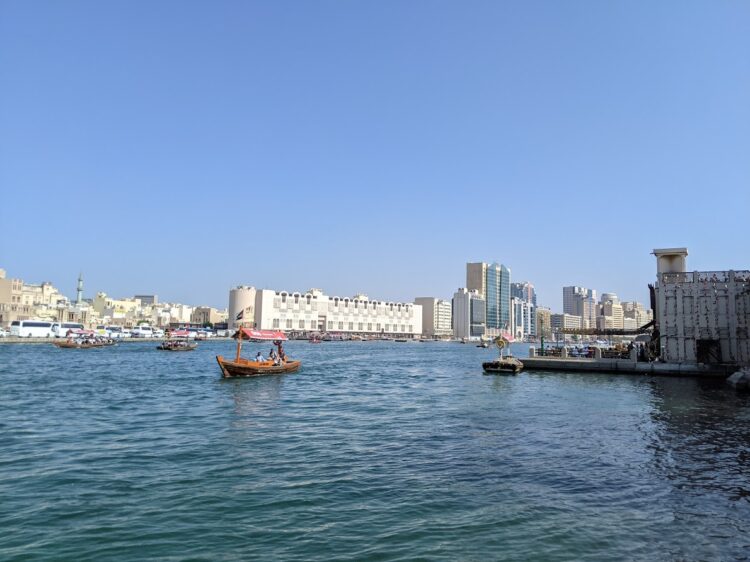 Dubai isn't perfect (no destination is) but I'd gladly go back. I'd like to spend another full day in Bur Dubai (the Old Town), primarily eating. I'd happily spend a 2 or 3 day stopover in Abu Dhabi to check a few more things out and revisit the beach. And the outdoors-lover in me would like to do a few hikes in Ras al Khaimah and Fujairah, maybe in conjunction with Oman's Musandam Peninsula.
In short, the UAE isn't perfect but I liked it a lot.
If you go…
A few don't-miss recommendations:
In Dubai
Where to Go: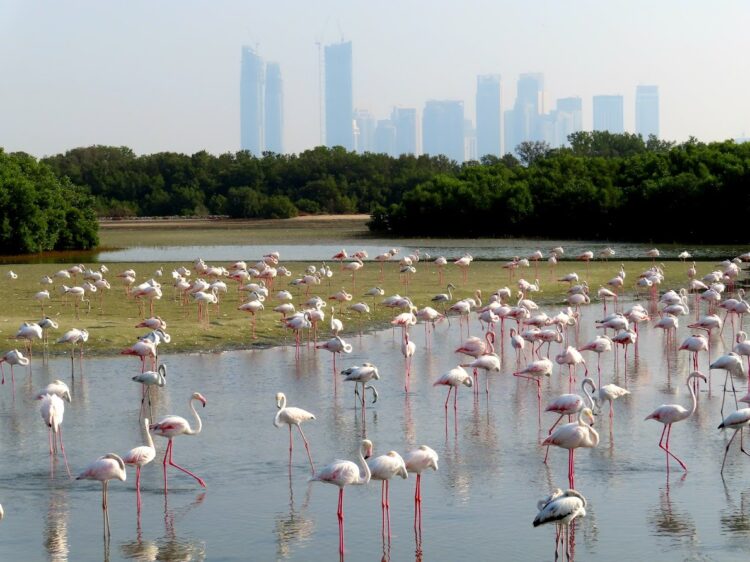 Bur Dubai via the Aladdin Walking Tour (great guide!)
Ras Al Khor Flamingo Hide (very cool to see wild flamingos with skyscrapers as a backdrop)
Imam Hussein Iranian Mosque (the mosaic work is incredible)
Miracle Gardens (for fresh air and greenery)
La Mer Beach (the best in Dubai, in my opinion)
Where to Eat: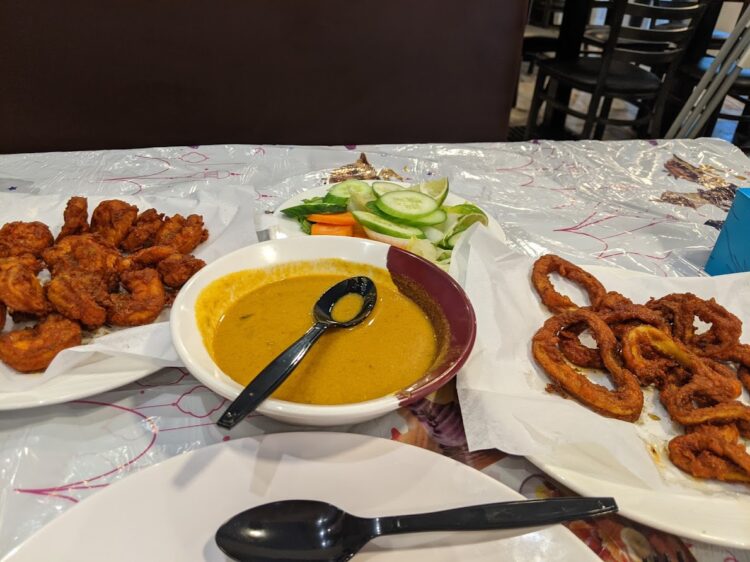 Al Fannah Restaurant (seafood)
Highest View (for a cheaper but still impressive sunset tea)
Where to Sleep:
Abu Dhabi
Where to Go: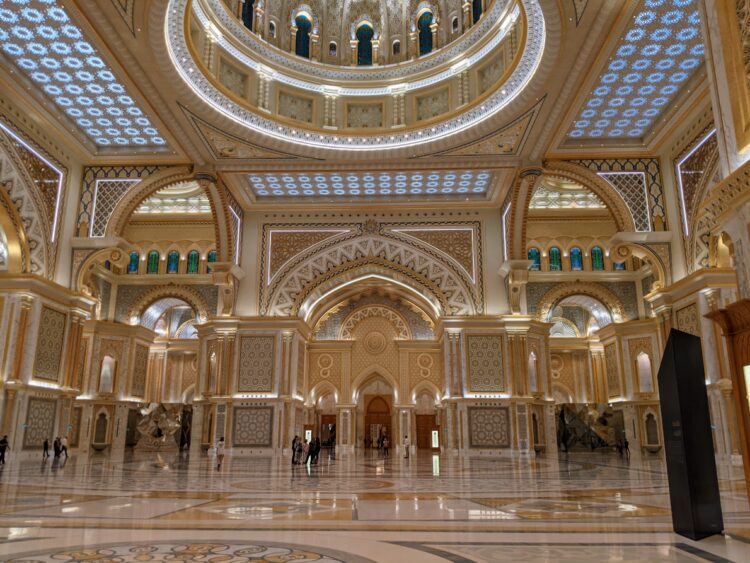 Sheikh Zayed Grand Mosque (don't miss the free guided tour)
Qasr al Watan (truly impressive architecture and design)
Soul Beach or otherwise on Saadiyat Island
Where to Eat: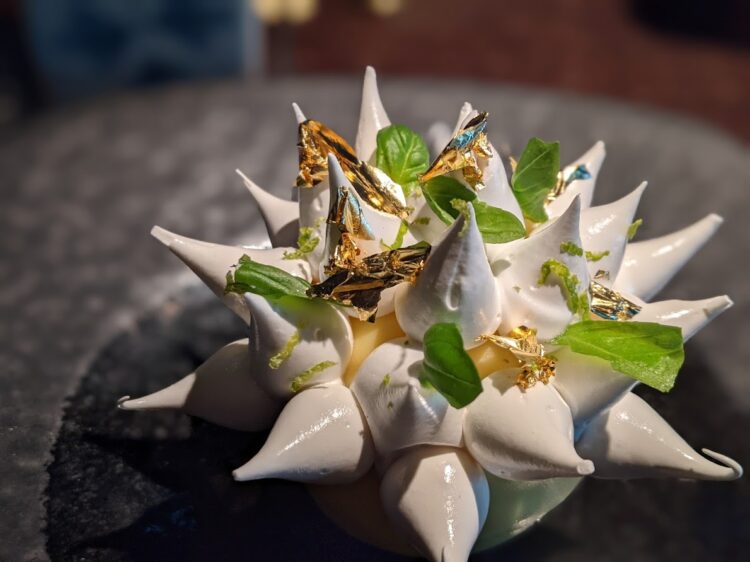 Hakkasan, in Emirates Palace hotel (yes, it's a chain, but this location goes over the top with gold leaf and luxury ingredients)
We found dining in Abu Dhabi to be far pricier than Dubai and thus stuck to mostly Turkish and Lebanese cafes. Delicious and affordable.
Where to Stay:
Read More About the UAE