This post may contain affiliate links. As an Amazon Associate I earn from qualifying purchases.
* * *
While I'm on vacation, I'm delighted to share travel tips and stories from a different point of view. I haven't had the chance to visit Asia yet, so it's my pleasure to include these suggestions on what to do in Vietnam. Please welcome Cris.

Upon our arrival into Ho Chi Minh City (HCMC) we were received by a welcome committee consisting of the humid Southeast Asia heat, the cacophony of thousands of motorcycles and an indistinguishable combination of smells that is nothing short of an assault on the senses. Vietnam can overwhelm if you are not ready for it but few places in the world feel as alive. The trip was made even more memorable by the fact that we met some of my wife's extended family who were gracious enough to show us Vietnam through the eyes of a local. After spending a total of 4 weeks in this beautiful country the following 3 experiences stood out due to their uniqueness.
Riding an Ostrich
Just off the coast of the city of Nha Trang lies Monkey Island, a popular destination for local Vietnamese tourists. Just as with any tropical island you have the opportunity to relax by the beach and enjoy the scenery but what I found more interesting was the opportunity to ride an ostrich. I must admit I was somewhat nervous after seeing these birds run at speeds of 20-30MPH around the enclosed circular track but decided that I needed to try this.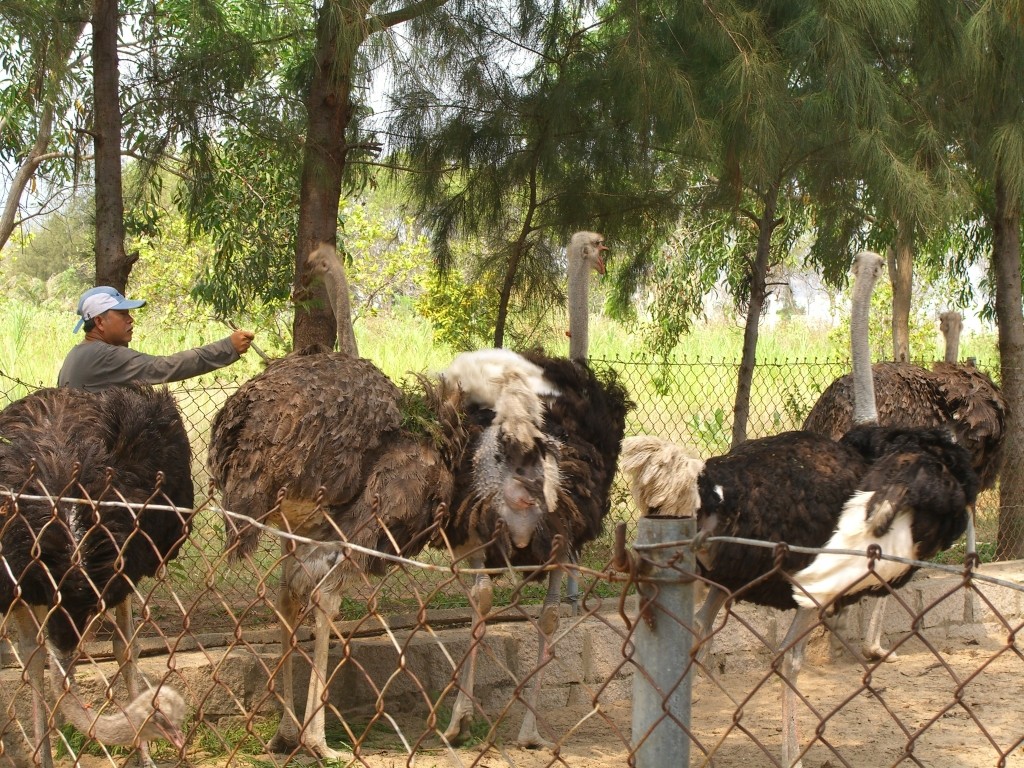 As I sat on the ostrich I could sense its annoyance at having this extra weight on its back; suffice to say this did nothing to calm my nerves. After a couple of anxious minutes, the handler starts tugging at the ostrich until it starts to gain speed. Ten seconds later, we are speeding forward as the handler is trying to catch up to us and I start to feel that rush that comes when you are doing something that you know is not without risk. All of a sudden the bird turns the last corner and we are heading towards the fence that circles the track, at this point I realize that I need to hold on as the ostrich will have to break quickly in order to not hit the fence. Out of the blue, a handler shows up directing the ostrich to stop which it does, leaving me both grateful and surprised that the handler found its way back to us! Just as quickly as it had started the ride was over but not without the shot of adrenaline that was part of the package. All this for a few bucks, how can you go wrong?
Cu Chi Tunnels
About 90 minutes northwest of Ho Chi Minh City lies a 150+ mile long complex of tunnels which the Viet-Cong used as living quarters, hiding spots and supply routes during both the war with France as well as the Vietnam War. Due to the popularity of the tunnels it has become increasingly easy to get here as you can either rent a private car for about 45 USD round-trip or take a tour bus for about 5 USD. Once there, it costs another ~4 USD to get into the tunnels.
To me this is one of the more unique places I have ever visited due to both its historical importance and the fact that I found it absolutely incredible that people lived down there for so many years. The first thing that struck me was the size of many of the tunnel entrances, barely big enough for an average person.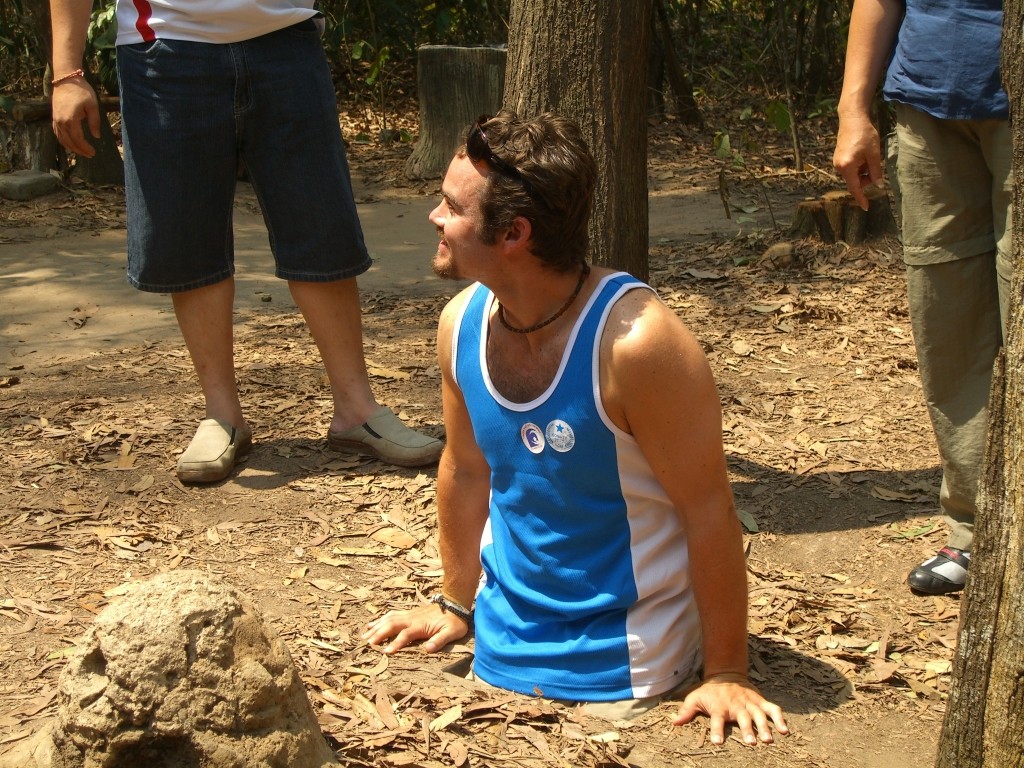 Luckily the size of the opening was somewhat deceiving as I was able to go down without much of a struggle. As I navigated the tunnels I was amazed at the adaptability of people since most of sections within the tunnels were a tight squeeze, with the exception of some of the "rooms". After 15 minutes of exploration I was happy to come out the other end. It also gave me a new appreciation for the sun that only minutes earlier I had found quite overbearing!
Boat Riding in Halong Bay
This is probably on most to-do lists for people traveling to Vietnam, and if isn't, it should be. What makes Halong Bay so special? Imagine hundreds of peaks just rising up from emerald green water combined with a number of junk boats just floating around…it is simply spectacular. Luckily for us, though you might not agree, a low fog had descended on the bay giving it this hauntingly beautiful effect that made it feel like we were in a classic Chinese movie.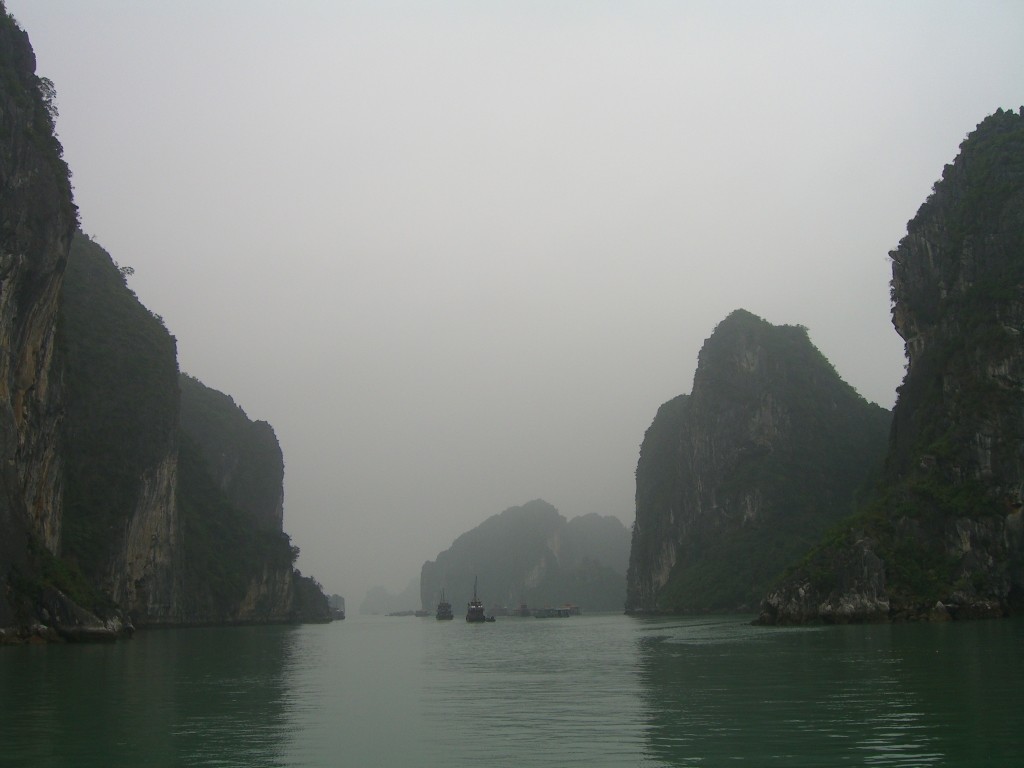 While cruising around we ran into multiple fruit vendors who fill their boats with all types of tropical fruits, providing just another example of the entrepreneurial spirit found all throughout Vietnam!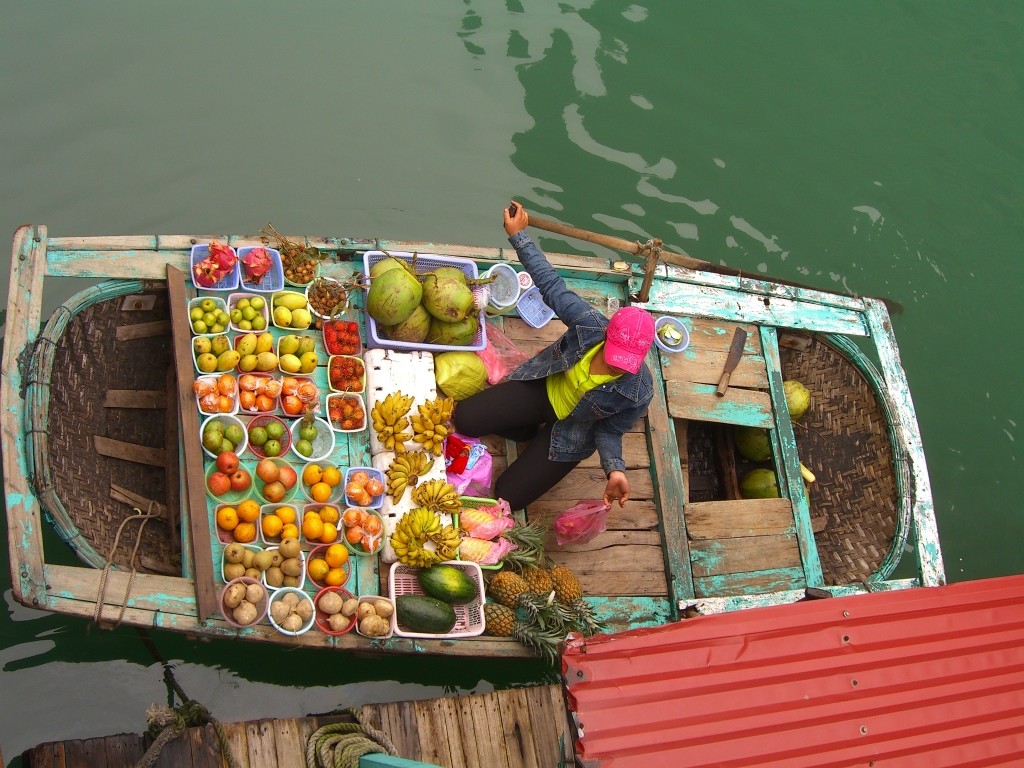 For the more adventurous folk, Halong Bay contains a number of large caves which you can explore making this a well-rounded trip. The one piece of advice I can give is to stay overnight as opposed to doing the day tour from Hanoi as this will give you the opportunity to sleep on a junk boat.
The above is just the tip of the iceberg. From the sheer bustle of Ho Chi Minh City to the tranquility of Sapa, Vietnam has something to offer anyone willing to explore this charming country. If you have any questions or simply want to bounce ideas please feel free to drop me a line since I am happy to spend my entire day talking about travel!
* * *
Cris Sierra is an avid traveler who has lived and traveled to 4 and 40+ countries respectively. He is a firm believer that travel is enhanced when you allow yourself to not only "get lost" in the destination but to interact with the locals. With that in mind he cofounded Tripniks to help fellow travelers get free personalized tips from local experts.