This post may contain affiliate links. As an Amazon Associate I earn from qualifying purchases.
* * *
The best advice I can give to you is to never book the same flight as me. I'm cursed with flight delays all the time, a black cloud of late departures that follow me wherever I go.
With all this "experience", I've gotten very good at handling flight delays. I don't wish the string of bad luck I've had on anyone else, but if you find yourself in a sticky situation, it's not the end of the world.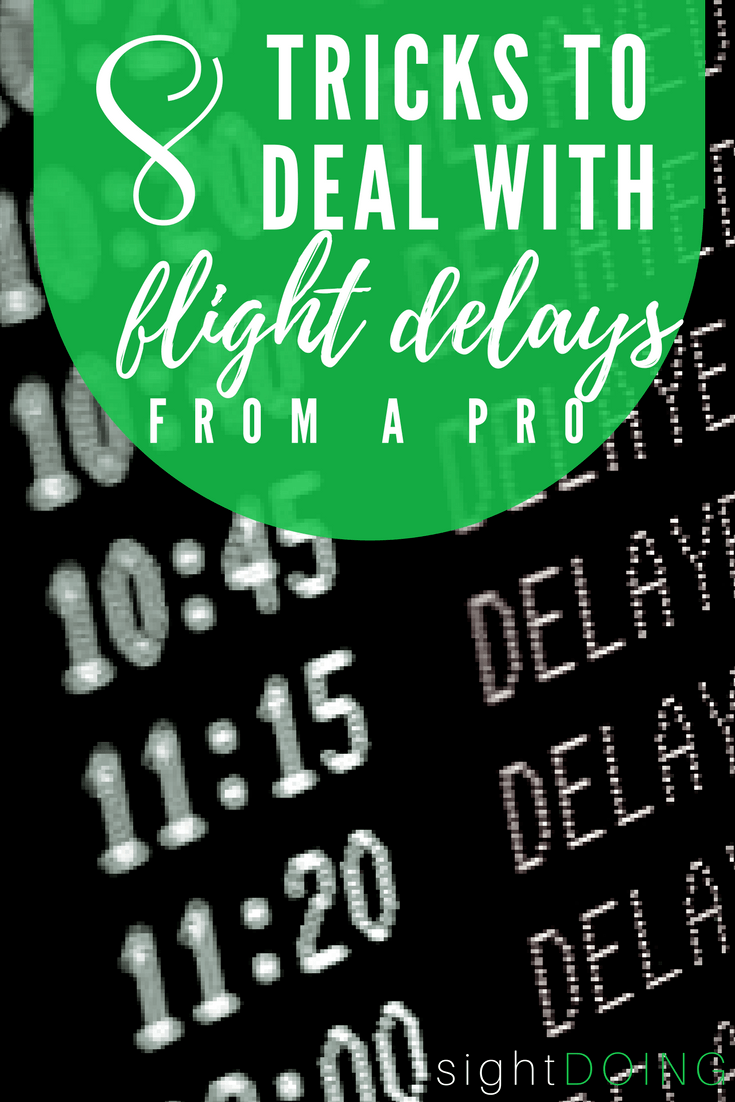 Secrets to Handling Flight Delays (and What to Do When You're Stuck)
1. Check Historical On-Time Performance Before Booking
FlightStats' on-time performance rating tool is simple to use and provides a good overview of how your flight has historically performed: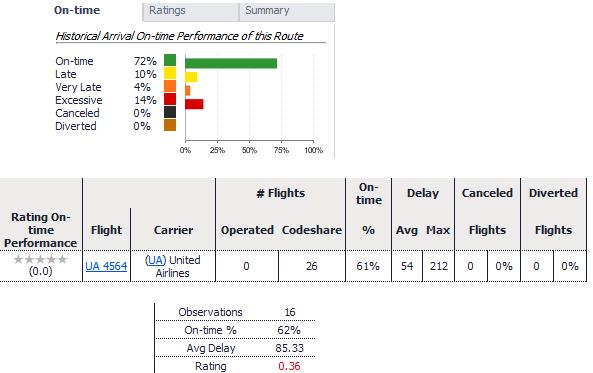 Always dig into the details to know if your flight is only on time 61% of the time (with an average delay of 54 minutes). Arriving at your destination an hour later might not ruin your vacation, but it might cause you to miss a connection, which can have a domino effect. This is especially important if you're on the last flight of the day and don't want to spend the night at an airport hotel before continuing the trip the next day.
Hint: If you have no choice but to book something with a poor performance record, be sure to purchase travel insurance. I use RoamRight, which will cover those last-minute expenses if you arrive too late to catch another flight, train, or cruise.
2. Check Your Flight Status Before You Leave Home
Nothing sucks more than setting the alarm for 4:00 a.m. only to find out your flight was delayed by three hours once you showed up at the airport (true story). Whether you're at home or comfortable at a hotel, always check the flight status before getting to the airport.
One of my favorite options for day-of updates is FlightCaster, available as an app or online. This app estimates the probability that your flight is on time, and if not, your risk of a delay of 1+ hour. It uses data based on the weather, incoming aircraft status, and FAA alerts for your departure and arrival airports. Since this data is so time-sensitive, you can only check on your flight starting at six hours before departure, although that's usually plenty of notice.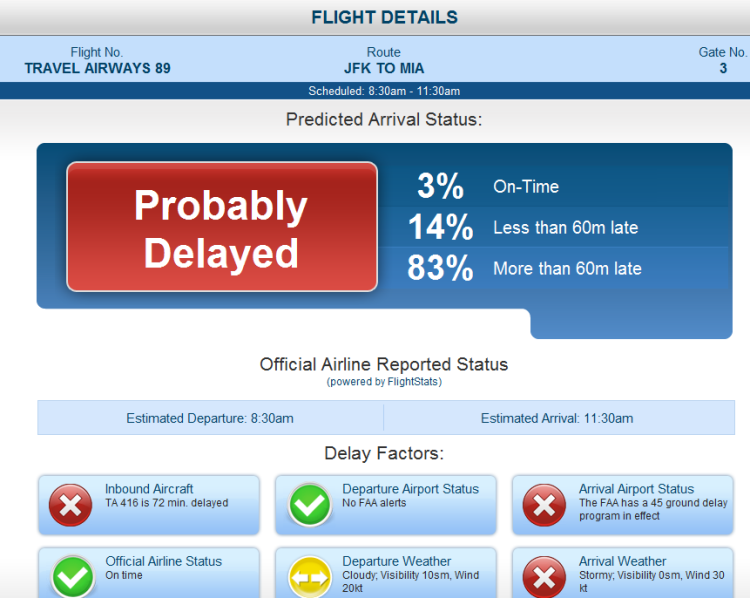 You can take it one step further by tracking your incoming aircraft. Incoming flight information may keep you one step ahead of airport monitors and help you anticipate flight delays. I like FlightAware, which shows you the incoming flight status in one simple click.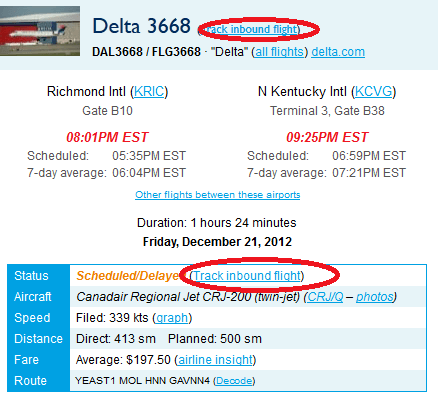 It's not a perfect solution because the airline can substitute a different aircraft at any time, but more often than not, the scheduled plane will follow its route as expected.
If you're a lazy or forgetful traveler, most airlines also let you sign up for automated alerts by email, text message, or robot phone call — so the airline will let you know when there is a confirmed delay. However, these apps sometimes forecast things before they're a problem so you have a heads up on whether you need to consider alternate plans.
3. Pack a Lounge Pass
If you have one, pack a lounge pass. Even if you think you only have a one-hour layover and won't need it during your trip, you never know when you might unexpectedly have five hours to kill. The small card doesn't take any room in your carry-on and doesn't do any good at home!
Most airline lounges aren't as glamorous as you think, but they are way more comfortable than crowded airport terminals. There's usually plenty of power outlets (particularly necessary when you're on the phone rebooking) and free wi-fi makes it easier to explore alternate options and change reservations for hotels, car rentals, or simply email home.
Make yourself comfortable and try and make the best of the situation. Find out if you qualify for free lounge access — it's not as expensive as you think.
4. Always Show Up With a Plan B
Even if everything looks like it will run smoothly, have a "Plan B" flight in mind. Do a sample search for other departure times and/or routings that will get you to your destination. Ideally, this other option will have a seat available, but it's worth knowing sold-out options as well. You never know when someone else will miss their connection leaving a spot open for you.
The TripIt Pro app ($49/year) does the legwork for you, by searching alternate flight options in one spot and even presenting information on available seats. You'll still need to speak directly with the airline to change your reservation, but at least you'll know what to ask for.
While there's no guarantee, sometimes a smile, friendly small talk, huge gratefulness, and available space might be enough for the gate agent to confirm you on a different routing back home. I've lucked out with free changes a few times, and other times I've been offered options with fees, but there's no harm in asking. Remember to be patient and polite – gate agents have a lot to deal with when flights are delayed!
5. Know The Airline's Phone Number
At my tiny home airport, I've gotten great service from agents at the ticket counter and again at the gate, but at most airports, staff members are overloaded with things to do, especially when flights are delayed or cancelled.
Know the airline's phone number so that you can call for rebooking requests, which is often faster than standing in line. Staff members working in airport lounges and Twitter handles can also be great resources, and there's no harm is waiting on hold on the phone while also standing in line to see which way provides a quicker response. Traveling with someone? Split up in two lines (but be sure to stay in contact with each other while you're doing so if you're not in sight of each other).
As an added bonus, make sure that your cell phone number is on file in your frequent flyer account. Many airlines will then recognize your number automatically and link it with the delay, so you don't have to navigate phone trees to get to the right representative. If you have elite status, you might even skip to the front of the line.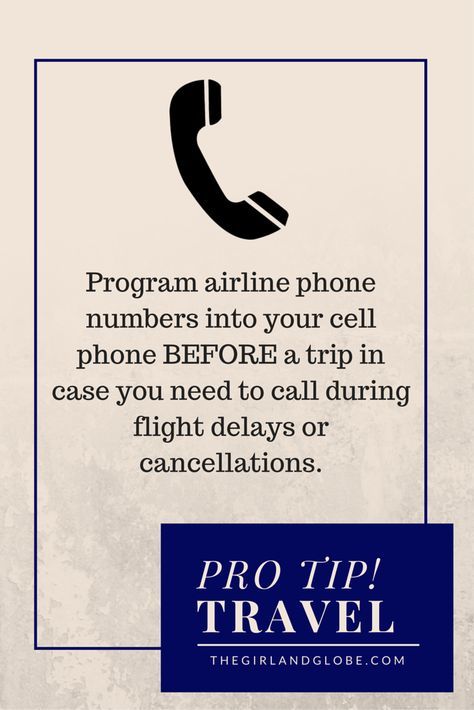 6. Don't Hesitate
If your flight's delayed and there's a different acceptable routing, make the switch as soon as it becomes available. Maybe you're hoping something better comes along, but more often than not, you'll end up losing your Plan B option when it fills up with other travelers. You don't want to be the last person rebooked and find out you're only on stand-by for the next 8 hours.
When airlines offer weather waivers (like when they know a hurricane or blizzard is on the way), you might even be able to view all options and make the change online for free. Not only is this a handy way to see all your options in one spot, but it can save time compared to standing in line.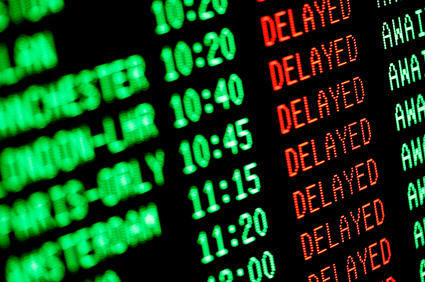 When it looks like you might have a delay, start doing research on last-minute airport hotels or one-way rental cars to get to your destination. Even if you don't book anything until the problem is staring you in the face, being armed with information will help you make the best decision if the scenario arrives.
7. Travel With Snacks

Everything seems worse when you're hungry, so do yourself a favor and keep yourself fed. You'll be less likely to to raise your voice or overreact — which means you're more likely to get better service from the airline agents helping you.
It's true that sometimes on long delays (or cancellations), airlines provide meal vouchers to customers. However, it might require standing in line for an hour or more to end up with a voucher worth about $6. Is that worth it? Not if you're already hungry!
Never count on getting snacks at the airport; long delays mean you may find yourself at the terminal after all restaurants have closed for the evening.
8. Never Plan Anything For Your Arrival Day
Delays are annoying no matter what, but if they mean you miss your planned tours and other activities, it can be really frustrating. I've found that it works very well to simply plan your flight days as exactly that: a day of travel, and nothing more. Then, if your flight is delayed, at least you didn't miss out on a highlight of your vacation. If you do arrive on time, you'll be pleasantly surprised with the opportunity to start exploring your destination early (and sometimes those spontaneous, serendipitous discoveries are the best memories of a trip).
If all else fails, remember that delays aren't the end of the world. I've had my fair share of them and always get frustrated in the moment, but in the long run, it's no more than an inconvenient blip. Use that extra time at the airport to call an old friend, get some exercise by walking from terminal to terminal, or even plan your next trip.
* * *
Readers — what are your tips for handling flight delays?
Share your advice in the comments!
* * *
Did you find this post helpful? Pin it on Pinterest, tweet it, or share it on Facebook (more social media buttons below).