This post may contain affiliate links. As an Amazon Associate I earn from qualifying purchases.
* * *
Puerto Rico had always fascinated me in theory: this island that is so unique and independent despite its U.S. ties. Actually being in Puerto Rico made this fascination even more thrilling.
I had about an hour to kill before the rest of my family (my traveling companions for the week) would arrive at SJU, so I made my first stop of the day at the Water & Beach Club, a trendy hotel in Isla Verde, for lunch on their rooftop terrace.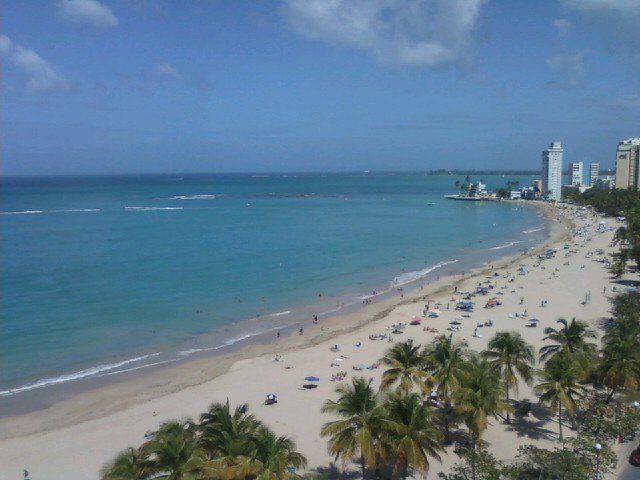 After picking up my family, we began the drive out to Fajardo, on the east side of the island. Driving in Puerto Rico proved to be much simpler than I expected (my parents, who had been to San Juan three times previously, had told me horror stories that I didn't find to be true). Yes, I made a few wrong turns, but no worries: we eventually found our hotel without incident or event.
I love to stay at one-of-a-kind places, and both the setting and hospitality at Passionfruit B&B were perfect for our short stay. We had just enough time for dinner at Pasion por el Fogon before heading out for the whole reason we overnighted on this side of the island: to check out Laguna Grande, a phosphorescent bay.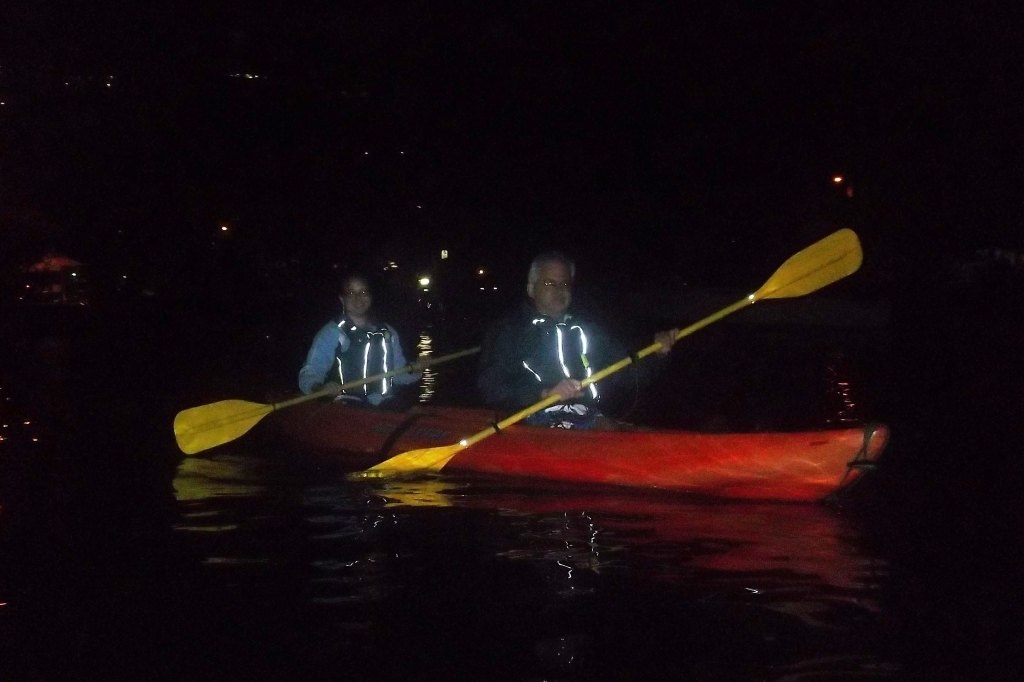 One of five bioluminescent bays in the world that can be visited year-round, the tour was out of this world! We joined a kayak trip for the night to check out this cool phenomenon for ourselves. We kayaked through (and got stuck in…) the natural mangroves, which was pretty cool in and of itself before making it to the bay.
The mysterious green light is actually microscopic organisms (dinoflagellates) living in the water that glow. There are several theories for why this happens, and it's likely a natural defense system. As they light up, predators see more "desirable" prey, leaving these tiny creatures alone. I wish so badly that a camera could capture how cool this looked, but instead, you'll have to go for yourself 🙂 As if that isn't cool enough, the stars above were a magnificent show as well.
After a restful night, our second day in Puerto Rico began. Not far from Fajardo and Laguna Grande is El Yunque National Forest. This is a lush rainforest that is easily accessible – and wonderful for some light hiking. We spent the entire morning exploring, which was great to do at our own pace with a rental car. We skedaddled and moved on to a new location every time a tour bus showed up! Some of the best parts? The beautiful views and the awesome waterfalls.
One of the more popular hikes in the park is a combination of Big Tree Trail and La Mina Trail. We were fortunate to head there early enough to get there before the crowds came in. Of course, this was a gentle reminder that traveling with my family is a little different from when I travel with my husband (or solo): hiking is a much bigger endeavor with my parents and sister, but it was still such a wonderful time. Another difference? We ended up chickening out of swimming at La Mina Falls – the water was COLD! (My husband would have just pushed me in!)
After some casual pinchos roadside for a late lunch, we made the drive back to San Juan.
* * *
My mother and sister aren't quite morning people, so my father and I set out for a walk around town on our own. Mornings are always one of my favorite times for a walk; I love watching the city wake up. San Juan, it seems, is slow to wake up – not surprisingly given the tales I've heard of Saturday nights! (I'll have to go back to check it out).
Old San Juan is a great place to stroll around, and I enjoyed seeing it without all the crowds. The streets are confusing to find your way around, with some poorly labeled, and others far from grid-like. However, the old buildings in so many colors were pleasing to look at and I could just smell the history. It was a little strange to see name-brand stores in all these old buildings in one section of town and I'd imagine it would be fun to go back in the afternoon when the outlet shops open up…not because I wanted to shop, but because I bet the people-watching would also become interesting.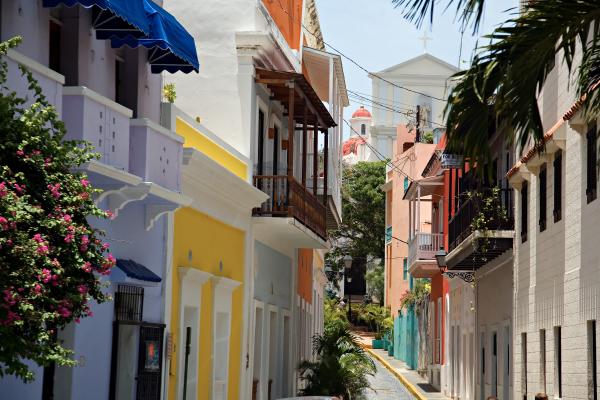 If you've ever wandered through Old San Juan, you'll know it's a bit of a maze. Since I didn't really have a set destination, that was okay by me, but I was pleasantly surprised when we actually stumbled upon something of interest. The San Juan Cathedral, nearly 500 years old and the resting place of Ponce de Leon, was gladly accepting visitors for morning mass. I may not be fluent in Spanish or Catholicism, but I know enough to not look like a fool, making it a nice introduction to a part of life that's so important to many Puerto Ricans.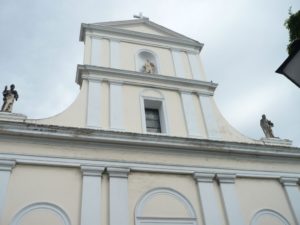 By the time we returned to the cruise terminal, it was time to meet the rest of my family for a segway tour. My parents have segwayed (is that a verb?) all over the world and absolutely love it, but this would be my first time. Would this little machine become my nemesis?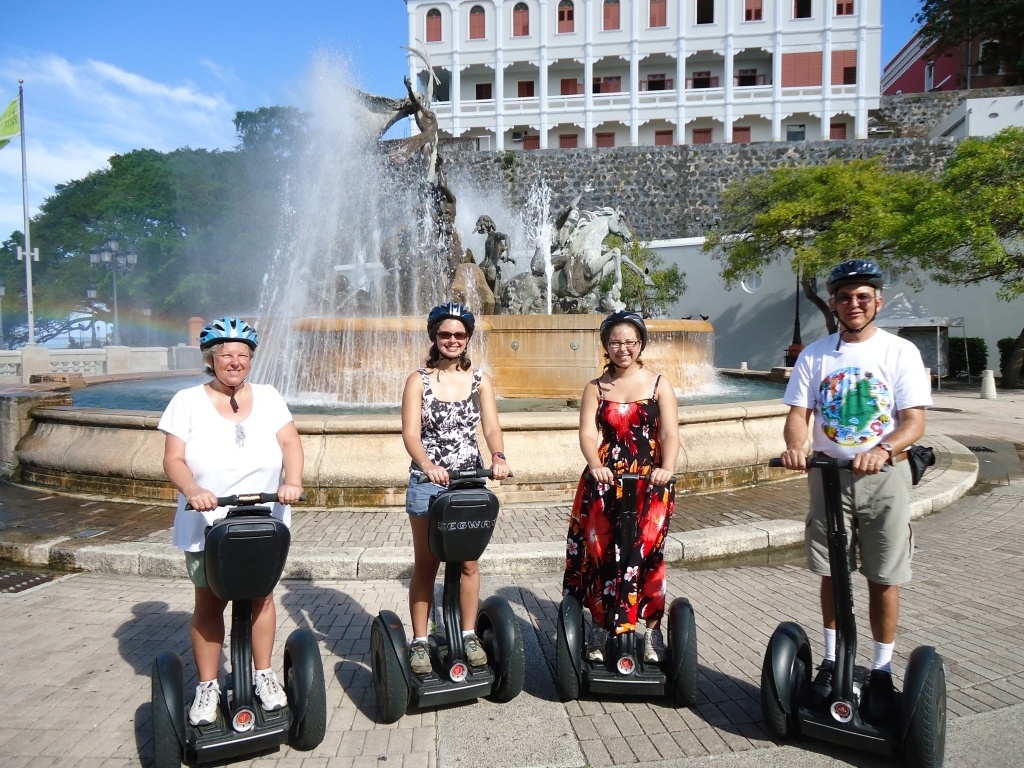 Nope, segways are incredibly simply to balance on and have a bit of that "fun factor" as well, even if everyone is staring at you while you zip past. I had a ton of fun just riding it, but better yet, our tour guide was phenomenal! She shared so much information about San Juan's history, culture, and hidden treasures that I was ready to move down to the island for awhile to check it all out for myself.
Our segway tour also included a stop at Castillo San Felipe del Morro, a fort on the tip of the city that today is a World Heritage Site protected by the National Park Service. Now, I'm not a fan of forts, since they all kinda look the same to me…but it was actually really cool to tour the fort with our guide since she knew stories about life in the barracks and the many ways the fort protected the city of San Juan. It was certainly worth a short stop (longer if you're a history buff).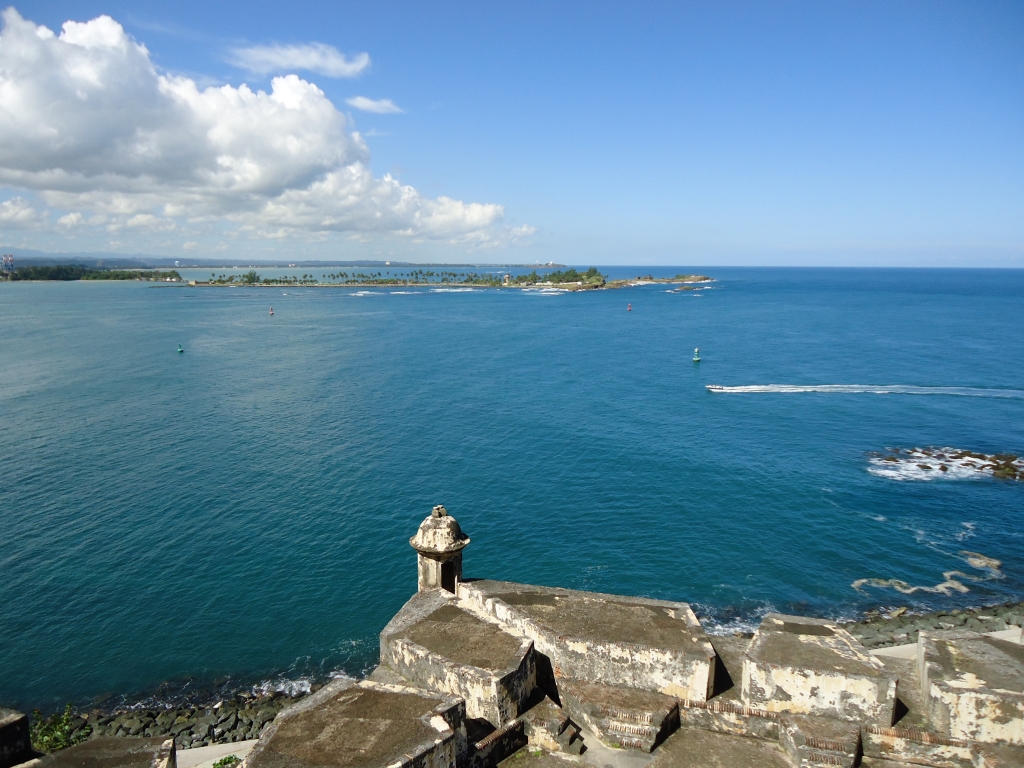 Unfortunately, all good things must come to an end, and so we said adios to the segways. Feeling much more comfortable with our bearings in Old San Juan, we managed to find La Bombanera, a fantastic diner-style restaurant known for their mallorcas. These fried treats covered in powdered sugar are basically impossible not to love. You can eat them solo, like you'd eat a doughnut, or you can slice them in half and pile them high with the toppings of a Cuban sandwich. Guess which one I chose?
At this point, there wasn't much more time left in our day, so we strolled through Old San Juan a bit longer to soak it all in, stopped for a cold beer on the waterfront, and called it a day.