This post may contain affiliate links. As an Amazon Associate I earn from qualifying purchases.
* * *
This has been a year full of obligatory travel. Family events, friends' weddings, and other occasions have booked a fair number of my weekends. In each case, I try to find something fun to do while I'm there to turn it into a mini-vacation, or "oblication" as my friend Dia would call it.
For our wedding weekend in Philadelphia, choosing what to do to make it special was simple. You see, my husband has a celebrity chef crush on Morimoto and we've been talking about eating at one of his restaurants ever since we skipped over the chance in Napa back in 2011. Even though Morimoto himself wouldn't be at the restaurant while we were there, we've seen enough of his Iron Chef victories to know we wanted to try a few dishes that he stands behind.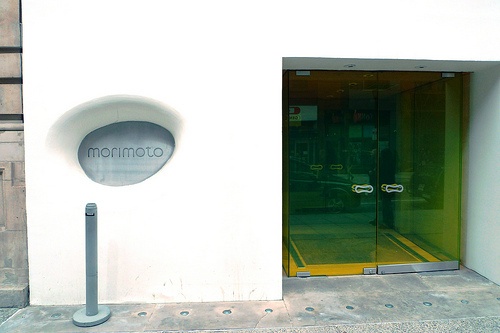 Frankly, food at Morimoto isn't exactly cheap. While I've been known to sleep in dumpy hotels so I have money to splurge on a good meal, the pricetag of $205 per person (before tax and tip) for the full dinner experience of a multi-course omakase with beverage tasting wasn't going to happen. Lunch, on the other hand, was a relative bargain.
We arrived at Morimoto on a Friday around 11:30, right when they opened. The restaurant has a funky, modern design that is cool for about five minutes. After that, you realize there's an unmovable lightpiece in the middle of your table that always seems to be in the way. Additionally, once the restaurant started filling up with other guests, the room became somewhat noisy. I can only imagine what it must be like on a Saturday evening.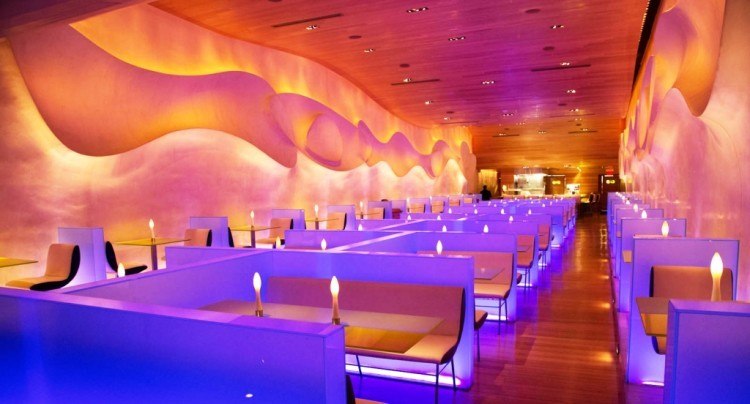 Our server greeted us within moments of being seated and from there on out, the service was extraordinary. Already, Morimoto was a far cry from our strip mall sushi joint. Our server informed us of the lunch omakase option and pointed out a few other menu items to be aware of. This wasn't just an average lunch date for us, so we were excited to try what Morimoto had to offer.
I knew I wanted to try a few specifically recommended dishes, so ordered a sushi starter followed by one of the lunch sets: ishi yaki bop, a rice dish prepared tableside in a hot stone bowl. Mike, on the other hand, ordered the omakase to try an assortment of the chef's dishes.
First up were the soup and salad included in my lunch set and a yellowtail tartare for Mike's first course. The house salad comes with a yuzu vinaigrette and is tasty, but hardly special. The miso soup was silky and flavorful, but I still wouldn't call it mouth-watering. In other words, they were good but I had set high expectations. It's worth knowing that you can upgrade the lunch set to come with a ramen soup instead, something I should have taken advantage of. The tartare was very good, though, and luckily I was able to steal a few tastes.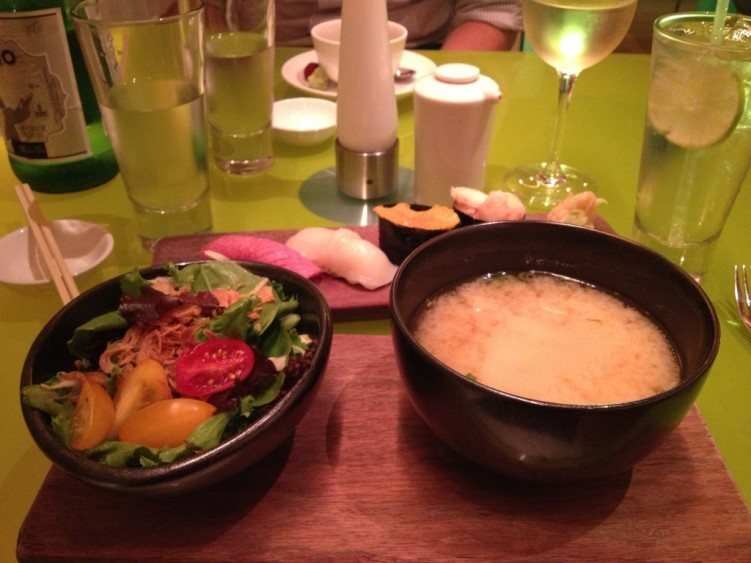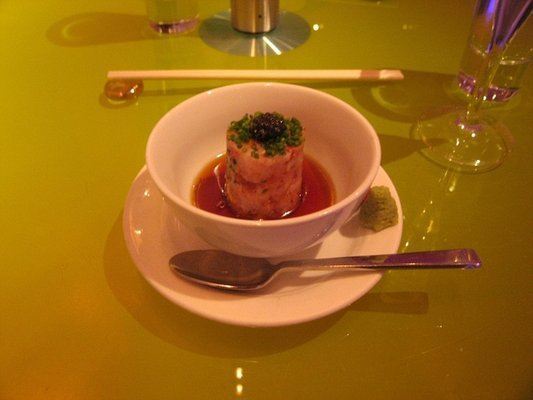 Next up was my sushi plate: an assortment of some tried-and-true favorites, my first time trying oh-toro (fatty tuna), and my second time trying uni (sea urchin). I didn't care for uni the first time and wanted to see if having super-fresh, high-quality uni made a difference. Verdict: it didn't, and apparently I just don't like sea urchin.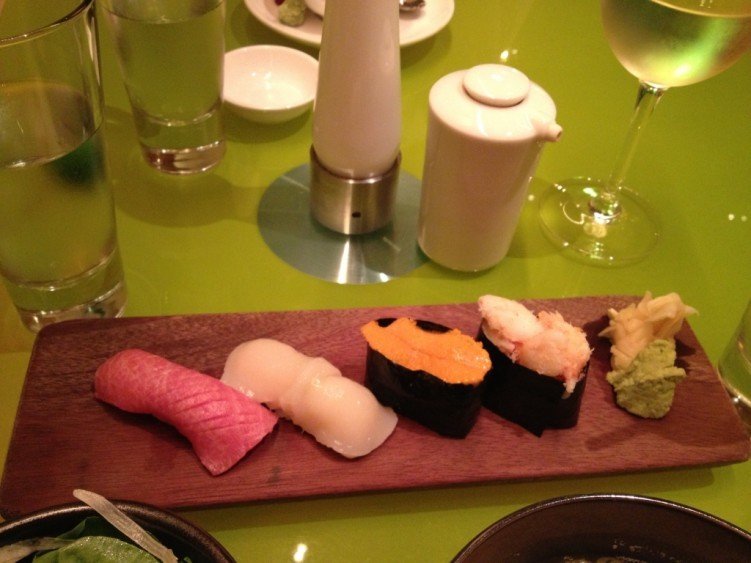 That oh-toro was pretty spectacular, though!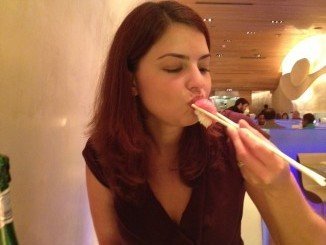 While I was joyfully enjoying my sushi, my husband continued sampling omakase plates: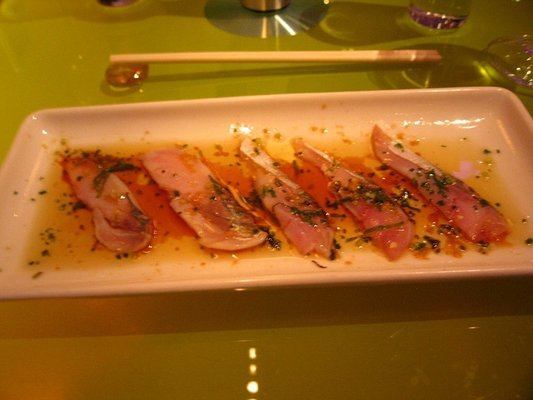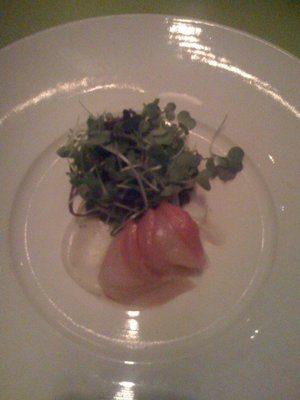 After that point, the really good stuff started to come out. My server blended my ishi yaki bop tableside, cooking the yellowtail to a medium rare (as requested) on the side of my hot stone bowl. While a fun novelty to have it prepared in front of me, it probably isn't the strongest dish on the menu. It's absolutely delicious, but the two courses my husband had were much better. Not pictured was a seared scallop with roasted beet, and the black cod miso stole the show.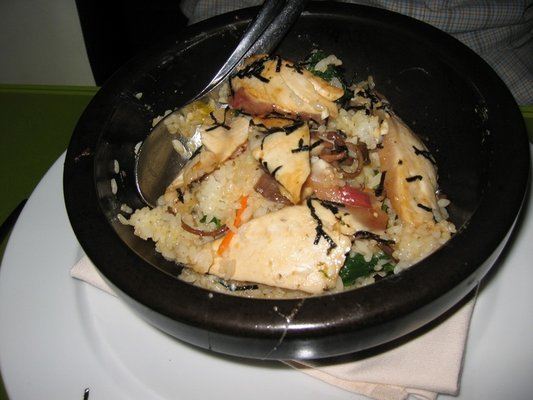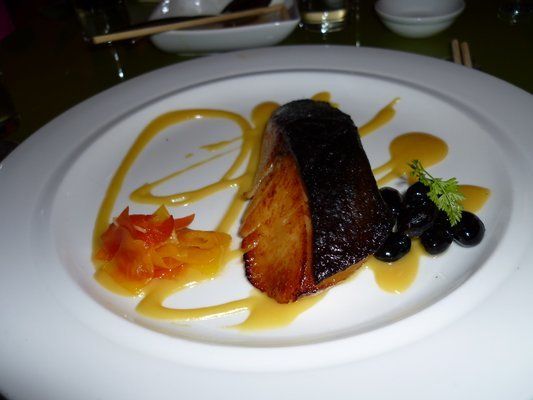 As luck would have it, I wormed my way into eating most of that black cod so that Mike could save room for his sushi course and dessert. Or, at least, that was how I suggested it 🙂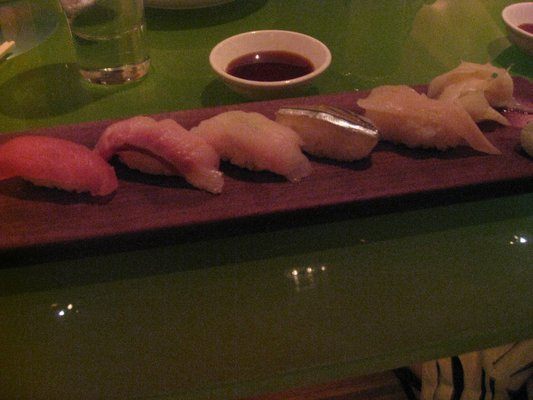 Our dessert was, to be honest, not particularly memorable. Without a picture of it, I can't even remember exactly what type of cake it was.
So the real question is…was Morimoto worth it? After detouring into Center City, tasting roughly a third of the menu, and parting with $210, my opinion is that it wasn't worth all that. Yes, the meal was better than good and the service was attentive. However, with the exception of the black cod (who saw that one coming?), it wasn't a meal to blow my mind. For the record, my husband disagrees with me and certainly wouldn't mind trying one of Morimoto's other restaurants.
Overall, we had a really fun lunch date and a great time breaking up our oblication with some time to ourselves as a special treat. Since there are always more events on our agenda, we'll have to plan something even more enjoyable for the next one. Until then, I'll have to find another place to get my sushi fix.
Note: I paid for my meal at Morimoto and full and did not receive any compensation for this review. As a traveller seeking out the best values, I like spreading the word on what's worth the splurge. All reviews are my opinion only and details and pricing are accurate as of the time of my meal in August 2013.