This post may contain affiliate links. As an Amazon Associate I earn from qualifying purchases.
* * *
Am I the only one who spends hours and hours researching or planning a vacation and totally forgets about getting organized? Woops! This pre-vacation checklist is the only reason my life doesn't fall apart. With a little thought ahead of time, you can take care of all your loose ends and be prepared.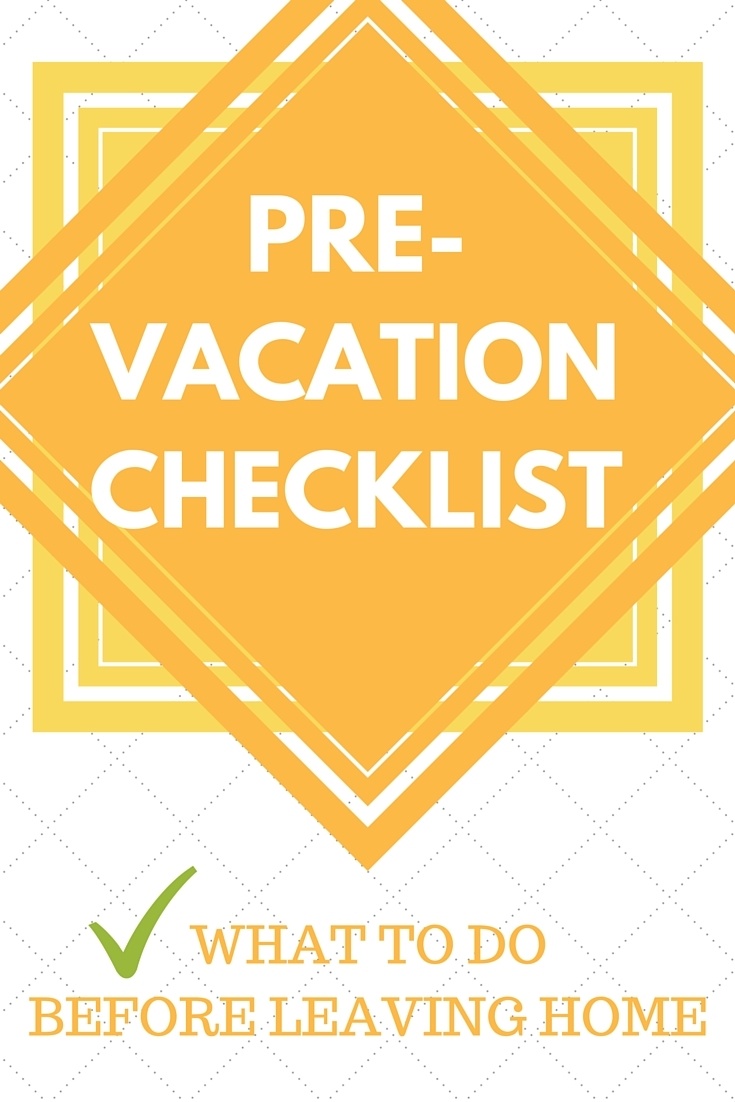 What to Do One Month Before Your Vacation
Check the expiration date on your passport. Most countries require you to have at least 6 months of validity left in order to enter the country. Since even expedited processing of USA passport renewals can take 2-3 weeks, you'll want to make sure you have time to take care of this, just in case!
Buy travel insurance – the sooner you buy it, the more you're covered if there's any political, medical, or weather issues that pop up.
Make arrangements to have someone (or a kennel) watch your pets while you are gone.
What to Do Two Weeks Before Your Vacation
Confirm all travel arrangements. Look out for any schedule changes on flights or other transportation and make sure it still works with your intended itinerary (call the airlines to check on your other options if the changes are significant and no longer work for you!). While you're at it, check with the hotels to make sure your reservation wasn't accidentally lost and double check you booked everything for the correct day(s).
Make arrangements with someone to watch your home while you're gone. Having a neighbor or friend keep an eye on your home is just a smart idea, so make sure to leave your contact information with them in case they need to get ahold of you. You might also want to ask someone to mow your lawn or shovel as needed.
Make sure you know the PIN numbers to any ATM/debit/credit cards you're bringing with you. Be sure you also double-check the expiration dates — I once showed up in Colombia only to realize my ATM card expired the day before (luckily I traveled with two bank cards). If there's a problem, you still have time to fix it.
What to Do One Week Before Your Vacation
Have print-outs of all confirmations packed to bring along with you. By this point, you've probably sorted out any issues with your confirmations, and are ready to get organized. I prefer paper copies to everything, since they're easier to share with front desk associates if necessary, but if you prefer electronic versions, keep everything sorted in a way that makes sense to you, in email folders, saved copies, or other options.
Gather maps and other essentials. Don't wait for the night before a trip to frantically download maps to your GPS. I've done that, and the results either leave you stressed or end up costing twice as much as expected. And yes, atlases and other maps are still handy in a digital age.
Register your travel plans with the state department and/or bring information on how to locate local embassies while abroad.
Renew prescriptions if necessary so you'll have enough for the duration of your trip.
What to Do Three Days Before Your Vacation
Stop at the Bank to Get Small Change. In a world that's becoming increasingly cashless, it's still nice to have cash on hand for tips. Don't find yourself at the hotel needing to tip $1-2 when you only have twenty-dollar bills from the ATM. A few loose bills can go a long way.
Empty your wallet and bring only what's necessary. Do you really need a dozen cards in your wallet? I like to bring two different types of cards (i.e. a Visa and MasterCard) in case a merchant doesn't accept all card types, but chances are you don't need a ton of other options beyond the first two or three cards.
Call your credit card company and notify them you will be using their card abroad so they don't put a hold on your account for fraudulent use.
Pay the rent and other necessary bills so you don't miss any deadlines. Vacation is expensive enough without late fees!
Get addresses for anyone you wish to send postcards or packages to.
Do all your laundry – you'll want some to pack and a few outfits to tide you over once you get home.
What to Do One Day Before Your Vacation
Recharge any batteries you are bringing along – you'll want that digital camera ready to go in case there's a great photo opportunity right off the bat.
Have your mail and newspapers placed on hold until you get home, at least when you'll be gone longer than a few days.
What to Do Right Before You Leave
Tidy up the house. Trust me, I've forgotten to throw out perishables in the fridge, wash the dishes, and empty the garbage before a trip and it's not a pleasant smell when you return. Do it ahead of time; it's twenty minutes well spent!
Be Energy Efficient. Vacation is expensive enough as it is, so save a few bucks at home by turning off the air conditioning/heating, unplugging electrical devices, and turning your water heater down/off. There's no reason to keep everything running when you're not at home to use it!
Inspect all your doors and windows to make sure they are shut, locked, and secure.
* * *
What else is on your travel to-do list?