This post may contain affiliate links. As an Amazon Associate I earn from qualifying purchases.
* * *
Winter is a great time to visit Europe: prices dip while the temperatures do, with airfares at rock-bottom prices and promotional rates at hotels throughout the continent. However, travelers seeking warm places to visit in Europe during winter sometimes get stumped. Where do you go if you don't want to pack your parka and get blasted by the cold?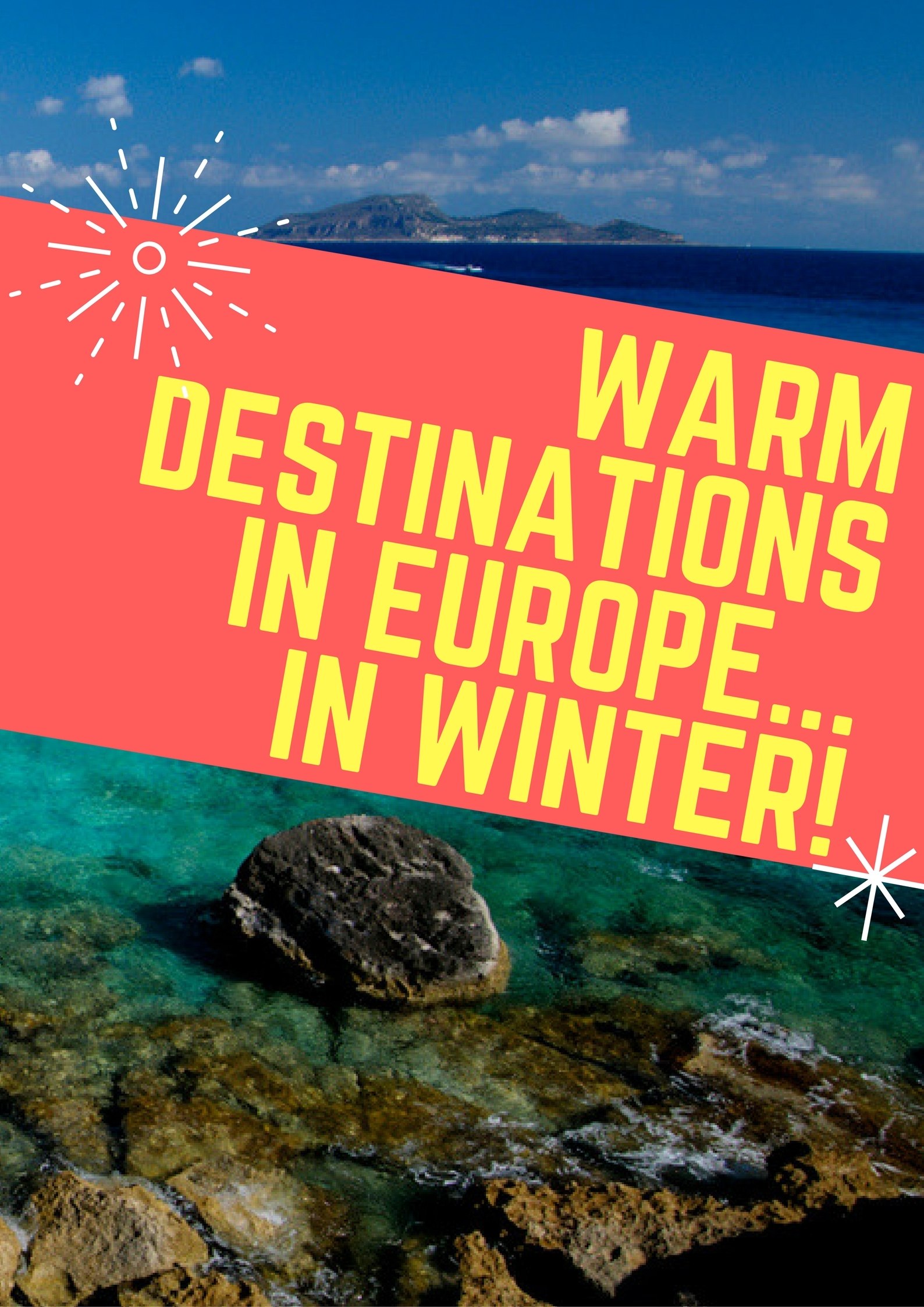 Keep in mind that warm places in Europe in winter doesn't mean you'll find a tropical destination. There are regions with mild, temperate climates (in the 50s & 60s degrees Fahrenheit), but it's not quite warm enough for sunbathing.
So grab a light sweater and take advantage of low season! You can finally visit Europe without the crowd.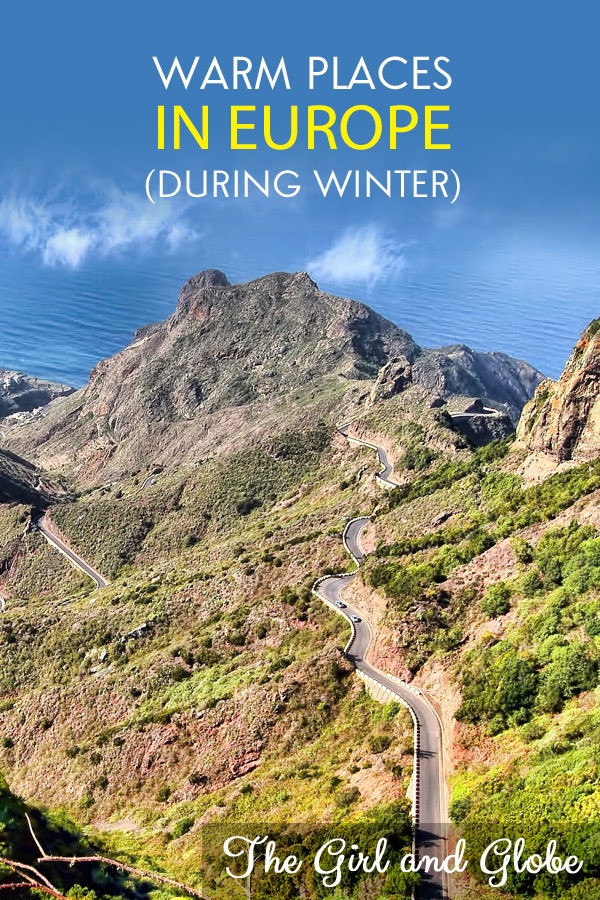 Sicily
I can't for the life of me understand why travelers would want to visit Sicily in the sweltering heat of July and August. That makes Sicily one of the best places to visit in Europe in winter — you get a comfortable temperature for touring. This is especially nice if you're interested in seeing outdoor historical and archaeological sites, like the Temples of Selinunte or the ancient theatre of Taormina.
Sicily is also a great place for hiking and nature, which are far more enjoyable in a moderate temperature. There can be snow on Mount Etna, but there are great walks through rolling hills and vineyards so add it to your list of where to visit in Europe during winter. And don't forget the amazing Sicilian food — something you can enjoy year-round!
The Canary Islands
It's always spring in the Canary Islands, since they're off the coast of sunny Morocco (although technically Spanish). Of the seven islands – El Hierro, Fuerteventura, Gran Canaria, La Gomera, Lanzarote, La Palma, and Tenerife – Tenerife is the most popular, even in the winter months.
If island hopping sounds like a great idea, base yourself in Los Cristianos in South Tenerife so you can take fast ferries to La Gomera, La Palma and El Hierro. As an alternative, look for weeklong cruises which make it easy to see a bunch of places in one week…or just enjoy an in-depth visit to one of the large islands. You'll save tons of money by booking a condo for a week.
Malta
One of the reasons that Malta is one of the best warm places to visit in Europe during winter may surprise you! Believe it or not, Gozo is a great place to scuba dive year-round. Sea temperatures hover in the upper 50s, even in January or February, so with a thick wetsuit, you're good to go! There are virtually no tides or currents and great visibility to spot the prolific marine life.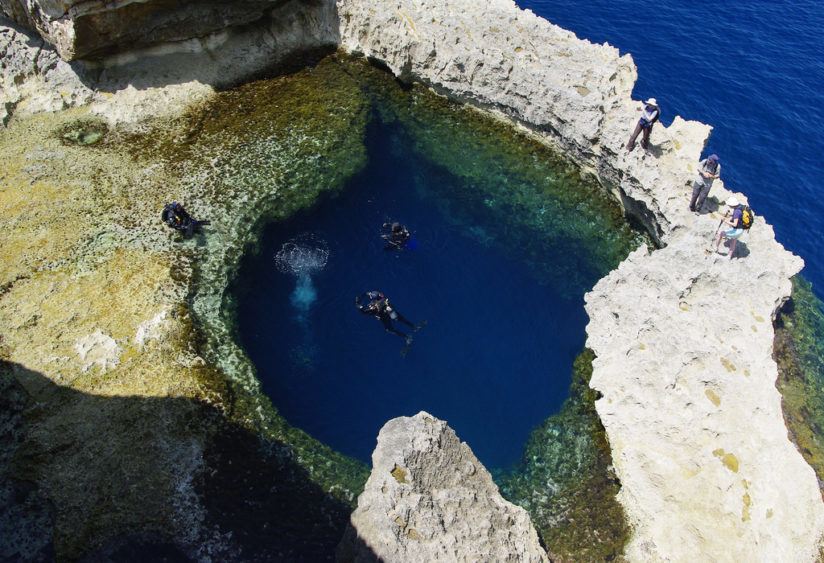 But the Mediterranean country offers a bit of everything during the winter months and is completely underrated. Malta is well-known for it's architecture, and visiting historic sites like the limestone temple Mnajdra or any of the numerous megalithic temples in the winter means you won't have to feel rushed by crowds as you take the history in.
Crete
Most of the Greek Islands are bombarded by rain in the winter, but Crete stays relatively dry. It's also one of the warm places to visit in Europe during winter, with average daily temperatures of 52+ (and particularly nice days in December & March).
Winter in Crete is the perfect time to appreciate the natural beauty of the island. Stroll the Elafonissi beach when its pink sand is not crowded by families on summer vacations, hike through the Samaria Gorge National Park (arguably one of the most beautiful national parks in Europe), or spend an afternoon at the Botanical Park and Gardens of Crete in Fournes. Palm Beach, with over 5,000 palm trees, will make you feel like you're somewhere exotic!
Are you ready to book a trip to one of these warm places in Europe during winter?
If you're looking to escape this winter, don't overlook Europe. Of course there are fascinating cities and wondrous snowscapes in northern countries, but you'll find plenty to enjoy in warm places in Europe, too!
* * *
Join the sightDOING community!