This post may contain affiliate links. As an Amazon Associate I earn from qualifying purchases.
* * *
Taxco, Guerrero is such a picture-perfect town that you'd never expect it to be dangerous. But sure enough, there it was on the U.S. State Department website: "Do not travel due to crime". Immediately, I second-guessed my plans and wondered, is Taxco safe?
Just a few years ago, Taxco was a popular side trip from Mexico City, thanks to its pueblo magico (magic town) status. It has a walkable downtown core, beautiful mountain scenery, colonial architecture, and all the shopping you could ask for.
But that was then. This is now.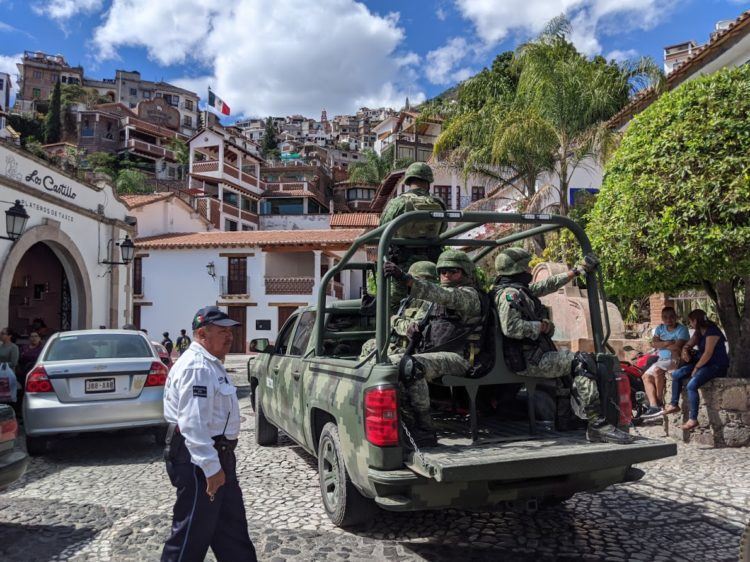 Is Taxco Safe?
As far as I could tell, the only thing that's changed is a label. Once upon a time, all you needed to do was exercise proper precautions. Now, there's a definitive warning to avoid the city altogether.

I read the advisory several times, pondering every line. Surely even if most of Guerrero state was dangerous, there'd be an asterisk excluding Taxco. But I was wrong; there's even a sentence specifically calling out Taxco as a place to avoid.
In the spirit of curiosity, I dug deeper. Canada said it's fine. The UK said it's fine. In fact, every other country in the world seemed to think Taxco is an acceptable destination.
So are Americans particularly targeted? Kidnapped, held for ransom…worse?
I googled for news stories but found nothing. No signs in articles, forums or anywhere else that Taxco was particularly dangerous.
I've often likened the U.S. State Department to the boy who cried wolf. They paint with broad strokes, with explanations on "danger" being vague at best. It's never the only source I check anymore since it's hard to believe the whole world is out to get me.
Since even the boy who cried wolf is right every once in awhile, I continued to scan the news weekly — English and Spanish — to make sure I didn't miss anything. I never found anything.
By the time I got to Mexico, I had zero hesitations proceeding with my trip to Taxco. I was confident it would be as safe as Oaxaca or San Cristobal or any other of my favorite Mexican destinations. I vowed to be vigilant after dark, to stay sober, and to get out at the first sign of trouble.
As it turns out, my visit was uneventful. My first class bus was comfortable and dropped me off in a convenient location. Storefronts were clean and high-end (too rich for my blood!). My hotel was lovely, the people were friendly, and everything worked as it should.
So is Taxco safe? It sure seemed so to me.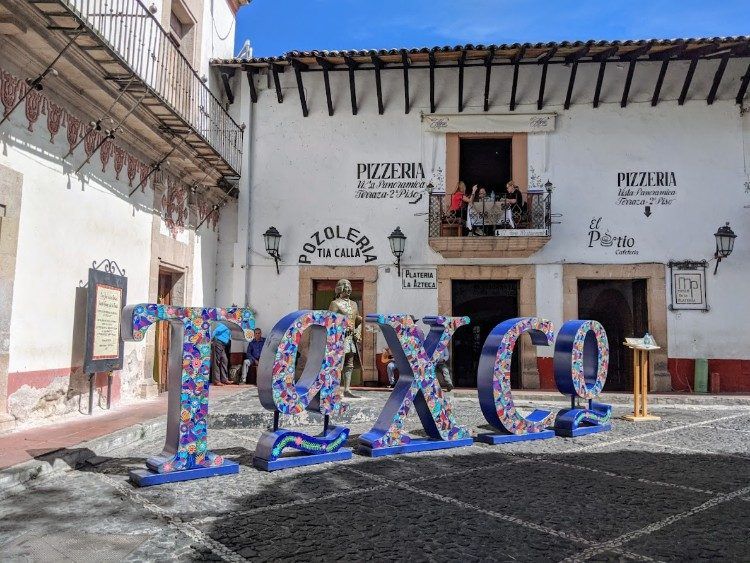 My observations about Taxco safety were personal. What I experienced as easy and safe might feel different to you due to different circumstances or your past experience as a traveler. I enjoyed Taxco and would likely return, but if you go to Taxco, you do so at your own risk.
Why Visit Taxco Guerrero Anyway?
I went for the abundant natural beauty outside the city, but the number one reason to visit Taxco is to soak up its magical ambiance. It elevates its pueblo magico status far beyond the other magic towns in Mexico. It oozes so much romance that I wanted to book my husband on the next flight. Taxco is a lovely place to wander through cobblestone streets, pause for a cocktail (it's mezcal here, not tequila), and peek into boutiques.
Taxco is beautiful, daytime and night.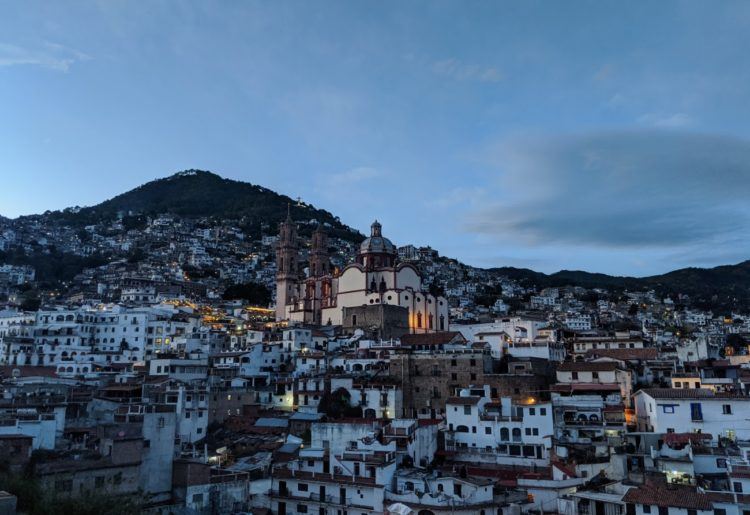 Things to Do in Taxco
You'll find plenty of day trips from Mexico City that claim you can see everything in six or eight hours. That's true, if all you want to see is Taxco center.
But add in the attractions outside of town and you'll want to stay over a night or two. Besides, it's lovely after dark!
Taxco Center
Taxco center is small, but packs a punch. There aren't a lot of "must sees", although you'll want to peek in Santa Prisca Cathedral to see its ornate altar.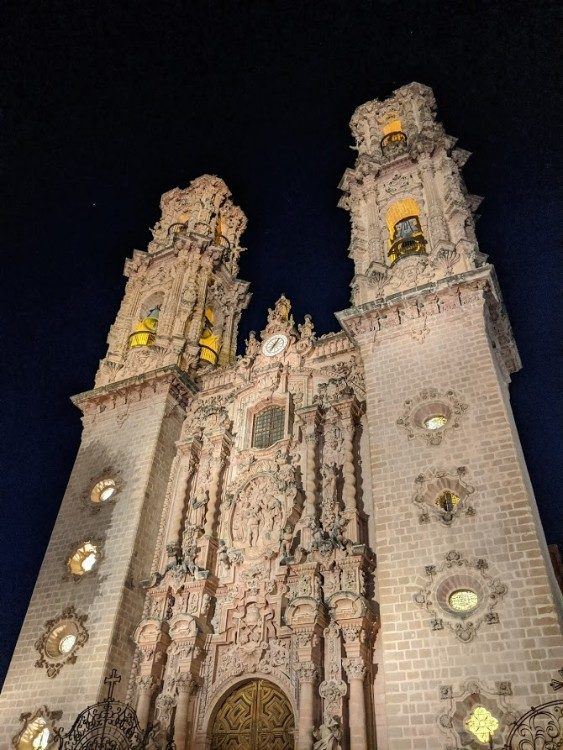 Mostly, though, you'll want to people watch in the Zocalo, which comes to life as the day goes on. You can also walk through the market or up to the town hills for panoramic views.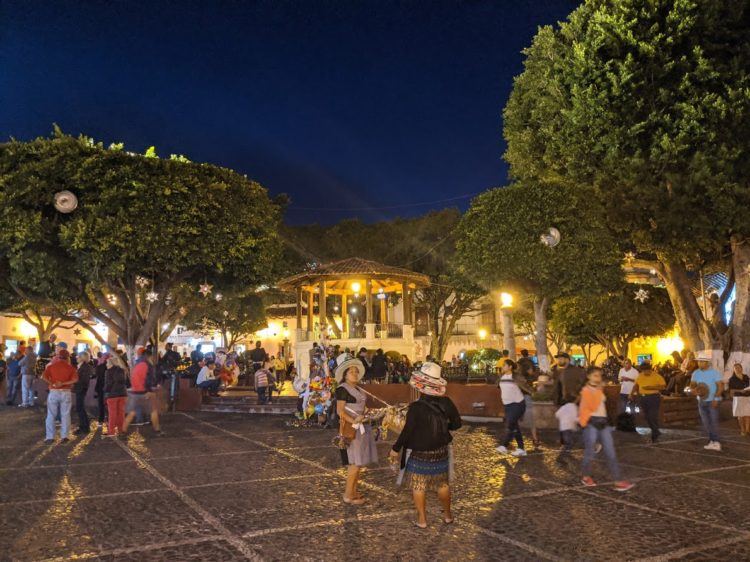 I spent more time than I should admit watching dozens of Volkswagen beetles drive through the narrow streets, expertly maneuvering tight turns, and making it feel like I lived in a different time.
And there's so. much. shopping. Like anywhere in the world, the farther away from the center you get, the more you can bargain.
Silver Market
In addition to the permanent shops in Taxco, there's a massive silver market that's set up in town every Saturday. You'll find lots of Aztec designs in silver jewelry: warrior necklaces, jaguar earrings, and the ubiquitous Aztec calendar.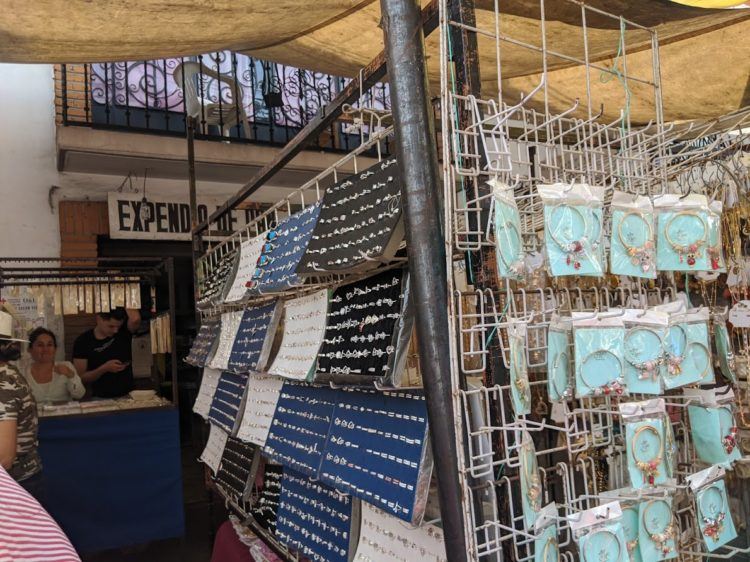 With the pace of bargaining and crowds around you, there's more potential to be scammed here. Check for the 925 stamp (symbolizing 92.5% silver) to make sure you have real sterling silver — or assume it isn't real. I didn't buy anything and left this for the shopping pros.
Silver Mine Tour
Mine tours are often hokey, but I decided to give the Taxco silver mine tour a shot anyway. The tour starts from the Posada de la Mision hotel, a 15 minute uphill walk from the Zocalo, making it an easy activity to add to your trip. It ended up being very well-done with one big caveat: there's no official schedule for English tours. You'll have to inquire the day of your tour to see what time will be offered in English (it usually coincides with whenever bus tours from Mexico City stop in).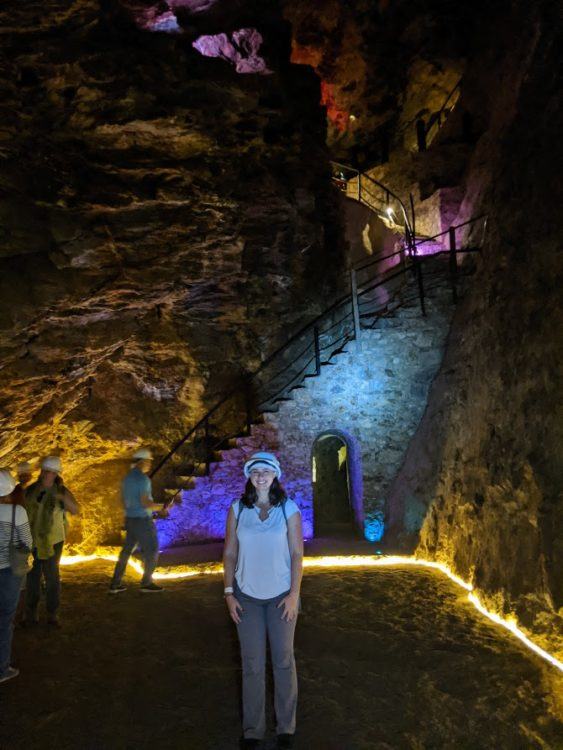 If you can join an English tour, it's a good stop. The tour is about an hour long and the $7 admission includes a poolside drink after. I joined a Spanish-only tour and caught enough of the narrative to enjoy myself, though admittedly my mine-specific vocabulary is weak!
PRO TIP: You can't take any bags with you into the mine, so you'll need to slip your camera into a pocket and leave everything else in a locker.
Pozas Azules
Without a doubt, my afternoon at Pozas Azules was the highlight of my visit to Taxco. Impossibly blue pools dot this park — I think there were 8 easily accessible — with waterfalls and lush foliage adding to the setting.
Like most Mexican parks, locals come and stay all day. They bring music, picnics, and beer. They swim, then relax on a boulder, then eat and joke and chat. As a visitor, this is as much a cultural experience as it is an outdoor adventure. But even if you're on the tightest of schedules, you can explore with just half a day.
Buses leave from "Coppel Plateros", a 20-minute walk from the Zocalo. Plug it into Google Maps and you'll find it without issue. The buses will be labeled "Atzala" and/or "Pozas Azules" and cost 25 pesos each way, leaving whenever they're full. Expect the trip to take about an hour, but you might get lucky with a quicker trip depending on how many stops it takes along the way. The last bus back to town leaves at 7, but this is a part of Mexico where you shouldn't travel after dark. Be smart.
The park is open 8am-6pm and has a modest 30 peso entry fee. Don't go first thing in the morning: for one thing, the pools are quite cool and feel better as the day warms up. More importantly, if you go too early, there won't be anyone else there and you won't get to watch kids jumping off cliffs or sliding down waterfalls.
Read More: A Little Slice of Paradise at Pozas Azules
Mil Cascadas
WARNING! Mil Cascadas is just far enough away from Taxco that it can be a troublesome spot. Some of the backroads leading to/near this area have had reports of armed road blocks–typically extorting money from innocent passerby. I'm mentioning it here so you know to avoid it for the time being. Thankfully no one seems to have been hurt, but being detained at gunpoint is not my idea of a good vacation.
Imagine the same stunning blue pools as Pozas Azules, but with tall waterfalls pouring into them. That's Mil Cascadas. You can find hundreds of gorgeous photos from Mexican influencers on Instagram, which is what piqued my interest.
As of 2020, Mil Cascadas is a troublesome spot. I'm a risk-taker but not foolish enough to walk into a known conflict area. I'm saving it in my mental files in hopes that if/when the border area of Guerrero and Morelos gets cleaned up, it'll be safe to go to again.
Cacahuamilpa Caves
The Parque Nacional Grutas de Cacahuamilpa is home to one of the largest cave systems in the world. It's one of the most popular things to do in Taxco, so you'll find plenty of tours heading there. You can also visit independently by grabbing an Estrella de Blanco bus from Taxco (once per hour, which take 45-55 minutes to travel).
I skipped these caves — I'm jaded against caves in general after touring way too many — but it gets great reviews. The Spanish-language tours are two hours long, making this a nice half-day activity.
What to Eat in Taxco Mexico
Taxco is known for two local dishes: pozole and mole rosa. I tried both, but cared for neither.
Pozole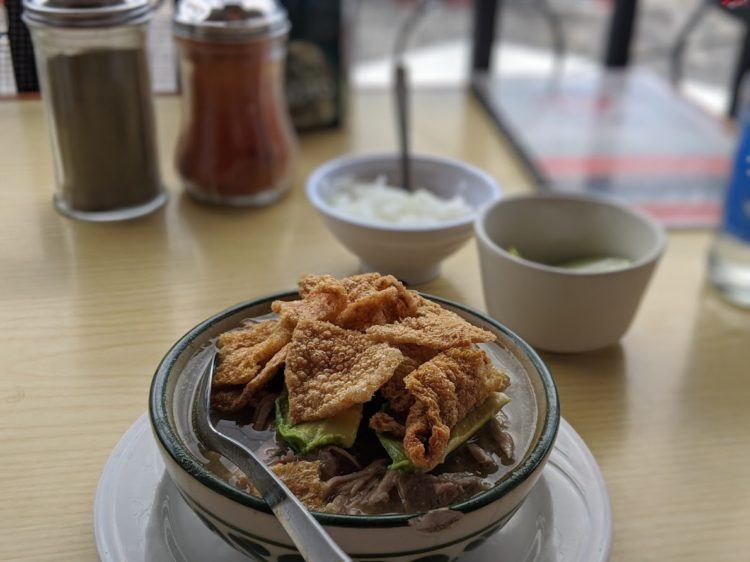 Considered a Taxco must, Tia Calla Pozoleria serves up traditional pozole at two city locations. If you've never had it, pozole is a pork and hominy (corn) soup with garnishes like raw onion, chicharron (pork skin), avocado, chile peppers, and lime. On Thursdays and Saturdays, they make a green pozole as well which is a regional specialty and adds crushed pumpkin seeds to the broth.
I've never liked pozole, but I had to try the green version while I was there. It still wasn't my cup of tea, although for less than $3, I'd say it was worth trying anyway!
Mole Rosa
Pink mole is also unique to Taxco, so if you want to try it, you'll have to make the trip. It gets its name from a pink pine nut grown locally (and usually beet to enhance the color). Cooked with aniseed and other spices, this sauce has more of an earthy flavor than a spicy one — and compared to other moles, it's rather understated.
The dish isn't offered by many restaurants (at least not consistently), so my options were limited on where to try it. I ordered chicken enchiladas with mole rosa at Rosa Mexicano. My food was average, but the view was unbeatable. If you don't come here to eat, do come for a drink.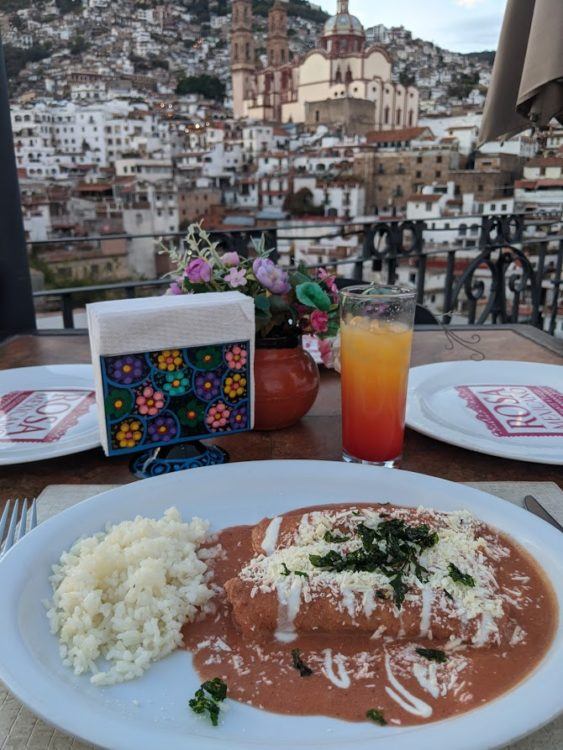 I only found out later that La Hacienda — my favorite restaurant in Taxco — also serves a version of mole rosa. I wish I had realized that before I was out of time because their breakfasts were outstanding.
Where to Stay in Taxco
I stayed at Hotel Agua Escondida, which was the perfect place to stay. It's right in the center of town with clean, quiet rooms at a reasonable price.
I walked everywhere from here: to the churches, overlooks, markets, mine tours, bus stops, ice cream, and shopping. There's a coffeeshop just downstairs and a fun scene in the Zocalo to join in right outside. There's a pool as well, although I never used it.
Prices were reasonable at the time of my visit: not the cheapest place in town, but well within reach even for a solo traveler like myself.
Bottom Line About Taxco Guerrero
Taxco looks like it's from a movie. The combination of cobblestone streets with colonial architecture on the hillside is almost too dreamy to be real.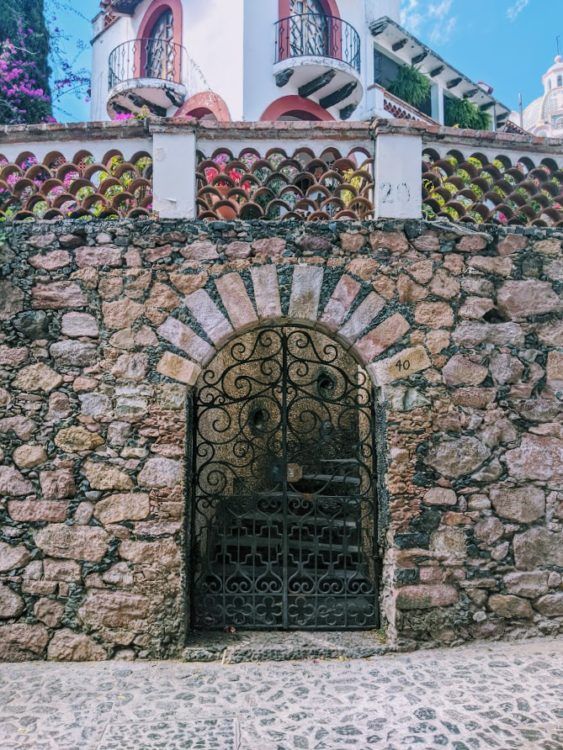 I chose to visit Taxco, but I'm a confident traveler who speaks the language and has a decent understanding of Mexican travel (this was my tenth trip to the country). Your scenario may be different — and if a pandemic has taught us anything, it's that situations can and do change at any time.
My hope here was to provide some context to help you make your own decision. You'll still need to do your own research to see if and how the local situation has changed before your trip. I can't decide for you, but if Taxco is safe, it's definitely worth a visit.