This post may contain affiliate links. As an Amazon Associate I earn from qualifying purchases.
* * *
You don't realize how big the planet is until you spend 32 hours getting to China. With a 90-minute drive to the airport followed by 20 hours of flying and 10 hours of collective layovers, I had a darn long journey making our way to Hong Kong. My essentials for a long haul flight are an absolute necessity when the trip is that long.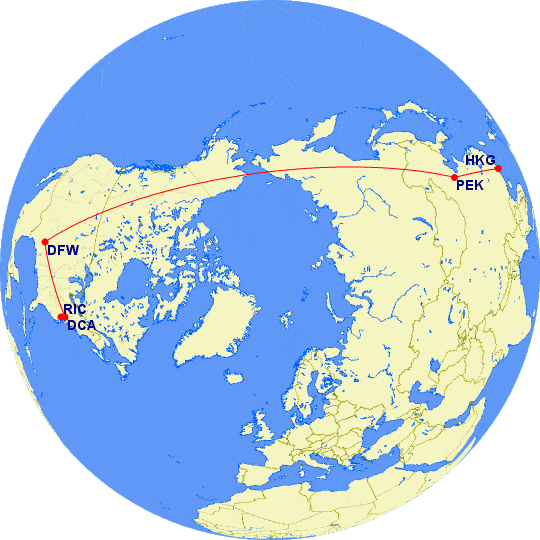 This trip was originally written in 2015 after a long flight to China but has been updated a few times since then — most recently after a December 2021 flight to Dubai (in economy).
Packing Will Make or Break Your Journey
The destination was worth every minute it took to get there, but based on this experience and several other long trips I've taken, I've compiled the absolute essentials for a comfortable trip. No matter how hard you try, there's always going to be an annoying component to air travel, but packing the right items make it more manageable.
Comfort Essentials for a Long Haul Flight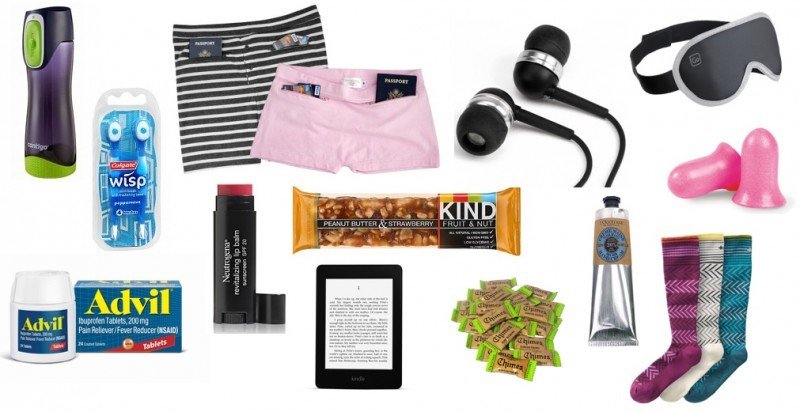 Throughout the Flight
Lip Balm: If I could only pack a single item for long-haul flights, I'd settle for a tube of lip balm. With super dry air in-flight, this keeps my lips from cracking and getting sore. I love Neutrogena Revitalizing Lip Balm because it doubles as practical during the trip with SPF and a hint of color.
Water Bottle: A water bottle is second on my list because flight attendants never offer enough to keep you well hydrated. I fill up my own bottle AND a travel mug for every flight. My personal favorites are a Mizu bottle and Contigo Autoseal mug, which is truly leakproof. Bonus: hydration helps fight jetlag!
Ear Plugs: Crying baby behind you? Annoying conversation next to you? Snorer in the row ahead of you? Basic, boring ear plugs work wonders at blocking sounds, but they are not all created equal. Experiment to find a shape, size, and material that feels comfortable for you; my small ears particularly like these earplugs designed for women.
Eye Shade: There is no perfect eye shade, or at least not that I've found yet, but anything is better than nothing. More importantly, wearing eye shades is the international signal for "do not disturb", so even if you're not sensitive to light while sleeping, it'll keep flight attendants from bothering you.
Hand Cream: I rarely use lotion at home, but I use it all the time on flights. This little pick-me-up can make a big difference in feeling human ten hours in. I pack this "family remedy cream" which doubles as a moisturizer and relief toward insect bites, sunburns, and more once you're at your destination.
Entertainment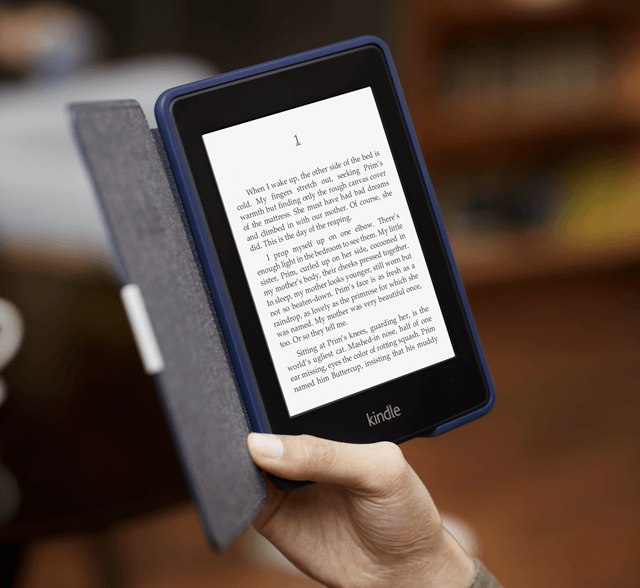 Kindle: How many times will I mention my Kindle before you try it yourself? Unlike a laptop or tablet, there's enough battery power in a Kindle to provide days of entertainment. The backlight is perfect for reading if the person next to you is sleeping and you'll have storage space for lots of books.
Headphones: Once my eyes get drowsy from reading, I switch to podcasts (I prefer them to movies). I pack simple earbuds –wired so they don't fall in any seat cracks and end up lost. I find noise-canceling headphones too bulky to wear while sleeping.
For The Next Morning
Wisps: After hours on a plane, a shower is the greatest feeling in the world. Next best is brushing your teeth. Colgate Wisps don't require water making them easy to use in airport bathrooms or countries where you shouldn't drink the water.
Clean Underwear: If you don't have room to carry on a whole new outfit, a simple pair of clean underwear does the trick. Yup, I'm the weirdo changing in airport bathrooms (or ideally an airport lounge shower). If you don't yet have a pair of pickpocket-proof underwear, start with that.
Just in Case
Ginger Chews: I've only felt sick on a flight once, but there's nothing worse than holding back nausea during a flight. I've tried pressure point bands on cruises and ferries and found them ineffective, but ginger works for me every time. These ginger chews come individually wrapped so it's easy to throw a few in your bag.
Advil: Unfortunately, if you're not eating, sleeping, or hydrating properly, you'll be prone to headaches. Nip it in the butt by packing along your preferred medicine. I hope you won't need it, but it packs compactly and can be helpful at your destination, too.
>>>>> Related Post: DIY: A Travel First Aid Kit Packing List
Snacks: Sure, they feed you on most long-haul flights, but there's no telling if you'll like it or if you'll be hungry again three hours later. Pack a snack for the midnight munchies. Sheffa bars are my latest favorite since they're not sweet — seems like airplane meals (especially breakfasts) are loaded with sugar!
While it sounds like a lot, all of this fits easily in a purse and slides under the seat in front of me for easy accessibility.
What to Wear for Long Haul Flights
Sweater: Layering is key on flights since you don't have any sort of climate control. For some reason, flights are always freezing cold or sweltering hot and never anything inbetween! I wear a tank top with a hooded sweatshirt so I can adjust for hot or cold. Plus, the hood can block extra light and sound if needed.
Slip On Shoes: Wearing shoes for the entirety of a long flight can be uncomfortable, especially if you want to get some sleep. Make it easy on yourself by wearing slip on shoes so you can get comfortable but still quickly put them on to head to the bathroom.
Compression Socks: The best way to keep your muscles happy is to simply get up and move on the airplane (or to look like a dork doing exercises at your seat — don't worry, no one else is looking because they're too busy sleeping). Second best is wearing a pair of cool-looking compression socks, which are also great after a long hike.

What I Don't Pack
Though comfort matters on long flights, I don't want to lug around a million things for a week just because I want it on the plane. As such, I don't bring my own pillow or blanket: I've yet to find an airline that doesn't automatically offer them on overnight flights, so having my own is unnecessary (and bulky!).
I also used to bring wet wipes, either for washing up or for cleaning up sticky surfaces on tray tables. But it turns out that good old hand-washing or wet paper towels from the bathroom is equally effective.
* * *
What Do You Pack for In-Flight Comfort? Share Your List in the Comments!
* * *
Make sure to check out some of my other packing lists: