This post may contain affiliate links. As an Amazon Associate I earn from qualifying purchases.
* * *
I absolutely love traveling by train, especially in regions where they have their act together with easy boarding and punctual schedules.
Compared to flying, rail travel is incredibly low-stress, spacious, comfortable, and often cheaper. The obvious downside is that it can take quite a bit longer to cover distances. One way to counteract this is to take a train overnight so that your journey time doesn't interfere with your touring plans during the day.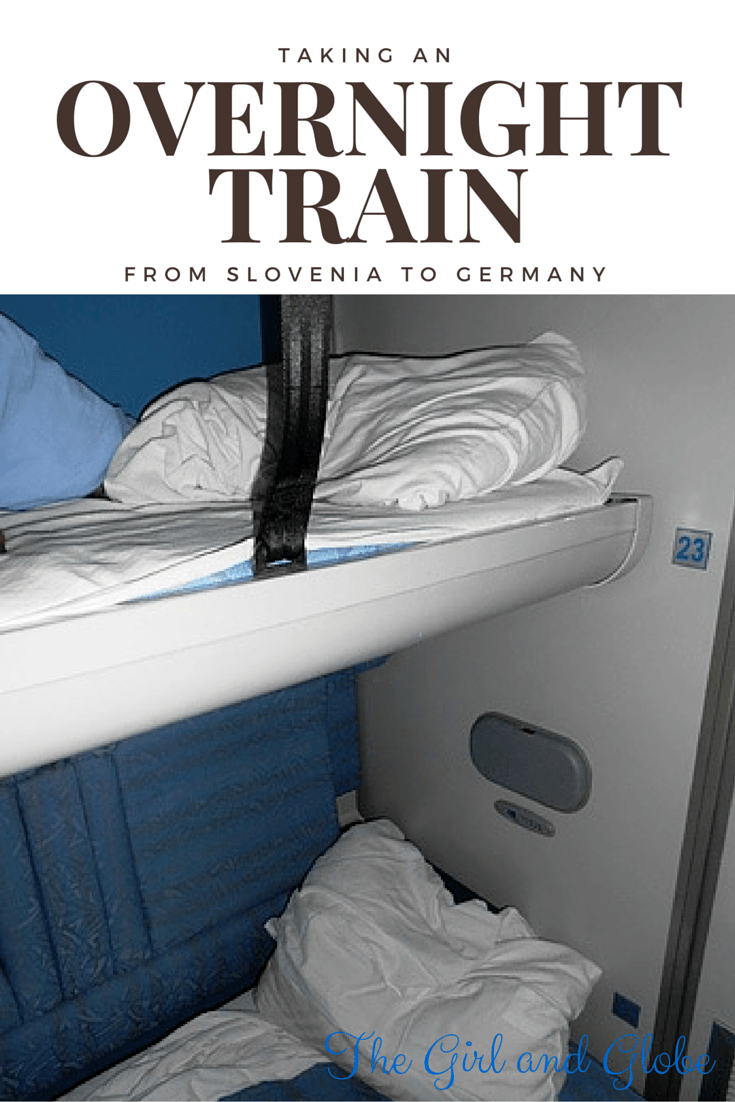 After my time in Ljubljana, I had to make my own way to Munich to catch my flight home, and this was the perfect opportunity to try out an overnight train.
Both train stations are in easy access of the city center, making it entirely convenient to get from one place to another. Additionally, the schedule was conducive to allow one last evening in Slovenia and still get off to an early start in Germany: I'd board at 11:30pm and sleep until our arrival at 6:15am.
Best of all? Two tickets (one for my sister) in a sleeping compartment added up to only 118 euro — not much more than we would've spent on a hotel anyway. I was really excited to give this form of travel a shot!
Side note: Technically my first overnight train ride was from New York to Topeka, but since all I remember from that experience was that I received a brand new Fern Gully coloring book to entertain myself, I don't count it.
Now, one area where Slovenia falls short is the ability to pre-purchase train tickets. Many other countries in Europe make this incredibly easy, either online or with an automated machine at the station, but there is no way to reserve a compartment on an overnight journey in Slovenia without going to a ticket counter. That meant we had to show up at a station during staffed hours and tell them what we wanted. Let's just say communication was a bit of an issue, so I was careful to check that our departure/arrival stations, dates of travel, and number of bunks were correct. Even still, I managed to miss that we were booked in a men's sleeping car rather than a women's. Fast forward to our departure, and it was a bit of a hassle to convince the conductor to allow us to our beds, but since the ticket counter wasn't open at 11pm there was no way to rebook. Some pleading and graciousness and we were accomodated. Thank goodness.
Once onboard, we found our compartment which was pretty tiny. The bunks were stacked on top of each other and separated from the washbasin (no toilet or shower) by a narrow passageway.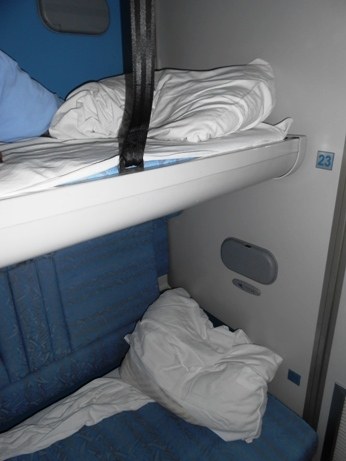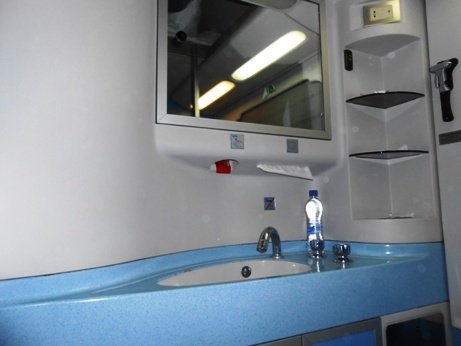 We both crawled into bed immediately, eager to get some rest. Unfortunately, this is easier said than done. Our particular journey involved a fairly twisty route, meaning we were tousled around a bit. Additionally, there were several stops along the way, each bringing the noise of squeaky brakes, passengers boarding or disembarking, or border officials checking on things. Although no one knocked on our door or entered our room at any of these stops, they still interrupted our beauty sleep.
Other than the lack of sleep, our trip was pleasant. It was great to have a sink to wash up in, control of the thermostat to stay more comfortable, and a light snack in the morning so we didn't have to stand in line at the train station first thing when we arrived. And just like I expected, it was cheap and convenient compared to air travel.
Unfortunately, though, not sleeping is a big deal in my book. I really expected that I'd get some rest, and I basically pulled an all-nighter. In fact, I was so exhausted when I arrived in Chicago 19 hours later (after also not sleeping on my transatlantic flight), I skipped my overnight stopover and flew directly home.
While I doubt that this will actually be my last overnight train ride, I definitely will be picky about the next one I try. I'll look for a one with few stops during sleeping hours and preferably one known for being a smooth ride. I'll also make sure my earplugs aren't buried at the bottom of my suitcase and that I'm not in a mens' car! In the meantime, I'll budget time for daytime trains when they make sense or money for flights when they don't.
For a better look at what our experience was like, check out this video by Seat 61. We traveled in the opposite direction and boarded in Ljubljana (partway through the entire schedule), but our car looked exactly the same:
* * *
Share your thoughts!
So, experts: what route should I try to give this a second try? Make it a good one because I probably won't give it a third try!
* * *
Read more about Slovenia:

Lake Bohinj vs. Lake Bled Slovenia Take in all of the natural beauty that Slovenia is known for at one or both of these famous lakes.

A One Week Itinerary to Slovenia Slovenia is fairly small which makes it easy to see a lot of it in one week.

Is Ljubljana the Loveliest Town in Europe Ljubljana is full of charm and culture and is arguably the loveliest town on the continent.